(Last Updated On: 05/01/2022)
There is no question that white sand beaches and crystal clear water of The Philippines is some of the most beautiful in the world and in a place like Siargao Island, the island hopping tour out of General Luna is one that you don't want to miss! My favorite part about this entire experience is that once you hit Guyam Island, you feel like you're in a sandbar in The Maldives, seriously. The islands here are truly unspoiled, just like the entirety of Siargao Islands, so whenever you arrive here from El Nido, Cebu, Manila, or any other island hotspot, make sure you don't miss out on this experience!
This blog post features everything you need to know to book an island hopping tour in Siargao, where to go, and highlights of each island you visit!
This post may contain affiliate links for the products I mentioned, but as always, all opinions are my own. I make a small commission, at no extra cost to you, when you make a purchase or booking through these links. This helps to support this space and keep me blogging, which I am so extremely thankful for.
---
Island Hopping In Siargao Information
Price | 1400 PHP (~26 USD)
Location | General Luna, Siargao, Philippines
Best Time | Early Morning or Sunset
---
How To Get To Siargao Island
*Prices vary by season*
By Boat
If you're really balling on a budget and have some extra days of travel time to spare, there are tons of ferry options that can get you to Siargao Island. There a lot of different transportation combinations that can get you to Siargao Island, so look on Rome 2 Rio to find all the possible routes from Cebu, Manila, Bohol, El Nido, Palawan, Boracay, and other popular islands. Rome 2 Rio is the easiest way to find routes that will get you from a to b and they give you links to book everything directly from their website!
Average Price (From Cebu) | $20 USD
By Plane
Since transit times in The Philippines take a loooooooong time, I highly recommend getting a cheap flight to the Sayak Airport (IAO). There aren't direct flights from every part of The Philippines, so there is a large chance that you'll have to fly through an international airport first like Cebu or Manila before you get here. Kiwi is my tried and true flight search tool, so I highly recommend checking out their website for the best flight deals to Siargao Island.
Average Price (From Cebu) | ~$70-100 USD RT
---
How To Book Your Siargao Island Hopping Tour
By Walking Up | 1300-1500 PHP
What I ended up doing was just walking down to the beach where all the boats are docked and negotiated a price on the spot with one of the boat captains. It didn't inflate the price at all and I ended up getting the tour for around 1300 PHP, which is a really good price for the tour. It comes out to around $13 USD per person which isn't bad for a half-day/full-day tour. If spontaneity isn't your style, you can prebook the tour online which is the next option on this list.
By Prebooking / Regular Tour | 1200 PHP / Person
The best place to prebook your island hopping tour is with My Siargao Guide. They have the best price and reviews for tour companies on Siargao, so if you want a reputable company, they're your #1 choice. To book with them all you need to do is shoot them a message on Facebook or sign up at their booth at Bravo Resort when you get to Siargao.
*By Prebooking / Private Boat | 3500 PHP / 2 People (3000 / Person (Min. 3+ People)
If you want a more private experience and have a little bit more coin to spend, you can opt for a private tour. The difference between a lot of these tours is that the regular tours only include a boat and guide but the private tours include lunch, entrance fees, docking fees, and transportation fees to and from your pick-up points. It's really not that much more expensive than the normal tours so if you want something a little fancier, then this is a great option.
---
Island Hopping in Siargao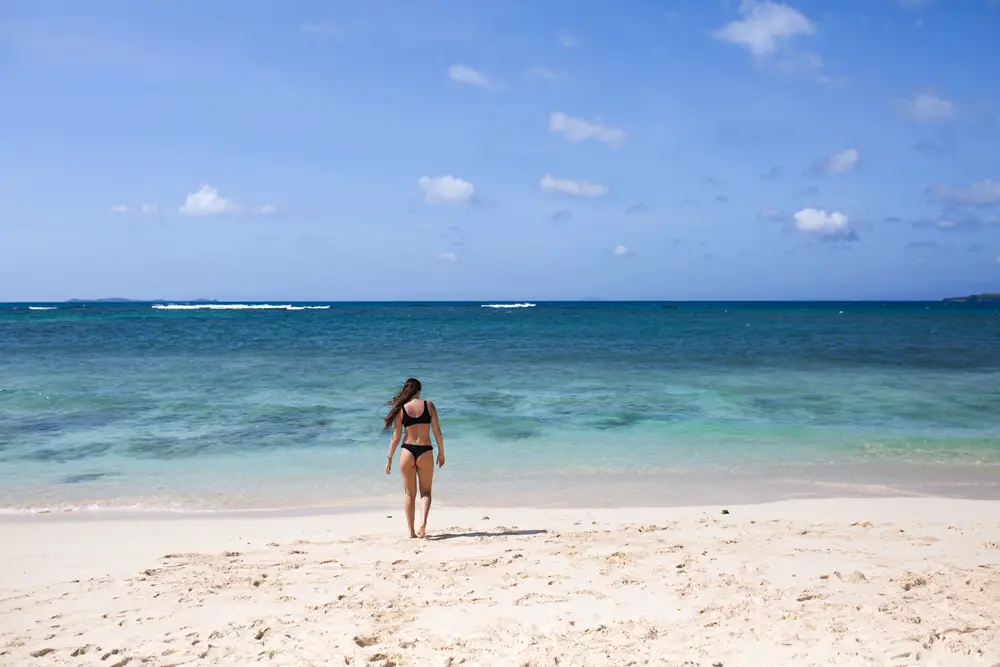 Naked Island
With a name like Naked Island, you'd think it'd be a really cheeky destination, but nope, it's really just an island with sand and… well, that's about it. There isn't too much happening here which makes it a great place to soak up some rays, snorkel off the coast, and enjoy the vibe of being out in the middle of nowhere. Naked Island is the smallest island on the island hopping tour and you can easily swim around the entire thing in no more than five minutes and walk from side to side in less than a minute.
You won't need to spend more than an hour here, but it's a great place to enjoy the peace of island life with literally zero distractions in sight. When you visit, please remember to pack away your trash from your snacks to keep the island clean and have a good time!
Entrance Fee | FREE
Lunch Options | Haha, no.
---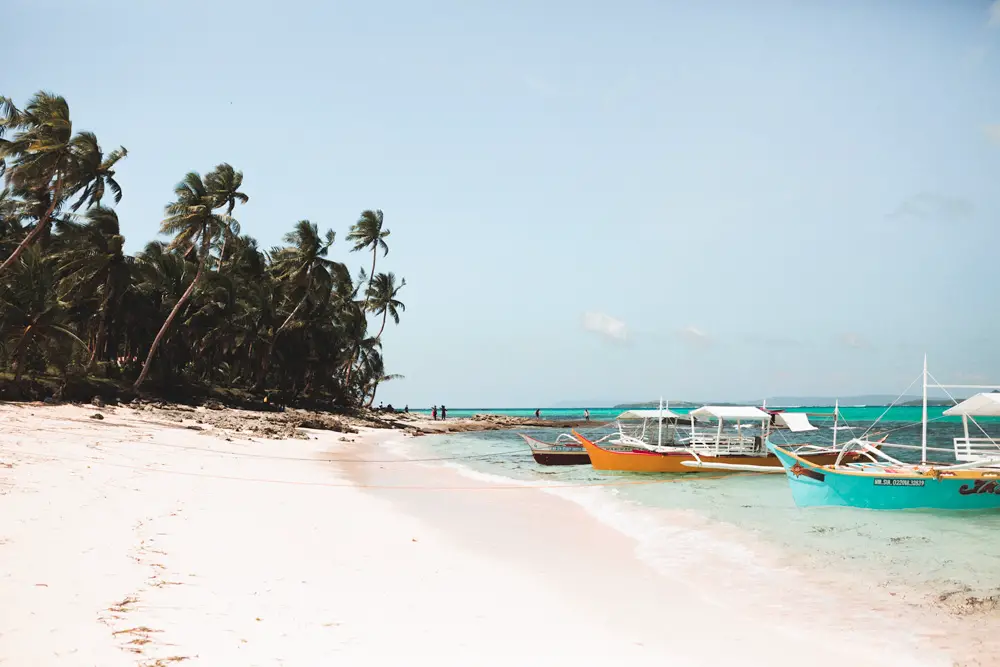 Daku Island
After Naked Island, the next stop on the list is Daku Island, the largest of the three, and the perhaps the most adventurous! This island, much like Siargao Island, is swallowed by hundreds and hundreds of palm trees, with a few beach bungalows and cookout spots for lunch. The restaurant there really only serves up fried and oily foods, so I opted for the perfect lunch option if you want to be healthy, satisfied, and hydrated: the classic coconut. I was really kicking myself for forgetting my reusable straw when I visited this island, so make sure you pack yours along to avoid using the plastic straws that they serve with the coconuts here.
If you want to stay in the main area, you can opt to rent a bungalow, but it's really not necessary since there is plenty of island to find your own spot, sans bungalow. If you want to go off somewhere quiet, once you arrive on the island, you can follow the dirt trail through the middle of Daku Island and get to the other side, a place where not too many other people venture out to if you want more solitude.
Entrance Fee | FREE
Lunch Options | Yes
---
Guyam Island
When I think of a deserted island in the middle of the Pacific Ocean, Guyam Island is exactly the place that comes to mind. This tiny sandbar is home to hundreds of palm trees and a massive surrounding reef. On our way to this island, we came across a massive sandbar that resembled something in French Polynesia. The water was insanely clear, the sand was as white as the clouds, and this is a really optimal spot to hang out before docking on Guyam Island. Honestly, it was incredibly hard to leave this place.
I think Guyam Island is a lot of people's favorite island because it literally looks like a scene out of a dream. When you visit here, it'll be exactly like you're living your life on a desktop background. I mean just look at it.
Entrance Fee | 50 PHP
Lunch Options | Yes
---
What To Bring For Island Hopping In Siargao
Reef Safe Sunscreen
When you're traveling in the tropics, reef-safe sunscreen is one of the most essential items you can bring in your backpack. When it comes to most commercial sunscreens like Equate, Banana Boat, Hawaiian Tropic, Coppertone, Neutrogena, Panama Jack, etc., they contain incredibly harmful ingredients that are killing the reefs and harming your skin in the process. That is why it's important to pick a sunscreen with safe ingredients to keep you and the reef thriving and healthy. I swear by Raw Elements SPF 30 Sunscreen since it's plastic-free, biodegradable, broad-spectrum, water-resistant. I have a full guide for reef-safe and plastic-free sunscreens that you can browse to find the best sunscreen for you and you're guaranteed to fall in love with the small businesses and messages behind these sunscreens!
Reusable Straw
Coconuts are plentiful around the islands, so having a reusable stainless steel or bamboo straw is going to help you avoid single-use plastics. Although I don't use a straw often, I always pack mine along with my reusable utensils so I always have it at my convenience! I ended up forgetting mine on this island hopping tour, unfortunately, so make sure you don't forget yours! If you're interested in reducing more than just straw waste, you can also check out some of my zero waste travel essentials that will help you reduce waste while in-flight and on the road!
Compact Travel Towel
To save a ton of space in your bag, I recommend picking up a microfiber travel towel because they dry fast, they're lightweight, and they are way more compact than a traditional towel. I use the Sea To Summit DryLite Towel whether I am island hopping, camping, swimming, or any other water activity since it dries almost instantly and it packs right into my bag with zero struggle. The towel is incredibly soft and you can buy it in five different sizes, but I recommend getting the XL size since it's full size.
Sunglasses
It is just as important to protect your eyes as it is your skin AND burning corneas do not feel too hot when you're trying to enjoy the tropical scenery, so that's why it's ideal to have polarized lenses with UVA/UVB protection, but really any pair of sunglasses that you have is going to work. I have had my favorite pair of sunglasses for over five years now and I don't think I'll ever feel the need to get another because they're timeless, cute, and they fit my face shape really well which is hard to find sometimes. If it ain't broke don't fix it, so just bring what you have and you'll be fine.
Sandals
When I was a kid, I used to go crazy at the Old Navy flip-flop sale and buy like six different colors of the plastic pairs, and as I have moved into being more mindful with my purchases, I have realized that doing that causes a ton of waste and it makes way more sense to buy one quality pair of sandals rather than a ton that will eventually end up in a landfill or polluting the ocean. My absolute favorite pair of sandals are the Women's Z-Trek Sandals by Xero Shoes. I have rather thin feet, so it's nice to finally have a pair of shoes that are both comfortable to wear and that fit the shape of my feet perfectly. You can also adjust the tightness and looseness of the sandals for a more secure fit which is another huge plus, so if you're looking for an awesome pair of sandals that will last a lifetime, Xero Shoes are a great option and they are incredibly compact for packing.
Reusable Water Bottle
You're going to be sweating a ton since you'll be spending most of the day under the sun, so a reusable water bottle is going to be extra important to keep you healthy and hydrated. A Hydro Flask is going to be your new favorite thing because it'll keep your water ice cold all day long and you won't have to worry about having to drink warm water when it's already 85+ degrees outside. I always carry around the obnoxiously large bottle that carries roughly 2 liters since it guarantees that I have enough water for the whole day and I don't have to worry about finding clean water to fill it with. If you haven't jumped on the Hydro Flask bandwagon, I highly recommend that you invest in one because you'll never use another bottle in yo life.
Sun Hat
Sunglasses are great for protecting the eyes, but if you find that you burn easily, a sun hat is going to be really nice to help rest your eyes and give your skin a break, especially while you're on Naked Island since it doesn't have any shade. Recently, I picked up the Columbia Bora Bora Booney II Hat in this really cool charcoal color and I have loved it for all my adventures. It is so light that you don't even feel it on your head and it gives you that "explorista/adventurer" vibe. If you want something a little more island-y these straw hats are adorable and handmade in Hawaii, or you can go for a simple baseball cap.
---
HELPFUL GUIDES FOR YOUR TRIP TO THE PHILIPPINES:
– 30 Travel Essentials For Backpacking Southeast Asia
– 50 Philippines Travel Tips For An EPIC Trip
– The Best Time To Visit The Philippines
– 16 Things That Surprised Me While Traveling The Philippines
– The BEST Philippines Packing List: What To Pack For The Tropics
LOOKING FOR DESTINATIONS IN THE PHILIPPINES? CHECK THESE OUT:
– The Perfect Philippines Itinerary For 2 Adventurous Weeks
CEBU
– Tumalog Falls: Cebu's Unmissable Waterfall
– Canyoneering In Cebu: Epic Cliff Jumping
– Exploring Kawasan Falls on Cebu (Without the Crowds)
SIARGAO
– How To Spend A Day At Sugba Lagoon
– Where To Stay On Siargao Island For A Dreamy Stay
– TakTak Falls: The Only Waterfall On Siargao Island
DUMAGUETE
– Casaroro Falls in Valencia: Hidden Waterfall Near Dumaguete (FULL GUIDE)
– Apo Island Day Trip: Snorkeling With Sea Turtles
SOUTHERN LEYTE
– Where To See Whale Sharks Ethically In The Philippines
---
Have you ever been island hopping? Share your experience with me in the comments below!
Aaren
Did this Siargao island hopping tour blow you away? Save it for later on Pinterest!