(Last Updated On: 21/03/2020)
I get so giddy whenever I have to start packing for the tropics. Seriously, it gets me absolutely VAMPED to be underneath palm trees, sipping coconuts, and island hopping for the foreseeable future. With over 7,000 islands, this tropical dream world may have you scratching your head for what to pack for The Philippines. But, fear not, I have done all the dirty work for you and comprised this ultimate Philippines packing list that will cover you on all your adventures across this beautiful country.
If you've read some of my other packing lists on my site, you'll know that this sucker is going to be long and detailed. Like, super long, so you might want to brew yourself a cup of your favorite coffee or tea and nestle in to get the low down and what you need. There aren't any surprises on this list, but it's important that you arrive here with everything you need! That means there aren't any unnecessary items on this list so you can travel light and with 100% efficiency. Booyah! I go into thorough detail about why you should pack certain things, so if you need a bit of extra information, then it's ALL here. All 6000+ words!
You're going to have THE most incredible time in the Philippines and it may even become one of your favorite countries in Southeast Asia! I hope this packing list serves you well and good luck on your journey! It's going to be a wild one!
This post contains affiliate links for the products I mentioned, but as always, all opinions are my own. I make a small commission, at no extra cost to you, when you make a purchase or booking through these links. This helps to support this space and keep me blogging, which I am so extremely thankful for.
Heading to the Philippines? Read these after this Philippines packing list!
---
Weather + Climate In The Philippines
The Philippines is settled just a bit above the equator, so the temperature is toasty all year round. In the southern region of The Philippines, the Visayas, the temperature tends to stay fairly hot, while areas in the north can cool down quite a bit depending on the location and elevation. In general, though, you'll want to back lightweight clothing above anything else. Especially if you're traveling in the dry season, December through April.
Average High Temp | 90 F (32 C)
Average Low Temp | 70 F (21 C)
The climate of The Philippines varies year to year and has five different climates, but lucky for you, the only thing you need to keep in mind is the wet and dry seasons. It can be difficult to pinpoint when the best time to visit the Philippines is, but if you stick to the dry season, you'll be just fine. I always recommend checking the weather before you pack so that you can plan accordingly to the weather.
Dry Season | November – April
Wet Season | Mid-May – October
---
Philippines Packing List Tips
The Lighter You Pack, The Better
Honestly, I couldn't imagine lugging around a heavy backpack or suitcase around all the islands that I visited on my trip to The Philippines. In the heat of the tropics, your shoulders are going to be glad that you packed light. Leave behind the hairdryers, makeup products, and other fancy things behind as the humidity is just going to ruin both of those things anyway. I fit all of my belongings inside a carry-on sized backpack and I was comfortable and back-pain free for the entirety of my trip!
Choose Your Swimsuit Wisely
Guys, if you're packing a men's swimsuit, ignore this one, but for my ladies out there, this one is for you. I know the temptation of bringing a string bikini so that you can be tan line free for your tropical getaway, but when you go canyoneering, swimming with whale sharks, and exploring jaw-dropping waterfalls, your likelihood of your goods falling out is extremely high. For this reason, I recommend packing (in addition to that string bikini you love) your favorite one-piece, if that's your style, or bringing a swimsuit that doesn't have any fancy ties and is made to be more on the sporty side of things. I promise you're going to be a million times more comfortable while you're out adventuring.
No Matter The Season, Bring A Lightweight Rain Jacket
Whether its wet or dry season, it's going to rain. I know it sounds contradicting, but as long as you have a lightweight rain jacket like this one, you'll be stress-free in those times where there are spontaneous torrential downpours. Trust me, don't leave this one at home. The best part about this jacket is that it packs down so small that you'll forget you have it anyway!
---
Luggage + Day Pack
Osprey 40L – 50L Backpack
If you're planning on doing some rugged island hopping, a suitcase is not your friend, my friend. You want a backpack that's around 40-50L because it will fit all your belongings comfortably and securely. I backpacked through Cebu, Dumaguete, Siargao, and Southern Leyte with my tried and true, Osprey Farview 40L Backpack, and I loved this thing every step of the way. From passenger planes to small ferries, this backpack fits securely wherever I needed it to and it made my trip so much easier because of this. On top of that, this backpack opens like a suitcase, so you get the portability of a backpack, but the features of the suitcase. It rocks!
If you're looking for a little bit more room, the Osprey Porter 46 is a cousin to the Fairview 40L and includes all the features, but just has a bit more room for your stuff.
I thought I was going to be just fine with my regular backpack as a day bag and let me tell you what, I wish I had brought a waterproof pack with me. Most, if not all the excursions you're going to be on are going to involve getting messy and/or wet, so if you have a bag that can protect you from the elements, then you'll be worry-free for your entire trip, especially if you have camera gear. Dry bags are fairly inexpensive and you can pick one up around every corner when you arrive or pick up my favorite dry bag here.
Organization Bags
These are a universal staple in any and all types of travelers' arsenal because they make organization and outfit selection a breeze. I use this classic set by Eagle Creek, but the Ebags brand is another cult favorite that tends to run a bit cheaper than the Eagle Creek line. I like to roll my clothes into these to save space and avoid wrinkles. The last thing you want is your backpack to become a disheveled mess after some adventurous days on these islands!
REUSABLE BAG FOR GROCERIES 
If you're planning on picking up some fruit or takeaway food, bringing your own grocery bag or bags is essential for reducing plastic waste. If you don't have a compact bag, I recommend these bags from Baggu since they can carry heaps of stuff, and the bag itself folds into a 5×5 inch square, which is the most ideal for saving space. If you don't want to spend the money, really any reusable bag you have will do!
Along with those packing cubes that I mentioned above, these are going to optimize your organization, and not to mention cleanliness, to the highest level. If your toiletries leak, you're going to want a sealed bag to separate them from the rest of your things. Once you accumulate dirty laundry, you're going to want a bag that separates the crusty clothing from the fresh, especially after all the dirt that is going to accumulate. The shoe bag is going to come in handy regardless of the condition that your shoes are in because you don't want muddy or wet shoes tumbling around all over your things. It's best to keep those concealed so your bag doesn't turn into this dirty mess. My go-to bags for these are by Tom Bihn. I love the spiff kit for my toiletries, although you may want the clear quarter packing cube if you take along fewer items. I use the laundry stuff sack for dirty clothing and a standard ole' stuff sack for my shoes. The laundry stuff sack is going to be the best thing that you ever add to your travel essentials because you start with clean clothing in the full bag and as you wear them, you put it in the other side of the bag. So, you have a two-sided bag, one side for clean and one for dirty, so you never get your clothing mixed up, and you have a reusable bag to drop off your laundry in!
---
Clothing
To keep it simple, pack lightweight and moisture-wicking fabrics for The Philippines. You're going to be cooking under the tropical sun and the last thing you want is to feel weighed down by your clothing. Flowy items are always a good idea as they let breezes come through in all the right places! I found that The Philippines is not an overwhelmingly conservative country, so wear what you're comfortable in and you'll be just fine. Most of the activities are going to be water-based so I recommend bringing clothing that you can easily take on and off and that will dry quickly!
7-9x | Tops (Tank Tops, General Tops, + Pj's)
I normally don't bring this many tops when I travel, but you may find that your clothing gets gross pretty quick after sunscreen, sweating, and the saltwater, so I recommend bringing a few extra. Plus, it helps to mix things up! I basically wore tank tops for my whole trip because they were so lightweight, but you might want to bring a couple of short-sleeved shirts just incase your shoulders and back get too sunburnt. I ended up toasting my skin on accident, so it was nice to have something that I could cover up with. Most of the time you'll be wearing a swimsuit anyway, so bring tops that you're comfortable having swimwear underneath. As for PJ's, go with shorts and a tank top if you don't have A/C, but bring a t-shirt and some lightweight pants if you do have A/C because it can get pretty chilly in the guesthouses.
1-2x | Dresses
These are always optional since I know that not everyone prefers these, but they're GREAT if you're doing some heavy exploring since they go on and off so easily and they're super cute. Dresses pair great with sandals and they make great going out outfits if you're going to some type of evening dinner and want to look a little bit nicer!
5-6x | Bottoms (Shorts, Skirts, + Pants)
As far as packing shorts and skirts, you'll want to avoid denim as much as you can. I would bring your favorite pair or two of denim shorts and then make sure the rest are moisture-wicking and quick drying. As far as packing skirts, this is more of personal preference, so pack them if you desire or omit them if they're not your style. Pants aren't necessary, but if you have a flowy pair that gives a great breeze ( kind of like those elephant pants everyone gets in Bali, but way more stylish), then these will treat you very well in the Philippines. If you get too sunburnt or want to be more conservative for dinner then these are a great thing to have with you.
Also, if you're planning on renting your own scooter, then these are great to wear for longer drives so you won't have to worry about your legs getting too sunburnt.
1x | Leggings
I always pack my favorite pair of leggings on the face of the planet no matter where I go. Seriously, I've had these things for five years and they still look brand new even after traveling all over the world with them! They are on the more expensive side, especially for a legging, but the time you'll have them is worth their weight in gold. If you're on the hunt for a new pair, but don't want to spend as much for these, Girlfriend Collective makes high-quality leggings from plastic water bottles for a great price!
You won't end up wearing leggings on the road, but you'll want them for the long plane ride to the Philippines. They keep me warm and comfortable while navigating airports, and they're a bit lighter than, say, sweatpants.
1x | Lightweight Rain Jacket
Even in the dry season, I still managed to experience a spontaneous downpour while island hopping in Siargao. I didn't have a rain jacket, so my whole body ended up getting soaked along with my camera backpack. So, after traveling to Iceland back in August, a proper rain jacket is now a travel staple that you will never see me travel without (along with those sweet leggings I mentioned above). It took me a long time before I found the perfect rain jacket, but now that I have my RAINS Classic Rainjacket, I will never buy another. It's stylish, packable, and high-quality that you can feel whenever you open the box. I snagged one in the beautiful dusty mint color. It's not available anymore, but they have a variety of other colors worth looking at here.
4x | Socks
If you plan on wearing sandals the entire time, then don't bother with a lot of socks, but if you plan on doing some rustic hiking, then you'll want to bring along a few pairs so your shoes don't get really soggy and smelly. I now wear BOMBAS after hearing and feeling that they're "the most comfortable socks in the history of feet". I'll never buy another brand of socks again after slipping these on my feet! The best part about this company is that for every pair you purchase, they donate a pair to a homeless shelter in need, so you're doing your feet and someone else's a huge favor. Lucky for you, I have a referral link here that will get you 25% of your purchase! You can thank me later! These socks rock!
3-4x | Bras
Coming from a person with a pre-teen sized chest, bras aren't a priority on my Philippines packing list, but you may need a lot more support than I do, so please adjust this number to suit your needs. You are more than likely going to spend most of your time in a swimsuit anyway, so you don't need to bring a lot of different options. I recommend bringing what you're comfortable in and what supports you and then packing extra swimsuits!
7x | Undies
Pack enough undies for at least a week is what I always say. If by chance, you're looking for new underwear, us ladies and gents can always use some, consider buying your new undies from Pact, an ethical company that makes killer underwear and helps the planet in the process. Enjoy 20% off your first purchase for your trip if you need to stock up!
3x | Swimsuits
Unless you're trying to pack light, I say bring however many swimsuits you'd like, but keep this in mind: You want to make sure at least one of your swimsuits is adventure-friendly and won't slip off after swimming, snorkeling, diving, and island hopping. You don't want this swimsuit to have any sort of ties or clasps that can come undone, kind of like this. This is going to make sure that you can enjoy activities without constantly feeling like your goods are going to fall out.
After you've locked that swimsuit down, go crazy and bring your other favorites, too.
---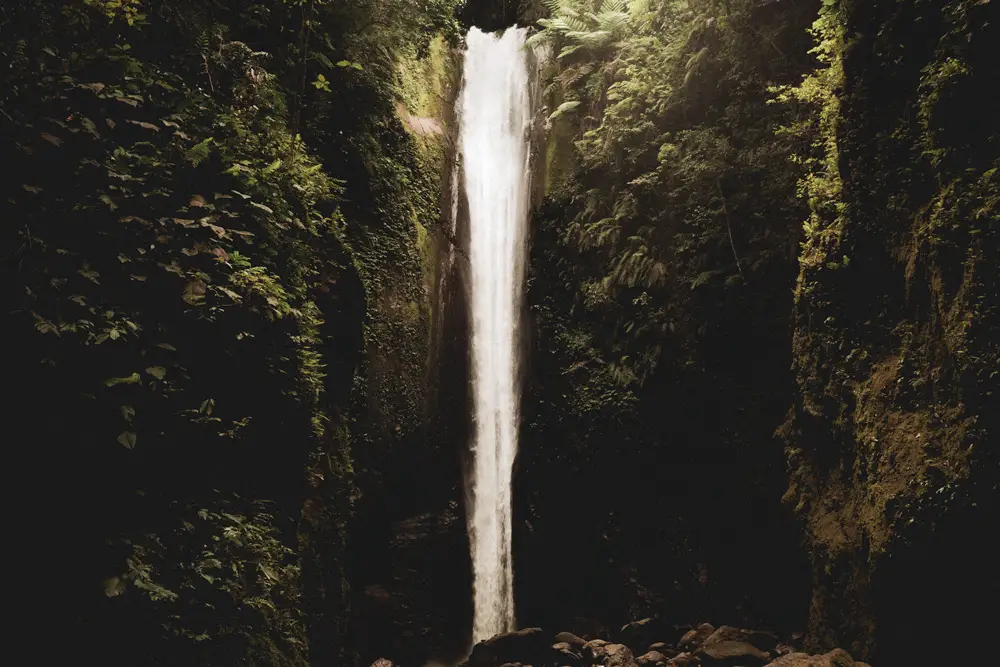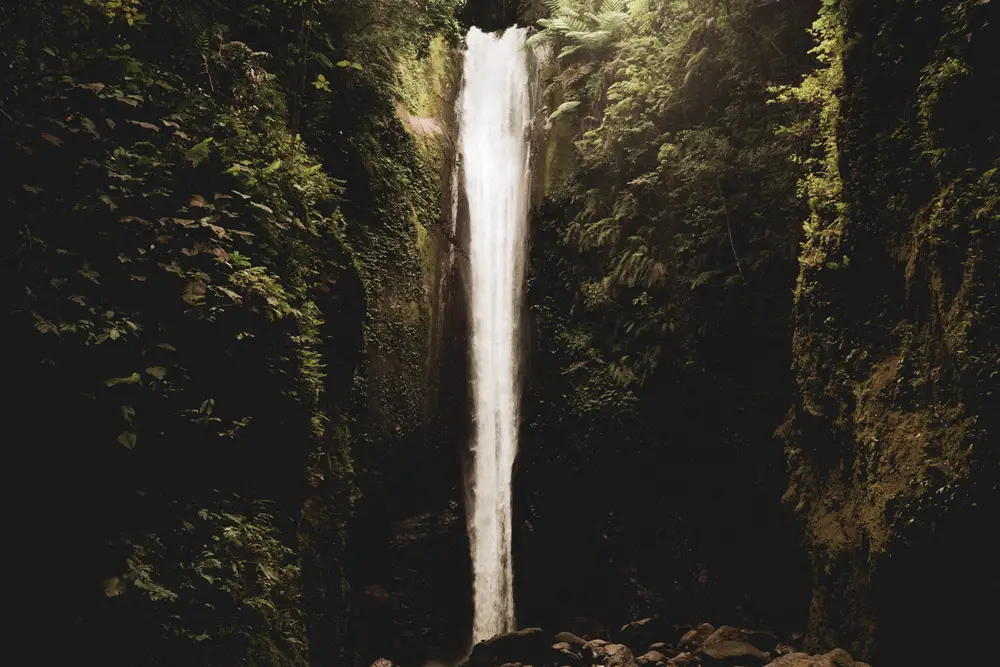 Shoes
1x | Hiking-Friendly Shoes
If you're planning on trekking some serious hikes in The Philippines, then a solid pair of hiking boots might be essential for you, but if you're following an adventurous itinerary like this one that doesn't require any fancy footwear, a pair of tennis shoes/trainers will be just fine. You'll just want to bring shoes that you can move in and won't be upset if they get smeared with mud, sweat, and saltwater. I brought along a (very) old pair of Nikes that I've had for almost four years and they served me very well for my whole trip. These, along with sport sandals, are the perfect combo for traveling The Philippines.
1x | Sport Sandals
Before you toss those foam flip-slops into your backpack, you might want to reconsider your footwear selection. I roughed out my trip in standard flip flops and I can't tell you how many times I wish I had brought a sport-type sandal that had straps to keep my foot secure. I know a lot of people are huge fans of Chacos, some are fans of Tevas, but my sandals of choice are Xero Shoes because they roll up into the size of a graciously stuffed crepe and therefore take up barely any space in your bag! I love barefoot type shoes, but if you already have a solid pair of Tevas or Chacos, then those will work fine too. You just want to make sure that you have a sporty sandal that you can strap your foot into. These are going to make hiking to waterfalls and other adventures way easier since you'll have proper footwear that isn't bulky and will keep your feet in four-wheel drive *sunglasses emoji*.
---
Toiletries
1x | Shampoo
Okay well, there isn't much to say here other than toss in my favorite shampoo in case you're looking to switch it up, reduce waste, or if you want to never worry about running out of shampoo while you're on the road. I use The Hydrator Shampoo from Weighstead, an online, zero-waste shop that I happen to also love and repurchase from all ze time. The shampoo is solid and plastic-free so it passes any TSA rules and lasts for months! Weighstead also has other solid shampoos based on your hair needs, but I tend to stick with the Hydrator since I have dry hair.
1x | Conditioner
A hydrating conditioner is another thing you'll want to pack along to give your hair that silky, glossy shine. I don't know of anyone that doesn't use a conditioner, so this is a really obvious item on the list, but I always love giving my recommendations for anyone that is considering some new products. I use The Hydrator Conditioner that goes with the shampoo I mentioned above since my hair tends to get really really dry and I am a sucker for my things to be matchy-matchy!
1x | Multi-Use Soap
You know those swiss army knives that have like 100+ different uses and basically you cover you whether you need to cut off an excess string off your shirt, survive an apocalypse, or open a bottle? That's what you want but in soap form; and yes, they make that! Trust me when I say that Dr. Bronner's 18-in-1 Soap is going to be your new BFF on all of your travels, not just in The Philippines. This stuff can clean you, your hair, your face, your laundry, dog, cat, dishes, and literally anything else you can think of. The best part about this stuff is that it's biodegradable and concentrated, so it's good for the environment and it lasts forever. There is a wide variety of scents and sizes, and my favorites are the rose scent and the hemp almond scent. I try to buy mine in bulk, so I'll buy the large size and then fill my GoToobs with it!
1x | Toothbrush + Toothpaste
Fresh teeth = fresh smile! My favorite travel-friendly toothpaste is Fat and the Moon's Anise and Tooth Cleanse. It comes in a small, 1 fl. oz bottle and it only takes a few drops to make your teeth feel really clean, like that clean CLEAN after you go to the dentist! I put this on my bamboo toothbrush, also from the Weighstead online zero-waste store and it gives me a plastic-free tooth cleansing routine that I love!
1x | Stainless Steel Razor
Do you keep buying expensive, plastic razors that are good for one shave and then turn to absolute garbage? If this is you, like it was me, do yourself a huge favor and invest in a stainless steel razor. Why? It's a one time buy for silky smooth legs every time AND replacement blades only cost $0.15. Where did I get mine? As you can probably guess by the plastic-free trend of my toiletry recommendations, Weighstead at this link! I don't know how I went so long purchasing low-quality razors when I could have one high-quality razor that will last me for the rest of my life!
1x | Deodorant
Iceland is chalked full of strenuous hikes. What does this mean for you? Potentially stinky pits, but not if you're using the right deodorant! I've made my way through my fair share of deodorants, but nothing has compared to the effectiveness of the NOW Solutions Nature Deodorant Mineral Stick. I love it because it's travel-friendly and it's made from minerals so you don't have to worry about it melting all over your things. This deodorant is great for hotter climates because instead of putting a thick cream on your pits, you're getting a little refreshment since you need to wet the rock to put it on your pits!
1x | Reef-Safe Sunscreen
A reef-safe sunscreen is one of the most essential things you need to pack for The Philippines. If you've read through some of my other packing lists and posts, you'll know that I never go anywhere without my Raw Elements SPF 30 Tinted Sunscreen Tin. It's plastic-free and it keeps my skin protected through all those morning surf sessions and sunny days on the scooter!
1x | Face Moisturizer
I am a simple gal. I like hydrated, bouncy skin and I achieve that with bland, plain ol', but awesome vitamin e oil. I like to keep my skincare regime as simple as possible so that is why I use pure vitamin e oil, but when I am traveling to a hotter climate I want something a little more lightweight. The first thing I reach for when I need a lightweight moisturizer is my OSEA Ocean Lotion. First off, how fitting is the name? Secondly, this stuff is PERFECT if you don't want to feel like you have anything on your face. It's incredibly lightweight but still gets the job done. I love it. You'll love it, too!
1x | Hairbrush + Hair Ties
Tropical wind + morning surfs = many tangled messes. I rely on my Wet Brush to untangle my hair within seconds, literally. If you're using any other brush, I promise this one is 1000x better than any other brush you could dream of. I have had mine for years now and nothing beats it. It made brushing out my hair after surfing not as sucky and painful as it could have been, so check one out if you're tired of tugging at your hair all the time!
1x | Reusable Menstrual Cup
All aboard the menstrual cup train; this thing has seriously CHANGED the way that I travel! It's yet another way to reduce waste and have a stress-free shark week! Different brands and models work for different ladies, so I have been using the Diva Cup, which is one of the OG menstrual cup brands, but a lot of people enjoy the Dot Cup! Not only is it black which matches my whole aesthetic, but if you purchase the cup here, then another cup is donated to a woman in need!
1x | Chapstick
I think we all have our own favorite chapstick, mine being Burt's Bees, but make sure you pack along your favorite hydrating and SPF filled lip balm to keep your lips plump and hydrated in the Filippino sun!
1x | Nail Clippers
Somehow I always end up forgetting to put these in my toiletry bag before my flight, so make sure you pack these to keep your nails at a manageable length. Mine tend to grow pretty fast and I have found myself, more times than not, with outgrown nails and nothing to trim them with!
What To Pack Your Toiletries In
1x | Toiletry Bag
The Philippines is very lenient about toiletry requirements, so don't need to bring a quart-sized, clear bag for your trip. I found that I was wasting way too many Ziploc bags as I traveled, and so recently I have upgraded to the Tom Bihn Spiff Kit as my toiletry bag of choice! I love it because it's washable, has plenty of compartments, a hook for hanging, and it comes in a variety of colors so you'll find one that matches your style. The wasabi color is my favorite! It will fit all your essentials, especially with how little you'll need in this tropical climate!
1x | GoToobs
I never understood why people bought travel-sized toiletry products whenever they traveled because they are expensive and wasteful, especially if you're trying to save money. GoToobs are reusable squeezie tubes made from silicone that you can put your own shampoo so that you can take a travel-sized version of your favorite shampoo on your travels rather than trying to find a different shampoo that you might end up hating, or worse, it'll leave your ends dry! No one wants that, so check out GoToobs and they'll enhance your travel experience by a landslide!
---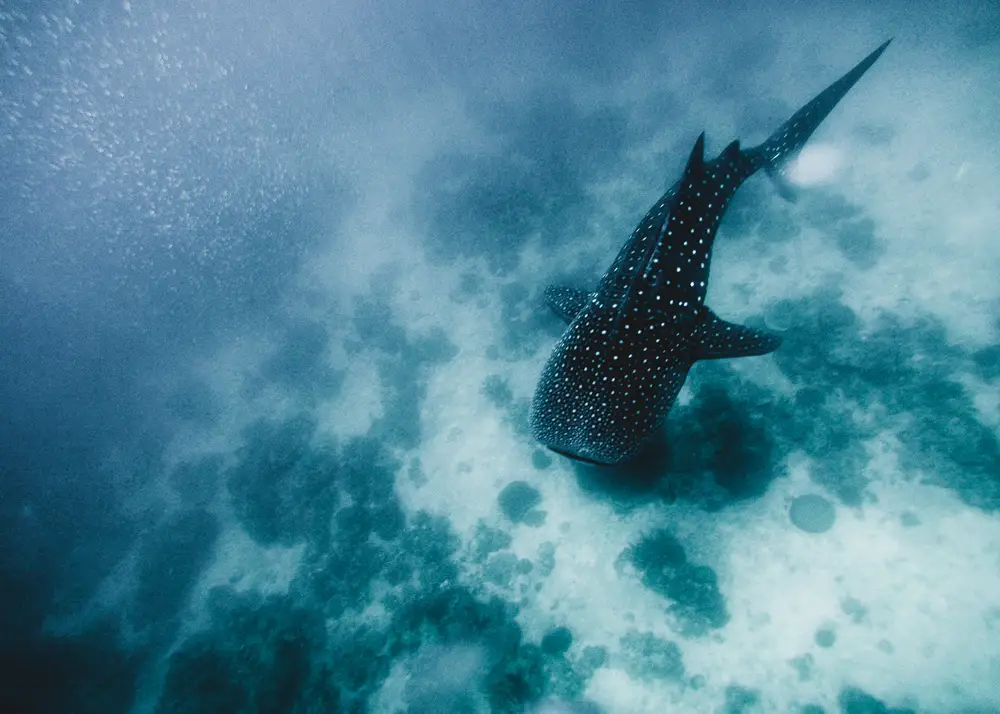 Accessories 
1x | Sun Hat
If there is one thing that you shouldn't mess with in The Philippines, it's the sun. I can't think of any single day where I wasn't thanking my baseball cap for preventing my corneas from being crisped by the sun. It's bright and even in high noon, the sun is going to creep through the top of your sunglasses so make sure you pack one!
1x | Sunglasses
In addition to your sunhat, want to pack your favorite pair of sunglasses that will protect your eyes and keep you squint-free. There is a chance that you may lose these on an island hopping tour or somewhere in the ocean, so choose wisely, but UVA/UVB protective sunglasses are always the best choice!
1x | Microfiber Travel Towel
I never used to travel with a towel simply because they were way too bulky, but once I discovered microfiber travel towels, I haven't gone on a trip without it since. They pack down into a tiny 5″x5″ square, so they take up little to no space in your bag and they dry super fast which is optimal in a tropical climate!
---
Basic First Aid Philippines Packing List Essentials
1x | Simple First Aid Kit
Normally, I am all about crafting your own first aid kit and saving on waste, but since I have not yet crafted my own kit that I can share, mixed with the inaccessibility of a lot of low-waste first aid kit items, I recommend purchasing a pre-made first aid kit. Not only with this have absolutely everything you need, but after you run out of certain items, you can replace them with eco-friendly ones! This first aid kit by Adventure Medical Kits has everything you could possibly need in a time of emergency. They're catered specifically towards hiking and backpacking, but it will keep you prepared on any outdoor adventure!
---
Technology + Camera Gear
If you're carrying around your third limb, aka your camera, you're going to want a backpack that's going to keep it protected from water, rain, and mud. The Philippines is a rugged, adventurous country and you don't want to spend the entire time worrying about if your camera is going to break. The solution to this is either pick up a quality camera bag like this one or if you don't want to spend a ton of money, you can just pick up a backpack rain cover that will do a similar job. Protect your belongings in any way that suits you, but don't neglect your gear while you're here.
Computer (optional)
I need my camera to run ze blog, so this is essential for me, but it may not for you. If you need it, bring it. If you don't, don't.
Camera
Oh yes, ma'am! A camera better be on your Philippines packing list! While I carry a rugged DSLR camera (I have the Mark III version but linked the Mark IV), I don't believe that you have to have a professional camera to take stunning photos. In fact, this beginner DSLR, this point and shoot camera, and this adventure camera take beautiful photos without costing a fortune or taking up a lot of space. Heck, you can even use your phone! The cameras on those things are nuts now!
Lenses
Lense-wise, I would keep things simple. You don't want to have 4-6 lenses weighing down your bag in this kind of heat, so I recommend bringing a lens with a wide variety of focal lengths like this one, one macro lens, and my favorite portrait lens. Obviously, you don't need to bring these exact ones, but any combination of these lenses is going to be ideal. It lets you capture the huge waterfalls, smaller details, and the smiling faces of all the sweet people you're going to meet!
Drone
While I didn't recommend packing a drone on my Iceland packing list, I HIGHLY recommend it for this Philippines packing list. I would even consider purchasing one for your trip if your wallet can make that happen for you. The Philippines can be viewed in a lot of different ways, but nothing beats the views from the air. Sugba Lagoon, Casaroro Falls, Guyam Island, are all unbeatable spots where a view from above is going to blow yo' mind. I wish I had my drone during my trip here, but I still had great views without it!
Extra Batteries
You are landing in paradise, after all, so you don't want to show up with only two batteries. I mean, you can, but you may run out of juice during an important adventure, so I recommend bringing at least three. Instead of buying off-brand batteries that don't last as long, buy used brand name batteries! You'll get a sweet discount and a better battery life!
SD Cards + Card Case
Like your backpack, you want your card case to be really rugged. I carry all my SD cards in my Pelican case and it has never let me down. I could drop that thing into the ocean and I know that all my photos would still hold up a transfer to my external hard drive. It's inexpensive for the quality and you'll never need another case!
Wireless Shutter
A highly underrated piece of photography equipment is a wireless shutter. It's basically a remote that allows you to take pictures of yourself from far away without having to go back and forth to set a timer. IT CHANGED MY LIFE and the way that I take my photos! I have the freedom to be more creative and get different shots now!
Tripod
A tripod isn't everyone's flavor and it might be too much weight for your bag, but pack my Manfrotto tripod since it weighs practically nothing and you can alter the height of it to get different shapes. Seriously, sometimes I barely notice it's there and I am always thankful to have it with me. It helps me get a ton of different angles and heights on my photos even when I am shooting solo, so I really recommend bringing yours! If you're trying to travel light, a gorilla pod is the best portable and lightweight tripods out there!
Chargers + Cables
I know we all have different gear and preferences, so make sure you have all your chargers, converters, cables, and other wires that you need for your things!
---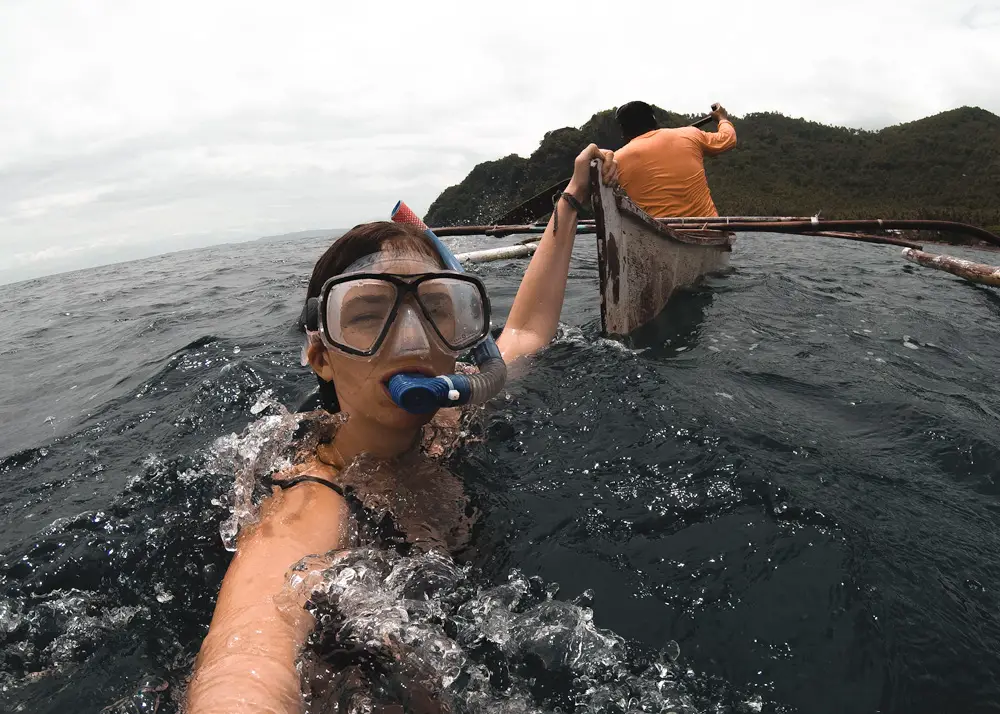 Other Philippines Packing List Essentials To Travel With Ease
Since the tap water isn't drinkable in The Philippines, you may be tempted to just buy the overwhelmingly cheap plastic water bottles at marts. Please do not do this. Not only does The Philippines not have reputable trash service, but constantly buying bottles is downright wasteful and once you throw them away they are highly likely to end up in the ocean because of illegal dumping by trash collectors AND open dumpsites near waterways. It's a serious issue and to help keep these islands clean, please consider bringing along a reusable water bottle to refill at your hostel or guesthouse before you head out on your day's adventures.
Going along with the same theme of the reusable water bottle reusable utensils will also come in handy if you pick up takeaway, munch on some street food, or if you want to avoid using a plastic utensil set elsewhere. These came in handy quite a bit for me since I ate A LOT of fruit on my trip so having my own wares was great for being able to eat on the go!
Obviously, I recommend bringing a bamboo straw to avoid using plastics ones, however, you don't want to leave this at home for one reason: coconuts. Those fresh, Filippino coconuts straight off the tree are to DIE for and 100% of the time they're going to come with a plastic straw, sadly, a lesson learned while I was island hopping in Siargao, so MAKE SURE you pack this!
---
---
Toilet Paper Roll
You're confused and possibly exuding a chuckle right about now, but don't come to me when you're in a random bathroom on an island with no toilet paper and no redemption materials… Oh yeah. Things get interesting REAL QUICK when you're not properly prepared for the loo. It took me around four trips to the bathroom to finally get the message that toilet paper is a luxury in this country. Before you do anything else, head to a 7/11 and pick up a roll to stash in your bag. You're going to encounter a lot of surprises while traveling the Philippines, but you don't want a lack of TP to be one of those!
Hand Sanitizer
Another luxury item, soap to wash your hands. You might end up going to the bathroom in some pretty questionable places, so make sure you bring your own hand sanitizer with you. Plus, there is a large chance you're going to be petting some adorable puppies, and you want to make sure you clean your hands after touching them!
Bug Spray
As much as I want to say that the Philippines is bug-free, it's not, and bug spray/repellant is definitely something that you need to pack. From the lagoons, beaches, and jungles, you're going to have little bugs all over in some areas and a good bug spray will help keep the itches and bites away from your leisurely travels. I like this one by All Terrain because it makes me smell like an essential oil dream and it's not toxic to the environment!
To save yourself time, money, and frustration, invest in a quality power adapter. The first one I bought wouldn't even stay plugged into the wall… It, literally, had ONE job, so instead of sucking it up and using it, I invested in a higher quality adapter that I could rely on for the rest of my travels. It has made all the difference and stays in the wall!
Travel Insurance
This handy-dandy item is one that should not be left off your list of what to pack for The Philippines! I never go anywhere without travel insurance, so having this with me while I was wandering The Philippines kept me feeling secure throughout my entire trip. Shit can really hit the fan at any moment, so don't write it off your travel budget! My go-to for travel insurance, like many fellow travelers, is World Nomads! I rave about them on a lot of my other packing list and safety tips on my website, but check out the link below to learn more about travel insurance, why you need it, and why I recommend World Nomads. Or you can get a free quote for your trip below!
---
---
What is one item you NEVER travel without? Share with me in the comments below!
Aaren
Did you enjoy this Philippines packing list? Save it for later on Pinterest!