(Last Updated On: 05/01/2022)
"The first jump towered thirty-five feet below me. I knew there wasn't any turning around and with the help of my new Australian friends and tour guides, I took a huge breath and leaped into the blue water below."
Don't let the "touristy" label of this attraction lead you astray, this adventure is adrenaline-filled and great for anyone who is looking for unique scenery while jumping through a massive canyon. For my tour I didn't take the full route to Kawasan Falls because I had gotten there early that morning to beat the crowds, so for our tour, we climbed and explored our way through the canyon and then took an extremely scenic, but strenuous, climb back up to the briefing center. I think if you're looking to have Kawasan Falls all to yourself, go there first at around 7am and you can enjoy it until people begin flooding in and then head to the canyoneering afterward.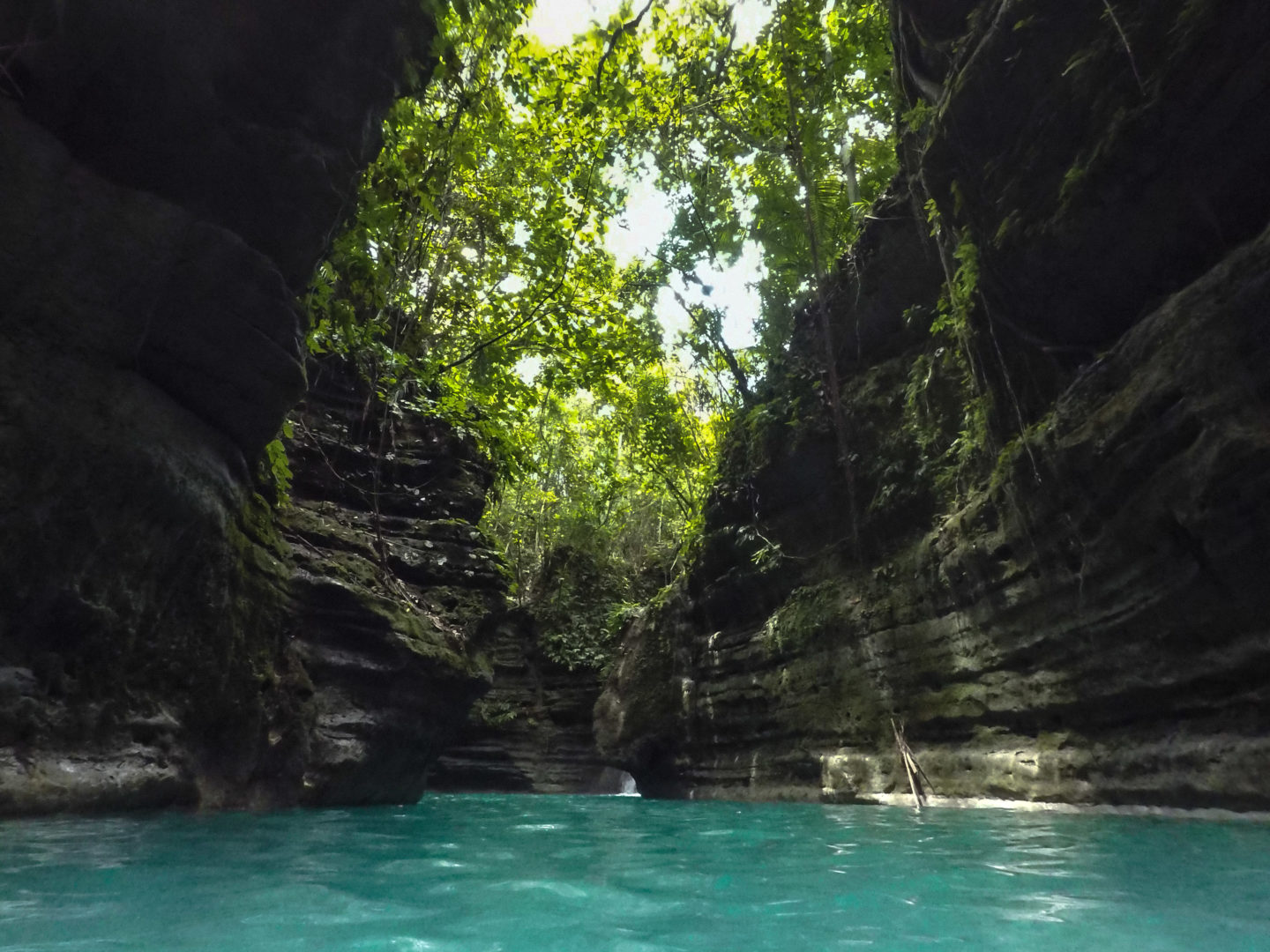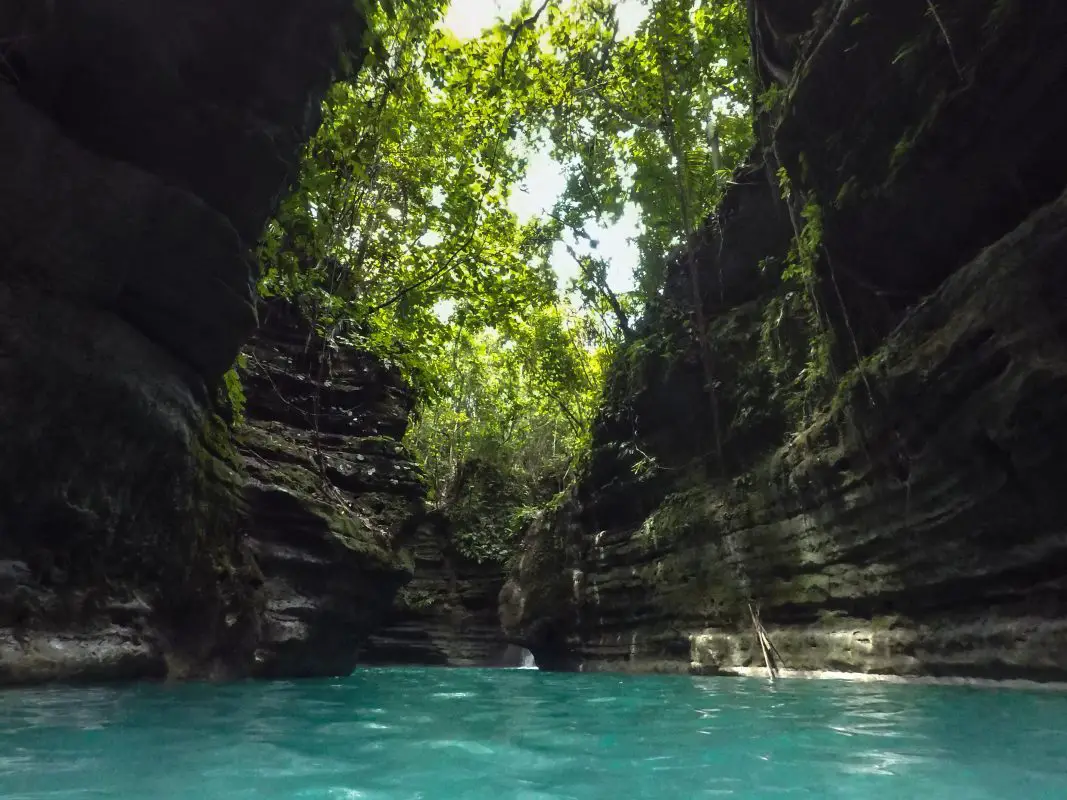 Basic Information
Cost: ~1500 PHP ($28 USD) *includes helmet, life jacket, tour guides, and transportation to and from the registration point*
Length of Time: 2-3 hours (it really depends on how slow or fast your group moves)
Tallest Jump: ~35ft (11 meters)
What to Bring: waterproof camera/go pro, cash for lunch and a tricycle home.
What to Wear: swimsuit, athletic clothes, and tennis shoes.
Solo Travelers: Don't worry about going alone on this adventure. I was paired up with a group of adventurous souls and made the whole experience even better than what I was expecting. There was so much laughter and encouragement, so when you're at the little kiosk paying, make sure to ask if you can group up with some other people!
As I mentioned before, my day started off exploring Kawasan Falls, but after that my guide, Jason, drove us over to Alegria to the pick-up point for the tours. It was around a twenty-minute ride featuring the small municipalities, waving at the local children, and gazing out into the ocean. Once we found the registration building, I signed my name in the guestbook, paid the tour fee, and hopped back on the scooter to be taken down to the briefing center.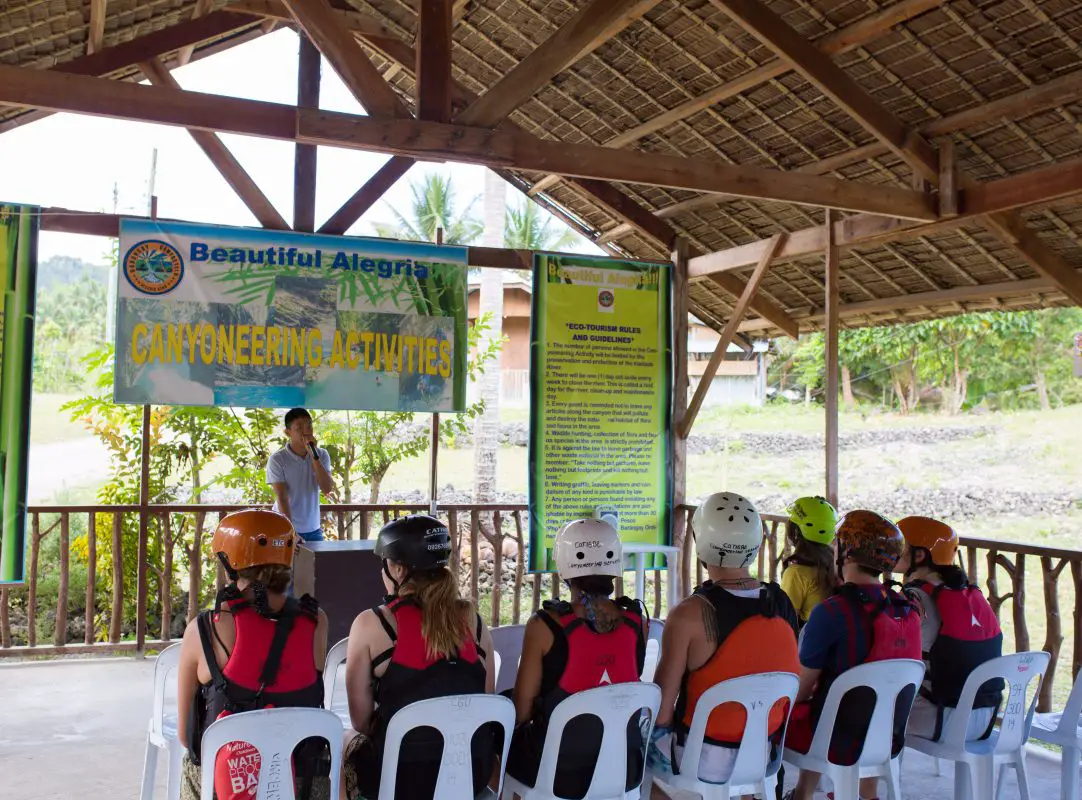 After we geared up with our lifejackets and helmets, we all gathered in this pavilion for a brief safety hearing. I felt completely safe during this entire tour, especially having a lifejacket and helmet. Our briefing guy basically told us the proper way to jump, not to leave trash behind, etc., etc., pretty much all the general rules that you needed to know to have a safe and fun experience while keeping the environment cleaner than when you got there.
With our fully charged GoPro's in hand, it was time to walk down to the beginning of the course, which so happened to be one of the tallest jumps of the day.
The walls of the canyon towered over this stream or turquoise water throughout the entire day, so we were never short of photo ops and times where we just paused in awe of our surroundings. We only saw another group on the last jump of the day, so it felt like we were in our own world navigating through this canyon.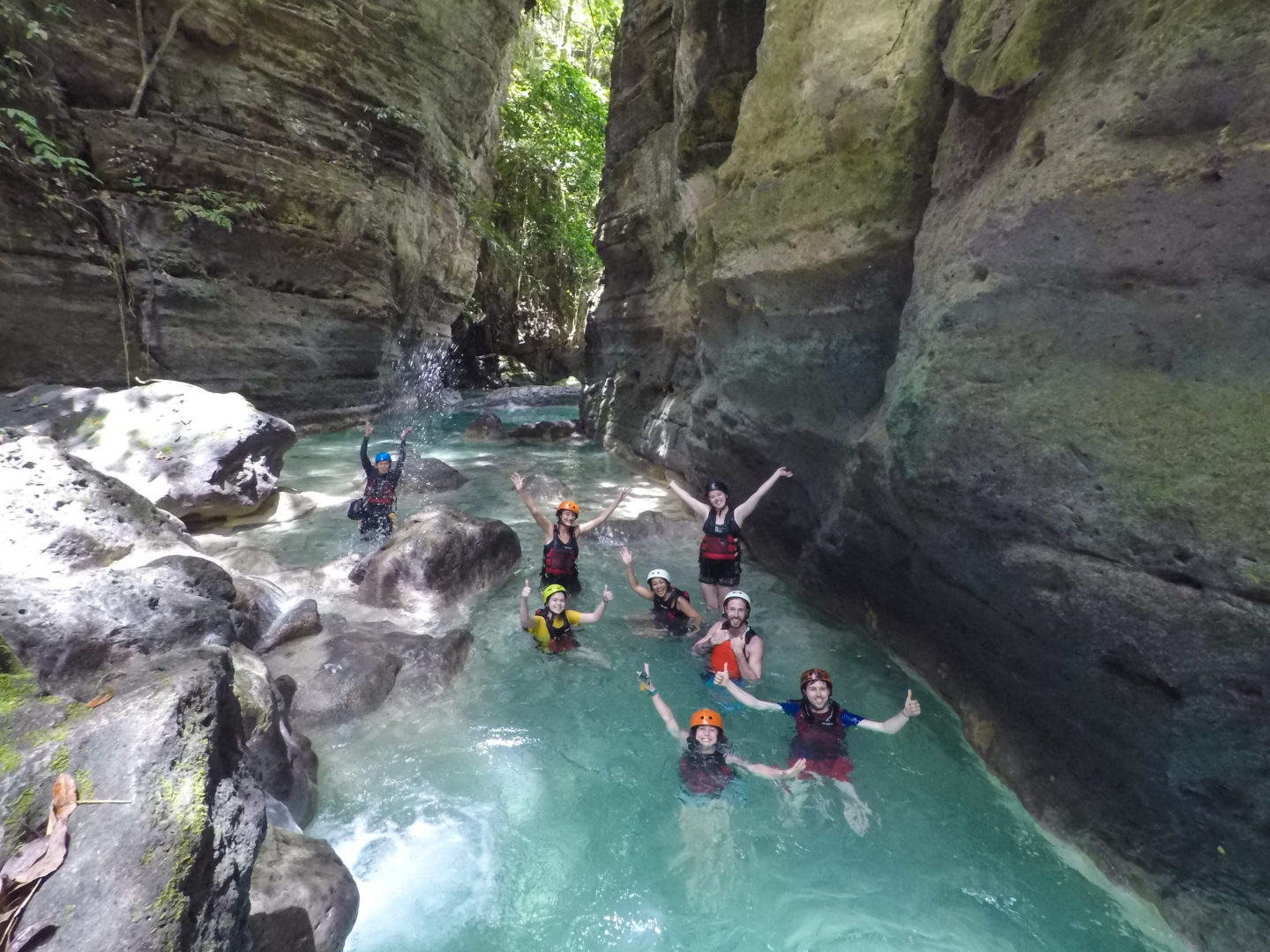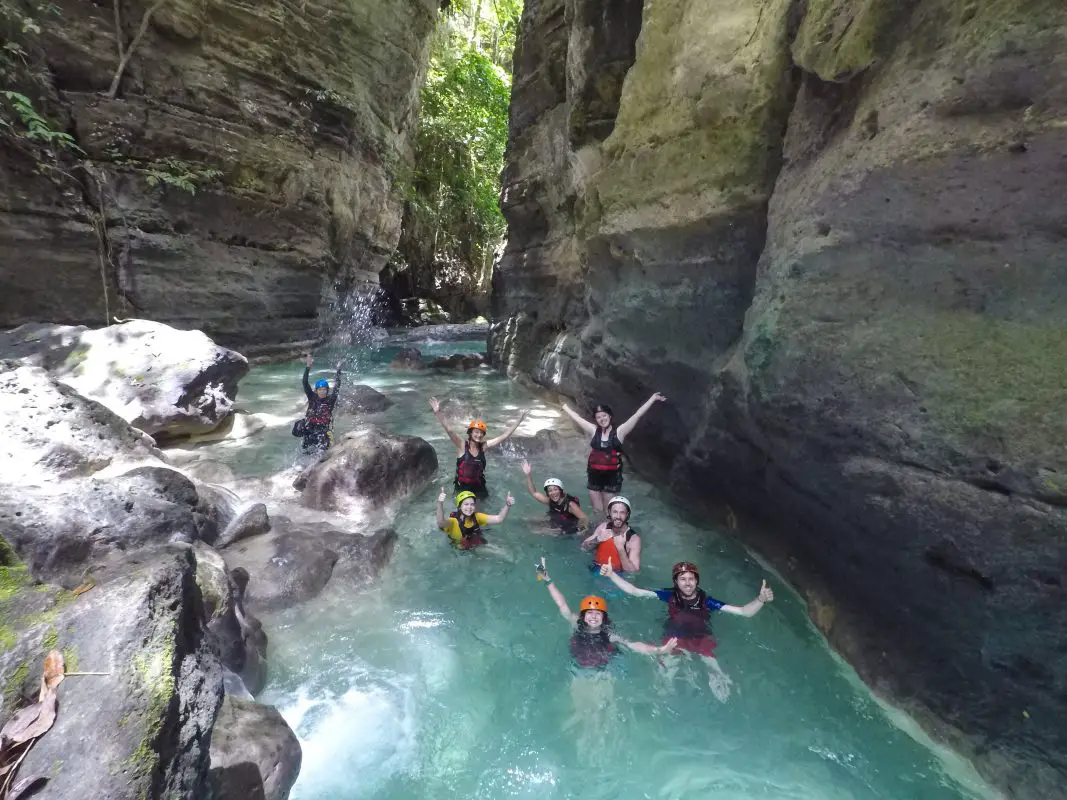 This photo was taken after everyone made the first jump! A couple of us were nervous at first, but with a little encouragement and help from our guides, we all took the leap!
We would spend around 5-10 minutes at each jump and in between, there were all sorts of slides and other fun small jumps that our guides came up for us. For some of them, we would fall backward, slide backward, and do the classic pencil dive. They were very knowledgeable of our GoPro's (maybe more than me to be honest!), so they were always up for photo shoots and making sure that all of us got videos of the jumps!
Along the way, our guides pointed out a waterfall nestled in between two rocks. They instructed us to sit down in front of it and sit back, which seemed a little bit odd at first, but the water from the waterfall ran off the sides of our helmets, so we were able to breathe underneath this waterfall!
All of our guides knew the quirks about the course, where to step, and where to jump. This made the trip even better because we knew that we were in safe hands. Also, the guides were doing the jumps with us so we were able to watch them and follow suit.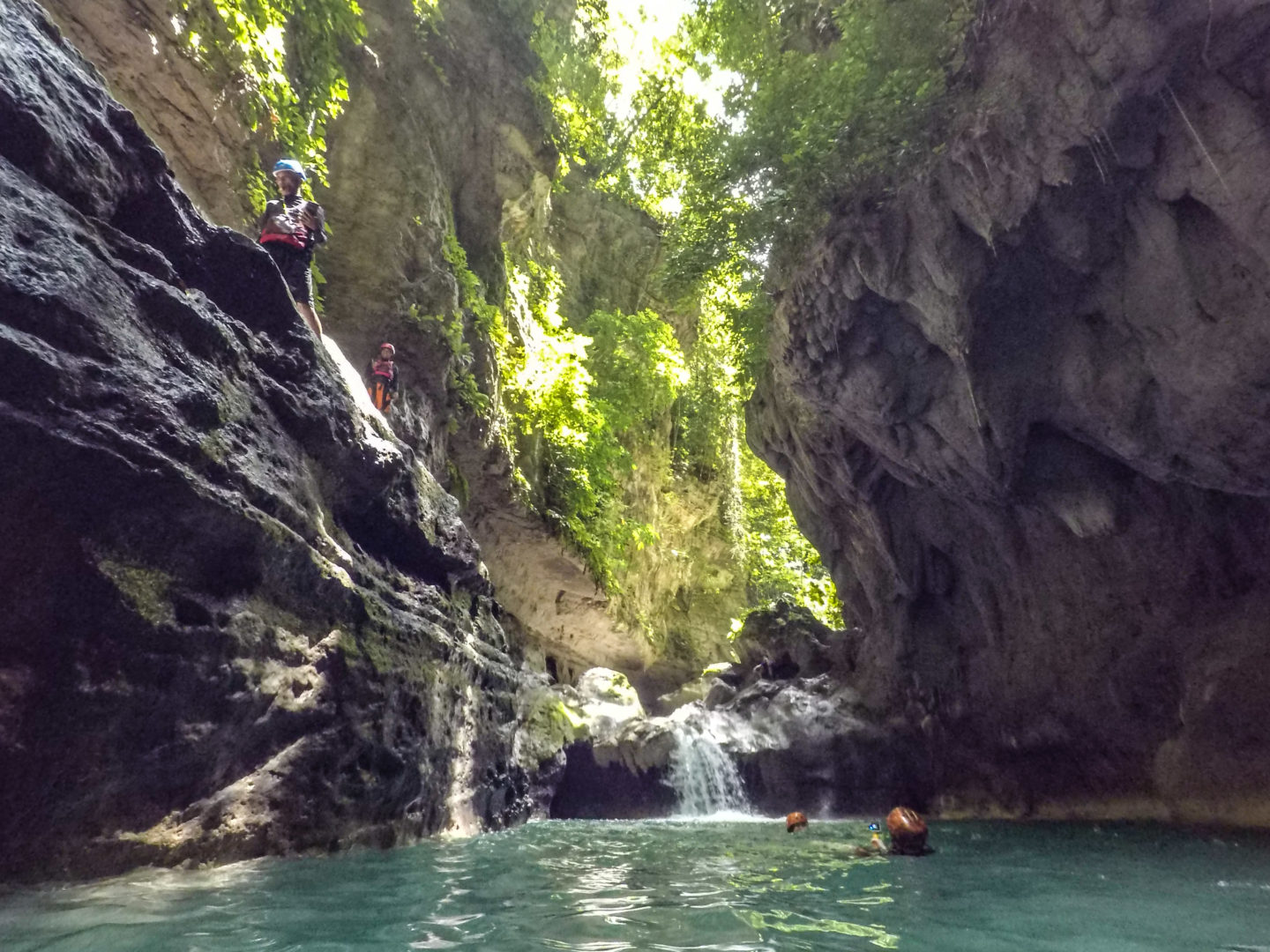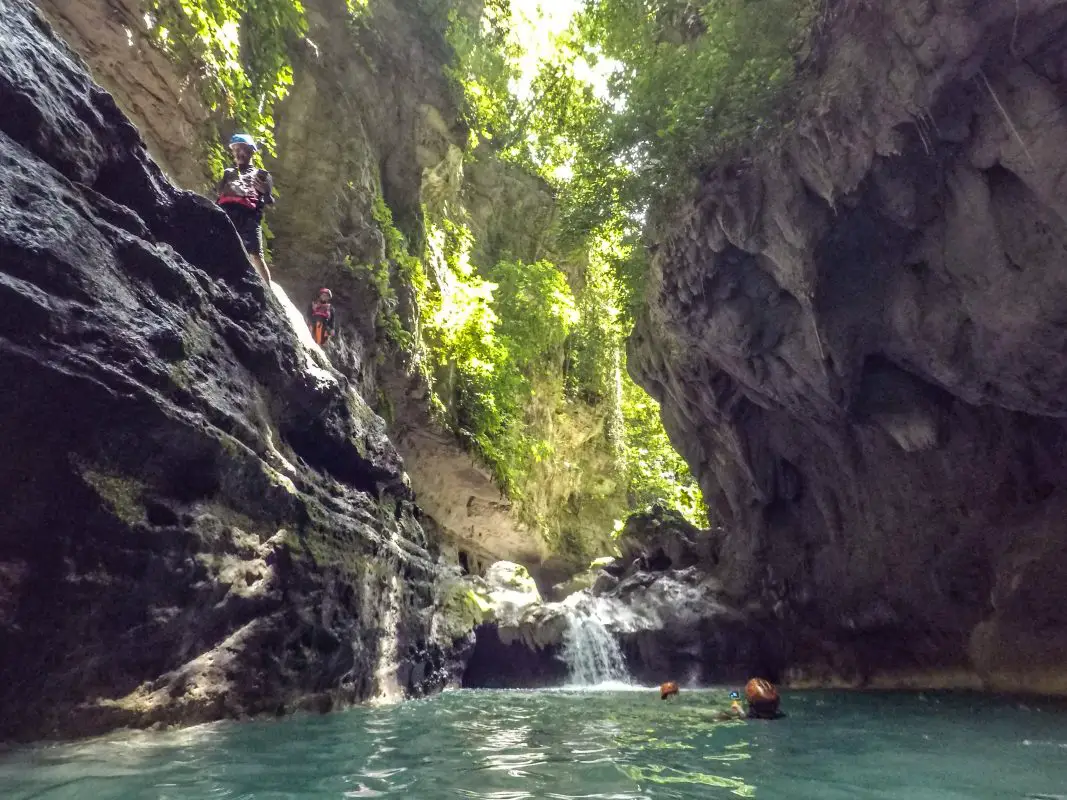 My favorite jump from the whole day is pictured above! It took me about a minute to gather the guts to jump off this thing, but once I stuck the landing the first time, I wanted to go again and again and again! No matter how many times I've gone cliff jumping, I always had to take a second to gather myself before I go (even though I've jumped off higher)! Does anyone else do that?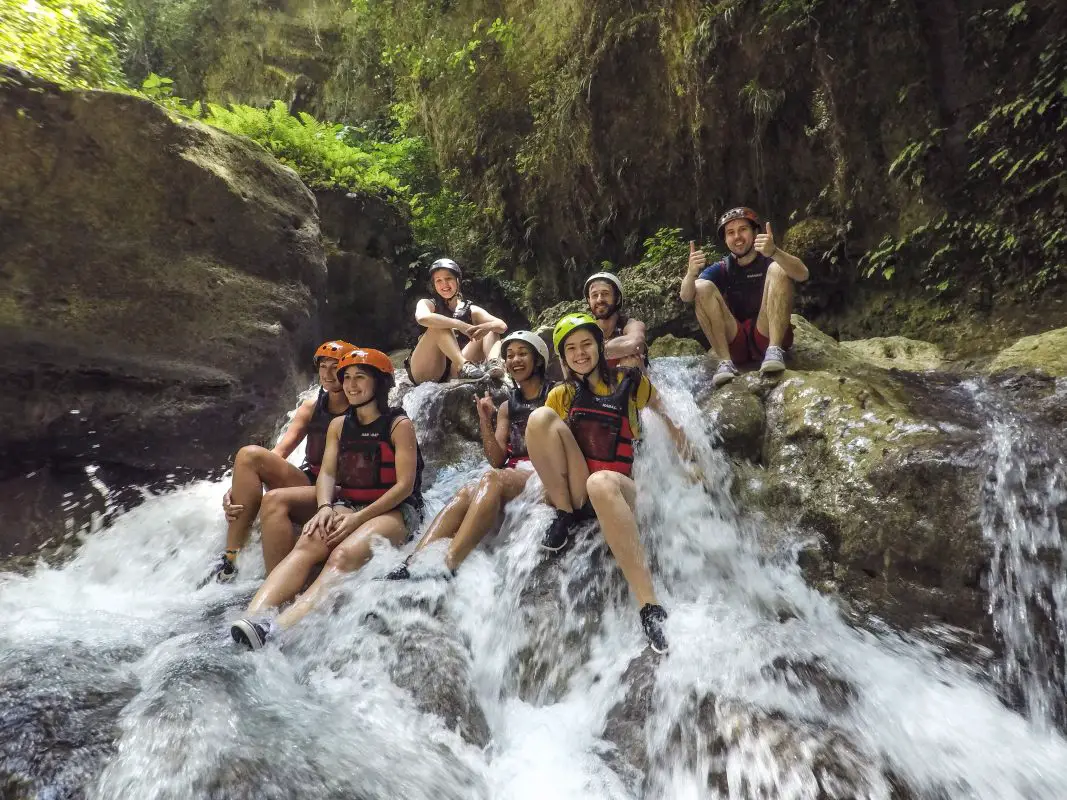 Our guides knew exactly where to stop for photos, so I have some really nice photos of my group and me. At one point during the beginning, I handed my GoPro to one of our guides and he took all sorts of photos and videos! It was so nice to not have to stress about getting all the perfect photos and I could just enjoy my time spent here.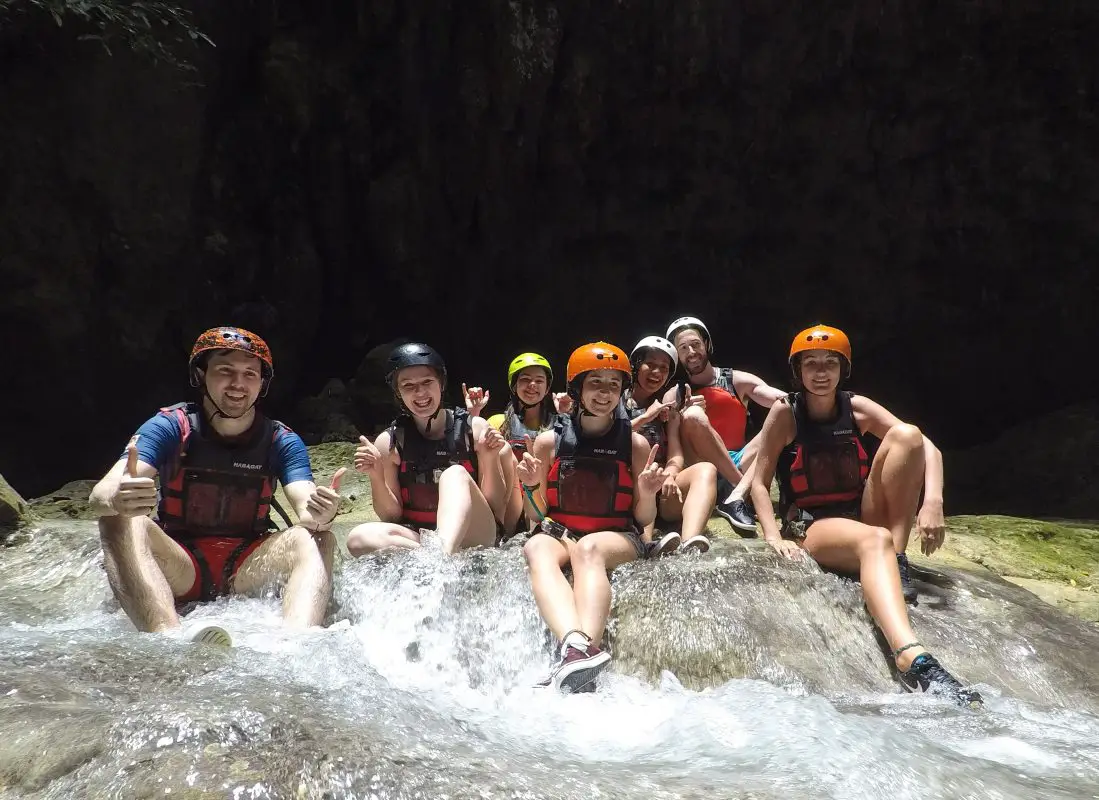 There were some points where I wish I could have had little artsy photo ops in between these canyons, but it would have been a nightmare trying to carry around my huge DSLR camera while trying to have fun at the same time. The less you bring on this adventure, the more fun you're going to have.
I had a full bag with me at the beginning, but my guide told me that he would watch my bag for me and make sure that nothing was messed with, etc.. If you don't have a guide driving you around like I did, try to pack little or leave your bigger bags underneath your scooter seat.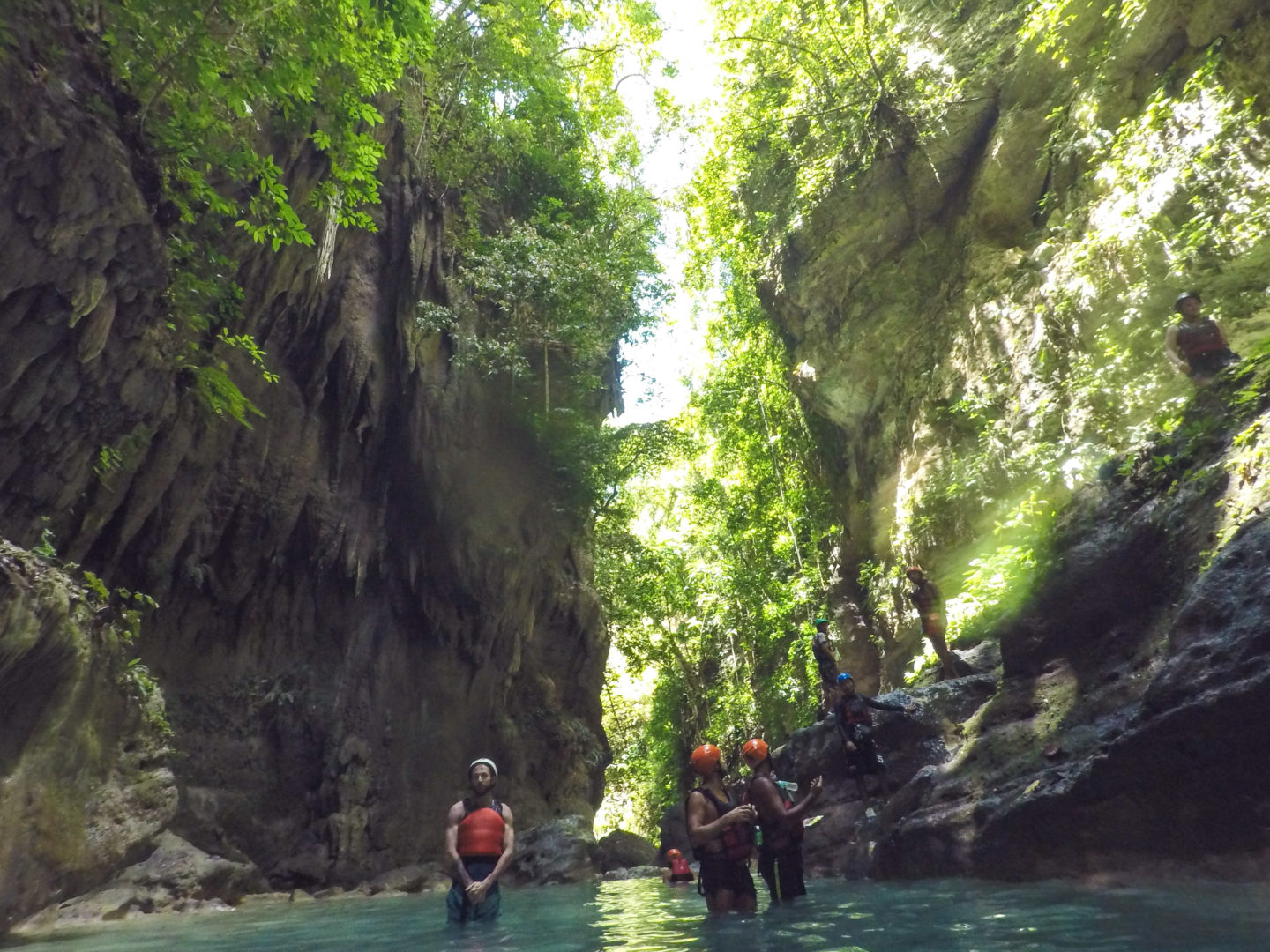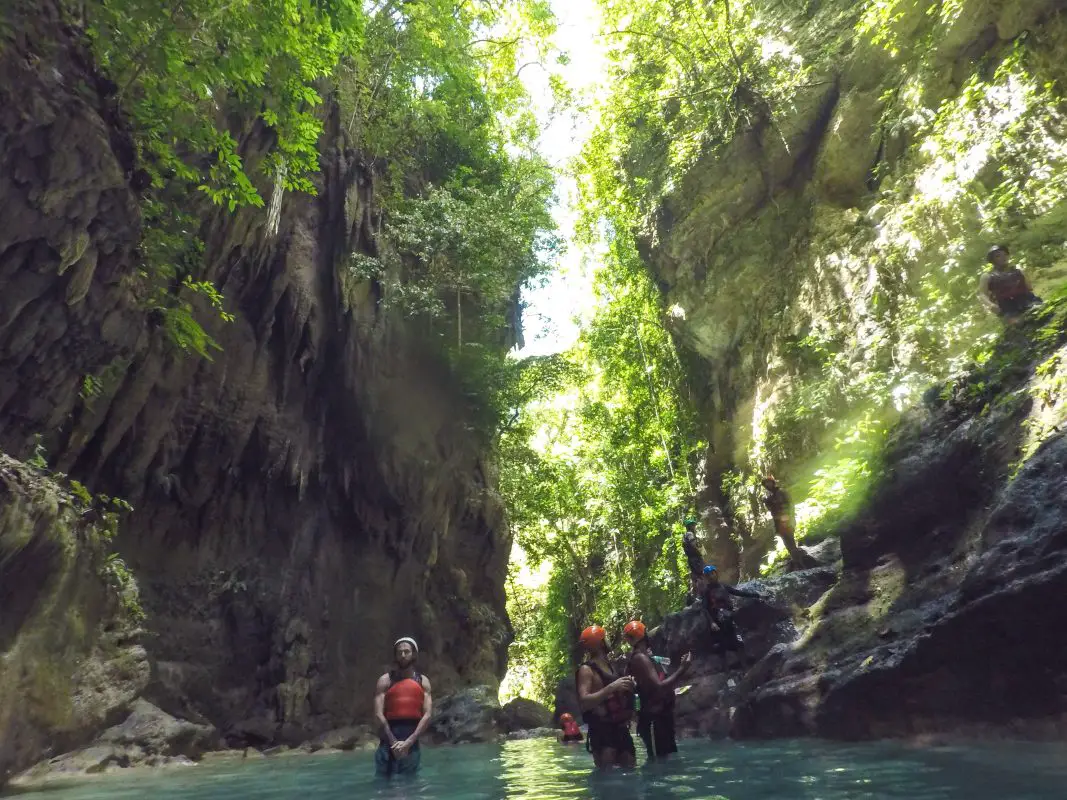 There were fun floating points in between certain areas, and points where we had extra time in between jumps so we could really take in the scenery. This was probably the most adventurous thing that I did in the Philippines, but these views are near the top of my list as well. I have never seen anything like it before (like a lot of the Philippines lol) but this went so smooth and it couldn't have been more perfect for me. It really makes me want to go cliff jumping off other higher places! I forget how much I love doing it and I don't really get to do it too often!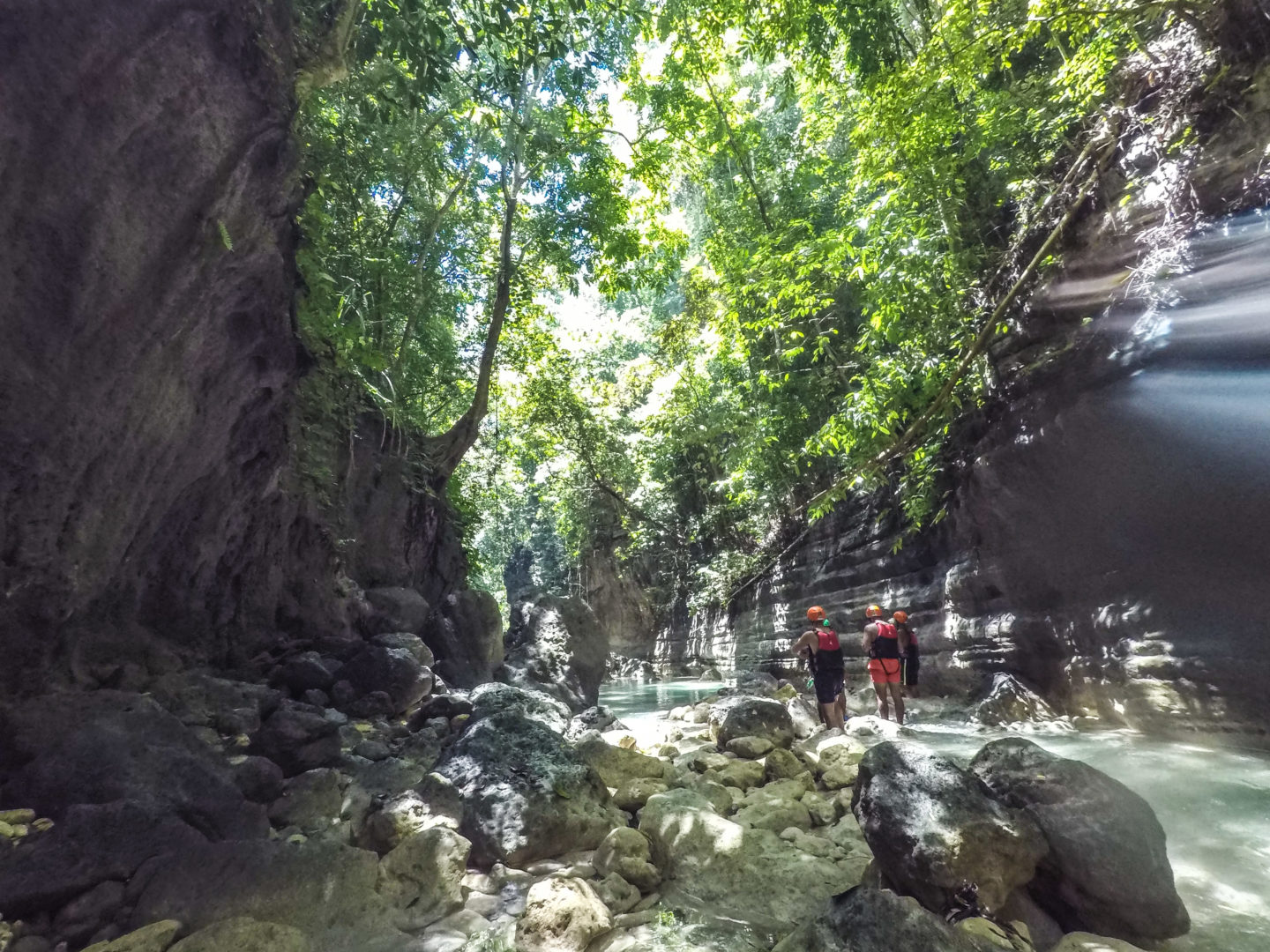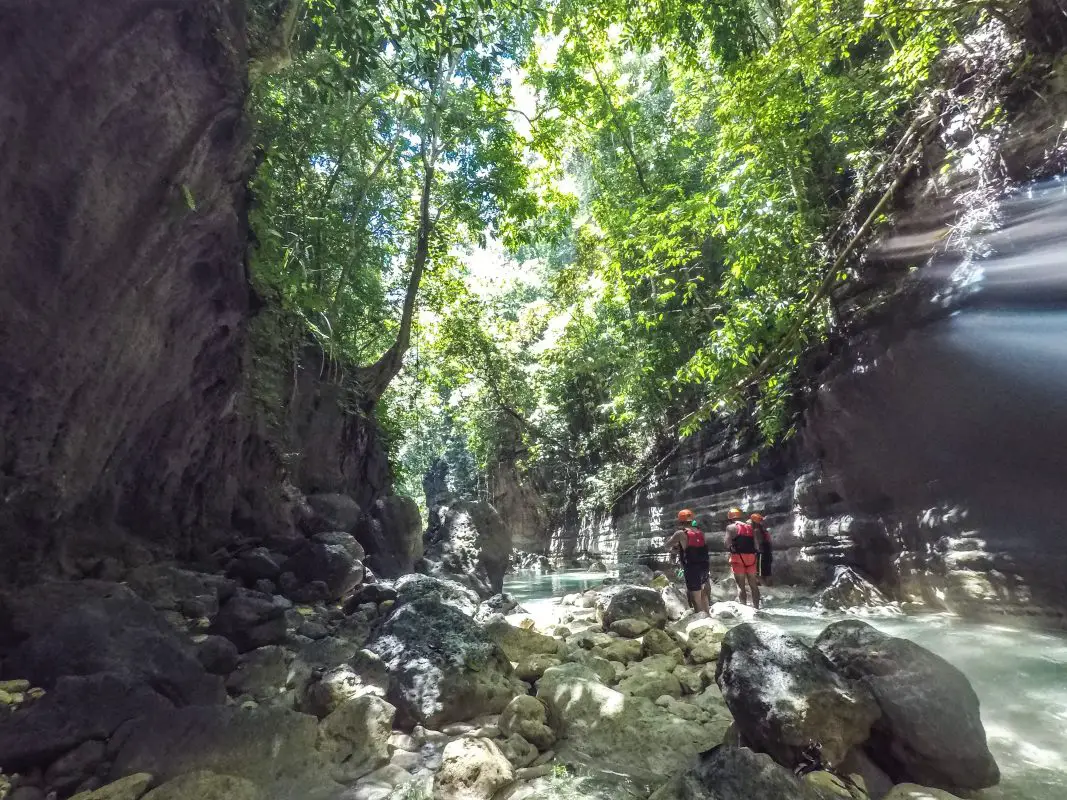 The final jump of the day was around thirty-five feet! I think that depending on the location the jump may look higher or lower because I jumped off the same height on Siquijor Island and that one felt like I was jumping almost fifty feet off of the little ledge! At this spot in the tour, you're able to buy a quick lunch at one of the stalls, but I couldn't eat any of it being vegan, so I waited until the tour was over with to get food.
I didn't end up getting a photo for this jump because my GoPro's battery was well depleted by this point in the canyon, but that'll help add a little mystery to your trip! It's so fun for me to go into excursions like these without knowing what to expect because every turn, jump, and cave you go through is even cooler than the last. I had watched a handful of videos covering this, but I still went into now really knowing what I was getting myself into, which made it even authentic in my opinion.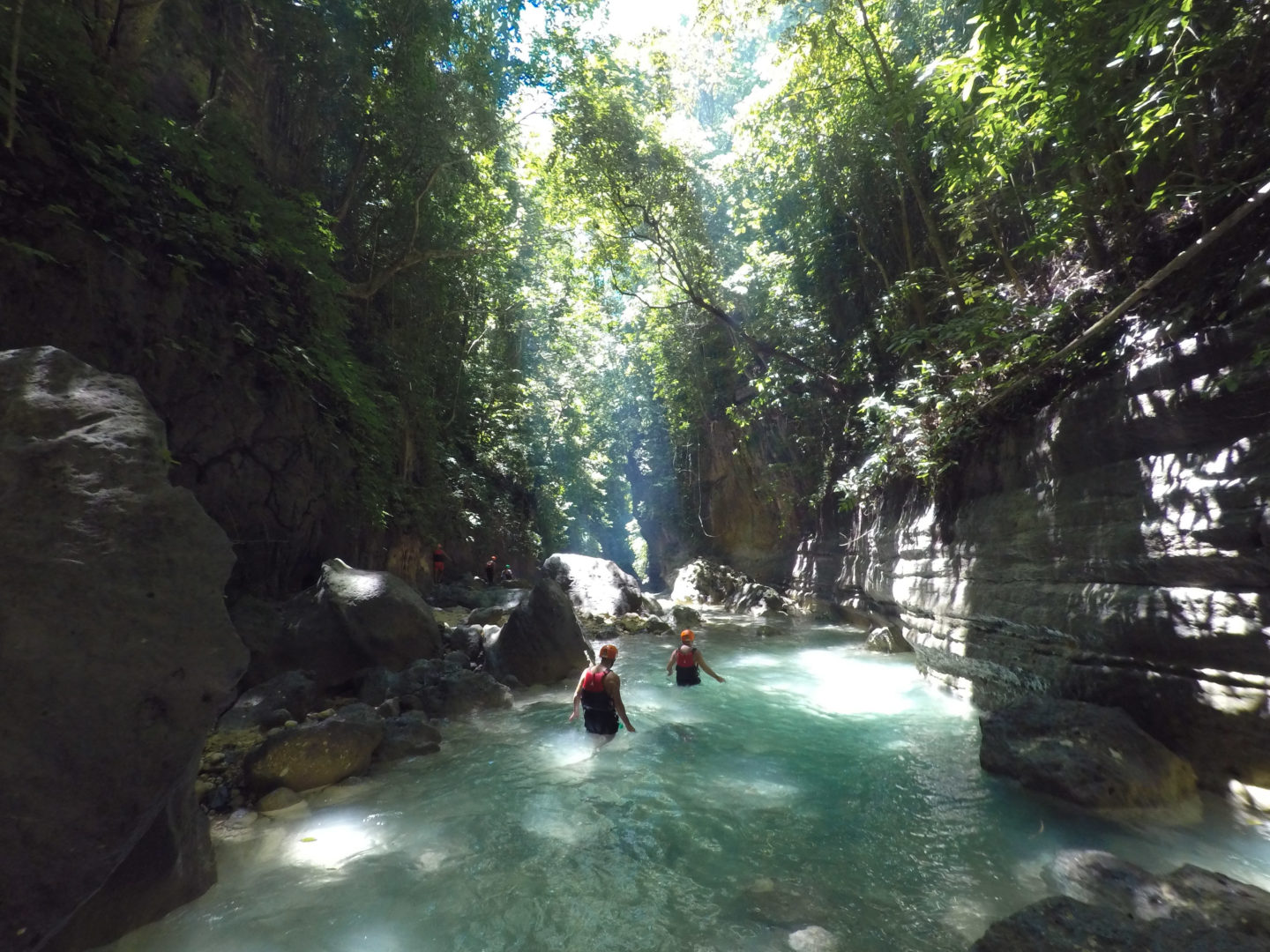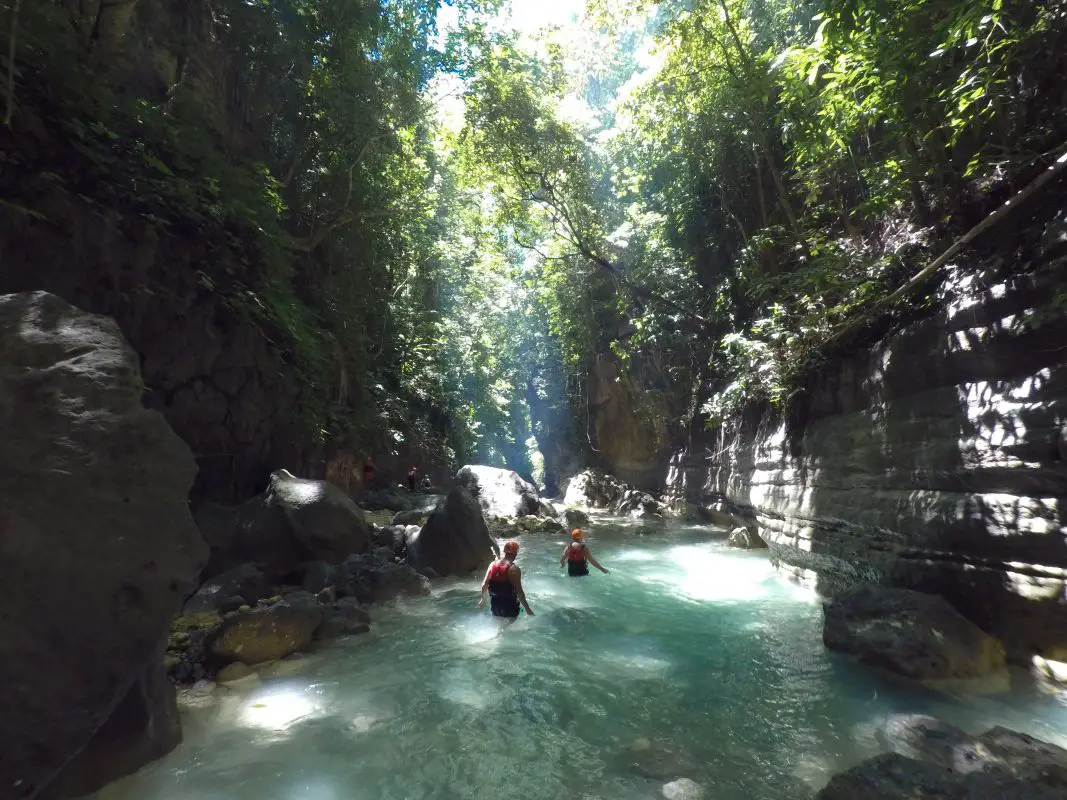 If you're coming to the Philippines I highly recommend going on this adventure and conquering your fears all while enjoying great company in the process!  The saying, "it's more fun in the Philippines" is no joke and this proved that to be true! The locals are so adventurous and encouraging when it comes to activities like these!
---
HELPFUL GUIDES FOR YOUR TRIP TO THE PHILIPPINES:
– 30 Travel Essentials For Backpacking Southeast Asia
– 50 Philippines Travel Tips For An EPIC Trip
– 16 Things That Surprised Me While Traveling The Philippines
– The Best Time To Visit The Philippines
– The BEST Philippines Packing List: What To Pack For The Tropics
LOOKING FOR DESTINATIONS IN THE PHILIPPINES? CHECK THESE OUT:
– The Perfect Philippines Itinerary For 2 Adventurous Weeks
CEBU
– Tumalog Falls: Cebu's Unmissable Waterfall
– Exploring Kawasan Falls on Cebu (Without the Crowds)
SIARGAO
– Island Hopping in Siargao: Guyam, Daku, + Naked Island
– Where To Stay On Siargao Island For A Dreamy Stay
– TakTak Falls: The Only Waterfall On Siargao Island
DUMAGUETE
– Apo Island Day Trip: Snorkeling With Sea Turtles
– Casaroro Falls in Valencia: Hidden Waterfall Near Dumaguete (FULL GUIDE)
SOUTHERN LEYTE
– Where To See Whale Sharks Ethically In The Philippines
---
Until next time,