(Last Updated On: 05/01/2022)
Located in the southernmost point of Negros Oriental, Apo Island, is home to the most incredible sea turtle snorkeling experience that you can't miss on your visit to the Philippines. Swimming with sea turtles is an adventure that everyone dreams of, so I have included some stunning imagery, general information tips for what to bring, what to wear, etc., and pricing information for your visit.
This post may contain affiliate links for the products or services I mentioned, but as always, all opinions are my own. I make a small commission, at no extra cost to you, when you make a purchase or booking through these links. This helps to support this space and keep me blogging, which I am so extremely thankful for.
This is one of my fondest memories wrapped within the reef of a small island off the coast of Malatapay.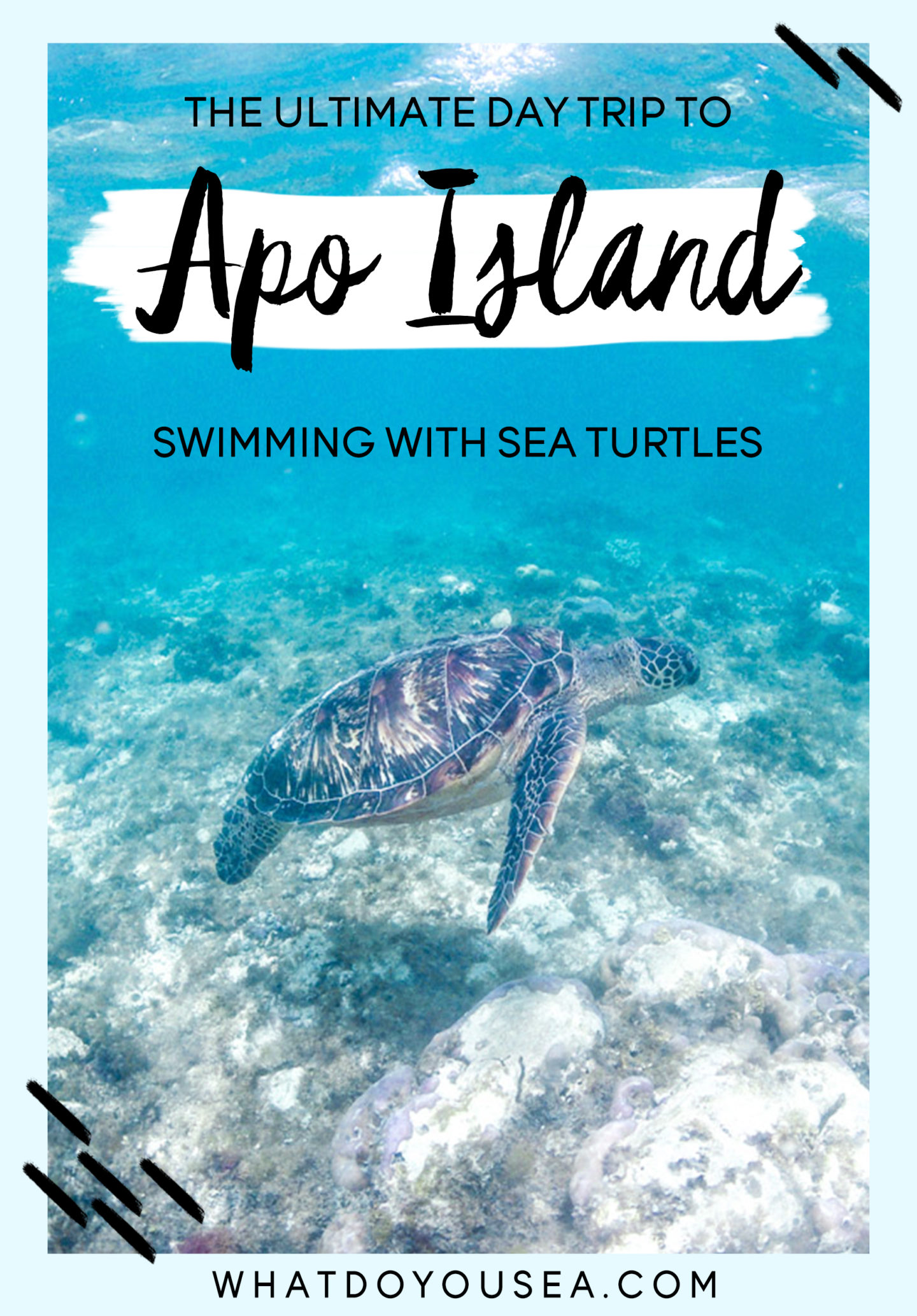 General Information
When To Get There: The tables and reefs fill up fairly fast, so make sure you get there as early as possible. You can arrive there as early as 8:30 am (the first public boat leaves at 8:00 am) if you leave Dumaguete around 7:00 am; this time includes the ride to the bus station, the bus ride, and boat ride. The morning also has the clearest water, so visibility will be significantly better early on.
How To Get There: From Dumaguete, you're going to have to take a bus from the city to Zamboanguita or Malatapay. Take a tricycle from your guesthouse to the Dumaguete Bus Terminal. Hop on the bus and head to Zamboanguita. The bus will drop you off by a few local vendors so you can purchase a snack there if you wish, but from there you're going to follow the dirt road on the left all the way down to the beach drop off. There is a little kiosk with a woman that sells boat tickets. NOTE: We ended up saving money by tagging along with some local travelers from Manila, but the kiosk woman up charged our boat cost since she knew all of us were tourists (even though I was the only one that wasn't a local). So know your price and make sure you aren't taken advantage of.
Boat Fee: The fee for our boat was 2500 PHP (~$47 USD), and we went with two other girls to split the cost between the four of us making it around $12 USD / person. As I said, we were up charged slightly, but we learned our lesson and $12.00 is still extremely cheap for a boat ride. You can also rent a boat for 8 people for around 3500 PHP (~$65 USD). There is a board by the kiosk that has a list of all the prices and boat options available.
Entrance Fee(s): Although you do pay for your own boat, you must also pay to get onto the island. This money helps support the island and their preservation of the reefs. It's only 100 PHP (~$2 USD) for the entrance fee (less depending if you're a local resident).
Items Provided (For A Fee): Snorkel & Mask, Fins, Life Jacket, Etc. (100 PHP / piece) | Snorkel Guide (250 PHP)
What To Bring: Waterproof Camera Gear, Swimsuit, Towel, Dry Clothes (if you prefer), Spare Cash, Snacks (if you prefer), Reef Safe Sunscreen (I always use Raw Elements Sunscreen)
What To Wear: Swimsuit, Swim Cover-Up or Beach Clothing, Sports Sandals (I like Xero Z-Trek Lightweight Sports Sandal)
I joined my friend Louise, my good friend since middle school, for this salt-filled day trip that was one of my most highly anticipated adventures since my arrival in the Philippines. When I was planning my must-see excursions during my two weeks here, this easily made it to the top of the list. The best part about this was the fact that the turtles seemed unbothered by humans and it was as if we weren't even there to them. I truly did have an amazing experience while visiting, but I do want to talk about some of the ethics of this place and inform you guys on some hesitations I had along with my own personal experience. So, excuse me while I briefly step on my ethical travel soapbox *straightens note cards*.
Island Ethics
While I do promote animal ethics and participating in excursions that don't harm the environment, this trip was a little wishy-washy for me. I can admit to my own mistake(s) and say that I should have done more research than I did. I had no idea that this island was set up for tourism like it was, and sadly, I gave it the benefit of the doubt. I read some reviews about other experiences and some other visitors said that the guides were stepping on the reef (a big no-no) and not abiding by the safety rules for the turtles that were clearly stated (this was after I completed my trip there). However, the wave of tourism that comes through here has essentially saved the people here and the profits also go to helping children attend school/university. The locals here made part of the reefs off Apo Island as a marine sanctuary which is what has caused there to be so many turtles that feed here. So while there are many good things about this place that I admire, I couldn't help but leave with a few unanswered questions:
"How are the rules enforced if not everyone is required a guide?"
"Are the turtles used to human interaction from locals or the result of mass tourism?"
"Do locals promote the use of reef-safe sunscreen? How is that regulated for the health of the reef?"
"If only a poster of safety regulations is posted, how are they ensuring everyone is reading and actively abiding by them?"

 
My Experience & Thoughts
So what was my experience? Well, within about a 50-foot radius, it was only my friend and me, our guide, and a couple of sea turtles. We made sure to keep our distance, our guide never stepped on the reef, and always ensured the turtles' safety, so from my perspective, it was great in terms of ethics. I think if you're coming here it's a way to guarantee a sea turtle experience, which depending on how it's done isn't necessarily a bad thing, but there weren't really any regulations enforced and I think that is the straw that broke the camels back for me. My experience made me hesitate with my decision and I feel that the statement speaks for itself. I do believe that the initial concept of the island is beautiful in the way that they protect the reefs from commercial fishing and how they have made it into a marine sanctuary for the health of the ecosystems, but I hope that the tourism side of this excursion is improved upon. I would return to Apo Island in the future, however, I would opt for a scuba diving tour rather than snorkeling because in that way I can support the island and the health of the reefs as well. You are also able to organize private tours (a little bit of an extra cost), but they take you around the island instead of one spot, so I think in choosing these options you can still support a cause and encourage healthy reefs. Another stunning, and similarly named location, for spotting turtles and other gorgeous reefs is Apo Reef, offshore of Pandan Island if you want to go off the beaten path and avoid crowds (which I totally plan on going here next time).
I hope that gives a little more insight into the reality of the island and just to clarify all these statements are my own and from my own personal experience. I know that people are going to have differing opinions because people hold different values, but stay true to your code of ethics, whatever it may be, and try to make the ethical choice while traveling *steps off soapbox*.
---
Eco-Friendly Tips For Your Apo Island Day Trip
Pack Reef-Safe Sunscreen
Don't Step On The Coral
Stay At Least 3-4 Meters Away From The Turtles
Don't Touch The Turtles
Avoid Crowding
---

Getting To Apo Island
While some islands can be a trip in and of itself to get to, Apo island is really easy to venture to and you can always ask the locals if you get lost (which is highly unlikely lol). From Dumaguete, we had to take a bus from the city to the municipality of Zamboanguita. The bus ride is about 30-40 minutes one way, but it really doesn't feel that long once you get going. Louise and I chose the air-conditioned bus since it was so humid and hot that day (but really what day isn't like that lol).
The bus dropped us off down the road from the boating kiosk where there were little fruit and snack stalls where you could buy food if you wanted, but most of them were closed that day, so we continued on to the beach and organized our boat ride.
The pricing for your boat really depends on how many people are with you. Since it was only my friend and me, we really wanted to join a group so that the cost of the boat would be divided among many of us, but that day there only ended up being two other girls that joined us. We ended up saving money with there being four of us, but we were also up charged around 500 PHP for our boat (clearly because we were tourists), so that made our boat fee total to around 3000 PHP (~$57 USD) for the four of us so 750 PHP (~$14USD) per person. In hindsight, it was really only a couple dollars more so it wasn't that big of a deal, but it is exhausting when traveling to countries and people are always trying to upcharge you for things because you're a tourist. Anywho, so we all forked over our pesos and waited for our driver and boating guide to prepare our vessel. It only took around fifteen minutes and then we loaded up our stuff, hopped on the boat, and went on our way.
So, about this boat ride… Let's just say things got a little messy! This morning wasn't the sunniest and it seemed like a sprinkle of rain was going to be inevitable, but it was so much more than the expectations we had; in a not so good way. Since the weather wasn't the greatest, the waves weren't the smoothest either. We were in a small little tugboat so every couple of seconds we would catch a wave and all four of us would get drenched with salt water. Eventually, we ended up laughing about it because as soon as we rubbed our eyes to relieve them, the next splash greeted us and so every time we got drenched it was another eruption of laughter from both sides of the boat from Louise and I. So while the ride there, forty minutes one way, was cold and wet, we made the most of the situation (and might I add we were both wearing denim which didn't help our initial sogginess and our future chaffing on our legs lol). I don't think all the boat rides are like this, but this so happened to be ours so don't let this discourage you.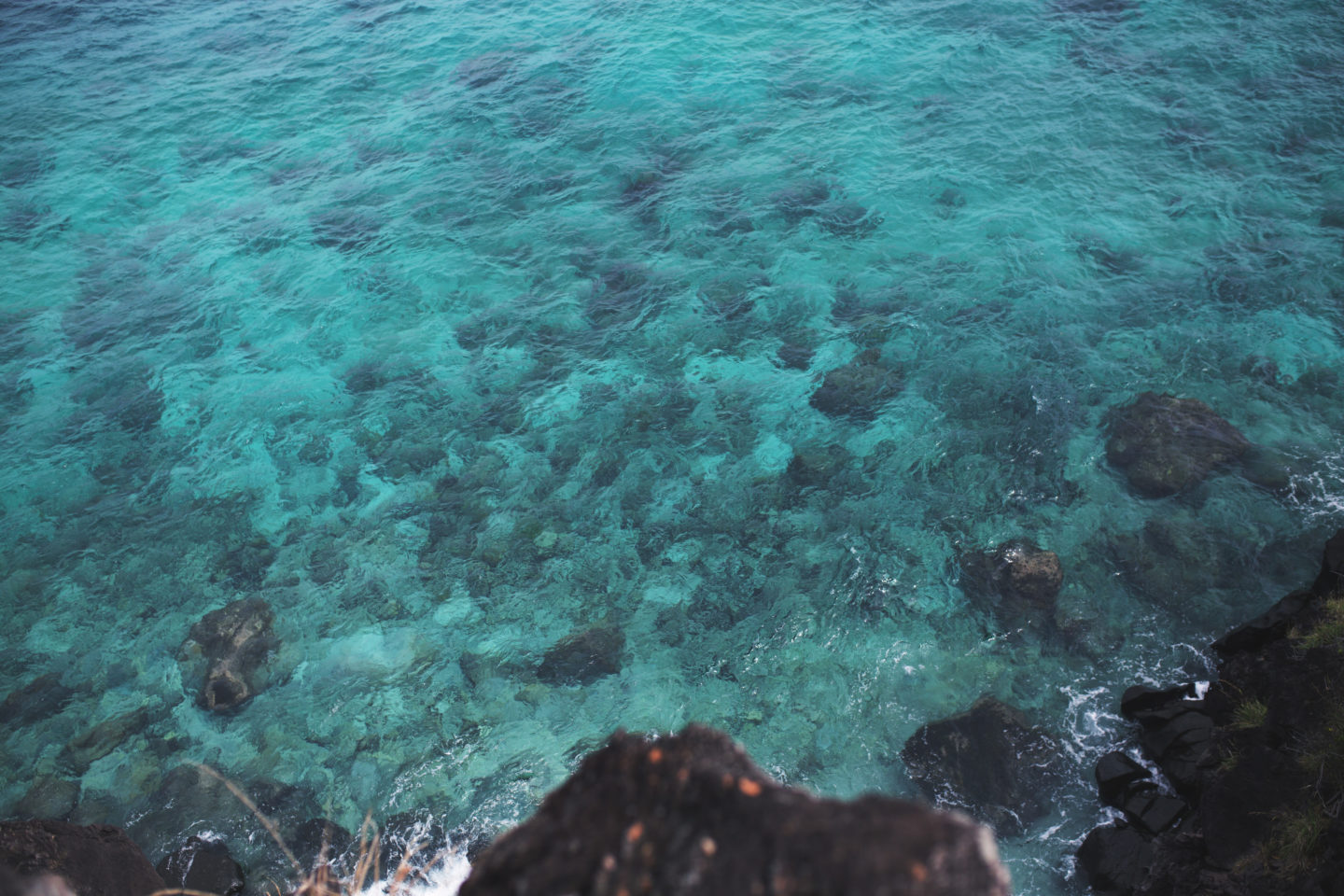 Docking On Apo Island
Our captain and crew docked the boat, retrieved our packs, helped each of us off the boat, and guided us to the small building to pay the entrance fee for the island. We scribbled our names on the log and navigated our way through the village to get to the seating area. The other two women that were with us decided to go snorkeling first, which worked perfectly for us since we decided to walk around to try and find a different restaurant to eat at. There are a few small restaurants dotted along the island, but they didn't offer anything that I could eat, unfortunately, so we decided to just go back to the table and order from the restaurant we were originally offered. We were told the food would be thirty to forty minutes, so after wandering we decided to rent our gear and head out to see the turtles while our food was being prepared.
Reef Cruisin' & Turtle Spottings
Since I don't own any type of snorkeling gear, I had to rent a set from the island, which now that I look back on it I am not sure if that was the most sanitary choice, but I had a nice time and I'm not currently facing any repercussions, so I would say that it was a success! If you're fond of sanitation and don't like sharing with others, then I would recommend bringing your own set. I am sure the rental place cleans them after uses, but you can never be too sure sometimes.
Each piece of equipment was its own separate fee, so it was nice having the option to choose what pieces we did and didn't want/need. I chose goggles, a snorkel, fins, and a lifejacket, which totaled out to be around 400 PHP (~$7.50 USD), and I think the two girls at our table hired a guide and we somehow ended up splitting the cost for one, but honestly you could do this without one if you wanted. Essentially they help you spot turtles and make sure you follow the rules, so the choice is up to you.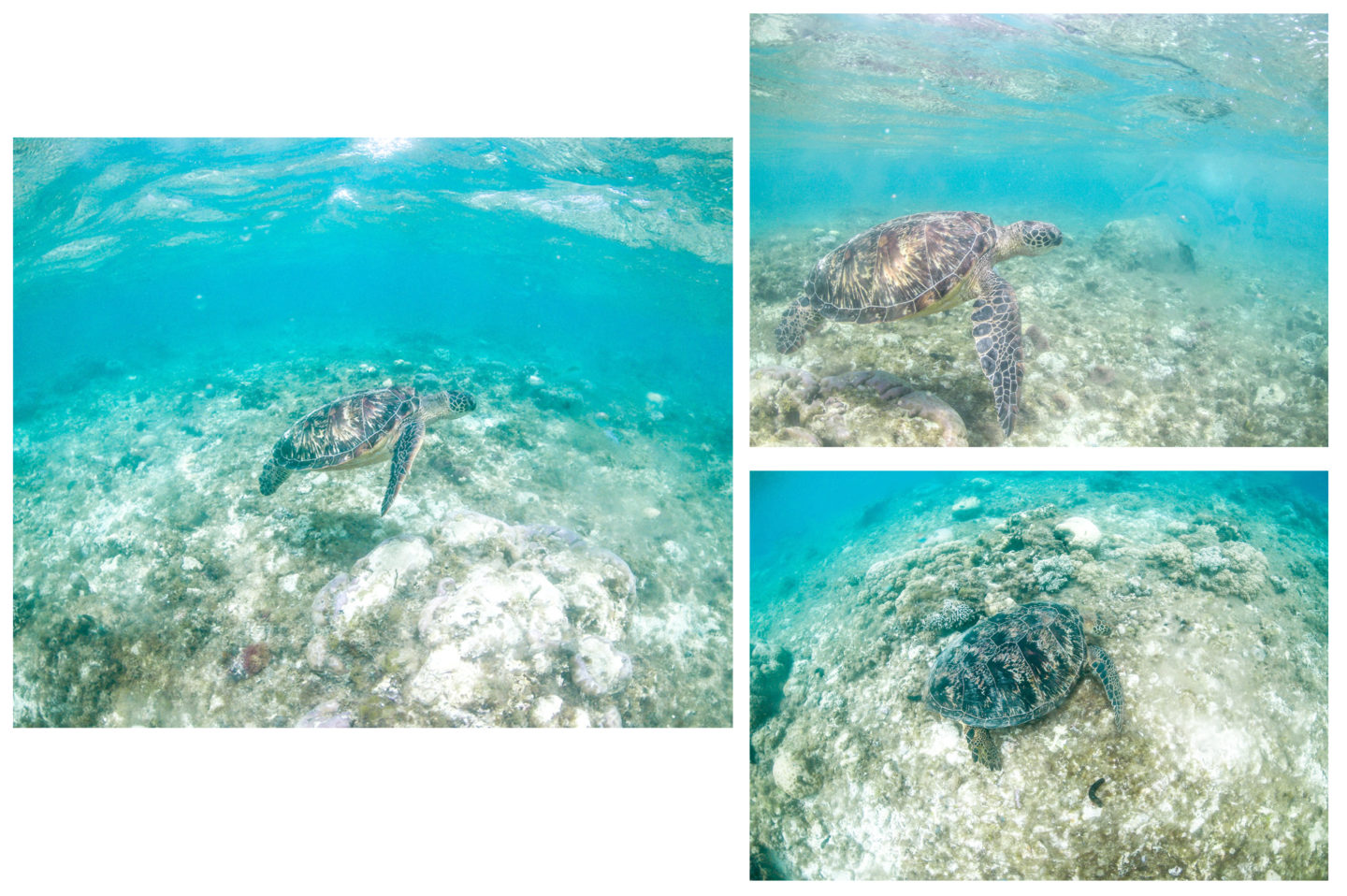 We met up with our guide and he took us out to the beach where we would gear up eagerly await our first turtle spotting. You could see the turtles popping their heads up from the beach so that added even more excitement to the whole adventure. I put together my GODome (which I ended up not really using too much), slipped my rental gear on, and we waded our way out of the sand and onto the reef; making sure we weren't crushing the corals. We were only out there for a few minutes when our guide spotted the first turtle! We scanned the surrounding area and sure enough, there was a green turtle munching on the reef about fifteen feet away. It's almost spooky for how close you can get to these guys, and there were times where I had to back up so I didn't bump into them. We swam around with three or four turtles that day. There are two types of turtles that you can spot here and they are green turtles (pictured below) and hawksbill sea turtles.
I think you're probably able to see some colorful reefs on the opposite side of the island, in the scuba diving locations, or past the initial part of the reef when you first enter the water. I have seen photos from other travelers and it seemed like they had a colorful reef experience that I seemingly missed out on, unfortunately. I think I just needed to venture out more to find them, but the reefs we saw weren't too colorful (also pictured below). I do know that the profits from the island help keep the sanctuary running and healthy, but I think that tourism has had them looking a little bit rough. They looked bleached in the patch that we were in, and I am no marine biologist so bear with me this is solely off looks, but there being damaged reefs wouldn't surprise me with how many people visit each year that more than likely step all over the coral and don't wear reef safe sunscreen; and since we are on the topic, if you are looking to help take care of our oceans and purchase an awesome sunscreen, I recommend Raw Elements Face + Body Tube (SPF 30+) since it is reef safe, biodegradable, and has broad-spectrum protection which is essential among the islands of the Philippines.
These are a couple of the turtles that we spotted this day and trust me, they were a whole lot closer than what it seems in the photos! We followed and observed these guys for about an hour before it was time to head back to shore to eat some lunch.
Lunch On The Beach
The menu included a type of meat with each item, but they had a vegetarian option thankfully, so I opted for white rice with a vegetable medley, which was a reoccurring theme throughout this trip, but tasty nonetheless. I could survive solely off white rice and soy sauce, so this wasn't disappointing for me in the slightest! It included a scoop of rice, cabbage, squash, and onion which sounds extremely plain while writing this, but it was actually very good for what it was. Lunch is rather expensive compared to standard dishes elsewhere so if you want to opt for a cheaper meal there are a few spots throughout the town available, however, there aren't vegan options there so be mindful of that if you adopt this lifestyle.
Turtles aren't the only star of this island as there are puppies that run around the beaches that you're able to play with and pet (make sure you wash your hands after petting them), so we ate our lunch and played around with a couple of these little guys before we ventured out to other parts of the island.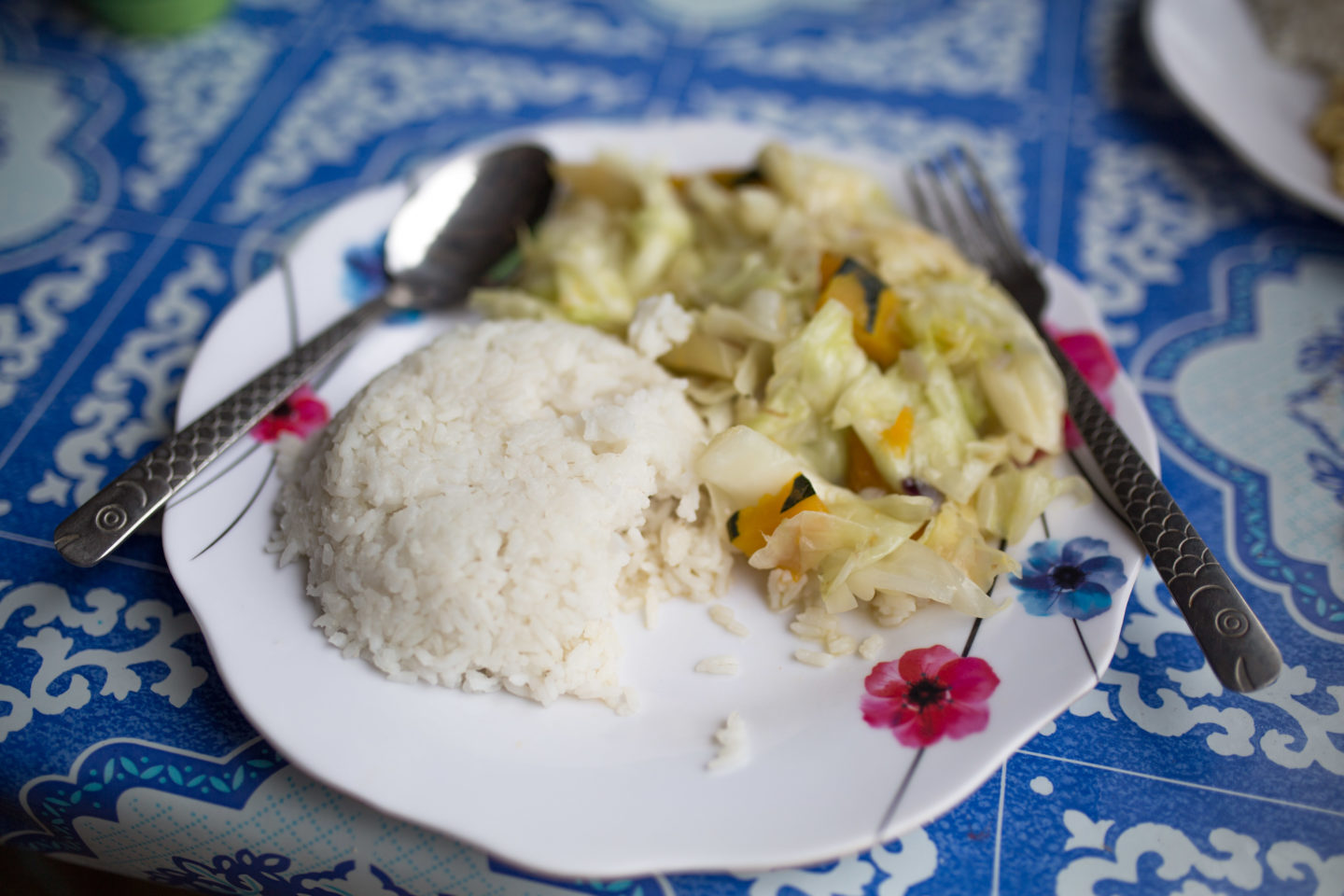 Apo Island Beyond The Reefs
We scraped the last bit of food off of our plates and decided to explore a lookout point that was at the northernmost tip of the island. From our beachside table, we walked all the way through the small village, passing by schools, homes, and roadside restaurants until we were greeted by a hefty amount of extremely steep stairs. We were both in flip-flops, so it wasn't the most glamorous of treks, but it only took around 10-15 minutes to get to the top of the stairs, and then we headed to the edge of the island to reach the highest point. It ended up being a rugged gazebo with etchings of past travelers that had been there, so as one does, we added our names to the wood and proceeded to take photos of the "end of the world" type of view. From this point, you could see the turtle filled reefs, divers coming back from their dips, and the whole other half of the island. The opposite side of the island has water so blue that it surpasses your imagination of how blue water could be and I feel that this spot would be perfect for a sunset hike if time had allowed it for us. The last boat leaves back for Dumaguete at around 3-4 pm (depending on your boat captain) for safety reasons, so if you want to explore more or experience an awesome sunset, secure a spot at one of the homestays here.
Most of the people that went snorkeling that day chilled at their tables until their boats were prepared to leave, but we had decided to venture out and it made it all the more worthwhile. If you're going to Apo Island, make sure you venture out beyond the turtles and see what epic viewpoints you can find.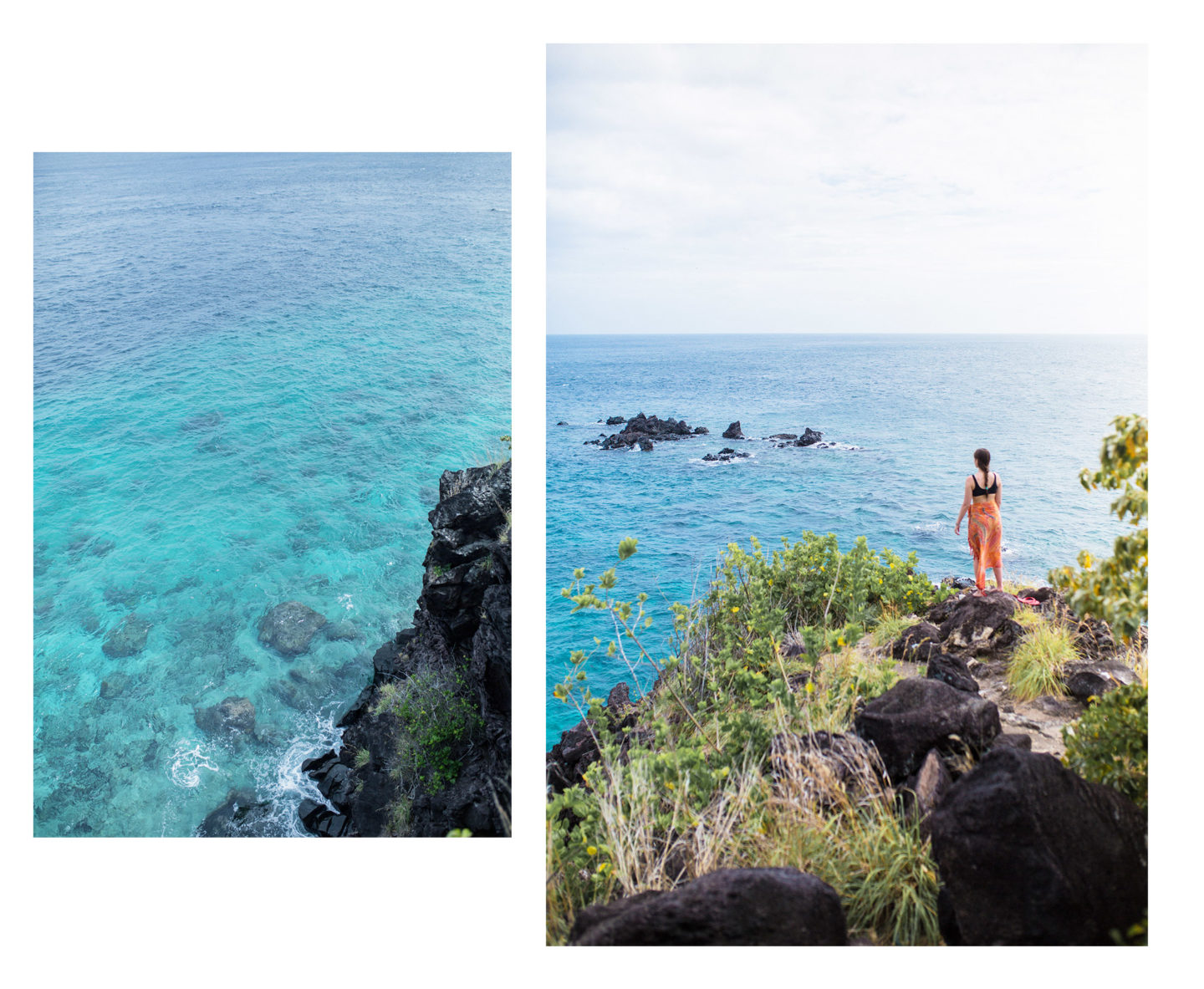 I used to dream about seeing a sea turtle up close ever since I was a little girl and this experience both humbled and excited me. I am going to cherish these photos until I make it back out to Apo Island for a life-altering diving experience, or perhaps for a liveaboard! I hope you enjoyed this post and make sure you pin it for later if you decide Apo Island is your next dream destination.
---
HELPFUL GUIDES FOR YOUR TRIP TO THE PHILIPPINES:
– 30 Travel Essentials For Backpacking Southeast Asia
– 50 Philippines Travel Tips For An EPIC Trip
– The Best Time To Visit The Philippines
– 16 Things That Surprised Me While Traveling The Philippines
– The BEST Philippines Packing List: What To Pack For The Tropics
LOOKING FOR DESTINATIONS IN THE PHILIPPINES? CHECK THESE OUT:
– The Perfect Philippines Itinerary For 2 Adventurous Weeks
CEBU
– Tumalog Falls: Cebu's Unmissable Waterfall
– Canyoneering In Cebu: Epic Cliff Jumping
– Exploring Kawasan Falls on Cebu (Without the Crowds)
SIARGAO
– Island Hopping in Siargao: Guyam, Daku, + Naked Island
– How To Spend A Day At Sugba Lagoon
– Where To Stay On Siargao Island For A Dreamy Stay
– TakTak Falls: The Only Waterfall On Siargao Island
DUMAGUETE
– Casaroro Falls in Valencia: Hidden Waterfall Near Dumaguete (FULL GUIDE)
SOUTHERN LEYTE
– Where To See Whale Sharks Ethically In The Philippines
---
Aaren
Pin On Pinterest