(Last Updated On: 24/01/2019)
Throughout my entire trip through the Philippines, I had been living my life like I would have in The Blue Lagoon movie (AKA my deserted island dream). While I was in Siargao, I had a couple things on my list to experience and splashing around in Sugba Lagoon was one of them!
For all my photographers out there, if you're planning on coming here you're going to want a drone because the drone shots alone are what motivated me to plan a day trip here! If you're not much of a photographer, obviously you don't have to have one, but I believe that's where you're going to get the best view. If you're droneless, that's okay (I was too, sadly), just search up some shots from Sugba from above and let them fuel your drive to get out there! It's truly a gem!
Basic Information
Cost: 1600 PHP ~ $30 USD *this is the cost for the boat but you can fit up to six people and then you're able to split the cost
Entrance Fee: 100 PHP
Table Fee: 100 PHP
How To Get There: It's about a 30-minute boat ride from Del Carmen, or an hour and a half ride from General Luna. My friend and I hired a driver that took us to the booking house early in the morning to reserve our spots.
I do believe you can book separate tours from General Luna, but since I wasn't staying there I chose to book in person in Del Carmen.
Time Length: varies (you can make a full day trip out of this or only stay for a few hours)
What To Bring: waterproof camera + other gear, extra cash for paddleboat/kayak rentals, towel, dry clothes, sunscreen, sunglasses, and snacks.
What To Wear: swimsuit, flip-flops, t-shirt and shorts/swim cover-up
Note: The pavilion where you will set up camp does not have any food for purchase, so make sure you pack your own lunch or small snacks.
As my days in Siargao began winding down, I knew it was time to make it out to the infamous Sugba Lagoon. Because I was traveling the Philippines during holy week, it was crucial that I arrived at the booking house early in the morning to reserve my spot. You aren't able to book tours ahead of time, so really you're racing against a bunch of other people to get a spot for the day. I don't have experience with booking when it's not holy week, so the crowds might be different, but I always recommend getting to sites early anyway so that you are able to get photos and be one with nature.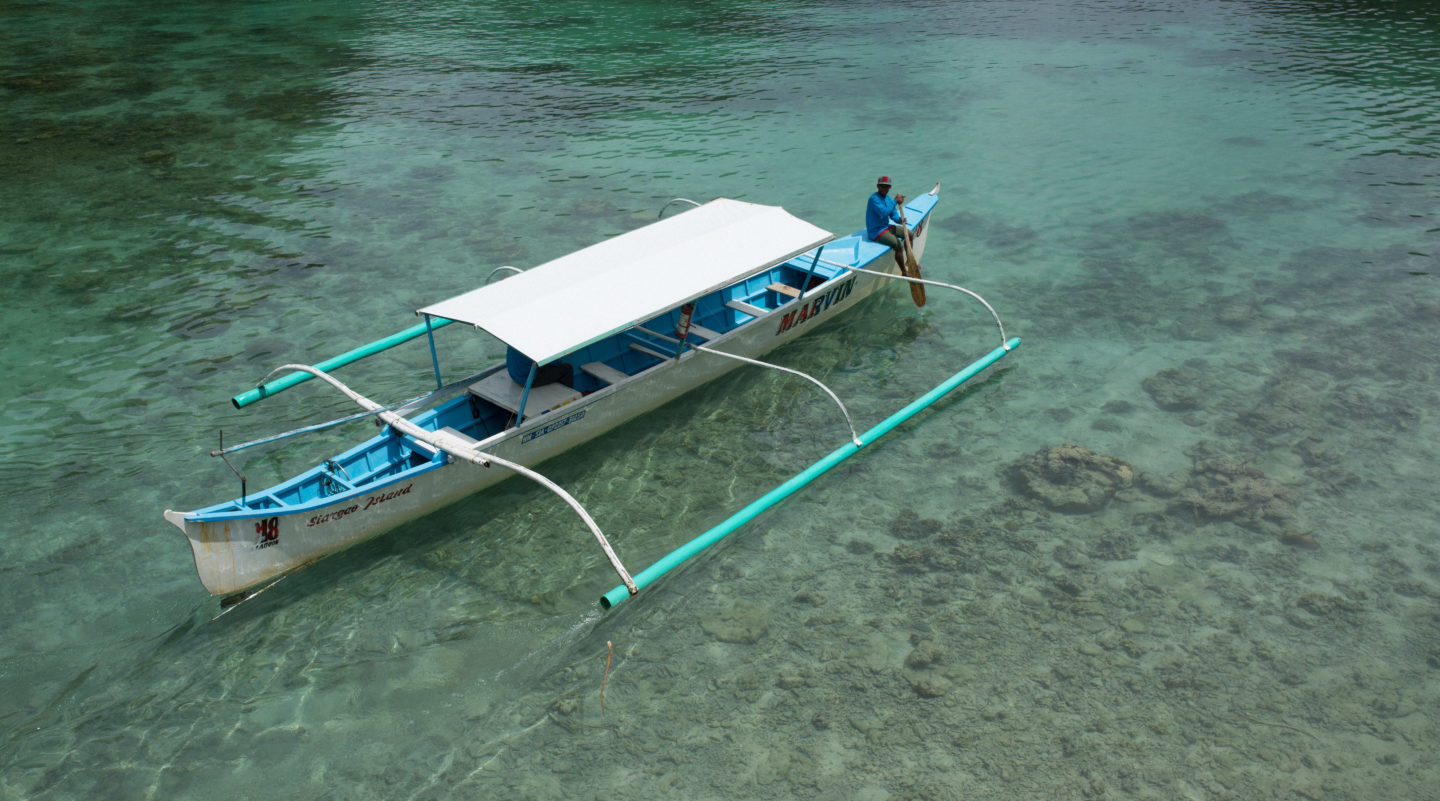 This day actually began hours before we finally arrived in Sugba Lagoon. My friend Kim, who was on the same plane as me and later staying in the same guesthouse as me, joined me and we left our guesthouse at around 7am to make it to the booking house before everyone else. We didn't actually end up beating a lot of people since we ended up waiting a couple hours for our boat anyway, but what did end up happening is that we joined two other friends, and later two more, to board our boat and we ended up splitting the cost of the boat six ways so the total cost for the tour per person was around $5; SCORE.
From Del Carmen, it's about a 30 ish minute boat to the lagoon and from there are 4000 hectares of the sanctuary that you'll be able to cruise through on the way to the area that is marked off specifically for tourism. I don't believe the whole lagoon is available to the public for safety reasons and for the lagoon health (if I were to make an educated guess).
The day started with it looking like it was going to rain, but by the time we got there and settled into our activities, the sun started to come out which highlighted everything way better than the overcast did.
Activities At Sugba Lagoon
Once we arrived in the lagoon, our boat docked at this pavilion/building type of place and we all got off, walked up the stairs, and found a table to put all of our bags and towels. The first thing you see when you get there is going to be a naturally marked off area for swimming and other activities and a nice high dive for people to jump off of. We ended up renting paddle boards and were able to get some really cool photos of us gliding through the water.
If you're not interested in paddle boarding there are tons of other options for you! If you want to explore and get your workout for the day in, you can rent a kayak. If you want the perfect photo set up you can rent a bamboo raft. There is a spring loaded high dive available and you can even strap on your GoPro and go hunting for jellyfish!
A Box Jellyfish Sighting
We ended up seeing two fairly large, orange jellyfish that seemed harmless, but we also ended up spotting a box jellyfish nestled in one of the back corners of the main swimming area. If you're not familiar with a box jellyfish, it is one of the most deadly animals in the ocean and it is responsible for more deaths than sharks; uh yeah, so it's pretty lethal. It seemed to be floating around in the shallow waters, but I was afraid that people would try and go up to it not knowing what it was, or even worse, swimming right into it. While keeping my distance and safety in mind, I was able to snap a couple photos and videos, but the quality isn't too great since the jellyfish blended in with the water so well. I only ended up seeing one, and I am no marine expert, so I wasn't sure if they travel in groups, if there was more than one, etc., etc.. but either way I informed the people around me and the people who ran the lagoon site to make sure no one was hurt.
My Tips For Seeing Sugba
Arrive Early
Remember Your Sunscreen
Take Advantage Of The Paddle Board Rental
Watch Out For Jellies
Pack Your Lunch / Bring Snacks
Once the sun came out near the end of our tour I made it a point take photos of the "blue ass water lol" and get some nice shots of the welcoming side. Next time I really want to bring a drone so that I can get those above shots and enjoy a different view. This place has something for everyone, which makes it perfect for all types of travelers. If you're in Siargao, you need to make it out here to Sugba Lagoon!
Let me know in the comments below if you've ever been stung by a jellyfish or what lagoons you have visited in other parts of the world!
Until next time,