(Last Updated On: 22/05/2020)
Scotland offers some of the world's most stunning sights and excursions all throughout its lush green hills, fields of hairy coos, and epic viewpoints that will have you feeling like you just stepped into a Lord of the Rings movie. Like most countries, there is so much to see that trying to cram everything into one itinerary will have you feeling like you didn't get to see everything you wanted to, so I have selected a list of popular things to do in Edinburgh that first-time visitors can't miss. The main city can be interchanged with whatever part of the country you are in, but this itineraries focus is on Edinburgh, a true gem. I have also included restaurant recommendations in this, but they are vegan since those are the only places that I can recommend in confidence and based off of my personal experience. Scotland is going to take your breath away and steal your heart within the first day, so prepare yourself for a whirlwind of adventure and love within this charming country. I hope you enjoy this 10-day Scotland itinerary and please let me know in the comments below if you followed this route and how you liked it!
This post may contain affiliate links for the products I mentioned, but as always, all opinions are my own. I make a small commission, at no extra cost to you, when you make a purchase or booking through these links. This helps to support this space and keep me blogging, which I am so extremely thankful for.
Looking for more resources for traveling Scotland? Check these out!
---
General Information
Language(s): English & Scottish Gaelic
Capital City: Edinburgh
Main Airport(s): Edinburgh Airport (EDI), Glasgow Airport (GLA), Aberdeen International Airport (ABZ)
Population: ~5.4 Million
Weather: Temperate
– Coolest Months: December, January, & February –
– Warmest Months: June, July, & August –
---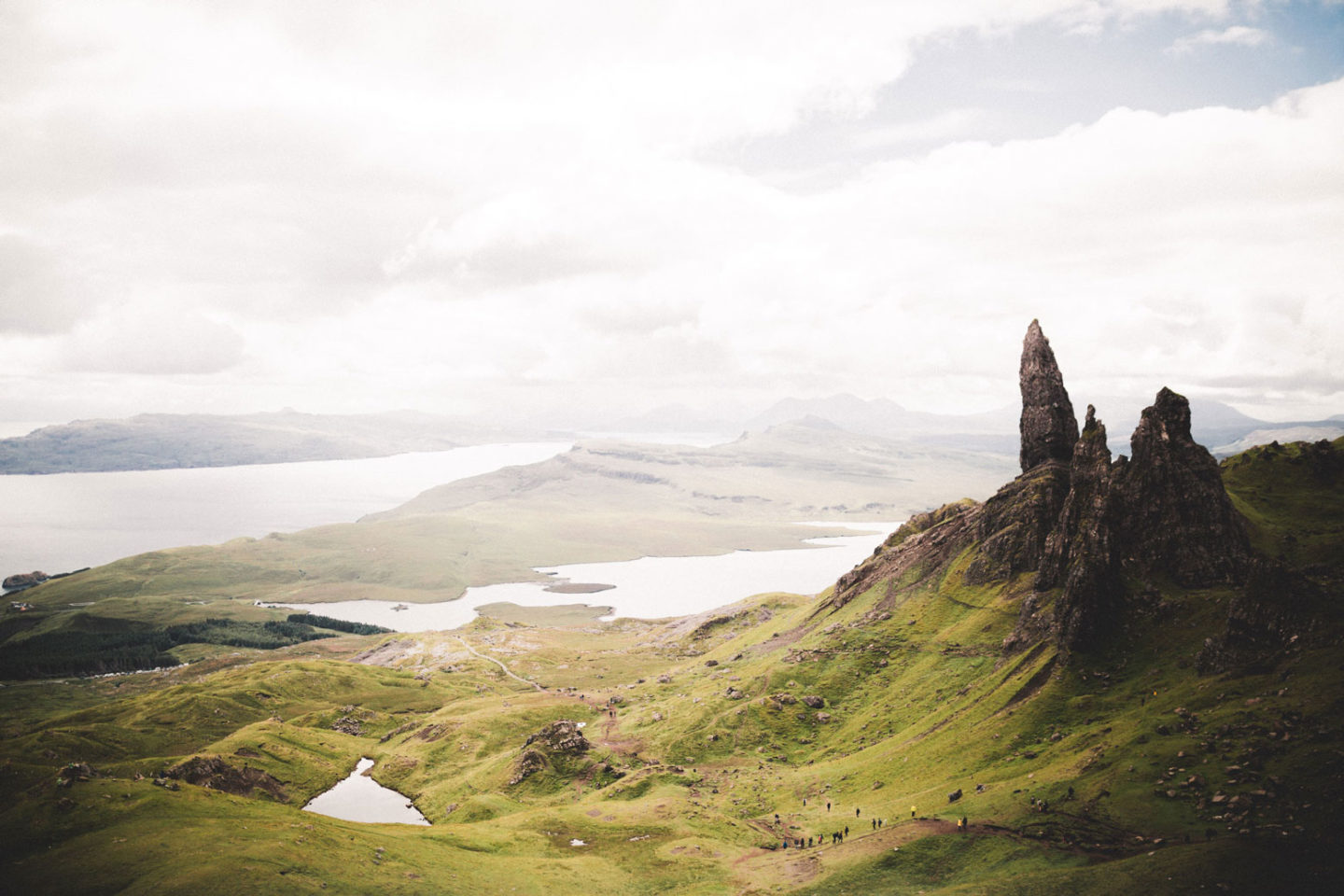 ---
Itinerary Overview
Day One – Three: Edinburgh (3 Nights)
Days Four – Eight: The Scottish Highlands (4 Nights)
Day Nine: Edinburgh (1 Night)
Day Ten: Edinburgh / Home
---
Day One: Edinburgh
Fly Into Edinburgh Aiport (EDI)
Where To Stay: Check out my Airbnb selections for in and around the city of Edinburgh or search for your perfect stay on Airbnb's website. The closer you are to the Royal Mile, the more expensive accommodation is going to be, so if you don't mind a bit of walking, there are perfect flats outside the city that will make you feel right at home and for a great price.
Where To Eat: I have curated three lists of the best vegan breakfasts, dinners, and coffee's around the city that you can you use throughout your time venturing these cobblestone streets. I will be making recommendations from these lists on each day, but I have saved the lists within those links, so they're easier to navigate.
The Baked Potato Shop: What better way for a warm, steamy welcome than one of the things that makes Edinburgh so great; a restaurant dedicated to the delectable spud. With a wide array of options, you can craft the perfect potato for your first meal in the city.
David Bann: For a more classy, upscale type dinner, David Bann is the place for you. They have a wide array of international options, so you're bound to find something great. This place was always at the top of my recommended list for vegans while I was here and it surpassed every expectation that I had.
The Royal Mile: The first thing that you're going to want to do is see what all the hustle and bustle is about in the city. Edinburgh has shops lined all down the infamous royal mile that leads all the way up to Edinburgh castle. This will give you a great feel for the place and give you some food and shopping ideas for the next few days.
St. Giles Cathedral: Situated on the royal mile, you're unlikely to miss this ornate meeting place for the Church of Scotland.
The Cameo: A great way to settle into your first day is a stop in one of the oldest cinemas in Scotland. It shows around four to five different movies, modern or retro so you can find the perfect flick for your first night out.
---
Day Two: Edinburgh
The Heart Of The City
Breakfast, Brunch, & Lunch: The best way to start off your first full day in Edinburgh is a "traditional" Scottish breakfast! BBL sells a veganized version of it, but it will still get you into the Scottish spirit. They also have some world-class vegan sausage that you MUST try.
Holy Cow: For lunch or dinner, make your way over to this 100% vegan gem for an epic vegan burger. There menu changes with the seasons to offer the freshest produce around, making it the perfect stop no matter the weather.
Edinburgh Castle: One does not simply visit Edinburgh without going to the infamous Edinburgh Castle. You could easily spend all day here or only a few hours, so depending on your schedule, you can shift it to your needs. They offer audio tours for only a couple of dollars or a quick tour with a guide that is included in the price of your ticket.
Grassmarket Street: If you didn't know already, Edinburgh is actually home to many, many college students and Grassmarket street is the Royal Mile's hipster cousin. You can find all sorts of international cuisine here as well as some vintage shops, old bookstores, and even a cat cafe! You can see this place from the castle making this the perfect pairing for your castle visit.
Scott Monument: This Victorian style memorial is unmissable as you pass onto Princes Street. This monument was built for Sir Walter Scott, the Scottish author and it is the second-largest monument for a writer. It also makes for a pretty epic photo.
Dean's Village: This quaint village is the perfect immersion of classic 19th-century architecture that has a beautiful, fairytale-like stream running through it. It's the perfect spot for some perfect photos.
---
Day Three: Edinburgh
A Panoramic View Of Edinburgh
The Herbivore Kitchen: This place is a must and will soon become one of your favorite breakfast spots in Edinburgh. They have a smaller menu, but amazing vegan and vegetarian options; make sure you check out the seasonal pancakes!
Nova Pizza: Voted Edinburgh's Best Vegan & Vegetarian restaurant, you can't leave the city without munching on this menu. They offer vegan cheese, fish, and meats that will make this dining experience one that you'll cherish forever.
Holyrood Palace: This palace is Her Majesty The Queen official residence in Scotland making it the perfect stop for a lesson of the countries history. Alongside this baroque palace, there is Holyrood Abbey which is an abandoned palace whose remains are still left for a bit of exploration.
The Elephant House: If you're familiar with the boy who lived, this little cafe is more than likely on the top of your must-sees here. This is supposed to be the birthplace of Harry Potter and J.K. Rowling sat in those very cafe chairs to write the story of Harry Potter. Enjoy a cup of tea with a pastry and be sure to leave your mark in the bathroom (you'll know when you see).
Dive Into History At A Museum Or Gallery: There are so many museums and galleries around Edinburgh that you are bound to find one to dive into the history of this beautiful country. I have linked a site that will help you find one perfect for you to see art, photography, stories, and history.
Mary King's Close: Nestled in Edinburgh's Old Town, Mary King's Close is a series of underground passages and streets that partially collapsed centuries ago. You can book a tour and hear more about this fascinating site.
Hike Arthur's Seat For Sunset: If there is one place where you NEED to witness one of Scotland's sunsets, this is your spot. The hike is extremely steep going up and you'll find that there is so much to explore than what you see on the surface, so block off a good few hours to explore here until the sun sets over the sea.
---
Optional Day Trips From Edinburgh
If you visit everything you wanted to see in Edinburgh, I recommend going on a day tour to see some epic sights around Edinburgh and in the North. These are the places that I believe you should have an entire day, especially the Harry Potter train, to truly see and experience the entire thing. There are many local tours that leave Edinburgh to see some of these epic stops, or you can rent your own car. I believe that driving in Scotland is the best way to see the country since you're on your own schedule and you can venture off the beaten path, so if it's within your means, definitely opt-in for a car rental!
Glenfinnan Viaduct (The Hogwarts Express)
Hike Ben Nevis
Cruise Along Loch Ness
Glencoe Valley

Outlander Filming Locations
+ More
---
Days Four – Eight
The Highlands & The Isle Of Skye
This is where the itinerary is really open to your preferences and the way that you enjoy traveling. If you're new to the traveling scene, I think that a tour is a great way to get a taste of the destination you are headed to, especially in a place like Scotland, but if you'd rather rent a car and do a little DIY road trip, you can use the locations from this itinerary to build your own. I am going to mention a tour that I went on personally and that I recommend, but if that's not your style then simply take this as location recommendations. I spent three days in the Isle of Skye and that barely even scratched the surface of the island, so that is why I am recommending a five-day stay here; you won't regret it. The Isle of Skye is one of MANY great places to snap stunning photos for Instagram in Scotland, so you'll want to keep those batteries charged so you can capture every beautiful corner of this place.
The tour company that I personally recommend is MacBackpackers because they are a company made for explorers and for those of you who don't want to waste the entirety of your trip on the bus. These tours are made for 18-35-year-olds, however, it depends on your athleticism. Their tour costs are actually way cheaper than most of the other tours and that is one of the reasons why I chose them; the other being that they had everything on the itinerary that I wanted to see. There were a few destinations that I could have easily spent a whole day at, and that you'll actually want a full day for and I have listed those above and in a blog post dedicated to day trips from Edinburgh.
The 5-Day Skye and Highland Fling is going to be your golden nugget of a tour since it covers literally anything and everything you will want to see. I will personally list out the stops on this tour so you don't have to hopscotch, but I have linked all the information to the website as well if you're interested.
Day One
Forth Bridges
Dunkeld
Hermitage / Killiecrankie
Culloden
Clava Cairns
Loch Ness
Inverness
Day Two
Rogie Falls
Corrieshalloch Gorge
Kinlochewe
Torridon
Eilean Donan Castle
Kyleakin
Day Three
Sligachan
Cuillin Ridge
Portree
The Old Man Of Storr
Quiraing
Faerie Pools
Kyleakin
Day Four
Armadale
Sands Of Morar
Glenfinnan Viaduct (Hogwarts Express)
Fort William
Glencoe Valley
Oban
Day Five
St. Conan's Kirk
Kilchurn Castle
Callander
Doune Castle or
Wallace Monument or
Bannockburn Battlefield
If you are deciding to rent a car and make your own trip, my top sights are Ben Nevis, Glencoe Valley, The Old Man Of Storr, Eilean Donan Castle, Glenfinnan Viaduct (book tickets in advance), and Loch Ness.
One thing that I would keep in mind is that you aren't going to be able to see every item that is listed for each day, even if you're with a tour company, so it's best to choose the items that you are dying to see and prioritizing those instead of cramming. It's more worthwhile to have plenty of time at your favorite stops than a minimal amount of time at all of the stops.
Most tours inform you of a meeting place that will come with your reservation. They generally leave early in the morning to give you the most out of your first day. If you are renting a car and making your own itinerary, it's obvious that you should go in a fluid route rather than constantly going back and forth in-between places so you save time as you drive around. Keep in mind that not everything is going to be right next to each other so a lot a good amount of time for transit and for each stop.
---
Where To Stay In The Highlands & Skye
If you choose to book a tour, more than likely there is going to be accommodation included or for a small extra fee during your stay. If you're opting out for the tour, there are a few areas that make a perfect base camp for your five-day adventure and if you use Airbnb, you are destined to find the perfect nook overlooking the highlands or a loch. I also have an Airbnb coupon link for $40 off your first stay so you can save money on your highland getaway!
---
Car Rentals From Edinburgh
The roads in Skye have improved significantly over the last years, so most options are going to be a fine choice but with Scotland's weather I would choose a more rugged 4×4 of sorts so that you don't end up stuck somewhere. Kayak has solid car rental prices, but always compare websites to ensure that you are getting the best deal. You can select multiple sites through your Kayak search which makes comparing as easy as the click of a button.
---
Day Nine: Edinburgh
Final Stops & Eats
As your trip comes to a close, it's inevitable that you're going to have some last minute stops on your itinerary. Following your 5-day tour, you're probably going to want to relax a bit before hopping on a plane, so these are the more leisure-filled stops that won't drain you entirely. I have added some extra stops that you may want to make before you leave and you can also add these to the previous days here if you have some extra time.
Loudon's Cafe: Five days in the highlands and a final day in the city means one thing; coffee; and Loudon's does it best. They have a wide variety of vegan options on their coffee menu as well as on their breakfast menu but make sure you try their pancakes because they'll blow you away!
The Auld Hoose: Step into vegan heaven and gaze over their menu that includes vegan chili, hotdogs, haggis rolls, nachos, burgers, and onion rings!
The Farmer's Market (Weekends Only): The market is located right underneath Edinburgh Castle, but you can easily search GPS and find a route there. There are all kinds of fresh goodies and meals that you can sit down and munch on right under the castle making it one of the perfect final pit stops.
Calton Hill: Aside from Arthur's Seat, this is known as one of the best views in the city! The path is a piece of cake compared to Arthur's Seat, and you're able to brush up on the history of the National Monument of Scotland while you enjoy an overview of the city.
Enjoy The Royal Botanic Gardens: Explore seventy acres of one of the world's leading botanical gardens and discover that has been kept thriving for over 350 years.
Explore Leith: This quaint port city is chalked full of mouth-watering eateries, drinks, and other sites that can be explored for your final day in Edinburgh.
---
Day Ten: Home
Depart Edinburgh
There won't be much to do this day since your main focus will be packing, but depending on the time of your flight, try and sneak in a last minute coffee or breakfast stop before heading to the airport (but don't miss your flight or run it close lol).
---
Are you headed to Scotland? Share with me in the comments what you're most excited to see!
Aaren
Did you enjoy this post? Save it for later on Pinterest!