(Last Updated On: 03/08/2022)
Chances are if you're planning a trip to the Philippines, you've been told that you cannot miss the infamous Kawasan Falls, but what about Tumalog Falls? Ever since I visited this waterfall in Cebu it seems that everyone has been talking about every other place in the Philippines EXCEPT this one! Even though this waterfall wasn't uncovered until 2012, today it is a popular stop on a Philippines itinerary when exploring South Cebu.
In this guide to Tumalog Falls, one of the most beautiful waterfalls in the Philippines, you'll find everything you need to know to plan your visit. Don't forget to check out my other guides at the end of this blog post to help you plan more adventures around Cebu and the rest of the Philippines.
This post does contain affiliate links for some of the products I mentioned, but as always, all opinions are my own. I make a small commission, at no extra cost to you, when you make a purchase or booking through these links. This helps to support this space and keep me blogging, which I am so extremely thankful for.
---
Tumalog Falls Map
Tumalog Falls is on the southern end of Cebu, just outside of Oslob. There are plenty of signs along the road that point you in the right direction, so be sure to keep an eye out. Luckily, Tumalog Waterfall road is paved and easily accessible by scooter.
Use this map to help you navigate your way to Tumalog Falls! For best use, download this map to your smartphone so you can use it offline (instructions here).
---
Things To Know Before Visiting Tumalog Falls
TUMALOG FALLS ENTRANCE FEE 2022 | 20 pesos per person ($0.35 USD)
TUMALOG FALLS HEIGHT | 250-320 feet (80-100 meters)
BEST TIME TO VISIT TUMALOG FALLS | The waterfall is best enjoyed during the dry season on Cebu Island from December to June. However, visiting during the wet season from late June to early December makes the waterfall a lot more powerful and less crowded.
How To Get To Tumalog Falls
Tumalog Falls is easily accessed with a motorbike or tricycle ride to the Tumalog Falls car park at the top of Tumalog Falls Road. The road to the waterfall is paved no matter what part of Cebu you're coming from, so you don't need to worry about any rough roads. If you're coming from another area and need to know how to get to Tumalog Falls, use Rome2Rio to find the best and cheapest route.
Tumalog Falls from Oslob 
Tumalog Falls is a short 20-minute drive from Oslob. If you're seeing more than one thing on this day of your Philippines itinerary, I recommend taking a scooter rental so you can save a bit of money. Most spots are far away from each other so it's better to rent a scooter for 200-300 pesos/day than to try and find a habal habal for 1-2 hours each way.
Tumalog Falls from Cebu City
Going to Tumalog Falls from Cebu City takes a little bit more planning, but it's worth the day trip to South Cebu.
From the Cebu City bus terminal, take the bus heading south to Bato and tell the driver you'd like to be dropped off at Tumalog Falls. A bus ticket should only run you back about 150 pesos one way and they'll drop you off along the main road to turn into the waterfall. From here, take a habal habal to the car park then walk to the falls.
Tips for Visiting Tumalog Falls
BRING WATER SHOES |  I actually ended up bringing a pair of flip-flops with me that ended up being useless after a couple steps in the water. The rocks in the pool are pretty sharp, so you're going to want something to protect your feet if you don't want to tread water the whole time you're there.
THE WATER IS COLD | I was shocked at how cold the water was, but if you were working up a sweat in the intense sun rays, then this will be the perfect cool down. It takes a minute to get used to the water, but once you get in, you'll be feeling refreshed in no time and ready to explore the area.
TAKE A HABAL HABAL RIDE BACK UP |  I would take full advantage of this so you don't have to walk down and back up a massive hill. The road is fully paved all the way down, except near the falls, but it is completely safe and a great way to beat everyone else down.
VENTURE AROUND |  Once you walk up the steps to the falls, there are various boulders that you can climb to be able to get really cool perspective shots of Tumalog Falls. I wish I had ventured more to the left of the falls and had a drone so I could get all the falls in the photo, but I worked with what I had and I still ended up getting some pretty photos.
My Experience At Tumalog Falls
When I first heard about Tumalog Falls, I didn't understand the hype behind the waterfall. I had seen a photo from my favorite travel influencers, and they were the primary reason why this waterfall was on my must-see list in the first place, but overall, I didn't really know what to expect from this place.
If you're in the same position that I was in, don't skip out on this waterfall, because you'll arrive there and all the lightbulbs in your head are going to go off in your head followed by an, "Oh, THAT'S why I shouldn't miss this spot"!
This was one of those places that I knew were popular for tourism, so I planned to get here before everyone else, and well, my plan flopped from the moment I sat on the scooter. I am an avid Google Maps user in my day-to-day and while it has never led me astray, it chose today of all days to give me an impossible route.
I plugged my information into my app and it said there was a route that went through the middle of the island that was faster, so I based my departure time based off of that, and the rest is history. A few things to note is that you aren't able to just drive through the middle of the island, and if you happen to find this mysterious Google Maps route, then you're going to add around 45 minutes to your ETA (and more than likely get lost).
So with my minor setback, we set out to arrive at the falls by 9:00 am, which let me tell you is not the most optimal time to get here. I think most people who visit Oslob plan to do a tour package with a whale shark tour and Tumalog Falls for a combined rate. Since there is a tour that leaves Oslob early in the morning, everyone from those tours arrives at Tumalog Falls at, you guessed it, 9:00 am. I am sure maybe there are different times that are more optimal for visiting, but try to avoid going at the prime morning hours from 9:00 am-12:00 pm. You'll want to get there as soon as they open at 8:00 am for no crowds.
My guide parked the scooter at the top of the entrance, and I gave a few pesos to one of the habal habal drivers to take me down to the falls. One thing to note here is that you can't take your rented scooter down here, so you either have to make the 10-15 minute walk down or pay around a dollar to be driven down, which is what I opted in for since I arrived late. The hill is incredibly steep, but if you want to save some money, then opt-in for walking.
The driver dropped me off and gave me his scooter number so that he could be called from the entrance tent to pick me up when I was done. I paid the small entrance fee and made my way to the falls. To your right, you're going to see little cascading pools that form below Tumalog Falls that you can relax in or take photos, and if you keep going, there are a few staircases that lead you directly to Tumalog Falls. The first time I saw the falls, I was blown away at how big it actually was. Wow.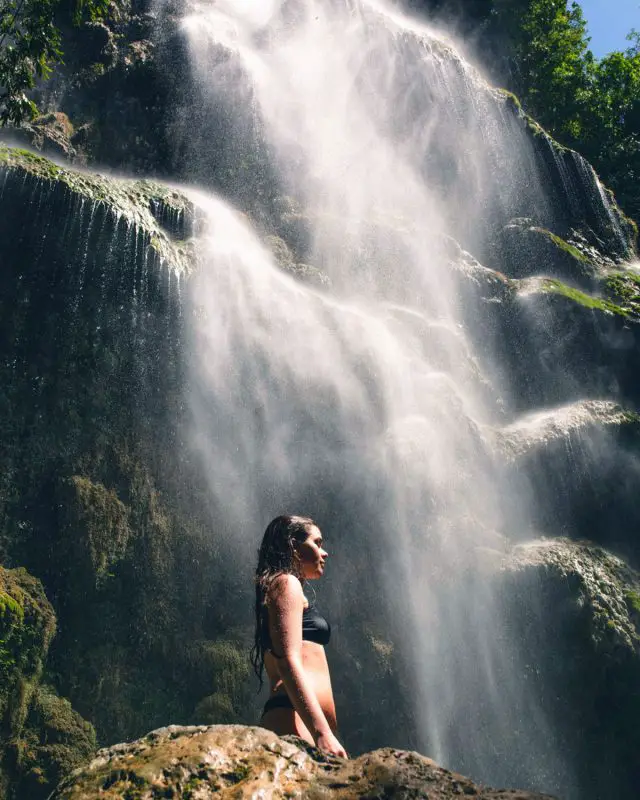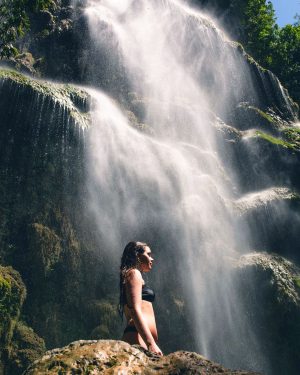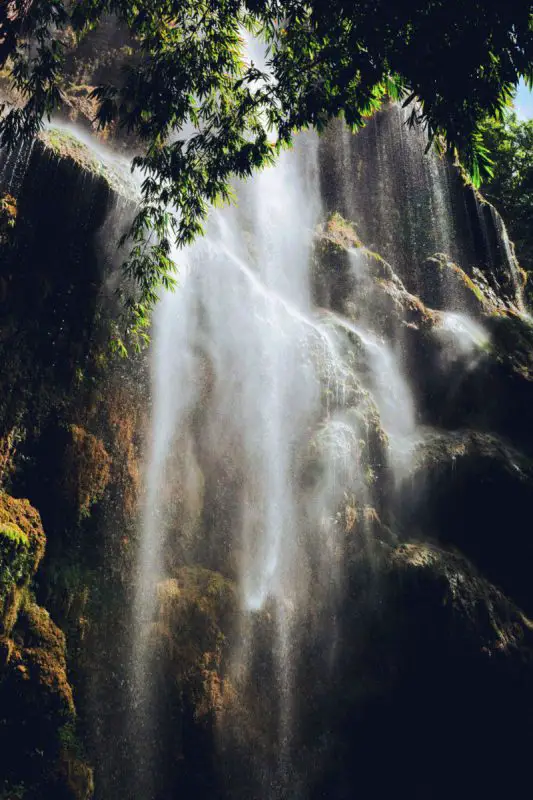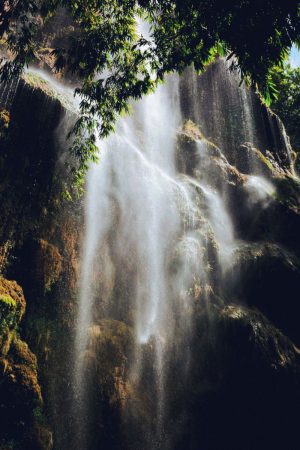 This waterfall is MASSIVE and none of the photos that I had seen prior had done it any kind of justice. To try and see the top, you have crane your neck all the way back and even then you won't be able to make out the top. There is also a giant blue pool underneath that you can swim around in and even go beneath the falls if you want! The pool is extremely shallow, around three feet, so you can easily walk around and navigate through the entire pool. The rocks at the bottom are pretty rugged also, so make sure you bring a pair of water sandals with you to protect your feet. I wore flip flops, but they came off with each step, so make sure you bring something that secures to your foot.
Since I arrived here solo, I didn't have anyone to take travel photos of myself under the falls, but when a guide approached me and asked if he could help, I was all in. He had some incredible photo ideas that even I didn't think of (see photos below), and even though we had to rough it out through extremely broken English, we managed to get some solid shots for the setting we were in. He was so patient with waiting for other tourists to get out of the shot and making sure that I had everything I needed before I tipped him and we went our separate ways. I combined my fun with the photoshoot since there were tons of people everywhere, even if it doesn't look like it in the photos. I didn't want to leave my backpack with my camera gear for anyone to pick up and grab since I wasn't going to be able to have my eyes on it at all times, so I wrapped everything up within an hour or two.
---
HELPFUL GUIDES FOR YOUR TRIP TO THE PHILIPPINES:
– 30 Travel Essentials For Backpacking Southeast Asia
– 50 Philippines Travel Tips For An EPIC Trip
– 16 Things That Surprised Me While Traveling The Philippines
– The Best Time To Visit The Philippines
– The BEST Philippines Packing List: What To Pack For The Tropics
LOOKING FOR DESTINATIONS IN THE PHILIPPINES? CHECK THESE OUT:
– The Perfect Philippines Itinerary For 2 Adventurous Weeks
CEBU
– Exploring Kawasan Falls on Cebu (Without the Crowds)
– Canyoneering In Cebu: Epic Cliff Jumping
SIARGAO
– Island Hopping in Siargao: Guyam, Daku, + Naked Island
– Where To Stay On Siargao Island For A Dreamy Stay
– How To Spend A Day At Sugba Lagoon
– TakTak Falls: The Only Waterfall On Siargao Island
DUMAGUETE
– Apo Island Day Trip: Snorkeling With Sea Turtles
– Casaroro Falls in Valencia: Hidden Waterfall Near Dumaguete (FULL GUIDE)
SOUTHERN LEYTE
– Where To See Whale Sharks Ethically In The Philippines
---
WHAT ARE YOU MOST EXCITED TO SEE ON CEBU ? SHARE WITH ME IN THE COMMENTS BELOW!

DID YOU FIND THIS GUIDE TO TUMALOG FALLS USEFUL? SAVE IT ON PINTEREST!