(Last Updated On: 05/01/2022)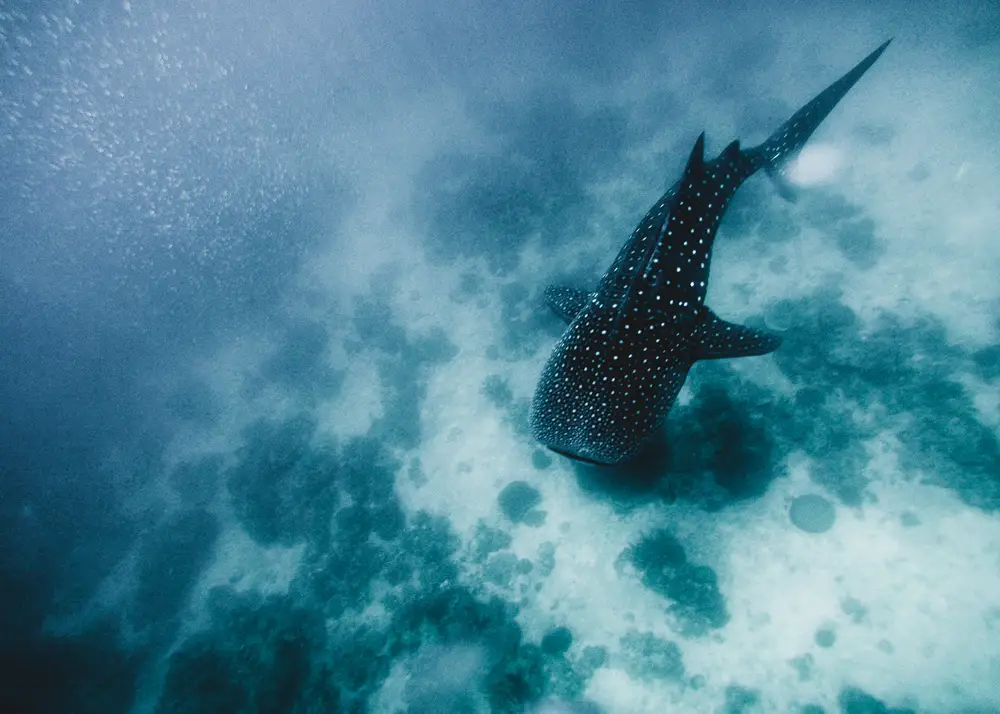 Picture this: You've dreamed of swimming with the world's largest fish for ages and ages and after months of planning the seemingly perfect excursion, you arrive at the beach with hundreds of others in neon orange life jackets prepared for the same adventure. It's crowded. You realize the whale sharks are mistreated and exploited and although you paid for the experience of a lifetime, you've realized that maybe it's not all it's cracked up to be even though it's what EVERYONE raves about when they visit the Philippines.
Now, picture this: You arrive at the beach with a handful of travelers joining the tour (less than six), your boat captain, and a few local guides from the small village nearby. You're cooked a FRESH, traditional Filippino lunch made by the wives of the whale shark spotters. You munch on, quite possibly, the greatest pineapple on the planet while overlooking an expansive, empty bay anxiously anticipating your first whale shark experience. At last, one of the spotters finds the first one, brings you on his paddleboat, and takes you out to experience the solitude of the open bay along with one of the most magical creatures in the ocean. Bucket list-worthy. Am I right?!
Which sounds more appealing? Have I piqued your interest in option number two?
When I was planning my trip to The Philippines, I wanted to make sure that I was traveling sustainably. I toyed around with the idea of just going to the Oslob whale shark tours because it was convenient and whale shark sightings were basically guaranteed and it had fit in with my itinerary, but honestly, I couldn't make the leap to go on that tour being aware of everything that I was supporting: unethical animal encounters and animal exploitation.
Chances are, if you've come across this post, you are in one of two boats:
BOAT 1 | You had no idea that Oslob was unethical. You had planned on visiting Cebu island and believe the tour is convenient but now having second thoughts after hearing about how unethical the tour is.
BOAT 2 | You are committed to making an ethical choice in your whale shark tour but aren't sure what your options are.
No matter which boat you find yourself in, this blog post is going to give you the low-down on everything regarding seeing whale sharks in the Philippines and where the best place to see them ethically is. Let's dive in, shall we?!
This post may contain affiliate links for the products or services I mentioned, but as always, all opinions are my own. I make a small commission, at no extra cost to you, when you make a purchase or booking through these links. This helps to support this space and keep me blogging, which I am so extremely thankful for.
---
Is it possible to swim with whale sharks ethically in The Philippines?
---
Depending on who you ask, this question can be answered with either a "hell yeah!" or a "hell no". While there are people that believe any and all animal encounters around the world are unethical, I am not one of those people. I believe that with the right intentions, practices, and environment, you can coexist with amazing animals, like whale sharks, without causing any harm. Psst! Swimming (ethically) with whale sharks is one of my many great travel tips for the Philippines, so make sure you brush up on those for a perfect trip to the Philippines!
When I was looking at whale shark tours in the Philippines, I had a lot of trouble finding a tour that was ethical.
I began with Oslob, on Cebu Island, and immediately ruled that out because it's quite possibly one of the most unethical animal experiences I've come across (for reasons I'll discuss in this blog post). Next, I researched Donsol, which led me to another dead end (I'll discuss why down below). After I crossed those two spots off my list, it left me thinking, "Where can I go to see whale sharks ethically in the Philippines?". Then it happened. The shimmering gates of heaven opened before my computer and I discovered a very special, low-on-the-travel-radar region in the Philippines known as Leyte/Southern Leyte where you can swim with whale sharks without the crowds, harm, and that 'yuck, touristy' feel.
After hours and hours, I had found the exact thing that I thought didn't exist! So if you're looking to swim with whale sharks, Southern Leyte is the best place to do it ethically. Why? Let's talk about it!
---
How Whale Shark Tourism Began in The Philippines
---
Believe it or not, there is some controversy to the whole "Oslob is unethical" statement.
When I was still exploring around Cebu, I had met someone that organizes international tours, to make a long story short. He asked me about seeing the whale sharks in Oslob, and after expressing my thoughts on the ethical side of the matter, he told me that this form of tourism is actually good for the sharks? Why?
It all starts with how whale shark tourism began in the Philippines, so let's go back and explore how this all came to fruition.
The Philippines is a third-world country and there aren't any if, an's, or but's about it. The villagers here do what they need to in order to survive, and at one point, this meant killing the whale sharks in Oslob as a form of food and money for the village, the man in Cebu explained to me. People will argue that this makes the Oslob tours just, but that's not particularly true. Whale Sharks in the Philippines have been a protected species, by law, since 1998. In addition to that, whale shark tourism wasn't established in the Philippines until around 2011, so for a little over a decade, the villagers were making money from fishing, not whale shark exploitation.
So, even though it does provide the villagers with a living, this doesn't mean that the unethical side of their practices can be swept under the rug. Whale shark tourism in Oslob is about money, money, and more money. None of the profits from the tours are reinvested for whale shark conservation or preservation, so they're only used for monetary benefit. There are many other places to see whale sharks in an ethical environment, so promoting this malpractice is so far beyond unnecessary. I believe most people choose this tour out of convenience since traveling to other regions would be a "hassle". However, this is a once-in-a-lifetime experience, after all, isn't it? Wouldn't you go a bit further to make sure you're supporting something good?
One of my favorite quotes by L.N. Smith describes this situation perfectly,
"Every dollar you spend . . . or don't spend . . . is a vote you cast for the world you want."
What world do YOU want?
---
Why Oslob isn't the ethical option
+ why you shouldn't go
---
First things first, I know you're going to be tempted to go anyway because you're thinking, "is it really that bad?". Before you second guess yourself like I almost did, yes, it is. I follow many photographers and creators that have said that they 'wanted to see it for themselves' to see if the tour was as bad as everyone said it is only to find out that, in fact, it is just as bad as everyone says it is while still posting their "bucket list" photos for their Instagram page. It's very difficult to go through with these whale shark tours and feel good after leaving them. So please, trust me, the marine biologists stationed in the Philippines, and all the other sustainable travel bloggers that don't recommend these tours.
There isn't one exact reason why Oslob and Donsol are so unethical, so I want to break down everything you need to know before you decide to book a tour at either of these two locations and why you should go somewhere else instead. First things first, take a look at the reviews of the Oslob whale shark tours and the Donsol whale shark tours, specifically the negative ones (selected in the link). This is what really goes on during these tours that all those "picture-perfect photos" don't tell you.
"Alright, alright, alright. Aaren, we get it, so what makes Donsol and Oslob so unethical?" 
So rather than I explain the nitty-gritty details in an extremely subpar way, I want to let the experts tell you. There is so much good research compressed into that blog post linked and I think that it gives much better detail than I could describe. Plus, I don't want to simply regurgitate the same information as every other post about whale sharks in the Philippines, so I'll let the experts handle it!
---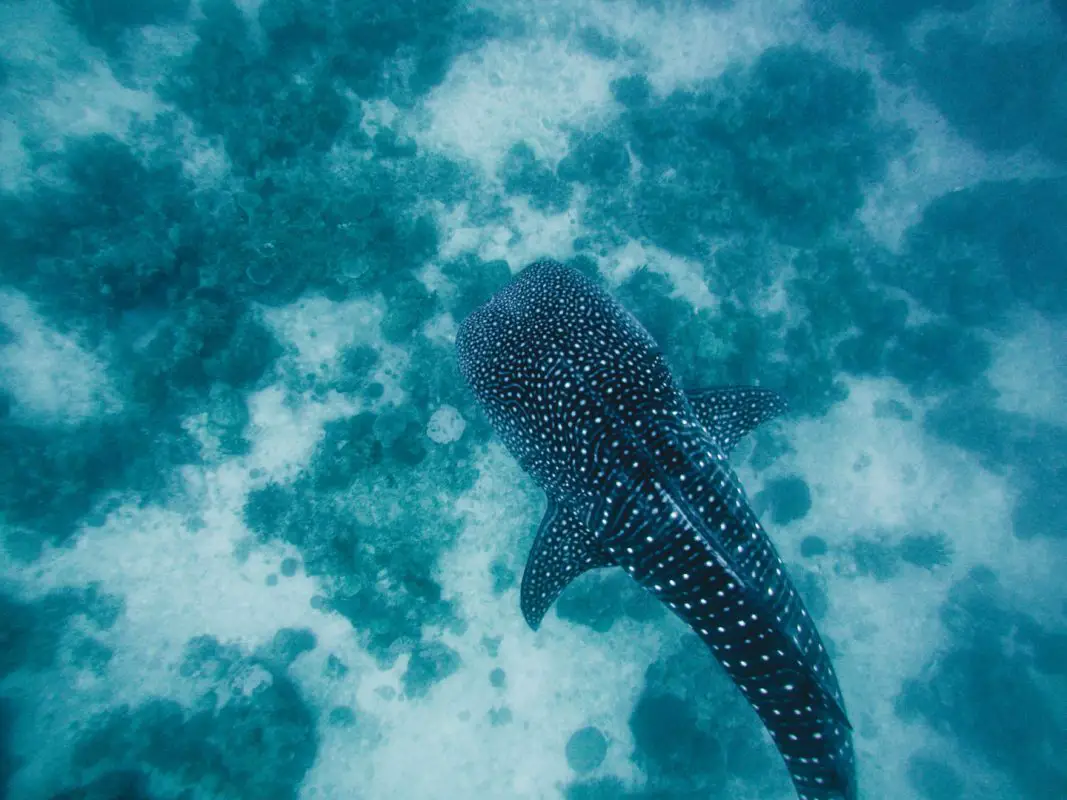 So, What Makes Southern Leyte So Much Better?
What Makes It better + different
---
No Crowds (I'm talking NONE)
I'm talking ZE-RO crowds. The tour that I tagged along on caps at ten people, but there were only four travelers total on my boat. It was myself, three other travelers, our boat captain, a handful of spotters, and a marine biologist! We had the entire bay to ourselves in the heart of high season! This was amazing because you didn't have to squeeze past people to get a good view of the sharks and it felt 1000% more authentic to experience it with only a couple of people.
The Tour Supports Locals In Remote Regions
The spotters on our boats were locals from the village right off of Sogod Bay. This region of the Philippines doesn't expect much tourism, so by taking this tour, you're helping the spotters and their families. The wives of the spotters made us a fresh, traditional Filippino lunch that was probably the best meal that I had on my entire trip! If you're focused on practicing sustainable travel, then this is the perfect tour to give back to the local communities in Leyte.
Marine Biologist On Board
Our marine biologist, Scarlet, had been living in one of the villages nearby documenting the whale sharks in Sogod Bay, and it was refreshing to have her on board to answer any questions that we had about whale sharks, the ocean, and conservation in general. One of the things that I enjoyed most about having her on board was that she was an INCREDIBLE freediver. I've always wanted to learn how to free dive and seeing her cut through the water so seamlessly all the way down to the sand BLEW. MY. MIND. It put in perspective just how massive these gentle giants are!
This experience is a memory that I am going to remember for the rest of my life because of the atmosphere and quality of this tour. We ended up seeing five different whale sharks that day and were able to follow them and have long interactions with them before they swam off into the deep blues. At one point one of the tours, the spotters had picked me up from my spot and took me directly to one of the sharks (this guy was slicing through the water so fast with his paddle it was nuts) and whenever he told me to jump, I looked around and didn't see anything.. come to my surprise it was right below us! I hopped out and came up close and personal (while still being the proper distance away). This was probably the most memorable part of my trip, hanging onto the back of boat being dropped off by one of the coolest creatures in the ocean. You can't get an experience like this in Oslob or Donsol!
I don't think my smile ever faded this entire boat ride. We were secluded in this beautiful, tropical bay, feasting on delicious food, and just being with nature. It was incredible.
---
Whale Shark Tour Options In Southern Leyte, Philippines
---
*The BEST whale shark tour in the Philippines!*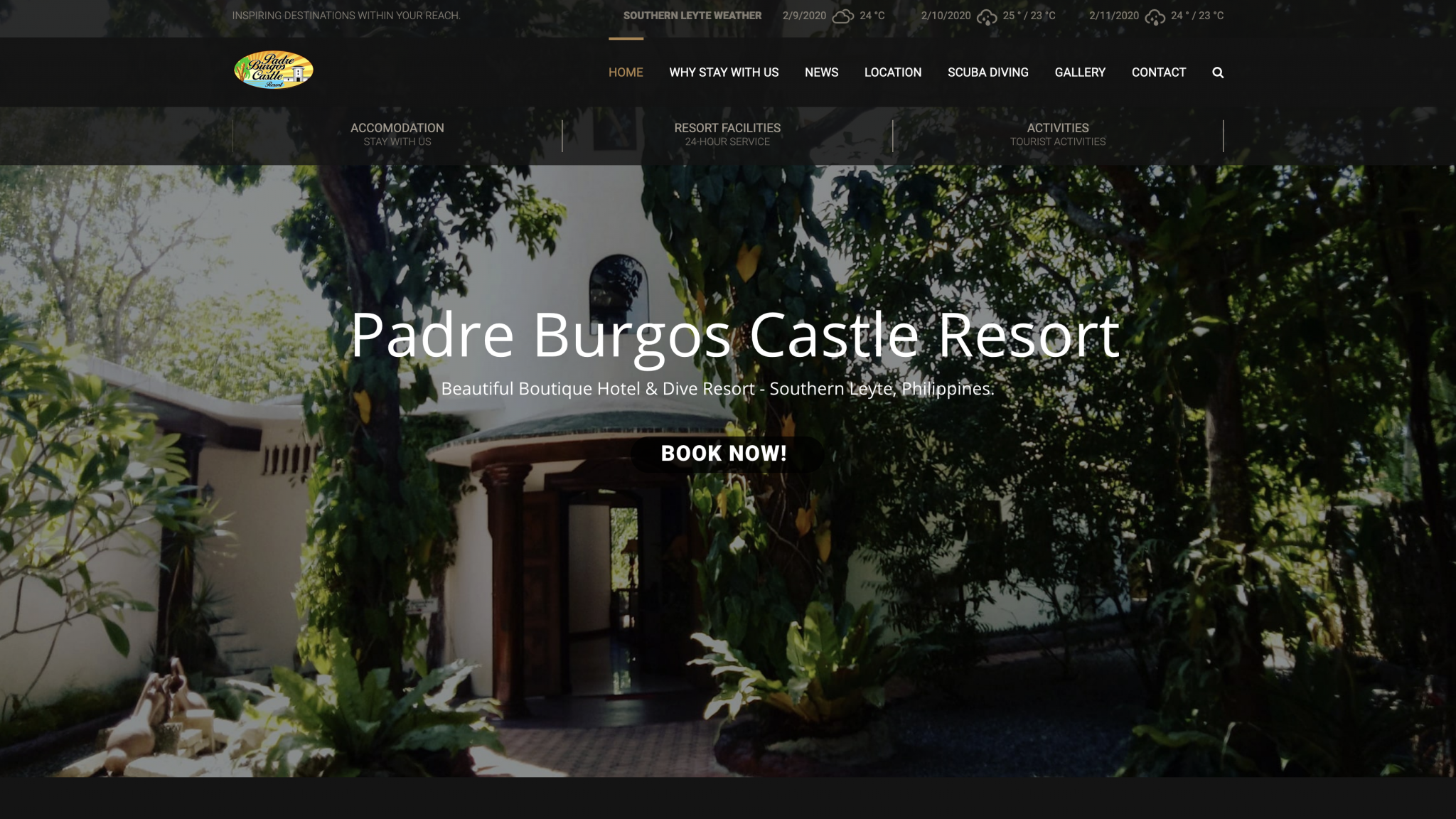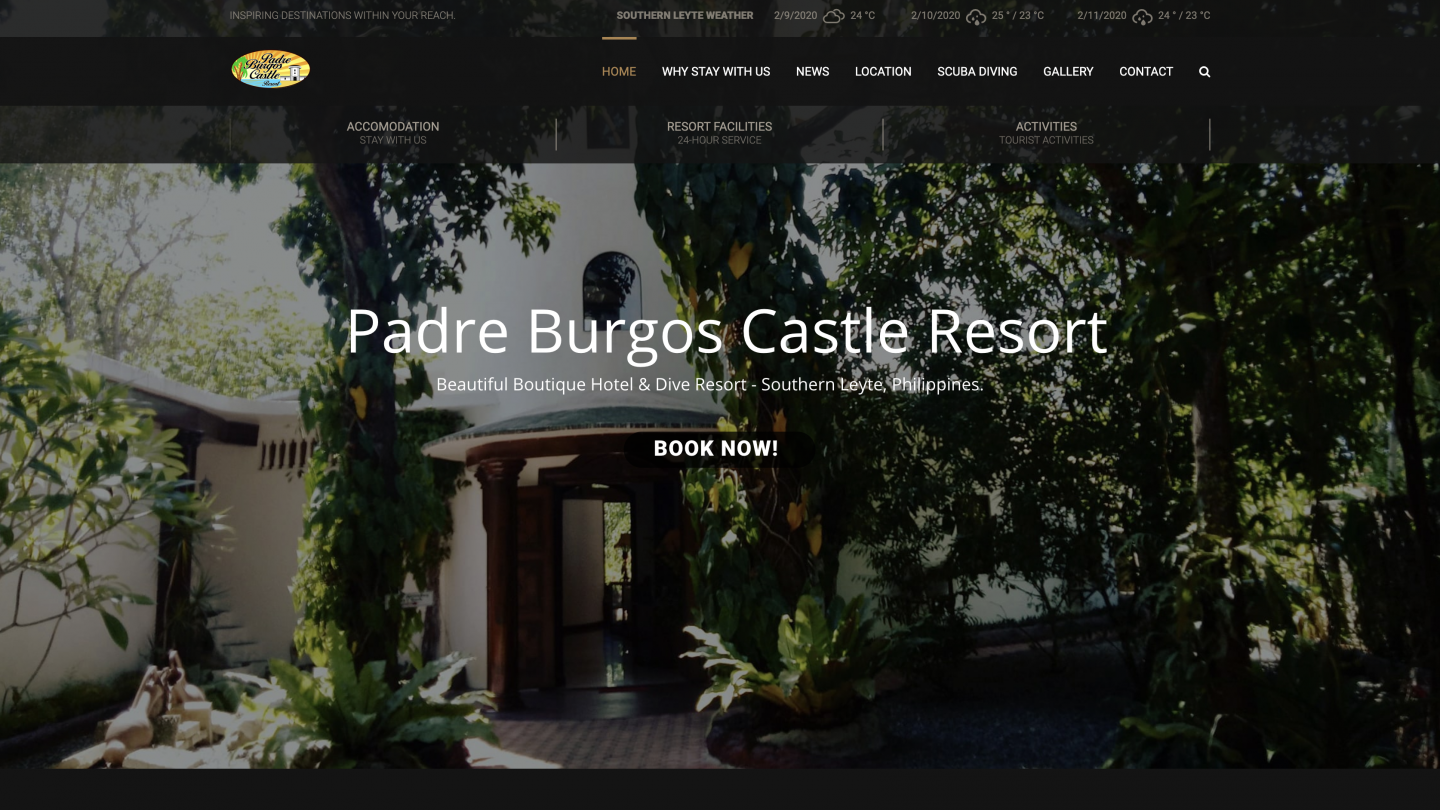 Price

| inquire
Address

|

Tangkaan

, 

Padre Burgos, Southern Leyte Province 6602, 

Philippines

 
---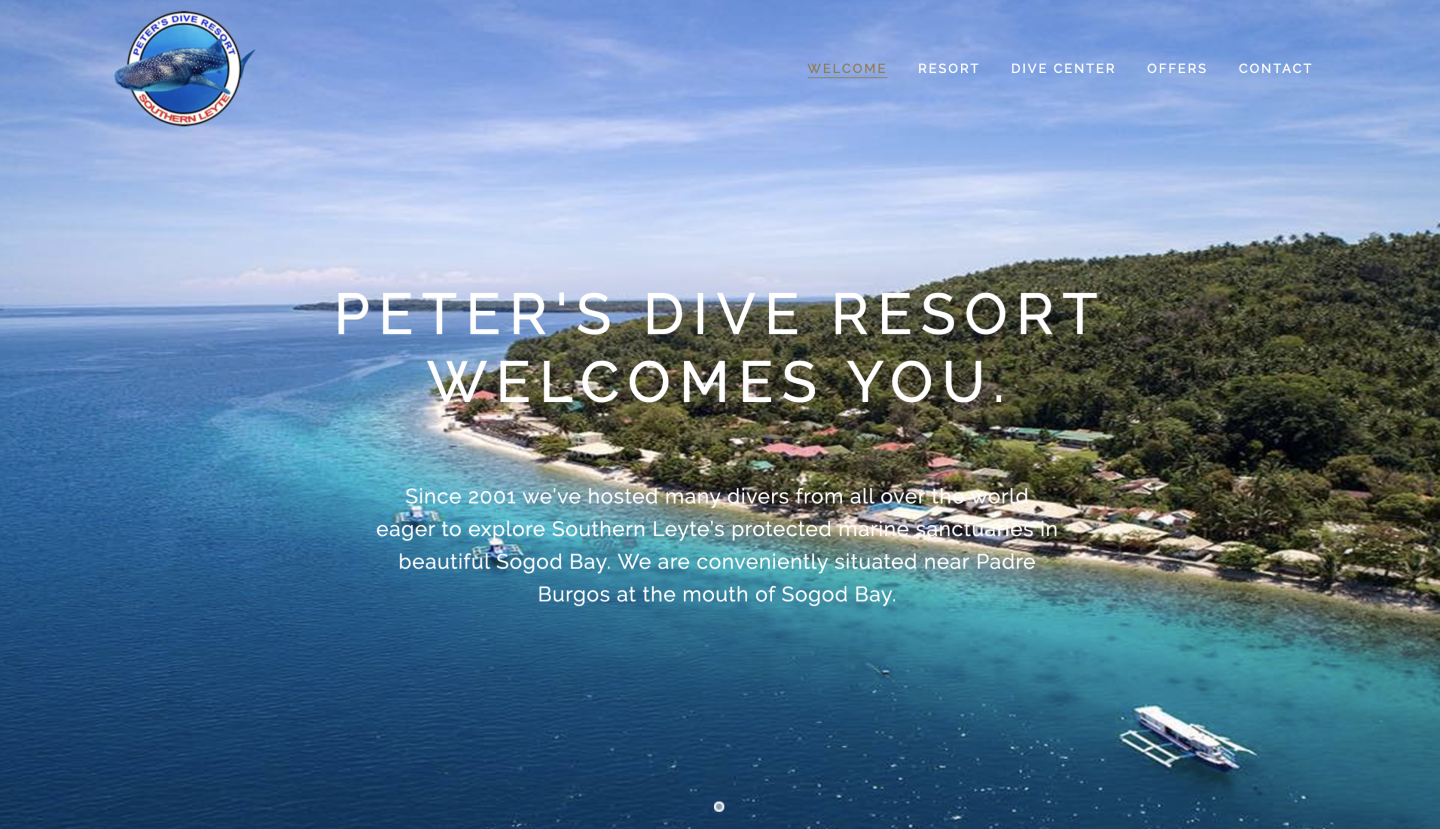 Price

| inquire
Address

| Peter's Dive Resort PO Box 007, Maasin City 6600, Southern Leyte, Philippines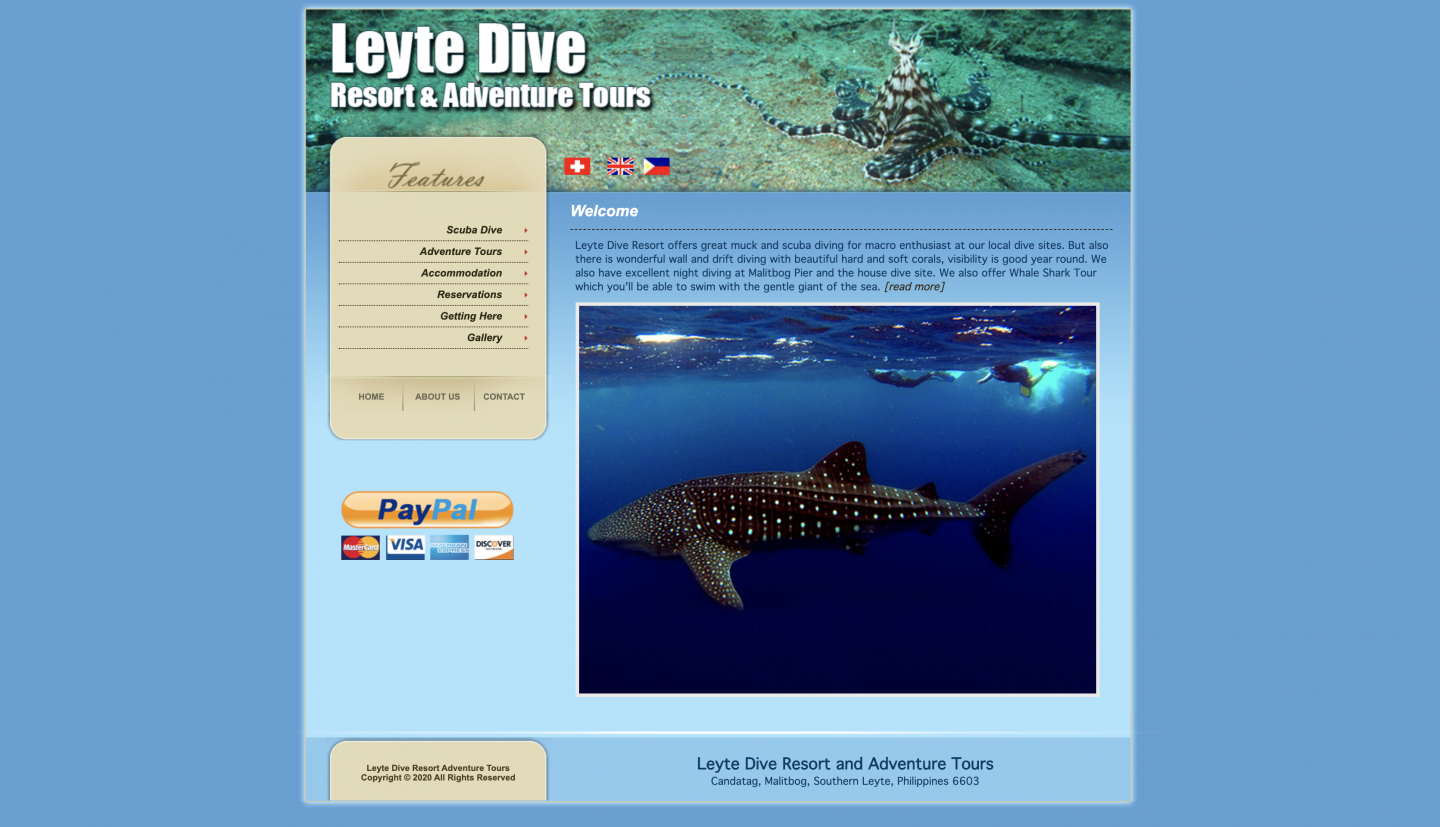 Price

| 3500 PHP
Address

|  Candatag, Malitbog, Southern Leyte, Philippines 6603
---
My Whale Shark Tour Experience With Padre Burgos, Philippines
---
So, my trip to the Philippines was booked really last minute… Like a few months prior last minute. I booked my flights in January or February and headed out in March. Since I booked everything so late and I happened to be traveling to the Philippines during Holy Week, all the spots were booked up at Padre Burgos Castle Resort, the resort I booked my whale shark tour with so I ended up staying at Southern Leyte Dive Resort that was only a couple of minutes up the road.
Actually getting to my accommodation was a bit of a trip. I booked a flight from Dumaguete to Tacloban and then I scheduled a private transfer to my stay. Since this region of the Philippines is still developing in terms of tourism, there isn't really any local transport that would be comfortable enough to make the drive from Tacloban City to Padre Burgos/Sogod Bay, so you'll have to take a taxi, hire a driver, or take a bus to Massin City and then find transport to Padre Burgos. It's not at all like Cebu or Dumaguete where a tricycle or habal-habal is seconds away. Plus, I would not want to drive three hours crouched in a tricycle or on a scooter. Talk about sore buttcheeks, am I right?!
The private transfer ended up being around 3500 PHP and then plus a little more I think since it was Holy Week. I was posted up in the backseat and ended up sleeping the entire way to the resort. I was exhausted after the previous week traveling and so it was much needed. I took a shower, went to bed, and woke up extra early to make my whale shark tour.
I had a slight issue getting to the resort since I didn't have any signal to contact the driver that was coming to get me, but he eventually found me on the side of the road outside my resort, and we headed fifteen minutes to Padre Burgos Castle Resort. When I arrived, I was fitted for my snorkel and fins while they gathered the spotters and other travelers going on the tour. The four of us boarded the ship with the captain and we headed out into the bay. I think the ride into the bay was around forty-ish minutes if I remembering right. We were the only boat in the entire bay, so we were able to take in all the views over coffee and some notable breakfast cookies.
Once we arrived at the bay, we picked up, Scarlet, the marine biologist that was staying in a neighboring village, and we began the anticipated wait for the spotters to find the sharks. The thing about these tours is that whale sharks are never guaranteed, but we ended up seeing FIVE different sharks this morning! It took a minute for the spotters to locate them, but one after the other, they kept appearing and we would all hop back into the water to follow the sharks. Our boat sort of cruised around and once the sharks were spotted, we were taken a bit of a distance away with the big boat and then paddled in by the spotters to make sure the boats motor/sound-level didn't disrupt the sharks. Every bit of it was 100% authentic, amazing, and downright surreal. I couldn't believe that so many people saw whale sharks in the Philippines in Donsol or Oslob when this magical tour existed. The entire morning truly felt like some sort of dream!
After the five different whale shark interactions, we had one of the most memorable lunches from my trip. The boat hands had brought in a local lunch made by their wives from the nearby village and it was probably the great pineapple and noodles I've had in my entire life. Trust me, that's a HUGE statement to make but I honestly couldn't believe it. If you take this tour and luck out with no whale sharks, the lunch alone is worth the entire trip out here!
After lunch, we made our journey back to Padre Burgos. It began to rain a bit on our way back, so we all ended up wrapping up ourselves in towels since the rain and wind combo made the weather go from beautiful to frigid in about twenty minutes. Gotta love that island weather!
We boarded back at the resort, said our goodbyes, and went on our ways! I am still connected with one of the ladies that was on the whale shark tour with me! You'll make lifelong bonds on a tour like this and I cannot say that Oslob or Donsol would do the same. You won't regret taking this tour.
---
How To Get To Southern Leyte
No matter where you depart to get to Southern Leyte, there's going to be a different mix of transportation options you can take based on your budget and how much time you have. It's a bit of a journey to get here, but don't let that discourage you from pursuing the tour! I was extremely hesitant since it was out of the way compared to the other stops on my itinerary, but the reward is more than worth the journey! I will say, though, that this part of the Philippines is pretty remote, so transportation options haven't expanded much since it's a low-traffic region. So, it's a little difficult to get there, BUT you'll have basically everywhere all to yourself!
Browse All Routes + Book Via Rome2Rio
---
Cebu (City) to Southern Leyte
Via

Plane + Transfer

(10+ Hours)
There's a large chance that if you're coming from any other island in the Southern Visayas, you're going to have to fly through Cebu to get to Tacloban City since there are very limited options when it comes to direct flights. You're going to fly out of the Cebu-Mactan Airport directly to Tacloban City and then book a private transfer to your resort. Alternatively, you can board a bus due for Maasin City, then find local transport from Maasin City to Padre Burgos. The bus ride is a little longer, but cheaper if you don't have the means for a private transfer.
Via

Ferry + Transfer

(8 Hours)
This ferry route isn't as bad as the one that I mentioned above since it does save you a little bit of time for the journey. From Cebu City you can board a ferry headed for Ormoc which takes around two hours and then after you land, find public transport to Maasin City with another transfer to Padre Burgos or you can get a direct route to Padre Burgos from Ormoc. I don't think that there is any guarantee that the ferry is only going to be two hours, so proceed this route with caution and a bit of extra time in case things get delayed.
Siargao (+ other islands in the Visayas) To Southern Leyte
Via Plane(s) + Transfer

(9+ Hours)
To get to Padre Burgos, Southern Leyte from Siargao and other islands in the Southern Visayas (think Bohol, Romblon, Palawan, Dumaguete), it's basically the same as the "plane + transfer" from Cebu, except you'll be booking an additional flight from the island you're on to Cebu and then onto Tacloban. So it'll look a little like this, IAO > CEB > TAC > Private Transfer/Bus.
---
Where To Stay In Southern Leyte
The best place to stay in Southern Leyte is at the dive resort where you booked your whale shark tour. Ironically, I wasn't able to stay at Padre Burgos Castle Resort because all the rooms were booked when I went to find a place to stay (kudos to myself for trying to book last-minute lol), so I ended up staying at the Leyte Dive Resort and really enjoyed my stay. If you can't find a room at the resort where your whale shark tour is operating out of, check the other diving resorts in the area and see what is available.
I didn't rent a scooter while I was in this region, so I paid a small fee to have one of the resort employees from Padre Burgos pick me up via scooter which made the whole not-staying-at-the-dive-resort thing a lot easier.
---
HELPFUL GUIDES FOR YOUR TRIP TO THE PHILIPPINES:
– 30 Travel Essentials For Backpacking Southeast Asia
– 50 Philippines Travel Tips For An EPIC Trip
– 16 Things That Surprised Me While Traveling The Philippines
– The Best Time To Visit The Philippines
– The BEST Philippines Packing List: What To Pack For The Tropics
LOOKING FOR DESTINATIONS IN THE PHILIPPINES? CHECK THESE OUT:
– The Perfect Philippines Itinerary For 2 Adventurous Weeks
CEBU
– Tumalog Falls: Cebu's Unmissable Waterfall
– Canyoneering In Cebu: Epic Cliff Jumping
– Exploring Kawasan Falls on Cebu (Without the Crowds)
SIARGAO
– Island Hopping in Siargao: Guyam, Daku, + Naked Island
– Where To Stay On Siargao Island For A Dreamy Stay
– How To Spend A Day At Sugba Lagoon
– TakTak Falls: The Only Waterfall On Siargao Island
DUMAGUETE
– Apo Island Day Trip: Snorkeling With Sea Turtles
– Casaroro Falls in Valencia: Hidden Waterfall Near Dumaguete (FULL GUIDE)
---
Do you love ethical animal encounters? Share with me your favorite experience below in the comments!
Aaren
Did you enjoy this post on whale sharks in the Philippines? Save it for later on Pinterest!