(Last Updated On: 13/09/2020)
If there is one thing to know about where to stay on Siargao Island, it's that there is no shortage of dreamlike hostels, resorts, hotels, and guesthouses for any budget. One of my favorite things about visiting Siargao was that you don't have to spend a fortune to stay somewhere beautiful, much like the rest of the Philippines. When it comes to visiting Siargao Island, the vast majority of people base themselves in General Luna, near the famous Cloud 9 surf break. Here is where you'll find most of the best places to stay and all those mouth-watering restaurants *drools*. However, in the shadow of those places lies a few other locations where you'll find very few travelers and my personal favorite place to stay in Siargao, despite its location, Pacifico.
This guide for where to stay on Siargao Island is going to cover all of the areas you should consider basing yourself with the primary focus of General Luna. If you're dreaming of the perfect stay for your travels to Siargao and other parts of the Philippines, look no further than these amazing spots. Let's get into it, shall we?
This post may contain affiliate links for the properties I mentioned, but as always, all opinions are my own. I make a small commission, at no extra cost to you, when you make a purchase or booking through these links. This helps to support this space and keep me blogging, which I am so extremely thankful for.
Headed to Siargao Island? Check out these posts after booking the best place to stay!
---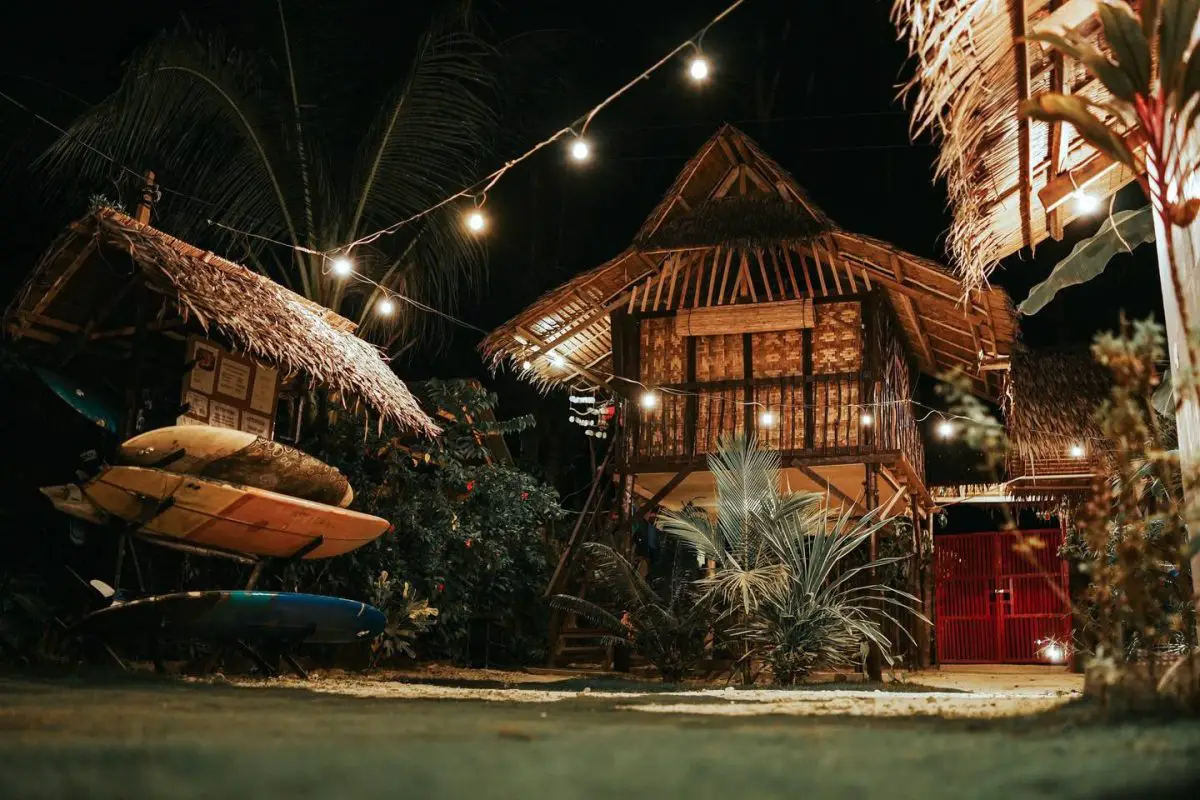 Tips For Choosing Where To Stay In Siargao
If you want to immerse yourself in local culture with a quiet stay, stay in Pacifico or San Isidro.
Pacifico is a laid back, surfing destination for quiet resorts and local immersion. While there aren't as many hip cafes here, there are many places to grab a great bite after a morning on the water. It is a gateway for the northern excursions of Siargao like TakTak Falls, and a secret island hopping near Santa Monica, which makes it the perfect central location for Siargao, despite it being 45 minutes from the hub of General Luna. I stayed in Pacifico and I enjoyed the silence and 'late night bonfire' vibe of the entire area.
If you want to be near most major attractions, the best nightlife, and food, stay in General Luna.
General Luna is the life of the party. The (classy) Koh Phangan of Siargao. The older sister that goes clubbing on Saturday, but wakes up on Sunday morning for a morning surf break and acai bowl. Its laid back atmosphere, and dozens of cafes and stays have made General Luna the top choice to stay when people are booking in Siargao. So while most of the tourism concentrates into one area, there are plenty of unique getaways where you'll be able to find a silent slice of paradise.
If you're in Siargao to surf, stay near Cloud 9 or consider Pacifico (considered to be the 'North Shore' of Siargao Island).
Cloud 9 is one of the world's most famous surf breaks and is a huge reason why so many people originally flocked to Siargao back in the day. Now the Cloud 9 surf break is home to professionals and beginners alike as this area has become a popular spot for surf lessons. While Cloud 9 is a hotspot, it is often crowded. If you're looking for a quieter place to surf on Siargao, Pacifico is your best bet. This is where I learned how to surf on my trip and there were a FRACTION of the people there.
---
A Map of the Best Places To Stay in Siargao
---
Where To Stay In General Luna, Siargao
Budget/Backpacker Accommodation
---
---
Where To Stay In General Luna, Siargao
Unique Accommodation
---
---
Where To Stay In General Luna, Siargao
Mid-Range Budget
---
---
Where To Stay In General Luna, Siargao
Mid-High Range Budget
---
---
Where To Stay In General Luna, Siargao
High Budget Accommodation
---
---
Where To Stay In Pacifico, Siargao
All Budgets
---
---
---
Still On the Hunt?
---
Which places to stay in Siargao is perfect for your island getaway? Share with me in the comments below!
Aaren
Was this guide on where to stay in Siargao Island helpful? Save these places to stay on Pinterest!