(Last Updated On: 21/08/2019)
Casaroro Falls, the hidden jungle gem nestled deep within the rainforest of Dumaguete in The Philippines is a waterfall that needs to top your bucket list for The Philippines. What was first a unique name for a waterfall and a couple of Google Image searches later became one of my most cherished locations among all my travel destinations. If there is one thing for sure, this place is special to anyone who comes across it. There was a Typhoon that blew threw this area back in 2011 which destroyed most of the designated path to get to this waterfall, but if you can manage a bit of navigating and some stairs, this is well worth the adventure.
Once the trail opens up, you get to swim and stand under this magnificent, 100-foot waterfall that will make you feel like an ant in a rainstorm. You'll feel like a true adventurer while hiking to Casaroro Falls and it will easily top your favorites list on your Philippines Itinerary.
This post may contain affiliate links for the products I mentioned, but as always, all opinions are my own. I make a small commission, at no extra cost to you, when you make a purchase or booking through these links. This helps to support this space and keep me blogging, which I am so extremely thankful for.
Planning a trip to The Philippines? Check out these other awesome resources!
---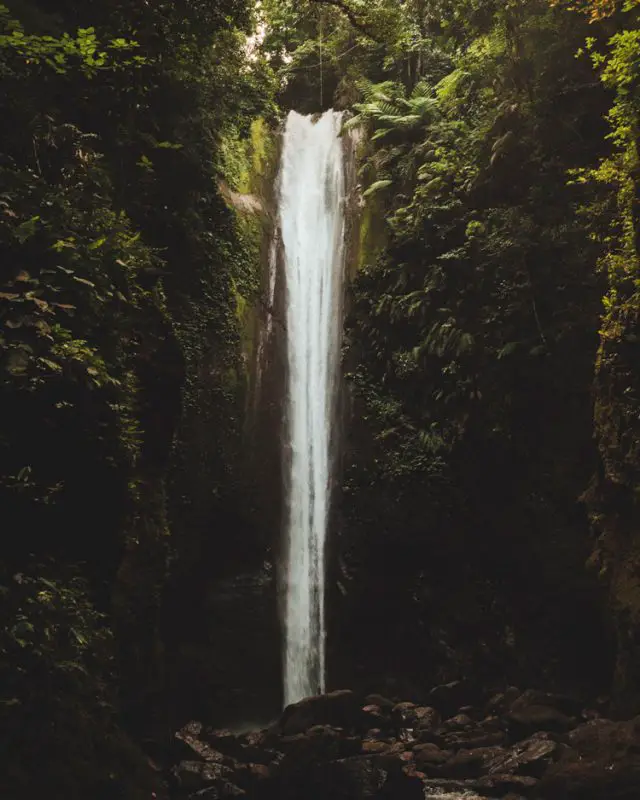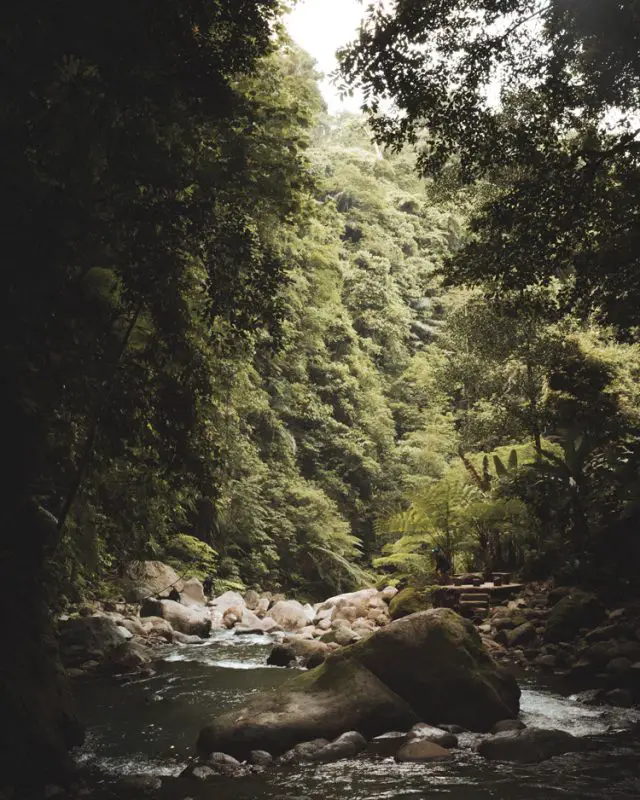 Casaroro Falls Information
Entrance Fee | 10 PHP ($0.20 USD)
Parking Fee | Free (donations encouraged)
Trekking Time | ~30 minutes (leisurely pace)
Trekking Difficulty | Moderate-Difficult
Waterfall Height | ~ 100ft (30 meters)
What To Bring | reusable water bottle, change of clothes, snacks, spare cash, camera or GoPro, and towel/sarong
What To Wear | tennis shoes, swimsuit, shorts, and a t-shirt.
---
How To Get To Casaroro Falls From Dumaguete City
Casaroro Falls is around a 30-minute drive from Dumaguete in the municipality of Valencia.
There are a couple of transportation options you have to get there: tricycle, habal habal or scooter rental. The tricycle ride is by far going to be the cheapest option, but it's not going to get you all the way to the falls since the road is quite rough, so you'll have to do some walking to get to the waterfall trailhead. Another option is via habal habal which is basically a scooter with more than three people riding it. This is another great option to get around and easy to find. The final option is to rent your own scooter. You can do this in Dumaguete City when you arrive and it shouldn't cost more than 500 PHP.
If you do choose to ride a tricycle or habal habal, make sure you barter the price before you ride so that you're not getting scammed and overpaying.
---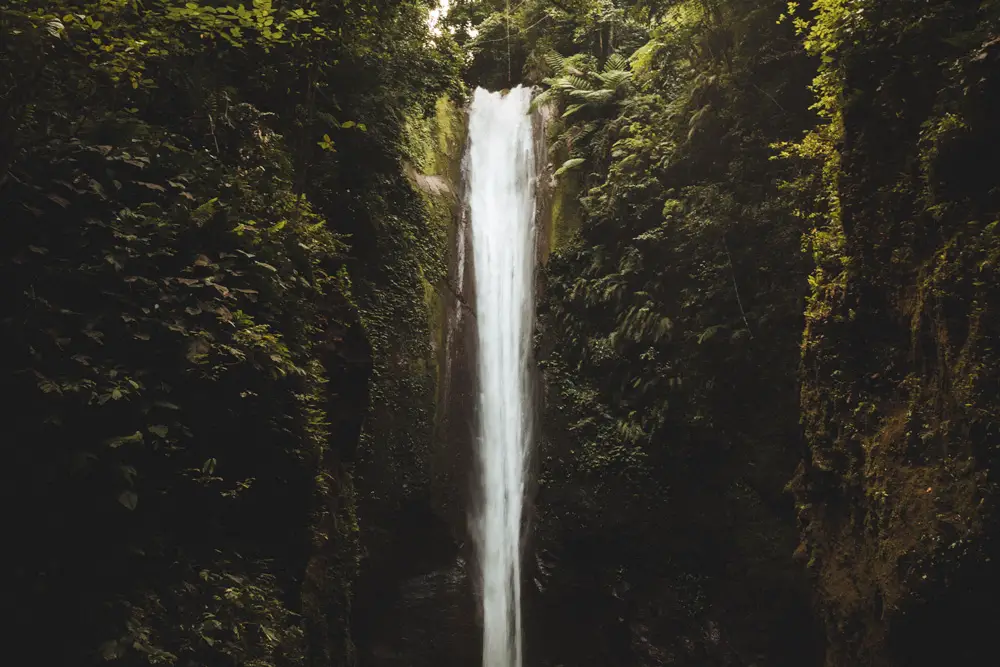 The Trail To Casaroro Falls
The trail to get to Casaroro Falls is more strenuous on the way up than it is the way down since you'll have to battle around 300 stairs coming back from seeing the waterfall.
The trail begins with descending the 300 stairs and once you reach the end, there will be a small, tiled building where you can change into your swimsuit if you need. After the end of the stairs, this is where the trail gets a little bit interesting. As I said before, this portion of the trail was destroyed by Typhoon Sendong and there haven't been any efforts to mend the trail, so this trail takes a bit of navigating, but look out for the spray-painted arrows, use common sense, and you'll be fine. The hike really just follows the river upstream until the waterfall, so you really shouldn't get lost. The more difficult part is just finding the actual "trail", not the trail itself. Some parts of the trail involve getting up some large locks, but an average, healthy person will be just fine. Essentially, don't expect this trail to be 100% lined out for you, embrace the adventure, and enjoy the falls at the end.
As you get closer and closer to the waterfall, you'll start to hear it's roaring power, but you won't see it until the very end, which helps add to the suspense! Photos don't do this massive waterfall justice, so if these photos impress you, save your jaw-drop for when you see this bad boy in person because it's AWESOME.
---
What To Expect At Casaroro Falls in Dumaguete
Things To Do At Casaroro Falls
By only looking at photos, it looks like Casaroro Falls can only be enjoyed with the eyes, but there is actually a huge pool of water that you can jump into underneath the falls. I don't advise just cannonballing into the water since there are larger boulders dispersed around the pool and the water isn't clear enough to see them, so be careful, but you can easily spend an entire morning or afternoon soaking in the rays in the pool below Casaroro Falls.
Also to note, don't swim too close to the waterfall either. It's pumping water and rocks over a hundred-foot ledge, so things can go from a good time to a bad time REAL quick.
If you happen to purchase snacks at the kiosk at the top of the trail, please make sure that you pack them away and don't leave them near the waterfall. This keeps it litter-free and the space clean for everyone to enjoy.
Crowds?
This waterfall really isn't that touristy, shockingly enough, so there is a good chance you're only going to see a couple of people or groups there or on your way down. I went here on a Friday afternoon and there were probably three other people enjoying the falls aside from our group. If you're coming from Cebu, El Nido or Palawan, you're going to enjoy the solitude!
---
My Experience At Casaroro Falls
I feel like Dumaguete is a region of The Philippines that really does not get the credit that it deserves from being shadowed by its more popular sister islands: El Nido, Cebu, Bohol, Siquijor, etc.. and honestly, I really underestimated it at first. I didn't have any initial plan when I arrived on the island since I was meeting up with one of my old school friends, but upon arriving at the dock, she let me know that we would be exploring Casaroro Falls. I had no clue what it looked like, where it was, how to get there, or what adventure it would bring me on. After experiencing this waterfall first-hand, it's easily become one of my favorite places in all of The Philippines. 
Most of the time when you have waterfalls that are THIS jaw-dropping, it comes with the price of masses of other tourists, but somehow, not this one. This jungle paradise is enjoyed by few people, even in high season, and I think that is what made this experience so special to me. I was with a group of my friend's friends and we all packed up in their car and headed out to the falls and we ended up having the whole place to ourselves: on a Friday afternoon, in the peak of high season! Needless to say, I was pretty shocked after experiencing the late-morning crowds at Kawasan Falls.
For us being moderately in decent shape, the hike to the waterfall wasn't bad at all except for the 300 stair climb at the end. I really liked the secluded feeling that the destroyed path gave us and it kind of felt like I was in an Indiana Jones movie! I think the trail is what steers a lot of people away since it can be both challenging on the way up and finding the trail, but I loved the adventurous side of this hike since most touristy things in The Philippines are set up with paved paths, a fee booth, restaurant, picnic tables, and the whole shebang, but this one is left for the rugged explorers.
My favorite part of the whole experience was being in total solitude swimming underneath this waterfall. The group was silent as we all got in the water and started swimming around and the only thing you hear is the sound of the waterfall plunging into the pool in front of you. I felt like I was off on a remote island somewhere when really I was thirty minutes from a more developed city.
If you love rugged adventurous, raising your heart rate, and having your breath taken away, literally and metaphorically, dedicate a morning or afternoon in Dumaguete to exploring Casaroro Falls. You won't regret it.
---
This was probably one of my favorite waterfalls that I have seen in all my travels! Where is your favorite waterfall? Share with me in the comments below!
Aaren
Did you enjoy this post? Save it for later on Pinterest!