(Last Updated On: 05/01/2022)
Nestled deep in the jungle of Valencia, Casaroro Falls is one of many hidden waterfall gems in Negros Oriental, Philippines that you MUST VISIT. Out of all the waterfalls on my travels through the Philippines and the rest of the world, this is by far my favorite one that I have ever gotten the pleasure of exploring. What was once high on the list of tourists spots in this region, is now a lesser-visited gem due to the devastating effects of Typhoon Sendong. On top of that, there are around 350 steps leading down into the ravine, plus another small hike in rather rugged conditions to get to this 100-foot tall, cascading waterfall, BUT every step of the journey is worth it to get to this place.
When I was visiting one of my old school friends in Dumaguete, we ventured out here on a cloudy weekend afternoon and had the place entirely to ourselves in one of the best months to go to the Philippines. It's safe to say that I was both shocked and grateful that there weren't masses of crowds here. This travel guide, short and sweet, serves as a stamp of my favorite travel memories to date, and I hope it serves you well on your visit to Casaroro Falls. While you're in the area, consider making a half-day trip out of it and visiting the nearby Pulangbato Falls and Red Rock Hot Spring as well.
This post may contain affiliate links for the products I mentioned, but as always, all opinions are my own. I make a small commission, at no extra cost to you, when you make a purchase or book through these links. This helps to support this space and keep me blogging, which I am so extremely thankful for.
---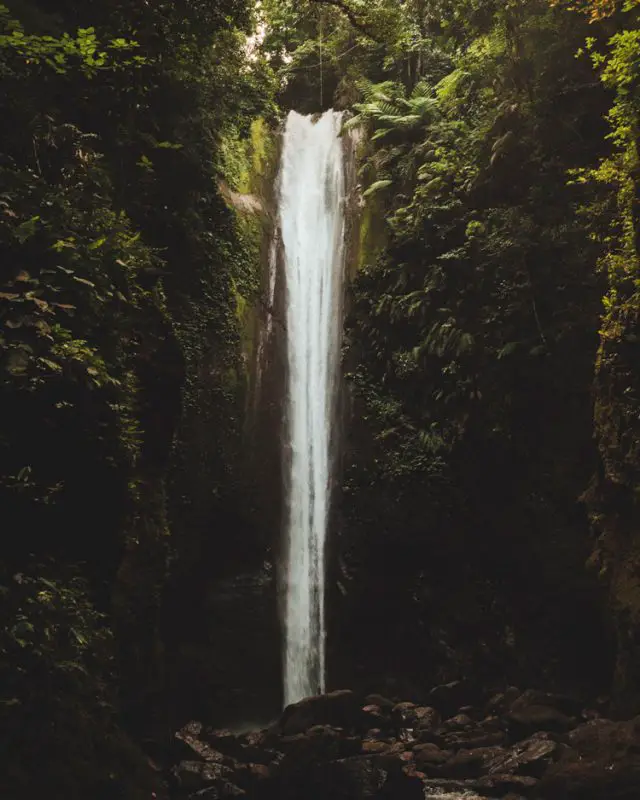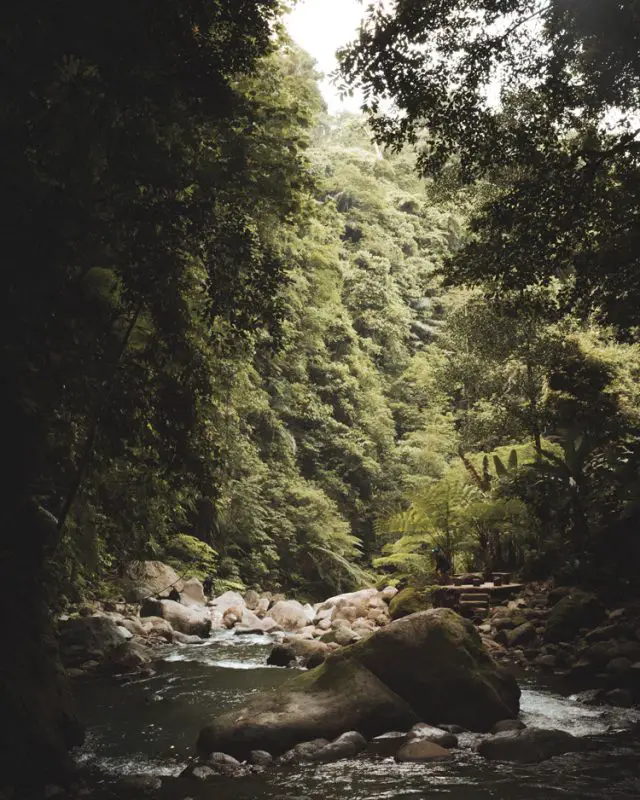 Casaroro Falls Quick Guide
CASARORO FALLS ENTRANCE FEE | 10 PHP ($0.20 USD)
PARKING | Free, but 5-10 peso donation is encouraged.
HIKING TIME | 0.5 – 1 hour
TRAIL LENGTH | 0.3 mile
TRAIL DIFFICULTY | Moderate
WATERFALL HEIGHT | Casaroro Falls is 100 feet tall. Truly incredible.
CASARORO FALLS | TRAIL GUIDE
---
How To Get To Casaroro Falls
FROM DUMAGUETE | To get to Casaroro Falls you need to head into Dumaguete City and get on a jeepney to the neighboring municipality of Valencia (24 PHP). Once you arrive at the terminal, you can get a ride on a habal-habal to take you to Casaroro Falls (200-300 PHP for a round trip). If you take a tricycle from town it won't be able to take you all the way down to where the trail starts so make sure you're on a habal-habal, or scooter.
Alternatively, you can get a scooter rental in Dumaguete for the time you're on this island, especially if you're planning on visiting nearby Apo Island, Kawasan Falls, or coming back from Siquijor Island. I recommend finding a local shop when you arrive, rather than booking online, so that you can get a better rate.
Much like the rest of the Philippines, this is a very inexpensive day trip to Casaroro Falls in Valencia no matter how you get there. Once you arrive at the trailhead, it's time to start the journey down to the waterfall.
CASARORO FALLS MAP
Use this map to help you locate Casaroro Falls and nearby stops! For best use, download this map to your smartphone so you can use it offline (instructions here).
---
The Trail To Casaroro Falls
Once you get to the trailhead, there is a small kiosk where you'll be able to purchase snacks and they might try and hassle you into the guide, but don't feel like it's necessary. If you're uncomfortable with going alone, you can hire a guide.
The trail starts with descending around 350 stairs until you reach a small, tiled building where you can change into your swimsuit if you need. After the typhoon blew through this area, I was surprised to see this building either new or still intact from the storm. Lucky for you, the journey going down to the waterfall is 1000x easier than coming back, but they always say leave the best for last, am I right?
Once the stairs end here, the trail gets a lot more interesting and way muddier.
WHAT TO EXPECT
Casaroro Falls isn't touristy, shockingly enough, so there is a good chance you're only going to see a couple of people on your way down. I visited here on a Friday afternoon and there were only three other people enjoying the falls aside from our group and they left shortly after we arrived. If you're coming from other popular spots like Cebu, El Nido, or Palawan, you're going to enjoy the solitude!
This portion of the trail was destroyed by Typhoon Sendong and there haven't been many efforts, if any at all, to mend the trail, so this trail takes a bit of navigating. The red, spray-painted arrows will point you in the right direction, but essentially you're just following the river upstream until you get to Casaroro Falls.
The most difficult part is finding the actual "trail", not the trail itself because parts of it involve getting up some large locks and arrow scouting. As rugged as this hike was, I appreciated that it wasn't in pristine condition and it felt like a true rainforest adventure in the middle of a tropical island, rather than a tourist spot to check off a list.
As you weave through boulders and cross the stream, you'll start to hear the waterfall's roaring power, but you won't see it until the very very end, which helps add to the suspense. My mouth literally dropped when I saw this for the first time. You won't be expecting Casaroro Falls to be as tall as it is!
By only looking at photos, it looks like the waterfall can only be enjoyed with the eyes, but there is actually a huge pool of water that you can jump into underneath the falls! I don't advise just cannonballing into the water since there are larger boulders dispersed around the pool and the water isn't clear enough to see them, so be careful. You can easily spend an entire morning or afternoon soaking in the rays in the pool below Casaroro Falls.
LEAVE NO TRACE
If you happen to purchase snacks at the kiosk at the top of the trail, please make sure you're following Leave No Trace Principles and pack them out. This keeps it litter-free and the space clean for future travelers to enjoy.
---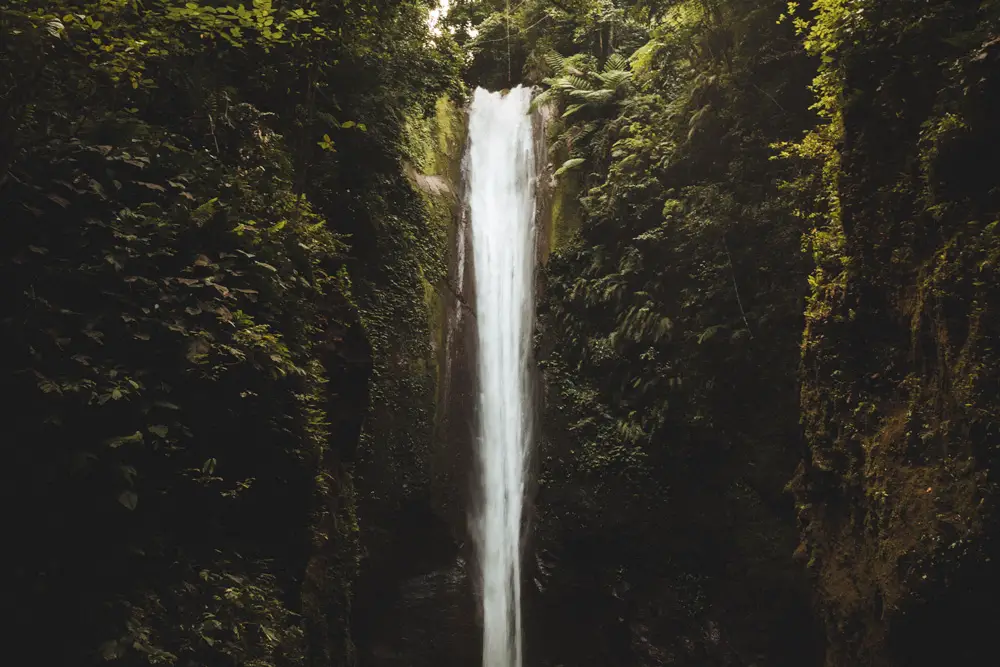 My Experience At Casaroro Falls
Dumaguete is a region of The Philippines that does not get the credit it deserves because it's shadowed by its more popular sister islands: El Nido, Cebu, Bohol, Siquijor, etc.. Truthfully, I really underestimated it at first.
I didn't have any plans when I arrived in Dumaguete City since I was meeting up with one of my old school friends, but upon arriving at the port, she let me know that we would be exploring Casaroro Falls. I had no clue what it looked like, where it was, how to get there, or what adventure it would bring me on. After experiencing this waterfall first-hand, it's easily become one of my favorite places in all of The Philippines. 
Most of the time when you have waterfalls that are THIS stunning, it comes with the price of masses of other tourists, but by some stroke of magic, this Valencia waterfall fell under the radar of the masses. This jungle paradise is enjoyed by few people, even in high season, and I think that is what made this experience so special to me.
I was with a group of friends and we all packed up in their car and headed out to the falls. We ended up having the whole place to ourselves on a Friday afternoon in the peak of the high season! Needless to say, I was pretty shocked after all the crowds at Kawasan Falls.
Being in decent shape, the hike to the waterfall wasn't bad at all except for the 300 stair climb at the end. I adored the secluded feeling that the destroyed path gave us and it kind of felt like I was in an Indiana Jones movie!
The trail is what steers a lot of people away since it can be both challenging on the way up and finding the trail, but I loved the adventurous side of this hike since most touristy things in The Philippines are set up with paved paths, a fee booth, restaurant, picnic tables, and the whole shebang, but this one is left for the rugged explorers.
My favorite part of the whole experience was being in total solitude swimming underneath this waterfall. The group was silent as we all got in the water and started swimming around and the only thing you hear is the sound of the waterfall plunging into the pool in front of you. I felt like I was off on a remote island somewhere when really I was thirty minutes from a more developed city.
If you love rugged adventurous, raising your heart rate, and having your breath taken away, literally and metaphorically, dedicate a morning or afternoon in Dumaguete to explore Casaroro Falls. You won't regret it.
---
Where To Stay In Dumaguete
BUDGET | Flying Fish Hostel – This is easily one of the most beautiful hostels I've stayed at in my LIFE and it even outdoes hotels here at home. The attention to detail is incredible and it's a central hub for exploring Dumaguete City and the surrounding islands. It's a 20-minute tricycle ride to Sibulan Port and the Ceres Bus Terminal. The property is surrounded by bamboo and the construction makes you feel like you're in a private villa in Bali.
BUDGET | Casa Arietta Hostel – Another great hostel option with a central location to all of Dumaguete's hubs. I like that you can rent scooters and book day trips right at the front desk, which makes trip planning way more seamless for those that prefer tours. The staff is warm and inviting and it's rare for a hostel to have this good of a rating! Plus, they have terrace ping pong… What more could you want?!
MODERATE | The Brick's Hotel – For a cozy stay close to a lot of tourist spots in Dumaguete; Quezon Park, Dumaguete Cathedral, and the Dumaguete Public Market, this hotel is the perfect option for those working with a bigger budget. With your room, you can enjoy a beautiful beach view right out of your window and walk along the ocean during sunset. The Sibulan Port is only a short walk away for day trips to surrounding islands.
---
HELPFUL GUIDES FOR YOUR TRIP TO THE PHILIPPINES:
– 30 Travel Essentials For Backpacking Southeast Asia
– 50 Philippines Travel Tips For An EPIC Trip
– 16 Things That Surprised Me While Traveling The Philippines
– The Best Time To Visit The Philippines
– The BEST Philippines Packing List: What To Pack For The Tropics
LOOKING FOR DESTINATIONS IN THE PHILIPPINES? CHECK THESE OUT:
– The Perfect Philippines Itinerary For 2 Adventurous Weeks
CEBU
– Tumalog Falls: Cebu's Unmissable Waterfall
– Canyoneering In Cebu: Epic Cliff Jumping
– Exploring Kawasan Falls on Cebu (Without the Crowds)
SIARGAO
– Island Hopping in Siargao: Guyam, Daku, + Naked Island
– Where To Stay On Siargao Island For A Dreamy Stay
– How To Spend A Day At Sugba Lagoon
– TakTak Falls: The Only Waterfall On Siargao Island
DUMAGUETE
– Apo Island Day Trip: Snorkeling With Sea Turtles
SOUTHERN LEYTE
– Where To See Whale Sharks Ethically In The Philippines
---
WHAT IS THE MOST BEAUTIFUL WATERFALL YOU'VE EXPLORED? SHARE WITH ME IN THE COMMENTS BELOW!

DID YOU FIND THIS GUIDE TO VISITING CASARORO FALLS USEFUL? SAVE IT FOR LATER!