(Last Updated On: 05/04/2020)
My favorite place in Southeast Asia, and by a huge landslide might I add, is the Philippines. There are fewer greater feelings than living your life in a swimsuit, scampering around lush rainforests barefoot, and sipping on coconuts under palms for weeks. Hundreds of dream spots can be uncovered in two weeks, but trust me on this one, you'll feel that you barely scratched the surface once you leave. Plus, that's all the more reason to go back! This classic Philippines itinerary for 2 weeks is going to take you through the heart of the Philippines, known as the Visayas, and leave you eager to explore what the rest of these islands have to offer.
 Use this map-view itinerary of the Philippines below to navigate and locate all of the sites that you will cover while you're here. Save it to your google drive so that you can access it without the hassle of needing an internet connection.
This post may contain affiliate links for the products or services I mentioned, but as always, all opinions are my own. I make a small commission, at no extra cost to you, when you make a purchase or booking through these links. This helps to support this space and keep me blogging, which I am so extremely thankful for.
Planning a visit to The Philippines? Check out my other posts for planning the perfect trip!
---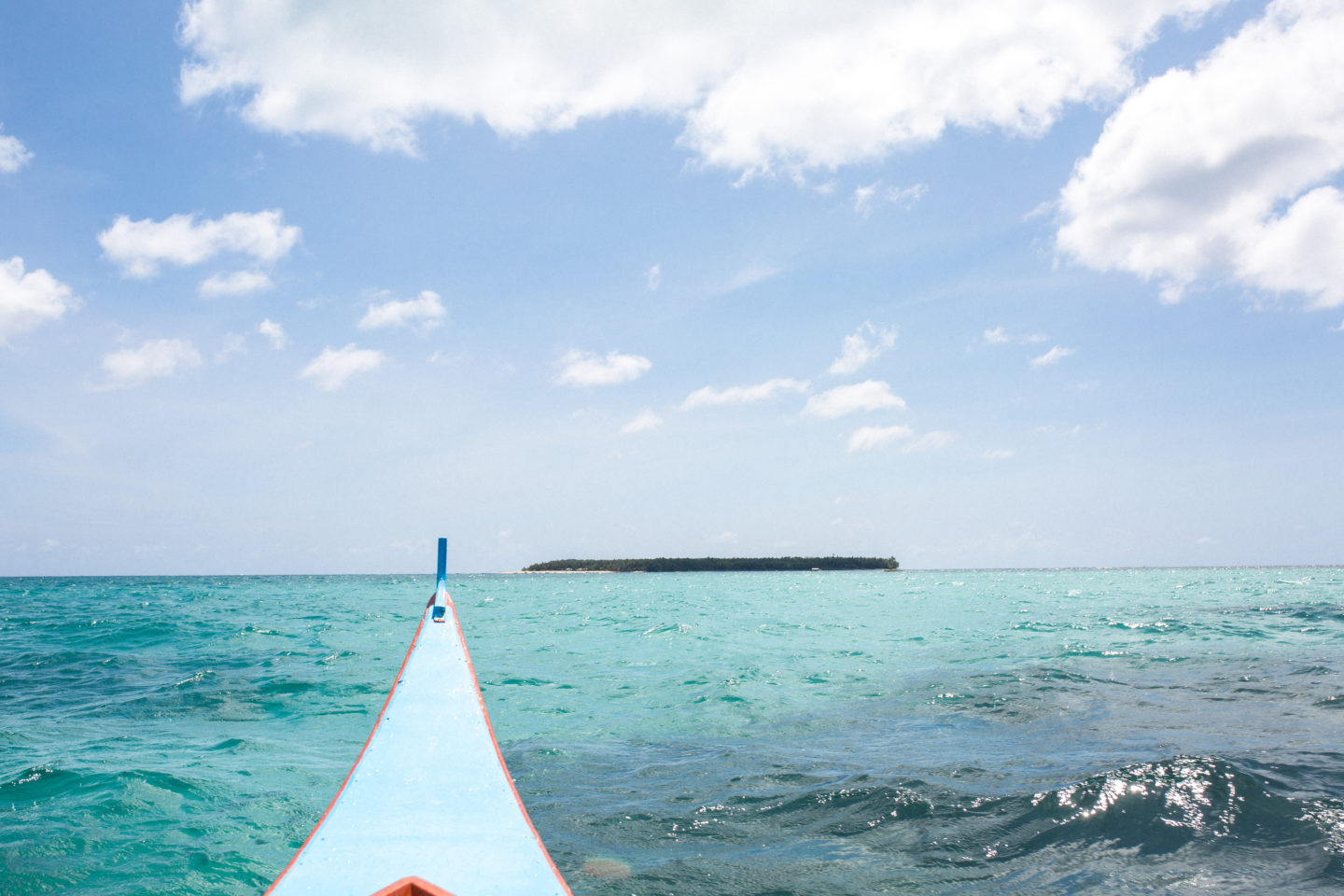 Tips For Traveling The Philippines
If you've never planned to pack for seven thousand islands filled with sunshine, these are the top things that I wish I would have done or known before I had arrived. These tips will keep you prepared so you can spend more time leisuring than worrying, and I have also included some items that I could have really used while I was there.
Brush up on basic transportation costs + general costs. There were many times where I ended up paying quadruple the price for a tricycle than I should have. There was a time where I paid someone almost eight dollars to take me ten minutes to the beach when it should have only been a couple cents. One of the best pieces of advice that I took away from this trip was that you shouldn't feel bad for negotiating a price because they don't feel bad for scamming you. I think there is this huge misconception that western travelers come to Southeast Asia with bags of money when in reality most are on a budget; just remember not to barter too low and pay the standard cost.
There are multiple ways to get from one place to the other. Flying is the fastest and cheapest. Always check up on your options to get from one place to the other if you are looking to save a bit of money and defer from flying. However, I highly recommend flying since you'll only have two weeks here, and this itinerary allows time for flying rather than longer transits. If you want multiple transit options, check out Rome 2 Rio, or use Kiwi's map tool while searching to check layovers and flight prices.
Transit is long between popular destinations. One of the biggest challenges about traveling this country is the amount of time that it takes to get from one place to another. Ideally, you'll want to hit up all the top spots on one island and move on to the next, but most sites are hours apart depending on where you are. Transit times between some islands like Siargao and Southern Leyte are going to be especially longer since some airlines don't offer one-way flights from one spot to the other, depending on where you depart from. For example, when I was traveling from Southern Leyte to Siargao, I had to fly back to Cebu for a layover since non-stop flights aren't offered, but I have found that with the explosion of travel to the Philippines, more routes have become available that have made it easier to get from one place to the other, but always check so you don't hit a bump in the road.
Choose zero waste products to reduce plastic waste. The Philippines doesn't have any form of trash service, so most of it is either left on the beaches, streets, or burned. Simple zero waste items like a bamboo utensil set, hydro flask, and a bamboo straw will do wonders for replacing plastic, but I have a whole list of zero waste swaps that will be perfect for your journey around the islands. These items have made my travels a breeze and it's lovely knowing that you are leaving the country cleaner than when you arrived.
Prepare to pay for checked baggage fees. If you can fit all your items in under fifteen liters, by all means, take advantage of that, but if you're backpacking around and can't avoid packing that little, save some cash on the side for your flights within the country (if you choose to fly). I probably ended up paying sixty or seventy dollars extra across four flights since my bag exceeded the extremely tiny carry-on limit.
Save ~750 PHP in cash for your international terminal + domestic fee(s). This came as a surprise to me while I was leaving, and I almost didn't have the cash to pay this, so make sure you set aside money to pay for your terminal fees. You'll be required to pay this before check-in or before boarding, and they will check. Terminal fees for domestic flights range from 50 PHP – 200 PHP, departing from Cebu, Clark, Kalibo, Davao, Iloilo, Puerto Princesa, and it is included in the ticket price if you are departing from Manila. I departed from Cebu to go home and my terminal fee was 750 PHP.
Book your accommodation in advance. Depending on what time of year and where you're traveling to, accommodation might be sold out months in advance due to the high volume of travelers. I almost found myself with a flight to Siargao and no place to stay, oops. I know most of you do not want to end up in a castaway scene, so browse places to stay and watch to make sure they're not being booked quickly. Also, make sure you take advantage of my link with Airbnb to get $40 USD off your first stay with them!
Always keep toilet paper and spray hand sanitizer on you. There were way too many times where I gave the bathroom the benefit of the doubt and I was left wondering how I was going to get out of the stall. If you're in doubt, McDonald's is going to be your safe zone in more urban areas like Dumaguete and Cebu, but more than likely there won't be a McDonald's always at your disposal. The ones that I went to ended up having clean, fully stocked stalls that left me thanking the toilet paper gods for a bathroom trip that didn't induce a minor panic attack, but if you have toilet paper on hand, then you're basically indestructible. The spray hand sanitizer is going to be your greatest travel companion after all of the cute island dogs that you're going to be playing with.
Always arrive early. If there is one tip that you should take with you on this trip, or any trip for that matter, it's to get to the more popular tourism destinations early; like, 7 am. There are millions of people that travel to the Philippines each year and if you are aiming for that secluded, island experience, then you're going to want to get up before everyone else to achieve it. Sure, sleeping in is nice, but would you rather gather around a waterfall pool with hundreds of other people cramming in, or would you rather wake up before sunrise, have the entire waterfall to yourself, and then nap on the beach later? Yeah, I'd choose the latter also lol.
---
What To Pack For The Philippines
The Philippines is a stunning set of islands and within this itinerary, you're going to find tons of exploring, so you're going to want to be completely prepared for those 2 weeks. Don't worry, I got you.
Reef Safe, SPF 50+ Sunscreen: The last thing you want to do is damage the coral reefs while you're enjoying your vacation, so make sure you pack reef safe sunscreen to protect all of the marine life. I swear by Raw Elements Sunscreens since they cover anything and everything you could possibly need in a sunscreen. They also have a plastic-free line that is easily recyclable for all of my zero waste readers. Trust me, this is going to become your new favorite sunscreen and you'll buy this three seconds after you see it because the packaging is too cute to pass up.
Lightweight Sports Sandals: While it's a good idea to bring along a pair of tennis shoes, a sports sandal is going to save your life when it comes to excursions and waterfall treks. My favorite pair is the Xero Z-Trek Lightweight Sports Sandal because they take up the least amount of space in your whole bag, and you'll feel like you're barefoot while wearing them which was honestly the number one selling point for me. Another huge crowd favorite are the widely known Chaco sandals, but I found that they crippled me after a couple hours at Disneyland. So I am hesitant to try another pair on, but you may love them, so check those out as well.
Endless Bikinis: Uhm, hello? What is a tropical vacation without the cutest swimsuits? In lieu of your trip, this is the perfect time to invest in some ethically made, and did I mention adorable, swimwear that will last you for endless seasons. My favorite brands are Vitamin A Swimwear, COULBOURNE, ISSA DE' MAR, Mime Swim, FAE Swim, and Faithfull The Brand.
Loose, Lightweight Clothing: Trust me on this one, if it's way too hot for makeup, you're going to want your body to get a draft wherever it can. Most loose fitting and lightweight clothing are quick drying also which makes it perfect for the warm and humid weather than beats down on the islands.
A Lightweight Rain Jacket: Once you arrive on island time, rain is going to be inevitable even in the dry season. I don't think any weather predictions are going to be 100% accurate, and you'll regret not having this when a spontaneous downpour takes place like I did.
---
This itinerary covers four destinations throughout the Southern islands in the Philippines with an option a little over halfway through depending on your interests. I chose to start this in Cebu since it is the biggest, and cheapest, airport to fly into besides Manilla.
---
Philippines Itinerary For 2 Weeks - The Classics
Cebu – Dumaguete – (Coron or Southern Leyte) – Siargao
We will start this journey in Cebu, where you'll be finding your bearings and experiencing one of the most beautiful falls in all of the Philippines. After you arrive in Dumaguete and see the famous Casaroro Falls, Apo Island, and visit the cursed Siquijor Island, I have provided you with two options to take based off your personal interests. When I had to choose my must-see spots on this trip I found myself reliving my sixth-grade memory of reading that Robert Frost poem… You know, "two roads diverged in a yellow wood, and sorry I could not travel both." Trust me, you're going to want to do both, but you shouldn't try and cram a bunch to see it all, but rather plan for longer transit and see the top items on your list.
Here is a full breakdown of the itinerary. A couple of the days are marked off solely for traveling from one island to the next since transit times can be longer than expected, especially between popular destinations.
AN EXTREMELY IMPORTANT PSA
If you choose to go to Coron instead of Southern Leyte for this route, begin this itinerary in Coron, then fly to Cebu and follow the rest of the itinerary. This is going to save you a ton of money and many hours of wasted transit times. This is going to maximize your experience here and make it stress-free. It also will avoid having layovers in cities that are entirely out of the way, like Manila.
If Southern Leyte Is Chosen
Day 1 (full-day transit): Arrive In Cebu
Days 2-3: Exploring Cebu
Days 4 (few hours of transit): Arrive & Explore Dumaguete
Days 5-7: Exploring Dumaguete
Day 8 (full-day transit): Dumaguete to Southern Leyte
Day 9: Donsol Bay, Southern Leyte
Days 10 (half-day transit): Arrive & Explore Siargao
Days 11-13: Exploring Siargao
Day 14 (full-day transit): Siargao to Cebu – Depart Home
If Coron Is Chosen
Day 1 (full-day transit): Arrive In Coron
Days 2-3: Exploring Coron
Day 4 (a few hours of transit): Arrive and Explore Cebu
Days 5-6: Exploring Cebu
Day 7 (a few hours of transit): Arrive & Explore Dumaguete
Days 8-9: Exploring Dumaguete
Day 10 (a few hours of transit): Arrive & Exploring Siargao
Days 11-13: Exploring Siargao
Day 14 (full-day transit): Siargao to Cebu – Depart Home
---
Moalboal, Cebu
Probably the most infamous island on both of these itineraries is going to be Cebu, and for good reason of course! It's home to the stunning Tumalog Falls and offers tons of sites for adventuring. I do recommend staying in Moalboal since it's more of a "central hub" for everything you want to see, and Oslob has been noted to be underwhelming for some. I thoroughly enjoyed my stay in Moalboal and one of my favorites stops here was just down the road to White Beach, a place that truly lives up to its name. There is plenty to explore here and it's the perfect starting point and it will give you a warm welcome to your adventures throughout the Philippines.
---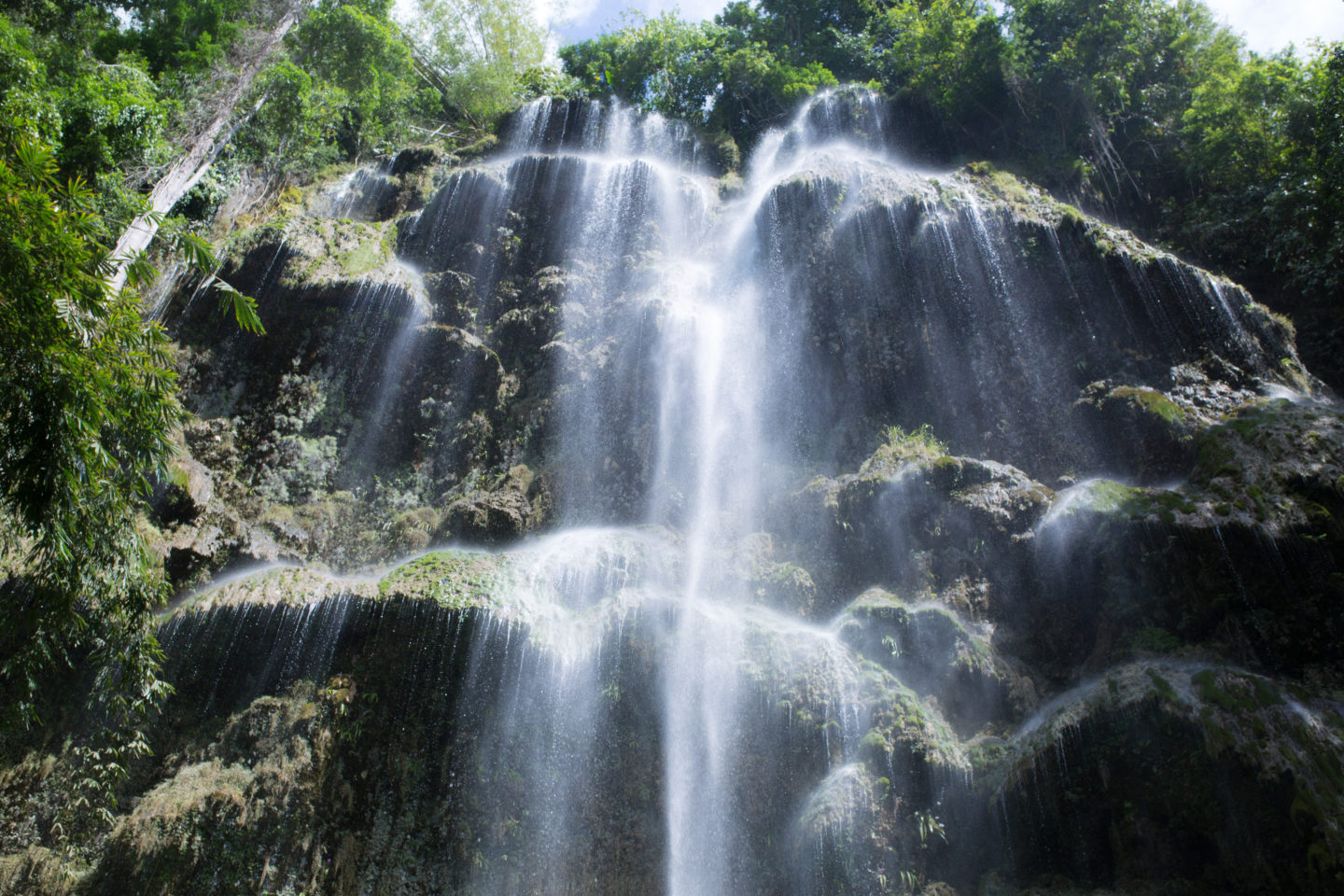 Where To Play In Cebu
Kawasan Falls: One does not simply visit Cebu and not go to Kawasan Falls. The water here will blow your mind and I think it's the perfect place to visit first when you arrive. It's easy to trek to and navigate and it truly sets the tone for the rest of your time in Cebu.
Moalboal Sardine Run: You know that scene in Finding Nemo where those fish are telling Marlin and Dory to go through the trench and not over it? This is basically that scene, but obviously, the sardines aren't going to be making various shapes of sea life and arrows lol. This experience alone makes Moalboal one of the largest highlights of Cebu, and if I were you, I would put this at the top of the priority list of must-sees.
Tumalog Falls: One site that you cannot miss is the massive, underrated Tumalog Falls. The photos you see do not do this place justice at all and it really made me underwhelm the size because this thing is like looking at a tower. If you swim near the bottom, you won't even be able to see the top of it if that helps put it into perspective, and it really blew my mind when I walked up to it because the only thought that crossed my mind was, "OH THAT'S how big it is!?" I wrote a whole blog post with some useful information on Tumalog Falls and more about how you cannot miss this spot.
Sumilon Island: This island excursion is something that I wish I wouldn't have missed on my trip, but I didn't find out about it until after I left, so I am doing all of you guys a favor and emphasizing the importance of going here! This island is a Maldives quality experience in a little slice of the Philippines. There is a huge sandbar here that is perfect for relaxing and photos, so make sure you book a tour out there after you're done at Tumalog Falls.
Alegria Canyoneering: This one can seem extremely touristy and "the thing that everyone does", trust me I had the same thoughts going into it, but I joined a group and we ended up having the entire canyon to ourselves. This an adrenaline-filled experience that will push you a little bit out of your comfort zone and there is truly nothing else like this, so even if you're hesitant about it, try it out, and I promise you'll end up smiling throughout the entire experience.
Pescador Island: This island is popular for booking diving and snorkeling tours, and it's where you'll be able to participate in the sardine run, an exhilarating experience, and also see sea turtles and other marine life.
Diving / Snorkeling: Moalboal is filled with diving resorts, so you can easily book a tour out to see some breathtaking corals and sea life.
White Beach: I ended up way overpaying for a tricycle ride here, but the view was completely worth it and I ended up making three new friends so it was a win in my book! The beach truly does live up to its name and it's well worth spending the day there.
---
Where To Stay In Cebu
There are plenty of incredible stays in Cebu, but these are my own personal selections from Airbnb and Hostelworld, which, by the way, you can get $40 off your first stay using Airbnb with my link (*wink wink*). I would never recommend stays if they I wouldn't have stayed in them personally, so I know you guys are going to love these spots.
---
Where To Munch In Cebu (Vegan-Friendly)
---
How To Get To Dumaguete From Cebu
Total Estimated Time: ~ 1 Hour
Ferry Ticket Price: ~$30 USD / Person
Departure/Arrival: Liloan Port to Dumaguete Port
Getting to Dumaguete from Cebu is an extremely easy process, and you can fly there or take a ferry, but the easiest and cheapest way is to leave from Liloan Port in Santander, the southernmost tip of Cebu. To make this as seamless as possible, and what I ended up doing, was on my last travel day in Cebu, I headed south to Tumalog Falls, and after visiting there, I drove to the port to board the last ferry out at 12 pm. By doing it this way, you're only traveling down Cebu one time instead of making the multiple hour scooter trip back up and down the island.
---
Dumaguete
Dumaguete is a college town, so basically it has some really popping nightlife. You'll never run out of places to eat or things to do, so while most of the sites here are actually outside of Dumaguete, this is a great home base for a few nights while you get out there and explore. It is home to one of my most cherished waterfalls, Casaroro Falls, and I truly believe you can't leave these 2 weeks in the Philippines without putting this at the top of your itinerary. I loved Dumaguete because getting around was extremely easy and the layout of the city makes you feel as if you live there, which is really comforting.
---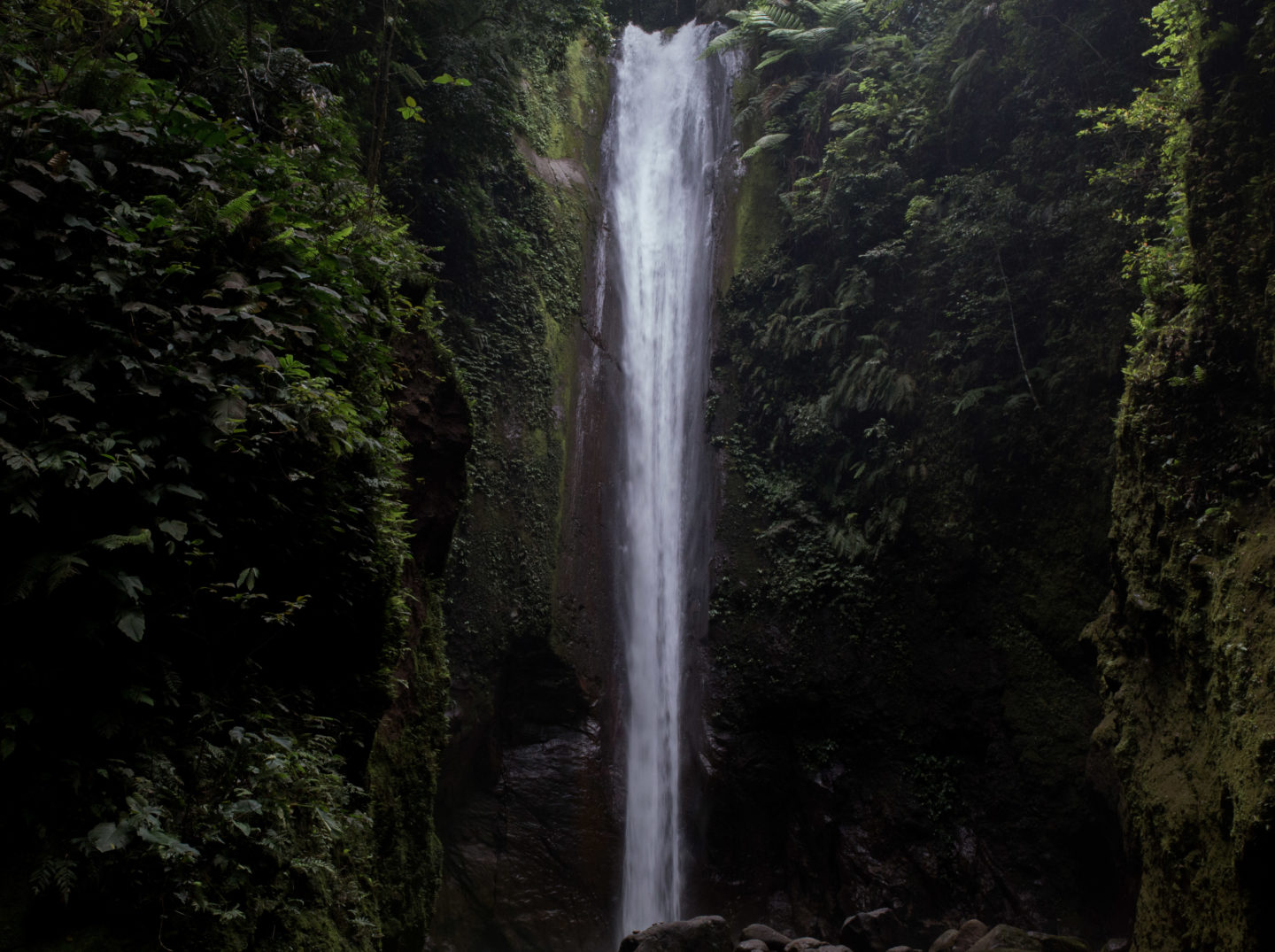 Where To Play In Dumaguete
Casaroro Falls: This is a bit of a trek to get here, and by trek I mean there are over 300 stairs that you'll have to climb back up once you're doing playing here, but the good news is that it is after you get to have fun, so technically there is no reason not to go and this will become one of those memories that you remember for the rest of your life. You already know I have a whole blog post dedicated to this place.
Manjuyod Sandbar: Rightfully known as "The Maldives of the Philippines", this huge sandbar largely resembles something that would be in the South Pacific, but it's right here in the Philippines which means you can enjoy the experience without the price tag. It's about an hour and a half drive from Dumaguete City, and you'll easily end up spending the day here.
Apo Island: When I found of that there was an island that I could swim with sea turtles on, you bet your bottom dollar I jumped at the chance! This was one of the main reasons why I came to Dumaguete originally and was the experience of a lifetime. I wrote a post about my experience on Apo Island here that you can read here for more information.
Siquijor Island: Siquijor is an island full of mystery and wonder from its known tales of witchcraft and magic. It can seem a little mysterious and spooky once you arrive, but you'll forget it all immediately after you fall in love with the sights and locals here. Cambugahay Falls is one of the more notable waterfalls here, and of course, you can't miss cliff jumping at Salagdoong Resort! I tested my guts here and ended up jumping off the 35 ft (roughly 11 meters) deck!
Balinsasayao Twin Lakes: You'll love exploring these two lakes, and if you have a drone, this is the coolest spot to snap a pic. You're able to rent a kayak and explore all around this place and it gives me vibes of Sugba Lagoon in Siargao.
Mt Talinis: This challenging hike will push your limits and give you some of the most beautiful nature scenes in Dumaguete. You'll want to take two days to do this trek, and you can easily book a tour through one of the hotels in Dumaguete. Your final destination after the summit is Casaroro Falls, so if you end up doing this hike, you can hit two places on this list in one trip.
---
Where To Stay In Dumaguete
---
Where To Munch In Dumaguete
Alima Cafe: This hub has all kinds of foods from breakfast to dinner with pasta, great vegan dishes, soups, salads, and sandwiches.
Finbar: Pizza, pasta, burgers, and rice dishes are all available here with vegan options! This is a great social spot if you're looking for a chill, laughter-filled evening with new friends.
Ciaobella: Enjoy some solid Italian food and a glass of wine here. Spaghetti is one of my favorite meals to cook for myself back home, so it was nice to have a place where I could load up on carbs and cure some homesickness.
Food District: This isn't just one restaurant, but around ten or so that are lining a little dining area. This is the perfect place to go if you have a group of people with different food preferences, or if you want to enjoy a social night and grab some small bites from sushi, Chinese, ramen, or fresh juice stops.
KRI: This more "upscale" spot serves up some vegetarian love on their menu with some great options that can be made vegan, or already are.
---
How To Get To Southern Leyte From Dumaguete
Southern Leyte
Estimated Time: Half A Day
Arrival / Departure: Sibulan Airport (DGT) to Tacloban City Airport (TAC)
You'll want to leave Dumaguete at a decent time to make sure that you will have a driver when you arrive in Tacloban. You'll first have a layover in Cebu and then from there, you'll fly into Tacloban. The drive from the Tacloban airport to Malitbog is around three hours, so if you leave early enough, you'll be able to catch dinner when you arrive at your dive resort. I ended up arriving at around ten or eleven at night, so I was starved until the next morning, and no one like being hangry, so pack sure you pack some snacks.
---
---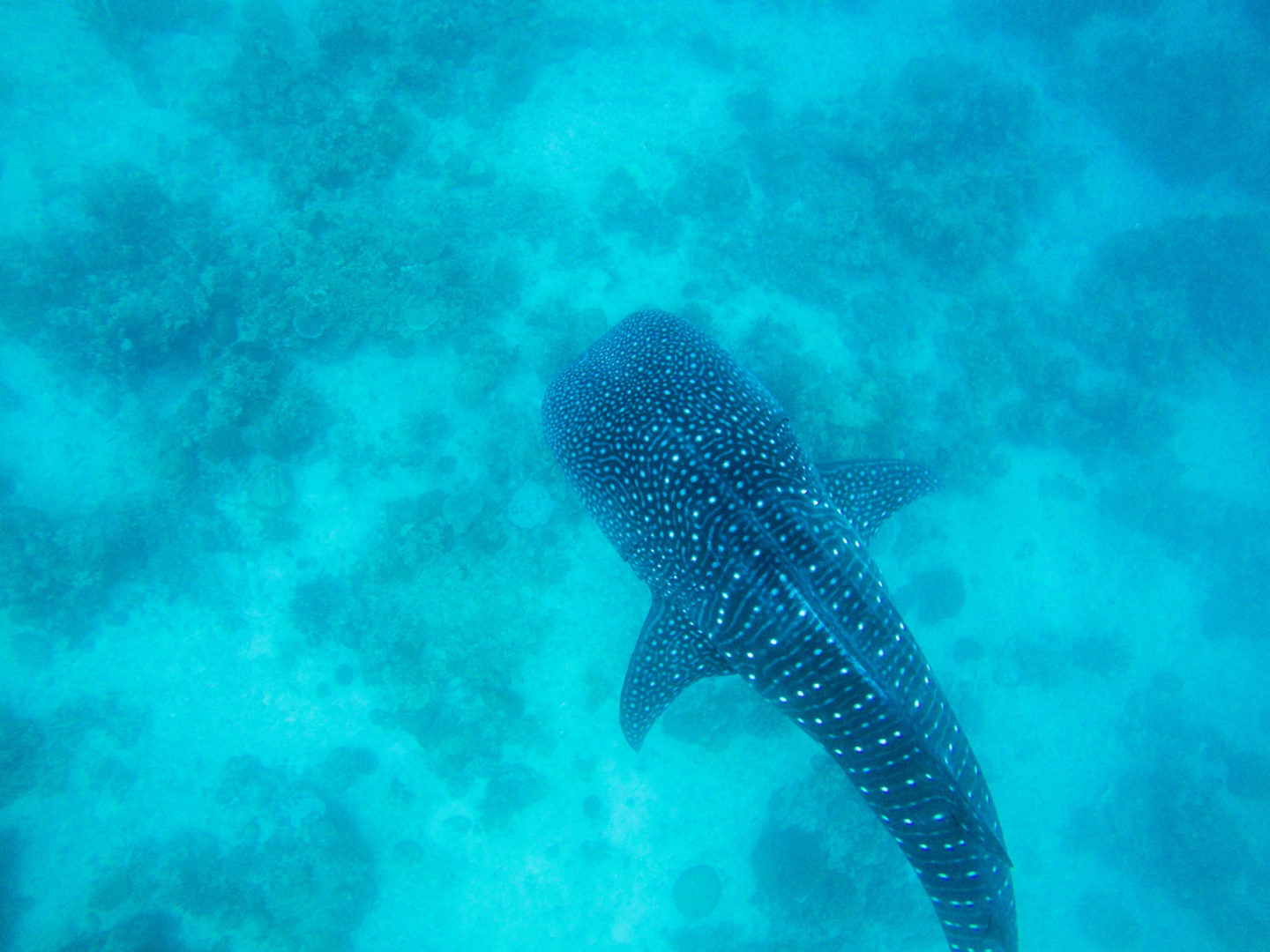 Southern Leyte
So, what is there to do in Southern Leyte? And where the heck is it? For starters, it's about a three-hour flight (since you have to fly into Cebu or Manilla first), Northeast of Dumaguete and it's home to the most jaw-dropping whale shark tour.
This tour is the polar opposite of Oslob. I have even talked about how it's the best place to see whale sharks in the Philippines. Some people choose to not participate in animal tourism at all, so that's why it's optional for this leg of the trip, and it's a trip in and of itself to actually get there. I boarded a flight from Dumaguete to Manilla, flew Manilla to Tacloban, then I hired a driver to take me three hours south to Malitbog, where the tour would be taking place. It doesn't seem like much now, but prepare yourself, and pack snacks.
This tour had less than ten people, four of them being us tourists, and the others were boat hands that made us a fresh lunch, and a marine biologist that was there studying the sharks alongside us which was super cool. We were in a larger boat and once we spotted a shark, the boat would drop us off a good distance away from it, and we would then follow the shark into the abyss until the next one was spotted. The spotters there would drag you behind their paddle boat to the shark which made the whole experience so incredibly fun, unique, and truly off the beaten path.
Whale Shark Tour Cost: ~$50 (includes snorkel gear and local lunch)
Pros: swim with whale sharks ethically, support locals, & off the beaten path.
Cons: expensive "detour" (considering flights, airport shuttle, and tour), must allow two full days for transit, & long transit.
---
Where To Play In Southern Leyte
Donsol Bay: Your day for exploration here is going to be dedicated to the beautiful Donsol Bay. This is where you're going to be diving among world-class reefs and see magnificent whale sharks in their natural habitat. The full day trip is going to be dedicated here and, depending on your tour, you'll even get to see the first island the Spanish conquered when they first came to the Philippines.
---
Where To Stay In Southern Leyte
There are a few other places to stay in this area, but since you're booking your whale shark tour, it's going to be easy to stay with the place you booked the tour from. I booked my trip from Padre Burgos Castle Resort, but at the time I booked my tour, the rooms were sold out. So, book in advance and make the whole experience a whole lot less stressful.
---
Where To Munch In Southern Leyte
I consider Southern Leyte an undiscovered part of the Philippines, aside from the diving scene, so there is a lack of hip new cafe and things to try out, but I didn't mind. This part of the itinerary is going to seem a little faster paced since you only have a couple of days, so I relied on my resort for my meals since it was convenient, and they had readily available vegan options for me and I didn't have to go hunting elsewhere, especially since I didn't have a scooter.
At Your Selected Resort: The food at the resorts is going to be really nice quality since, well, it is a resort. I had a really nice breakfast at Padre Burgos and I enjoyed some local Filippino dinners at the resort that I stayed in. They are going to be a bit more expensive since they are inside the resort, so plan for that, but it's nothing too crazy.
Local Food Stalls / Restaurants: If you're trying to save money on this portion of the trip since it is a bit out of the way, then there are some great local dives around the resorts I listed above. I couldn't eat at them personally since I am vegan, but those options are available to save on meals.
---
How To Get To Siargao From Southern Leyte
Total Estimated Time: Half A Day
Departure / Arrival: Tacloban Airport (TAC) to Siargao (Sayak) Airport (IAO)
You're going to have to fly back into Cebu to get to Siargao, so allow half a day for this. Remember, the drive back to the Tacloban Airport is going to be over three hours, so make sure you leave on time, and yes, you're going to have to wake up at the buttcrack of dawn. I woke up around three in the morning and I arrived in Siargao a little after 2 pm if that gives you a rough estimate. You can schedule your flights later in the afternoon if you want to have extra time, but the early flight was the cheapest option for me and I am always trying to save some money.
Coron
Coron is El Nido's less popular, but still just as cool, younger sister. A lot of the sights in Coron are extremely similar to El Nido, except there are fewer people there (it's still a tourism hub) and it's less expensive. Since this is an adaption to my own Philippines itinerary for the 2 weeks I was exploring, I wasn't able to come here, but these are the things that I would have done and the places that I would have stayed at had I had the time. The whole reason I came to the Philippines was to see whale sharks, so I prioritized Southern Leyte over Coron, Palawan. I know that I will return here someday soon, so I was okay with missing out for my first time there.
Where To Play In Coron
---
Where To Stay In Coron
---
Where To Munch In Coron (Vegan-Friendly)
---
How To Get To Cebu From Coron
Estimated Time: ~3 Hours
Arrival / Departure: Francisco B. Reyes Airport (USU) to Cebu-Mactan Airport (CEB)
You can fly directly from Coron to Cebu, which is going to make this transit a piece of cake. The flight to Cebu is roughly one hour, and if you give yourself a couple hours before to arrive and check-in at the airport, this time only takes a few hours to get from one island to the other. If you flew here after Dumaguete, you would have to fly all the way up to Manila, have an eight-hour layover there, and then head on to Coron the next morning.
---
Siargao
Siargao is going to be your dream island life experience. It has recently blown up in tourism, so it's no secret anymore, but you'll find that this place is somewhere special when you arrive. As the plane lands, you'll look out your window to seas of palm trees and a birdseye view of Sugba Lagoon. You'll find some of the best surf breaks in the world and some of the most eye-catching sights, experiences, and food in all of the Philippines. You simply cannot miss this place, and you'll know why before you even land.
---
Where To Play In Siargao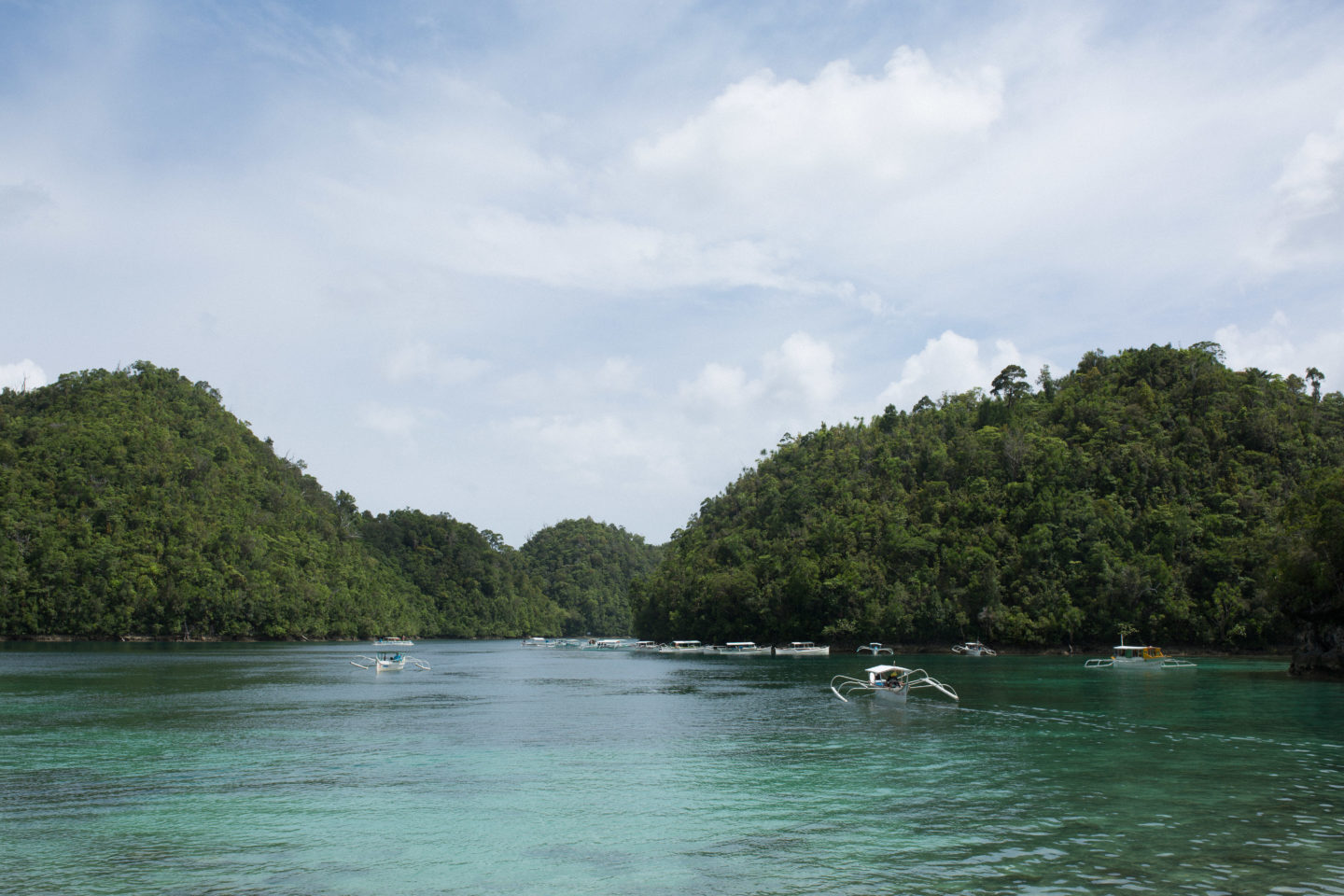 Magpungko Rock Pools: This is one of the most popular things to do on the island, and you'll want to make sure you get to them an hour or two before low tide. It's a great spot to hang out with friends or test your fears with some cliff jumping into the tide pools.
The Top Of The Hill: This spot is unmissable on your way to Pacifico from General Luna. I had heard about this spot, but I never knew the exact location, however, I luckily passed through it and immediately recognized the sea of palms swallowing the island.
Sugba Lagoon: Sugba Lagoon is near the capital town of Dapa and it's an incredible spot to spend the day exploring, paddle-boarding, and kayaking. I wrote all about my visit to Sugba Lagoon and how you can spend the day there here.
Island Hopping: Guyam, Naked + Daku: Take a break from General Luna and enjoy three epic island excursions in three paradises. I wrote a whole blog post about my own personal experience here if you want to dive into what each island has to offer.
Pacifico Beach: I have heard that this place is comparable to the North Shore on Oahu. It's a great surfing spot and there are fewer people here since its an hour North of General Luna.
Corregidor Island: The normal three island tours don't include this in the itinerary, but you can easily ask for an extra stop for more pesos. This island is bigger than the other three and there is a lot more to explore here.
Sohoton Cove: To get here you'll want to book a ferry out of Dapa for a couple of dollars, and it'll take around an hour to get here. You can either spend a day trip here and get home a little later, or you can spend overnight and leave the following morning.
---
Where To Stay In Siargao
There are two main places to stay in Siargao and that is General Luna, the choice of the majority, and Pacifico, the quieter surfing spot about an hour North of General Luna. As I mentioned before, I booked my Siargao rooms too late and found myself staying in Pacifico, but I enjoyed being in a quieter area where I could surf and enjoy the resorts and restaurants there. Neither is a bad choice, but if you want more popular nightlife and quick access to some great eateries, then stay in General Luna.
Pacifico
General Luna
---
Where To Munch In Siargao (Vegan-Friendly)
---
A Map of this 2-week Philippines Itinerary
---
What is the number one spot you couldn't miss on this itinerary? Share with me in the comments below!
Aaren
Did you enjoy this post? Save it for later on Pinterest!