(Last Updated On: 05/01/2022)
Visiting Kawasan Falls in Cebu is one of the most QUINTESSENTIAL things to do when traveling to the Philippines. While many people believe that this waterfall has become an overrated, crowded tourist trap, and while I can't help but agree, I believe that if you visit Kawasan Falls at the right time, without the crowds, you can have a special experience here.
Kawasan Falls was one of those "unbelievable" travel destinations for me, as odd as that may seem. For the longest time, I had watched dozens of my favorite creators' take the iconic bamboo raft over this small, blue pool, and when I finally visited this place for the first time, it was one of my most surreal travel experiences. Not because it was so extravagant or that it took my breath away, but it was my reminder of where I came from and where I am headed. So, needless to say, I truly enjoyed my visit here before I had to navigate my way through all the crowds on the way back.
If you're contemplating a visit to Kawasan Falls on Cebu Island (or an awesome canyoneering adventure), I highly recommend that you pay it a visit. As well as the lesser-visited, but just as magical Tumalog Falls. As long as you arrive at the right time, you'll have a great experience. In this blog post, I am going to cover the in's and out's of visiting Kawasan Falls and how you can see this magical series of waterfalls (yes, waterfalls!) with ZERO tourists to maximize your experience!
This post may contain affiliate links for the products I mentioned, but as always, all opinions are my own. I make a small commission, at no extra cost to you, when you make a purchase or booking through these links. This helps to support this space and keep me blogging, which I am so extremely thankful for.
---
Where Is Kawasan Falls in the Philippines?
Cebu Island
---
How To Get To Kawasan Falls
---
CEBU CITY

to Kawasan Falls | 4 hours
If you begin your journey in Cebu City to get to Kawasan Falls, your journey is going to take around four hours total. So, if you're trying to get to Kawasan Falls early in the morning to avoid crowds, I recommend basing yourself in Moalboal the night before so that you don't have to have an obnoxiously early morning. If you have your own guide or are hiring your own scooter, getting to Kawasan Falls early will be easy as long as you give yourself enough time, but if you plan on taking a bus, the first ones leave at 5:00 am, putting you at Kawasan Falls right when it starts to get busy. I don't recommend coming from Cebu City for that reason.
However, if you are on a time crunch and this is how your itinerary is going to work out, here is how to get to Kawasan Falls from Cebu City.
All of the buses depart from the South Bus Terminal in Cebu City. You'll want to board the bus going to Bato via Barilli. Make sure that it is the "via Barilli" bus because if you choose the bus going to Bato via Oslob, you're going to the opposite side of the island and not passing the falls to be dropped off, so make sure you double-check when you board the bus.
The buses are hard to miss as they will more than likely be painted a bright yellow color with the word "Ceres" in large writing on the side. (visit this website to book your bus tickets). It costs around 150 PHP (per person) for a one-way bus trip to the Kawasan waterfalls. Make sure you let the bus driver know to drop you off at Kawasan Falls. Once you arrive, follow the sign that says "This Way To Kawasan Falls". It's very large, and very obvious so you cannot miss it.
OSLOB

To Kawasan Falls | 1.5 hours
To get to Kawasan Falls from Oslob, you're going to board the bus heading to Bato. Get off the bus at Bato then change buses and board the bus heading to Badian (this is the area that Kawasan Falls is in).
This trip is going to cost around 100 PHP per person for the bus ride. You'll follow the same instructions, getting off at the Kawasan Falls drop-off point and following the signs to the Kawasan waterfalls.
MOALBOAL

To Kawasan Falls | 25-30 minutes
Getting to Kawasan Falls from Moalboal is the cheapest and quickest way to get to Kawasan Falls, which is why I recommend basing yourself here the night before you visit. The buses from Moalboal to Kawasan Falls runs every hour.
Just as you would from the other cities, get off at the Kawasan Falls drop off area. Again, look for the large sign and follow the trail to Kawasan Falls.
You can purchase bus tickets when you arrive at the bus station or ahead of time on this website. If you are renting your own scooter, which is a great way to get the most out of your time in the Philippines, your itinerary is at your disposal, so head out as early as you'd like!
---
What To Bring To Kawasan Falls
---
1x | Swimsuit
Bikini? One-piece? Wear your favorite swimsuit to explore this beautiful waterfall! If you happen to be canyoneering, I would go with a swimsuit that doesn't have any ties or fancy embellishments so that your goods stay put while you cliff-jump!
1x | Microfiber Travel Towel
If you haven't picked up a microfiber travel towel, it's time to change the way you travel FOREVER. I never knew that something so small and compact could impact my travels in such a positive way, but I will never go anywhere without my trusty travel towel again! The huge plus of microfiber is that they fold up into extremely small sizes (great for traveling light), and they dry quickly as well so you never have to worry about lugging around a soggy towel or having to pay to hire one!
If you're visiting morning, you won't really need too much sunscreen since the sun rays aren't as harsh during these hours, but it's always good to have along if you burn easily! This is my favorite sunscreen of all time, but I also have a list of 15 other quality sunscreens that are reef safe (and plastic-free!) to help you travel more sustainably!
1x | Camera / Waterproof Camera + Accessories
I think we all know that we're heading there to get awesome photos, so don't forget that camera from your day bag! I brought my heavy-duty camera since that is my camera of choice, but if you plan on going canyoneering, you may want something a little more adventure friendly like a GoPro or an action camera! Even your phone in a waterproof case will work! Whatever suits you and your travel style! If you're just visiting the waterfalls, then you can bring as much gear as you prefer, but if you're canyoneering, I recommend bringing as little with you as possible.
1x | Hiking Sandals
This is one of my essentials that goes on my packing list for the Philippines! You need a good pair of outdoor sandals over a standard pair of flip-flops because they are secure on your feet and it makes hiking to waterfalls in the Philippines 1000x easier since you won't have to wear tennis shoes. This is a travel item that I rarely leave home without! I even took them to Iceland with me!
1x | 40 Pesos (Entrance Fee) + extra cash
You'll need around 40 PHP to get into the falls, so bring some loose pesos you have in your wallet! Plus, Kawasan Falls has a small food bar where you can purchase lunch or snacks if you get hungry. Honestly, it's a bit "overpriced" (still cheap because it's the Philippines) since it's in a touristy spot, so I recommend going to one of the local markets in Moalboal (if that's where you're based) because they have a variety of local foods for extremely cheap!
---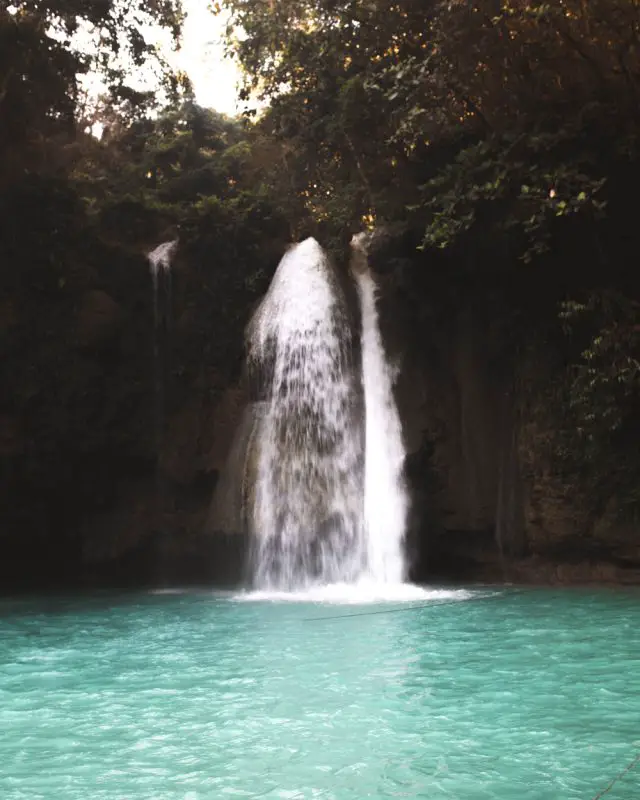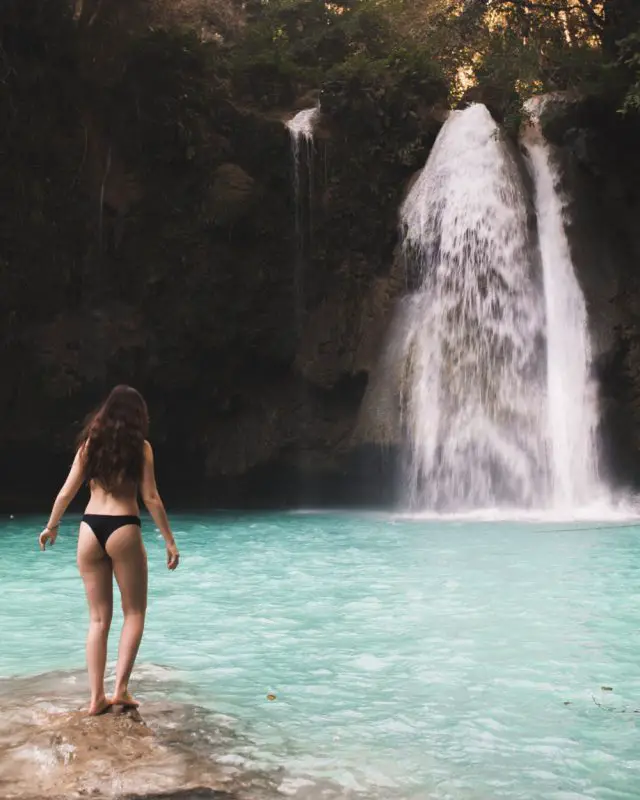 The Road To Kawasan Falls on Cebu
+ other waterfalls (there is more than one!)
---
So, let's be honest here, I wasn't trying to get caught up with masses of people at this iconic waterfall, so I woke up with the intention to get to Kawasan Falls at around 7:00 am. I ended up getting there around 7:30 since there is a small walk to get there, but I was thrilled to see absolutely no one there this early in the morning. As long as you get there before 8:00 am, you shouldn't experience crowds. I was in the Philippines during high season in March and I scored absolute solitude! I had read so many guides that said it was obnoxiously busy and I experienced quite the opposite, so you don't need to stress about getting there at the butt crack of dawn.
I woke up at around 5:30 am because I wanted to grab some breakfast before my guide and I headed out. I gathered my things into my day pack and met up with my guide at around 6:30 am. We were both pretty hungry, so we went to one of the local markets up the street to find something to eat. I ended up grabbing a bundle of bananas and some apples to hold me over since I couldn't find any vegan-friendly options *sheds tear* and my guide had some noodles and a small soup. I can't quite remember the directions to the market we visited, but it's a bunch of stalls with veggies and food vendors on the main road in Moalboal! I wish I could give more information, but I can't remember off the top of my head. If I remember at some point or visit again, I'll be sure to add it!
The drive from Moalboal to Kawasan Falls is so beautiful, especially early in the morning. You can see the golden sun rays passing through all the palm trees and the sun isn't brutal yet, so you get to have a cool morning before the sun toasts your skin again! Actually, I was a little bit chilly on the drive! It takes around 20 minutes to get to the parking lot of Kawasan Falls (from Moalboal) and there is a small parking fee that you need to pay if you're bringing your own scooter.
Sometimes there are locals that will offer guiding services to the waterfall, but I don't believe it's necessary as there is only one trail you follow through all three waterfalls. At the stand, I scribbled my name and nationality onto the welcome notebook, contemplating buying a snack at the stall on the right, and went on my way. The trail is actually way prettier (and established) than I thought it would be (see photos below). I loved seeing the rays pass through the jungle and the walk was almost just as eye-catching as the falls!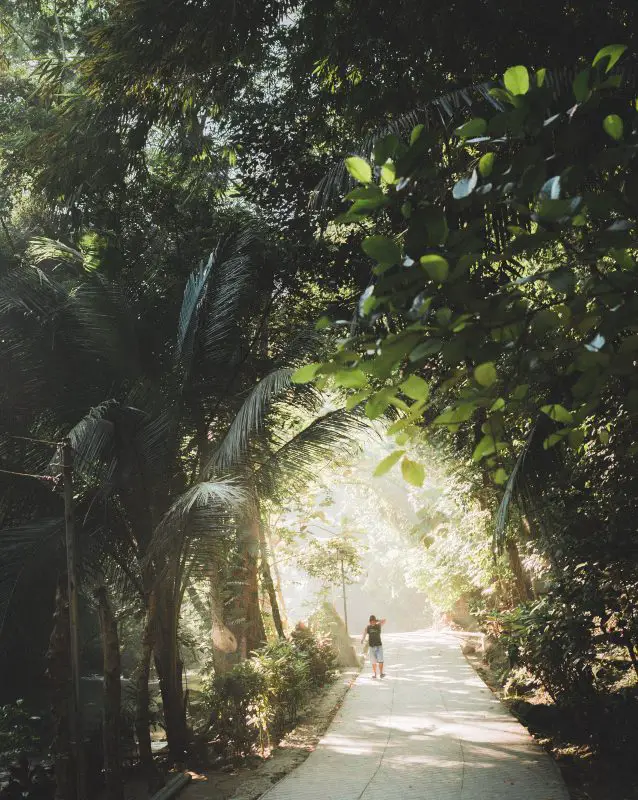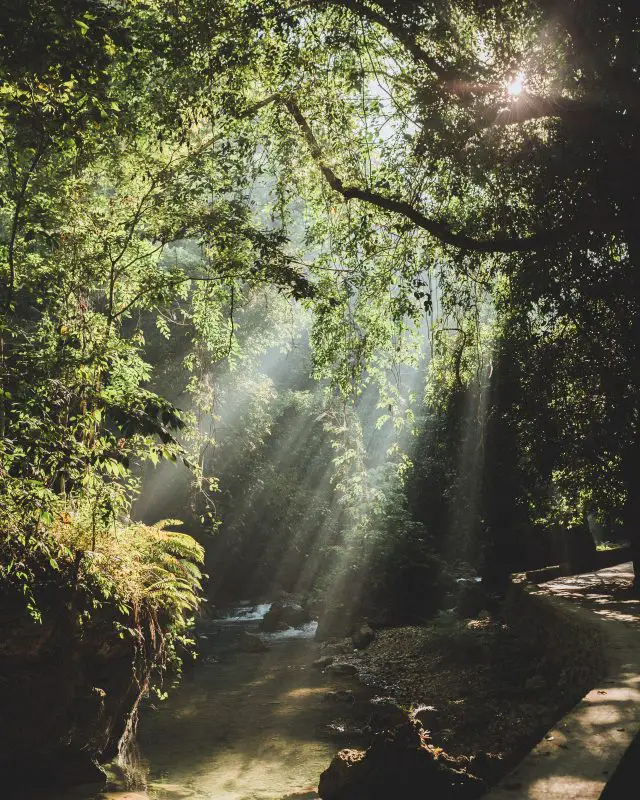 The first Kawasan waterfall you'll encounter is the real Kawasan Falls in all of it's mighty, Gatorade blue glory! You'll be able to hear the faint sound of crashing water further back on the trail, so the anticipation for sure builds on the way there!
I was THRILLED to get here and be the only traveler here for around an hour! I think the raft rentals were banned a little bit before I traveled to the Philippines in 2018 because I saw them at the falls, but the locals there would not let me get on them. It wasn't a huge deal to me, but this was something that I didn't know before coming here, so don't come here anticipating an epic raft photo, unfortunately ):
After I was able to get all my photos with the waterfall together, I dipped my toe in, and to my surprise, the water was pretty chilly! I think this is why there aren't many locals or others in the morning is because the water is so cold! I got in anyway, as one does, and swam around for a bit before finding out that there is more than one waterfall?! Yes! If you only want to see Kawasan Falls, you can pay a visit and turn around from there, but if you want to see some other cool spots, keep hiking up to the next two waterfalls to see the source of all the blue water!
Not as many people make it up to the next two stops, so if you want to get away from all the people at the main waterfall, then keep hiking up! I headed up there once people started pouring into Kawasan Falls around 8:30 – 9:00 am.
On your way up to the second set of waterfalls, you'll find an upper view of Kawasan Falls on the right which makes for a great photo, but not a good place to jump off unless you have a helmet! There is a small space where you can get your photo here, but be careful since it will likely be muddy and you definitely don't want to fall off into the water!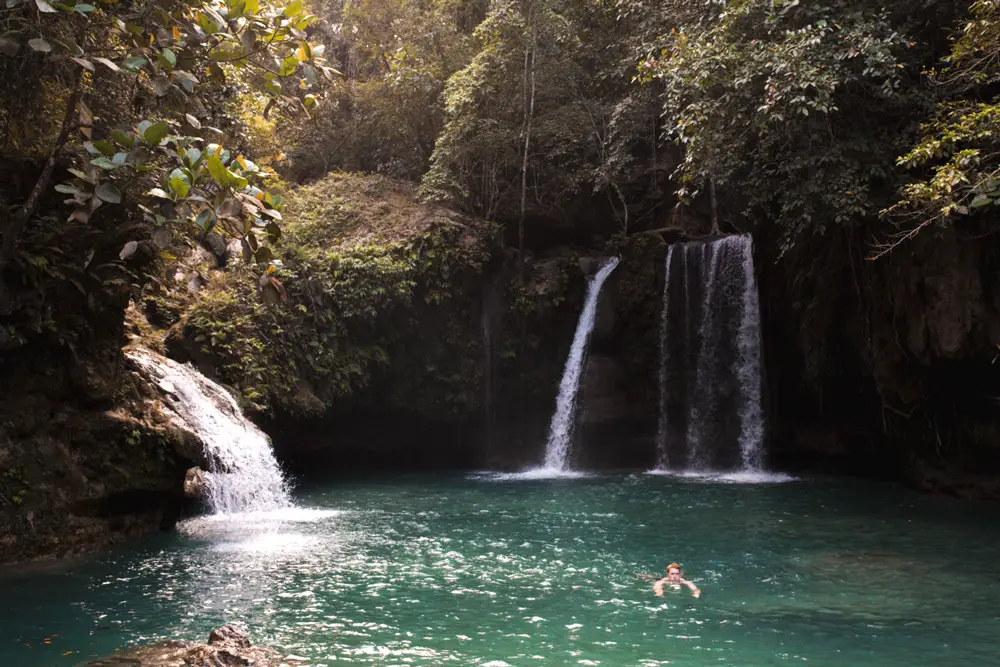 The next waterfall is a cool little spot that, in my opinion, doesn't get the credit it deserves! It's a small jungle pool with two waterfalls near it that you're able to swim in and around, sans lifejacket! I think I enjoyed this more than the main waterfall because I wasn't expecting there to be more to see other than Kawasan Falls, but I really enjoyed this part! It feels like you're swimming around a fairyland! It's a lot more "secluded-on-a-tropical-island" feeling than the main waterfall and I loved this little spot!
After the fairy pool, the third stop is actually a very popular spot for photographers. There is a dam that breaks before you get to the source of all the water, and if the water happens to be flowing over the edge, you'll get some sweet photos! I wasn't interested in snapping a photo here since the water wasn't flowing, so my guide and I continued to the last stop! This last portion of the trail gets a bit tough with the incline and some of the bamboo bridges feel a little unstable, but take it slow and you'll make it! It was harder than I had thought but well worth it!
Once we reached the top, we saw many locals at one of the gazebos by the water and some others brushing their teeth by the slide. Gotta love the Philippines, am I right? While this spot may seem fairly bland, it's actually a cool little spot to have some fun! In the back on the left, there is a manmade waterslide that propels you into the clear water at a borderline alarming speed, but it's still a blast! Alternatively, you can climb the rocks on the right-hand side past the gazebos and get a little cliff-jumping under your belt before you head out your canyoneering tour! The water here is crystal clear and it stays pretty quiet since a lot of people don't bother to trek all the way to the top, so if you want to avoid crowds, keep following the trail up and up until you arrive at the crystal clear water!
I had an absolute blast visiting this place and it was even more surreal after seeing something I've only ever dreamed of seeing for years!
Which brings me to answer the question,
---
Is Kawasan Falls Worth It?
As touristy locations are shied away from nowadays since everyone wants to get off-the-beaten-path, you might be asking yourself if Kawasan Falls is worth visiting while you're on Cebu Island. For me, this question can have two different answers. If you're planning on visiting early in the morning to avoid the crowds, yes, I think that it is worth it. If you're planning on getting there in the late morning to early afternoon, you're not going to have a good experience (if you don't like crowds).
After all the media attention that Kawasan Falls has gotten over the years through social media, it's become one of the most iconic photos from the Philippines. Which, I'm not gonna lie, there is another waterfall in the Philippines that I believe outranks this place by a LANDSLIDE, but I know that you still may want to see it. Yes, it's touristy, but if you go into it with an open, positive mind, you'll have a great time. Just make sure you get there early (;
---
Canyoneering At Kawasan Falls
---
If you're looking for an additional adventure to add to your Philippines itinerary, then a canyoneering experience at Kawasan is *kisses fingers* perfecto! It's not often that you get great activities super close to each other in the Philippines, so take advantage of this while you're exploring Cebu! I recommend visiting Kawasan Falls first and then taking the canyoneering tour second so you have a chance to visit the waterfall before the crowds show up since you'll get there rather late if you take the canyoneering tour first.
---
---
So, what is canyoneering? It's basically where you hike through a canyon via scrambling, jumping, swimming to get to a destination. It's LOADS of fun and great if you love to get your adrenaline pumping!
There are SO MANY canyoneering tours that you'll see advertised around Cebu, but the best Kawasan Falls canyoneering tour on Cebu is THIS ONE. It has the best local guides that will make your tour one of your greatest adventures in the Philippines! Also, you can snag this tour for only 2200 PHP (~$44 USD) per person. This tour includes your entrance into Kawasan Falls, guesthouse pickup, your midday lunch, and your gear rental so the cost outdoes any other tour on the island. My favorite part about this tour is that the guides are EXTREMELY tech-savvy with GoPros, and so they're always taking pictures and getting all the right angles so you can remember your trip in the best way possible! I can't recommend this tour enough! You can either book ahead of time, or show up and join a group like I did if you're going solo!
If you're interested in canyoneering at Kawasan Falls, make sure you read my post above to get all the details about the experience!
---
Additional Tips For Visiting Kawasan Falls
---
Combine your visit to Kawasan Falls with a canyoneering adventure in Alegria
So Kawasan Falls is technically located in Badian, a municipality on Cebu, BUT you can book canyoneering tours that begin in Alegria (the municipality north of Badian), and end in Badian. That should clear things up with all the location dropping if you're confused about certain tours! Anyways, since you'll already be in the area, I highly recommend going canyoneering! It's exhilarating! You can book the best canyoneering tour on Cebu RIGHT HERE!
You can't float on the iconic bamboo rafts anymore
In December of 2017, the Badian mayor officially banned the bamboo raft rentals at Kawasan Falls, forever. They were banned since the raft renters were overcharging for the service (300 PHP per person rather than 350 PHP per raft which holds 8-10 people). I think people mainly used this for photos and floating behind the waterfall, so personally, I was sad to see them go and my inability to get one during my visit.
A lifejacket is required to swim near the falls
If you want to swim at the entrance of the pool, then you won't need a lifejacket, but if you plan on swimming behind and near the falls, you have to wear a lifejacket. These can be rented either at the trail entrance to Kawasan Falls or at the waterfall. The price is the same regardless of your choice. I didn't rent one just because I didn't swim too far into the pool, but you may find that you'd like one. The rental is only 50 PHP (~$1 USD), so you're not outing yourself any significant amount of money by having to rent one. If I were to guess, it's because of the volume of visitors that Kawasan receives on a daily basis and they're just trying to keep everyone safe.
Base yourself In Moalboal before you visit
If you plan on getting to Kawasan Falls early, I highly recommended staying in Moalboal the night before you explore. The drive from Cebu City is absolutely BRUTAL, especially if you're going via scooter (super sore buttcheeks, guys). And Moalboal is a great place for diving and snorkeling! There are great restaurants in this cute little village, too, so take advantage of this cool little spot while you're here!
Try and plan your visit to the Kawasan waterfalls after a rainy day
I visited the Philippines in March, which is the dry season and maybe not the most optimal time to visit the Philippines since I got caught in Holy Week. Since I visited in the dry season, this meant that Kawasan Falls was, well, a little dry. It didn't have as much flow as I anticipated as I have seen in the photos, but it was still beautiful! If you can plan your visit around a rainy day, then the flow will be much better than I experienced!
---
HELPFUL GUIDES FOR YOUR TRIP TO THE PHILIPPINES:
– 30 Travel Essentials For Backpacking Southeast Asia
– 50 Philippines Travel Tips For An EPIC Trip
– 16 Things That Surprised Me While Traveling The Philippines
– The Best Time To Visit The Philippines
– The BEST Philippines Packing List: What To Pack For The Tropics
LOOKING FOR DESTINATIONS IN THE PHILIPPINES? CHECK THESE OUT:
– The Perfect Philippines Itinerary For 2 Adventurous Weeks
CEBU
– Tumalog Falls: Cebu's Unmissable Waterfall
– Canyoneering In Cebu: Epic Cliff Jumping
SIARGAO
– Island Hopping in Siargao: Guyam, Daku, + Naked Island
– Where To Stay On Siargao Island For A Dreamy Stay
– How To Spend A Day At Sugba Lagoon
– TakTak Falls: The Only Waterfall On Siargao Island
DUMAGUETE
– Apo Island Day Trip: Snorkeling With Sea Turtles
– Casaroro Falls in Valencia: Hidden Waterfall Near Dumaguete (FULL GUIDE)
SOUTHERN LEYTE
– Where To See Whale Sharks Ethically In The Philippines
---
Have you ever been to Kawasan Falls in Cebu? Share with me your adventure in the comments below!
Aaren
Did you enjoy this post on Kawasan Falls, Cebu? Save it for later on Pinterest!