(Last Updated On: 24/11/2021)
Purchasing a flight is, most of the time, the most expensive aspect of traveling, for myself at least, so everyone is always on the hunt for the best and cheapest flight deals. You can find cheap flight deals all around the world, all the time, you just need to know the best spots to look and how to look for them. I have paid my fair share of overpriced airline tickets (let's share a moment of silence for all that money tossed away), so now that I know what I know now, I am here to share the things that I have learned over the last couple years that have helped me shave hundreds of dollars off flights to Southeast Asia and other parts of the world. These are the methods that I personally use while searching for flights, so I know that they are going to save you all a ton of money and get you up in the air more! Some of the resources that I have used on this list cost a little bit of money to use, but they are worth their weight in 14k gold, trust me.
This post may contain affiliate links for the products I mentioned, but as always, all opinions are my own. I make a small commission, at no extra cost to you, when you make a purchase or booking through these links. This helps to support this space and keep me blogging, which I am so extremely thankful for.
Planning an exciting adventure? Check out these other blog posts!
---
Search In Secret
No, you're not crazy for seeing a price go up after only a couple searches. In fact, it's what the airline or booking website does to scare you into thinking that the price is going to continuously go up to get you to book the flight right away. They use the cookies on your internet browser to help keep track of what flights your searching for and then they raise the prices accordingly. After all, how many times have you been searching for a flight and then proceeded to see hotel ads for the said city in the sidebar of another website? Weird, right? Essentially what you want to do is ghost the airline, and here's how you do it.
From your browser, go to the top left corner of your computer and select "file" and then "new incognito window" and boom; you're camouflaged to higher booking prices.
If you want to clear your searches in your incognito window, all you need to do is close out of that window, reopen it, and search again.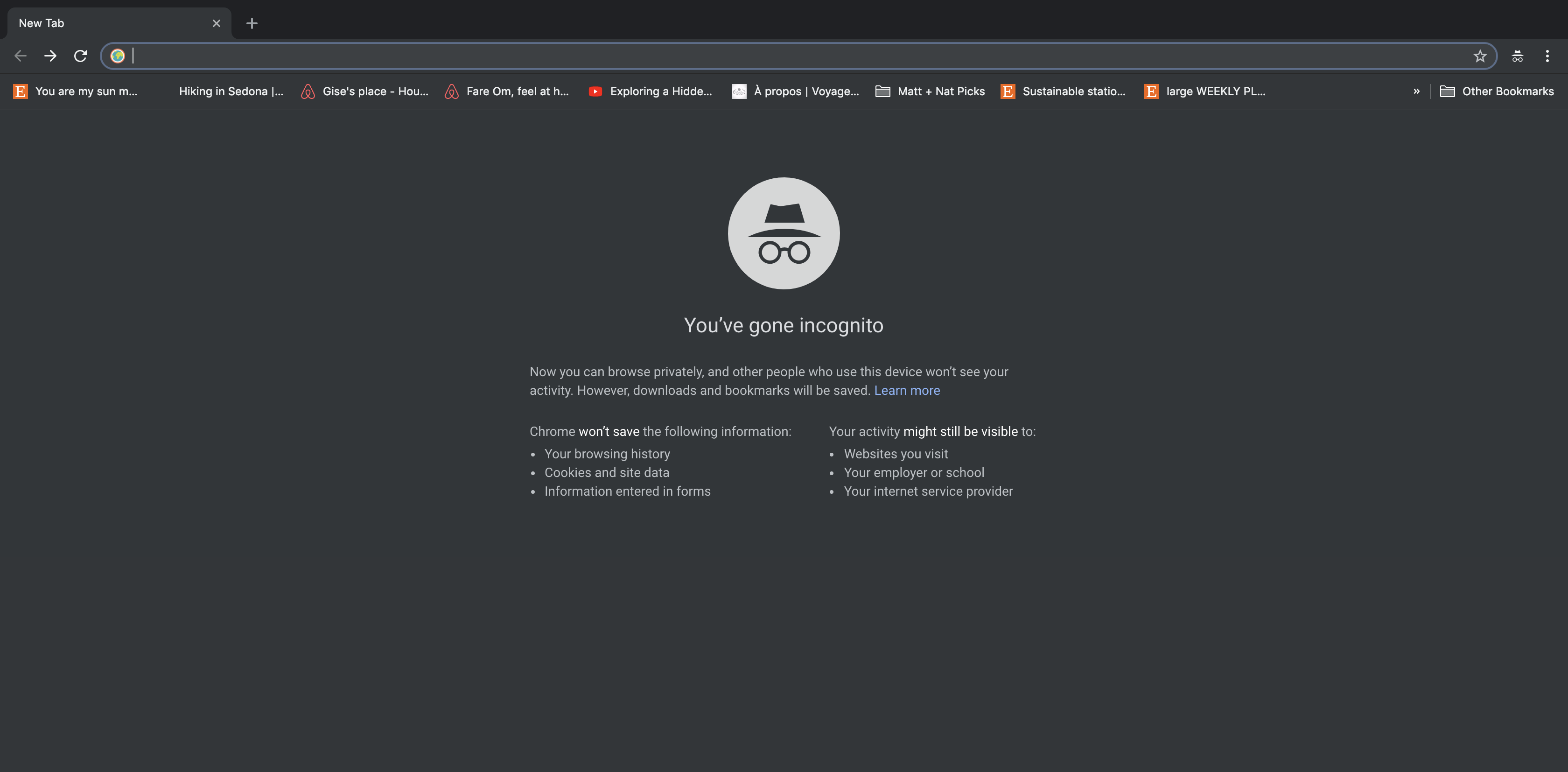 ---
Be Flexible With Your Dates & Times
Let me tell you one thing, if there has been one thing that has saved me the bulk of my money on flights, it's waking up at the buttcrack of dawn, and getting on that flight at six or seven in the morning. While I very much enjoy being an early bird, I do not enjoy being an overly early bird. I enjoy getting up at a ripe 7:30 in the morning, leisure my way downstairs, make a cup of tea and get on with my morning practices, not check items off a list, make last minute packing decisions, and eat crusty airport food, BUT if it means that I have a few hundred, or thousand, dollars that I avoided spending, this girl suddenly enjoys being readily awake and alert by six in the morning (in the result of a highly caffeinated beverage).
When I first began searching for flights, the only information that I put into the search is the month or months that I plan on traveling, where I am departing from, and where I am going to, and then I let those dollar signs take the reigns. There are a few factors that will result in a cheaper price tag on flights and those are long layovers, early departures, and multiple legs. The flights with few and short layovers are the ones that everyone wants, so they're going to be the most expensive and cost you so much more money. I am, thankfully, in a position where I can rough my body a little bit, sleep on some uncomfortable airport chairs, to save some coin and I am HERE for it. The best way to find the flights with the characteristics to make it cheap is by using Kiwi since they search the cheapest possible one-way tickets and form it into a one flight itinerary. I have found some outrageous things doing this, but if you're down to flight for an extra half day and lay around an airport for a few extra hours, then you're going to be on your next trip before since you saved so much money.
---
Take Advantage Of School Discounts
I feel like a lot of people aren't talking about how good student discounts are and all the things you can save on by taking advantage of them. Personally, I am not a student right now, but if you are then this is a decent way to save a hundred or two on a classic flight with few layovers and decent takeoff times. Student Universe is the website you're going to use to find the best deals for college students, and you actually have to be a student for this and you can't sneak your way around it. Trust me, I have tried lol. I think this is good for school trips if you want to knock some money off, but you aren't going to find the absolute cheapest flights here, which sometimes people aren't looking for necessarily if you're looking for the cheapest price for a sought-after itinerary, this one is pretty good.
---
Use The Best Websites
The first step in finding the cheapest flight deals is choosing the right website. I think everyone has their own preferred booking site, mine being Kiwi.Com. Speaking from personal experience, Kiwi has never led me astray with the best flight deals. However, I always compare websites no matter what because I have found that sometimes the best deals aren't solely on one website. If you like booking directly with the airline, find your flight through the third-party website first and then find that flight on the airlines' website so you avoid overpaying. Here is a list of some of the websites that I have been recommended and have personally browsed to help me save money on flights.
This is my tried and true website when it comes to finding the cheapest flights. Their best feature is that they find the cheapest flights for each leg of your trip and curate it into a one-time payment instead of booking multiple one-way flights. They always offer their Kiwi.Com Guarantee which covers you for flight delays, cancellations, and schedule changes, as well as transportation to a different airport, overnight accommodation, and food and drinks if your delay exceeds over four hours.
Another crowd favorite for having low fares and great website navigation. They have great explore features that lets you put in your departure airport, the month that you plan on leaving, and how long you plan to stay in a certain destination, and you can move all around the map to see where the deals are for specific locations or find somewhere new that. I have personally never booked through them since I have found cheaper flights elsewhere, but I always search their website before I finalize my booking.
I have a weird relationship with Momondo because although you can find cheap deals here, I have found that most of the time you'll need to book them through other third party websites that I have never heard of before. However, I do know avid world travelers recommend this site a ton on their platforms, so it's really up to experience and what you're comfortable with. There is no doubt that they have cheap flights, but I would still book elsewhere.
I always seem to end up here after my first initial search, and I have come to really like some of their features on the site. After your search results come up, they have space where they predict future prices for the flights you're looking at and tell you either to purchase right away or to track the prices. They also have a compare feature where you can do one search and compare five to six booking sites all at once.
This is great for people who like booking their flights, hotels, and other rentals together, or if they want to ensure they have a secure website for booking. I really like how their flights are rated based on past passengers, so you sort of know what you're paying for when browsing through your search results and you can make sure you don't end up on an awful flight because no one wants that. I have heard a lot about people getting screwed through Expedia, so be mindful of that, but millions book through them each year.
So this isn't an actual booking site, but you can find cheap routes through this system and then find them through the airline or a travel agent. You're able to search exact days or select your month of departure and it will find the cheapest date for you, then you can select your inbound flight, etc.. This one is a little inconvenient since you have to book through something else, but if you're looking for cheap days, airlines, or months to fly out, then this is a great tool.
This is another website that I will glance over to see if I missed a deal, but generally I haven't found them to have the cheapest routes. I like that you're able to view a price graph of the months of the year that will give you price estimations based on when you fly and how you're able to choose your baggage needs so it will omit carry-on only flights.
The coolest feature of this booking site is that you're able to select your outbound city and view a list of domestic deals for getaways around your home country and it will give you the month that you need to travel in to receive that deal. A ton of travelers use this site and it's another one of those extremely user-friendly sites like Hipmunk.
If you want a bit of a luck of the draw, whirlwind booking experience, Secret Flying is about to become your go-to for finding mistake fares, aka dirt cheap flights all around the world. They don't list from one specific location, but rather cities all over the world for hundreds of dollars cheaper than what they would normally are. The trick is, you need to book directly with the links they give you and not with the airline, otherwise, you're going to lose the amazing price.
This isn't a booking site, but it's a great way to get city-specific deals for your default airport. You sign up for free initially, but you don't receive all the great features of a premium subscription. The premium subscription is 100% worth it and you won't find better deals anywhere else. Especially ones that are airport specific to your region. If you want to take multiple trips for the price of one, this is the best investment for only $39/year.
---
Take Alternative Transportation
I know this is a cheap flights guide, but really, most of the time you can get to another place domestically a whole lot cheaper than if you were to fly. While I was booking my flights to the Philippines I didn't really know how to get around all of the islands since it is a third-world country. I found the site Rome 2 Rio and it saved me for finding alternative routes to other islands and cities. This website is really easy to use, and it's used exactly how you think it would be. You type in where you are and where you want to be and it will give you all the transportation options and their cost to get to that area.
To show you how everything looks on the search, I searched up how to get from Athens to Mykonos, Greece and these were my available options. I primarily use this for the transportation options first and then I'll research prices and compare from there. The results are more of a rough estimate of what lengths you can go to get somewhere faster or cheaper, and they're a great takeoff point for planning additional transportation within a country.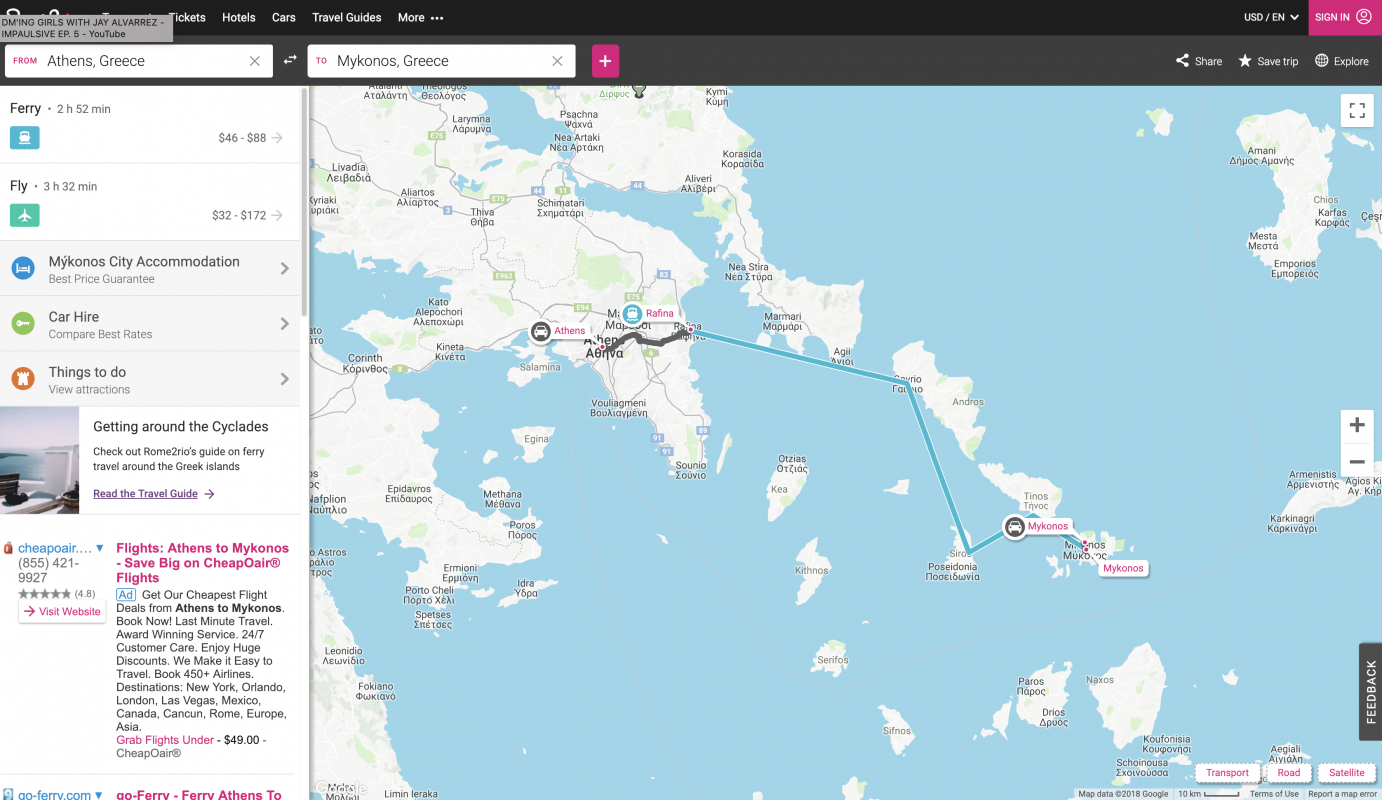 ---
Fly With Budget Airlines
When I hear the word budget airline, I think of zero leg room, paying for water, and obnoxious hidden fees. Some of the time I am correct, but I have found some quality budget airlines that come with great perks that I truly enjoy flying with. Overall, people have their own experiences and opinion with different airlines, so I will be sharing mine with you today, but know that someone could have had a horrible experience on one of these airlines and have a differing opinion, and that's okay.
Flying a budget airline is a great way to save money. However, you MUST read the extremely fine print while booking because they will try and throw hidden fees at you in every direction. While you book you want to make sure that you're paying for the exact amount of baggage that you are taking a long, nothing more, and always make sure that the airport you're flying into isn't away from your desired final destination.
Snatching up those extremely cheap deals are going to come with adaption to not-as-nice-amenities, a magnifying glass for the fine print, and a knowledge base of the airlines' requirements and restrictions.
---
Set Price Alerts With Scott's Cheap Flights
I mentioned this golden nugget in my 'cheap flight websites" section of this post, but I need to mention it again because it's one of the best hands-free ways of finding deals. Let me start off by saying that this service costs $39 / year for a 'membership' but in the long run, it's going to save you thousands of dollars on flights. Basically, what you do is select your home airport or other domestic airports that you would like to receive travel deals from and you'll be emailed all of the flight deals going out of that airport in live time so you never hear about it after the deal is gone. If you're a very spontaneous booker like myself, this is perfect if you're browsing to see where the deals are rather than focusing on a specific destination. If you want to try it out, they offer thirty-day free trials if you want to see what it's all about and see what destinations can save you the most money. By using this, you're spending more of your time relaxing rather than searching ten plus websites to see which one has the cheapest option.

---
Know A Good Deal & How Far Out To Purchase
If you know when and where you're going, the price of the ticket is not going to get cheaper as the departure date gets closer and closer, so you should book as soon as you can. With that being said, you're not going to need to book a full year out, but you will get a good price for booking ahead. I suggest using the Hopper app to see if the flights are going to increase in price and when they plan on fluctuating.
For domestic flights, you want to purchase 1-3 months in advance and purchase international flights 2-6 months in advance. I like to use the Hopper app give me updates on if a route is likely to increase, decrease, or if I should buy it immediately. I don't rely on this app for accurate pricing, but it does help me find that sweet spot window for booking.
One of the biggest aspects of buying a flight for a really good price is knowing when to save, when to wait, and when to book immediately. I have had my fair share of deals that I have missed out on and prices that cost me way more than they should have simply because I didn't know if I should spend the money at that time. However, if you find a good deal, BOOK ASAP. This small table below has helped me understand pricing for certain regions and steered me clear of any deals that looked like a great deal but flopped. If you're unsure of a typical cost to certain regions, this guide below can help you get a feel for what are EXCELLENT price deals that you shouldn't pass up if you see them.
Africa: $800 or below roundtrip
Asia: $500 or below roundtrip
Australia: $800 or below roundtrip
Caribbean: $300 or below roundtrip
Central America: $300 or below roundtrip
Europe: $500 or below roundtrip
Hawaii: $400 or below roundtrip
South America: $600 or below roundtrip
---
Book Your Flights Separately
If your flights aren't non-stop, then this is a good possible alternative for booking flights that have multiple destinations in between a and z.
When you type in your flight search, you will notice that you will more than likely have a layover in a larger, international airport. Let's say you're leaving Denver, Colorado to fly to Honolulu, Hawaii. It will show that you'll have a layover in the LAX (Los Angeles) airport. What you can do here is instead of booking one flight, separate your itinerary into two flights. So, book a flight to from Denver to Los Angeles, and then book the next leg from Los Angeles to Honolulu. You'll have the same means of getting there, but trying this will sometimes get you a cheaper flight. Keep in mind that you will need to give yourself a long enough layover between flights so that you don't accidentally miss them. You don't want to land in LAX at 5:00 pm and find out that your second flight to Honolulu left at 3:30 pm.
IMPORTANT NOTICE THAT YOU SHOULDN'T MISS
If you're planning on doing this, do not book short layovers to save yourself some time. If you don't want to wait so long in an airport, you can consider adding another leg to your trip by spending a couple days in the connecting city (like LAX in my example above). 
If all of this sounds like a hassle and something that you don't want to go through, no worries, Kiwi does all of that for you! No, really. They do! Kiwi makes their own routes using the cheapest flights of each leg of the trip. Sometimes this means longer layovers or more of them, but it's going to save you a ton of money than if you booked with a different website.
---
Try Your Luck With Error Fares
What Is A Mistake/Error Fare?
A mistake fare is exactly what it sounds like, and I know that you're thinking, "well, duh Aaren, what else would it mean?" The meat and potatoes of it all is that the airline industry is extremely complex and calculated, but the root of fare errors is actually caused by humans, believe it or not! A mistake can easily be made through simply missing a zero or another number that significantly alters the price of a flight. So basically, mistake fares = happy travelers and sweet discounts.
Where To Find Mistake Fares
If your schedule allows you to have more sporadic travel plans, then this one is really cool. I use the site SecretFlying.com, and I actually found an incredible flight deal to the South Pacific for next year that I am so incredibly stoked for. You can't book directly with the airline if you use this website since it's a mistake fare, so always use the resource that they give you when you book. I have found some unbelievable deals on this website (even if they didn't apply to my location) and I love it because you never know what you're going to get and the deals that they are going to offer. Listed below are just a few deals that I have found while searching:
$474 | Hong Kong to Hawaii & the Philippines
$4 | Paphos, Cyprus to Amman, Jordan
$108 | Orlando, Florida to Los Angeles, California 
---
Travel In Low Season
No matter where you end up, there are always periods of the year where the tourism levels are low and the prices drop due to that. It is everyone dream to go backpacking Europe in the Summertime, including mine, but the prices to Europe are going to skyrocket because airlines know that that is when everyone is going to go there. The cool part about traveling in this season is that you're not only going to save money on flights, but on accommodation and tours also. I think you can experience a country in many ways depending on the time of year you travel, so if you go to Europe in the Winter and save some money, you could find an epic flight deal to Europe in the Summer (using these awesome tips provided by yours truly) then you can experience the beauty of Europe in two ways without paying the largest price tag.
---
What are the cheapest flights that you've scored? Let me know in the comments below!
Aaren
Did you enjoy this post? Save it for later on Pinterest!