(Last Updated On: 12/05/2019)
TakTak Falls is Siargao Island's only waterfall, which makes it sound like this once-in-a-lifetime site since it is the only one on the entire island, but it wasn't my favorite stop while I was in Siargao. For some, it can be rather underwhelming, but with a spark of adventure and exploration, you can have a thrilling, yet chill day here at TakTak Falls. It's a great pairing with more sites in North Siargao for a perfect day trip from Pacifico or General Luna. My experience was rather bland since I didn't participate in most activities that adventurers do here, but there are many ways to make the most out of this experience so you can maximize a long scooter ride up Siargao Island.
Planning a trip to The Philippines? Check out these posts for helpful guides and destinations!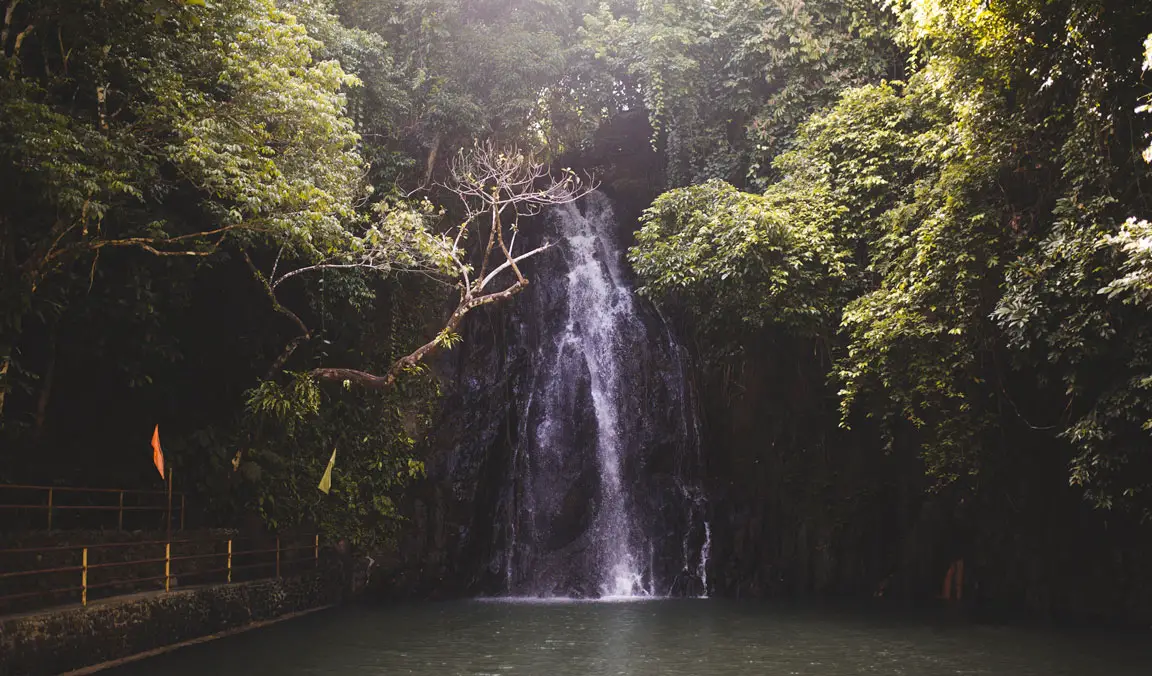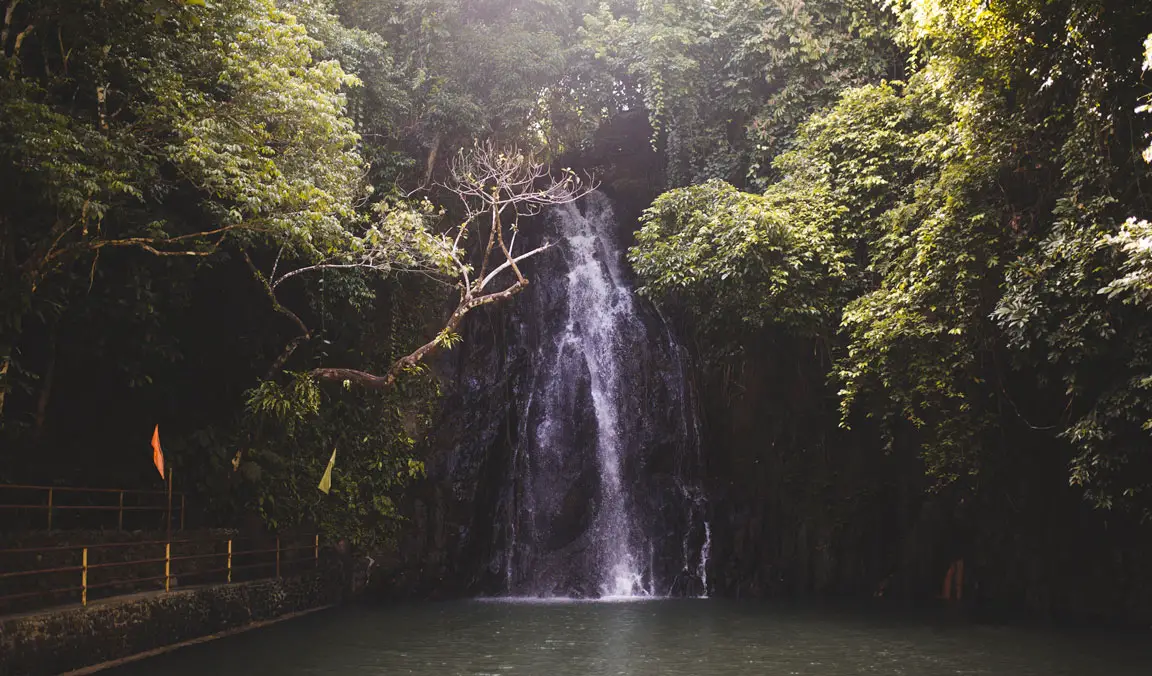 General Information For TakTak Falls
When To Get There
When I visited it was only myself, my guide, and a couple of locals that were there swimming around. So, while I do recommend getting their early, I am not stressing it with TakTak Falls since I don't believe masses of people come here. However, always arrive early to ensure that you have the place to yourself.
How To Get To TakTak Falls
You"re going to need a scooter to get here from either General Luna or Pacifico. It's about 1.5 hours from General Luna and 20 minutes from Pacifico. If you search up TakTak Falls on Google Maps, it'll take you right to it, for the most part (make sure you read the note below).
NOTE: Once you arrive at the spot that Google Maps sends you to, you're going to want to make an immediate right turn. The sign says "TakTak Falls 500m Turn Right" and some people confuse it as being 500m and then a right turn, but you want to turn right at the sign. My guide and I had to backtrack a little bit since we were both confused on the weird sign lingo.
Estimated Time Spent
An hour to half a day.
Entrance Fee
35 PHP ~$0.30 USD (25 PHP to enter + 10 PHP for scooter parking) *price may have increased since I have been there, but I have not found any information on price changes*
Walking Time
It's only a few minutes from the drop-off sign, so no long treks here.
Walking Difficulty
Easy. There aren't any massive hills or climbs that you have to do to get here, so anyone can visit this waterfall easily.
Waterfall Height
~50ft (~15 m)
What To Wear
Swimsuit, comfortable clothing, & a pair of sports sandals.
What To Bring
Sunscreen, spare cash (entrance fee), snacks, camera equipment (if needed), spare set of dry clothes (if needed), water bottle, & a towel.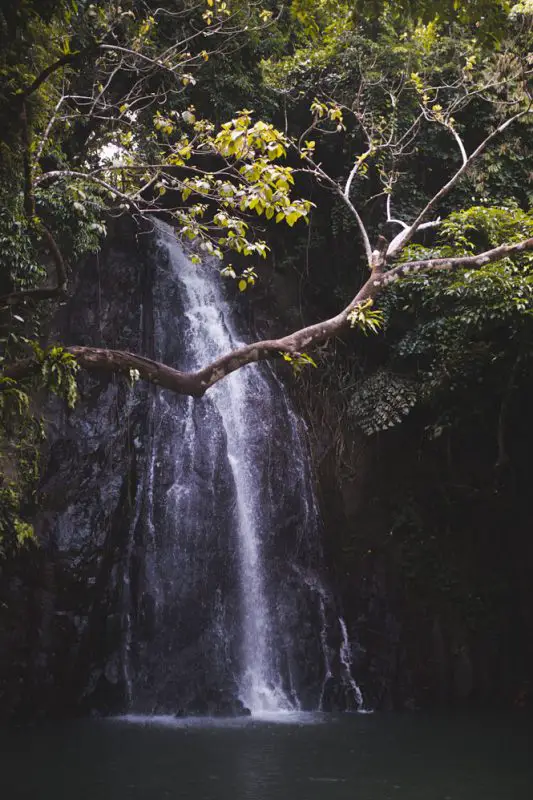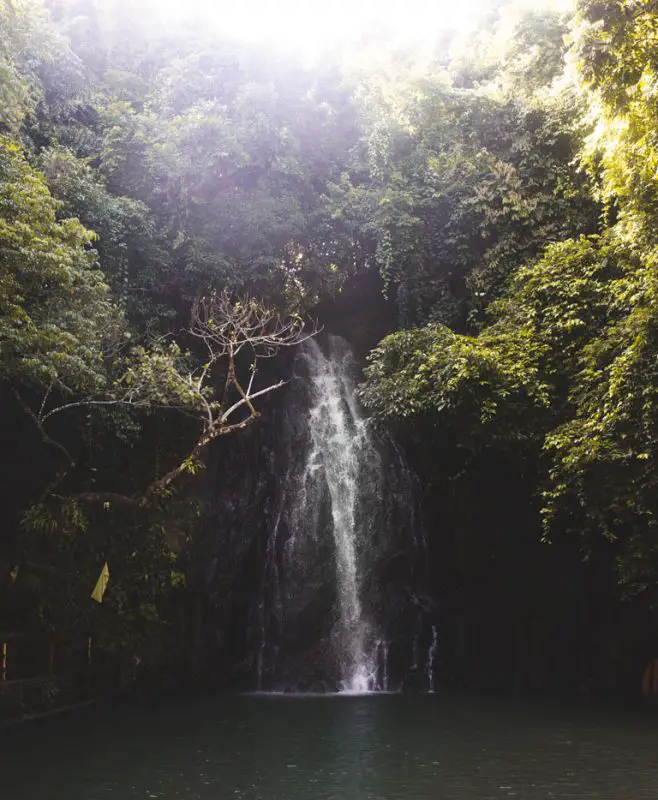 My Experience At TakTak Falls
I didn't plan on visiting TakTak Falls during my visit since I had prioritized island hopping, sugba lagoon, and many other adventures for my five-day stay on Siargao Island, but I enjoyed this unexpected suggestion from my guide and went along for the ride. It didn't take us too long to get there since it's only a twenty-minute scooter ride from Pacifico (another reason I am so glad I chose to stay in this central location). It ended up being really muddy as a result of the rain from a few days prior, but we toughed it out and ended up walking the rest of the way, but it wasn't a big deal since it's only a few minutes down the road to get to the entrance.
The arrival was a little interesting since there are two signs posted and both of them have directions that can confuse a ton of people. My guide and I ended up getting lost, but once we realized we had passed the entrance, not once, but twice, we finally made the correct turn to get to the falls. Once we arrived at the entrance, I had to pay a small fee to get in and sign a visitor log before I could enter. I think that having a visitor book is a really interesting way to keep track and look back on all the people from around the world that come to see these sights. I had to sign logs for my Cebu canyoneering trip and my visit to Apo Island, so it's a reoccurring theme throughout the Philippines, and a really cool one at that.
While it was sunny and cloudless on the day that I explored, I opted out of swimming since the water was FRIGID. Along with that, not only did I have another island hopping tour planned, but I was wiped from the previous two weeks traveling the Philippines. I could have fallen asleep on one of the stairs going down, but I rode it out through my time at the waterfall and I ended up falling asleep on a small island to myself later on. Imagine napping on a deserted island? That's my version of paradise, however, there weren't any coconuts, so while it wasn't my first choice, it was nice to be in a secluded area where I could enjoy some silence and a drool-filled nap under a bush.
I do wish I would have explored more around here and gotten some more unique shots rather than these generic ones, but it was still a cool experience to see the single waterfall on Siargao. When I return, I'll probably take up some different photo angles and actually dip in the water so I don't make it as boring as it sounds as I type this. There was more adventuring that I could have participated in, but honestly, I just wanted some buko juice and a nap, and I think that's something we can all relate to when it comes to the exhaustion of traveling.
What To Expect At TakTak Falls
Honestly, don't expect a whole lot. If you're looking for a fully immersed, nature experience, you probably want to pass on this waterfall. It is fully built up for tourism, although I don't believe too many people visit here. Once you arrive, there are concrete paths lining the outside edge of the falls. There is a seated area to the right and then there is a walkway that takes you closer to the waterfall on the left-hand side (you can see it in the first photo above). The area really isn't too big and I think it leaves a lot of people questioning the hour and a half drive they made to see this, which is why I recommend other activities to pair with this one, or visiting it if it's on your route to another place. TakTak Falls' name has been dragged through the mud on Trip Advisor for it being overly-hyped, so if you want to hear more opinions and experiences, you can read through those and look at more photos of the surrounding areas to help you decide if this is somewhere you want to visit.
---
Is TakTak Falls Worth It?
Compared to other waterfalls that I have seen throughout the Philippines, this one was quite underwhelming, but it does have the potential for adventure if you're up for it. The experience is entirely what you make of it. If you're planning on making a long drive to General Luna to only see this, it's not worth it, but if you plan on going on the second island hopping tour in the North with TakTak Falls in addition to that, it's a great option for a solid day trip. Also, on your way down Siargao from the falls, you could enjoy some waves over at Pacifico Beach and end the day with a coconut, or check the tide charts and head over the Magpupungko Rock Pools for one of the best experiences on the island.
How To Maximize Your Experience At TakTak Falls
In the left photo above, you can pick out a leafless tree branch on the left hand side that you're able to climb up to get some really interesting shots and perspectives. You are able to jump off this same tree into the pool below for a different "cliff-like" jumping experience. Not every spot in this pool is safe to plunge into, so always check the depth before you jump into the unknown, literally. So you can have a unique experience at TakTak Falls for a few hours rather than coming, looking, and leaving all in around twenty minutes.
Once you're finished getting your shots on the tree and testing your tree-jumping skills, you can actually make a little trek to the top of this waterfall. There is a paved route to the left of it that makes getting there a breeze and gives you an interesting and different view of the waterfall. I cannot say that you can jump off of the waterfall because I am unsure, but check the depth of the water so you don't end up landing on rocks and putting yourself in danger.
Have you ever been to TakTak Falls or traveled around Siargao Island? Share with me your favorite adventure in the comments below!
This post may contain affiliate links for the products or services I mentioned, but as always, all opinions are my own. I make a small commission, at no extra cost to you, when you make a purchase or booking through these links. This helps to support this space and keep me blogging, which I am so extremely thankful for.
Aaren
Did you enjoy this post? Save it for later on Pinterest!