(Last Updated On: 17/07/2020)
After the sunscreen ban in Hawai'i, and many other uproars about the ingredients in our sunscreen, it has been one of my biggest priorities to find reef-safe and zero waste sunscreen that is effective and won't cause harm to my body or the oceans. By supporting these brands, you're supporting a greener Earth, a cleaner body, and locally owned companies all around the world.  I am a big believer in products and companies that are passionate about the earth and their consumers, and each of these ten, zero waste sunscreen companies has their own story with a passion for the planet that shines. If you're on the hunt for a plastic-free sunscreen, or if you already have one and want some other awesome recommendations, these products are incredible and they will protect your skin all summer long.
All of these zero waste sunscreens are perfect for any adventure whether you're swimming, hiking, skiing, snowboarding, running, so all my fellow adventurers out there are sure to love these just as much as I do.
This post may contain affiliate links for the products I mentioned, but as always, all opinions are my own. I make a small commission, at no extra cost to you, when you make a purchase or booking through these links. This helps to support this space and keep me blogging, which I am so extremely thankful for.
Interested in leading a more sustainable life? Check out these resources after reading about the best zero waste sunscreens!
---
What you should look for in a zero-waste sunscreen
---
no harmful ingredients/reef safe 
Over the years, many commercial sunscreen companies have gotten away with selling chemical-based sunscreens to the masses, but there has since been shed a huge spotlight on this malpractice. Chemical-based sunscreens use one or more of these toxic ingredients in their formulas: oxybenzone, avobenzone, octisalate, octocrylene, homosalate, and octinoxate. These ingredients are not only detrimental to the health of our oceans but for our own health as well. I realize that I am no expert in sunscreen logistics, so Wellness Mama has an incredible article about why you should avoid chemical sunscreens. As for the reefs, the chemicals in these sunscreens, particularly oxybenzone, leech into the corals and other reef life, much like they leech into our skin, and it leads to the corals bleaching (dying). If sunscreen leeches into corals and causes them to suffer, what is it doing to us?
Many people believe that the higher the SPF, the higher protection you have from getting a sunburn, which isn't particularly true. Once I learned how sunscreen works, it was clear to me that I didn't have to have SPF 100+ to prevent myself from getting a sunburn. To put it in perspective, SPF 15 filters out about 93% of all UVB rays while SPF 30 filters 97%, and SPF 50 filters out 98%. No sunscreen can ever filter 100% of harmful rays and it's important that we reapply and use other methods of protecting our skin while we're out. If you have sensitive skin or burn easily, that 4% or 1% might be of importance, but if we apply sunscreen as recommended, cover-up, and seek shade, gnarly burns can be prevented. SPF 30 is the common denominator among most of these sunscreens listed below, but they also recommend applying every 1-2 hours and other methods of protecting your skin.
broad-spectrum protection
The sun's rays come in three flavors: UVA, UVB, and UBC. Fortunately for us, we don't need to worry about UVC since our ozone protects us from them, but the other two can take a toll on our bodies. UVA and UVB rays cause aging, wrinkling, skin cancer, and eye damage, so it's important that you protect your skin from both of those things. The simple solution is grabbing a sunscreen that has broad-spectrum protection. This means that it protects you from both UVA and UVB rays.
Not only do spray-on sunscreens contain most of those chemicals I listed above, but oftentimes they are misused. By using a spray-on sunscreen, you don't see just how much sunscreen you're putting on and most people don't abide by the cautions on the sides of the can: do not apply in windy conditions, use in a well-ventilated area, avoid inhaling or exposing others to spray, keep away from the face to avoid breathing. There have been many times where I recall smelling and feeling a spray-on sunscreen from across the beach or pool because someone was lathering themselves or their kid up with it. Spray-on sunscreen is just as dangerous as chemical-based sunscreens, not only for yourself but for the people you're surrounding when you choose to use it.
water-resistant up to 40 minutes+
All sunscreen should be water-resistant, in my opinion, because what the heck is the point if you want to go swimming or are sweating a little more that day? If you are getting in and out of the water and are active, you should reapply often, but the sunscreen shouldn't wash away entirely when you enter the water. Ideally, 80 minutes is a sweet spot since that gives you a little over an hour between application, but keep an eye out how long you have been out and if you need to apply more frequently.
This is important for myself, but I realize that it may not be so much to others, so that's why I put a little asterisk next to it. I try my best to reduce my impact on the planet as much as I possibly can and that's why having a sunscreen that biodegrades is important. When I use sunscreen that does biodegrade, I know that I am putting the materials of the sunscreen back into the planet and not spoiling anything in the process. Along with that, I have a reusable tin, so I am not contributing to plastic pollution either. In a way, it's carbon neutral to make this decision, and I love that I can have a product that does that. I believe most of the sunscreens below can biodegrade based on their ingredients, but I only listed on the sunscreens that specifically advertise that so I wasn't giving false information.
---
What Is my tried and true reef-safe sunscreen?
I swear by Raw Elements. however, I am always looking to try new products and compare them because I'm about having options when I am out exploring. I don't feel it's necessary to have a whole drawer or bag filled with fifteen different types of sunscreen, so I am slowly making my way through some other brands that interest me like Apothecary Muse, Suntribe, Surf Durt, Raw Love, and Sea & Summit. I can only give my opinion on Raw Elements, but I have heard many people rave about these sunscreens below and how effective they are, so I hope that you find one that you fall in love with, too.
---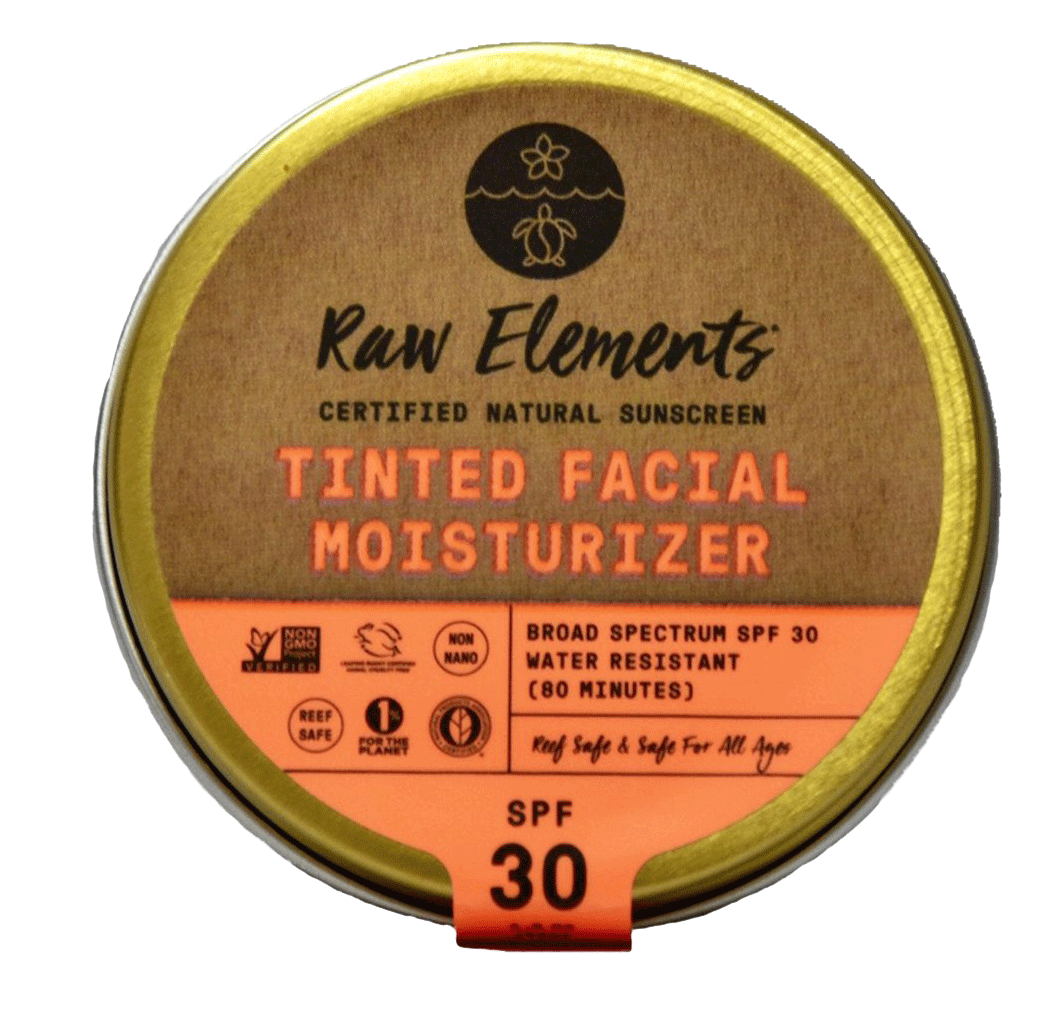 Raw Elements Plastic-Free Tins
Brian Guadagno is the lifeguard behind the Raw Elements Sunscreen brand after discovering how harmful commercial sunscreens are for both our health and the health of the ocean. He wanted to develop a sunscreen that kept up with adventurers, travelers, active people, and on top of that, develop a brand that a lot of people could connect and resonate with. Raw Elements is my zero waste sunscreen of choice! I have been using them for years now to protect my skin from harsh rays. They check off all the things that I would look for in a great sunscreen and their plastic-free tin goes with me on all of my adventures around the world! They have both a tinted and non-tinted option, but I prefer the tinted version to add a little color while I explore!
SPF 30+
Broad Spectrum
Reef Safe
Biodegradable
Water Resistant up to 80 minutes
Safe For all Ages
*contains beeswax
---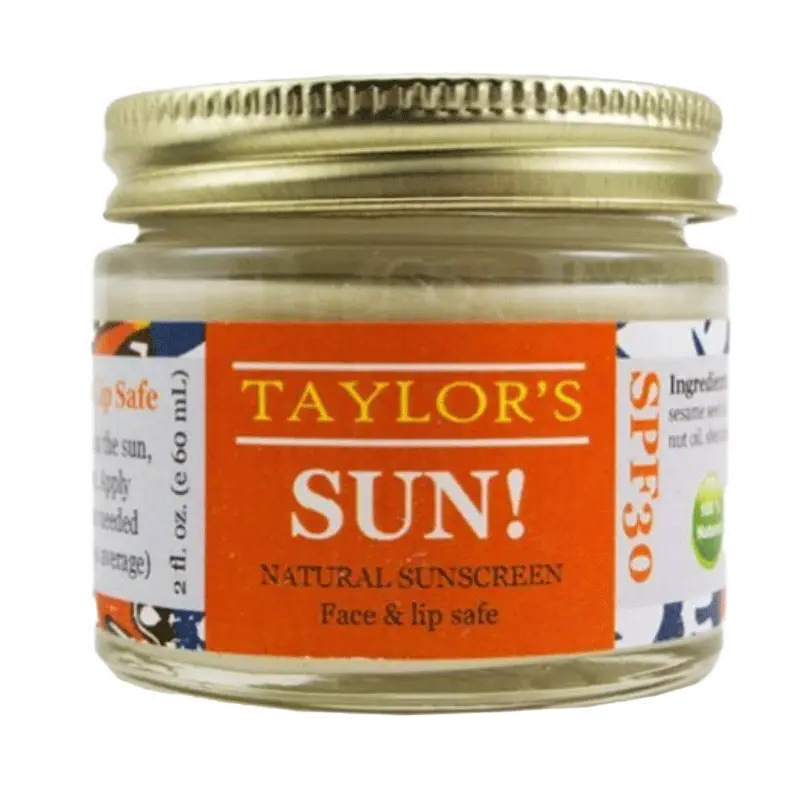 Elevated Sun! Natural Sunscreen
Dominic + Melena Taylor were inspired to create their own line of natural and sustainable body and baby care products during their first pregnancy. After scouring stores for safe options, they quickly found that Dr. Bronner's was the only option with no questionable ingredients. With their entrepreneurial gears turning, they decided they would make their create their own brand. Thus, Elevated Body Care was born and it is here for all of us to enjoy. I love that their zero waste sunscreen comes in glass jars so you can reuse the container over and over again for DIY toothpaste, shampoo, or shower scrub. If you fall in love with their plastic-free sunscreen, take a peek at all their other incredible natural body care products to try out and 'elevate' your self-care routine.
SPF 30
*Not tested for broad-spectrum (read here)
Reef Safe
Apply As Needed (every 1-2 hours recommended)
Safe For All Ages
Vegan
---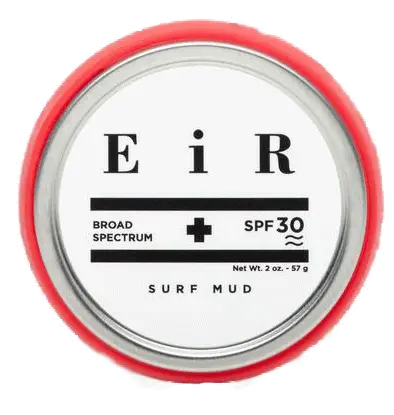 EiR NYC Surf Mud
Avid surfer, samba dancer, and herbal healing expert Jun Lee's natural sunscreen was her first product that the surfing community fell in love with. Her company is named after the goddess of healing, Eir (uh, how cool?!). Surf Mud has become the perfect pairing for adventurous and active lifestyles, and not to mention the packaging is super minimalistic and cute. Her products are designed to speed internal healing and providing external benefits. They are also sustainable and biodegradable, so you know that what you're putting on your skin is doing good for you and the environment, which is what I'm all about. If you lead an adventurous lifestyle like me, this sunscreen is going to be your new go-to.
SPF 30
Protects against UV Rays
Reef safe
Biodegradable
Water-Resistant
Safe For All Ages
*contains beeswax
---
Suntribe Sunscreen
Suntribe Sunscreen was started up by three friends with a love for the outdoors and avid surfers, climbers, and runners. They were tired of the greenwashing in commercial sunscreen advertisements, so they made their own with only three simple ingredients. One of my friends that I met in Bali uses this sunscreen religiously so this stuff has really piqued my interest since I have seen her rave about it so much. I love that there are only three ingredients and that it is catered to adventurous travelers, much like the rest of these on the list. I am really looking forward to trying this stuff out and I highly recommend it if you find yourself catching waves often or playing under the sun for long periods of time since it is also sweat resistant.
SPF 30
Broad Spectrum Protection
Reef Safe
100% organic
Extreme Water and sweat resistant
Safe For All Ages
*contains Beeswax
---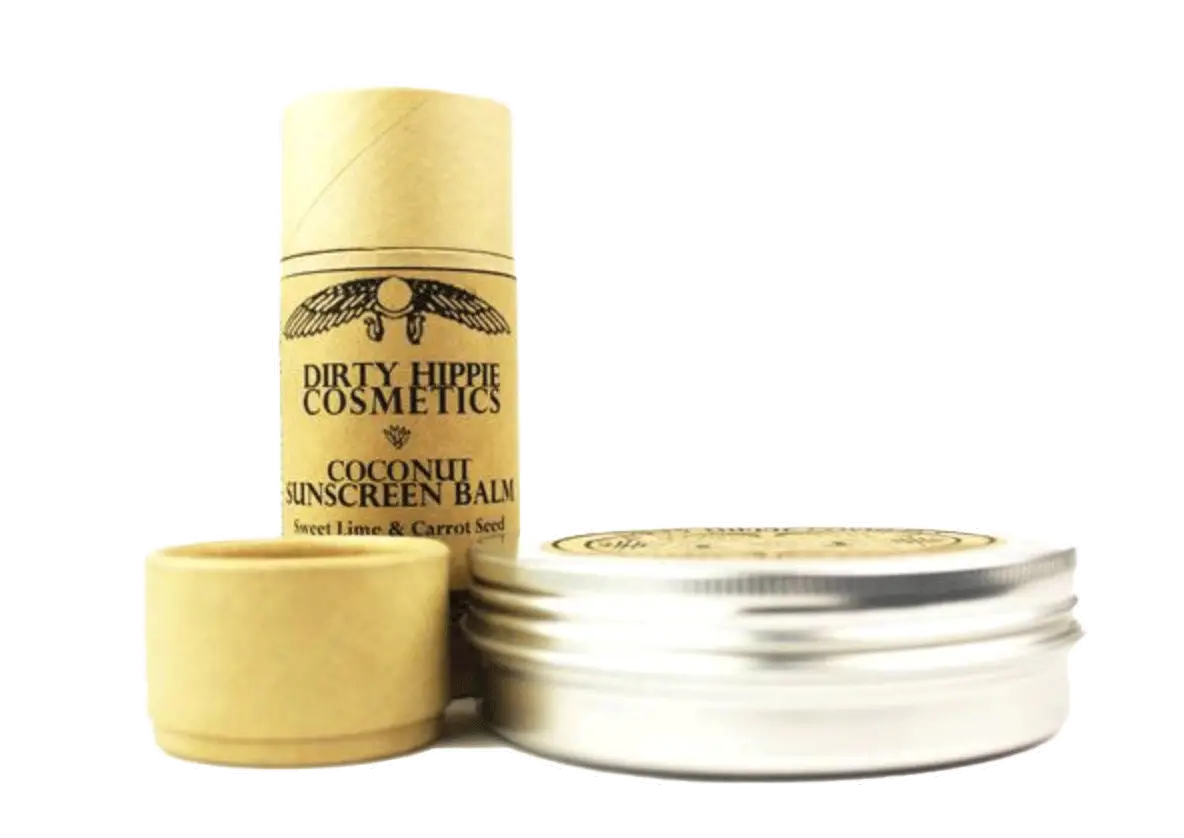 Dirty Hippie Coconut Sunscreen Balm
Moving right along the cute packaging train, I present Dirty Hippie Coconut Sunscreen Balm. While I don't have too much information on the start-up story, I can go ahead and rave about all the awesome things this zero waste sunscreen offers. First and foremost, this stuff smells of light, sweet, and zingy lime. Yes, please! It's developed for people with sensitive skin and it contains low pure essential oil content, but you can opt for 0% if your skin is really picky. You can also buy a version of this sunscreen that doubles as a bug repellant, so you can have a 2-in-1 combo for your hiking and camping adventures. The sunscreen balm also comes in three different sizes, pocket, travel, and family size to cater to your specific needs. I love that they cater to many dynamics and give options for people with different lifestyles. Overall, great company and I am really excited to try out their sunscreen this summer.
SPF 30
Broad Spectrum protection
Reef Safe
Developed For Sensitive Skin
Apply generously every 2 hours
Safe For all ages (with bug repellant ages 10+)
Vegan
---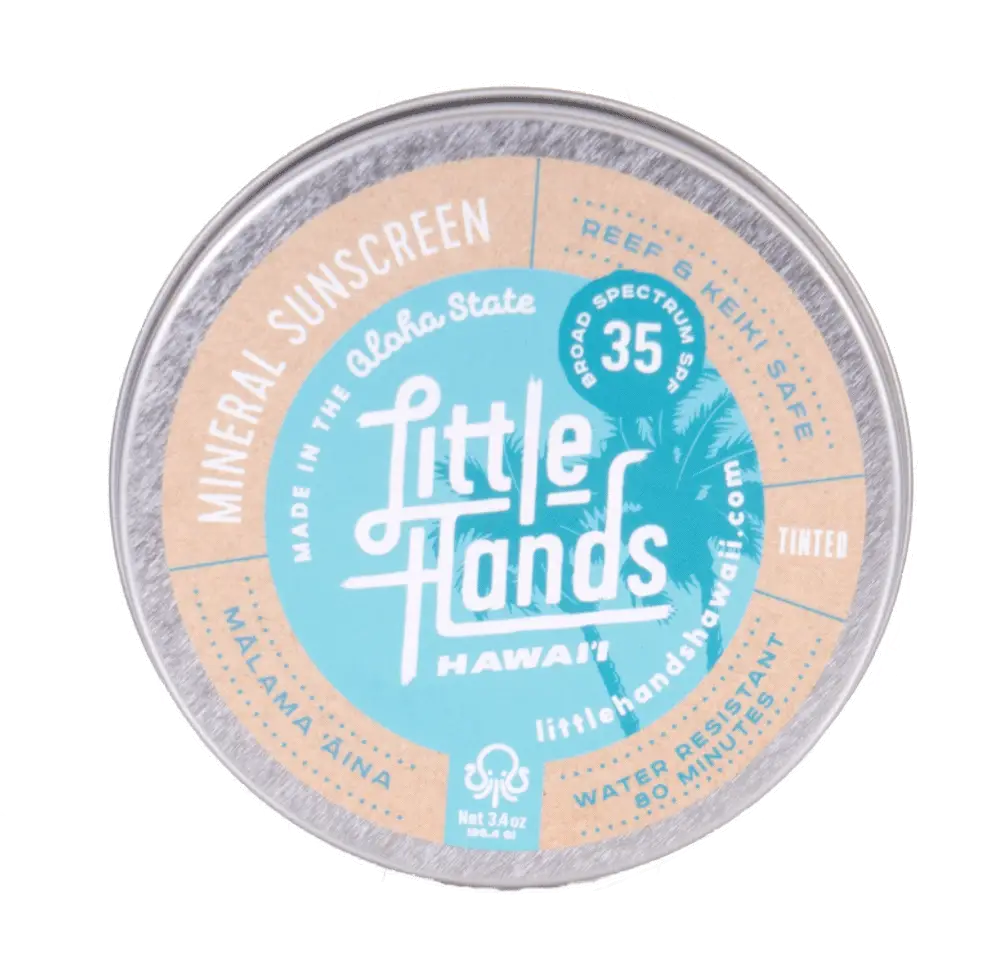 Little Hands Hawai'i Mineral Sunscreen
Rosalyn is a Hawai'i based mother and registered nurse that created Little Hands to have a safe, zero waste sunscreen she could put on her little ones. She says her Ohana is protecting our health, natural resources, and preserving marine life. All of her packagings are plastic-free and her labels are made with soy dye and 100% recycled materials. By purchasing this sunscreen, you're supporting a passionate family that cares so deeply for the natural world. She realized that most products are advertised to make a quick buck and not for the health of its consumers and the planet, and by making Little Hands, she is paving the way for more locally owned businesses doing the right thing and with passion.
SPF 30+
Broad Spectrum
Reef Safe
Biodegradable
Water Resistant up to 80 minutes
Safe For All Ages
*contains beeswax
---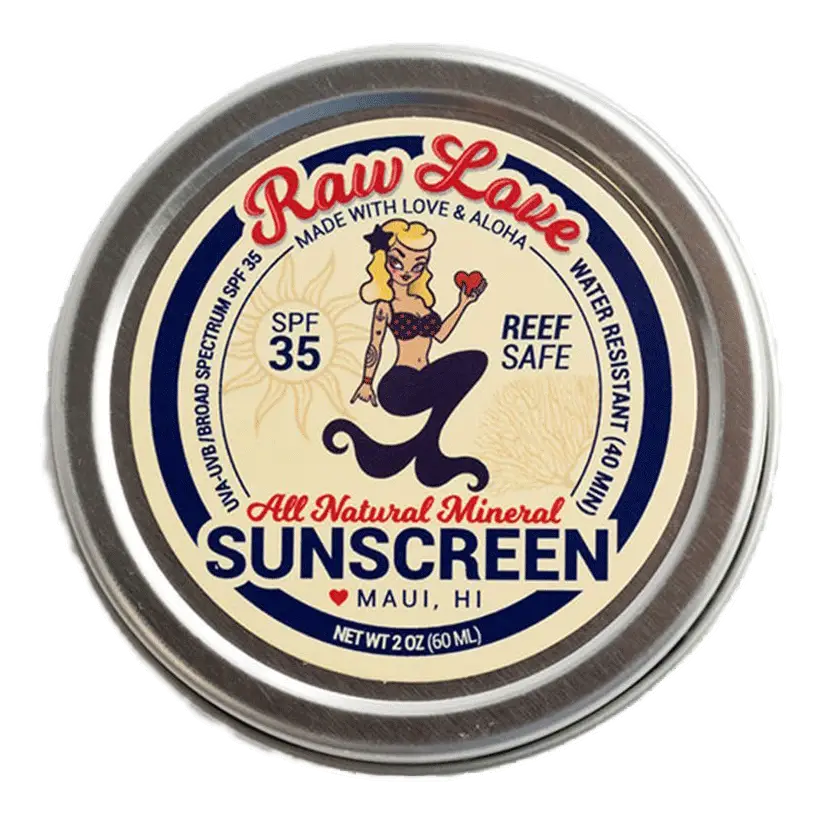 Raw Love Sunscreen
In 2015, Jenna Davis created Raw Love Sunscreen on the sunny island of Maui, Hawai'i (okay already jealous). She is a PADI Dive Master and SNUBA Instructor that was passionate about creating a plastic-free sunscreen that was going to protect her tattoos from the sun and not harm her body or reef in the process. With months and months of research and trials, combined with her past studies in marine biology, Raw Love Sunscreen was born. Her formula is biodegradable, reef safe, eco-friendly, and moisturizing. Jenna says, "you will feel protected and your skin will feel loved when using this reef-friendly sunscreen". I love her pin-up girl styled packaging and the overall aesthetic of her brand is SO vintage-y and cute.
SPF 35
Broad Spectrum
Reef safe
Biodegradable
Water-resistant up to 40 minutes
Safe For All Ages
*contains beeswax
---
Sea & Summit Sunscreen Face Stick
Ryan Kell sold everything he owned to make Sea & Summit a reality. He developed this sunscreen right in his kitchen for himself and his friends that were lifeguards and kayak guides. Through feedback, he was able to produce an effective zero waste sunscreen with only six organic ingredients! He is using his business as a vessel of example for future businesses and says, "I stand for what I believe in, and no one or no amount of money is going to sway me from my values. When big business pushes, I'll push back harder". It's clear that Ryan has a deep passion for the environment, especially since he modeled his business after Patagonia. If that wasn't a large selling point, the packaging is incredibly durable for the modern adventurer.
SPF 30, 36, + 50
Broad Spectrum
Reef Safe
100% organic
Safe for all ages
*contains beeswax
---
Apothecary Muse Sun Stick
Eryn Hughes is the owner of Apothecary Muse since 1999. She has had jobs as a mountain bike coach, sports nutritionist, outdoor retail manager, sound engineer, DJ, fine artist, AND political philosopher. How incredible! In 2013, Apothecary Muse was born to fill the gaps between her passions. She says that "Muse is the philosophy which has continued through the music, cycling and into soapmaking stages, suggesting one who is always ready to learn will have always have room to grow". Apothecary Muse is proud to create natural and sustainable sunscreen that support outdoor recreation for all seasons. Psst. The packaging is also adorable, so make sure you browse through all her other natural beauty products.
*SPF not specified (apply every 2 hours)
*UVA / UVB protection not specified
reef safe
75% Organic
Safe For All ages
Vegan
---
Surf Durt Sunscreen
Surf Durt was created by two California natives and a chemist from Hawai'i to form the perfect zero waste sunscreen to sustain surfing culture. They produce this sunscreen using 100% solar-powered tech, so you can leave no trace no matter where you choose to take it. They take pride in their unscented, yet cookie smelling formula that is safe for you, your skin, and the oceans' most important ecosystem. One of their mantras on their website is, "because no matter where you take it, the ocean is where it ends up", and I love that because it can apply to chemical-based products and waste alike. If that wasn't enough, they also have the world's cutest packaging. Just sayin'.
SPF 30
Broad Spectrum
Reef Safe
Made In USA
Water Resistant up to 80 minutes
100% Organic
*contains beeswax
---
Where are you going to get your dose of vitamin sea this summer? Share with me in the comments below!
Aaren
Did you enjoy this post for the best zero waste sunscreen? Save it for later on Pinterest!