(Last Updated On: 04/04/2022)
Edinburgh, Scotland is a moody city filled with rich history and some righteously next-level coffee shops. Even the sole fact that a cafe here was coined the "birthplace of Harry Potter" is enough to make you want to sit down with a nicely dressed espresso or three, stare out of a cafe window, and ponder the intricacies of life. Edinburgh is the TOP city in the United Kingdom for coffee lovers, so it would be a disservice to walk the Royal Mile and explore Old Town, New Town, the city centre, and somehow NOT stumble into Edinburgh's coffee scene just once…
When most people think of Edinburgh, they imagine the Scottish national animal, the unicorn, the Harry Potter train, and the myriad of fairytale locations scattered around the city, which is entirely valid and fair. But, the coffee shops in Edinburgh are shoved WAY down to the bottom of the list, and I feel they deserve a second look, which is why I compiled this guide on where to find the best coffee in Edinburgh so that you can experience one of my personal favorite ways to enjoy this city and get a little assistance in walking on cobblestone streets all day long. You can thank me for that last one later…
Grab your raincoat, walking shoes, and tall tales, and let's venture into the best Edinburgh coffee shops.
This post may contain affiliate links for the products I mentioned, but as always, all opinions are my own. I make a small commission, at no extra cost to you, when you make a purchase or make a booking through these links. This helps to support this space and keep me blogging, which I am so extremely thankful for.
---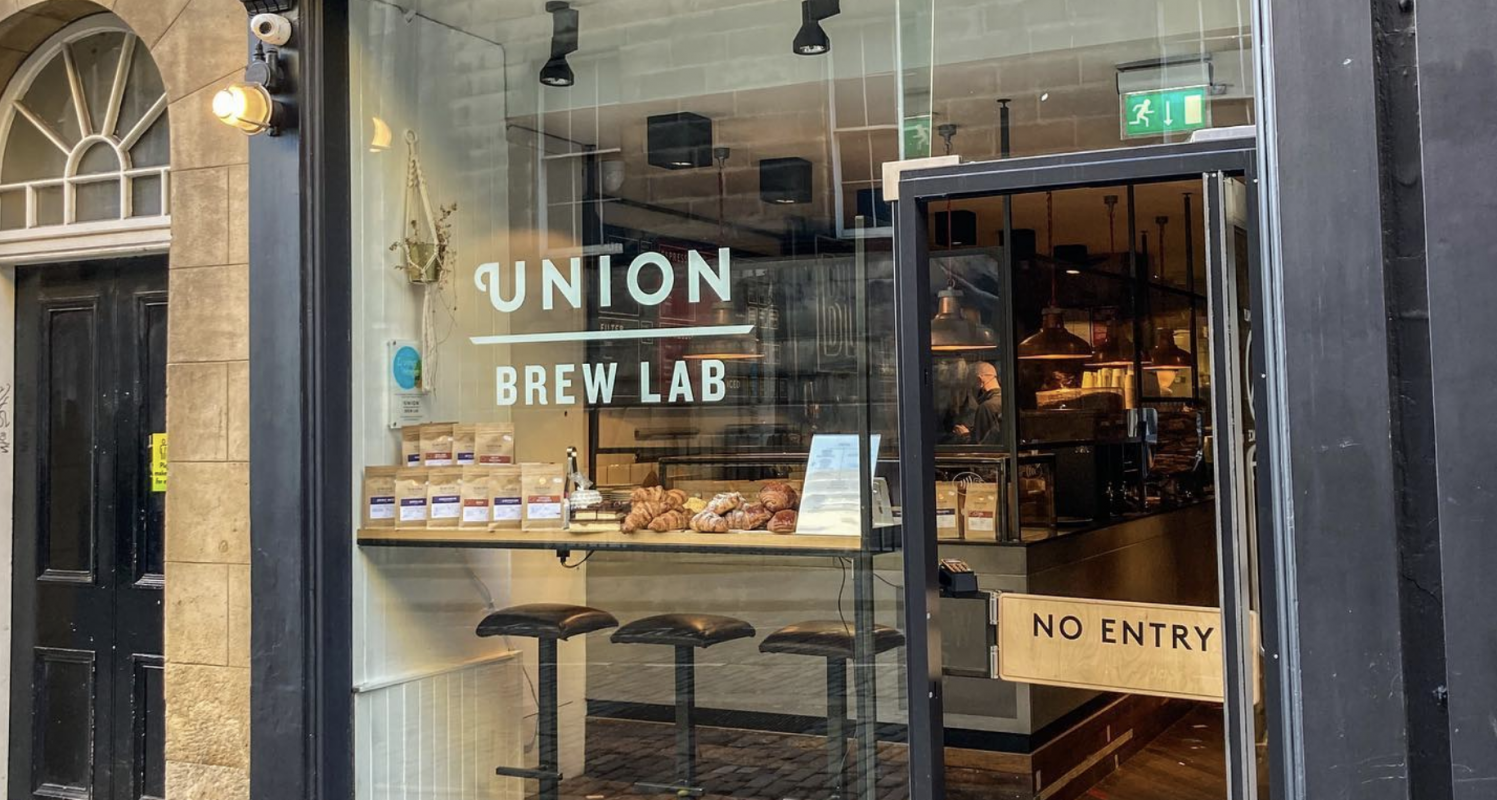 Brew Lab
Brew Lab was founded by two friends whose hearts were stolen by the third wave coffee movement and thus, they opened Brew Lab after four years of research and planning. This local treasure is a specialty coffee shop that also offers pastries, breakfast, brunches, and coffee training in the heart of Edinburgh. They even offer latte art training, so if you're in the market to upgrade your pouring skills, this is a great place to work your coffee magic. Brew Lab is an early-bird caffeine stop by day featuring four single-origin coffees, and a night-owls spot for beers, wines, and more of their special, locally sourced foods.
WEBSITE | Brew Lab
ADDRESS | 6-8 South College St, Edinburgh, EH8 9AA
---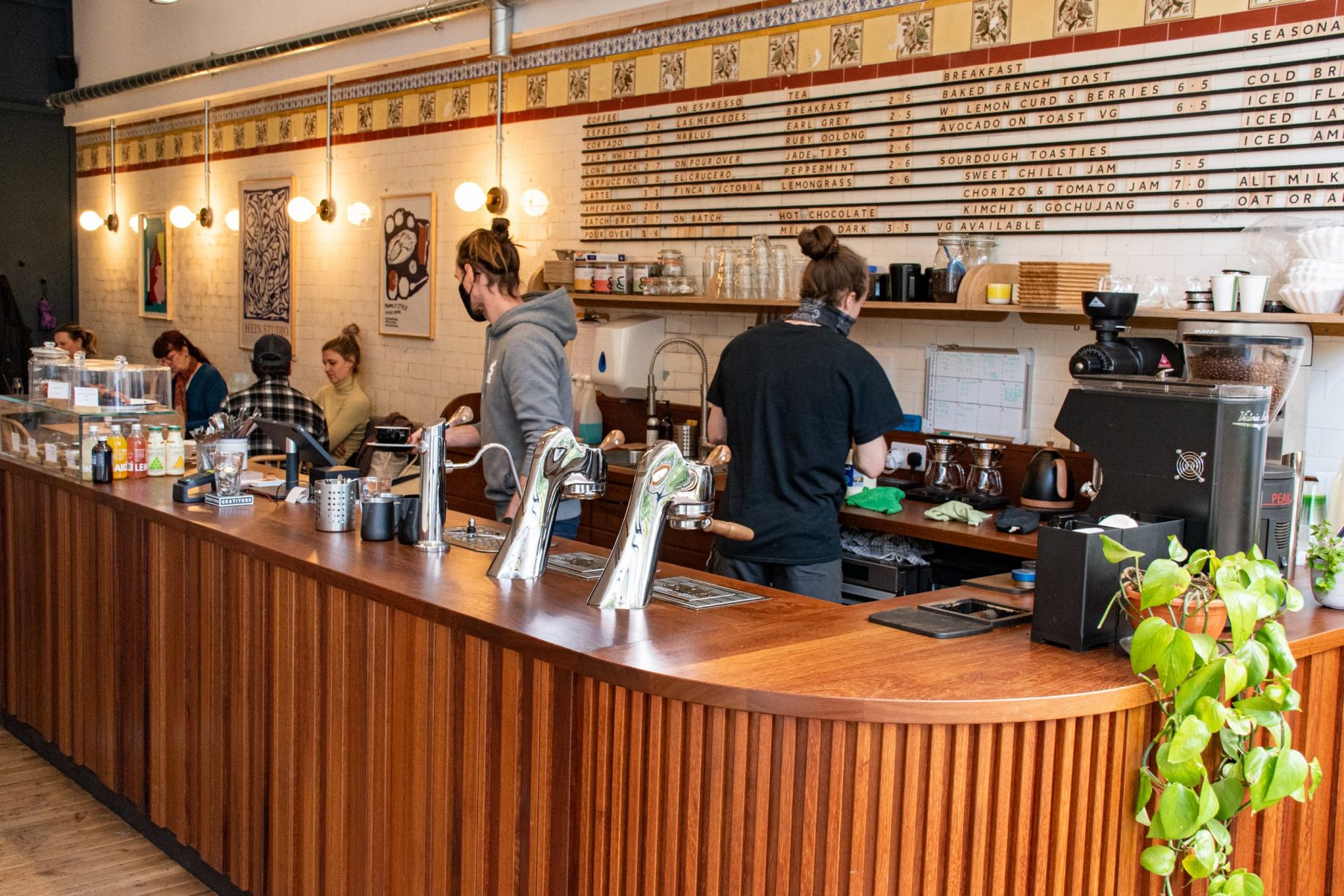 Fortitude Coffee
Fortitude coffee prides itself in its selection of single-origin coffee beans and dedication to the quality of each cup of coffee that leaves the barista counter. If you're growing an appetite after exploring Edinburgh, their food is delivered fresh from local kitchens and bakeries around Edinburgh. There are only a couple of seats available in this little gem, so make sure you arrive to secure a beautiful spot looking out on New Town before the place fills up.
WEBSITE | Fortitude Coffee
ADDRESS | 3C York PLACE EDINBURGH
---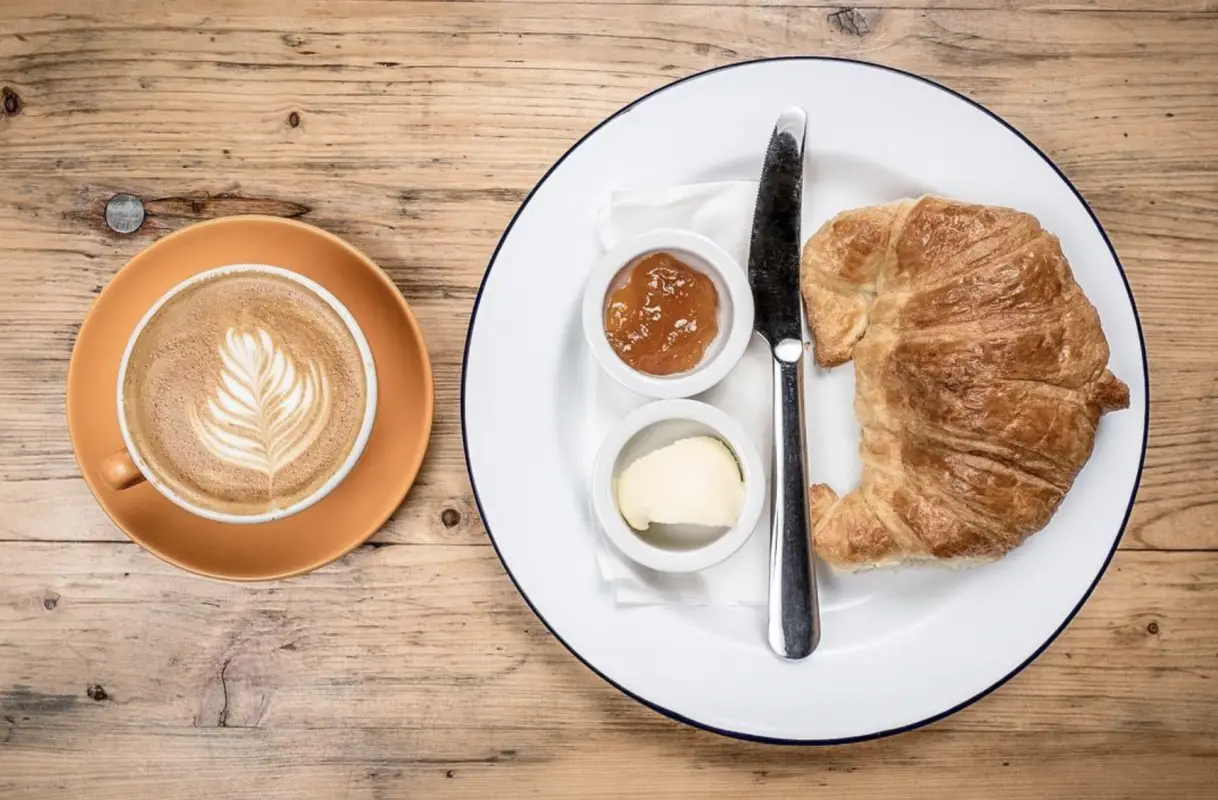 Cult Espresso
While Cult Espresso isn't an actual cult, you'll fall in love with the quality of their brews, teas, and foods. Along with their local beans, seasonally, they feature roasts from the top breweries around Europe and the United Kingdom. The brick walls and overall warm design of this spot are welcoming for any type of reading, online work, or socializing that you need to engulf yourself in for the afternoon. A lot of the coffee shops in Edinburgh are beautifully designed, but this is one of my favorites.
WEBSITE | Cult Espresso
ADDRESS | 104 Buccleuch St, Edinburgh EH8 9NQ
---
Nomad
This new little coffee spot nestled right on the corner of Haymarket Street has taken the world by storm with its recent opening and tasty pastries. Its location makes it the prime location for travelers, vegan and gluten-free alike. If you're in need of a coffee fix and want to watch fellow travelers and locals pass by the corner, settle into one of their stools for a little while.
WEBSITE | Nomad
ADDRESS | 2 Haymarket Terrace Edinburgh EH12 5JY
---
Twelve Triangles
Prepare yourself for hand-made, mouth-watering pastries at this local spot. Honestly, if I could ship their sourdough to my house once a week, I would. Oh, and did I mention the shop is dog-friendly? What more could you want in a spot? It's very clear that they have a huge passion for their bread as everything is made from scratch, including their jams, custards, pie fillings, and ricotta from locally sourced and organic farms when possible. You can't miss the beautiful blue paint accompanied by the smell of fresh-baked goods, stop by and give it a try.
WEBSITE | Twelve Triangles
ADDRESS | 90 Brunswick Street, Edinburgh EH7 5HU
---
Cairngorm Coffee Company
What sets this spot different from all the others? They roast their own beans weekly right in the heart of the Cairngorms and sell them in fresh brews each day. Along with their beautifully bright yellowed branded cups, they have small bites to eat that pair perfectly with their local brew. If you're outside of Scotland and still want to enjoy this brew, they offer to ship to many countries across the globe so that you can have a flavor of the Cairngorms, and if you like, they sell extremely aesthetically pleasing long sleeve shirts so you can promote your love for coffee, this local spot, and the outdoors!
WEBSITE | Cairngorm Coffee Co.
ADDRESS | Frederick St 41a Frederick St Edinburgh EH2 1EP
---
Lowdown Coffee
If the name of this place didn't give it away, this spot is located in the basement of a Georgian style complex (which means it's adorable and trendy by default). They sell roasts from Koppi, a renowned coffee roaster out of Sweden, which means they bring even more variety and spruce to Edinburgh's ever-expanding coffee scene. If you plan on visiting in the summer months, enjoy outdoor seating with a nice cool morning breeze to get your morning bean.
WEBSITE | Lowdown Coffee
ADDRESS | 40 George St EH2 2LE Edinburgh
---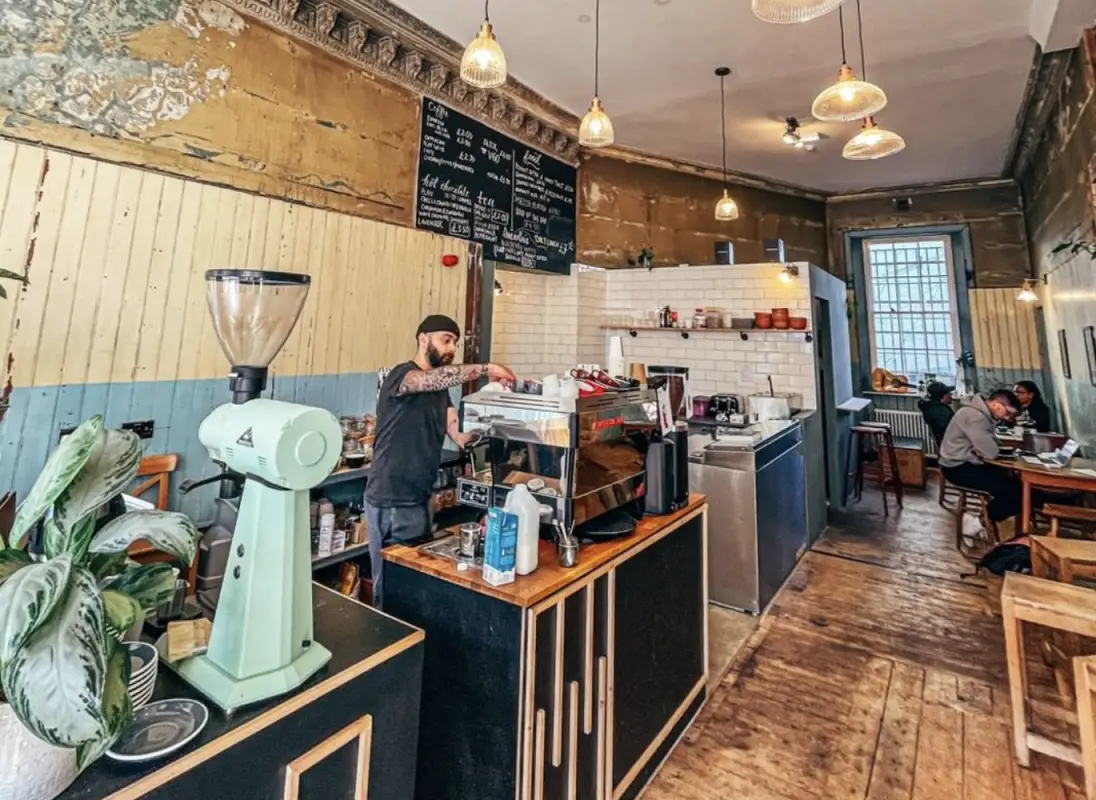 Artisan Roast
You'll come here for the coffee and stay for their dedication and commitment to building lasting and sustainable relationships with their coffee growers and producers. Artisan Roast is the first independent coffee shop in Edinburgh. They say, "Third-party accreditation is an important part of the coffee world and involves certification scheme such as organic, Fairtrade, or Rainforest Alliance. We work with both certified coffee growers and additional coffee farmers who also achieve our own high levels of ethical standards."
WEBSITE | Artisan Coffee Roasters
ADDRESS | 57 Broughton Street Edinburgh, United Kingdom
---
Black Medicine Coffee Co.
For 21 years, Black Medicine Coffee Co. has been committed to caffeinating the locals of Edinburgh with high-quality brews and roasts. They are also highly committed to taking care of the planet (a gold star in my book) as they don't allow takeaway options and they are moving towards less wasteful operations day by day. The wood decor and overall warm vibe make you feel right at home here and it's a great spot for a look into decades of Edinburgh culture.
WEBSITE | Black Medicine Coffee Co.
ADDRESS | 2 Nicolson St, Edinburgh EH8 9DH
---
Machina Espresso
Machina Espresso is another specialty coffee shop that roasts their beans in southern Edinburgh. The creation of this shop was made based on the love of Edinburgh's coffee scene, especially the explosion of it in the last ten years. They stock a range of different espressos as well as single-origin beans with unique tastes and undertones that will stamp this place as one of the best coffees in Edinburgh.
WEBSITE | Machina Espresso
ADDRESS | 2 Brougham Pl, W Tollcross, Edinburgh EH3 9HW, UK
---
The Milkman
What was once an old candy store has now been renovated to suit this special coffee shop in Edinburgh; with coffee just as sweet as the candy once was! The owner, Jaro selects guest brews every couple of months or so to keep his cafe featuring the best breweries and tastes of roasts across the United States and Europe. This is a great spot if you're navigating around Old Town and need a quick stop for your favorite coffee style.
WEBSITE | The Milkman
ADDRESS | 7 Cockburn Street, Old Town, Edinburgh EH1 1BP
---
Steampunk Coffee
Steampunk coffee shop in Edinburgh prioritizes fair wages, proper growing practices, and high-quality beans, AND plastic-free packaging?! This coffee shop has it all. They pride themselves in their coffee being something you should want to wake up for and with coffee having more flavor compounds than wine, they make sure every small batch is perfect as they taste every batch they roast. This is a truly special spot and it's great if you want to support great coffee, sustainable travel, and an even greater world we want to live in.
WEBSITE | Steampunk Coffee
ADDRESS | 49A Kirk Ports, EH39 4HL North Berwick
---
MORE COFFEE SHOPS IN EDINBURGH WORTH VISITING:
William & Johnson Coffee Co.
Little Fitzroy Coffee
Casa Amiga
Cafe Gallo
Bearded Barista
---
Best Coffee Edinburgh Map
Use this map to help you locate the best coffee shops and cafes in Edinburgh! For best use, download this map to your smartphone so you can use it offline (instructions here).
---
MORE RESOURCES FOR VISITING EDINBURGH:
– 3 Days In Edinburgh: The Ultimate Itinerary for Edinburgh, Scotland
– The 8 Best Day Trips From Edinburgh You CANNOT Miss
– The 10 Best Hostels In Edinburgh For A Magical Stay
– The 10 Best Mouth-Watering Vegan Restaurants In Edinburgh
– The Top 15 Places To Get A Vegan Breakfast In Edinburgh
LOOKING FOR MORE SCOTLAND TRAVEL RESOURCES? CHECK THESE OUT:
– The Best Time To Visit Scotland
– The BEST Scotland Packing List For Summer
– 50 Scotland Travel Tips For An Unforgettable Trip
– The Ultimate 10 Days In Scotland Road Trip Itinerary
– 10 Tips For Traveling Scotland On A Budget
– 72 Hours in the Isle of Skye
– Hiking The Old Man Of Storr: The Isle Of Skye's Crown Jewel
---
WHAT COFFEE SHOP GAVE YOU THE BEST COFFEE? SHARE WITH ME IN THE COMMENTS BELOW!

DID ONE OF THESE COFFEE SHOPS IN EDINBURGH CATCH YOUR EYE? SAVE IT FOR LATER!