(Last Updated On: 04/11/2022)
Banyumala Twin Waterfall in Bali is the most beautiful waterfall on the island for a few reasons: the secluded nature,  jungle-like feel, and stunning 11-story drop. Exploring this waterfall was one of the main highlights of my time in North Bali and it's a perfect stop in addition to all these other jaw-dropping locations in this 10-Day Bali Guide!
There are many other beautiful waterfalls in Northern Bali that are well worth your attention, but if you can only see a handful, you definitely want to prioritize this one. I visited these around 10:00 am back in 2017 and there were probably fifteen people total at the waterfall, with crowds growing as the hour passed.  Ever since Bali has become so popular, this waterfall has gained a whole lot more visitors over the years, so make sure you get here early to make sure you have it all to yourself.
I hope you find this travel guide helpful for planning your visit to Banyumala Twin Waterfalls.
This post does contain affiliate links for the products I mentioned, but as always, all opinions are my own. I make a small commission, at no extra cost to you, when you make a purchase or booking through these links. This helps to support this space and keep me blogging, which I am so extremely thankful for.
---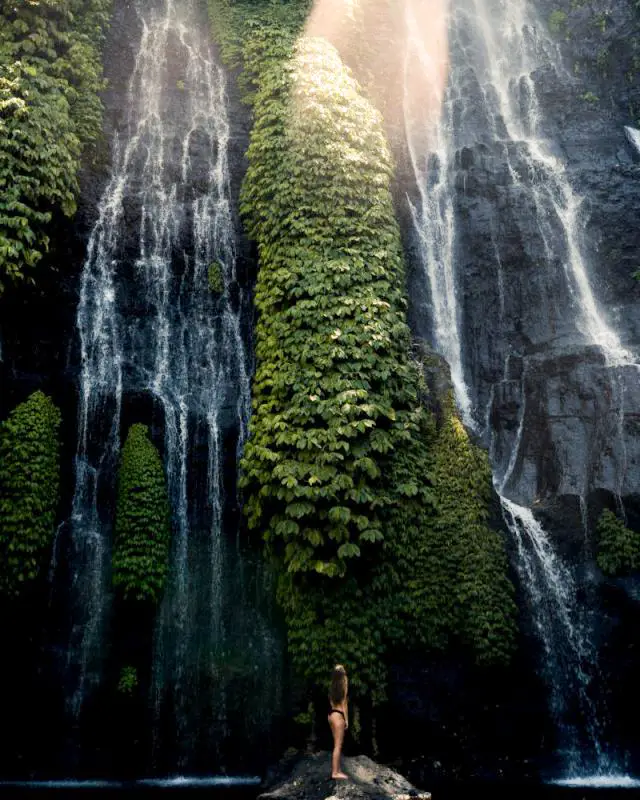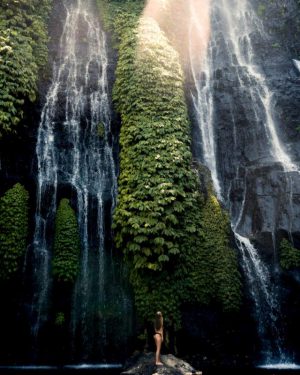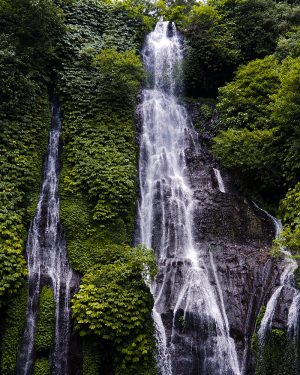 Where are the Banyumala Twin Waterfalls?
The Banyumala Waterfall is located in Northern Bali near the Munduk/Wanagiri Area. It's close to a handful of other popular things to do like Lake Danau Buyan, Lake Tamblingan, and many other popular waterfalls in North Bali.  I've labeled everything on the map, so you can download this map to check out the area and make getting there more straightforward.
Use this map to help you get to the Banyumala Twin Waterfalls! For best use, download this map to your smartphone so you can use it offline (instructions here).
---
Overview of the Banyumala Twin Waterfalls
ADDRESS | Wanagiri, Sukasada, Buleleng Regency, Bali 81161
BANYUMALA TWIN WATERFALL ENTRANCE FEE | 20.000 IDR
PARKING FEES | 2.000 IDR
OPENING TIMES | 8:00 am – 6:00 pm
BEST TIME TO VISIT | March to October (arrive before 10:00 am)
HIKE RATING | Moderate
HIKING TIME | 20-30 minutes
---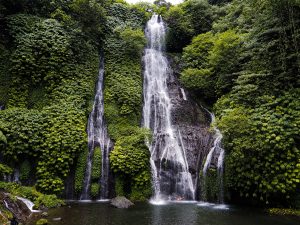 How To Get To Banyumala Twin Waterfall
Getting to Banyumala Twin falls from Munduk, Ubud or Canggu is pretty straightforwad. Check out the specific directions from each town below! Once you arrive in Munduk, you'll follow the main road along the twin lakes until you reach a turnoff on the right to go to the Twin Waterfall car park. You'll drive most of the way, then you'll hike the rest of the way to get to the waterfall.
I recommend getting a bit of practice with your scooter on turns and hills since the mountain roads in Bali are a lot more intense than they are in Canggu, Kuta, Ubud, and Seminyak. If you aren't comfortable on a scooter, definitely hire a private driver.
The road that leads to the waterfall trail is in pretty rough shape, so if you're not comfortable on a scooter, I don't recommend trying to drive down there. You can easily park your scooter at the top and walk down, or hire a driver.
SCOOTER | The cheapest and best way to get to Banyumala Twin Waterfall is by scooter. Rent your scooter with delivery here or pick one up locally when you arrive in Bali.
PRIVATE DRIVER | If you're not comfortable on a scooter, book a private driver.
Once you drive down the small access road and park your car, it's a short, 15-20 minute walk down to the waterfalls. The trail is straightforward and well-marked and the path stays pretty muddy from all the mist coming off the waterfall, so make sure you bring along a sturdy pair of shoes for the way down. It's a very steep descent all the way down, so be prepared for some stairs on your way back up!
Munduk to Banyumala Twin Waterfall
From Munduk, it takes around 30-minutes to reach the falls. This is an easy route to take if you have your own scooter rental since the route isn't very long and the directions are straightforward. Follow the main road, Jalan Raya Wanagiri alongside Lake Buyan and the road for the falls is on the right side. Look out for the popular hanging nests and it'll be on the otherside of the road from those.
The turn comes up quick, and even though there is a sign, it's still comes up fast, so keep a lookout! Get driving directions.
Ubud to Banyumala Twin Waterfalls
From Ubud, it's going to take around 1.5 hours to get to the waterfall. This is a doable route on a scooter as long as you're comfortable with it, however you may arrive with some pretty sore buttcheeks. I recommend hiring a private driver to make this journey more comfortable.
There is only one, two-lane road that runs through the village, so you really can't get lost. You're going to come to the areas where people take photos in those hanging, nest-looking things and the waterfall sign will be on the right with a sign. Get driving directions.
Canggu to Banyumala Twin Waterfall
Canggu is the furthest town away from the Banyumala Waterfall and takes just under 2 hours to get there. It is doable on a scooter if you're an experienced driver, but you may want to hire a driver so you're more comfortable. Get driving directions.
Banyumala Twin Waterfall Tours
If you'd rather make an entire trip out of your visit to Banyumala Waterfall, there are a ton of really great tours that take you the waterfall and other spots in North Bali:
---
What To Pack
SWIMSUIT | How can you not want to take a dip in the beautiful pool?!
TRAVEL TOWEL | I take this micro-fiber towel with me everywhere since it aborbs a ton of water and dries quickly.
REEF SAFE SUNSCREEN | Be sure to pack reef-safe sunscreen so you don't pollute the water.
HIKING SHOES | The trail can get pretty muddy, so I recommend wearing sturdy shoes for the hike down. I attempted it in flip flops and that was a disaster since every other step my foot got stuck.
SANDALS | These are to wear in an around the falls to protect your feet. These are my favorite travel sandals.
CAMERA | Bring your favorite camera and a wide angle lens. I had a 35mm and just barely got the full waterfall.
GOPRO | This is key for making waterproof memories!
CASH | They only take cash for the entrance fee and parking.
---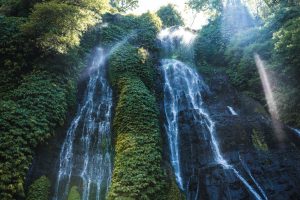 Tips for Visiting Banyumala Waterfall
Stay in Munduk so you can arrive early.
If you are based in Canggu or Ubud, the journey to get to the Banyumala Twin Waterfall is going to start at around 4:00 am if you want to get there by sunrise, which I highly recommend to avoid crowds! You can eat breakfast overlooking the mountains at the Made Oka Homestay or enjoy unparalled views at the Munduk Moding Plantation.
Wear durable shoes.
The waterfall is MASSIVE, so even when you're going down the trail to the falls, the spray from the waterfall and fellow travelers make the trail quite muddy. I don't know if you've ever tried walking up and down muddy stairs in flip-flops, but that is not the move to make, my friends. You're going to want something that is going to be secure to your foot like a pair of good hiking sandals, or a spare pair of tennis shoes that you don't mind getting dirty.
Prioritize this waterfall over the others in the area.
There are so many waterfalls in Northern Bali that most people go on a full-day tour of all of them! If your travels are photo-oriented like mine are, I recommend putting this one at the top of your must-see list for the sunrise and then head out to the others. You'll have plenty of time to hit them all in a day.
Don't drive down the sketchy road unless you're an experienced scooter driver.
The road leading down to the waterfall entrance is really rocky, rough, and steep so it can be extremely dangerous if you're new to driving a scooter like I was. If you still want to make the drive down to save time, I recommend asking one of the locals at the nest photo-opt across the street to drive you down themselves (and pay them, of course). Most of them will be more than happy to take you and get paid!
Eat lunch at some of the food stalls in Munduk, THEY ROCK.
There's a main, two-lane road that runs through Munduk that has tons of small food stalls dotted throughout and the food is AWESOME. I paid for two plates of fried rice with two bottles of water and I only spent $2 USD! Oh, the benefits of grubbing out on street food!
---
MORE GUIDES FOR TRAVELING TO BALI AND AROUND ASIA:
– 30 Travel Essentials For Backpacking Southeast Asia
– 21 Genius Tips For Traveling On A Budget
– The Top 25 Safety Tips For Solo Female Travelers
OTHER USEFUL BALI GUIDES:
– 16 Things That Surprised Me While Traveling Bali
– ULTIMATE Ubud Itinerary: The Best Way To Spend 3 Days in Ubud, Bali
– The Ultimate Packing List For Bali, Indonesia
– The Mistakes I Made In Bali + What I Would Have Done Differently
– Tips For Visiting Ubud's Monkey Forest + Photography Guide
---
HAVE YOU EVER VISITED A HIDDEN WATERFALL? SHARE WITH ME IN THE COMMENTS BELOW!

DID YOU FIND THIS GUIDE TO EXPLORING BANYUMALA TWIN WATERFALLS USEFUL? SAVE IT FOR LATER!