(Last Updated On: 08/01/2022)
The Banyumala Twin Waterfall in Bali is, in my opinion, the most beautiful waterfall on Bali for a few reasons: it's secluded. it's in the middle of the jungle, and it has a massive swimming pool at the bottom of it. What more could you want? Exploring this waterfall was one of the main highlights of my time in Bali and it's a perfect stop in addition to all these other jaw-dropping locations in a 10-Day Bali Guide!
Once you arrive in Bali, you'll quickly find that this is a very special place with very many special places to spend your time. This is one of them! If you're headed to Bali, here is everything you need to know to discover the Banyumala Twin Waterfalls! There are many other beautiful waterfalls in Northern Bali that are well worth your attention, but if you can only see a handful, you definitely want to prioritize these falls! I visited these around 10 am back in 2017 and there were probably fifteen people total at the waterfall, with crowds growing as the hour passed.
Ever since Bali has blown up as a travel hotspot, this waterfall has probably gained a whole lot more visitors over the years, so make sure you get here early to make sure you have it all to yourself. Trust me, it's worth it! I hope you find this guide helpful in your travels! If any other questions about the waterfall come up, or you just want to rave about this waterfall, please feel free to shoot me a message on my contact form or slide into my DM's, and I'll gladly help you out!
This post does contain affiliate links for the products I mentioned, but as always, all opinions are my own. I make a small commission, at no extra cost to you, when you make a purchase or booking through these links. This helps to support this space and keep me blogging, which I am so extremely thankful for.
---
Banyumala Twin Waterfall Map
Munduk, Bali
---
How To Get To Banyumala Twin Waterfall
---
Transportation Options 
The cheapest and best way to get to Banyumala Twin Waterfall is by scooter. I believe a private driver or a taxi isn't necessary since the falls are really easy to find. However, I would recommend getting a bit of practice with your scooter on turns and hills since the roads in the mountain roads in Bali are a lot more intense than they are in Canggu, Kuta, Ubud, and Seminyak. As long as you take it slow, you'll master the roads in no time. Scooters give you an entirely open itinerary and the freedom to explore other areas of Nothern Bali on your own time which is really nice. If you worked hard to save money for your trip and have a little bit more to spend, then there isn't anything wrong with getting a private driver. Taxies should be absolute last resort. There isn't any public transport in Northern Bali, so you'll be stuck walking around if you don't have your own transport.
Scooter | 30,000 – 50,000 IDR

($2-$3.50 USD)

Private Driver | ~400,000 IDR

($29 USD)

Taxi | 500,000 – 700,000 IDR

($40-$50 USD)
Ubud

,

Canggu, + Kuta To Banyumala Twin Waterfall | 1.5 Hours – 1.75 Hours
So the route to the Banyumala Twin Waterfall from Ubud, Canggu, and Kuta is all pretty much the same, so that's why it's all grouped under one section, which I think will make it easier for you to follow!
So no matter where you're coming from, it's going to take around an hour and a half to get to the waterfall if you're coming from these spots in Southern Bali. There isn't any secret to getting here since all you need to do is put "Banyumala Twin Waterfall" into your GPS and then head out accordingly. Buying a local SIM card to stay connected and get directions is one of my many ways to stay safe while traveling!
There is only one, two-lane road that runs through the village, so you really can't get lost anyway. You're going to come to the areas where people take photos in those hanging, nest looking things and the waterfall sign will be on the right with a sign.
---
Munduk

To Banyumala Twin Waterfall | +/- 30 Minutes

Coming from Munduk to the Banyumala Twin Waterfall, the route is a whole lot more straight-forward.  If you're not able to pull up a GPS, you need to take the road Jalan Raya Wanagiri alongside Lake Buyan. As I mentioned above, the waterfall road is across the street from those popular hanging nest overlooking lake Buyan. Look for the sign on the right that has a massive photo of the falls. You can't miss it!

As for the walking directions their the same as from above.

 
---
The

Walk To Banyumala Twin Waterfall
So, the road to the waterfall, from what I am remembering from 2017, is, uh, a bit steep in the beginning. And by a bit, I mean it feels like you're sitting at the top of a roller coaster ride. I wouldn't recommend taking your scooter down this massive hill unless you're an experienced driver. I GLADLY parked my scooter at the top near the nest swings (the nice locals watched it for me) and opted to walk down to the falls instead of trying to drive down the sketchy road. Psst! Plus, if you park at the top of the hill, you don't have to pay the parking fee at the bottom!
Of course, if you plan on doing this, make sure you leave a little earlier so you have more time to walk down.
The walk to the waterfall is very scenic from the top of the hill and onward past the entrance gate as well, so prepare yourself to take a nice walk and enjoy the scenery. You'll pass by small village homes, farms, and beautiful tropical flowers. Walking isn't the most ideal way by any means, but you'll be much safer this way. You'll know what I mean when you see the hill. After you walk down, I recommend hitching a ride in someone's car for the way back up! I made some friends at the falls and they offered me a ride back up! A win-win I'd say!
The walk from the top of the hill will take around 45-minutes to an hour.
If you're walking from the car park by the entrance booth, it'll take 15-20 minutes.
---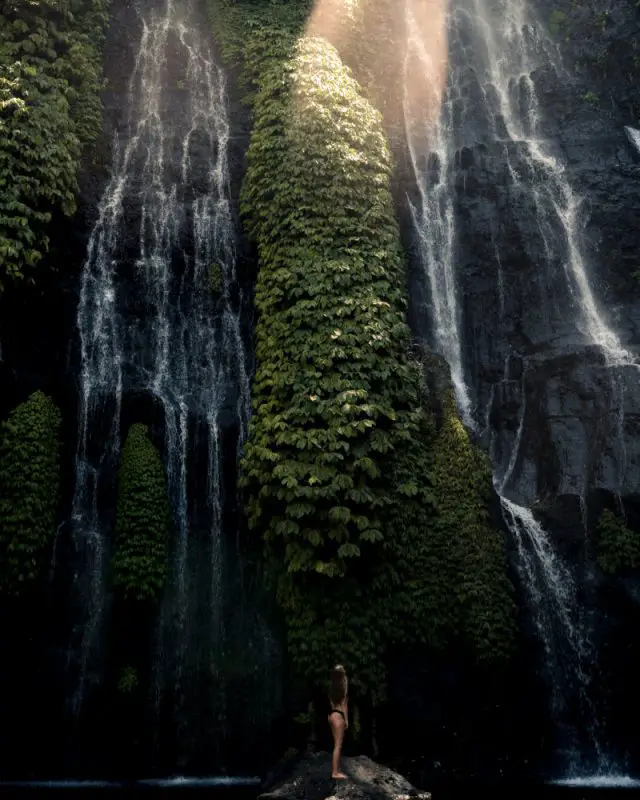 What To Bring To Banyumala Twin Waterfalls
---
1X | SWIMSUIT
Bikini? One-piece? Wear your favorite swimsuit to explore this beautiful waterfall!
1X | MICROFIBER TRAVEL TOWEL
If you haven't picked up a microfiber travel towel, it's time to change the way you travel FOREVER. I never knew that something so small and compact could impact my travels in such a positive way, but I will never go anywhere without my trusty travel towel again! The huge plus of microfiber is that they fold up into extremely small sizes (great for traveling light), and they dry quickly as well so you never have to worry about lugging around a soggy towel or having to pay to hire one!
If you're visiting morning, you won't really need too much sunscreen since the sun rays aren't as harsh during these hours, but it's always good to have along if you burn easily! This is my favorite sunscreen of all time, but I also have a list of 15 other quality sunscreens that are reef safe (and plastic-free!) to help you travel more sustainably!
1X | CAMERA / WATERPROOF CAMERA + ACCESSORIES
I think we all know that we're heading there to get awesome photos, so don't forget that camera from your day bag! I brought my heavy-duty camera since that is my camera of choice, but if you want epic photos from the pool under the falls, you may want something a little more adventure friendly like a GoPro or an action camera! Even your phone in a waterproof case will work! Whatever suits you and your travel style!
1X | HIKING SANDALS
This is one of my essentials that goes on my packing list for Bali! You need a good pair of outdoor sandals over a standard pair of flip-flops because they are secure on your feet and it makes hiking to waterfalls in Northern Bali 1000x easier since you won't have to wear tennis shoes. The trail to Banyumala Twin Waterfall can get quite muddy from water, so trying to conquer it in flip-flops isn't a good idea! Hiking sandals are a travel item that I rarely leave home without! I even took them to Iceland with me!
1X | 40,000 Rupiah (ENTRANCE FEE) + Spare bills (parking fee)
You don't need much money to explore the falls, but try to have exact change for the entrance and parking fee if you're parking your transport at the bungalow. It's always best to have exact change when visiting locations like these since the locals don't always have a ton of smaller bills to break larger banknotes, so it's simply a small, polite gesture for the locals.
---
The Road To Banyumala Twin Waterfall In Bali, Indonesia
---
When I was exploring northern Bali, I didn't have the slightest clue about this waterfall, so I really didn't know what to expect in terms of beautiful and crowds and both were extremely surprising to me whenever I arrived.
There is an enormous sign above the road to the waterfall, so I was half expecting there to be zillons of tourists when I arrived, granted this was back in 2017, but to my surprise, there were only three groups! Sadly, I cannot say the same for what it would be like now, three years later, so make sure you get here early because I am sure that things are a lot different now.
So, let's talk about this rollercoaster drop of a hill that this road leads down… I had JUST gotten in my scooter accident at the previous waterfall, so I decided that I would walk from the top of the road all the way down to the falls so I would avoid driving, which I highly recommend if you're not an experienced scooter driver. There were so many beautiful flowers and local homes, so having a nice walk to myself was a nice change from the noise of Kuta weeks before. The walk from the top of the road to the entrance to the waterfall is about 15-20-ish minutes, so I took my time and soaked up all the sun rays on my way down. Not too many people passed, thankfully, and once I paid my entrance fee, I ventured down to the falls.
The path stays pretty muddy from all the mist coming off the waterfall, so make sure you bring along a sturdy pair of shoes for the way down. It's a very steep descent all the way down, so be prepared for some stairs on your way back up!
I guess I didn't really know what I was expecting since the whole travel influence scene was just taking off so there weren't gobs of awe-inspiring photos to look at of this waterfall, mainly because a lot of people didn't know about it at the time, so once I saw this waterfall for the (for real) very first time, I stopped dead in my tracks. The other waterfalls in northern Bali do not compare to the sheer MAJESTY of this one. My favorite part about this waterfall is that there is a large pool to swim in underneath the waterfall and there isn't any tourism infrastructure surrounding the falls, either, so when you're floating in the pool, you genuinely feel like you're in the middle of the jungle. I haven't felt that with many other waterfalls *coughs* I'm looking at YOU Kawasan Falls! So the Banyumala Twin Waterfall was DEFINITELY the vibe I was going for when I initially booked my trip to Indonesia.
---
Additional Visiting Banyumala Twin Waterfall
---
Stay In Munduk

the night before so you can arrive early
If you end up staying in Canggu or Ubud, the journey to get to the Banyumala Twin Waterfall is going to start at around 4:00 am if you want to get there by sunrise (which I highly recommend!). So, in my honest opinion, you're better off staying in Munduk the night before. If you want to stay in a place with awesome services and an even better view stay at Made Oka Homestay and Warung! I stayed in the 'double room with a mountain view' and it was only $20+ dollars for the night. You can eat breakfast overlooking the mountains and it was honestly one of the more memorable experiences during my trip! #dreamy!
Wear durable shoes

(aka not flip-flops/slippers)
The waterfall is MASSIVE, so even when you're going down the trail to the falls, the spray from the waterfall and fellow travelers make the trail quite muddy. I don't know if you've ever tried walking up and down muddy stairs in flip-flops, but that is not the move to make, my friends. You're going to want something that is going to be secure to your foot like a pair of good hiking sandals, or a spare pair of tennis shoes that you don't mind getting dirty.
Bring ~20,000 IDR

For the Entrance Fee + parking fee (if parking at the bottom)
The Banyumala Twin Waterfall Entrance fee is 15,000 IDR and then parking ranges from 2,000 IDR for scooters, and 5,000 IDR for cars. The plus to parking at the top of the hill is that you get a scenic walk and you don't have to for parking. Which, in hindsight, it's really not a lot of money anyway, but just a perk if you're looking for one!
If you're visiting the other waterfalls in the area, make sure you

prioritize this waterfall over the others
There are so many waterfalls in Northern Bali that most people go on a full-day tour of all of them! If your travels are photo-oriented like mine are, I recommend putting this one at the top of your must-see list for the sunrise and then head out to the others. You'll have plenty of time to hit them all in a day if you only have enough time for a day trip to Munduk, but take it slow and it'll be an incredible day!
Don't drive down the sketchy road unless you're an experienced scooter driver
This one is highlighted in the FULL-ON orange because it's really important. The road leading down to the waterfall entrance is really rocky, rough, and steep so it can be extremely dangerous if you're new to driving a scooter like I was. If you still want to make the drive down to save time, I recommend asking one of the locals at the nest photo-opt across the street to drive you down themselves (and pay them, of course). Most of them will be more than happy to take you and get paid! It's a win-win!
Eat lunch

at some of the

food stalls in Munduk, THEY ROCK
There's a main, two-lane road that runs through Munduk that has tons of small food stalls dotted throughout and the food is AWESOME. I paid for two plates of fried rice with two bottles of water and I only spent $2 USD! Oh, the benefits of grubbing out on street food!
---
MORE GUIDES FOR TRAVELING BALI AND AROUND ASIA:
– 30 Travel Essentials For Backpacking Southeast Asia
– 21 Genius Tips For Traveling On A Budget
– The Top 25 Safety Tips For Solo Female Travelers
OTHER USEFUL BALI GUIDES:
– 16 Things That Surprised Me While Traveling Bali
– The Ultimate Packing List For Bali, Indonesia
– The Mistakes I Made In Bali + What I Would Have Done Differently
– Tips For Visiting Ubud's Monkey Forest + Photography Guide
---
If you're headed to Bali make sure that you add the Banyumala Twin Waterfall to your list of must-sees while you're there! Let me know in the comments below how locals have been kind to you in your travels.
Aaren
Did you enjoy this post? Save it for later on Pinterest!