(Last Updated On: 24/03/2020)
Bali, Indonesia has taken over the travel radar in the last few years which has put it at the top of every backpacker's bucket lists. Is it the #instaworthy photos? Is it the ICONIC vegan cuisine? Is it the cultural appeal? Is it all of these things? For myself, it was the jaw-dropping landscapes, culture, vegan hotspots, and healing atmosphere that the island initially gave me. It was my first ever solo trip outside of the country, my second time in Asia, and the first time in my life where I was completely free. I had no other obligations except to travel to Asia with my fully loaded bank account (pre-blog era). I felt inspired and alive and I believe that many people that travel to Bali have the same experience, but there is no doubt that coming here will come with a lot of surprises.
There are many sides to Bali that can give you a different perspective of the island depending on where you go. For myself, I was able to experience the wild Kuta, the peaceful Ubud, the charming Canggu, and the silence of Munduk. I was able to experience multiple different areas of Bali that each gave me an entirely different perspective on the island, and I believe that is an important thing to consider when you're first visiting so that you don't get one wrong first impression like I did.
If you're headed to Bali or even want to plan a trip there, some of these surprises might come as a shock since Bali is portrayed as the perfect paradise. These are all the things that surprised me while traveling in Bali, Indonesia.
Headed to Bali? Check out these helpful resources for your trip!
---
1 | You can be a millionaire and not have a lot of money at the same time
What does it take to be a millionaire in Indonesia? Around $80 USD. I think going to the ATM was always the most fun part of my trip because you swipe your card you're seeing 50,000 and 100,000 Indonesian banknotes pop out and suddenly you're ready to board the next first-class flight to Beijing with a mimosa in hand. Well… at least I was, but honestly, this was an interesting way to kick my trip off since it made me feel like I was rolling in the dough, but it did make the currency conversion a little bit harder to master.
One of my favorite parts of traveling is seeing what other countries currencies look like, and I was blown away by how colorful and artistic Indonesian currency is. Here in America, it's the standard green and cream tone with not a whole lot going on, but other countries showcase beautiful places, historical figures, and UNESCO world heritage sites, so when I held my first foreign banknote, it was the coolest thing since sliced bread. Collecting banknotes is one of my favorite souvenirs to collect while traveling, and they're a great way to tell stories to your friends and family when you get back home.
---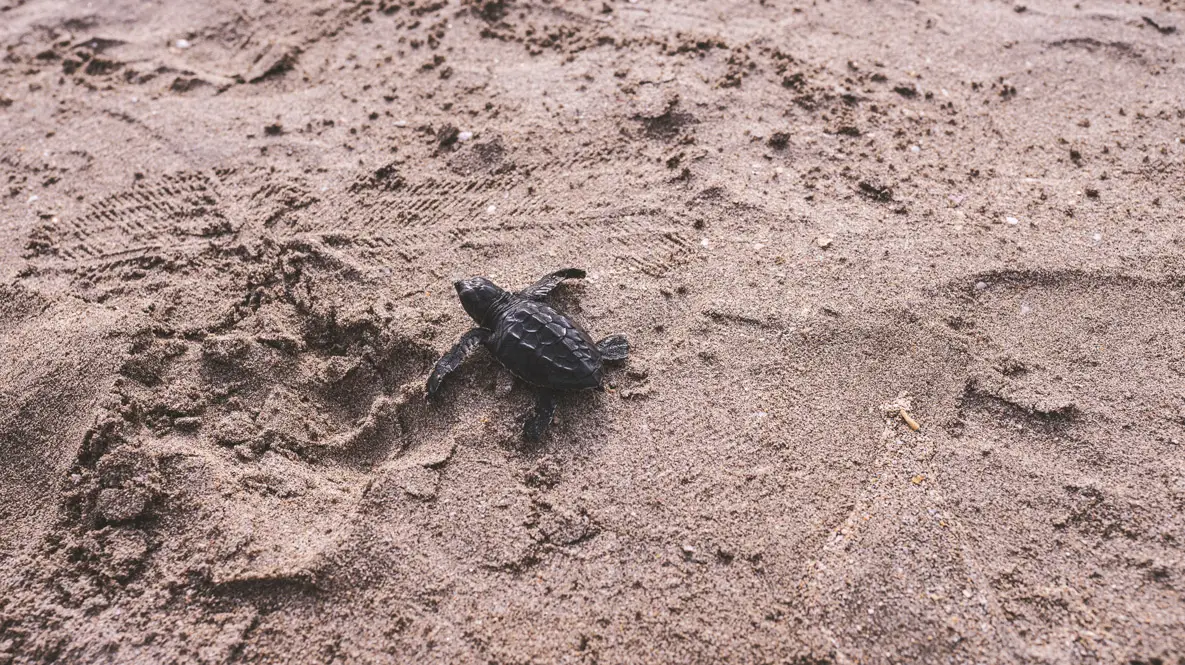 2 | (alot of) the beaches were disappointing
When I first heard about Bali and its tropical, secluded island aesthetic, I had expected exactly that… However, most of the beaches in the more popular spots are not white sand and the water isn't as clear as you'd think it would be. I remember walking down to the beach from my guesthouse in Canggu and being shocked that I didn't stumble upon a Tulum-esque beach. Womp womp. Most of the beaches that everyone comes to Bali for are in the way south in Seminyak and Uluwatu, or probably somewhere around the north, but in the more popular spots, the sand looks borderline volcanic since its so dark and the water isn't that true blue that you see in the Maldives, Philippines, and Thailand. It's more of a dark green/blue color. It really took me by surprise when I first saw it, but I stumbled across some of the more iconic ones along the route of my trip so it made up for it. I know that the beaches on other islands and areas are stunning, so if you want really nice beaches, consider going south or hopping over to the Gili Islands, Nusa Penida, or Lombok for that clear blue water.
---
3 | it's not everyone's cup of tea (+ sometimes you need to visit twice)
Truthfully, I didn't enjoy Bali as much as I thought I would. I think my expectations vs. reality were vastly different and I did a lot of things wrong, but that doesn't mean that this little island is off my radar forever. Sometimes when we first experience a country, we only see a single side of it, there are too many tourists, or the photos we saw and what we see with our own eyes are entirely different. Some people see all sides of Bali and decide that it's not for them and that's okay. As for myself, I had left a ton of hotspots unexplored and I had spent the majority of my time in the southern region. I wasn't able to venture out to the surrounding islands and swim with manta rays, and hike Mt. Rinjani, but I know that that would have changed my entire perspective on the island had I gotten to experience the things that I was truly excited for.
I do believe that I need to give Bali another chance. I don't know how different or similar it will be the second time around, but I have learned so much in terms of locations, getting around, and where to spend my time that I know that I will be able to maximize my experience when I arrive there again (hopefully at the end of this year if it calls me to it). I think the important thing to note when you're planning a trip to Bali is consider the experience you want to have and plan your accommodation and adventures around that rather than doing what everyone else is doing.
---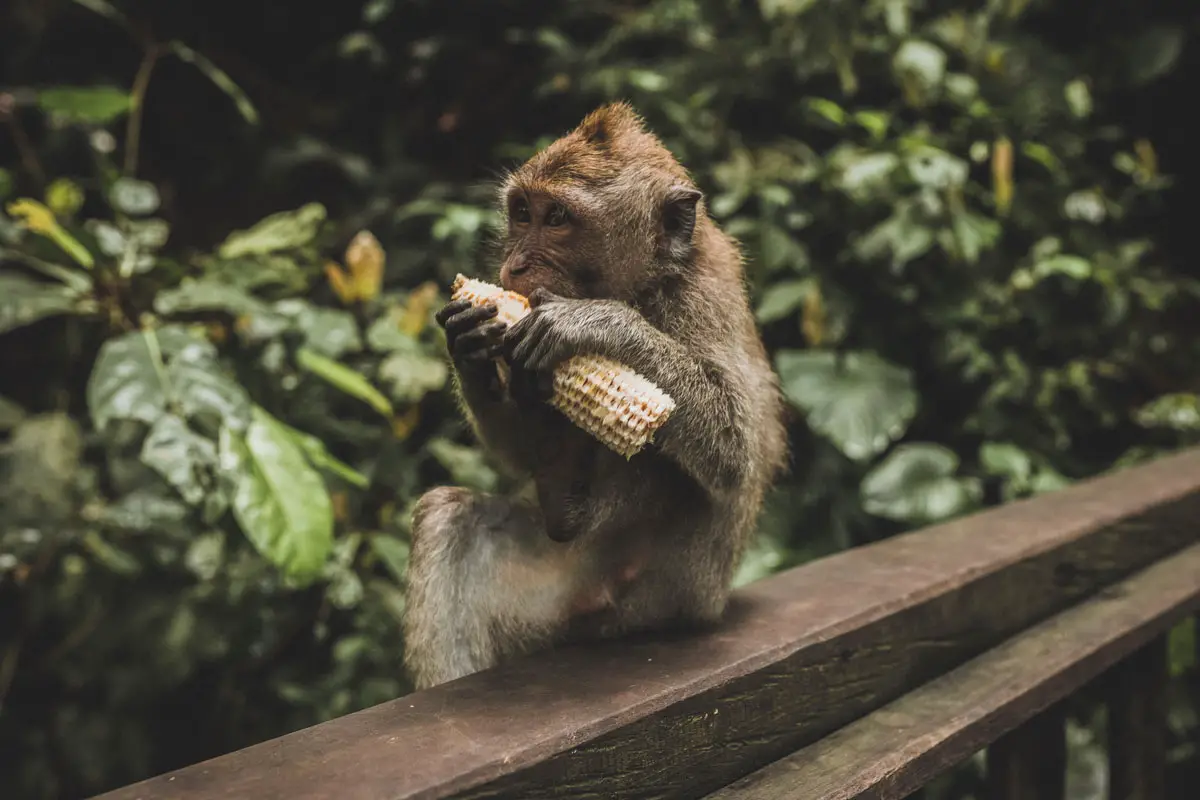 4 | it was a lot more trendy and a lot less "secluded island-y" than I thought it would be
I went to Bali without having a ton of expectations. I knew that it was the place that everyone was (and still is) flocking to and I knew that it had some incredible vegan eateries that I could not pass up. So, to summarize my trip, I went to eat some grub, leisure under some waterfalls and everything past that just added to my experience, but I was quite surprised to see extremely modern Burger Kings and surf boutiques among elephant pants and hand woven anklets. It's a weird juxtaposition with those two dynamics, but it almost gives that partially westernized feel that many people long for when they're away from home. Of course, you'll find this in Kuta and Canggu, but Ubud and every other part of the island are going to be Indonesian style with street food stalls and all the intricate cultural details that make Bali so special. You can definitely find those secluded island-y areas on the island, but you'll need to venture off the beaten path to find the untouched, raw nature.
---
5 | ubud is not the best place to practice yoga despite what that one popular movie portrayed
*shakes fist* I'm looking at you, Eat Pray Love. I didn't necessarily get my inspiration to go to Bali based off of this movie but after a little bit of research and personal experience, the yoga in Ubud just wasn't as good as other parts of the island. I think that ever since that movie came out, Ubud has been labeled as THE PLACE to go, when really there are tons of incredible yoga spots around the island. Somehow the popularity and overall "itness" of Ubud led me away from it, so I decided to book a one week, unlimited yoga package at Serenity Eco Guesthouse and Yoga, and let me just say, wow? The welcome drink? Tasty. The yoga? Incredible. The food? Over the top. Everything about this place makes you feel like you're surrounded by a community of people seeking answers and growth and it really felt like home for the week that I was there. I tried things I never would have expected myself to do. I moved my body in ways I didn't think was possible, but through the support of the teachers and fellow yogis, I felt empowered to push past my barriers. I did aerial yoga despite the minor anxiety it gave me for being new. AND I never once went to the back of the class for fear of sucking at the poses or not having practiced a lot. None of this is sponsored, I just really love this place and the value that you get for your money. I just looked back to book another stay at the guesthouse and you can get a room and unlimited yoga for a MONTH for around $400 USD. So, like, what are you waiting for? Or really… what am I waiting for?
---
6 | some of the most beautiful spots are off the island
With all the rage about Bali, you've probably seen so many iconic spots that you can't believe exist like Nusa Penida, Tiu Kelep Waterfall, Mt. Rinjani, and the statues you can dive to see on Gili Meno. All of these spots aren't actually in Bali but rather in the surrounding islands of Lombok, the Gili Islands, and Penida Island that you need to take a fast boat or ferry to get to. Most people see these while planning a trip to Bali, so that's why they're all umbrella'd under the same island, but you could easily spend one to two weeks exploring all these other islands. This is one of the main reasons why it's important to do your research and know how you're going to get from a to b, or at least have a very rough idea of where things are. If you're planning a trip to Bali, you SHOULD NOT miss these spots. I wasn't able to see all of these things since I had to leave early on my trip, but these things are high on my bucket list when I go the next time around, especially Mt. Rinjani.
This isn't to say that there aren't picturesque places in Bali because the island is absolutely beautiful. If you're camera savvy, then there are many outrageously beautiful Instagram spots in Bali that are well worth the hype and photo!
---
7 | Kuta is just as bad as everyone says it is
Bali was my very first solo trip (ah, the memories), and despite my research and the many signs telling me not to spend more than a day in Kuta, I spent five. With my logic, I thought that I was going to allow myself to get to know the area and the surroundings so that I could start my trip off on the right foot and get comfortable, but I could have done that in a way better location like Canggu or Ubud. I think a part of me didn't want to feel like I was missing out on something special, but that part of Bali can be best described as tourism utopia. Not to say that touristy spots are bad, but if you're coming for culture, local, handmade goods, and a more authentic experience, Kuta is not the place to go. There are cheap souvenir shops set up everywhere and most of the streets you walk down, people are going to be asking you to buy something every two steps. I think I said "no thank you" more times in those few days that I had in the last five months. In my opinion, Kuta is loud, busy, and can serve up a bad first impression of Bali if you base yourself there.
If it's your first time visiting Bali, I recommend only staying in Kuta for one night depending on when you land. If you land in the morning, you can easily pass through the area, but if you're landing in the evening, there are plenty of great places to call home for the night before you take off the next day.
(SIDENOTE: I do want to brag about this INCREDIBLE Thai restaurant that I ate at probably 4/5 days that I was in the area, Lemongrass Thai Restaurant. I would stay in Kuta again solely to fill my stomach with their green papaya salad, green curry, and a whole mountain of white rice. It is a nicer place and more on the expensive side, but boy is it oh so good. If you so happen to pass through the area, stop into this place because it is 100000% worth it.
---
8 | the island has a huge trash problem (but they're doing something about it)
Like many other places across Asia, Bali has been littered with trash and often been described as "not the paradise it once was", but ever since the plastic-free movement that has been taking over the globe, Bali has since banned single-use plastics. This is HUGE for a destination as popular as Bali and I believe that this move is going to pave the way for many other destinations across Southeast Asia in the future *fingers crossed*.
As for the trash on the island, I believe they have been burning their trash for decades and decades, so I am curious, and hopeful, to see a different method of disposal adopted in the future. Since tourism has picked up, the little island welcomes over three million tourists every year (those were the stats in 2017), and 3.2 million tons of plastic each year alongside locals and tourists. I don't think the locals were able to keep up with everything on top of what they were already consuming, so the trash just grew and grew until it overwhelmed the entire island and a trash emergency was declared. I do think there are steps being made to deal with it in an alternative matter since burning plastic is an environmental nightmare, but as of right now and the time I visited, burning it is their primary way of getting rid of it all and it's one of the main things that you'll smell driving around parts of the island.
If you want to help keep Bali beautiful, you can participate in beach clean-ups, pick up trash along the roads and heavy tourism spots, and dispose of it properly, and take along the right products to help reduce your waste and carbon footprint.
---
9 | the true gems lie in the north
While there are plenty of sites to see around the main hubs of Seminyak, Ubud, and Canggu, some of the most beautiful waterfalls and excursions are in the northern parts of the island. Mt. Agung, Mt. Batur, Sekumpul Waterfall, Banyumala Twin Waterfalls, and more are all found up north, a few hours away from all the shopping, cafes, and surf spots, but well worth a visit as they will make your entire trip. If you do want to make it out to all these places, I recommend you spend a couple of days in a small village up north, like Munduk, so you don't have to constantly drive back and forth for hours on a scooter (and you won't have sore buttcheeks). There are a lot fewer tourists up in these parts and you'll get to relish in traditional Balinese architecture that doesn't have a 7/11 right next to it. To me, this is the most beautiful part of Bali and it should be at the top of your bucket list for this island. There is so much to do on this little island, so I recommend getting familiar with a Bali Travel Guide and getting lost!
---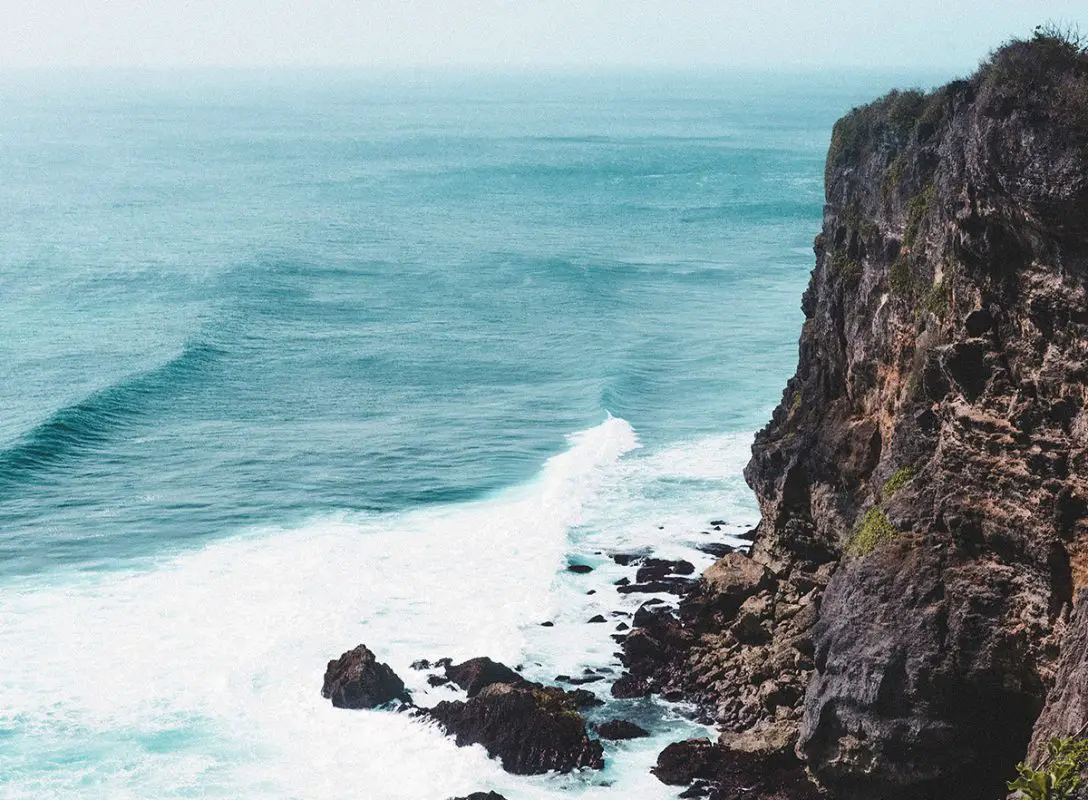 10 | If you need to get from a to b, anyone can take you there… literally anyone
I remember when I was renting my scooter and extremely anxious about driving it when I watched four small children packed onto a scooter drive by going around 35-45 mph (65 kph)… I thought to myself, "if that small child can drive this thing, so can I". Turns out I couldn't and I ended up wrecking my scooter, but I did meet a nice local that offered to drive me around for the rest of my trip. This is how it goes for anywhere in Bali. If you need to get from a to b, go across the island, get to a ferry, anything, someone's cousin's brother's sister's son can get you there. Even if you're not sure who to ask, chances are someone is going to come up and ask you where you're going and how you're getting there. It's not to be nosy or make small talk, they probably want to take you to where you need to go (for money of course). A lot of the locals in Bali make their money from being drivers/tour guides, so even if you aren't comfortable driving a scooter, hiring a local is a great way to meet a new friend and get a sneak peek into hidden locations.
If you're certain on driving yourself, it's best to know how to get from one larger city to another, like Canggu to Ubud, Ubud To Amed, and Kuta to Canggu, so do some research before you go so you don't end up with that infamous Bali kiss on your leg.
One day, after a hectic day of chasing waterfalls around Bali, I was able to meet my drivers family and they cooked dinner, breakfast, and made tea for me and didn't even make me pay for it, even after I had insisted that I did. One of the most memorable parts of my trips was sitting down and watching the sun rise over northern Bali while sipping on tea and making small talk that included lots of hand gestures and some broken English. It was incredible and all thanks to a driver that happened to notice my gnarly burn on my leg and offer to drive me to my location.
---
11 | kopi luwak coffee isn't worth it at all
When I first heard about kopi luwak coffee, it was from one of my favorite movies and described as, "the rarest beverage in the world" and apparently the best coffee in the world, but since I am no beverage expert, I can confirm that kopi luwak is in fact NOT the best coffee in the world and the way they get it is entirely unethical and horrible for the animals. If you're not familiar with kopi luwak, it's this extremely expensive coffee that they get from a small animal called a civet (like a raccoon/ferret type of animal) that eats the coffee beans and they come out in their poo partially digested… (hence the pretty penny for a cup of this stuff). From there they get the beans, clean and roast them, and then the coffee is made. Apparently, it's supposed to enhance the beans and it's supposed to be this magical experience, but honestly, it wasn't life-changing and I have had better coffee in other places.
As for the ethics side, these little animals are exploited just to produce the coffee. A lot of places around Bali will claim themselves as being 'sanctuaries' for these animals claiming that the animals are injured when really they hold the animals captive so that they have a higher yield of coffee for tourism. This is bad in a number of ways, mainly the animals being exploited of course, but if the animals are under intense amounts of stress or other artificial circumstances, then it drastically alters the taste and quality of the beans, so really you're not even getting traditional tasting kopi luwak if the animals are exploited. It's a lose-lose. Hundreds, if not thousands, of people, visit these coffee plantations each day, so it really made me wonder how they find it all in the wild and still have enough to have bags and bags of the beans in their shop. The reality of it is, they don't find it in the wild, they just pretend to.
While I was touring around Ubud, I specifically told my guide that I didn't want to go to a place where the animals were abused and locked up. He insisted that they weren't and that we were going to a good place, but once we arrived, sure enough, the animals were kept in glass display containers. I was a brand new traveler at the time and I was anxious to speak my mind and not go through with trying the coffee, so I ended up getting a cup for my guide and me to share. I knew it was wrong when I went through with it, and ever since then, I always make sure I do my research so that I don't support unethical animal practices. This was a learning experience for me for sure and will never support something like that ever again.
There is tons of great coffee in Indonesia that doesn't come from the suffering of animals and that is worth the money supporting local people and not malpractice.
---
12 | you're going to encounter a lot of different *ahem* toilet situations
Ah, yes. I remember my first squat toilet encounter. I had just spent my morning soaking up some rays at the Banyumala Twin Waterfalls and waited a bit too long to use the restroom, walked forty-five minutes in the wrong direction, passed by some extremely confused locals, and finally came full circle to the bathroom which just so happened to be a nice little hole in the ground. I guess I didn't know that Indonesia was equipped with these since I gave an incredibly surprising look at this new toilet set up that I had never seen before. There was a huge bucket of water next to it with a plastic paddle to scoop in it and I just remember being so bamboozled by this, but I eventually figured it out (eventually – this takes some getting used to).
You really don't need to worry about encounter these every single time you need to use the restroom though, but at this point, I have always learned to proceed with caution, preparation, and base it off surroundings. The more built up places generally don't have these, but the more remote and local you go, the higher your chance of encountering one is. Let's just say that you'll experience a ton of different situations but it's best to be prepared with the dynamic duo: toilet paper and hand sanitizer.
---
13 | despite how small the island look, it takes a while to get to certain areas
I think the idea of living the island life makes it seem like you can get to anything in under twenty minutes, but the transit times in Bali shocked me just as much as they did in the Philippines. Everyone drives a scooter there besides taxi drivers and some tour guides and there aren't really any road laws in place, so what you have essentially is a free-for-all on the roads to get from one place to the next. The traffic tends to get bad similar to rush hour here in the states, in the morning and around evening (sunset time roughly), but the roads tend to stay poppin' pretty consistently. On top of all that, the roads never exceed two lanes across the entirety of the island, except in the really southern half near Uluwatu on this one major bridge/highway, so don't expect Google Maps to give you an accurate read on anything regarding how long it takes from a to b, because it all depends on the where you are, the time of day, and the road conditions: all of which are up in the air at all times. For example, I was driving from Canggu up to Munduk in the north, and it was estimated that I would arrive in 1.5 hours when really it probably took a whole extra hour to get up there since we were stopped in traffic, and the roads get a little crazy up there.
Just remember to plan to arrive a bit earlier than you intended and you'll see fewer crowds and get to places on time.
---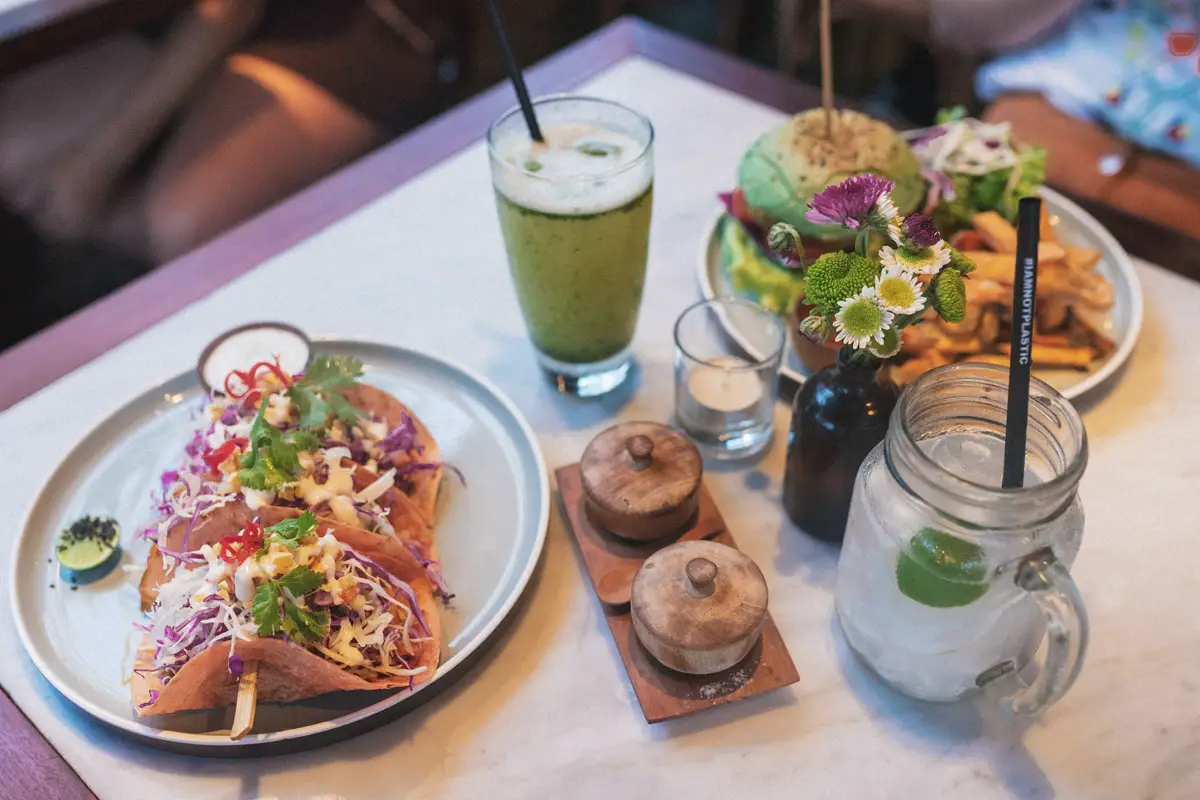 14 | the food is truly next level
Not to be over the top, but practically everything I ate here was one of the best meals that I have ever had in my life, and I grew up with a chef as a dad. If you're vegan like me, this is going to be a paradise for you. I had a gyro burger, pulled jackfruit tacos, nasi goreng, coconut ice cream, about a thousand acai bowls, blueberry pancakes, curry, noodles, smoothies, juices, everything was so incredible and you can tell that each restaurant or cafe owner put so much time and effort into the details of the food and your experience while you're there. You know when you find an artsy and incredible local restaurant near your hometown and you want to eat there every single day until you're sick of it, that's what going to Bali is like, except practically every restaurant is that good. I went back to multiple restaurants just to try to get through a portion of the menu because 1. I'm not used to having so many options and 2. I could have ordered the whole menu to myself if I could. I think I had a fine balance between the 'trendy' cafes and local foods and in all honesty, I still dream about the gyro burger that I had almost two years ago.
---
15 | A lot of travelers live here or are spending over 3 months on the island
As of recently, it seems as though everyone is packing up all their things and heading over to Bali either semi-permanently or for a few months, and rarely just for a couple of weeks. Commonly, there are families and other travelers that do pass through, but while I was there it seemed like a lot of people choose to base themselves in Bali. It's cheap to live there for the luxury you receive. There are great modern cafes with wifi. It's beautiful (duh). There is a community of nature lovers, surfers, foodies, photographers, and other travelers. It has this vibe and feel that no other place in Southeast Asia has. Bali is a place for creatives, wanderers, dreamers, adventurers, and many people find some of their best friends/group here. It's pretty clear that everyone loves Bali, and once you visit you'll know why.
---
16 | Bali is a place for all types of travelers
Generally, when people consider a new destination to travel to, it's all about where their budget is and what destinations fall under that category. For Bali, you can travel on a shoestring budget or you can have the ultimate luxury getaway and everything in between. If you like to party, Kuta has incredible nightlife. If you love culture and art, you'll fall in love with Ubud. If you love offbeat adventures, Munduk is a beautiful town right below the mountains. If you want to stay in a luxury villa with an infinity pool, you can. If you want to hostel hop and survive off street food, you can. There do tend to be different niches and groups of people that gather and adventure together, but if you're truly trying to find a tribe of people that will take you in and make you feel like home, you'll easily stumble across even just one person that will stay a part of your life forever.
When I first traveled to Bali, I didn't quite know what to expect in the social atmosphere, but I am grateful that I was able to connect with people that adore traveling, healthy eating, and adventure just as much as I do. I still talk to the people that I met quite regularly and really cool seeing where else they travel to and having friends that live all around the world.
---
Have you ever had a first impression about a country that changed? Share with me in the comments below!
Aaren
Did you enjoy this post? Save it for later on Pinterest!