(Last Updated On: 08/01/2022)
The Ubud Sacred Monkey Forest is one of the top destinations when Bali travelers pass through this peaceful, artistic town. It's a fenceless forest that is home to over 600 monkeys that swing in the trees and have been photographed thousands of times, and for good reason. If you're considering going, don't hesitate to mark off an hour or two in your itinerary to see this place. There are endless quirky and picturesque photo opportunities, so I have included a small gear and photo guide along with this. A big part of the forest is keeping you and your belongings safe, so I will be touching down on some general safety tips as well so you don't end up with your things stolen. This is a wonderful experience to have, and by abiding by the rules and respecting the monkeys, you'll ensure that you make the most out of the forest.
This post does contain affiliate links for the products I mentioned, but as always, all opinions are my own. I make a small commission, at no extra cost to you, when you make a purchase or booking through these links. This helps to support this space and keep me blogging, which I am so extremely thankful for.
---
General Information
When To Get There: Early wouldn't hurt, but you're able to get solid photos of the monkeys no matter what time of day you go. It all really depends on if you want there to be more or fewer people. If you plan on getting candid photos, try and go earlier so there isn't as much static in the background of your photos.
How To Get There: From Canggu, it's going to be around a 40-minute scooter ride. You're able to pop it into your GPS and that'll take you straight there.
If you're going from Kuta, it's going to be around 50 minutes to an hour depending on traffic.
If you're coming from Ubud, you're in luck, because it'll only take you 5-10 minutes to get to the entrance depending on where you're coming from.
Entrance Fee: 50,000 IDR (~$3.29 USD)
What To Bring: camera bag (or regular day pack), camera & accessories, cash for the entrance fee and monkey feeding activity, and hydro flask.
What To Wear: pretty much whatever you want except avoid wearing jewelry, sunglasses, and other accessories that will be easy for the monkeys to steal (yes, they will steal your things lol).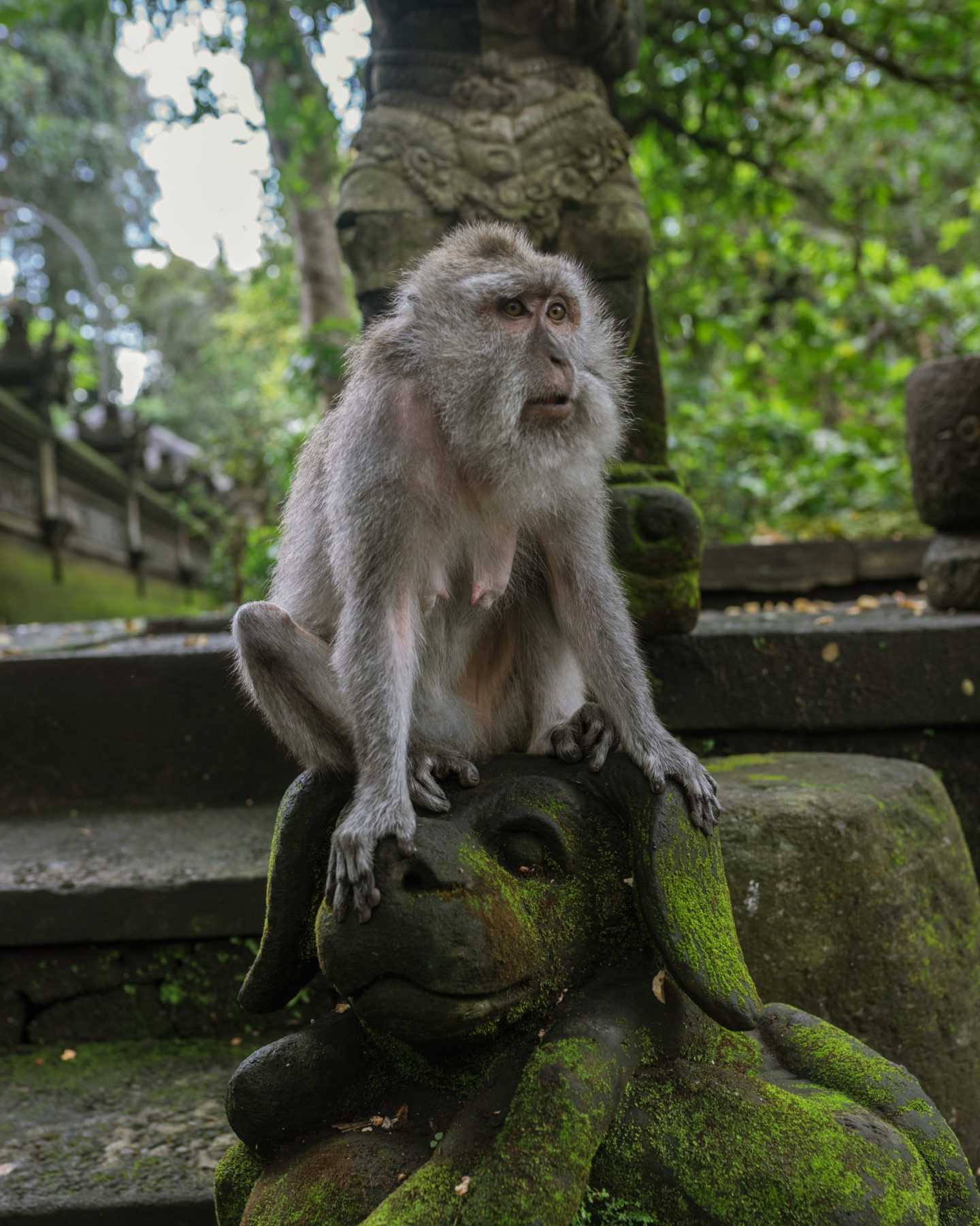 For Your Safety
Prepare Before You Leave – Don't bring anything that would hang off your body such as jewelry and sunglasses.
Pack Your Bag Safely – Make sure you empty all of the outside pockets of your bag and lock up the zippers.
Save Snacks For Later – With the monkey's heightened senses of smell, your snacks in your bag are going to be a blinking target on their radar. Eat before you arrive or save the snack for when you leave the forest.
Don't Buy The Bananas – When you enter, there will be a lady selling bananas that you are able to purchase and I highly recommend not doing this no matter how close you want to get to the monkey. People have been bitten or attacked by monkeys by tempting them to jump on their shoulders or head and this has caused aggression in the monkeys and people have been bitten; just don't buy the bananas lol.
Remember They Are Wild Animals – This is a huge one. While the forest has been turned into a tourist destination, this does not mean all of the monkeys are chill and peaceful.
Don't Touch The Monkeys – Aside from them jumping on you (if that happens), do not in any way try to touch the monkeys. Like I mentioned above, they are wild and you don't know the behavior of every single one. One did end up jumping on me, but he was harmless and just interested in my camera bag.
Abide By The Rules – Follow this one, and you will have smooth sailing throughout this entire experience. They will notify you of the rules upon arrival, but some are listed in this post, but it will be a good reminder whenever you arrive by reading their rules before entering.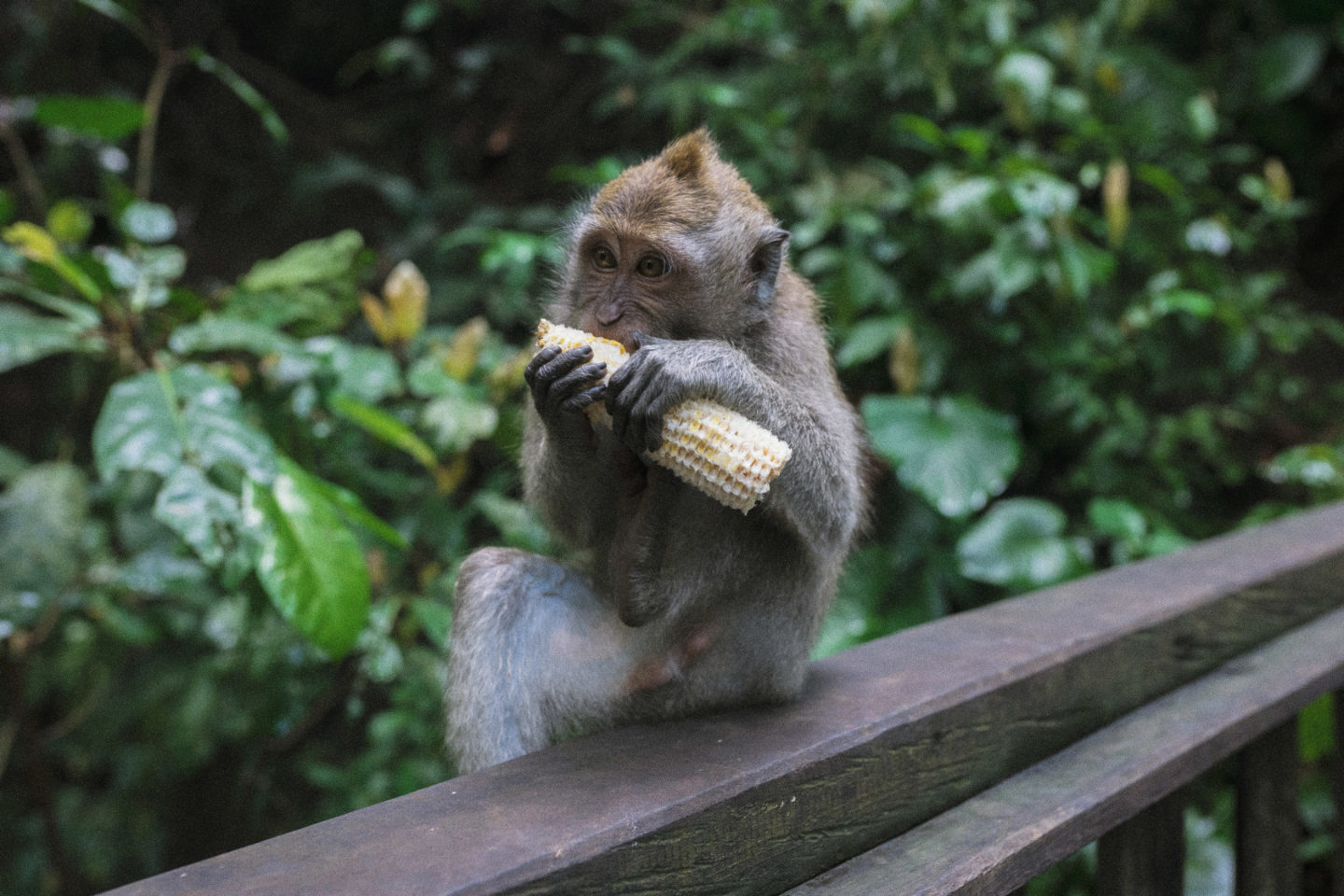 Photography Gear Guide + Photo Tips

One of the most exciting parts of visiting this sanctuary is that you're going to get some frame-worthy photos that you'll look back on for the rest of your life. Remember that these are still wild animals, so you'll need to maintain distance and get your shutters ready because you never know when they're going to hop back into the trees above. A lot of them hang out and are relatively unbothered by visitors, but you may get a couple of little guys that are interested in your camera. I have listed below the essential things to bring on your visit so that it flows with ease. You'll want to carry as little as possible, but if you have other traveling plans that day, make sure everything is in the inner pockets of your bag.
Basic Photo Tips
– Wear neutral and lighter tons to stand out from the explosion of green in the background –
– Use a lens with a larger focal length to achieve that dreamy bokeh in the background of your photos –
– Focus on all of the scenery to play around with and see what you can create around the monkey as well –
– Be aware of your surroundings and your subject while shooting (this is more of a safety tip) –
 – There is plenty of beautiful, natural lighting here, so you're not going to need a flash (unless that is your preferred style). However, I am not sure how the monkeys would react with them (aka be cautious) –
Camera
Bring your go-to daily camera, but make sure you have a neck strap for extra safety from the monkeys (I haven't heard of anyone getting their heavy camera stolen, but make sure you keep it close to your body when you're not using it. I use the Canon 5D Mark III, but bring whatever camera you have and are most familiar with. I listed a few below that are great for more experienced, beginner photographers and for those of you who are looking for something compact enough to take anywhere.
Lenses
Making sure you have the best lenses in terms of what you're shooting is going to make your day one thousand times easier. I found that using lenses with a wide range of focal lengths (50 and above) are the most valuable for this experience because anything lower is going cause you to get extremely up close and personal with the monkeys (some of them can be aggressive), and with the flexibility of having multiple shooting lengths, you're going to be able to go from shot to shot with ease. The lenses I listed below have various f-stop values that you are able to choose from based on your price point. For this experience, I would recommend the Canon 24-70mm 2.8L USM lens and the Canon 50mm 1.4 Prime Lens.
Accessories
You really only need a couple of things here, so the less you take the better. Tripods aren't necessary since you'll be constantly walking around and with a versatile lens, you may only need to bring one or two depending on your style and the look you're going for. I have listed a couple of extra things to bring along to make your photography experience a little easier.
This post does contain a few affiliate links. This comes at no extra cost to you but helps pay my hosting and other fees to keep me blogging.
---
MORE GUIDES FOR TRAVELING BALI AND AROUND ASIA:
– 30 Travel Essentials For Backpacking Southeast Asia
– 21 Genius Tips For Traveling On A Budget
– The Top 25 Safety Tips For Solo Female Travelers
OTHER USEFUL BALI GUIDES:
– 16 Things That Surprised Me While Traveling Bali
– The Ultimate Packing List For Bali, Indonesia
– The Mistakes I Made In Bali + What I Would Have Done Differently
– Explore Banyumala Twin Waterfall In Bali
---
I hope these tips gave you a little more insight and helpful resources for having the perfect trip to the monkey forest. This will easily be one of the most notable times to your trip to Bali, so relax, enjoy, and get those amazing shots.
Aaren
– Pin On Pinterest –