(Last Updated On: 03/06/2023)
Bursting at the seams with lush rain forests, remote rice terraces, century-old temples, and an overarching sense of tranquility, an Ubud itinerary is a MUST during a trip to Bali. Since the 1930s, Ubud has been Bali's cultural hub and it's easy to see how that came to be in a place so picturesque.
Nestled in the mountainous region of the island, spending 3 days in Ubud will be nothing short of a spontaneous and soul-searching adventure.
This travel guide has it all: the best things to do and see in Ubud, how long to stay, where to stay, when to visit, extra things to explore, a free downloadable map, and A TON of helpful links to help you plan your trip in the most seamless way possible.
Use all my best travel tips to plan the perfect Ubud itinerary! As always, I've added other recommendations and options so that you can cater this itinerary perfectly to your preferences and interests.
This post may contain affiliate links for the products I mentioned, but as always, all opinions are my own. I make a small commission, at no extra cost to you, when you make a purchase or a booking through these links. This helps to support this space and keep me blogging, which I am so extremely thankful for.
---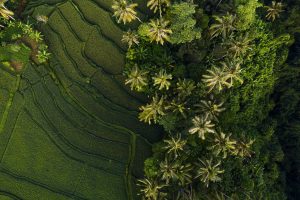 Things To Know Before Visiting Ubud, Bali
DON'T UNDERESTIMATE TRANSIT TIMES | The traffic in Bali can get crazy, especially at midday. Transit times are estimated, but aim to leave early and allow more time between activities.
START YOUR DAY EARLY | This is to avoid traffic, but also to avoid crowds as well. Not to mention the fact that the sun sets in Bali at around 6:00-6:30 pm, so get a head start so you can see more.
YOU CAN'T DRINK THE TAP WATER | I learned this the hard way after getting a parasite, so be sure to never drink or brush your teeth with tap water by sourcing filtered water. Bottled water is safe, but I recommend bringing a filtered water bottle to reduce plastic waste.
WATCH WHERE YOU STEP | Canag Sari are small offerings to the Balinese gods and goddesses. Don't step on or over them since this is considered disrespectful, especially if the incense on them is still burning.
---
How To Spend 3 Days In Ubud
This Ubud itinerary focuses on hitting two main areas of central Bali: the heart of Ubud and what's nearby, and gems nearby you cannot miss. There are SO MANY amazing things to do in Ubud, so while I've suggested what I believe to be worthwhile, I've also listed other great spots to see at the end of this blog post in case you're eager to see more or if you want to swap out some sights for certain days.
Because trust me, I've come back from trips and discovered other locations that I had no idea about and came down with some serious FOMO, so don't forget to check out that list for more ideas!
During these three days in Ubud, you'll see some of the most jaw-dropping waterfalls you've stood beneath, discover sacred temples, walk through a UNESCO World Heritage Site, and truly immerse yourself in what makes this area of Bali so remarkable, OTHER than its world-renown cameo in the popular film, Eat Pray Love.
So without further ado, let's dive in and discover one of my favorite areas of Bali.
UBUD ITINERARY NOTE | There is SO MUCH to see in Bali that you cannot tackle all of it in one go. For this itinerary, I kept it central-ish to Ubud because chances are you're on the island longer than just a handful of days and have other stops in mind. If you're only visiting Ubud, jam-pack your plans as much as you can with some extra ideas listed at the end of this blog post!
Use this map to help you navigate this 3-day Ubud itinerary! For best use, download this map to your smartphone so you can use it offline (instructions here).
---
Ubud Itinerary | Day 1: The Heart of Ubud
The first day of this itinerary begins with a sunrise mission to the Campuhan Ridge Walk. Then, spend the rest of the day exploring the heart of Ubud at the Sacred Monkey Forest, Art Market, Ubud Palace, and Saraswati Temple. End the day on a quiet and scenic rice terrace to get away from all the crowds.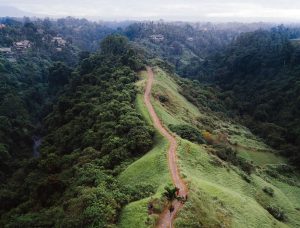 Campuhan Ridge Walk
There is no better place to watch the sunrise in Bali than on the Campuhan Ridge Walk. This is a nice stroll on a ridge that takes you over rice terraces and fields of swaying palm trees. Even though it's very close to the city center, you will feel as though you've escaped the hustle and bustle and planted yourself right in an off-beat part of Bali. You can walk as short or as far as you'd like, but I recommend going all the way to the end to get all the views.
To get to the beginning of the trail, on your scooter or if you're walking, head towards the Warwick IBAH Luxury Villas and Spa. Once you arrive you'll see a split in the road. The right leads to the villas, marked by UBAH, and the left leads to the Campuhan Ridge Walk. Go left then you'll come across a small bridge with scooter parking on one end and a set of steps at the other.
You'll know you're at the bridge when there is a no parking sign and a white "Campuhan Ridge Walk" sign next to the steps. The path passes a Balinese temple, then continues into the ridge walk.
Address: Google Maps | Cost: Free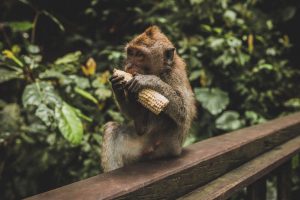 Sacred Monkey Forest
Bright and early, head to the center of town to the Ubud Monkey Forest Sanctuary.  This Hindu Temple was built in the 14th century and is divided into three separate temples: Pura Dalem (to worship Lord Shiva), Holy Water Temple, and the Cremation Temple.
You cannot enter the worshipping areas of the temples since they are only for traditional Balinese prayer, but the grounds are open for you to roam around.
The grounds cover about eight acres of land that are filled with lush forest, stone sculptures, and around six hundred semi-free-roaming monkeys. While the monkeys are harmless, be sure to brush up on the visitor guidelines so you can visit safely.
In terms of ethics, this place is a little bit tricky for me to pinpoint. I am a firm believer in responsible tourism, so I wanted to help you be informed so you can make the choice that best suits you.
On one side, the monkeys are in a protected area. If they were left free to roam in the heart of Ubud, I think there would be a lot more issues, especially with tourists. However, the monkeys are fed by the forest employees and visitors and threatened with slingshots if they try and leave the grounds. I don't know that I would visit again, but to be as respectful to the monkeys as possible, enjoy them from afar, don't feed them, and be mindful of the rules to avoid any disruption.
GOOD TO KNOW | The monkeys in the temple are known for being thieves, so make sure you don't have anything loose dangling anywhere like jewelry, sunglasses, keychains, etc. Also, be sure to empty your bag of any snacks that they may be interested in.
Address: Google Maps | Cost: 80,000 IDR ($5 USD)
Ubud Art Market
The Ubud Art Market is one of the many quintessential Ubud tourist destinations that was featured in 'Eat Pray Love'. The market is filled with local vendors selling everything from classic Balinese rattan bags, dresses, sarongs, artwork, and sculptures.
You could easily spend half a day exploring, practicing your bartering skills (mine definitely need some work), and talking with all the different vendors in the market. The market is open from 8:00 am – 6:00 pm, giving you plenty of time to wander through and find something you love.
I found there are other markets to find cheaper, better-quality souvenirs since it can get pretty touristy here. I tend to gravitate towards paintings and jewelry to bring home as more sustainable souvenirs, but you may find it interesting to give the market a walkthrough yourself to decide.
If you decide to venture elsewhere for a meaningful souvenir, the Sukawati Art Market and Celuk Village are two great spots worth checking out.
GOOD TO KNOW | Most people head to the art market in the late afternoon, so expect it to be busiest after 1:00 pm. You can expect cheaper prices either in the morning once it opens, or closer to when they close. Also, note that many shops will sell similar items, so do a walk-through first and then revisit to make your final purchases.
Address: Google Maps | Cost: Free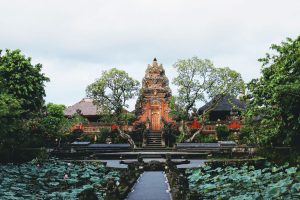 Ubud Palace & Saraswati Temple
Nestled right in the heart of town, the palace is one of the main things to see in Ubud. Standing as a historical centerpiece for the village, Puri Saren Agung (Ubud Palace) was an epicenter for local artists dating back to the 1800s, which is a lot of the reason why Ubud is known for being one of the most artistic places to escape to in Bali.
While this may seem like a massive complex to explore, it's actually fairly small and takes roughly 15 minutes to walk around the entire area.
The real star of this stop is a short walk to Saraswati Temple. Vibrant lotus ponds lining the entrance, intricate architecture filling the courtyard, and a vibrant orange temple entry are just a handle of the things that make this a beautiful photography location. The temple itself is closed to foreign tourists, so this is a quick stop but you'll grab some beautiful pictures and see some of the best stone carvings in Bali.
Address: Google Maps | Cost: Free
Scenic Rice Terrace Walk
After immersing yourself in the bustling heart of Bali, you'll end your day on a peaceful rice terrace walk that's right in town, but tucked away enough that it falls under the radar. You'll be able to enjoy a nice evening walk with dinner along the way at one of the best restaurant views in Ubud at the Sunset Cafe.
I put the walking directions in the free map at the beginning of this blog post, so make sure you download that to help you navigate.
Start: Ubud Palace, End: Warung TJ | Cost: Free | Walk time: 45 minutes
---
WANT MORE HELPFUL GUIDES FOR YOUR UBUD ITINERARY? CHECK THESE OUT:
---
Ubud Itinerary | Day 2: New Heights
Day two of this 3-day Ubud itinerary starts very early with a sunrise trek up Mount Batur. At the top, you'll be able to watch the first golden light of the morning hit mount Agung and Lake Batur in the distance. Relax for the afternoon and then finish up with a traditional Balinese cooking class.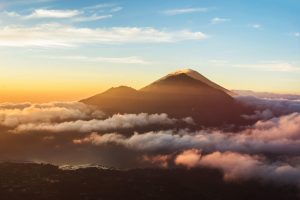 Mount Batur
Day two begins with an early wake-up call at around 2:30 am to start one of the most memorable things to do in Ubud, hike Mount Batur for sunrise. You'll see a variety of trekking companies online, but Bali Sunrise Trekking and Tour have won awards for the quality of their tours and for having the most memorable guides on the island. GetYourGuide is another amazing resource for quality hiking tours of Mount Batur.
Tours start at 750,000 IDR ($50 USD). This price includes a professional local guide, pick-up in Ubud, breakfast, snacks, coffee or tea, flashlights, hiking poles, and water.
You'll start your journey by heading north from Ubud to the base of Mount Batur. Expect to hike 1.5-2 hours both ways, so you'll want to wear sturdy hiking boots. Once you've arrived at the top, you'll spend an hour enjoying sunrise, snacks, and coffee before heading back down the mountain.
The entire tour is around 8-9 hours total, which includes all drive time, hiking time, and a break at the top, putting you back in Ubud by around 9-10:00 am. This makes for a LONG morning, so for this day on the itinerary, the rest of this day is very mellow, so if you're interested in really packing in your itinerary, view the list of more things to see in Ubud near the end of the blog post.
A lot of tours and treks are confirmed via WhatsApp, so I recommend having it downloaded before you get here so you can keep in contact with your guides. It's also great if you meet new friends on the island because this is how most people keep in touch.
OTHER MOUNT BATUR SUNRISE TOURS:
– Bali: Mount Batur Sunrise Trek with Guide & Breakfast
– Bali: Mount Batur Sunrise Hike and Hidden Waterfall
Address: Pick up at your Hotel | Cost: 750,000 IDR ($50 USD)
Authentic Balinese Cooking Class
Cooking classes are one of the best ways to appreciate Balinese cuisine, immerse yourself in the local culture, and show off the cooking skills you acquired once you're back home. Because there is nothing better than being able to whip up nasi goreng and telling all your friends that you learned how to make it in ~Bali~. Moreover, there is nothing better than being able to grub out on a ton of delicious food after busting your ass getting up a mountain.
What is unique about this cooking class is that you get the full experience: you will stop at a local market and rice paddies to learn about the unique ingredients in Balinese food, then whip up all these amazing foods in Laplapan, a small village just north of Ubud.
Another huge bonus of these classes is that because you were introduced to these recipes and ingredients, you'll be able to identify items on the warung menus better, which is a huge plus!
Since you'll be hiking Mount Batur in the morning, you'll have to opt for the afternoon tour, which doesn't include a visit to the market, but the quality of the classes is still worth doing. There are plenty of markets around where I've gotten fresh fruits from, so don't feel this is your only opportunity to visit a bustling market. I actually recommend going to pick up some fruits as snacks between adventures to tide you over for mealtimes!
Address: Pick up at your Hotel | Cost:  900,000 IDR ($60 USD) | Cooking Class: Book Here
Ubud Itinerary | Day 3: Sacred Water
Begin the last day of this itinerary at the Tegalalang Rice Terraces, then spend the day discovering Pura Tirta Empul Temple and four stunning waterfalls: Leke Leke Waterfall, Nungnung Waterfall, Tibumana Waterfall, and Kanto Lampo Waterfall.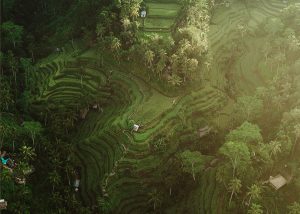 Tegalalang Rice Terraces
The best place to wake up for sunrise in Ubud is at the Tegalalang Rice Terraces. You'll be able to explore scenic rice fields that cascade down to a small stream at the base of the valley. These are best explored in the morning to avoid crowds and to see the most beautiful, golden sun rays pouring through the palm forests surrounding the rice paddies.
On the outside looking in, it looks like a simple stop, but there are actually a lot of interesting spots to consider while you're here. You can easily spend an hour walking around the terraces and get a lot of beautiful views. What most people come here for are photos on the infamous Bali swing and the "I Love Bali" sign. Both of these are considered touristy and instagrammable, but I found the swing to be a ton of fun regardless of its social media status.
While you're here, you can walk down to the base of the valley and follow the river that feeds the terraces to find pockets of solitude. While this area has been commercialized, there are still local people working in the fields that may ask for a donation from you. It's normal to give around 15-20,000 rupiah (about $1 USD), but you can give as much as you'd like.
After you're done exploring, and if you haven't had breakfast yet, there are many cafes that line the rice terraces worth checking out. Or, if you don't mind backtracking, you can check out one of the many amazing breakfast options in Ubud. The Yellow Flower Cafe has some drool-worthy smoothies to pair with their Balinese omelet.
GOOD TO KNOW | If you want to go more off the beaten path, head over to Jatiluwih Rice Terraces! These are the largest rice terraces in Bali that offer a more remote experience and aren't as touristy as Tegalalang. These are situated near the center of Bali so they're not out of the way for the rest of this itinerary and they're a UNESCO World Heritage Site!
Address: Google Maps | Cost: Free
Leke Leke Waterfall
After a jaw-dropping sunrise at the rice terraces, you're going to be heading the furthest out from Ubud on this itinerary to see the stunning, Leke Leke Waterfall.
The sign for the waterfall is right on the side of the road so it's not difficult to locate. Once you're here you'll need to purchase a ticket and then it's a short 15-minute walk to the waterfall. On the way, there is a restaurant you can stop into for snacks or a drink before you head down. Just make sure you take your trash with you and don't leave it in nature.
The trail down can get muddy and slippery so be sure to wear a sturdy pair of shoes with a good grip. Enjoy the views of lush rainforest, a bamboo footbridge, and be sure to stop at Nyomans fruit stall on the way down for a ripe passionfruit or coconut.
After the short walk, you're greeted by Leke Leke Waterfall. There is a small bamboo changing room at the bottom in case you want to go swimming and explore the tiny cave behind the falls.
Address: Google Maps | Cost: 50,000 IDR ($3 USD)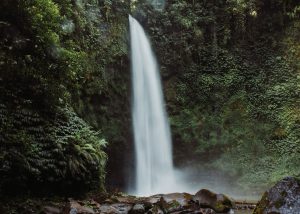 Air Tejun Nungnung (Nungnung Waterfall)
The second waterfall near northern Bali that you'll be exploring is Nungnung Waterfall. This is another one of my personal favorite waterfalls in Bali and this one gets extra brownie points because you can swim beneath it just like Leke Leke, just be careful because the waterfall is very powerful.
For your visit, you'll definitely want a quality dry bag, and a durable poncho if you don't plan on swimming/don't want your clothes to get (as) wet. Just know you'll get sprayed!
The trail to Nungnung takes around 20-minutes to get to the bottom (double that on the way back up) and similar to the previous waterfall, this one also has a small warung where you can pick up a plate of nasi goreng for $1 (one of the major pluses of hiking in Bali).
The trail can get pretty slippery and muddy, especially if it has rained, so make sure to wear sturdy shoes. I tried to hike to the Banyumala Twin Waterfalls in flip-flops and let me tell you that pulling your shoes out of mud every other step was not the best experience, so learn from my mistakes.
Address: Google Maps | Cost/Parking: 22,000 IDR ($1.50 USD)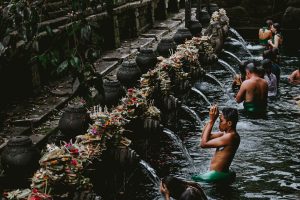 Pura Tirta Empul
From the rice terraces, it's about a 20-minute drive to arrive at Pura Tirta Empul, which directly translates to "holy water spring". It's a temple used for Balinese Hindus to come and use the spring for purification.
Pura Tirta Empul is broken down into three key areas: Jaba Pura (front yard), Jaba Tengah (central yard), and Jeroan (inner yard). If you're here, you're likely coming to see the cleansing pools which are in the central yard. It's two spring-fed pools, each with fifteen showers for purification.
Bathers begin in the left pool, dip themselves under the first spout, then continue down the row of spouts until they've been cleansed by all thirty spouts. It's fascinating to see and then you can continue through the other courtyards to see the source of the spring, statues, and the stunning temple structures that were built around 926 A.D.
One thing to note is that this cleansing ritual is only meant for Hindus. My local guide encouraged me to enter the water, but I didn't due to the infamous 'Bali kiss', AKA a gnarly burn on my leg. I saw many travelers getting into the water and following the ritual, so you may want to ask your guide/a local if this is normal practice now that this temple has become more popular over the years, or if people are just unaware of the religious significance. If you do choose to go into the water, make sure to pack a change of clothes!
GOOD TO KNOW | This is a Hindu Temple, so be sure to dress modestly. You should cover your shoulders and knees. If you don't already have a sarong, you can rent one for a small donation once you arrive. If you are menstruating, you should not enter the sacred site.
Address: Google Maps | Cost: 50,000 IDR ($3 USD)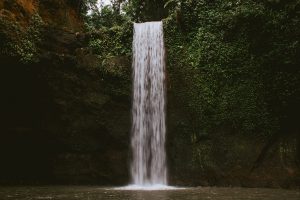 Tibumana Waterfall
After exploring the temple, head back on your scooter and drive about 30 minutes south to Tibumana Waterfall. This is considered one of the most picturesque waterfalls in Bali because the water appears as a curtain falling into a still stream. The area is filled with lush, vibrant jungle, which is the perfect backdrop for a refreshing dip in the pool below the falls.
From the car park, it's around a 10-15 minute walk to the waterfall. You'll come across a mini waterfall first, then walk over a small bamboo bridge to get to Tibumana Waterfall. Be sure to read the rules once you're here and abide by the locals' wishes to keep you safe and this area clean.
If you are eager to see more on this day, consider stopping at Suwat Waterfall or Toya Selaka Waterfall before coming to this one. There are tons of amazing waterfalls in this area, so you could easily spend the rest of the afternoon seeing all of them before you head to the last stop of the day.
Address: Google Maps | Cost: 20,000 IDR ($1 USD)
Kanto Lampo Waterfall
From Tibumana, head 13 minutes south to head to Kanto Lampo Waterfall. If you have worked up an appetite by now, there are a variety of different warungs in the area to indulge in some local foods, or you can eat at the one near the waterfall.
From the car park, it's about a 5-10 minute walk to the waterfall. You'll walk through a bamboo-lined entrance, then follow the carved rocks to the falls. This is probably one of my favorite waterfalls in Bali. How the rocks create a staircase-like path for the water to cascade down is incredible and makes for some stunning photos.
GOOD TO KNOW | A "warung" is a family-owned shop that sells food or meals. They're generally in small kiosks around the road, but they can be in larger buildings as well. If you're on the hunt for local food, these are your golden ticket to a great, cheap meal.
Address: Google Maps | Cost: 20,000 IDR ($1 USD)
---
UBUD ITINERARY OVERVIEW
Here is an overview of what you'll be exploring over your Ubud itinerary. Be sure to download the free map at the top of this blog post to help you map directions up to all these amazing stops!
DAY ONE
Campuhan Ridge Walk
Sacred Monkey Forest
Ubud Art Market
Ubud Palace
Saraswati Temple
Scenic Rice Terrace Walk
DAY TWO
Mount Batur
Authentic Balinese Cooking Class
DAY THREE
Tegallalang Rice Terrace
Leke Leke Waterfall
Nungnung Waterfall
Pura Tirta Empul
Tibumana Waterfall
Kanto Lampo Waterfall
---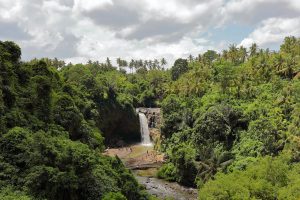 More Things to do in Ubud
LEMPUYANG TEMPLE | Ever since Bali exploded on social media in recent years, this temple has been one of the main reasons why people have flocked here, for a photo at this picturesque temple. Because so many people have traveled to Bali for this, many have claimed that social media has ruined it. You arrive and wait in a line for one of the locals to take your picture and then you're on your way. This is one of the reasons why I didn't recommend this, because there are better things to see in Ubud, and the other reason was that this temple is in the far east of the island, about two hours from Ubud.
Location: East Bali | Time from Ubud: 2 hours
TIRTA GANGGA | This is one of the many water palaces you can discover in Bali. The name translates to "Sacred Water of the Ganges", and it was built in 1947. The original palace was destroyed in 1963 due to a volcanic eruption and then once more in 1979 by an earthquake. Years after these tragedies, the palace was rebuilt true to its original design. Since it's so far east it wasn't included on this list, but I highly recommend venturing out there if you have the adventurous drive.
Location: East Bali | Time from Ubud: 2 hours
TUKAD CEPUNG WATERFALL | Tukad Cepung Waterfall has been crowned one of the best waterfalls in Bali. I didn't include it on this list since it's a little out of the way, but I listed it here if you're really adventurous and want to squeeze it into your Ubud itinerary. Hike up a stream and into a secluded cave with a sunlit waterfall pouring over an open rock face.
Location: East-Central Bali | Time from Ubud: 48 minutes
TEGENUNGAN WATERFALL | When I visited Ubud, I wasn't too excited about visiting this waterfall. Mainly because I had gone after a spout of rain or flooding so the water was a murky brown and so swimming below the falls was a no-go for me, but this is an easy addition to your itinerary if you want to see as much as you can. I left it off because I think there are better waterfalls to see and it's become pretty touristy (not in a good way).
Location: South Bali | Time from Ubud: 18 minutes
PURA GUNUNG KAW SEBATU | This 11th-century temple is dedicated to the Hindu God of Water, Vishnu. The temple was built on top of a natural spring and the water has been used for purification rituals for many centuries. Discover Balinese wood carvings, bathing pools, and intricate shrines, as you walk through the peaceful courtyards. This temple is a lot quieter than many others in the area, so it's a nice escape from the tourism bustle.
Location: Central Bali | Time from Ubud: 23 minutes
GOA GAJAH ELEPHANT CAVE | Goa Gajah was built in the 9th century and the true purpose of its construction is unknown. It was believed that the open-mouthed figure you enter to get inside the temple was what inspired the name 'elephant cave', but other sources have stated that it comes from the stone statue of the Hindu God Ganesh (that has the head of an elephant) that's located inside the temple. This is a Hindu Temple, so dress modestly and bring your sarong. If you don't have one, the entry fee to the temple includes a free one for you to rent.
Location: Google Maps | Time from Ubud: 11 minutes
YOGA CLASS | Did you ~REALLY~ go to Bali if you didn't enjoy a yoga class or two? Ubud is an amazing hub to visit a yoga studio and discover why so many people flock here for peace and tranquility. There are many amazing studios, but Intuitive Flow seems to take the cake for being THE spot to go to among the travel community.
Location: Intuitive Flow | Time from Ubud: 3 minutes | Book your spot
How long should you stay in Ubud?
As this itinerary suggests, three days is an optimal amount of time to spend in Ubud, but I believe more is always better. Whether you're visiting Ubud as part of a larger Bali itinerary or visiting as a short getaway, this will give you enough time to explore the main sights in town and explore more of the surrounding area.
Ubud is an amazing base camp for exploring a lot of areas of Bali, so you can always base yourself here, then rent a scooter to head to Munduk in the north, or Canggu in the south if you're spending more time in Bali.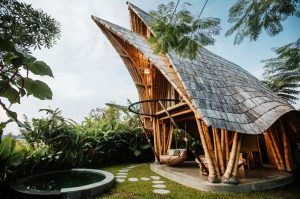 photo courtesy of Rescape Bali
Where To Stay in Ubud
Ubud is packed with some NEXT-LEVEL places to stay no matter what type of trip you're taking; a luxurious honeymoon, a budget solo trip, or if you're traveling to Bali with a family. One of my favorite aspects about traveling here is that no matter how much money you saved for travel, you can have a memorable experience.
UBUD TROPICAL | This is the property where I stayed in Ubud and it was the perfect, quiet sanctuary just a short walk away from the heart of town. These are glamping-style tents that make you feel immersed in the Balinese jungle. Dorm-style tents are an amazing budget option, or you can book private tents for just a little bit more. Ubud Tropical is an excellent option for couples or solo travelers that prefer a relaxing stay over a traditional hostel.
BALI BAMBOO HOUSE | One of the most popular places to stay in Ubud is this unique bamboo villa nestled in the jungle. It's a short drive into town, but worth it if you want a unique stay away from the bustle of downtown. You can wake up overlooking rice terraces, enjoy an outdoor shower, and take a dip in your own private pool complimentary with your stay. This is the perfect option for couples and young families. If you're hostel hopping as a solo traveler, this is the perfect booking for a night away for yourself to take a break.
UDAYA RESORT | Flower baths. Aesthetic breakfasts. Luxurious design. This is the definition of a picture-perfect place to stay in Ubud. If you're going on a honeymoon in Ubud, THIS is where you want to stay. It's just north of town, so it's a peaceful and quiet getaway. Plus it comes with a spa and wellness center, free shuttle service, airport shuttle, private balcony, free wifi, and a variety of other amenities.
How To Get To Ubud
From the Ngurah Rai International Airport (Denpasar Airport), there are a variety of ways you can get to Ubud.
Once you exit the airport, there will be plenty of people waiting to ask you if you need a ride or taxi to wherever you're going.
Something I wish I would have done was to have already booked a ride in advance so that I didn't have to worry about finding my own ride. After a 24+ hour travel day, the last thing you want is to barter with someone about a ride, trust me.
From the Denpasar Airport, it's around 2-3 hours to Ubud depending on the traffic and the traffic can get pretty bad all over the island so plan to run on island time when you arrive. If you're coming from Canggu or Kuta, it's about 1-2 hours. Google Maps says about 50 minutes, but that is never right due to traffic most of the time.
How To Get Around Ubud
MOTORBIKE | A motorbike or scooter rental is one of the best ways to get around the island and they're only going to run you around 50,000-70,000 IDR (~$5 USD) a day. It's important that you follow safety rules like wearing a helmet and having an International Driving Permit.
A lot of people get away with renting without them, but they're important to have. If you're not comfortable driving a scooter on your own, which I don't blame you for since traffic can get crazy in Bali, you can hire a private driver.
If you want to have fewer worries when you arrive in Ubud, you can rent your scooter online and have it dropped off at your accommodation. Otherwise, you'll have to stop at a local rental place and pick it up yourself. The pro to the latter choice is that you can haggle the price, but do whatever you're most comfortable with.
PRIVATE DRIVER | These are the perfect option for getting around Bali if you aren't comfortable driving a scooter around or if you don't want to hire a private tour guide. Private drivers are different from tour guides because they only serve as a driver, whereas a tour guide will show you around on a preplanned itinerary.
As a solo female traveler, having a private driver is nice because they know their way around, can navigate traffic, and know the local language. They can also serve as a built-in photographer which I found to be rather helpful.
TOUR GUIDE | If you want to hire a tour guide to help you immerse yourself in Balinese culture, a tour guide is going to tell you stories, facts about local life, and give you the best, most immersive experience during your time in Bali.
The best tour guide on the island is Panca. He's a reliable guide that will have you smiling your entire trip. The best way to reach him is on WhatsApp, at 62-812-360-6239, or you can message him on Instagram, @BaliCustomizedTours.
---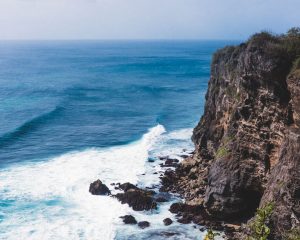 When To Visit Ubud
The temperatures in Bali stay the same year-round, floating between 82-90 degrees, so your trip is dependent on either the wet or dry season. I visited Bali in September, at the tail end of the dry season, and found the weather to be perfect for all of my outdoor adventures.
Keep in mind the most popular times to visit Bali are July, August, Easter holidays, and Christmas to the New Year. If you want to avoid crowds, aim to plan your trip around these key times.
I recommend April, May, June, or my personal favorite time to go, September.
DRY SEASON | This season runs from April to October. It's a great time to visit if you have a lot of outdoor activities planned like hiking Mount Batur, visiting temples, or going on waterfall tours. Since the weather is so favorable, prices tend to run higher during these months, but because Bali is so cheap overall, it won't make much difference if you choose to book in the off-season.
WET SEASON | From November to March, the island heats up and chances of rain increase dramatically. The odds of getting caught in a downpour are higher during these months, but most of the time it'll be a quick pour in the afternoon and then back to sunshine, like on many tropical islands, so don't let it deter you from booking a trip. There are a variety of Balinese holidays and festivals this time of year, prices on accommodations and tours are going to be cheaper, and there will be fewer tourists here, so this could be a great time to visit depending on your travel preferences.
---
MORE GUIDES FOR TRAVELING TO BALI AND AROUND ASIA:
– 30 Travel Essentials For Backpacking Southeast Asia
– 21 Genius Tips For Traveling On A Budget
– The Top 25 Safety Tips For Solo Female Travelers
OTHER USEFUL BALI GUIDES:
– 16 Things That Surprised Me While Traveling Bali
– The Mistakes I Made In Bali + What I Would Have Done Differently
– Tips For Visiting Ubud's Monkey Forest + Photography Guide
– Explore Banyumala Twin Waterfall In Bali
---
WHAT ARE YOU MOST EXCITED TO SEE ON THIS UBUD ITINERARY? SHARE WITH ME IN THE COMMENTS BELOW!

DID YOU FIND THIS GUIDE TO 3 DAYS IN UBUD USEFUL? SAVE IT FOR LATER!