(Last Updated On: 21/03/2020)
As someone who prioritizes investing my money into nice equipment, it wasn't feasible for me financially blow a lot of money on multiple lenses over the last year. September was the start of this whole blogging/traveling/photography journey and I knew that I wanted to invest in something nice for myself. I am very selective in my lenses and I like to do lots of research to ensure that I don't buy something that doesn't suit my needs as a photographer and so on. Before I left for my trip to Bali, I purchased this lens because I had seen the beautiful work it produced and I knew that I needed to add it to my gear. This was the first "professional" lens that I ever bought, and while it was hefty in price, every single cent was worth it. I have adored this lens from the second I tested the focusing when it first came in the mail and I knew that it was going to stay on my camera for a long time, and it clearly has.
If you're a new photographer looking for something nice in quality to upgrade to, or if you're just looking for the challenge of only carrying a prime lens around, the Sigma 35mm f/1.4 DG HSM Art Lens is perfect for you. It has been the lens that has helped me create my art and share it with you guys and the rest of the world, so I only felt it necessary to write about how it challenged me and how it helped me grow as a photographer.
---
Why I Chose The Sigma 35mm f/1.4
I had followed a couple of my favorite photographers/creators for about a year or so, and I always wondered how they were able to achieve such crisp, smooth images in their photos no matter what the subject was. After revealing that one used the Sigma 18-35mm and the other used the Sigma 35mm Prime, I knew that this was something that needed to be added to my bag. At the time I had my old Sony Alpha A7II in my gear bag with a regular kit lens, I believe it was a Sony 24-70mm f/1.8, but I never had that wow effect on my photos like I had always wanted. I didn't feel challenged with the versatile focal lengths and overall, it wasn't feeding my creative energy. For this reason, I debated having a multi-focal length lens long before I chose a fixed one because I knew I wouldn't have the leisure of just zooming in to get the shot that I needed, but I also knew that in having only a standard 35mm that it was going to force me to get creative with my photos.
I feel that a classic 35mm lens is something that everyone should carry around; especially the quality of Sigmas. I loved the look of having a crisp focus with a relatively blurred background. It has a timeless look to it that I have always adored. However, my interests have peaked more into higher focal length ranges that bring the background closer to the subject that produce a higher size contrast. I have been OBSESSED with those photos recently and I can't wait to add that special lens (whatever I end up choosing) to my gear bag.
Do I regret making this purchase? Absolutely not. As I continued to learn more and more about photography (and still do), I think this was the best decision I made for myself. It has forced me to get uncomfortable, think about what I am shooting, and find other alternatives for what would have been an easier shot had I had zoom capabilities.
---
The Challenge Of A Prime Lens
There were definitely many times where I was saying to myself, "I really wish I had a (insert certain lens or focal length here) with me for this shot", but I also always said, "what can I do with what I have?", and "how can I make this shot different and still unique?" Of course, I had times where I thought that I needed a certain lens to achieve a certain photograph, and I did for different concepts and emotions, but overall I have photos that I love to look back on, and I am proud of that.
I started to feel held back in a way on my last trip to Scotland when I couldn't fully bring my ideas into my own hands, literally. This was different from all the other times during my travels because it was on this trip that I actually had ideas in my head that I knew I would need a certain focal length for. Previously it was more like, "It would be nice if I wasn't so far away from (said object)." I only really felt like I needed the zooming aspect rather than what it would bring to the photo. It was in this way that I knew I wanted to add a special new lens to my collection to not only upgrade my techniques but propel me forward into new concepts, challenges, and ideas.
How It Helped Me Grow

Seeing New Perspectives – This is probably the biggest thing that helped me out over the last year. I looked at my range and always went into my photos thinking about what I could create with what I was given. This was important because it allowed me to really slow down and look at my surroundings and not click away by having something more versatile. There was so much that I didn't know about photography, but ever since I have poured my heart into my practice and education, I finally understand concepts, uses, among so many other things that go into it. I am entirely self-taught and in doing these things, it has really put a perspective into the gear that I use and I am so thankful for that.
Encouraged Creative Ideas – I touched down on these in the reason above this one, but I knew it was essential to list and to go into more detail on for the sake of this post. This lens has challenged me since the day I received it. Its different focusing angles and the way it can transform any photo into an entirely different concept based on just the placement of the subject and aperture is amazing. It's taught me so much about moods, lighting techniques, and basically everything I know about photography today. I can't wait to see the concepts I can create with the right tools once my gear bag is fully set up.
Set Me Up For Success – Now that I am more educated and practiced, I feel 100% ready to take on my next challenge and ideas with a new lens. It feels so good that I made this investment not only in my craft but for my abilities as well. It feels like before I would only really stick to mindlessly clicking and hoping for the best, but now I dream about taking photos in places that I haven't even been to yet with lenses that I don't own. I have so many ideas packed in my brain and sometimes it can be overwhelming, but I always make sure to jot them down for reference later. I am evening having creative video ideas which never really used to happen. I feel like I am understanding more about my craft and how my relationships with my lenses are varying with each use.
---
Moving Forward + My Newest Lens Addition
So, I learned all these photography concepts and I have all these ideas, what do I do now? Well, the plan for me (so far until I probably change my mind like I always do) is to add another prime lens or two to my kit. For some reason, I have my eye on more prime lenses rather than something with more versatility, but one of these days I am going to invest in the Canon EF 24-70mm f/2.8L II USM Lens or the Tamron SP 24-70mm f/2.8 G2 Lens. Do I know which one it will be? No, but the one thing I am debating on is the Tamron has image stabilization and that's where the Canon lacks, so I have a little bit of deciding and researching to do before I make my final purchase, but I don't see that being made for a while. The purchases I am looking into making are the Canon EF 100mm f/2.8L Macro and the Sigma 85mm f/1.4. Recently I have loved perspective type photos where the subject looks very small and the background is pulled towards them significantly. I know that a high focal length will help me achieve this and I am stoked to get my hands on one of these and play around with it.
The Canon 50mm f/1.4 has been my newest addition to my camera bag of goodies, and I already know what you're thinking. "A photographer without a nifty fifty?!" Trust me, I am well aware it took me way too long to end up purchasing this, but it was a gift for my birthday and I am stoked to be using it for my travels and portraits. I am already amazed at the quality of this lens and I know I am going to have it forever. I thought about purchasing just this fifty instead of my Sigma lens, but the 35mm was tugging on my heartstrings along with its impeccable quality. Plus, I knew that since I would be traveling I was going want a wider lens so that I could get more into my shots.
Overall I am stoked with my newest addition, and I am even more stoked to be doing a bit of window shopping for lenses and possibly even a drone… I want to have a solid gear foundation when I go on my next trip hopefully in February! I don't want to disclose the location since I nothing is 100% planned, but I am 99% sure I know the place that is calling me now and I am more than excited to soak up the rays there. Can you guess where it is?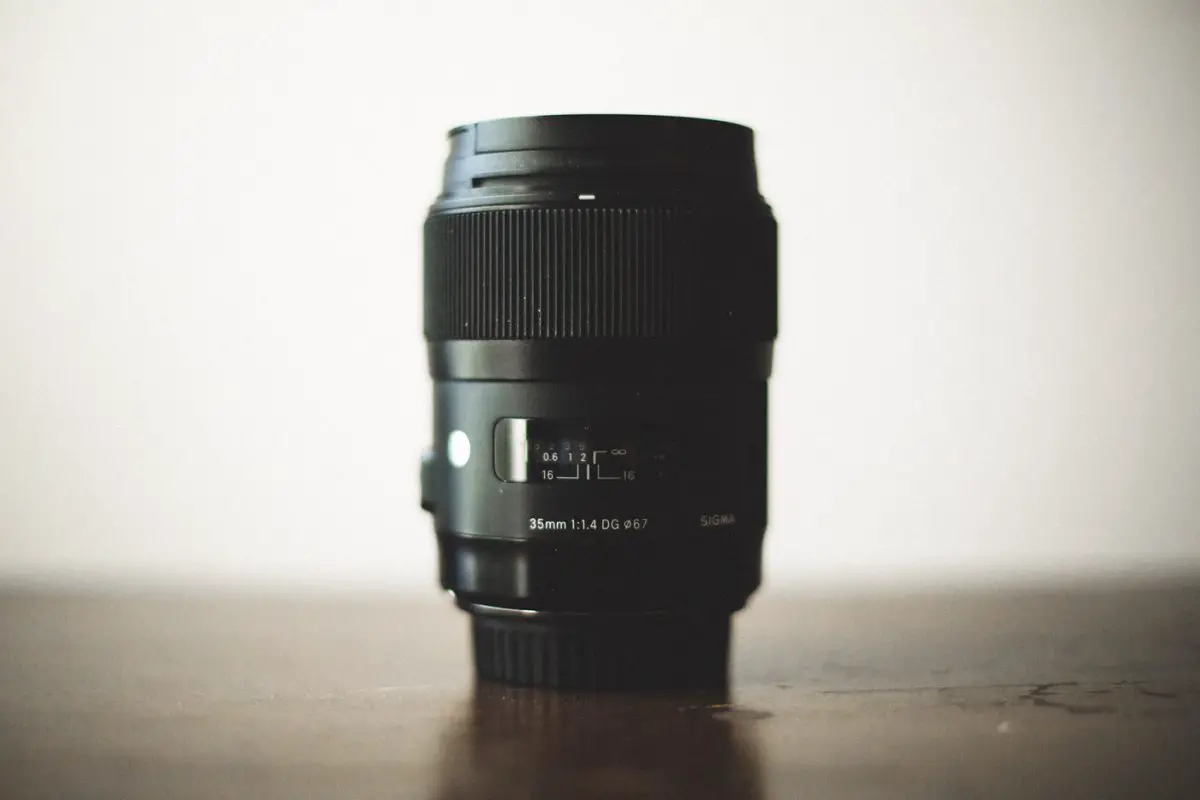 What is your go-to lens for traveling? Share with me in the comments below!
This post may contain affiliate links for the products or services I mentioned, but as always, all opinions are my own. I make a small commission, at no extra cost to you, when you make a purchase or booking through these links. This helps to support this space and keep me blogging, which I am so extremely thankful for.
Aaren
Did you enjoy this post? Save it for later on Pinterest!