The hikes in Bryce Canyon National Park are just dreamy. At 9000 feet above sea level, you will be hiking through a rainbow of colors from start to finish on your trip to this National Park. Bryce Canyon is one of the lesser-visited parks in Utah compared to Arches and Zion, but it's definitely one that you want to spend some time thoroughly exploring, but it's easy to see the highlights if you only have a day or two. In this post, I am going to break down all the best Bryce Canyon hikes as well as essential gear, and some other useful information to make your trip seamless and shell-shocking.
If you're heading on a road trip through Utah's Mighty Five, then Bryce Canyon is where the parks start to get a little more green if you're starting your road trip with Arches National Park. It's almost like a hybrid between the desert and Pacific Northwest-esque landscapes and I FELL. IN. LOVE. with this park. In my opinion, it's definitely one of the more underrated parks, but that doesn't mean that it doesn't get extremely busy, so I recommend getting to these hikes really early in the morning in the high season so you can get them all to yourself. If you're planning on visiting here in the winter, that's another story, and you're in for a treat!
Without further ado, here is your complete guide to the most jaw-dropping (and best) hikes in Bryce Canyon National Park!
This post does contain affiliate links for the products I mentioned, but as always, all opinions are my own. I make a small commission, at no extra cost to you, when you make a purchase or booking through these links. This helps to support this space and keep me blogging, which I am so extremely thankful for.
Keen on a visit to Utah? I am filling up my Utah blogs as we speak, but check out these other awesome hiking destinations!
---
The Best Hikes In Bryce Canyon National Park
The hikes in Bryce Canyon were some of my absolute favorites while traveling around the park. The views are indescribable and you truly feel like you're on another planet when you're 9000 feet above sea level. When I am hiking around, I love to be in nature and experience stillness in the landscapes, so a lot of these hikes are best hiked for sunrise as that is the most optimal time for lighting and the fewest crowds. You can really hike any of these any time of the day, so if you don't mind crowds and want to pack it all in, you can hit a lot of these easily in one day. There's a nice combination of hikes from easy to strenuous and all the way to some multi-day hikes for those that like to get into the backcountry. The first hike that we're starting with is one of the best, and most hiked in the park, the Navajo/Queen's Garden Combination Loop.
Bryce Canyon Day Hikes
Navajo/Queen's Garden Combination Loop Trail
Arguably one of the BEST hikes in the entire park is the Navajo/Queen's Garden Combination Loop. It takes you through the literal highs, lows, and everything between the Bryce Amphitheater and you will easily be feeling small and secluded on this breathtaking hike. There is a reason that this is one of the most hiked trails in the park and it's the top-rated!if you plan on making this hike in the summertime, it is shared with horses, so you'll see some droppings along the way for parts of the trail, but hey, that's all in the spirit of nature! Parts of the hike can be of moderate level and may be difficult if you're not used to the elevation change like I was. I went from being around 700 feet above sea level to 9000 so the shortness of breath really hit quickly on this one. I suggest taking it slow, which you'll want to anyway for the views but it is something to keep in mind.
Best Hiked | Sunrise

Trail Length | 2.9 Miles

Elevation Gain | 600 Feet

Trailhead Location | Sunrise or Sunset Point

Hiking Time | 2-3 Hours

Permits | None
---
Queen's Garden Trail
The Queens Garden Trail is one of the more popular hikes in Bryce Canyon, so you'll want to get on this trail early in the morning to maximize your experience here. If you're pressed on time, this loop trail is perfect since the views going in and out of the hike are completely different but still very exciting. The Queen's Garden is a dense patch of pine streets at the head of the loop where you can enjoy breakfast or lunch in the shade underneath a hoodoo that resembles Queen Victoria sitting on her throne (they're really clever with these trail names, am I right?).
The hike starts at Sunrise Point and descends down into the canyon with the options to either complete the Queen's Garden Loop or add on to the hike with the Navajo Loop, a very popular route for people visiting Bryce Canyon. Adding the Navajo Loop will add a lot more distance and difficulty, but the views are some of the best in the park! I recommend pairing the two loops together for the ultimate experience and a complete tour of the hoodoos and canyons!
Best Hiked | Sunrise

Trail Length | 1.8 miles

Elevation Gain | 357 Feet

Trailhead Location | Sunrise Point

Hiking Time | 1-2 Hours

Permits | None
---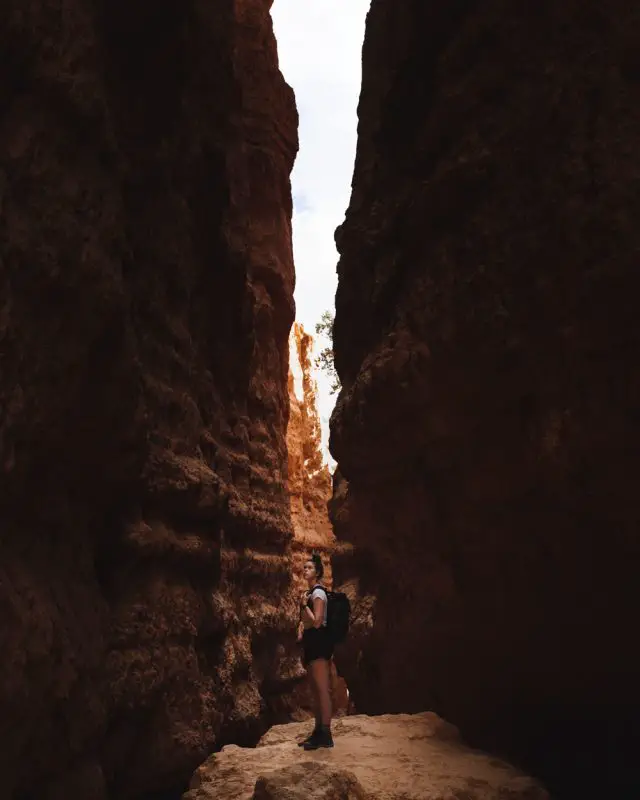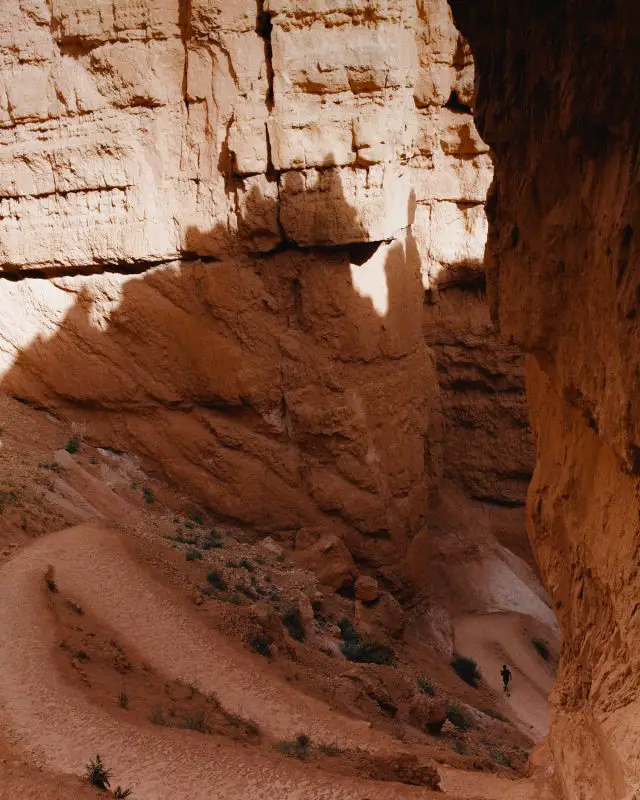 Navajo Loop Trail
As much as I favor lesser-known hikes and getting off the beaten path… This is a really unique, stunning, and jaw-dropping hike that includes all of my favorite things, a challenge, awesome views, and interesting geology. The only downside is that it's only a 1.4-mile loop, but I know some people prefer shorter hikes. I favor long hikes myself, but I had zero complaints while going through this loop.
At the beginning of the hike, you might be excited by the view of going down (as opposed to up) all the switchbacks, however, what goes up must come down, or, I guess the other way around in this case because, at the end of the hike, you'll have to climb back up to the top of the amphitheater through a series of switchbacks that will have you huffing and puffing, but if you take it slow, unlike me, you'll be just fine.
Best Hiked | Sunrise

Trail Length | 1.4 miles (only a loop in summer)

Elevation Gain | 550 Feet

Trailhead Location | Sunset Point

Hiking Time | 1-2 Hours

Permits | None
---
Fairyland Loop
The Fairyland Loop hike in Bryce Canyon National Park is one that I missed, sadly, but on my next visit, it's going at the top of my hiking list! This loop is perfect for hikers that enjoy longer trails and you can even add a small detour to Tower Bridge, which is an awesome place to watch the sunset! This hike is eight miles total to complete the loop, not including the Tower Bridge detour and while it is classified as strenuous by the National Park Service, it's really only classified that way because of the elevation gain, ~2,000 feet, and the length of the hike.
It is best described as a 'quiet' hike since most people only spend a day in Bryce Canyon and prioritize other trails, so if you have extra time or don't care to follow the crowds, then this is one of the best options for getting off the beaten path since everyone else is going to be at the viewpoints and the alternative loop trails. I vaguely remember this hike being described as the best hike in the park by one of the park rangers so if it wasn't on your radar before, well, it is now!
Best Hiked | Sunrise or Sunset

Trail Length | 8.0 Miles

Elevation Gain | 1716 Feet

Trailhead Location | Fairyland Point or North of Sunrise Point

Hiking Time | 4-5 Hours

Permits | None
---
Rim Trail
Similar to the Sunrise to Sunset Point hike, this trail is very straightforward and takes you around the entirety of Bryce Amphitheater starting at Bryce Point and ending at Fairyland Point. There are five major points to stop at along this trail: Bryce Point, Inspiration Point, Sunset Point, Sunrise Point, and Fairyland Point. If you're only spending a day in Bryce Canyon, I don't recommend doing this whole trail since it only gives you an overview of the hoodoos and doesn't go into the canyon at all. You'll end up spending your whole day there with just a glimpse, so I recommend doing a small portion of the trail and then stopping at the other points via the bus or your own car. Trust me, you'll want to do more than just this trail.
The views are simply spectacular, but I would avoid going during midday as that tends to be the busiest time of day and the worst time for light. The Sunrise to Sunset Point Trail is a part of the Rim Trail so you can start at any of those two and hike to other points if you feel so inclined. The trail is easily accessible and great for a family setting if you have little ones tagging along.
Best Hiked | sunrise for any length of the hike

Trail Length | 1.0 – 11.0 miles (no loops)

Elevation Gain | 1177 Feet

Trailhead Location | Bryce Point

Hiking Time | 1-7.5 Hours

Permits | None
---
Peekaboo Loop
If you want to get away from the crowds and take on a more challenging hike, then the Peekaboo Loop is one of the great Bryce Canyon hikes that offers plenty of eye candy with less volume from crowds (both body and noise-wise). The Peekaboo Loop is categorized as strenuous, so if you haven't had a lot of time to acclimate to the elevation, or if get elevation sickness easily, you might have a rough time getting through this one, BUT it's well worth giving it a shot and if you need to stop, well, there are plenty of awesome views to accompany those breath and water breaks.
As I mentioned before, I live at an elevation of around 700 feet above sea level and the only issue I had was that I would go out of breath very quickly, so don't let the challenge or elevation keep you from experiencing this. If you only have a day to spend in Bryce Canyon and want to maximize your trail time, you can add part of this loop to the Navajo/Queen's Garden Loop to make The Figure 8 Combination Trail for a total of around 6.4 miles. I did this for my friend and I's hike for the day and it was SPECTACULAR! I highly recommend it!
Best Hiked | Sunrise

Trail Length | 5.5 Miles

Elevation Gain | 1571 Feet

Trailhead Location | Bryce Point

Hiking Time | 3-4 Hours

Permits | None
---
Mossy Cave Trail
The Mossy Cave Trail is a quick and easy hike in Bryce Canyon that is actually located outside of the park on highway 12, which makes it a perfect pit stop if you're headed to Capitol Reef National Park OR coming to Bryce Canyon National Park from Capitol Reef NP. The trail doesn't lead to a cave, per se, but more of like a wet ledge with a waterfall. It's still a unique feature in Bryce Canyon since you don't really expect waterfalls at 9000 feet, but if you want an easy trail with nice views, then this is an awesome option.
The hike only gains about 300 feet in elevation so you don't have to worry about working up a sweat on the way there. The trail follows the river, crosses a bridge, and leads you directly to a spectacular view of the mossy cave shadowed by massive hoodoos in the background. On the ascent, the trail will spit with the left leading you to the cave and the right leading you to a viewing point with both the cave and hoodoos. It's awesome.
BEST HIKED | SUNRISE OR SUNSET

TRAIL LENGTH | 0.8 MILES

ELEVATION GAIN | 200 FEET

TRAILHEAD LOCATION | ~4 MILES DOWN HIGHWAY 12 PAST BRYCE CANYON RESORT

HIKING TIME | 1 HOUR

PERMITS | NONE
---
BRISTLECONE PINE LOOP TRAIL
If landscapes and ancient wonders are your thing, you're going to love the Bristlecone Pine Loop Trail. The major element of this trail is the up-close views of the Bristlecone Pine Trees, one of the oldest living organisms on the planet. The trees are able to withstand extreme weather conditions and poor soil, but they are only able to grow between 6,500-11,000 feet. Some of the pine trees on this hike are over 1,500 years old! This hike takes you through the highest elevation in Bryce Canyon, 9,100 feet above sea level, so the temperatures are a lot cooler up here than other areas of the park.
Once you're finished up this short and easy hike, it's recommended to pair this trail with the 18-mile scenic drive of Bryce Canyon. The juxtaposition of all the pine trees, orange rock structures, and blue skies make this area of the park, personally, one of my favorites!
BEST HIKED | SUNRISE

TRAIL LENGTH | 1.0 MILES

ELEVATION GAIN | 200 FEET

TRAILHEAD LOCATION | RAINBOW POINT OR YOVIMPA POINT

HIKING TIME | 1 HOUR

PERMITS | NONE
---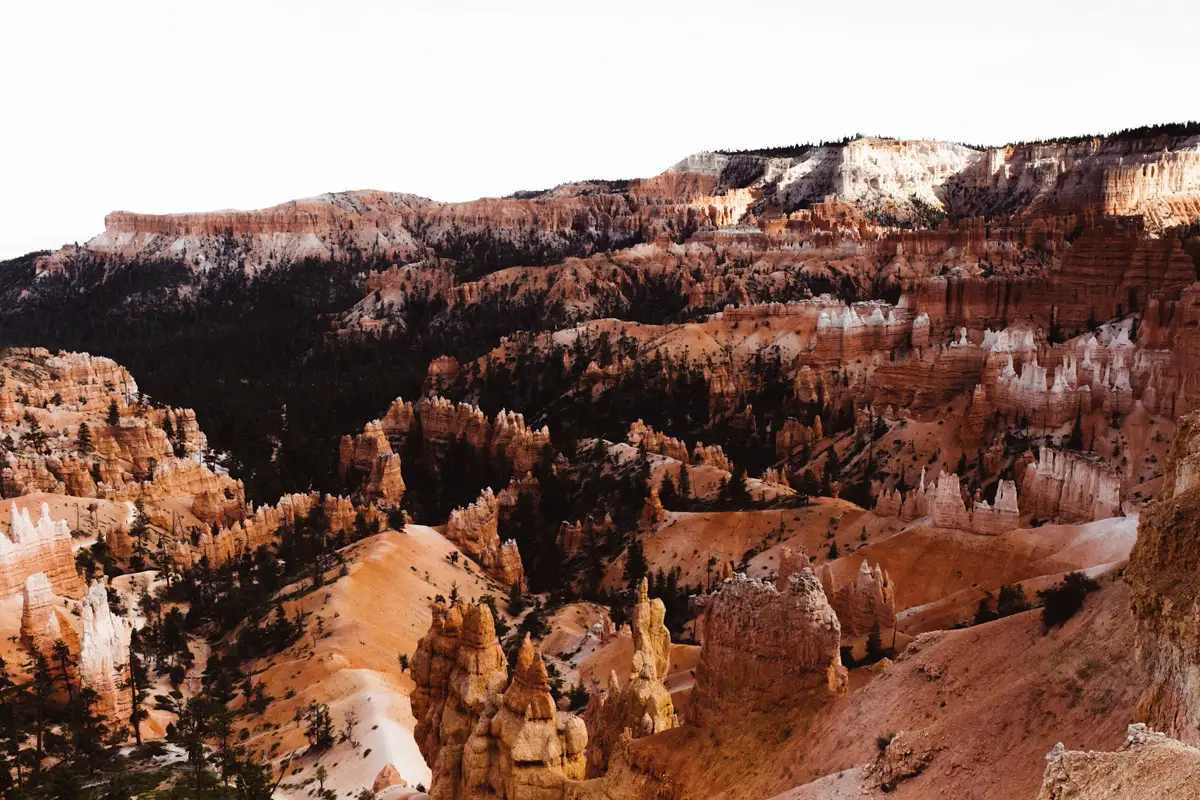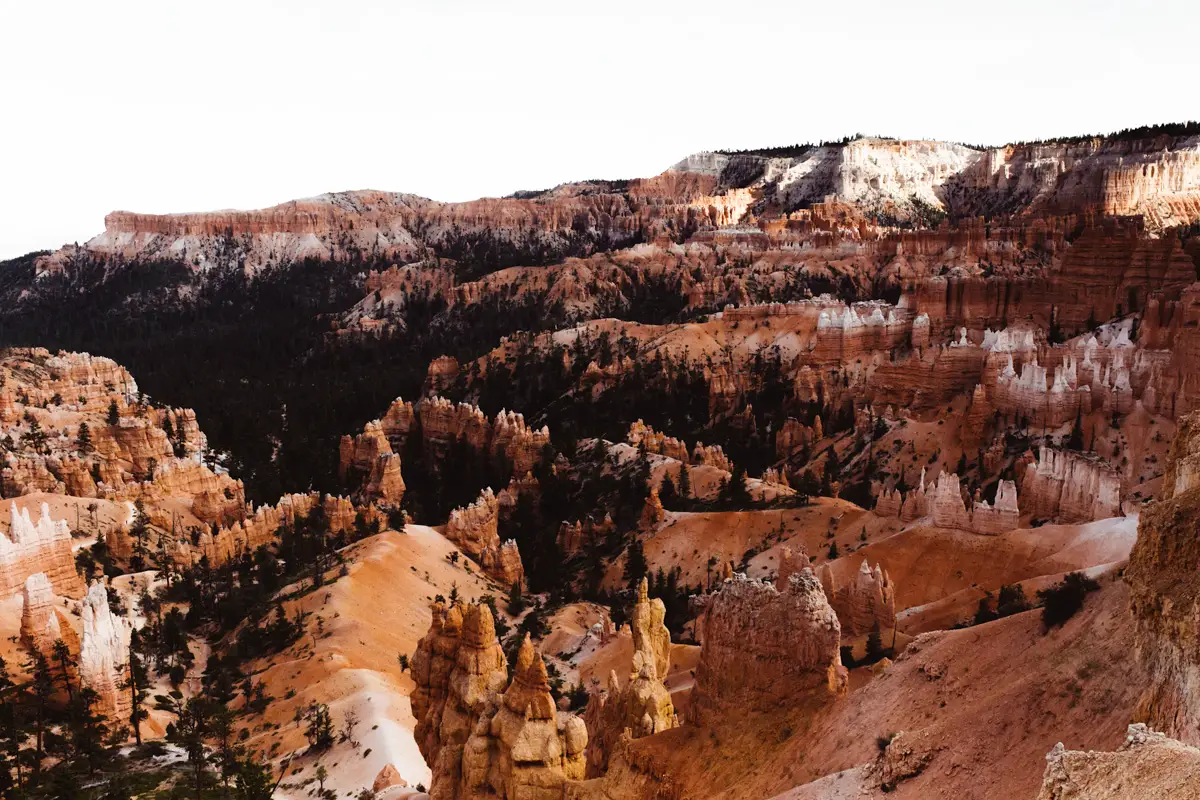 Bryce Amphitheater Traverse Trail
The Bryce Amphitheater Traverse Trail is comparable to The Figure 8 Combination Trail that I mentioned underneath the Peekaboo Loop, but it's shorter in length and the estimated time to complete it, 3-4 hours vs. 4-5 hours. Other differences in this hike are that it begins at Bryce Point and ends at Sunrise Point whereas The Figure 8 is going down on the map, beginning at either Sunrise or Sunset Point and ending at either Sunrise or Sunset Point since it makes a figure 8 (lol duh). It'll make more sense when you view it on the map, so it'll make planning your route and decision a lot easier.
I put this trail on this list for the best Bryce Canyon hikes because it gives you the opportunity to make the full Navajo Loop instead of just one side, which is worth it, in my opinion. A lot of the views are the same, so you can't go wrong with either one, but if you want something a little bit shorter if you're time-sensitive, this is a great option. Neither of them is a poor choice, so don't feel like you're missing out if you choose one or the other. If you do choose the Bryce Amphitheater Traverse Trail, I recommend pairing it with the Navajo Loop for the best combination of hikes.
Best Hiked | Sunrise

Trail Length | 4.7 Miles

Elevation Gain | 1010 Feet

Trailhead Location | Bryce Point

Hiking Time | 3-4 hours

Permits | None
---
The Best Backcountry + Multi-Day Hikes In Bryce Canyon National Park
Under The Rim Trail
*drumrolls* Let me introduce you to the longest trail in Bryce Canyon National Park, the Under The Rim Trail. This whopping 23-mile (one-way) hike is the ultimate off the beaten path and adventure opportunity for your trip to Bryce. The best part about this trail is that it is divided into shorter segments that connect to the highway, so you can make this trail as long or as short as you want it. I believe it is best explored as a 3-day backpacking trip as there are campsites along the way (permit required) that you can stay at, but some people have completed this bad boy in one day?! I don't recommend doing that but if your hardcore and like to break the rules, heck, you've got no one stopping you, pal! If you happen to hike this trail on cloudless nights, you'll be lucky enough to spot the milky way!
To tackle this trail, you need to go to the Bryce Canyon Visitors Center and obtain a backcountry permit ($5.00 USD) and rent a bear canister if you don't already have one (it's required for overnight trips in the backcountry). After that, you'll need to notify the ranger of where you plan on entering and exiting the trail. As I said before, you can make this trail as long or as short as you'd like so the choice is up to you. Remember to take proper precautions while in bear country and enjoy your secluded adventure!
Best Hiked | Multi-Day

Trail Length | 23 Miles One Way

Elevation Gain | 1294 Feet

Trailhead Location | Rainbow Point

Hiking Time | All Day-Multiple Days

Permits | Yes
---
Riggs Springs Loop Trail
The Riggs Springs Loop Trail is the least hiked trail in Bryce Canyon which means (lowkey) epic views and close to no crowds! This trail is pretty short for a multi-day hike, but it's a great way to slow down your trip and get a break from the 1500+ feet of elevation gain. There are two places to camp on this trail, Yovimpa Pass and Corral Hollow. You'll need a backcountry permit to do this hike ($5.oo USD), which you can get at the Bryce Canyon Visitors Center and a bear canister if you plan on making it an overnight trip on the trail.
One of the main highlights of this trail is the woodland area where most people in the main areas of the park only get an overhead view whereas you'll experience this forest in its still, silent entirety. Light pollution is also extremely low here, so if you happen to stop by on a cloudless night, you'll be sleeping underneath the milky way!
Best Hiked | Multiple Days

Trail Length | 8.8 Miles RT

Elevation Gain | 1650 Feet

Trailhead Location | Rainbow Point

Hiking Time | best hiked in 2 days

Permits | Yes
---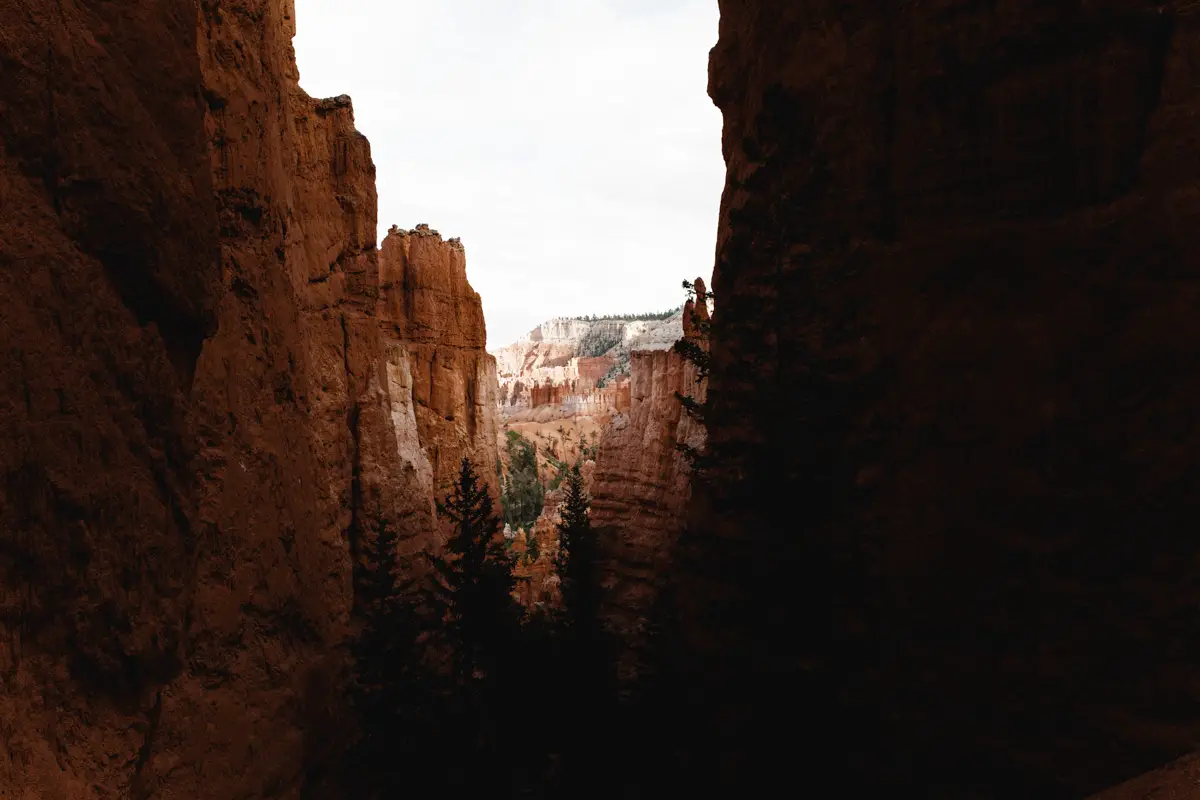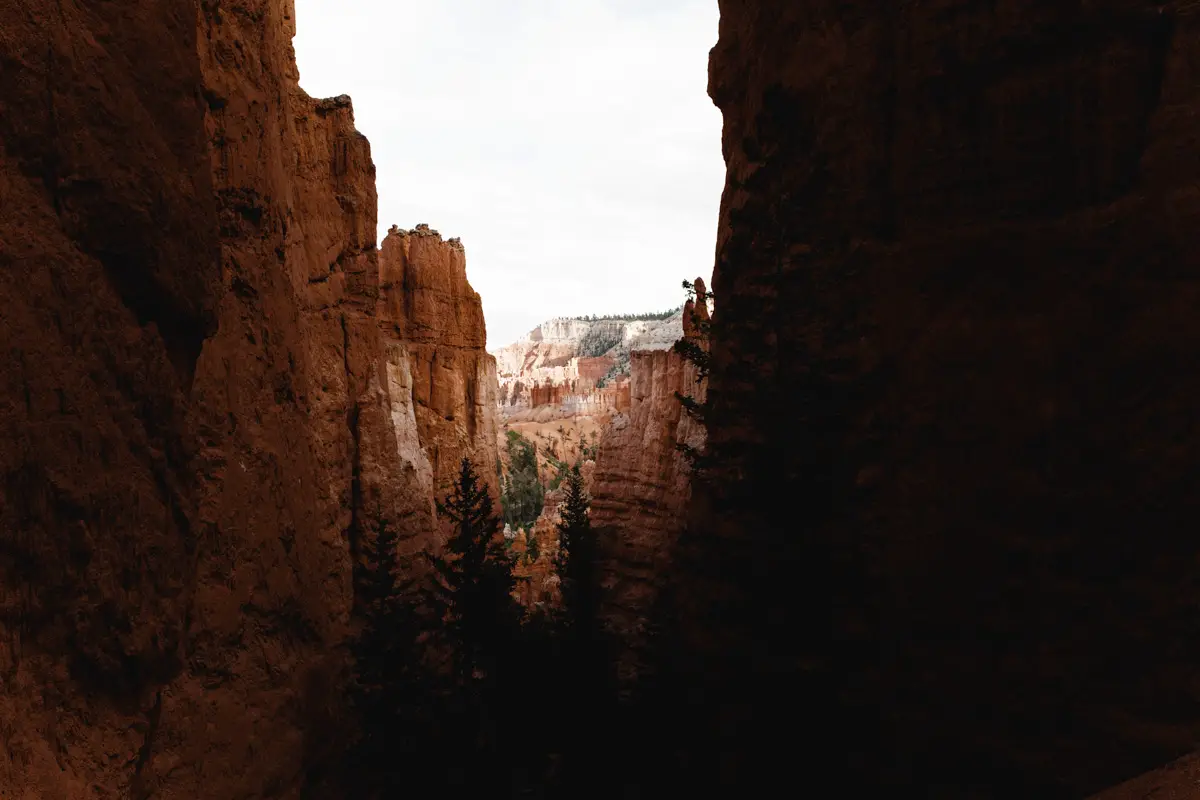 Essentials For The Best Hikes In Bryce Canyon National Park
Day Backpack
I really don't like to be carrying a lot of things if I am hiking, so having a day pack where I can toss all these essentials into is, well, essential! If I want something more casual, I always grab for my Fjallraven Kanken backpack since it's stylish and it is able to hold my camera in it, but if I need all of my photography gear, then you'll always see me carrying along with my WANDRD pack that is perfect for travel photographers. However, if we're talking in terms of practicality, I will always recommend day packs from Osprey. It's my tried and true backpack brand and they will last decades!
Reusable Water Bottle + 2L of Water
As soon as you enter Bryce Canyon National Park, you're going to spot reminders everywhere to carry lots of water when you hit the trails. If you've been following my journey for a little bit, you'll know that Hydro flasks are my right haaaaaand, they're my go-to (the Drake reference probably doesn't carry into text, but if you got it, you got it). My daily bottle is around 1 liter, but that isn't near enough water for longer hikes, so I recommend carrying at least two with you at all times. It will make your bag heavier, but as you go through the hike and drink water, your bag will slowly get lighter so it's a win-win. For this trail, I carried the 2 liter (~64 ounces) wide-mouth Hydroflask and it keeps my water cold and my body well hydrated. You can peep out and maybe even buy my favorite Hydroflask here.
Hiking/Sun Hat
The desert is a hot hot HOT place with lots of sunshine, so you want to protect your face from the direct sunlight. There isn't a lot of shade in Bryce Canyon and the sun will be higher in the sky even on your way back if you choose to hike this super early in the morning, so this is going to keep the sun out of your eyes, especially with this hat that has UV protection and a quick-wicking sweatband. I just got it, specifically for my trip to Utah, and I already know I am going to have it for a while. They come in a cool selection of colors, but the grill color is my favorite.
Hiking Shorts
So hiking in the desert in the sun is a recipe for the one thing that everyone hates; chafing, am I right, ladies? Wearing shorts where the seam doesn't rub against my inner thigh is like the MOST essential thing when I take desert hikes and I love the Patagonia Baggies. I have them in two different colors, the black and blue, but I plan on ordering these awesome ones with parrots on them and these pretty sherbert orange ones. I recommend sizing up in them because the fit of the shorts runs on the smaller side, but they do have a drawstring so you can tighten them however much you need. Also, they have pockets! See them here!
Hiking Top
With all the sweating that is going to go down on these Bryce Canyon hikes, you want a top that is going to keep you cool and stench-free. While I haven't found the perfect hiking top that keeps me stench free, I plan on trying out the Patagonia Capilene Cool Daily Short Sleeve Trail Shirts since they are made out of 100% recycled materials, vegan, and they'll keep me stench free after long day hikes and treks. Honestly, sometimes I feel like I am a Patagonia spokesperson, but I love the message behind their brand and I love the idea of recycling old fabrics to make new products!
Sunscreen
Sunscreen should be the first thing you pack into your bag for trails, trips, and even everyday life. Protecting your skin is so so important and I trust Raw Elements SPF 30 Sunscreen to protect my skin on the trails. Ever since my mom was diagnosed with melanoma years ago, I always make it the first priority to apply sunscreen before I begin hiking. The Raw Elements Plastic-Free Tins keep my skin protected and have prevented sunburns even in the heat of the desert! I love it because it's biodegradable, reef-safe, kid-friendly, broad-spectrum, AND you can buy a tinted tin version for your face so you don't look like Caspar the friendly ghost-like when you apply other sunscreens. Raw Elements is my favorite, but you can browse these 14 reef-safe and plastic-free sunscreens to protect your skin!
---

HIKING PROJECT APP
---
Do you dream of visiting Bryce Canyon National Park and conquering some of these hikes? Let me know in the comments below!
Aaren
Did you enjoy these Bryce Canyon Hikes? Save them for later on Pinterest!