(Last Updated On: 23/05/2022)
The smell of fresh pines. Crisp mountain air. The oven-roasting heat of the desert. When I first began hiking, finding an essentials list while packing for a day hike was so much more complicated than it needed to be. It's important to know that you don't need a bunch of fancy hiking gear for your day hiking essentials. This is a comprehensive day hike packing list, but approach this list with what you already have rather than feeling like you have to purchase a bunch of new stuff. That is unless you're looking to make some upgrades to make your adventures more comfortable! This day hiking essentials list is simple and keeps your gear lightweight, but effective no matter where in the world you want to explore!
Once you've prepared for an emergency, checked the weather forecast for rain, shine, or snow, and reviewed the important details of your trail(s): distance, elevation, condition, and logistics, it's time to prepare to hit the trail and start packing for an epic day hike! These items are practical and items that both new and seasoned hikers need to be taking into the outdoors! Let's jump in!
This post may contain affiliate links for the products I mentioned, but as always, all opinions are my own. I make a small commission, at no extra cost to you, when you make a purchase or booking through these links. This helps to support this space and keep me blogging, which I am so extremely thankful for.
---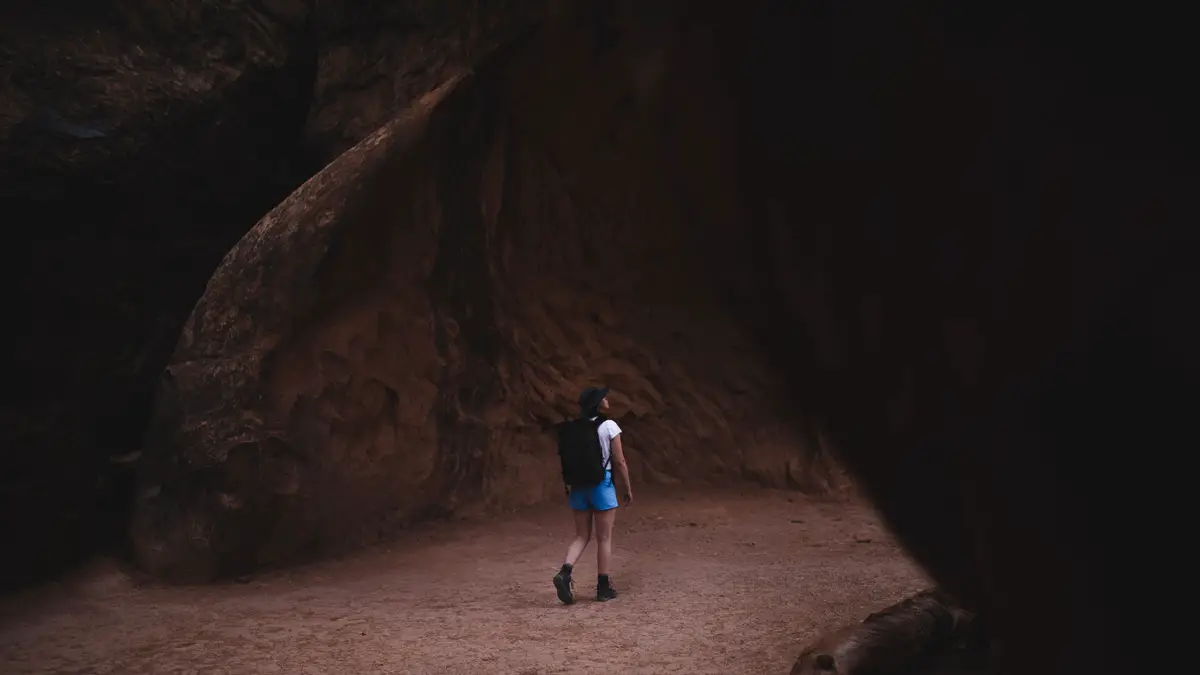 1 | Backpack 
The most essential piece of gear that you'll need is a backpack. While you can get away with using an old-school bag for your gear arsenal, think North Face or Jansport, having a bag specifically designed for hiking has a lot more comfort and durability. You definitely don't HAVE to have any of these bags listed below, however, if you're serious about getting on the trails, these will elevate your experience and last a lifetime. 
Since you'll be carrying essentials for a single day, any backpack that is between 20-30 liters is the perfect amount of space for everything you need. I tend to fall around the 25-28 liter range because it allows me to fit my warmer layers in during the fall, winter, or if I am in an alpine environment, plus the other eleven items on this list comfortably. Pack size aside, the most important features to look for in a day pack is a hip belt, chest clip, and water bladder compartment (if that's your preference).
While I normally always take my camera bag hiking with me, when I want something more rugged, I plan to purchase the Patagonia Nine Trails Backpack. What I like most about this bag is that the design of this bag makes very good use of the limited space. This bag has room for everything I would need plus a couple of layers! I also really like the hip belt to help distribute the pack weight and keep it off my shoulders.
Another really nice day bag option is the Osprey Sirrus 25L Backpack. This style isn't better or worse than the Patagonia bag, but I will say the space in the other is used a lot more efficiently than this one. This bag does have a water bladder slot which is a massive plus if you hike with one! Osprey is a great brand and basically one of the only backpack brands that I'll buy. They last a lifetime!
If you like to roll in style and are looking for a bag that is better eye candy for photos, the Fjallraven Keb 20L Backpack is your go-to. Fjallraven is another one of my tried and true outdoor brands, so this bag will also last you through many seasons of adventure. This is a four-season backpack and its construction makes it repel water and withstand knicks and tears in the mountains! It is on the smaller side, so this style will work better for a more lightweight-centric hiker or trails in hotter climates.
---
2 | Proper Clothing, Layers, + Accessories
Hiking clothing is based a lot on the weather, terrain, and personal preference, but no matter what you choose, they should all fall under one universal law: no cotton. Cotton absorbs a ton of moisture, takes a long time to dry, and isn't the best for temperature regulation, so opt for polyester, merino wool, or nylon as alternatives. Use this as a starting point and you're already headed towards a more comfortable hiking experience! Use this list below to build the proper layering model for all seasons.
The Patagonia Capilene Cool Daily Shirt takes the cake for my favorite top to hike in. I prefer this top over others because although it is a women's top, it doesn't cling to your body and it fits more like that comfy old t-shirt you love. It's moisture-wicking and exceptionally breathable so it won't hold onto your sweat and it dries quickly! I aim to grab a few more of these for my up and coming hiking trips and I even plan on picking up the long sleeve version to help protect my skin from the sun in the desert or at high altitudes. If you prefer to embrace the sun in a tank top, they have a sleeveless version or check out this other hiking tank option. Just make sure to wear sunscreen to protect your arms!
At the moment, the only shorts I wear while I am on a day hike are Patagonia Baggies. If you follow me on Instagram, these are the only shorts you'll see me photographed in for a few reasons: they are water-resistant (meaning they dry quickly), I don't chafe in them, they are quite versatile so you can still be stylish in them even when you get off the trail, and last but not least, POCKETS. They have pockets! They come in two inseam lengths, 3″ and 5″, so if you're on the taller side I would definitely go for the five-inch. I've also heard great things about this style from Columbia and yoga-style biker shorts like these if you're looking for other solid options.
If the weather is a bit chillier where you're planning your day hike, you may want to ditch the shorts and go straight for something with a bit more coverage. If I'm not in shorts, you'll see me hiking in my favorite tights! Tights/leggings are my preferred hiking bottoms because they are fitted, meaning snags are minimal, and you're covered for almost any activity you're taking on. If I am tackling a little more rugged terrain, or just want to switch it up, I'll reach for the Fjallraven Nikka Pants.
While these aren't entirely necessary if you're hiking in, let's say, the desert, but if you're hiking in an alpine region or the forecast calls for heavy rain, you may want to pick up a pair for a "just-in-case moment". Or, if you're going backpacking, you'll definitely want to have these with you. My go-to brand for all things waterproof is Arc-Teryx, no question. I picked up these waterproof shell pants last year at an amazing discount. If you're interested in them, I recommend waiting till they go on sale to make the big purchase, though! If you're looking for something to get the job done on a smaller dime, these pants by Columbia have great reviews and they're very affordable!
My favorite mid-layer at the moment is the North Face Crescent Hoodie. This hoodie is made from 100% recycled polyester, so it will help keep your body temperature regulated, wick away sweat, and dry quickly. It's a more affordable option than merino wool and I like that this style has a zippered kangaroo pocket. It makes storing your phone and wallet simple, easily accessible, and you don't have to worry about your things falling out of your pockets, which I am extremely prone to do.
Similar to my waterproof hiking pants, my rain jacket of choice is the Arc'teryx Zeta SL Jacket. This jacket is compact when packed, lightweight, breathable, and fits like a DREAM. I recommend sizing up, like with most Arc'teryx products, so that you can layer properly underneath it and keep warm. Alternatively, if you're looking for something lighter and better fit for summer weather, the Patagonia Houdini Windbreaker is a cult favorite in the hiking community. If you're in an area that is prone to more rainfall, then bring along a sturdier jacket like the Zeta SL Jacket. Otherwise, the Houdini Jacket is an excellent choice.
---
3 | Hiking Boots/Shoes + Socks
I hate to say it, but you're going to see all different types of footwear when it comes to hiking: chacos, running shoes, expensive hiking shoes, sandals, and everything in between. While I will say steer clear of sandals for hiking for safety reasons, I won't say you have to have any specific shoe to get outside. I've hiked in four-year-old Nikes, Doc Martens, flip-flops (big yikes for this one), and proper hiking boots. If you're going on casual, easy hikes, I'd say go with what you're most comfortable with. If you're going on a more difficult hike with challenging terrain, you might want to consider a hiking boot or shoe to protect your feet and to have easier maneuverability across the rocks, slopes, etc. If your list of mountains to hike is long, I'd recommend making an investment in a nice pair of boots.
I was hiking in the KEEN Terradora Mid Hiking Boots for about a season and they fell apart very fast, sadly. I loved them to death because they were so lightweight and stylish, but the durability wasn't where I needed it to be. They recently released the second version of these and they may have fixed the issue, but I'm not sure. I reached out to KEEN because the boots fell apart in a single season, and they gave me credit back to get a new pair! I picked these up and I've been obsessed with the durability and how comfortable they are!
I will keep y'all posted on how I like them! Brand-wise, Danner, KEEN, Colombia, and Saloman all make great boots and shoes worth looking at! It truly is a personal preference, but those will guide you in the right direction.
Let's talk socks.
Ideally, you want to hug up your feet with wool since they are microbial, and stay fitted to your foot which aids in avoiding blisters. Cotton socks are quite infamous for causing blisters, so avoid those if possible. Darn Tough is a cherished brand of wool hiking socks by the outdoor community, but I personally ALWAYS hike in these!
---
4 | Map + Navigation Tools
Whether you're hiking one, three, nine, or more miles, you should bring along multiple forms of navigation equipment. Redundancy in your gear is very important, especially since navigation is probably the most used piece of gear on this list. My favorite hiking app is The Hiking Project because you can save trails and view your current GPS location for free, even when you're offline. This is great for smaller trails and you can even view the difficulty, elevation gain, and reviews of the hike! Another great alternative that hikers love is the GAIA App.
Aside from mobile navigation, you also want to have navigation equipment that doesn't require cell service or a battery, a compass, and a map. In the event that you don't have either of these things and your phone battery dies, you're in for a very scary, sketchy situation. However, you do need to know HOW to use the map and compass. Tossing them in your bag doesn't guarantee safety, so give them a few field tests beforehand to make sure you're comfortable with using each of them.
The "big kahuna" of navigational gear is going to be a handheld GPS system. I have a Garmin InReach Explorer+ and I LOVE IT. I use it primarily for off-grid backpacking trips, but it's nice to have while hiking anyway. If you only do casual hiking on well-marked trails, I wouldn't say this is 100% necessary because of its cost, but if you can invest and are looking for a device to contact authorities in case of an emergency, the Garmin InReach Mini is a better choice. You can find these used in various gear reselling groups on Facebook in really good condition so I don't recommend buying them brand new. I found mine used in this group! Regardless, though, make sure you have at least a reliable app, compass, and a waterproof and tear-proof map.
---
5 | Plenty of Water
Water is key to not feeling absolutely cruddy while exploring outside. When you're packing for a day hike, the amount of water you bring is very important. Always pack extra water, no matter how long you plan on hiking, and consider bringing a lightweight water filter for those longer, more rigorous day hikes. The general rule of thumb is half a liter for every one hour of hiking, but keep in mind the intensity of the trail.
My favorite way to carry/store my water is with a hydration bladder. These sit flush with your back in your backpack (make sure you have a bag that has a space for it) and helps distribute the weight of your bag and reduce the number of times you have to stop to get a drink. A bladder is one of my favorite day hiking essentials for that very reason, when I am thirsty I can just grab my little spigot to rehydrate! If you aren't interested in a bladder, any water bottles you have will do. I will say consider getting a reusable water bottle like this one to help you reduce waste and save money while exploring!
If you'll be out for a while, or have a long day ahead, consider bringing electrolyte tablets to keep you moving forward and spice up your drink options! These are my favorite! 
---
6 | The Tastiest Snacks / Extra Food
Those small breaks during a hike where you stop, maybe take your shoes off, feel that nice cool breeze, and whip out a tasty snack or meal, is generally the highlight of my trail time. If you are really itching for some fuel and you bring along subpar food, it can ruin your whole day. It's also important to pack enough food for a full day, or at least for the mealtimes you'll be on the trail, plus more in the event that you get lost. Since you'll likely be sweating during your adventure, focus your snack arsenal on salty selections to help replace those lost electrolytes! 
The best foods to bring along are chalked full of protein to keep you satiated and your muscles fueled. Protein bars, jerky, nuts, granola, and dehydrated meals are very common preferences, along with apples, carrots, and oranges for their durability when tossed in a bag. I follow a plant-based diet, so I like to grab calorie-dense foods with loads of protein so I don't end up hungry. Here are some of the snacks I reach for first when packing for a day hike:
Granola Bars | goMACRO, ProBar, + Thunderbird Bars
Fruits | Apples, Dried Apricots, Dates, Oranges, + Dried Mango
Salty Snacks | Plantain Chips, Jerky, + Salted Nuts
Psst! If you're out for the full day, consider packing some dehydrated meals! (pictured below). They're lightweight and crafted to satisfy you in the outdoors! My favorites are this oatmeal, pasta with marinara, and this black bean soup. If you tend to have a bigger appetite like me, snatch those double servings! You'll want to have extra food just incase you get lost or are out longer than expected!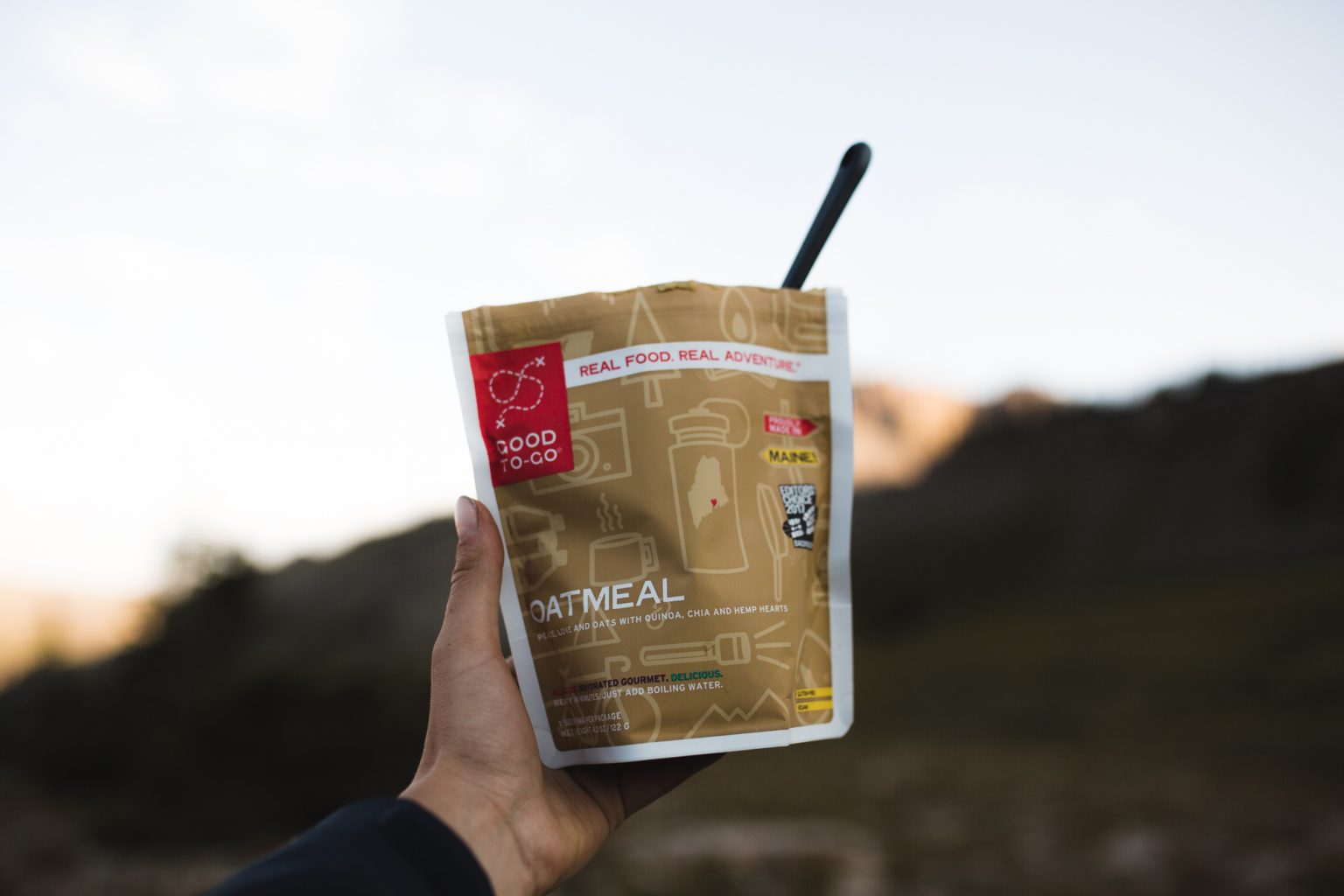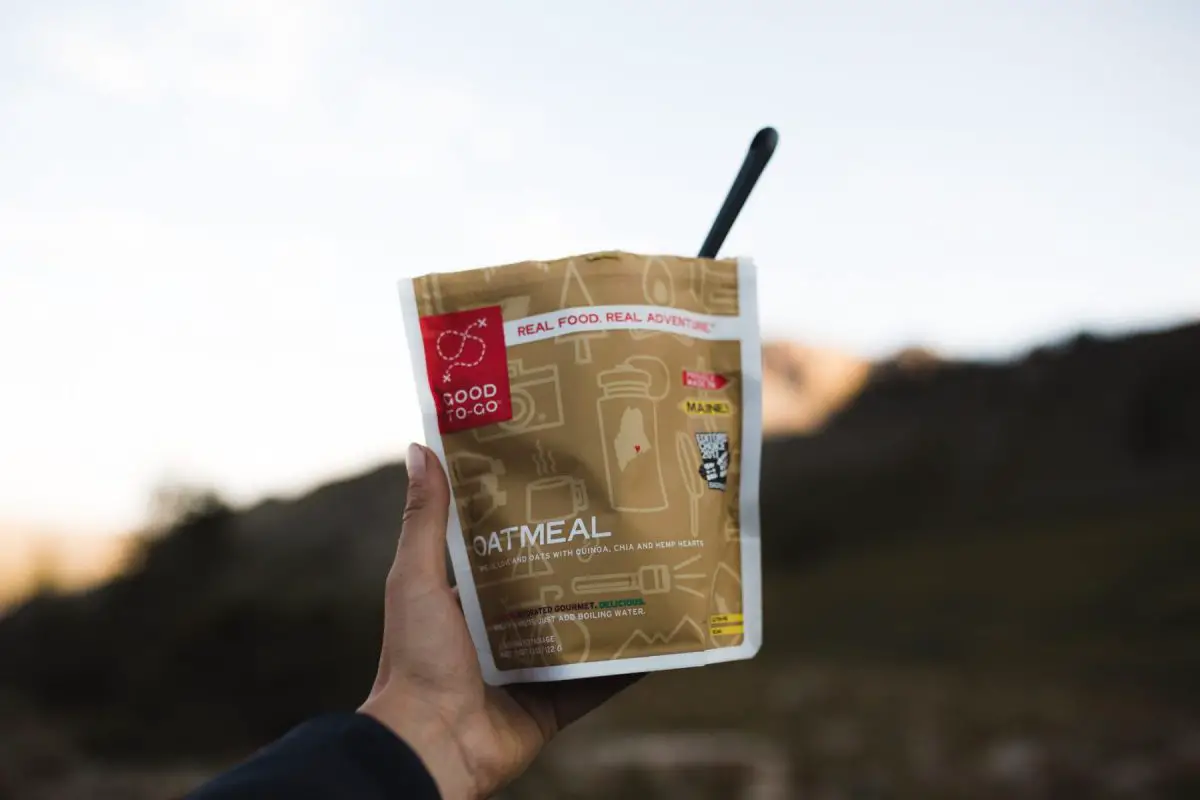 ---
7 | First Aid Kit
The chances of breaking a limb or welcoming a gnarly gash are slim to none (not impossible, though!), but the chances of you walking off a trail with blisters are sometimes very likely! Most people see 'first aid kit' and think of the worst possible scenario, but most of the time they are used for minor cuts and accidents, so you'll be very glad you tossed one in your day hiking bag while you were packing.
When I was backpacking, I had some blisters forming on the balls of my feet and I forgot all about my first aid kit because I only ever imagined using it in an emergency. Band-aids, Ibuprofen, anti-itch, and anti-biotics are all essential things to pack along no matter if they end up for you or someone else. My favorite first aid kit is this Adventure Medical Ultralight First Aid Kit. One thing I will say, this does not come with enough band-aids, however, it's lightweight, waterproof, compact, and holds everything you'll need for the day. My favorite feature is that you can order properly-sized refills for it so you don't have to worry about buying bulky items and trying to make your replenishes fit!
---
8 | Trekking Poles
Trekking poles can be controversial in the outdoor community because some people don't see a benefit for how much they cost, however, if you're tackling tougher or steeper terrain, these help you keep balance, find grip on uphill portions, and even maintain a beat when you're walking. I've been using these trekking poles for my most recent hikes and backpacking trips and have been loving their durability and stability! The cork handles and aluminum structure keeps them extremely lightweight. When shopping for trekking poles, I highly recommend going to an REI or other outdoor retailer to get a true feel for them. There are many good brands of poles out there that are nice quality but to a certain extent it does come down to a personal preference, in my opinion.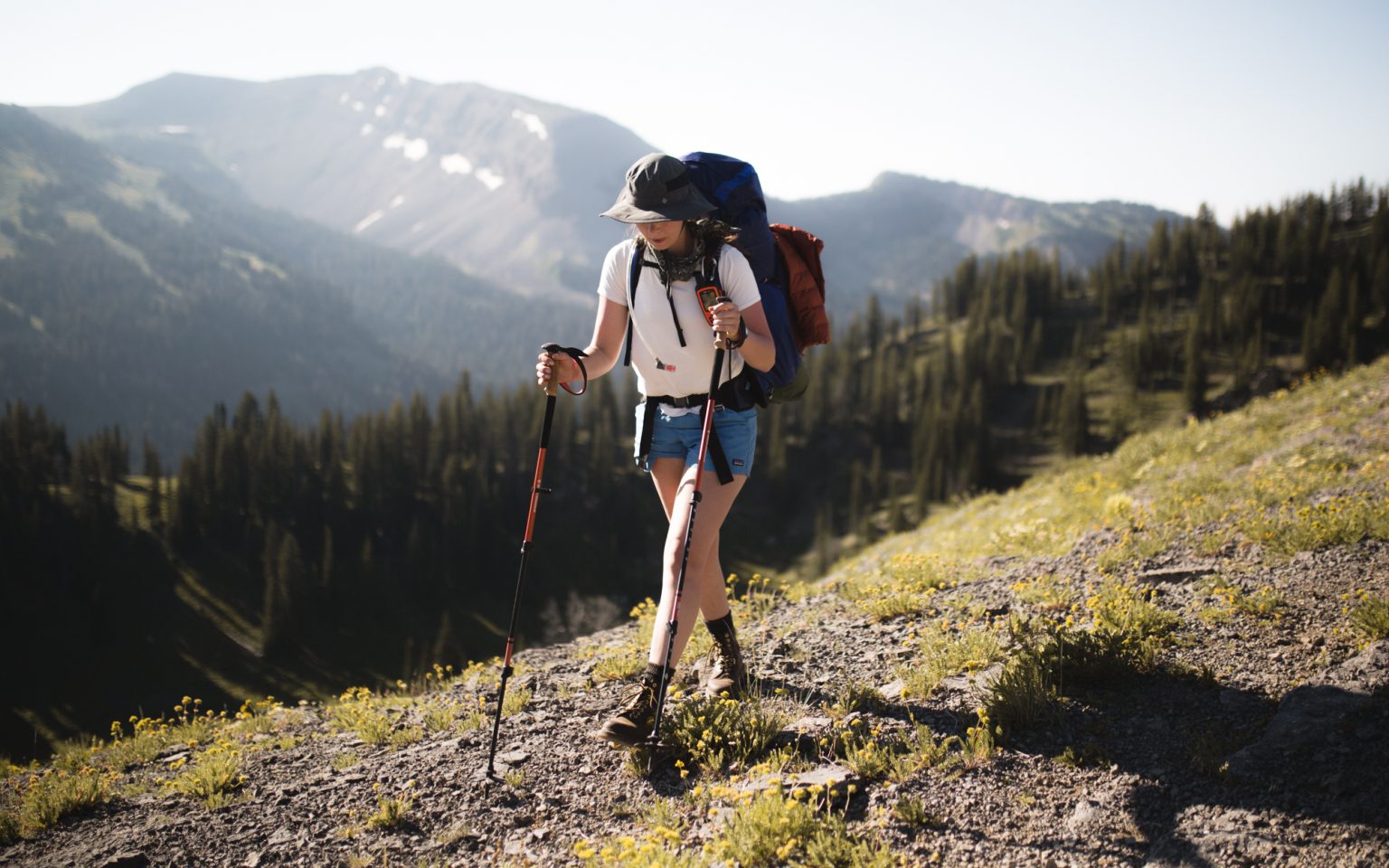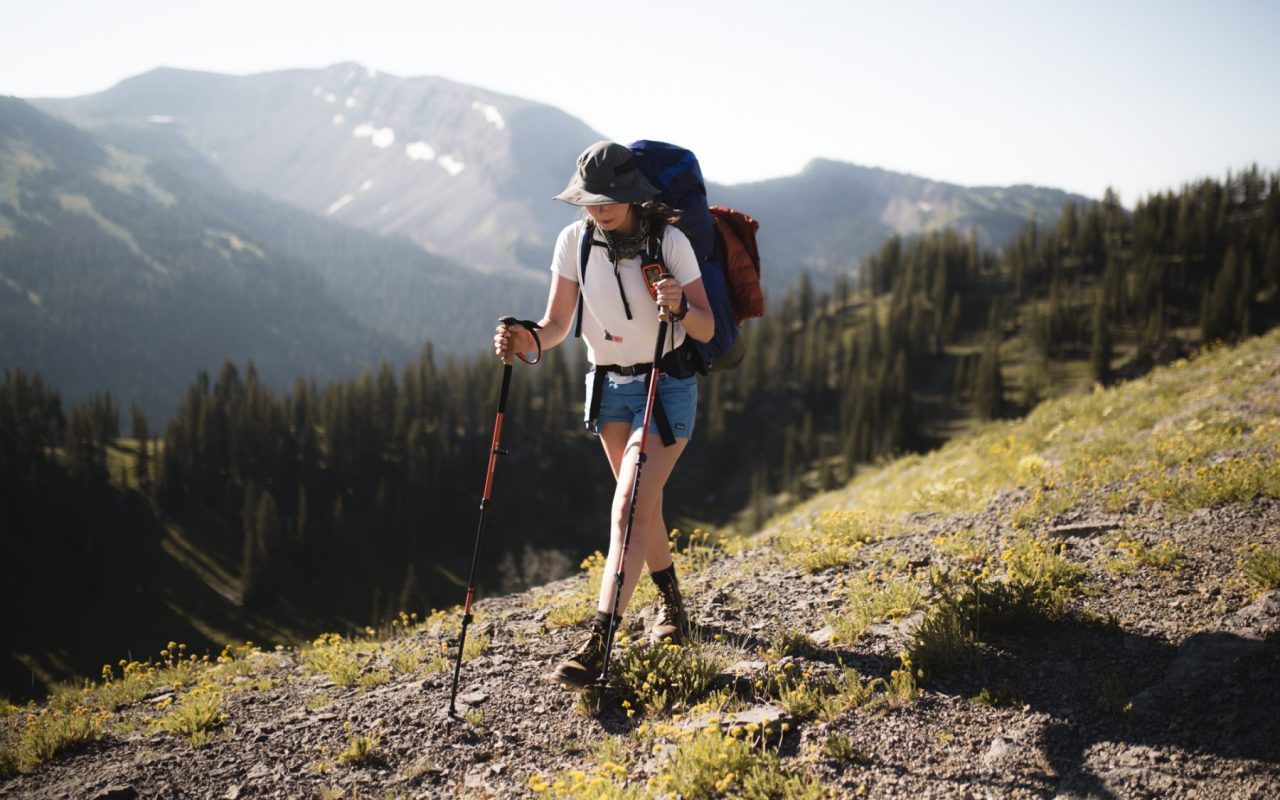 ---
9 | Sun Protection
While climates can vary depending on where you're hiking, sun protection is still very important, especially if you're at a higher elevation because the atmosphere is thinner and the sunburns can get really gnarly. Sun protection comes in a variety of ways so make sure you lather on a waterproof sunscreen with at least SPF 30, chapstick, and top it off with a nice sun hat for total protection of your face. A lot of us tend to associate sunburns with hot weather, including myself, but be careful when hiking in the snow as well! The sun will reflect off the snow on your face and surprise you with some extra color at the end of the day.
While this is one of the last things I grab when I am packing for a day hike, it's my most important item!
---
10 | Knife/Multi-Tool + Repair Kit
Ripped shoes and fabric tears can be common on the trail, so these items are more of a "just-in-case" item. I don't normally take a repair kit with me, however, I will wrap duct tape around my trekking poles in the event that these things do happen because, well, duct tape fixes everything, right? Along with duct tape, I also bring my absolute FAVORITE tool, my Trango knife. It's very small and when I opened it I laughed at its size, but ironically it's what I become most attached to on my first backpacking trip. A good multi-tool should also accompany this!
---
11 | Headlamp
Small, but mighty, the headlamp is my personal favorite day hiking essential. Whether you're waking up at dawn to hike the Delicate Arch at sunrise, reading in the tent after a day spent on the trails, or heading out on a photo-worthy sunset mission, this is going to be your most cherished possession. Petzl makes some of the BEST headlamps and I take this one on every single hiking and backpacking trip that I head out on! I would also be sure to toss extra batteries in your first aid kit in case the batteries die.
---
12 | Bear Spray
Bear spray isn't necessary in all parts of the world, but if you're hiking in regions that are populated by bears, don't hit the trails without this stuff! It can be pretty expensive at first, but it could end up saving your life. Also, if you don't end up discharging yours, toss it into your car glove box for self-defense! Most places that have bears will have shops to pick this up when you arrive, so purchasing it online isn't necessary.
---
DREAMING OF HIKING IN US NATIONAL PARKS? THESE ARE MY FAVORITE SPOTS:
– 10 Arches National Park Hikes That Will BLOW Your Mind
– The BEST Guide To The Delicate Arch Hike In Arches National Park
– Tower Arch Trail: The Best Hike In Arches National Park
– The 10 BEST Hikes In Canyonlands National Park
– 10 Jaw-Dropping Bryce Canyon National Park Hikes You CANNOT Miss
– How To Conquer The Narrows Hike In Zion National Park (Complete Guide)
– The ONLY Utah National Parks Road Trip Itinerary You Need
– 14 Best Hikes In Grand Teton National Park
---
WHAT ARE YOUR SNACK ESSENTIALS FOR DAY HIKES? SHARE WITH ME IN THE COMMENTS BELOW!

DID THIS LIST OF ESSENTIALS HELP YOU WITH PACKING FOR A DAY HIKE? SAVE IT FOR LATER!