(Last Updated On: 03/06/2023)
Nestled in the heart of the Glen Canyon National Recreation Area is an adventure like no other, backpacking Reflection Canyon. For those that are eager to know how to visit Reflection Canyon, you first MUST be equipt with off-trail navigation skills, backpacking experience, a trough's worth of water, and just a touch of grit. After a National Geographic photographer placed this winding canyon on our adventure-loving radars, and despite all previous caveats, many backpackers take on the challenge of getting out here to enjoy the solitude of the desert, millions of glittering stars on a clear night, and see this special place with their own two eyes.
In this detailed guide to the Reflection Canyon hike, I'll equip you with everything you need to know to begin your backpacking trip with confidence. It's crazy how a simple, rugged dirt road through Grand Staircase Escalante National Monument can lead you to one of the most memorable destinations of your life.
Before we begin, I want to acknowledge the history of this area. Once at the Reflection Canyon Viewpoint, you'll be able to see Navajo Mountain towering in the distance over a still Lake Powell. Everything on the other side of this canyon is Navajo Land, and, truthfully, the land you'll be standing on was also once Navajo Land and home to many other indigenous tribes. Places like these were once sacred to people that no longer call them home, so let's keep them neat and untouched for the next explorers who take this challenge on. While you're here, please remember the 7 Leave No Trace Principles.
Consider adding one of the best hikes in Utah if you're exploring other parts of the south, Kanab, or other backpacking trips in Grand Staircase Escalante.
This post may contain affiliate links for the products I mentioned, but as always, all opinions are my own. I make a small commission, at no extra cost to you, when you make a purchase or a booking through these links. This helps to support this space and keep me blogging, which I am so extremely thankful for.
---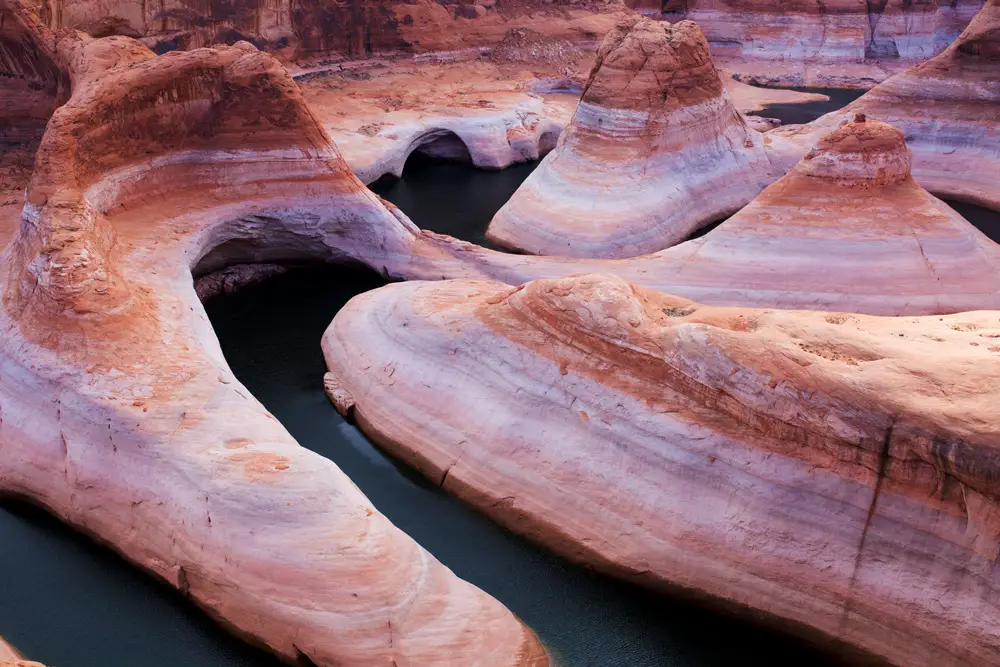 Reflection Canyon Trail Quick Facts
TYPE OF TRAIL | Out & Back
TRAIL DIFFICULTY | Moderate – Difficult. This is mainly rated difficult due to the last 3-4 miles because there is no trail and requires route finding. The hike in and of itself is not very difficult, but I recommend having backpacking experience under your belt before you attempt this backpacking trip.
HOW LONG IS THE REFLECTION CANYON HIKE? Roughly 16-18 miles out and back. Your total trip mileage will vary since you'll likely be searching around for the trail during the last half. Our group clocked in 8.18 miles on the way in and 7.69 on the way back, putting our total at around 16 miles.
HOW LONG DOES IT TAKE TO HIKE THE REFLECTION CANYON TRAIL? | 2 days. For entering and exiting the canyon, you can expect it to take 4-6 hours one way, depending on your abilities and what breaks you take. It took us about 4 hours and 15 minutes both ways, with minimal breaks, which is considered pretty quick.
TOTAL ELEVATION GAIN | 1,234 feet
PEAK ELEVATION | 4,466 feet
AVERAGE ELEVATION | 4,200 feet
REFLECTION CANYON TRAILHEAD | 37.2521698498235, -110.97351703127622 (use Google Maps)
REFLECTION CANYON CROWDS | Although this route is gaining popularity, only a handful of backpackers make it out here. It is a very quiet trail. I hiked this in late March of 2022 and we only saw four people over the entire trip and had the viewpoint to ourselves.
PERMIT | Yes (see below).
---
Do you need a permit for Reflection Canyon?
Yes. Permits are required for all backcountry trips in the Glen Canyon National Recreation Area and camping on Hole-in-the-Rock road. You can pick up a permit at the Escalante Interagency Visitor Center or at any of the established trailheads on Hole-in-the-Rock Road. The Glen Canyon National Recreation Area requires a fee to get in, so if you're going to the Escalante Interagency Center, it'll be $35 to get in. If you have an America the Beautiful Park Pass, that gets you into the area for free.
Reflection Canyon is a route and not a maintained trail, so you cannot pick up a permit for backpacking or camping at its trailhead. The closest trailhead with permit forms is the Hurricane Wash Trailhead, but I still recommend going to the Visitor Center to grab a permit on your way down since they have clean water, bathrooms, and rangers that can inform you about the weather.
The Reflection Canyon permit process is uncompetitive and unlimited, so you can simply walk into the center and grab one for $6. Easy peasy.
---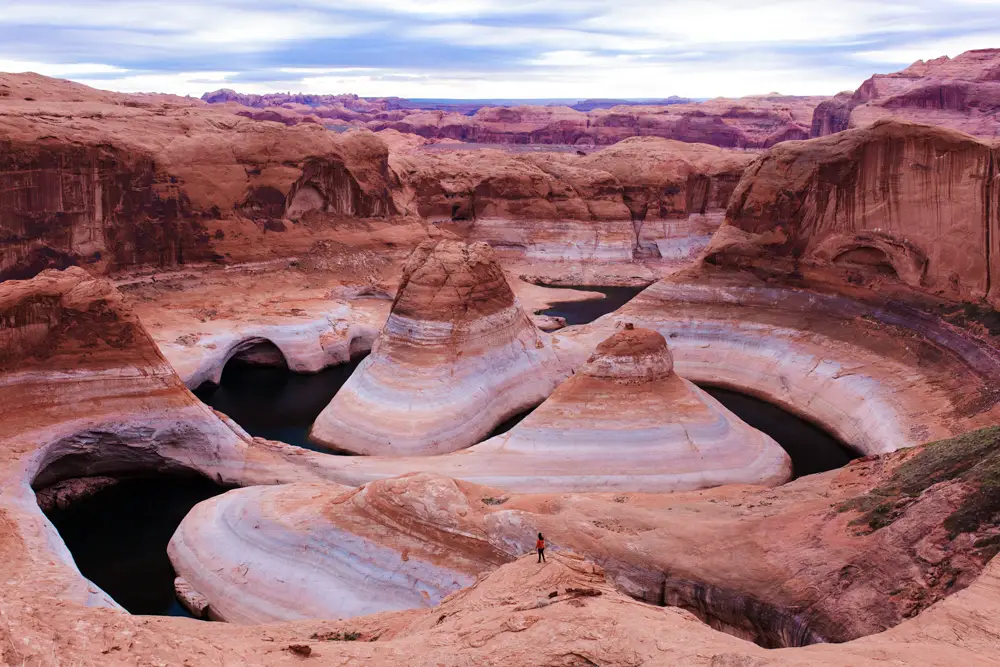 Best Time To Hike Reflection Canyon
The best time to hike Reflection Canyon is in March and April or October when the weather is mild and more favorable. We did this trail in late March and while it was still chilly, we had nearly perfect conditions. Given the chance, or drive really, to do this again, I would aim for the beginning of April for a springtime hike.
SPRING | Spring is one of the best times to do the Reflection Canyon hike. The weather can be a little more unpredictable in the springtime with the mixture of cold and warm air, but with daytime temperatures ranging from 50 to 70 degrees, this is one of the best times to hike. We backpacked Reflection Canyon during the third week of March and the weather was perfect. As long as you keep the weather and wind advisories in mind, you'll have a beautiful backpacking trip.
SUMMER | This season brings the challenge of summer monsoons and high daytime temperatures, nearing the 100s. Spontaneous rainfall in the summer can cause the Hole-in-the-Rock road to be impassable and you can get stranded for days waiting for the road to dry up. Also, with summer being so hot, you'll need to carry in a lot more water since this hike doesn't have any water access and offers no shade. I would consider summer, from May to September, rather unfavorable with these conditions in mind.
FALL | Fall is another great time to plan a Reflection Canyon backpacking trip because the weather will finally be cooling down. I would shoot for October to avoid the last heat of the summer and before the temperatures get below freezing at night in the late fall. Even the month of September can feel like the daytime temperatures near the 100s. October brings favorable weather and low wind making it very ideal.
WINTER | Winter isn't the best time to hike Reflection Canyon. With high winds and below-freezing temperatures at night, this backpacking trip will be a chilly one and it will require specific, 4-season gear in order to do it comfortably. While it's not impossible, it's not ideal. I would shoot for spring or fall instead.
---
How To Get To Reflection Canyon Trailhead
The Reflection Canyon trailhead is about 50-miles south on Hole-in-the-Rock Road. You'll drive on State Highway 12 and head five miles south of the town of Escalante until you reach a turnoff for Hole-in-the-Rock, 50-Mile Bench. There should be a sign next to the dirt road that will signal the turnoff. Make sure to fill up your gas tank in Escalante before you head down this road since it's the last place you'll get any type of amenities, and you definitely don't want to have to pay to get your car towed off this road.
The trailhead is 50-miles south on this road, so you can reset your odometer on your car once you get on this road so you know how far you've gone. While it seems like it would be a swift drive, the trailhead for Reflection Canyon is 2 hours away from the top of this road. On the drive, keep an eye out for Fifty-Mile Point on the right where you'll find the small parking area coming up for Reflection Canyon. The trailhead isn't marked, so I recommend saving the coordinates before you get out of service. I used the GAIA App to track our location on the road since it saves your location offline and this helped so much to get our group here.
4-wheel drive and high clearance are recommended for this road. Hole-in-the-Rock road is only maintained once a year and is notoriously washboard-like so it's not recommended for regular sedan cars to attempt driving down this road. We got here in a Subaru Outback and had no issues, but we also saw a standard minivan drive past the trailhead when we finished our backpacking trip… Not sure how they made it, but I still recommend a car with high clearance and AWD/4-wheel drive, especially if you're planning on doing dispersed camping on this road.
It's also important to check the weather forecasts for this area so that you can plan your trip accordingly. In the event that it rains, the road becomes muddy and impassable, so you could get stuck out here for a day or two in bad weather waiting for the road to dry up. We planned on camping on Hole-in-the-Rock for 3-4 days, so we had extra food and three of these 5-gallon water cubes (they are my favorite road trip essential).
Use the map to help you locate the Reflection Canyon trailhead and nearby stops! For best use, download this map to your smartphone so you can use it offline (instructions here).
---
HOW TO GET TO REFLECTION CANYON

Due to the challenges of this backpacking route, most hikers backpack Reflection Canyon in two days. Since there is no shade and no water the entire way, planning anything longer than two days would be challenging. We combined this hike with another two-day trail, Coyote Gulch, and it made for the perfect adventure while exploring the Grand Staircase Escalante National Monument and Glen Canyon National Recreation Area. There is so much to do in this region, and on Hole-in-the-Rock road to plan the ultimate string of adventures.
REFLECTION CANYON ITINERARY
Planning an itinerary for this backpacking trip is straightforward since this is a simple out-and-back trail. Everyone tends to follow the same protocol which is as follows:
REFLECTION CANYON TRAILHEAD | 37.25217245874294, -110.97351819329278
DAY 1 | Hike out to the Reflection Canyon viewpoint and camp
DAY 2 | Hike back to the Reflection Canyon Trailhead
REFLECTION CANYON ROUTE DESCRIPTION
The journey of a thousand miles… *record scratch* Er uh, just about 16-miles, begins with the first step headed south with Fifty Mile Point shooting into the blue sky on your right. One of the best pieces of advice I have is to hang along Fifty Mile Point Mountain. These steep cliffsides will have a handful of important landmarks to watch for that are going to help guide IMMENSELY you on your way. I've dotted them on the map, so make sure you note these on yours, or just make a mental note of them for when you're out there:
BIG POINTY ROCK | Very obviously named, the halfway point is when the big pointy rock on your right will jut the furthest towards the trail. This is when you'll know you're halfway to Reflection Canyon (It isn't named "Big Pointy Rock", I just couldn't remember the actual name, so I made a Lion King 1 1/2 reference when we were headed back because I was stoked to be back on the established trail).
FLAT MESA | Once you reach the first edge of flat mesa, that's your signal to start cutting in towards the canyon and beginning the unmarked route to the Reflection Canyon Viewpoint.
Now that you have those landmarks noted, let's get to the trail, shall we? For the first 6-ish miles, you're going to follow the dirt path toward Flat Mesa. Although this trail is well-marked and trafficked, I would be adamant about checking your GPS because there are a lot of small forks and spurs of this trail that can get you off-trail, in the wrong direction, headed east towards 50-100 foot slot canyons, so keep an eye on your route. When in doubt, take the better-worn path.
Once you hit close to the two-mile mark, you're going to reach a fence and a watering hole shortly after that, then the trail will split a little bit after. I believe we went right going in and left on the way back. In this case, both paths will eventually meet back up, but I found the left to be a bit easier. This is your first "hey I haven't hiked two miles in the wrong direction" notice that isn't a cliffside, and on your way back, it feels like that final lap in Mario Kart.
Keep hiking along the cliffside and soon you'll reach the Big Pointy Rock. You're halfway!
Past this, it's a mile or so more until you reach Flat Mesa, where your GPS becomes your new best friend. Once you align yourself with that first square edge of Flat Mesa, you'll cut into the maze of slickrock headed southeast. At this point your GPS, whether you're using All Trails or GAIA, will show a fork in the trail, and I highly recommend going left. When we inquired about this fork at the visitor center, the ranger said he didn't know of one existing, and I've also read reviews that going right is a lot more difficult. When we got to this portion, I didn't see another way to go, but I read about another blogger that went this way and I can confirm that it's harder to navigate. So if you make it to the far edge of Flat Mesa, you've gone too far. Stick to the first corner.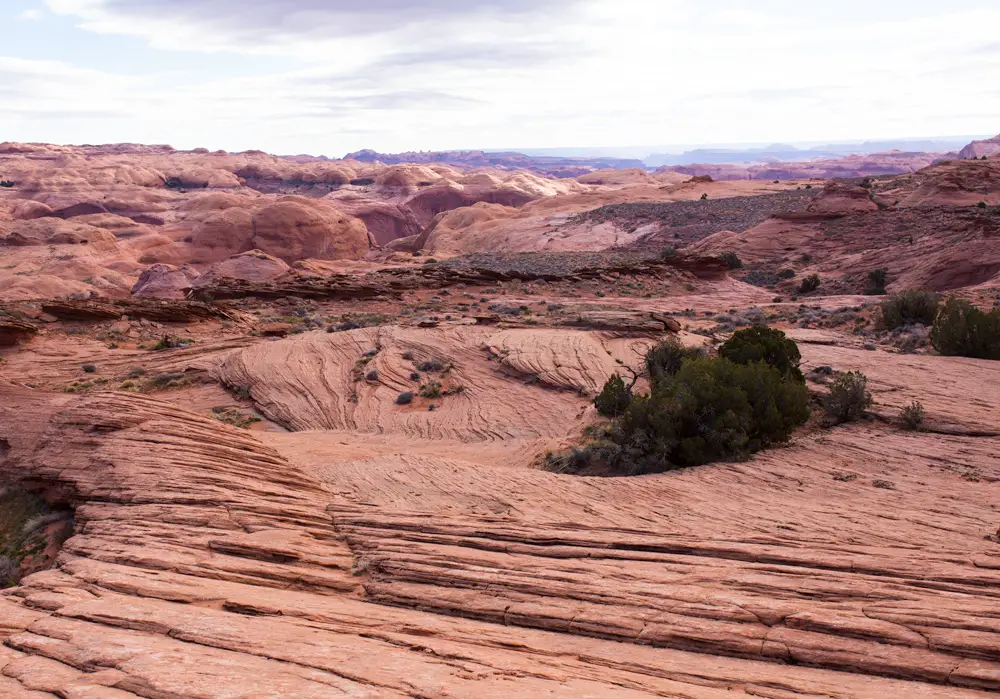 Let the games begin! Whip out your favorite offline GPS and get cookin'. Before you go, I do want to note a few things: 1. Stay on your GPS line, but also observe where you're walking up ahead. Sometimes there are ways to stay on route but go around challenging portions. 2. There are cairns along this route, and while I did find them useful, I didn't rely on them 100%. While walking I often asked myself, "Is this a cairn or just a collection of rocks?" 3. On your way in, you're probably going to go in the wrong direction or go in a roundabout way a few times, but your journey out will be way more direct. In fact, I found the way out to be a hell of a lot easier to navigate (thank goodness).
The last portion of the trail requires small up and down pushes over steep slick rock, and after two miles of this, my brain capacity and ankles were SPENT. I was stoked to pitch the tent and find a beautiful spot to camp.
FAQ about GETTING TO REFLECTION CANYON
CAN YOU HIKE REFLECTION CANYON IN A DAY? | This would be an incredibly LONG day, but hiking Reflection Canyon in a day is possible. Be sure to stow extra water in the first 4-6 miles of the trail and leave a note: "water cache – please don't take/drink." One of my favorite parts about my Reflection Canyon backpacking trip was being able to experience both sunrise and sunset here, but if time doesn't allow you to do that, it's understandable.
CAN YOU BOAT TO REFLECTION CANYON? | The best views of Reflection Canyon are seen from above, but you can enjoy and get to Reflection canyon by boat much easier, and only in a day. I recommend picking up a rental from Bullfrog Marina and leaving from there, or considering a Reflection Canyon boat tour if you're not comfortable venturing out yourself. Be mindful of the Lake Powell water level before you leave and plan your trip because that will dictate how far into the canyon you can go.
CAN YOU KAYAK TO REFLECTION CANYON? | It is possible to kayak to Reflection Canyon, but that requires more advanced planning. Hidden Canyon Kayak is a great resource for getting more information about a trip like this.
CAN YOU DRIVE TO REFLECTION CANYON? | There is no way to get to Reflection Canyon by car as it is too remote.
REFLECTION CANYON HELICOPTER TOUR OVER LAKE POWELL | Now if you want to see Reflection Canyon, but don't want to make the journey to get there, American Aviation has a scenic flight over this area that would probably give you a better view than the hike, boat tour, or kayak tour combined… While I did enjoy backpacking Reflection Canyon, this is how I plan to see it for round two.
---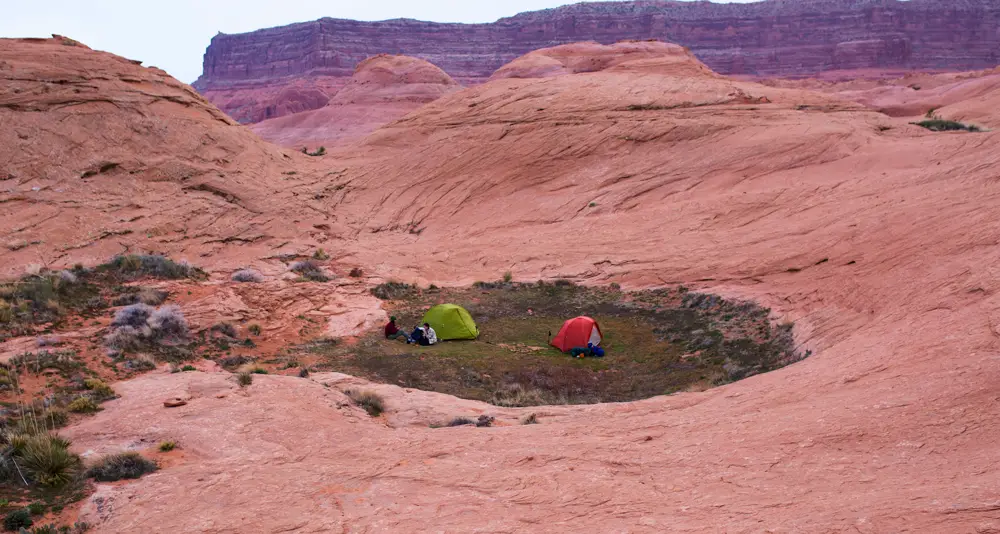 standing at the viewpoint looking back at our campsite
Camping at Reflection Canyon
There are no designated campsites along the Reflection Canyon Trail, or at the viewpoint, so you can camp wherever you like. Finding a flat camping spot is a bit challenging once you're here, even our grass patch wasn't flat (see above), but if you go scouting, there are some small patches on the left cliffside that can fit 1-2 tents that have incredible views if you're here in good weather.
While very steep, if you climb up far enough past the main viewpoint, on the left, you can snag a view of both Reflection Canyon and Lake Powell that is so worth that final push to get to. I wish we could have ventured up there, but with 30 mph winds, trying to keep a freestanding tent on a steep cliffside wasn't really in the cards for us. Even with my tent staked down, it felt like we could have blown away in the night with how brutal the windspeeds were. And of course, the weather was PERFECT the day we hiked out *shakes fist*.
I recommend bringing a freestanding tent or considering cowboy camping if the conditions are favorable enough to do so. If you have a tent that requires stakes, camp on the grass patch in poor weather, otherwise you're going to have a hell of a time getting it pitched on the solid rock face. The only thing you'll have to stake it down are some small rocks.
---
photos above are examples of the unmarked route – once you see this rock on the left side of the trail, that is when you'll cut into the canyon and begin the route-finding portion.
Challenges of Backpacking Reflection Canyon
WATER | There are no areas with a water source on the Reflection Canyon hike. Even at the end of the trail, Reflection Canyon is MASSIVE and there is no way to get water from Lake Powell because the viewpoint is too high and steep to attempt going down there. I recommend bringing at least 4 liters (1 gallon) of water PER PERSON, per day, and increasing it to six liters minimum if you're traveling in the summertime. This is also considering the water you may need to cook your food. This is a lot of water to carry, but you can stash extra water around the halfway mark, then pick it up on your way back to the trailhead so you're not carrying so much weight in.
WEATHER | Although the desert is notorious for being hot and sunny, the weather can change in an instant. If a rainstorm is imminent, it's not recommended that you attempt this trail.
EXPOSURE | There is no shade on this entire trail which will require you to be diligent about the weather and how you're going to bring in enough water. Be sure to also bring proper sun protection.
REMOTE LOCATION | From the start of Hole-in-the-Rock road to the trailhead and on, you're not going to have any service, so you'll want to have some type of satellite device in case something happens.
BUGS & CRITTERS | There isn't an abundance of wildlife on this trail, but you do want to watch out for a handful of critters and bugs. Raven and mice are in the area, so you want to protect your gear and food at night. Rattlesnakes have been spotted in this area, so be careful where you put your hands and feet, and also make sure to check your shoes for scorpions when you're putting your hiking boots back on. We didn't have problems with any of these when hiking in the late spring, but always keep an eye out.
WAG BAGS REQUIRED | On this trail, you cannot dig cat holes for your waste, so all solid human and pet waste must be carried out, including toilet paper. You'll need wag bags on this trail as well, so make sure you pick those up before you head out. 
---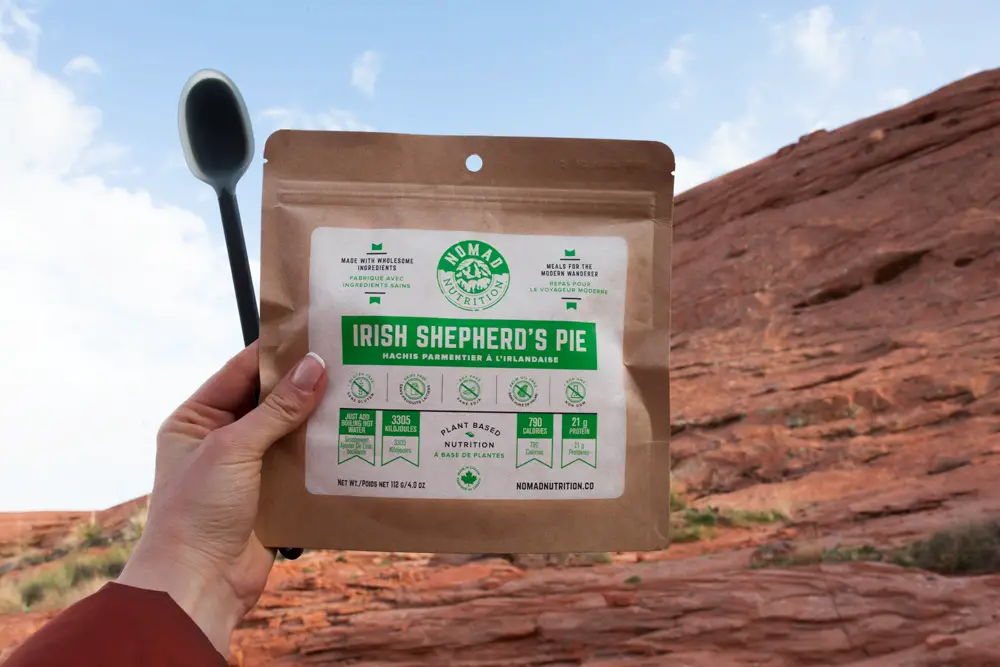 What To Pack for Reflection Canyon
BACKPACK | I brought my Osprey Eja 58L bag for this trip and it had optimal space for everything I needed. I recently upgraded to an Osprey Aura 65L, and would have loved to have the extra space for more water. I recently dug into so many positive gear reviews about this pack and I'm so stoked to try it. This largely depends on your backpacking style and I don't exclusively backpack ultralight.
SLEEPING BAG | Depending on when you hike Reflection Canyon will determine what temperature rating you'll need your sleeping bag to be. I took my Kelty Cosmic 0F and slept more than comfortably, but you can probably get away with a lightweight 15-degree or 30-degree bag. My hiking partner brought a 40-degree and slept cold the night we stayed here.
SLEEPING PAD | My Therm-a-rest NeoAir Xtherm Sleeping Pad is my go-to for all my backpacking trips and it's one of the best insulators against colder nighttime temperatures.
PILLOW | My NEMO Fillo brings me all the comforts of my home pillow to my tent.
TREKKING POLES | On the steep pushes of slick rock near the end of the trail, trekking poles will help cushion your ankles and other joints. I have sensitve hips and these helped me so much in some portions.
COOKING SYSTEM, FUEL, & FIRE SOURCE | My tried and true cooking setup is my Jetboil MiniMo with fuel, the GSI Essential Spoon, my favorite coffee mug, and matches.
HYDRATION BLADDER / PLATYPUS | Carrying enough water on this trail is crucial. I took my hydration bladder, sawyer squeeze, and could have used 1-2 extra platypuses. A water filter isn't needed because there aren't any water sources.
HEADLAMP | I take this one on every backpacking trip.
NAVIGATION | I used three different forms of navigation for this: my GARMIN, GAIA App, and a National Geographic Topo Map. Paper maps are useful for the main landmarks I discussed above in the route description, but they're not going to help you for the last two-mile push to the viewpoint. You definitely want some type of offline GPS. I have GAIA GPS Premium and I highly recommend it.
FIRST AID KIT | The Adventure Medical Ultralight Medical Kit 0.7 is my go-to for first aid. I love that you can order refills for this to keep everything uniform and compact as well. It supplies everything you need for a few days in the backcountry and weighs next to nothing! I will recommend packing a few extra bandaids in here before you head out since this doesn't give you too many.
SUN PROTECTION | Since this trail is fully exposed, you'll want a sun hat and mineral sunscreen to protect your skin. I think no matter the season you do the Reflection Canyon hike, you should aim to cover your skin to avoid excess sun exposure, even in the cooler months.
CLOTHING | These are some of my tried and true backpacking gear items that made my trip to Reflection Canyon comfortable and warm during the late Spring.
(x1) Rain Jacket | Arc'teryx Zeta SL Rain Jacket
(x1) Down Jacket | Fjallraven Greenland Down Jacket
(x1) Baselayer Top | Arc'teryx Quadra Crew Shirt
(x1) Baselayer Bottom | Patagonia Centered Tights
(x1) Hiking Shorts | Patagonia Baggies
(x1) Hiking Pants | Fjallraven Keb Trousers
(x1-2) Shortsleeve Tops | Patagonia Capilene Cool Trail Shirt
(x1) Longsleeve Top | North Face Wander Long Sleeve
(x2-3) Socks | Smartwool Performance Hike Light Crew / Smartwool Classic Hike Extra Cushion Crew
(x1) Sun Hat | Columbia Bora Bora Booney II Hat
(x1) Warm Beanie | Patagonia Fisherman Beanie
(x1) Gloves | 66North Vik Gloves
(x1) Hiking Boots | KEEN Targhee III
POCKET KNIFE | I carry this knife on every backpacking trip and I LOVE it. Although, you may want something a little bigger like a swiss army knife or a regular pocket knife.
FOOD | Since this is an out-and-back trail, you can pretty much bring whatever backpacking meals and snacks are your favorites given your bag space. I would aim to bring meals that don't require so much water to be cooked but to each their own. Some of my favorite dehydrated meals are Nomad Nutrition Spanish Paella, Nomad Nutrition Irish Shepard's Pie, Good-to-Go Classic Marinara, and for dessert, none other than the Alpine Aire Apple Crisp.
PERMITS, ID, & CASH | These are all necessary for your journey. If you're stopped by a ranger, they will ask for your permit and possibly proof of I.D. Plus, in the event that something happens to you, you have identification. We didn't see a ranger out here, but I have read of other groups running into one.
TOILET PAPER, WAG BAG, & PEE CLOTH | In order to follow the 7 Leave No Trace Principles, you must pack out all your solid human waste in wag bags, as well as your toilet paper. I also use a Kula Cloth to help reduce my waste as a woman in the outdoors.
HAND SANITIZER | You'll want to have hand sanitizer for clean hands after using the bathroom before you grab your favorite snack, and before you begin cooking all of your meals.
PHOTOGRAPHY GEAR | Pack your favorite camera and a 35mm or wider lens. I would say 16-24mm is most ideal. I brought a 35mm and just barely captured the entire canyon. Reflection Canyon is A LOT bigger than you'd think.
---
MORE HELPFUL BACKPACKING GUIDES:
– Packing For A Day Hike: 12 Adventure Essentials To Get You Exploring
– 11 Beginner Mistakes I Made On My First Backpacking Trip
EXPLORE NEARBY UTAH NATIONAL PARKS:
– The ONLY Utah National Parks Road Trip Itinerary You Need
CAPITOL REEF NATIONAL PARK
– How To Spend One EPIC Day In Capitol Reef National Park
– Hiking The Cassidy Arch Trail In Capitol Reef National Park
BRYCE CANYON NATIONAL PARK
– One Day In Bryce Canyon: The Perfect 1-Day Bryce Canyon Itinerary
– 10 Jaw-Dropping Bryce Canyon National Park Hikes You CANNOT Miss
– The Ultimate Guide To Camping In Bryce Canyon National Park
– Hiking the Figure 8 Loop in Bryce Canyon National Park: Queens Garden, Peek-a-boo Loop, and Navajo Trail
ZION NATIONAL PARK
– 2 Days In Zion: The Ultimate Zion National Park 2-Day Itinerary
– How To Conquer The Narrows Hike In Zion National Park (Complete Guide)
---
LOVE EXPLORING THE BACKCOUNTRY? SHARE WITH ME YOUR FAVORITE MEMORY IN THE COMMENTS BELOW!

DID YOU FIND THIS BACKPACKING GUIDE TO THE REFLECTION CANYON HIKE HELPFUL? SAVE IT FOR LATER!