(Last Updated On: 03/06/2023)
World-famous hoodoos. Miles of scenic hiking trails. Panoramic views filled with the entire rainbow. Bryce Canyon National Park is one of my FAVORITE National Parks in Utah, but it is WAY too often outshined by its way cooler neighbor, Zion National Park. Oftentimes, travelers on a Utah National Parks road trip only give about one or two days to see Bryce Canyon, which is plenty of time to see the highlights of the park. Since you're likely working with a small amount of time in Bryce, you want to make the most of it, and that's where I come in! The Figure 8 Loop in Bryce Canyon is one of the BEST hikes in the park to knock out some of the best trails and viewpoints in a single go. It's made up of three different Bryce Canyon hikes: Navajo Loop Trail, Queens Garden Trail, and the Peekaboo Loop.
In this guide to the Bryce Canyon Figure 8 Loop, I am going to break down everything you need to know and all the day hiking gear you need to have an amazing experience on this Bryce Canyon hike.
This post does contain affiliate links for the products I mentioned, but as always, all opinions are my own. I make a small commission, at no extra cost to you, when you make a purchase or booking through these links. This helps to support this space and keep me blogging, which I am so extremely thankful for.
---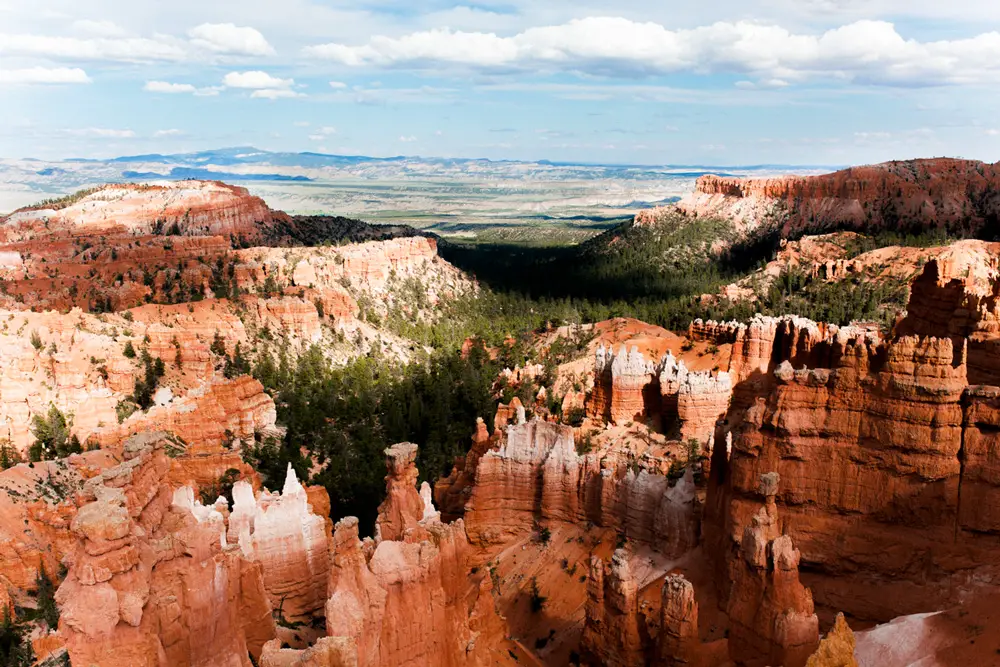 About the Figure 8 Loop in Bryce Canyon
Most hikes in National Parks are singular out-and-back trails or loop trails that, most of the time, aren't connected. What I love about Bryce Canyon is that it's condensed so most, if not all, of the trails are connected, allowing you to see SO MUCH in a small amount of time.
This trail consists of the three main trails in Bryce; the Navajo Loop Trail, Queens Garden Trail, and the Peekaboo Loop. When my friend and I visited Bryce Canyon a few summers ago on our road trip, the park ranger recommended this loop instead of doing all of them one by one!
HOW LONG DOES IT TAKE TO HIKE FIGURE 8 IN BRYCE CANYON? | On average, it takes hikers 4 hours to complete the Figure 8 Loop Trail.
Figure 8 Loop Trail Details
TYPE OF TRAIL | Loop
TRAIL DIFFICULTY | Moderate
TRAIL LENGTH | 6.3 miles, roundtrip
ELEVATION GAIN | 1,499 feet
HIKING TIME | 3-5 hours
PERMITS | None
LEAVE NO TRACE | The Navajo Loop Trail, Queen's Garden Trail, and Peek-a-boo Loops are all well-loved hikes with great views. There are many beautiful places in Bryce Canyon  National Park and other parts of Southern Utah that have been closed or ruined due to people carving their names into rocks and leaving trash behind on the trails, so please keep this trail beautiful for everyone and remember the 7 Leave No Trace Principles.
---
Best Time To Hike the Figure 8 Loop Trail
SPRING | Spring is a nice time to hike the Figure 8 Loop in Bryce Canyon. The park gets popular around spring break, but any other time in spring is favorable since there aren't many people around and the weather is warming up. Snow lingers into March, so keep that in mind and dress warmly for a spring visit to Bryce Canyon.
SUMMER | Bryce Canyon National Park sits at over 9000 feet above sea level, so even in the summer months, it is PERFECT hiking weather. I'm talking 70-degrees and sunny with a nice breeze! The only downside to a summer visit is that it gets extremely busy and parking is almost impossible. Luckily with the parks free shuttle service, you'll have no problem getting around the park.
FALL | Fall is another great time to hike the Bryce Canyon Figure 8 Loop. The weather during the fall months is a lot cooler than in the rest of Utah, but as long as you layer correctly, the smaller crowds make the visit worth it.
WINTER | Winter in Bryce Canyon gets tricky because there can be road closures in bad weather, so keep that in mind. However, a snowcapped vibrant orange hoodoo is a sight to see, along with being one of the handfuls of people that visit the park this time of year. Just make sure you're checking road and trail conditions so that you can plan accordingly. The trails can get icy and you may need microspikes.
---
Where Is The Bryce Canyon Figure 8 Loop Trailhead?
The Bryce Canyon Figure 8 Loop Trailhead is at Sunset Point. Depending on the season, you can grab parking at this trailhead, but I recommend taking the shuttle to Sunset Point since parking is very limited in Bryce Canyon.
GOOGLE MAPS SEARCH WORD | Sunset Point
GPS COORDINATES | 37.62346, -112.16714
Bryce Canyon Figure 8 Map
---
MORE HELPFUL GUIDES FOR YOUR TRIP TO BRYCE CANYON NATIONAL PARK:
---
What To Expect on the Figure 8 Loop Trail in Bryce Canyon
The Bryce Canyon Figure 8 Loop takes you on a grand hiking tour of all the highlights in Bryce Canyon National Park on a single trail. Get up close and personal with towering orange hoodoos, dense bristlecone pine forests, and other interesting pinnacles erosion has sculpted into Bryce Canyon's landscape.
SUNSET POINT / SUNRISE POINT
You can begin the Bryce Canyon Figure 8 Loop from either Sunset Point or Sunrise Point, but this guide is going to start the trail at Sunset Point. The Navajo Loop Trail can get pretty crowded in the afternoon since it's one of the most popular trails in the park, so you'll start here for the fewest crowds and best photos of Wall Street. Also, despite what the names suggest, Sunset Point is an amazing spot to watch the sunrise because of the way the first morning light hits the hoodoos. This was recommended to me by one of the Bryce Canyon Park Rangers, so I am extending this tip to you!
To get to Sunset Point, take the free Bryce Canyon shuttle. Parking is extremely limited inside the park, so if you get here later in the morning, you may not be able to find a parking spot. The shuttles are the most ideal way to get around the park and they run all day. More recently, they created a way to track the shuttle from your phone so you don't miss it on your way to or from trails. Since cellphone signals may not work in the park, always be mindful of the shuttle hours so you can make it back to your car. Some people miss the last shuttle and have to do an extended version of this trail back to their car… No thanks!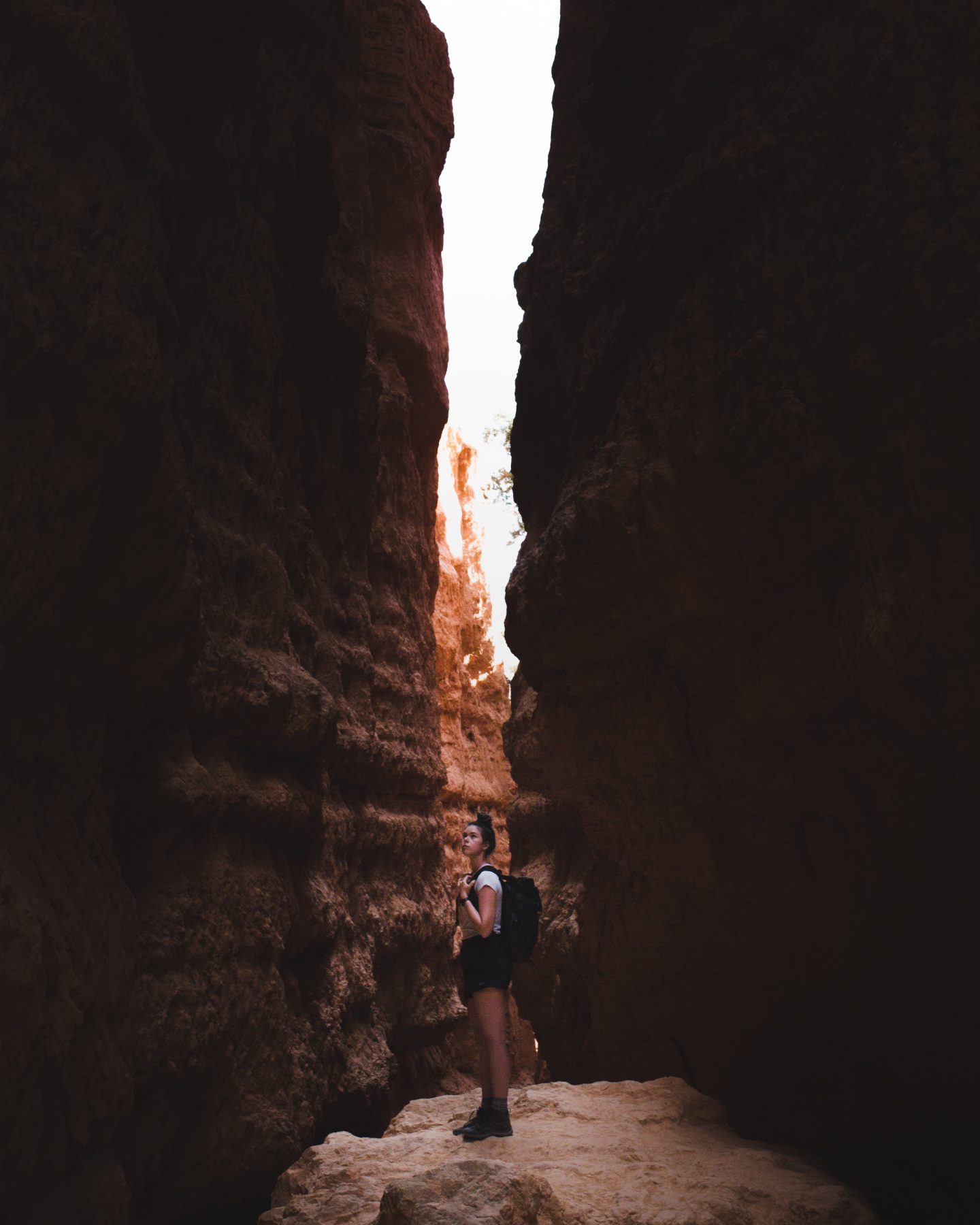 NAVAJO LOOP TRAIL
Beginning at Sunset Point, you're going to get onto the Navajo Trail and hike down the series of switchbacks (right) until you reach the incredibly scenic, Wall Street at the bottom. If you go on the opposite side (right), you'll meet at the same trail junction and see a handful of notable landmarks: Thors Hammer, the Three Gossips, Boat Mesa, and Bristlecone Point. Sometimes the Wall Street section can be closed in the winter due to rockfall, so if this is the case, go left.
Keep descending down the trail and you'll spot the dried Bryce Canyon Creek on your right. You'll follow this bed until you reach the first junction at 0.75-miles.
This trail junction is where the Navajo Trail, Queens Garden, and connection trail to the Peekaboo Loop all link up. You're going to take the very right trail towards the Peekaboo Loop. This small connecting trail crossing Bryce Canyon's broad wash is short and sweet at 0.2-miles.
PEEKABOO LOOP TRAIL
At the end of the wash, make a right towards the Peekaboo Loop. The alternative direction is going to take you towards the Tropic Trail, a horse trail, so just follow the signs to Peekaboo and then follow the loop going clockwise. Unlike the other two trails, you'll be hiking the entirety of the Peekaboo Loop, around 5.2-miles. Along this loop, you'll see many notable landmarks in the park: The Cathedral, Hindu Temples, Wall of Windows, The Alligator, Peekaboo Arch, and Fairy Castle. Once you complete the loop, you'll find yourself at the same junction as before, except this time you'll go right and get on the Queens Garden Trail.
QUEENS GARDEN TRAIL
Once on the Queens Garden Trail, you'll be able to spot two notable rock formations, Queen Victoria and the ET Hoodoo, on your way back up to Sunrise Point. This trail has tons of shaded lunch spots to take a break under the pine trees, which is one of my favorite things about this trail! After all the exposure on the Navajo Loop Trail and the Peekaboo Loop, this is a nice break from the sun's rays. Once you arrive at Sunrise Point, wait for the shuttle and it'll take you to your next destination.
---
Bryce Canyon Figure 8 Loop Hiking Essentials
SUN PROTECTION | The can negatively impact your skin, especially in higher elevations, so make sure you pack sunscreen, a sun hat, and consider a long sleeve hiking top to help protect your arms.
STURDY BOOTS | The Figure 8 Loop Trail has a variety of different elevations and portions with steep switchbacks, so you want some quality hiking boots for your hike.
WOOL SOCKS | I almost exclusively hike in these socks. They're made of wool which helps wick away sweat and prevents blisters.
NAVIGATION | The trail is well-marked and pretty straightforward, but make sure you have a trail map and some type of offline navigation like the GAIA App on your phone.
LIGHT JACKET | Bryce Canyon sits at an elevation of about 9000 feet, going up to 10,000 feet in some parts of the park, so even in the summertime, you're going to want a light jacket to keep you warm. This is my favorite fleece to go hiking in.
10 HIKING ESSENTIALS | I cover everything for day hiking in this post! Use my gear guide to make sure you have the proper gear to be comfortable and confident on the Figure 8 Loop in Bryce Canyon.
---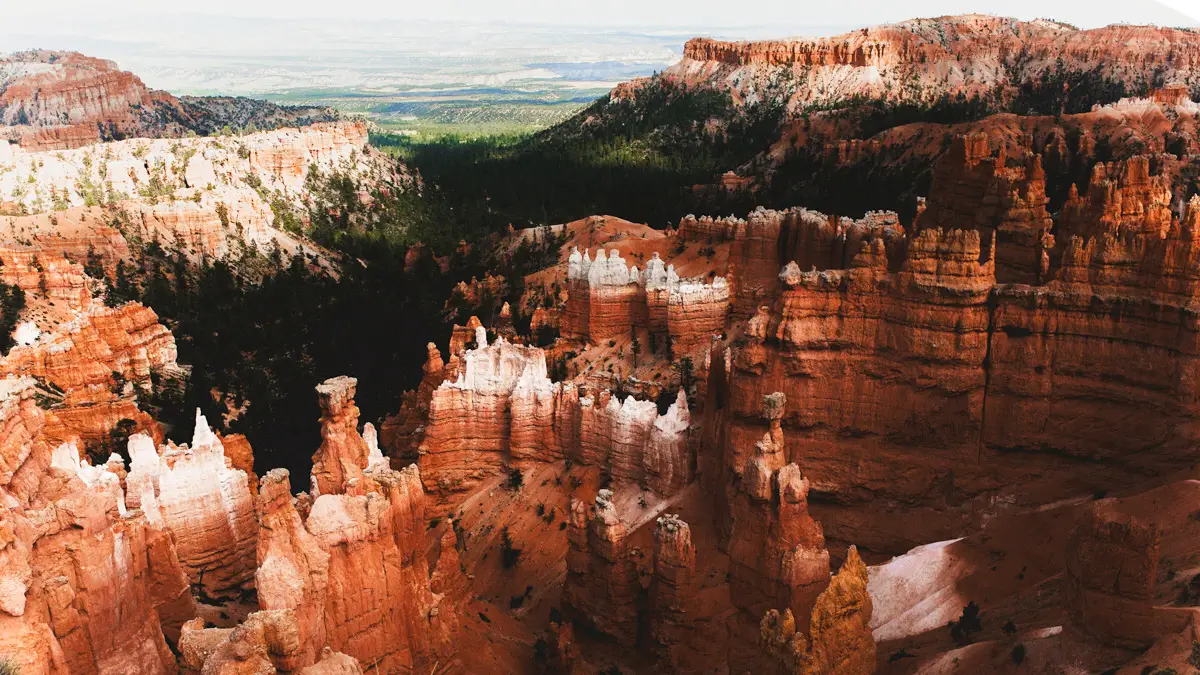 More things to do in Bryce Canyon
FAIRYLAND LOOP | This is one of the least-hiked trails in Bryce Canyon, but it's probably the most scenic. Explore Fairyland Point and hike the full loop to see Boat Mesa, Crescent Castle, Tower Bridge, and Oastler Castle rock formations.
RIM TRAIL | This 10-mile, paved trail takes you to most of the scenic viewpoints in the park. This is a great option if you don't want to do much serious hiking and just want to enjoy the views. The free shuttle also stops at all of these on its route.
BRISTLECONE LOOP TRAIL | Take this loop from Rainbow Point to see 1800-year-old bristlecone pine trees and sweeping vistas that expand into the four corners area in the American Southwest from Yovimpa Point. The Bristlecone Pine Loop trail is one mile long and takes an average of 25 minutes to hike.
SCENIC VIEWPOINTS | These offer some of the most panoramic views of the Bryce Canyon Amphitheater. You'll be able to hundreds of tiny hoodoos lining the canyon walls, filled with vibrant forest pines at Sunrise Point, Rainbow Point, Yovimpa Point, Bryce Point, and Inspiration Point.
BRYCE CANYON SCENIC DRIVE | You don't need to hike to see the most expansive views of Bryce Canyon National Park. Along this scenic drive, you'll stop by most of the major viewpoints in the park all the way up to the highest point in Bryce Canyon, Rainbow Point.
STARGAZING | I always take up an opportunity to see the beauty of space. Bryce Canyon is a certified Gold Tier International Dark Sky Park… AKA you can see the milky way and billions of stars on a clear night! There is a helpful guide for stargazing in Bryce Canyon here! The park rangers host Astronomy & Night Sky programs that I recommend joining! The best time to see stars in the park is near or around the new moon since the moonlight won't pollute the sky with lighting, so you may want to keep that in mind while you plan your trip!
---
HELPFUL GUIDES FOR YOUR TRIP TO BRYCE CANYON NATIONAL PARK:
– Packing For A Day Hike: 12 Adventure Essentials To Get You Exploring
–  The Ultimate Guide To Camping In Bryce Canyon National Park
– 10 Jaw-Dropping Bryce Canyon National Park Hikes You CANNOT Miss
– One Day In Bryce Canyon: The Perfect 1-Day Itinerary
VISITING THE REST OF UTAH'S NATIONAL PARKS? CHECK THESE OUT:
– The ONLY Utah National Parks Road Trip Itinerary You Need
ZION NATIONAL PARK
– How To Conquer The Narrows Hike In Zion National Park (Complete Guide)
– 2 Days In Zion: The Ultimate Zion National Park 2 Day Itinerary
CAPITOL REEF NATIONAL PARK
– How To Spend One EPIC Day In Capitol Reef National Park
– Hiking The Cassidy Arch Trail In Capitol Reef National Park
ARCHES NATIONAL PARK
–  The Ultimate Guide To Camping In Arches National Park
– 10 Arches National Park Hikes That Will BLOW Your Mind
– The BEST Guide To The Delicate Arch Hike In Arches National Park
– A PERFECT 3-Day Itinerary For Arches National Park
– Tower Arch Trail: How To Hike Arches National Park's Crown Jewel
CANYONLANDS NATIONAL PARK
– The 10 BEST Hikes In Canyonlands National Park
---
LOVE EXPLORING UTAH? SHARE WITH ME YOUR FAVORITE MEMORY IN THE COMMENTS BELOW!

DID YOU FIND THIS GUIDE TO BRYCE CANYON FIGURE 8 LOOP HELPFUL? SAVE IT FOR LATER!