(Last Updated On: 03/07/2020)
As underrated as Capitol Reef National Park is, most would not believe that you can hike to this incredible arch in just under four miles. Cassidy Arch is one of the crown jewels of this National Park, and while it is a trail that will make you bust a sweat, the view is one of the most rewarding you'll find during your time in this Utah National Park.
Once you've paid a visit to the Capitol Reef Visitor's Center, cruised down the scenic drive through the park, you must make time do to this hike. During my Utah National Parks road trip, I did very little research on Capitol Reef because I didn't think it would be "as good" as its neighbors and BOY was I wrong. So, chances are, if you've found your way to this blog post, you're already heading in the right direction!
Keep reading to learn all about how to get to the Cassidy Arch trailhead, a detailed trail description, trail essentials, and tips for completing this hike!
This post may contain affiliate links for the products I mentioned, but as always, all opinions are my own. I make a small commission, at no extra cost to you, when you make a purchase or booking through these links. This helps to support this space and keep me blogging, which I am so extremely thankful for.
This post about Cassidy Arch is part of my Utah Travel Series! Check out these other blogs to help you plan your trip!
How To Spend One Epic Day In Capitol Reef National Park (COMING SOON)

The 10 Best Hikes In Capitol Reef National Park (COMING SOON)
---
Where Is Cassidy Arch In Capitol Reef National Park?
---
How To Get To The Cassidy Arch Trailhead
The Cassidy Arch trailhead is around 15 minutes away from the Capitol Reef visitor's center, and since this hike is no secret, it's very easy to access and navigate.
Once you're leaving the visitors center, you're going to make an immediate right onto Camp Ground Road. You'll drive down this road for a little over three miles and look for Grand Wash Road on the left side of the road. From what I remember, this road was a little rough and can be impassible during flash floods, so don't attempt this hike in poor conditions unless you want to get stuck at the trailhead. Once you continue down Grand Wash Road for one mile, it'll lead you directly to the trailhead parking.
There are restrooms here that you can use before your hike and there is plenty of parking!
---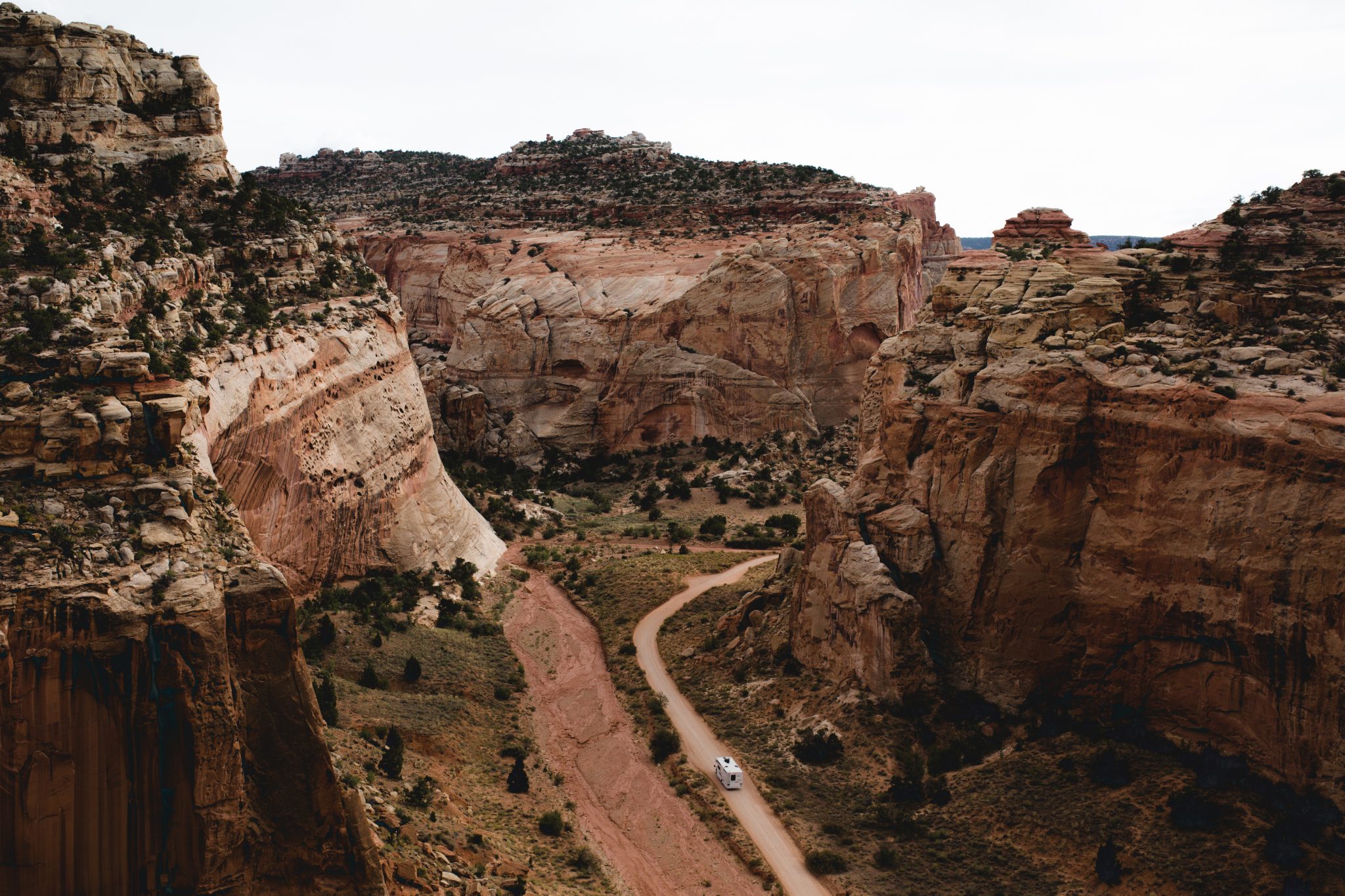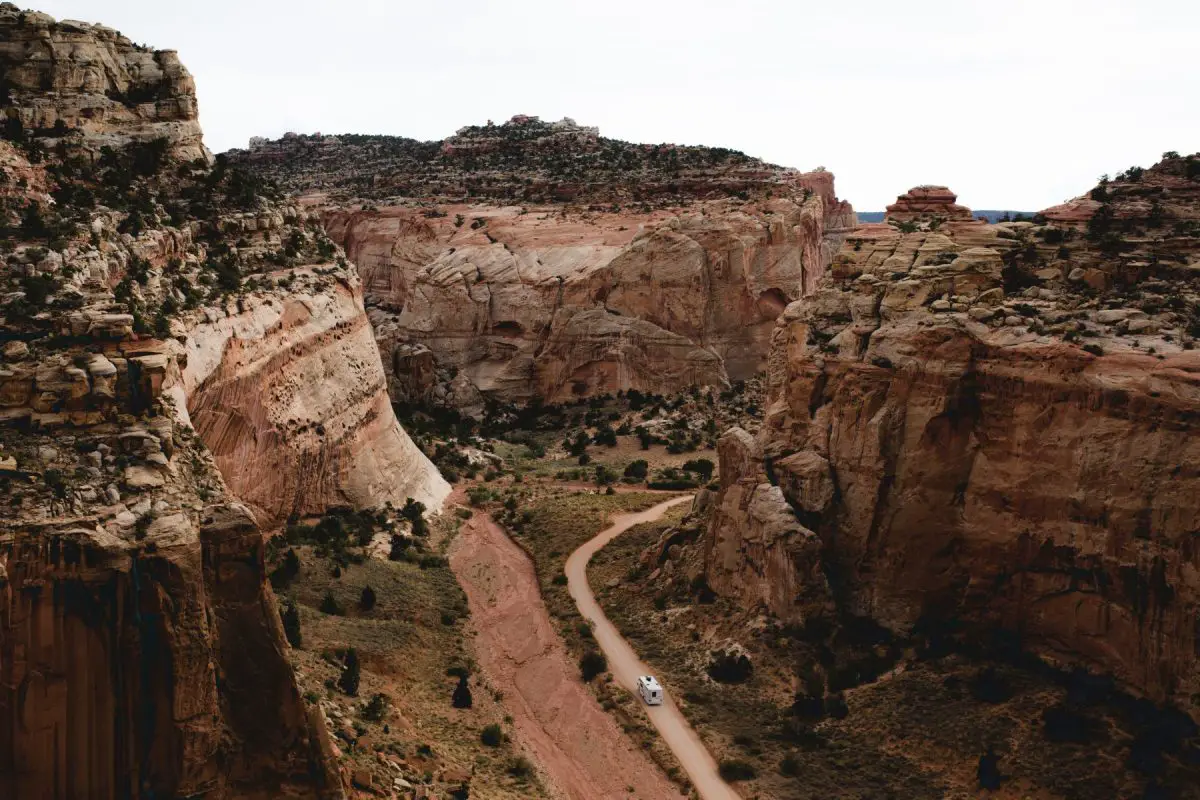 Cassidy Arch Hike Details
Best Hiked | Sunrise/Sunset

Best Light | Sunrise

Trail Length | 3.2 Miles RT

Trail Difficulty | moderate

Hiking Time | ~2-3 hours

Permits | None
---
On The Cassidy Arch Trail
The Cassidy Arch hike begins with around a few hundred yards of flat trail down Grand Wash from the parking area. Once you walk a way down, you'll see the trailhead for Cassidy Arch on your left. The elevation gain for this trail gains immediately and rapidly, which you'll see from your view of the trailhead. There are lots of stairs in this portion and I would consider this the most difficult part of the trail.
As you continue up the switchbacks and climb further, you'll continue along the canyon rim until you meet the dry wash where you'll need to make an immediate left. Most of the time the trail is very obvious, but this part can seem a bit misleading. It will appear that you need to keep going straight, but ignore the misleading footprints and go left. A tool I love that prevents me from hiking in the wrong direction is with the Hiking Project App. You can download trails for offline use and the app even keeps track of your GPS location, even when you're offline, so you can make sure that you're on the right path. It's one of my favorite hiking apps and I never take a trail without it!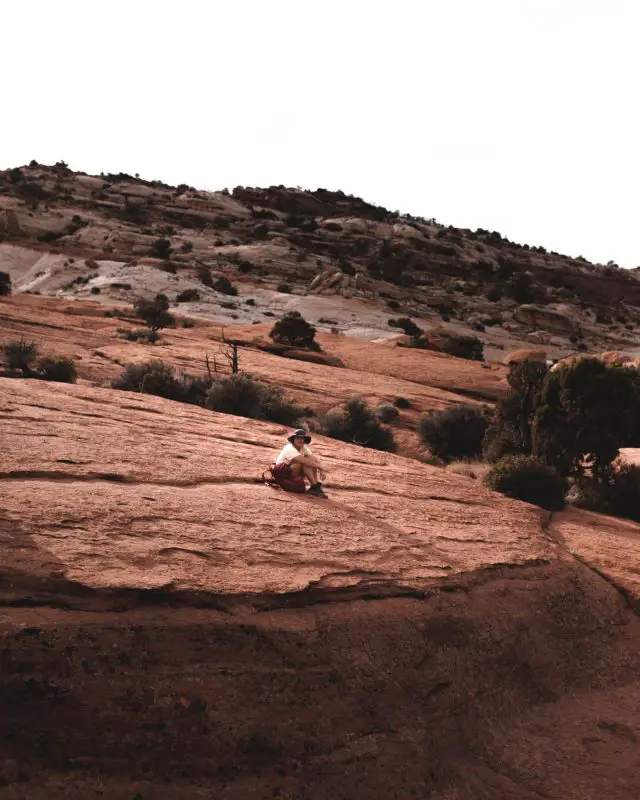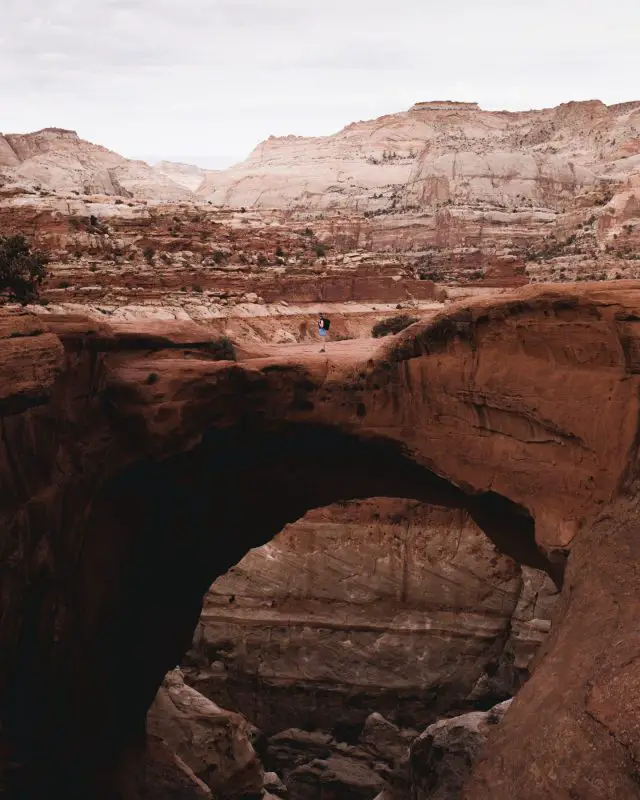 Once you make it past the wash, the trail becomes a bit more primitive and is marked with cairns and desert wood to mark the route. Eventually, the trail will begin to take you up, over, and around many formations of slickrock. Keep following the guides and you'll get an amazing view of the Cassidy Arch! If you're not afraid of heights, you can venture onto the arch itself for some pretty amazing photos over Capitol Reef National Park!
---
Essentials For The Cassidy Arch Trail
Headlamp (if hiking for sunrise/sunset)
A headlamp is one of the most underrated pieces of camping and hiking equipment, in my opinion. It's also a lot better than using your phone light since you can strap that bad boy to your head, select your brightness, and then go about your business. Whereas with a phone light, you have to hold it up, find a spot to set it down, possibly have your hands full, and things just get way too messy and frustrating. Whenever I bought my favorite headlamp, I was honestly dumbfounded at the fact that I had put off getting one for so long! Get yo'self one!
I really don't like to be carrying a lot of things if I am taking day hikes, so having a day pack where I can toss all these essentials into is, well, essential! If I want something more casual, I always grab for my Fjallraven Kanken backpack since it's stylish and it is able to hold my camera in it, but if I need all of my photography gear, then you'll always see me carrying along with my WANDRD pack that is perfect for travel photographers. However, if we're talking in terms of practicality, I will always recommend day packs from Osprey. It's my tried and true backpack brand and they will last decades!
Reusable Water Bottle + 2L of Water
As soon as you enter Bryce Canyon National Park, you're going to spot reminders everywhere to carry lots of water when you hit the trails. If you've been following my journey for a little bit, you'll know that Hydro flasks are my right haaaaaand, they're my go-to (the Drake reference probably doesn't carry into text, but if you got it, you got it). My daily bottle is around 1 liter, but that isn't near enough water for longer hikes, so I recommend carrying at least two with you at all times. It will make your bag heavier, but as you go through the hike and drink water, your bag will slowly get lighter so it's a win-win. The downside of Hydro flasks is that the weight of them can be a lot in your pack, so a cheaper, lighter option would be these narrow-mouth Nalgenes that are just as good and great if you're on a budget.
The desert is a hot hot HOT place with lots of sunshine, so you want to protect your face from the direct sunlight. There isn't a lot of shade in Bryce Canyon and the sun will be higher in the sky even on your way back if you choose to hike this super early in the morning, so a proper hat going to keep the sun out of your eyes, especially with this hat that has UV protection and a quick-wicking sweatband. I just got it specifically for my trip to Utah, and I already know I am going to have it for a while. They come in a cool selection of colors, but the grill color is my favorite.
So hiking in the desert in the sun is a recipe for the one thing that everyone hates; chafing. Am I right, ladies? Wearing shorts where the seam doesn't rub against my inner thigh is the MOST essential thing when I take desert hikes and my tried and true shorts for this are the Patagonia Baggies. I have them in two different colors, the black and blue, but I plan on ordering these awesome ones with melons on them and these pretty orange ones. I recommend sizing up in them because the fit of the shorts runs on the smaller side, but they do have a drawstring so you can tighten them however much you need. Also, they have pockets! See them here!
With all the sweating that is going to go down on these during this Bryce Canyon itinerary, you want a top that is going to keep you cool, wick away sweat, and keep you stench-free. I'm currently giving the Patagonia Capilene Cool Daily T-Shirts a shot and so far I am a huge fan of them! They lay very nicely and don't stick to your body even on the hottest of days! I recommend getting a light color so you can stay cool.
Sunscreen should be the first thing you pack into your bag for trails, trips, and even everyday life. Protecting your skin is so so important and I trust Raw Elements SPF 30 Sunscreen to protect my skin on the trails. Ever since my mom was diagnosed with melanoma years ago, I always make it the first priority to apply sunscreen before I begin hiking. The Raw Elements Plastic-Free Tins keep my skin protected and have prevented sunburns even in the heat of the desert! I love it because it's biodegradable, reef-safe, broad-spectrum, AND you can buy a tinted tin version for your face so you don't look like Caspar like when you apply other sunscreens. Raw Elements is my favorite, but you can browse these other awesome zero waste sunscreens to try!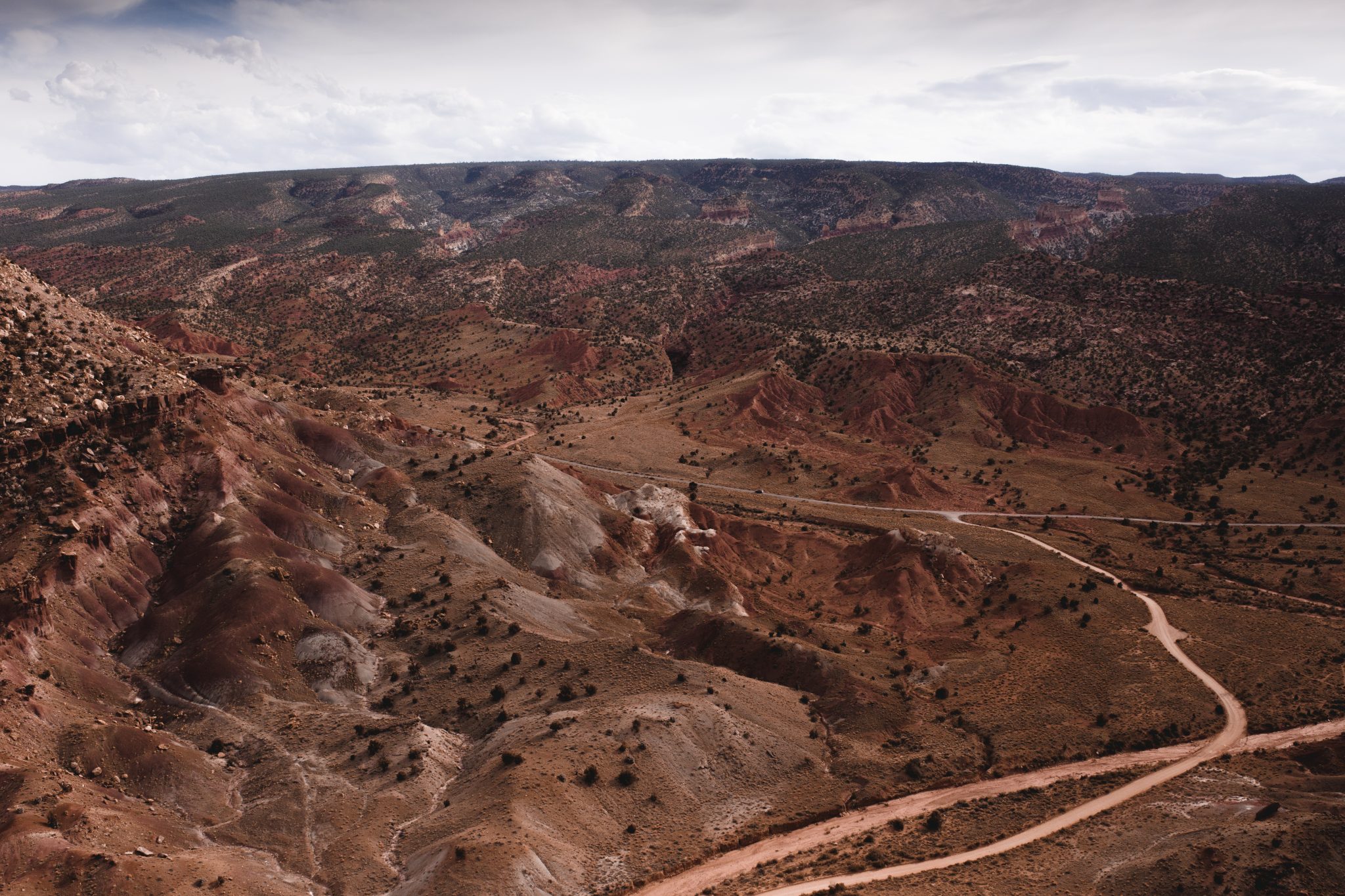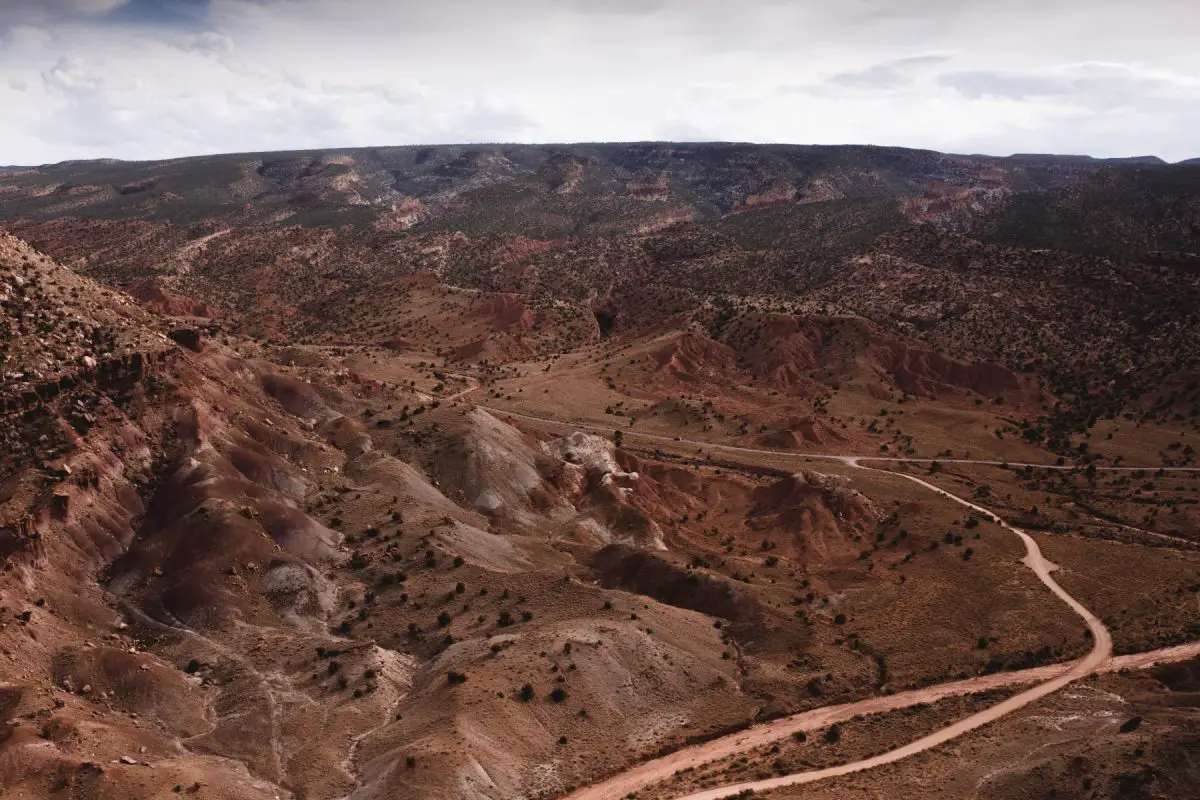 ---
Tips For The Cassidy Arch Trail In Capitol Reef National Park
---
No matter the difficulty of the hike, length of the hike, or duration, you need to bring water. It's important to stay very hydrated while you're out exploring, and hiking in the desert heat is no joke, y'all. For shorter hikes like these, I like to bring my Hydroflask since it keeps my water ice-cold, but since these can be a little pricey and heavy, a Nalgene is another popular choice. I prefer the narrow-mouth ones. I like Nalgenes since they are made from surgical-grade plastic, BPA free, and you can snag one for a really affordable price!
take the beginning slow

(+ consider bringing a walking stick)
The first half of this hike is the toughest part. Once you arrive at the trailhead, you're going to see all the stairs going up and you'll be huffing and puffing your way up those things no matter how great of shape you're in. If you have sensitive knees like me, a walking stick or trekking poles are going to be a very nice thing to have for this part. I promise the stairs are worth it for the view you receive, so don't let it discourage you!
reconsider your hike if there are flash flood warnings and/or probabilities
Not only is this trail is filled with slick rock (an incredibly appropriate name for a rock in poor weather might I add lol), but the road to the trailhead can flood in the event of a flash flood. This could mean two things: 1. you're stranded at the trailhead until the road clears or 2. you're hike back down just became a lot more dangerous. Most of the time, you'll be just fine, so don't stress about it too much. The visitor's center will have flood information and they can answer any safety questions you have for the day you make this hike. There is a quick guide on flash floods here that will give you more information about flash floods.
---
What's the toughest hike you've ever been on? Share with me in the comments below!
Aaren
Did you enjoy this post about the Cassidy Arch Trail? Save it for later on Pinterest!