(Last Updated On: 26/11/2021)
After going hiking in Arches National Park, the next stop on my Utah National Park's itinerary was a stop for some epic hikes in Canyonlands National Park! Canyonlands is one of the most remote places in the United States, making cellphone service slim, views off the chain, and hiking secluded and awe-inspiring.
Canyonlands isn't one of the most renowned parks in Utah since most hikers only spend a day exploring the Island in the Sky area, but the backpacking and hiking trail options are extraordinary if you know the right places to go! This guide to the best hikes in Canyonlands National Park is going to give you all the best day hiking options in this park whether you have one day, three days, or even a full week in this expansive area.
These trails will take you to Upheaval Dome, Mesa Arch, the Grand Viewpoint, with panoramic views over the Colorado River that flows through the Island in the Sky district. Pack up your gear for the trails and let's explore this beautiful canyon!
This post may contain affiliate links for the products I mentioned, but as always, all opinions are my own. I make a small commission, at no extra cost to you, when you make a purchase or book through these links. This helps to support this space and keep me blogging, which I am so extremely thankful for.
---
Canyonlands National Park Day Hikes
Island in the Sky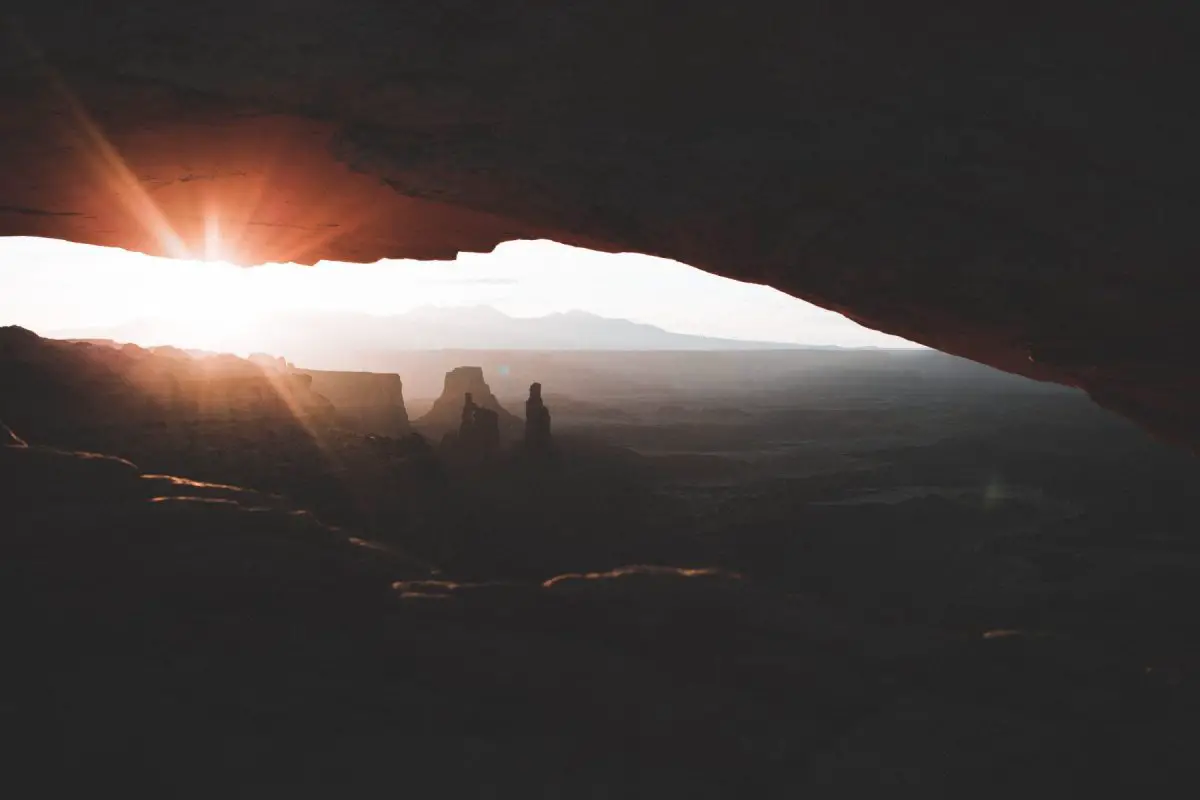 1 | Mesa Arch Trail
Quite possible THE MOST iconic hike in Canyonlands is the Mesa Arch Trail. If you Google "canyonlands", a picture of this view is always going to be the main selling point of this park, and rightfully so! Similarly to when I talked about the Delicate Arch being very hyped, the Mesa Arch is very much worth your time to go and see for sunrise. I experienced the arch at sunrise and I will argue with ANYONE that this is the best time to hike here. It will take your breath away!
As for the trail, it's nothing difficult, long, or hard to navigate. It's only a half-mile total, which makes it a quick and optimal sunrise mission! The trail is quick and to the point. If you are heading here for sunrise, there are always going to be other people here since it's so easily accessible. If you want nice photos, you may want to get here a bit earlier to establish a spot. I had a run-in with some photographers here which you can read about here.
If you want a more expansive view, climb up the rocks on the left side and you'll get to see the whole view without the arch!
Best Hiked | Sunrise

Trail Length | 0.5 miles RT

Elevation Gain | 61′

Trailhead Location | Mesa Arch Trailhead

Hiking Time | 15-30 minutes

Permits | No
---
2 | White Rim Overlook Trail
If you love a solid panoramic view, then the White Rim Overlook Trail is a MAGNIFICENT option if you want an easier hike in Canyonlands with an even more rewarding view. The main highlight of this trail is the very aptly named, "White Rim" that lines this section of Canyonlands National Park.
Not to be confused with the White Rim TRAIL, this hike is only 1.8 miles roundtrip and offers very little elevation gain, whereas the White Rim Trail is a 100-mile long scenic drive around the canyon rim. From the White Rim Overlook Trail, you'll be able to watch the tiny Jeep's pass and get a good size comparison for just how massive this canyon is!
The trail begins at the Gooseberry Trailhead. You'll see a picnic area and the trailhead is just beyond that. Once you arrive at the junction, you're going to turn right and continue onto the overlook trail. If you go right, it will take you down the mesa and into Buck Canyon, so make sure you go left. The trail starts out as gravel, but as you venture further, it gets more primitive and you'll need to follow the cairns to get to the peninsula. Follow the trail until you cannot venture out anymore and enjoy the entire 300-degree view! Head back the way you came when you're finished!
Best Hiked | Sunrise/Sunset

Trail Length | 1.8 Miles RT

Elevation Gain | 3′

Trailhead Location | White Rim Trailhead

Hiking Time | ~1.5  Hours

Permits | No
---
3 | Grand Viewpoint Trail
Similar to the White Rim Overlook Trail, the Grand Viewpoint Trail is another straight-forward and simple hike if you're looking for fantastic views with very little effort. This trail was a nice break before we set out to take on Bryce Canyon's challenging hikes.
The trailhead for the Grand Viewpoint Trail is at the end of Grand View Road (so clever, I know lol). There is a solid view when you first arrive, but you'll want to hike deeper down the trail for the panoramic view. Not that all of the hikes in Canyonlands aren't panoramic anyway, but you get what I mean. The trail is 2-miles roundtrip and relatively flat for the duration of the hike.
The view you get isn't so different from the view you start out with at the overlook, but the trek is definitely worth it for some nice photos overlooking Canyonlands National Park. If you're looking for a good spot to watch the sunset, the Grand Viewpoint is excellent!
Best Hiked | Sunrise/Sunset

Trail Length | 2 miles RT

Elevation Gain | 173′

Trailhead Location | Grand View Trailhead

Hiking Time | ~1.5 Hours

Permits | No
---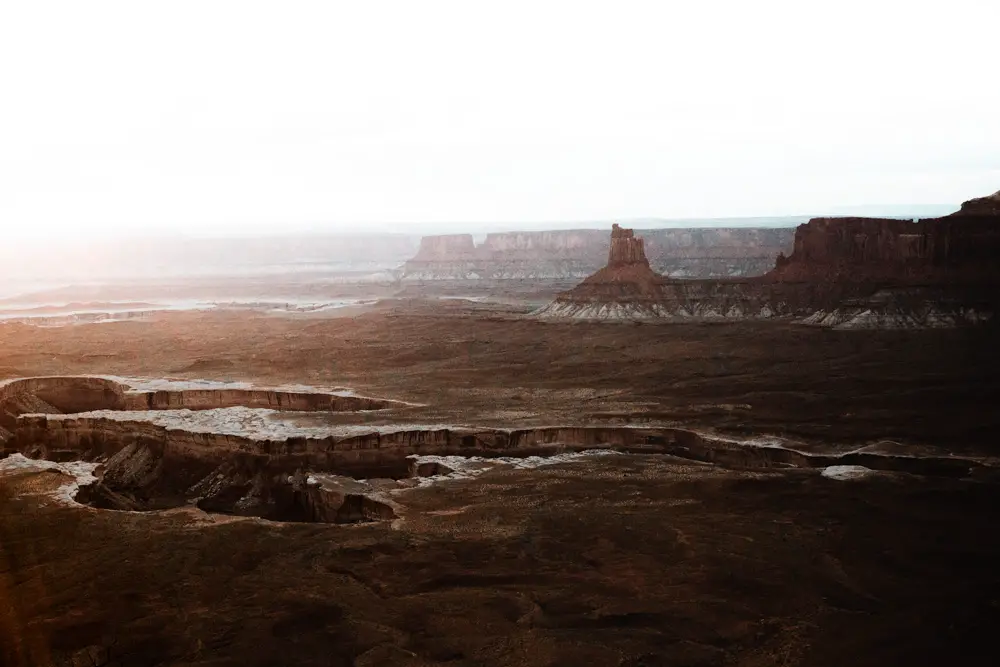 4 | Murphy Point Trail
Aside from the Mesa Arch Trail, the Murphy Point Trail was probably my next favorite hike in Canyonlands National Park. Since a lot of other trails are well-marketed for sunset and easier to get to, my friend and I had THIS WHOLE VIEW to ourselves for the last light over the canyon! The trail isn't difficult by any means, and it basically just follows the canyon rim until it opens up to this beautiful view overlooking Candlestick Tower, the Green River, and the White Rim Road!
The trail to Murphy Point begins on some very soft and vibrant desert sand. You'll walk through what feels like a rather expansive field and once you get closer to the canyon edge, you'll see the amazing views come closer to frame with each step! You can hike this trail for sunrise or sunset, but the vibes for sunset are too good to pass up, and if you only have one day in Canyonlands, then you'll want to save sunrise for the Mesa Arch Trail, trust me.
Best Hiked | Sunset

Trail Length | 3.6 Miles RT

Elevation Gain | 7′

Trailhead Location | Murphy Point Trailhead

Hiking Time | 2 Hours

Permits | No
---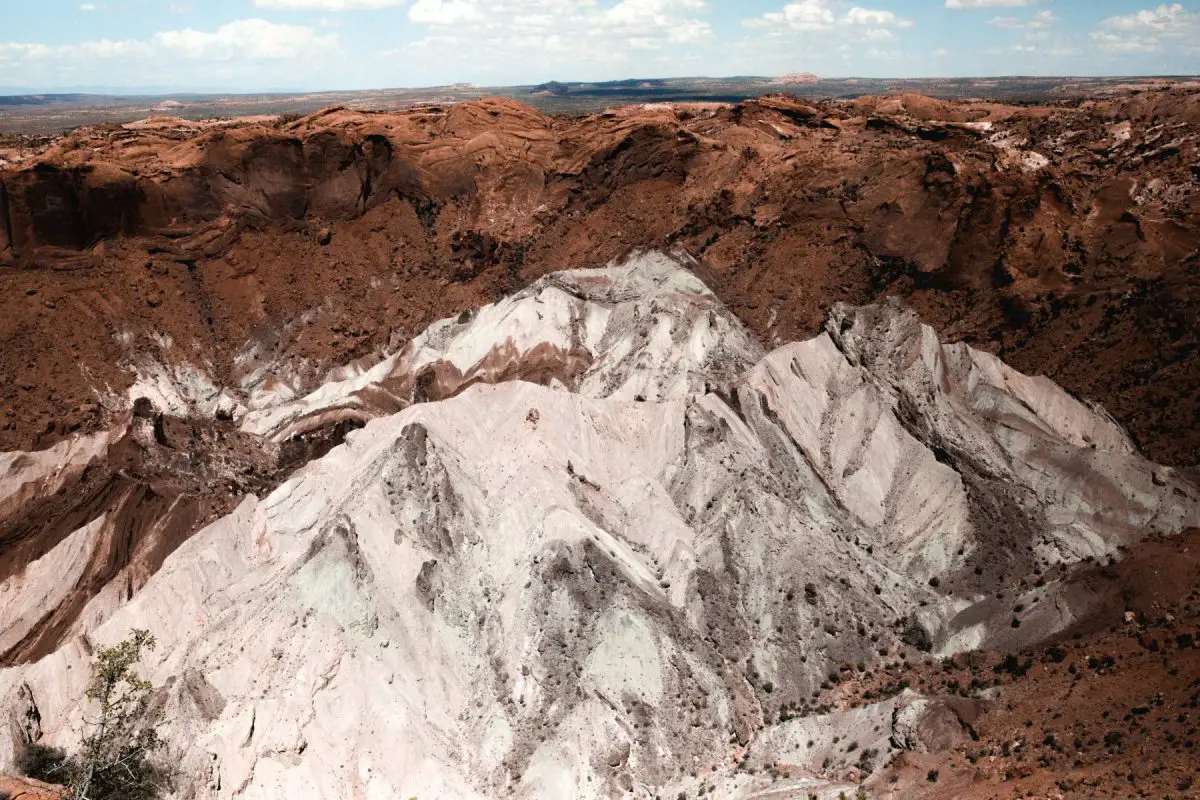 5 | Upheaval Dome Trail
Upheaval is one of the most interesting hikes in Canyonlands. What makes Upheaval Dome so interesting is that no one knows how this ominous rock was formed. There are current guesses as to how this rock formed: the Salt Dome Theory and the Impact Crater Theory.
Upheaval Dome is inside an expansive area of around three-miles across where a rock formation protrudes out and these formations have not shifted since they first formed millions of years ago. The theory that is best supported is the Impact Crater Theory. It states that a meteorite hit the earth roughly 60 million years ago that initially created an unstable crater that partially collapsed. Then, once the area reached an equilibrium, the rocks underneath heaved upwards to fill the area left on impact. Since then, erosion has carried away any remains of a meteorite and now gives a look at the parts of the crater that were once buried underground.
This spot is quite fascinating and the mystery behind this makes it all the wilder to look out on. I recommend adding the extra mile onto your hike and going to the second viewpoint since it gives a better view of the dome and you can see expansive views over Canyonlands on the left. If you only make it to the first overlook, it's not as cool, in my opinion.
Best Hiked | Sunrise/Sunset

Trail Length | 1-2 miles RT (2 miles to the second overlook)

Elevation Gain | 297′

Trailhead Location | Upheaval Dome Trailhead

Hiking Time | 30-45 Minutes

Permits | No
---
6 | Aztec Butte Trail
A lesser-populated hike, but still worthy of its spot on this list of the best hikes in Canyonlands is the Aztec Butte Trail. The highlights of this trail are Aztec granaries (storehouses) and of course the view from the top of the butte that overlooks the middle portion of the Island in the Sky.
The trailhead for Aztec Butte is down Upheaval Dome Road, just past the turn for the Willow Flat Campground. The trail starts on relatively flat, sandy ground that flows through juniper and sagebrush and around the first butte before you arrive at a junction. The trail to the left will take you to a pair of ruins on the northwest side of the butte, whereas the trail to the right leads up to Aztec Butte.
The climb up Aztec Butte is steep and challenging during certain points, but doable for most with a rewarding view at the top!
Best Hiked | Sunrise/Sunset

Trail Length | 2 Miles RT

Elevation Gain | 211′

Trailhead Location | Aztec Butte Trailhead

Hiking Time | ~1.5 Hours

Permits | No
---
7 | False Kiva Trail
One of the most underrated hikes in Canyonlands National Park is none other than the False Kiva Trail. Although this hike is short in length, it is strenuous and not maintained by the National Park Service, so while you're exploring here, please make sure you bring plenty of water and download a copy of the trail either on AllTrails or the Hiking Project App.
Another thing to note is that the False Kiva Trail is a class II archaeological site, and while this is absolutely spectacular, vandalism has caused the alcove at the end of the trail to be closed. This is a very sacred site to the Native Tribes and any acts of vandalism is a federal offense, and disrespectful on all spectrums. Please respect the area while you're here.
The trail does involve some light scrambling in areas, so keep your abilities in mind when choosing this spot.
Best Hiked | Sunrise/Sunset

Trail Length | 1.9 miles RT

Elevation Gain | 449 feet

Trailhead Location | across the road from Alcove Spring Trail

Hiking Time | 1 hour

Permits | No
---
8 | Druid Arch Trail
In The Needles District
The Druid Arch is one of the two trails on this list that is located within the Needles District of Canyonlands National Park. Generally, the Needles District is an epic spot for overnight backpacking, so I couldn't let this gem slip off the list, naturally!
To get to the Druid Arch, you'll need to make a 10.8-mile out-and-back trail from the Elephant Hill trailhead. There are many different ways to get to the Druid Arch, but this is the route that's most commonly used. Although it's likely you won't see many people on this trail anyway.
Cairns mark this primitive trail, so keep an eye out for those as you navigate through it. From the trailhead, you'll hit a slot canyon and over a wash around 1.5 miles in, and from there you'll hit a junction. Left goes to the Squaw Flat Campground and the right goes on the trail to Chesler Park. You'll go right. There will be many junctions that you come across, but there will be signs to point you in the right direction. I always recommend having some type of navigation with you so that you don't get lost. Even something as simple as my favorite hiking app, The Hiking Project! (Most of the time) it will keep your GPS location even when you're offline, so you can track the trail and junctions with ease.
There is excitement around every corner of this trail and the seclusion, exploration, and navigation you'll need for this trail make it both a challenge and an amazing adventure! If you're hiking during sunset, make sure you bring a headlamp since it can be easy to get lost here if you're not paying attention.
Best Hiked | sunrise

Trail Length | 10.8 miles

Elevation Gain | 1,374 feet

Trailhead Location | Elephant Hill Trailhead

Hiking Time | ~5 hours

Permits | No (Yes if staying overnight)
---
9 | Chesler Park Loop Trail
In The Needles District
In the heart of Canyonlands National Park, Needle's District is Chelser Park! This is an expansive grassy area surrounded by the iconic rock formations in this district. The park is a central area for a lot of the day hikes and overnight backpacking trips in this area!
This trail, like the many others, begins at the Elephant Hill trailhead. The Chesler Park Loop is marked by cairns, small stacks of stones, to help you find your way so keep an eye out for those as you go along. The first mile or so takes you through magnificent rock formations in the Needles and will excite you for what lies ahead. On this trail, you'll see beautiful views over the Needles District, slot canyons, pinnacles, knobs, and more that will take your breath away! If you want to take this trail more slowly, consider making it a 2-day backpacking trip!
It's very important that you bring plenty of water on this hike because it's long, strenuous, and there is a chance you may get lost. As long as you watch for cairns you should be fine, but Canyonlands is incredibly remote and can be lethal if you're not properly equipped.
Best Hiked | Sunrise

Trail Length | 10.4 miles

Elevation Gain | 1,820 feet

Trailhead Location | Elephant Hill Trailhead

Hiking Time | 5-6 hours

Permits | No
---
10 | Syncline Loop Trail
If you fell in love with the scenery in and around Upheaval Dome, the Syncline Loop Trail is an amazing loop that takes you through two canyons that surround the dome! The route around is well marked and a great way to escape crowds in the Island in the Sky. It's recommended to go clockwise around this loop since you'll beat some elevation and get a bit more shade in some areas.
If you want to add an additional two miles to this hike, you can take a stony streambed up to see panoramic views of Upheaval Dome. There is a small spur that is an out-and-back type of trail that is optional if you're up for a bit of a detour. This trail is pretty secluded and strenuous in some places, but its the perfect challenge if you want views that not many people get to see!
Best Hiked | Sunrise

Trail Length | 8.6 miles

Elevation Gain | 1,630 feet

Trailhead Location | Upheaval Dome Parking Area

Hiking Time | 4-5 hours

Permits | No
---
Essentials for the best hikes in Canyonlands
---
Headlamp

(if hiking for sunrise/sunset)
A headlamp is one of the most underrated pieces of camping and hiking equipment, in my opinion. It's also a lot better than using your phone light since you can strap that bad boy to your head, select your brightness, and then go about your business. Whereas with a phone light, you have to hold it up, find a spot to set it down, possibly have your hands full, and things just get way too messy and frustrating. Whenever I bought my favorite headlamp, I was honestly dumbfounded at the fact that I had put off getting one for so long! Get yo'self one!
I really don't like to be carrying a lot of things if I am taking day hikes, so having a day pack where I can toss all these essentials into is, well, essential! If I want something more casual, I always grab for my Fjallraven Kanken backpack since it's stylish and it is able to hold my camera in it, but if I need all of my photography gear, then you'll always see me carrying along with my WANDRD pack that is perfect for travel photographers. However, if we're talking in terms of practicality, I will always recommend day packs from Osprey. It's my tried and true backpack brand and they will last decades!
Reusable Water Bottle + 2-4L of Water
As soon as you enter Canyonlands National Park, you're going to spot reminders everywhere to carry lots of water when you hit the trails. If you've been following my journey for a little bit, you'll know that Hydro flasks are my right haaaaaand, they're my go-to (the Drake reference probably doesn't carry into text, but if you got it, you got it). My daily bottle is around 1 liter, but that isn't near enough water for longer hikes, so I recommend carrying at least two with you at all times. It will make your bag heavier, but as you go through the hike and drink water, your bag will slowly get lighter so it's a win-win. The downside of Hydro flasks is that the weight of them can be a lot in your pack, so a cheaper, lighter option would be these narrow-mouth Nalgenes that are just as good and great if you're on a budget.
The desert is a hot hot HOT place with lots of sunshine, so you want to protect your face from the direct sunlight. There isn't a lot of shade in Canyonlands, and the sun will be higher in the sky even on your way back if you choose to hike this super early in the morning, so a proper hat going to keep the sun out of your eyes, especially with this hat that has UV protection and a quick-wicking sweatband. I just got it specifically for my trip to Utah, and I already know I am going to have it for a while. They come in a cool selection of colors, but the grill color is my favorite.
So hiking in the desert in the sun is a recipe for the one thing that everyone hates; chafing. Am I right, ladies? Wearing shorts where the seam doesn't rub against my inner thigh is the MOST essential thing when I take desert hikes and my tried and true shorts for this are the Patagonia Baggies. I have them in two different colors, the black and blue, but I plan on ordering these awesome ones with melons on them and these pretty orange ones. I recommend sizing up in them because the fit of the shorts runs on the smaller side, but they do have a drawstring so you can tighten them however much you need. Also, they have pockets! See them here!
With all the sweating that is going to go down on these hikes in Canyonlands, you want a top that is going to keep you cool, wick away sweat, and keep you stench-free. I'm currently giving the Patagonia Capilene Cool Daily T-Shirts a shot and so far I am a huge fan of them! They lay very nicely and don't stick to your body even on the hottest of days! I recommend getting a light color so you can stay cool.
Sunscreen should be the first thing you pack into your bag for trails, trips, and even everyday life. Protecting your skin is so so important and I trust Raw Elements SPF 30 Sunscreen to protect my skin on the trails. Ever since my mom was diagnosed with melanoma years ago, I always make it the first priority to apply sunscreen before I begin hiking. The Raw Elements Plastic-Free Tins keep my skin protected and have prevented sunburns even in the heat of the desert! I love it because it's biodegradable, reef-safe, broad-spectrum, AND you can buy a tinted tin version for your face so you don't look like Caspar like when you apply other sunscreens. Raw Elements is my favorite, but you can browse these other awesome zero waste sunscreens to try!
---
A Map of the Best Hikes In Canyonlands National Park
---

HIKING PROJECT APP
---
MORE HELPFUL GUIDES FOR YOUR TRIP TO CANYONLANDS:
– Packing For A Day Hike: 12 Adventure Essentials To Get You Exploring
ADD THESE CANYONLANDS HIKES TO THESE OTHER ROAD TRIP STOPS CLOSE BY:
– The ONLY Utah National Parks Road Trip Itinerary You Need
ZION NATIONAL PARK
– How To Conquer The Narrows Hike In Zion National Park (Complete Guide)
CAPITOL REEF NATIONAL PARK
– How To Spend One EPIC Day In Capitol Reef National Park
– Hiking The Cassidy Arch Trail In Capitol Reef National Park
BRYCE CANYON NATIONAL PARK
–  The Ultimate Guide To Camping In Bryce Canyon National Park
– 10 Jaw-Dropping Bryce Canyon National Park Hikes You CANNOT Miss
– One Day In Bryce Canyon: The Perfect 1-Day Itinerary
ARCHES NATIONAL PARK
– A PERFECT 3-Day Itinerary For Arches National Park
– The BEST Guide To The Delicate Arch Hike In Arches National Park
– 10 Arches National Park Hikes That Will BLOW Your Mind
– The Ultimate Guide To Camping In Arches National Park
– Tower Arch Trail: The Best Hike In Arches National Park
---
WHAT IS YOUR MOST EMBARRASSING HIKING MEMORY? SHARE WITH ME IN THE COMMENTS BELOW!

DID YOU FIND THESE HIKES IN CANYONLANDS ADVENTURE-WORTHY? SAVE THEM FOR LATER!