(Last Updated On: 09/04/2023)
Capitol Reef is easily the red-headed stepchild of Utah's National Parks.
Most people blaze down Highway 24 driving right through this gem, eager to get off that singular, static radio station in the devastating event that they forgot to download their Spotify playlists… (Yes, this was ALMOST me).
However, my curiosity got the best of me, and I decided to stick around and explore, even if I only had one day in Capitol Reef.
After wading through the towering walls of the Narrows in Zion and falling in love with Bryce Canyon, how could any variation of a Capitol Reef itinerary POSSIBLY dazzle me? 
To my pleasant surprise, Capitol Reef is actually full of its own unique charm and in-depth history, which is what makes the park so alluring because you wouldn't expect that at all judging from its cover.
If you're on the fence about visiting, trust me, I wasn't sure why it was worth stopping for, either, but it will be worth your while.
In this guide, I break down everything you need to know and where you need to explore in order for Capitol Reef National Park to absolutely knock your socks off as it did mine.
This post may contain affiliate links for the products I mentioned, but as always, all opinions are my own. I make a small commission, at no extra cost to you, when you make a purchase or book through these links. This helps to support this space and keep me blogging, which I am extremely thankful for.
---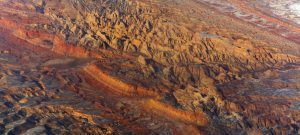 What Is So Special About Capitol Reef National Park?
Every National Park has their shining spectacle that gives the park both its fame and established boundaries that protect it.
For Capitol Reef, it's the Waterpocket Fold, known scientifically as a geological monocline, but in layman's terms, a wrinkle in the earth's crust that spans nearly 100 miles.
The park boundaries preserve part of the fold, where erosion over millions of years revealed its unique geology showcasing colorful cliffs, twisting canyons, massive arches, interesting domes, and soaring spires.
Why Capitol Reef? The enormous white domes of Navajo sandstone resemble the same structures atop capitol buildings, and the rocky cliffs in the fold resemble an ocean reef.
Things to know before visiting Capitol Reef National Park
NO PUBLIC TRANSPORT | Since Capitol Reef receives a fraction of the visitors of other national parks, there aren't any shuttles available to get around. You'll need your own rental car.
NO RESTAURANTS INSIDE THE PARK | The only food available inside Capitol Reef is at the Gifford House, which only serves pie and coffee. I recommend packing lunches to enjoy inside the park or taking a break in your day to eat in Torrey, the next town over.
ENTRANCE FEE GOES BY THE HONOR SYSTEM | The road that runs through Capitol Reef is a main highway, and so there isn't a booth where you're required to stop and pay like almost all the other parks. If you have an America the Beautiful Park Pass, it's free, but if you don't have this pass, you'll need to pay at the visitor center or at the self-pay station south of the campground. It's $20 per vehicle, valid for 7 days.
CARRY LOTS OF WATER | Capitol Reef is at a higher elevation, but it still gets very hot during the day. Plus, a lot of the hikes don't offer ample shade. Carry at least 1-2 liters of water with you so you can stay hydrated throughout the day.
MIND THE WEATHER | Some of the roads within the park are easily inaccessible if flash flooding occurs. Be sure to check the forecast before you head out for the day.
BRING THE 10 ESSENTIALS | These are all the staple items for successful day hiking. Get the full list on my guide to Packing for a Day Hike.
Practical Things To Know
Here is some staple information you'll want to know for your visit. The visitor center is a great resource for trip advice, trail updates, road conditions, and general information about the park.
LOCATION | Google maps
WEBSITE | nps.gov/care 
PHONE # | (435) 425-3791
PARK HOURS | 24 hours a day, 365 days a year
VISITOR CENTER HOURS | 8 am – 4.30 pm daily; hours vary with seasons and major holidays
---
One Day in Capitol Reef National Park Itinerary
This itinerary focuses on the main highlights of Capitol Reef, so it's ideal if it's your first time visiting. However, I added in additional recommendations close to the end of this blog post if you want more ideas or have extra time to spend inside the park.
Use this map to help you navigate during your one day in Capitol Reef National Park! For best use, download this map to your smartphone so you can use it offline (instructions here).
---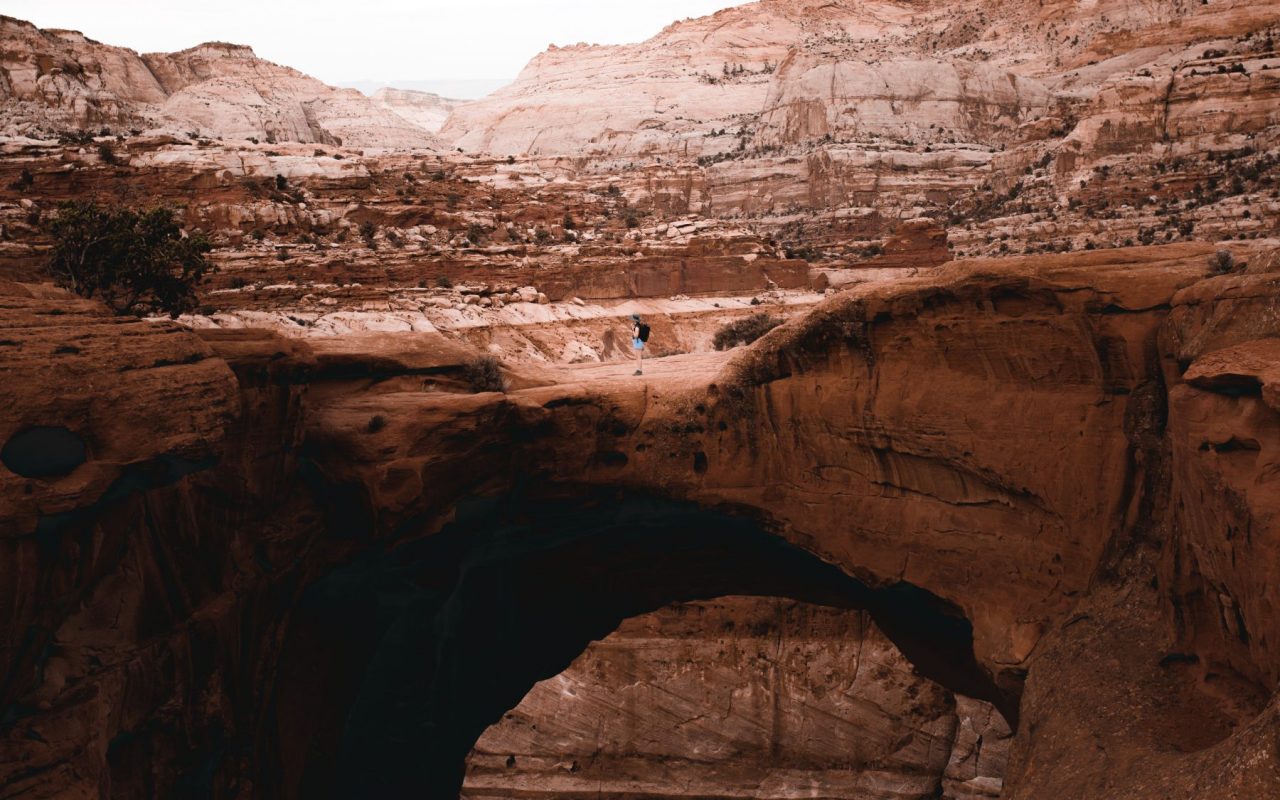 Hike Cassidy Arch
DISTANCE | 3.1 miles
DIFFICULTY | Moderate
One of the best hikes in Capitol Reef is the Cassidy Arch Trail.
It's a short hike that has stunning views over Grand Wash and a massive natural archway that you can admire from afar or get up close by walking directly across it.
It's probably my favorite trail in the park because it's the most unique and a staple on any Capitol Reef National Park itinerary.
I have an in-depth guide to the Cassidy Arch Trail that you can read for more details about this trail and the essentials you'll need for completing this hike.
GOOD TO KNOW | If the weather is bad this morning, do not attempt this hike. The road to get to the trailhead may flood and you could get stranded.
Grand Wash Trail
Right next to Cassidy Arch is the Grand Wash Trail, known for towering canyon walls over a dried river bed. It resembles the Narrows in Zion, sans water.
If you want to see more of the park and extend your morning on the trails, I recommend venturing out to the Narrows portion of the hike and then turning around. 
To the Narrows portion, It's about a mile from the Cassidy Arch Trailhead, making your total mileage around 5-6 to explore both trails.
Go Fruit Picking in the Orchards
(late-Spring through Fall)
One of the most unique features of Capitol Reef is its collection of orchards in the Fruita Valley. From summer to fall, different type of fruits are ripe for picking, and you can grab them to your heart's content (but you must pay, of course).
Each season for fruit picking will vary each year, but historically, here are some good ballparks for the best time to pick fruit in Capitol Reef:
Cherries: June 11 – July 7
Apricots (early): June 27 – July 22
Apricots (regular): June 28 – July 31
Peaches: August 4 – September 6
Pears: August 7 – September 8
Apples: September 4 – October 17
You can only pick ripened fruit that is labeled by the "U-Pick Fruit" sign. You'll need to bring your own reusable bag to collect your fill. 
After you're done picking, pay at the entrance of the orchard at the self-pay station. Here you'll find a scale and prices for whatever fruit you chose. 
Have Pies at the Gifford House
The Gifford House, or Gifford Homestead, was originally built in 1908. Over the years the house has been renovated and modernized as it represents the early Mormon settlement of Fruita Valley. 
The homestead encompasses a barn, smokehouse, garden, and lush pasture, but the main event is inside the home. What is the main event? The PIE, y'all!
Cherry, blackberry, peach, apple, you name it, it's made right in this home. I had the cherry pie and can confirm it was delicious.
This is a good time of day to have lunch since there are shaded picnic tables here that are ideal for a midday sprawl. 
GOOD TO KNOW | If you have specific allergies, they have a binder of the recipes that they can reference if there is anything you need to avoid.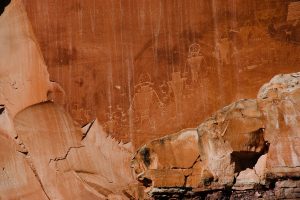 Marvel at the Fremont Petroglyphs
DISTANCE | 0.3 miles
DIFFICULTY | Easy
Just across from Fruita is easily the most explored site in Capitol Reef, wooden boardwalks edging sandstone cliffs that feature ancient shapes and figures etched that have been preserved for over a millennium.
You'll walk along the Capitol Reef Petroglyphs Trail that's right off Highway 24 to spot them. Keep your eyes peeled for human-like figures, animals, and other designs along the walls.
It's a quick and easy stop since the trail is so short and flat, but I will say that if you don't take your time looking or have a pair of binoculars, you're going to find this rather underwhelming. 
Cruise the Capitol Reef Scenic Drive
Once you've enjoyed lunch, you'll head out on the open road to cruise down the Capitol Reef Scenic Drive, the road that runs south through the Capitol Reef panhandle and offers impressive views of the water pocket fold. 
You'll follow the main road all the way to Capitol Gorge Road, which is a winding and scenic 2.3-mile gravel road that leads to the Capitol Gorge area. 
Regular cars can drive down, just be mindful about the length as it isn't suitable for cars over 27 feet in length. 
Pioneer Register
At the end of the Capitol Reef Scenic Drive, you can extend your drive down Capitol Gorge Road to take a look at the Pioneer Register.
As early as 1871, prospectors, explorers, cowboys, settlers, and early visitors traveling through Capitol Reef carved their names and dates on the canyon walls, with the hopes that they could be seen for centuries.
Gazing at these etchings (be sure to look for the absolute legend that used bullets), you can imagine what life was like centuries ago as many people traveled through this stunning piece of the Southwest.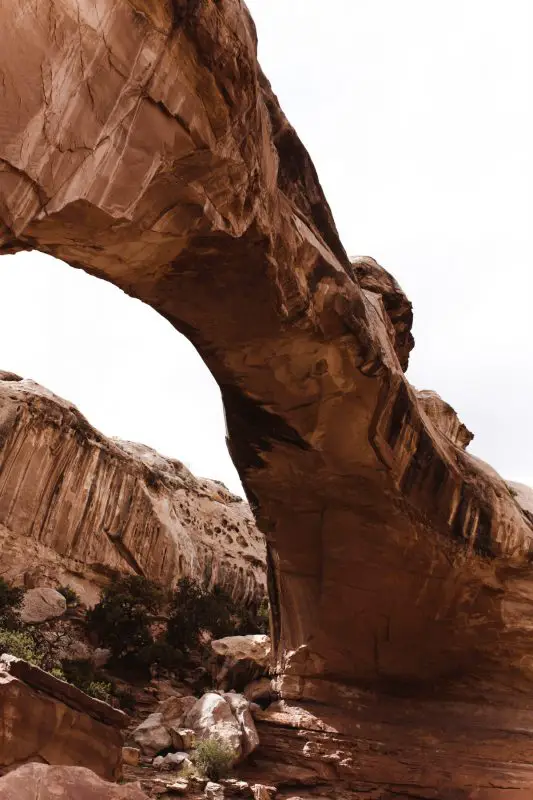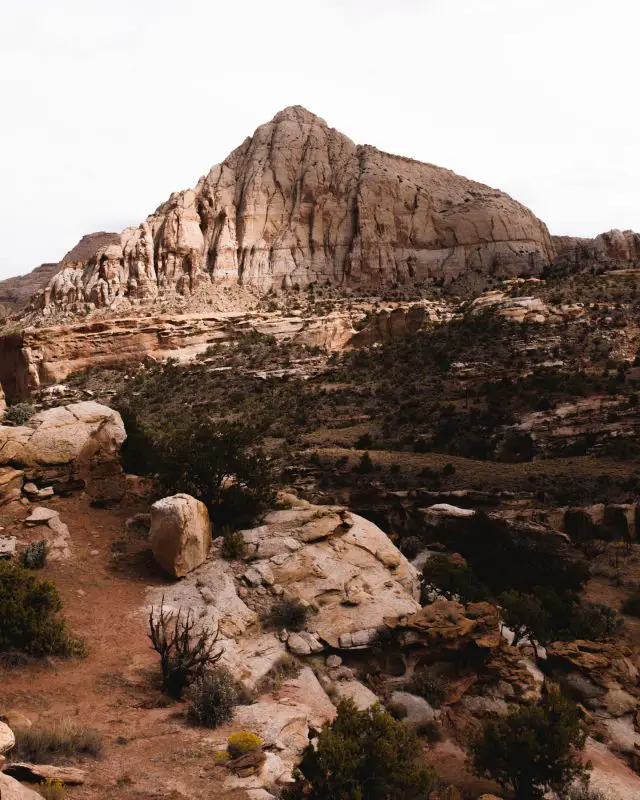 Hike the Hickman Bridge Trail (optional)
DISTANCE | 1.7 miles
DIFFICULTY | Moderate
One of the most popular hikes in the park for day-goers is the Hickman Bridge, a massive 130-foot tall rock archway that traverses a dry wash.
Main event aside, the trail has a variety of historical points to stop at along the trail: Capitol Dome, Pithouse Foundation, Fremont Granary, Small Natural Bridge, Solution Cavities, and Kayenta Formations just past the bridge.
It's a quintessential stop when visiting Capitol Reef, so definitely don't miss this one!
Panorama Point, Sunset Point, & Goosenecks Overlook
One of the most easily accessible sunset spots in Capitol Reef is this thread of overlooks just past the heart of Fruita.
PANORAMA POINT | This isn't the final stop, but it is on the way to the other two overlooks, so more of an obligatory stop if you would. It's a short, 0.3-mile out-and-back trail that literally takes about 5 minutes. You'll spot layered rock formations across from Sulpher Creek.
SUNSET & GOOSENECKS OVERLOOK | Get breathtaking views of gorges and the water pocket fold at these two overlooks. It's a fantastic sunset spot to wind down your Capitol Reef itinerary since it's easy, flat, and straightforward.
Note on the link shows the trail as 2.5 miles, but you actually drive most of the way and park, so it's really about 0.6 miles. 

(Alternative Afternoon) Sunset at the Temple of the Sun + Moon
If you're looking to stick with all the highlights during your one day in Capitol Reef, then you can save this stop for another visit. 
However, if you want to get off the beaten path and explore the most unique area of the park, you must visit the Temple of the Sun and Moon in Cathedral Valley.
Among flat desaturated valleys, massive orange shark-fin-shaped rocks jut out of the ground creating a desolate orange play ground… It's unlike any place I've seen before and photos truly don't do it justice.
I won't lie. This is a bit out of the way and doesn't make much sense if it's your first time in the park, but if you're like me and you're a go-getter, you'll love this place!
To get here, you're going to need a car with high clearance and 4×4 capabilities. The road isn't the roughest, but if bad weather occurs, you'll need to know how to self-rescue and be self-sufficient.
DIRECTIONS TO THE TEMPLE OF THE SUN AND MOON
From the Capitol Reef Visitor's Center, you're going to turn right onto Highway 24 and ride that straight toward Cainsville. 
Once in Cainsville, keep an eye out for County Road on the left, then, ride this road for around 2.5 miles. Continue straight onto Cathedral Road (left at the fork). 
Continue down Cathedral Road for around 13 miles, then keep an eye out for Temple of the Moon Road, or the MASSIVE rock formations that tower over the desert. You really cannot miss it! Get the driving directions
Once here, wait for sunrise or sunset to get those beautiful morning rays pouring through these rocks. This is an amazing spot for photography and a telephoto lens is a perfect pairing so that you can scale the rocks in your photo! 
This place, in my opinion, is the crown jewel of Capitol Reef National Park. 
GOOD TO KNOW | If you're coming from Canyonlands and Arches National Park, I recommend staying here on the way to Capitol Reef, and if you're coming from Bryce Canyon and Zion, then stay here at the end of the day.
---
One Day In Capitol Reef Overview
Sunrise at Cassidy Arch
Fruit Picking in the Orchards (Seasonal)
Pies at the Gifford House
Marvel at the Fremont Petroglyphs
Capitol Reef Scenic Drive
Marvel at the Pioneer Register
Hike to the Hickman Bridge
Panorama Point, Sunset Point, + Gooseneck Overlook
(Alt. afternoon) Temple of the Sun + Moon
---
More Things To Do in Capitol Reef
COHAB CANYON TRAIL | A short, but steep climb will take you to interesting rock formations and views over the Fremont River Valley and Fruita. It's about a 3-mile round trip and is a prime example of Capitol Reef as a whole with the mix of both up-close geology and panoramic views.
CHIMNEY ROCK TRAIL | This trail tops the charts as one of the most spectacular sunset spots in the park. It's a 3.6-mile trail that takes you to the top of Chimney Rock, overlooking Highway 24 weaving through the water pocket fold.
CATHEDRAL VALLEY | Although a tad tedious to access, this is the most spectacular area of Capitol Reef. This off-road route requires a high-clearance, 4×4 vehicle to complete safely, plus self-sufficiency, but the effort is more than worth the reward.
LOOP THE FOLD | This 124-mile route can easily fill an entire day stopping at colorful bentonite hills, marine fossils, expansive vistas, and slot canyons. It's in the remote, southern part of Capitol Reef and is mostly suitable for regular cars, but double-check road conditions before you go.
STRIKE VALLEY OVERLOOK TRAIL | This 6.2-mile trail is along the Loop the Fold. It requires a bit of extra effort to get to and I recommend it if you have a high-clearance, 4×4 vehicle so you can get all the way to the trailhead. Note the Upper Muley Twist road to get it is extremely rough.
How many days do you need in Capitol Reef?
You can easily hit the highlights of Capitol Reef in one day.
It's probably the most amount of time most people spend in the park. Plus, Capitol Reef is small enough though to where you can see a sizable chunk in a short time frame since it's so compact.
However, no matter what National Park you're visiting, more time is always better in my opinion so you can thoroughly explore the park. 
But don't feel like your trip will be inadequate if you only have one day in Capitol Reef, just use the time you have to the best of your ability. 
Where To Stay In Capitol Reef National Park
The only accommodation option in Capitol Reef is tent camping. Otherwise, there are some hotels in Torrey that are very close to the park and ideal for one day.
Camping in Capitol Reef
FRUITA CAMPGROUND | This is the only accommodation actually inside Capitol Reef. It's very cute since you're camping on plush grass in the orchards. Potable water and toilets are available but there are no showers.
CATHEDRAL VALLEY CAMPGROUND | This is an ideal option if you want to get off the beaten path and plan on visiting the Temple of the Sun and Moon. Keep in mind you need a high-clearance, 4×4 vehicle to access this remote campground and it has no amenities.
Camping near Capitol Reef
WONDERLAND RV PARK | This retro-style campground is in Torrey and has the most adorable vibe. It has hot showers, laundry facilities, plush grass, shaded sites, and a full range of amenities.
Where To Stay Near Capitol Reef (Torrey)
NOOR HOTEL | This hotel is right on the edge of the Capitol Reef Park border. It has excellent views, free coffee, a mini market, and each room has its own fridge which is great if you're packing your own lunch.
CAPITOL REEF RESORT | This resort offers both regular rooms as well as teepees and traditional chuck wagons you can have a unique stay in. The quiet atmosphere, amazing views, and excellent location (1-mile from the park!) make this an optimal choice.
How to Get to Capitol Reef National Park
The main way to get to Capitol Reef is by flying into the closest major airport, Salt Lake City International Airport (SLC), and driving from there. 
Otherwise, it's likely you're already coming from another National Park in Utah. A little scroll and you can find the drive times and directions from them below.
From Salt Lake City
The drive from Salt Lake City is pretty straightforward and the most direct route takes around 3.5 hours. 
DRIVING DIRECTIONS: You'll follow I-15 S for 119 miles before taking exit 188 to get on US-50 W. Follow that highway for 97 miles then turn onto UT-24 E straight to Capitol Reef.
Highway 24 runs straight through the park so you can't miss it.
From nearby major cities
– Las Vegas, Nevada (5 hours): get driving directions
– Denver, Colorado (7 hours): get driving directions
– Phoenix, Arizona (8.5 hours): get driving directions
From nearby National Parks
– Zion National Park (3.5 hours): get driving directions
– Bryce Canyon National Park (2 hours, 15 minutes): get driving directions
– Canyonlands National Park (2.5 hours): get driving directions
– Arches National Park (2 hours): get driving directions
– Grand Canyon National Park South Rim (6.5 hours): get driving directions
– Rocky Mountain National Park (7 hours, 45 minutes): get driving directions
How to Get Around Capitol Reef
There are no shuttles or public transport in Capitol Reef, so the only way to get around is with your own rental car. 
I've road tripped around Utah numerous times using Discover Cars. Comparing the best prices across reputable rental companies is very streamlined through their site with no frills or hidden fees, and I've found some solid deals through them.
Best Time To Visit Capitol Reef National Park
Capitol Reef tends to be very relaxed and more lowkey year-round, especially if you're coming from the crowds in Zion or Arches.
Even in the summer months, Capitol Reef can be a breath of fresh air on any Utah road trip, so you can cater your visit to your weather preferences or the weather in other parks you're visiting.
Personally, I recommend visiting Capitol Reef National Park in late spring or early fall. The shoulder seasons have the most favorable daytime temperatures across all the parks, plus fewer crowds.
Spring can be a great time to visit, but lean towards later in the season if you're coming this time of year. It can still be quite chilly early in the season and the wind does not do you any favors (speaking from experience).
Summer is hot in Capitol Reef, but it's the prime fruit-picking season and you can escape the heat by hiking early in the morning. I would avoid this season if you want to ditch crowds since all the other Utah National Parks are at peak capacity this time of year.
Fall is the tail end of the fruit-picking season with apples, pears, and peaches nice and ripe. The daytime temperatures a lot more favorable and the summer crowds have dispersed. 
Winter is okay, but not ideal if I'm being honest. Ice and snow can close trails or require microspikes to travel across safely.
---
MORE HELPFUL GUIDES FOR CAPITOL REEF NATIONAL PARK ITINERARY:
–  Packing For A Day Hike: 12 Adventure Essentials To Get You Exploring
– Hiking The Cassidy Arch Trail In Capitol Reef National Park
WANT EVEN MORE GUIDES TO UTAH'S NATIONAL PARKS? CHECK THESE OUT:
– The ONLY Utah National Parks Road Trip Itinerary You Need
ZION NATIONAL PARK
– How To Conquer The Narrows Hike In Zion National Park
– 2 Days In Zion: The Ultimate Zion National Park 2-Day Itinerary
BRYCE CANYON NATIONAL PARK
–  The Ultimate Guide To Camping In Bryce Canyon National Park
– 10 Jaw-Dropping Bryce Canyon National Park Hikes You CANNOT Miss
– Hiking the Figure 8 Loop in Bryce Canyon National Park: Queens Garden, Peek-a-boo Loop, and Navajo Trail
– One Day In Bryce Canyon: The Perfect 1-Day Itinerary
CANYONLANDS NATIONAL PARK
– The 10 BEST Hikes In Canyonlands National Park
ARCHES NATIONAL PARK
–  The Ultimate Guide To Camping In Arches National Park
– 10 Arches National Park Hikes That Will BLOW Your Mind
– The BEST Guide To The Delicate Arch Hike In Arches National Park
– A PERFECT 3-Day Itinerary For Arches National Park
– Tower Arch Trail: The Best Hike In Arches National Park
---
WHAT IS YOUR FAVORITE NATIONAL PARK? SHARE WITH ME IN THE COMMENTS BELOW!

DID YOU FIND THIS GUIDE TO ONE DAY IN CAPITOL REEF USEFUL? SAVE IT FOR LATER ON PINTEREST!