(Last Updated On: 14/04/2022)
"Capitol Reef National Park… There's a fifth National Park in Utah?!", I said to myself as I was researching all the best stops on my Utah National Parks road trip. Truth be told, most people don't even bother stopping at this gem nestled between Canyonlands and Bryce Canyon National Parks. It's the second red-headed stepchild of Utah's parks right after Bryce Canyon, and honestly, I wasn't sure why it was worth stopping for, either. HOWEVER, boy was I pleasantly surprised at how unique this park is! Whether you have one or many days to spend in Capitol Reef National Park, trust me, it's worth stopping for.
That's probably the reason why you're here, anyway, am I right? WELL, you came to the right place! This one-day itinerary for Capitol Reef takes you through all the absolute highlights of the park and will have you leaving feeling like you've explored it thoroughly even if you didn't spend a week here! I've included the classic highlights, but also a very special place that has never gotten the recognition it deserves… It's in one of the most remote parts of the park! What could it possibly be? Keep reading to find out!
This post may contain affiliate links for the products I mentioned, but as always, all opinions are my own. I make a small commission, at no extra cost to you, when you make a purchase or book through these links. This helps to support this space and keep me blogging, which I am so extremely thankful for.
---
The Best Time To Visit Capitol Reef National Park
THE BEST WEATHER
May – Septembre
FEWER CROWDS
September – April
(crowds are minimal year-round)
MOST DAYLIGHT
June – AUGUST
---
Where To Stay In Capitol Reef National Park
Fruita Campground

| $20 / night
The only place to stay inside of Capitol Reef National Park is at the Fruita Campground, which is only a little bit down the road from the visitor's center. This campground is a very small slice of an oasis inside the desert and you can camp on the grass underneath an orchard here. This is a nice place to stay if you don't have any immediate plans after your day in Capitol Reef and if you plan on staying central inside the park. This campsite has most amenities, but no showers, so keep that in mind in case you wanted to freshen up before heading to Byrce or Canyonlands.
Cathedral Valley Campground | FREE
Cathedral Valley Campground is a primitive campsite in Capitol Reef that is most ideal if you plan on going to the Temple of the Sun and the Temple of the Moon for the sunset! There aren't amenities here, hence the free price, but this campsite does have probably the best view in and outside the campground. Please keep in mind that this area of Capitol Reef is one of the most remote, so make sure you have necessary supplies before heading out: water, food, gas, adequate clothing, a shovel for your business, and emergency supplies.
First Come First Served
Wonderland RV Park + Campground | $28 / night
If you have ever envisioned what it would be like to be on a Southwest road trip in the '80s, Wonderland RV Park has perfected that exact setting to a tee. This retro-esque campsite is one of the cutest places that I have ever stayed at. After camping in Arches and Canyonlands, this campground welcomed my friend and me with lushest, softest green grass to sleep on, hot showers, and a small slice of wonderland before heading to Bryce Canyon. This is an excellent place to stay if you want to enjoy some small luxuries before heading back into more rustic camping or if you're heading to Bryce Canyon after visiting Capitol Reef.
The Rim Rock Inn | $80 / night
If you aren't camping and want to get away to a quaint stay in Torrey, Utah (heading towards Bryce Canyon), then the Rim Rock Inn is an excellent, budget-friendly place to stay for a night. The rooms are very simple and don't offer the most extravagant list of luxuries, but it's very close to Capitol Reef and has that adorable, small town, diner feel that will make you feel right at home!
Capitol Reef Resort | $180+ / night
If you have a higher budget, want to splurge on a unique experience, or treat yourself for the night, the Capitol Reef Resort welcomes you with teepees and traditional chuckwagons that you can sleep in! If you're not interested in those experiences, they do have regular rooms, but honestly, those are too good to pass up if you have the opportunity! This place offers a quiet atmosphere, amazing views, and a top-notch location with it only being 1 mile from Capitol Reef National Park. Grab your buddies, split the room cost, and enjoy this experience!
---
Things to know before visiting Capitol Reef National Park
Although you can drive right through Capitol Reef, the trails aren't networked like they are in Bryce Canyon, so the best way to get around this park is in your vehicle. You should have a rental if you're road tripping through Utah's National Parks, so plan to drive to all of your trails, viewpoints, and historic sites. For this park specifically, you're going to want a high clearance vehicle to see the final stop on this Capitol Reef itinerary, and trust me, it's worth the extra cost of the rental add-on. You cannot access it without one and that's the reason why I wasn't able to visit this special place, so make sure you have a car with high clearance and 4×4 capabilities!
MAKE THE JOURNEY TO CATHEDRAL VALLEY
While a lot of people might dismiss these formations since they're remote and take a bit of time to get to, they are probably the BEST thing to see in the WHOLE PARK. Since no one really goes out here, either, you'll likely have them to yourself! ITS. WORTH. IT! Go!
IF YOU'RE VISITING IN THE LATE SUMMER, GO APPLE PICKING
Late summer is when all the fruit in the orchards is prime for picking, and this is a great activity to get a shaded break between hikes or to enjoy after you have pie at the Gifford House.
STAY HYDRATED AND CARRY LOTS OF WATER
A lot of the hikes in Capitol Reef National Park offer hardly any shade, so it's important that you carry plenty of water on your hikes and stay as hydrated as you can. A small hack that my friend and I did in the mornings was drinking around a liter of water after we woke up before we began hiking so that our bodies could hydrate themselves before the sun made us work up a sweat! This helped our energy levels and stamina stay consistent throughout the day. I still recommend taking a break midday though, so that you can get out of the sun and recharge. The desert heat is no joke!
THE ENTRANCE FEE GOES BY THE HONOR SYSTEM
The road that runs through Capitol Reef is the main highway, and so there isn't a booth where you're required to stop and pay. If you have an America the Beautiful Park Pass, then it includes your entry fee, which is what we had, but if you don't have this pass, make sure you go into the visitors center and pay so that you can help support the park!
---
The Best Way To Spend 1 Day In Capitol Reef National Park
---
Breakfast at Camp/Hotel
Rise and shine! Whether you're waking up in Capitol Reef or you're arriving early to secure your campsite, the best possible way to begin this one day in Capitol Reef itinerary is by waking up for the sunrise. Crowds really aren't an issue here, but to maximize your day in the park, you want to make sure you're up and running early. Plus, it's a beautiful time to explore the park and escape the desert heat that you'll encounter by midday.
You want to make sure your breakfast is satiating since the first hike of the day is moderate and you'll definitely want to be fueled properly for it! If you're not much of a breakfast person, bring a protein bar or some fruit for your view at the top!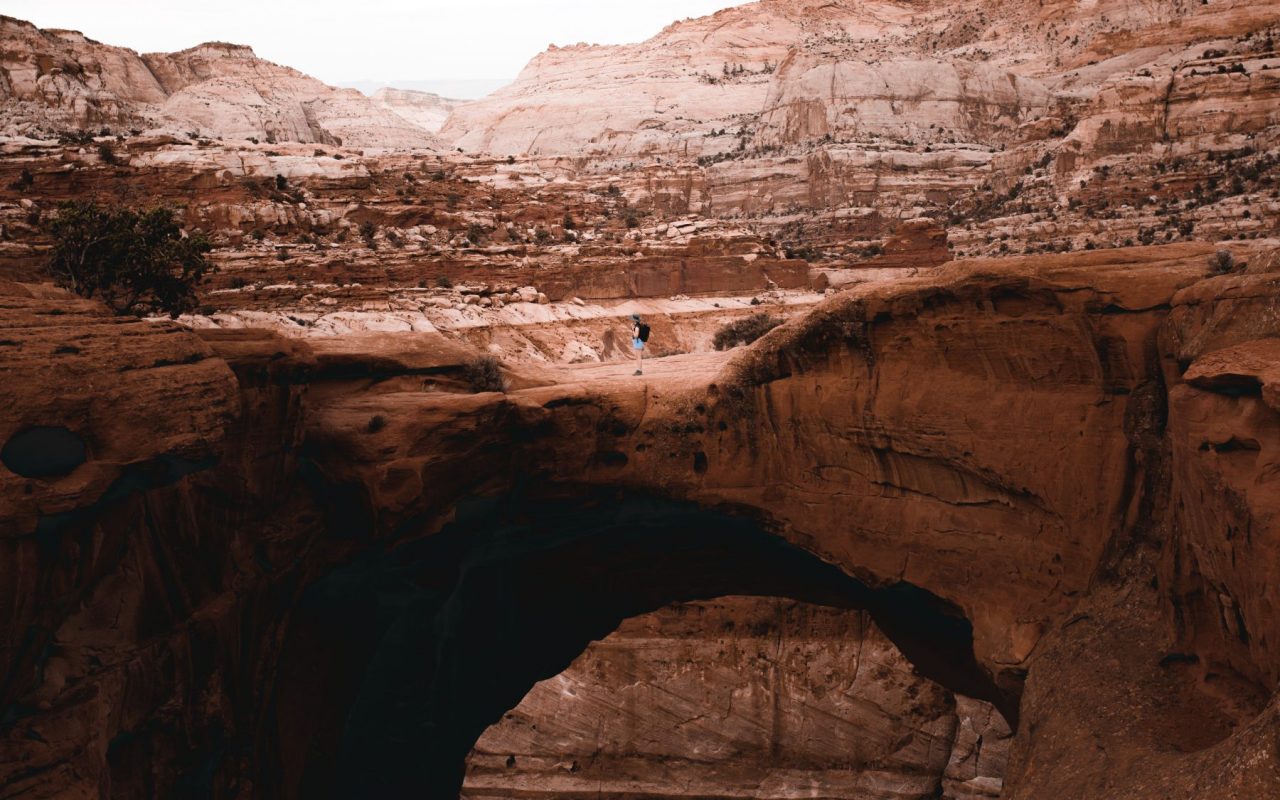 Sunrise hike to Cassidy Arch
The best way to start this epic day in Capitol Reef National Park is at NONE OTHER than the Cassidy Arch Trail, the most beautiful, rewarding hike in the park!
What surprised me the most about this trail was the difficulty of this hike. I wasn't expecting a cakewalk by any means, but the amount of elevation gain at the beginning of this hike can seem never-ending in some places and you'll definitely be huffing and puffing your way up. Once you get around a mile into the trail, it gets very moderate, so stick it out in the beginning and I promise thee views are worth it! You'll feel like you're at the very top of Capitol Reef!
I have a more in-depth trail guide to Cassidy Arch here that you can explore for more details and the essentials you'll need for completing this hike!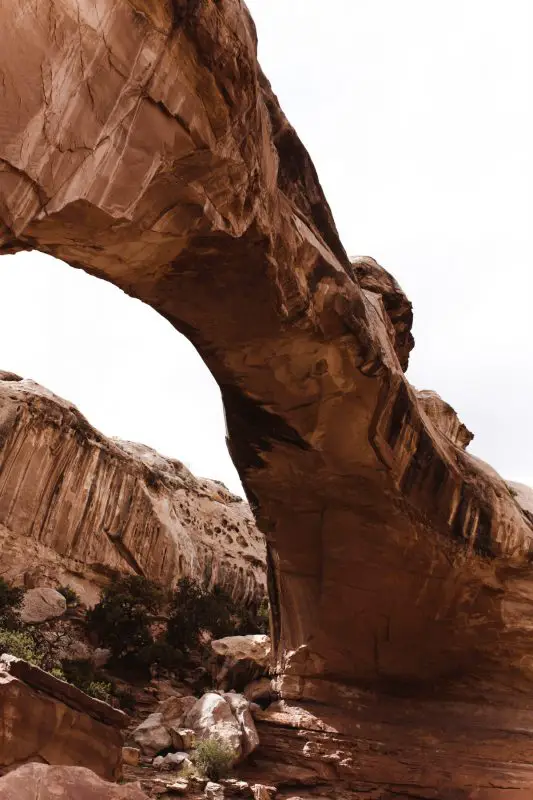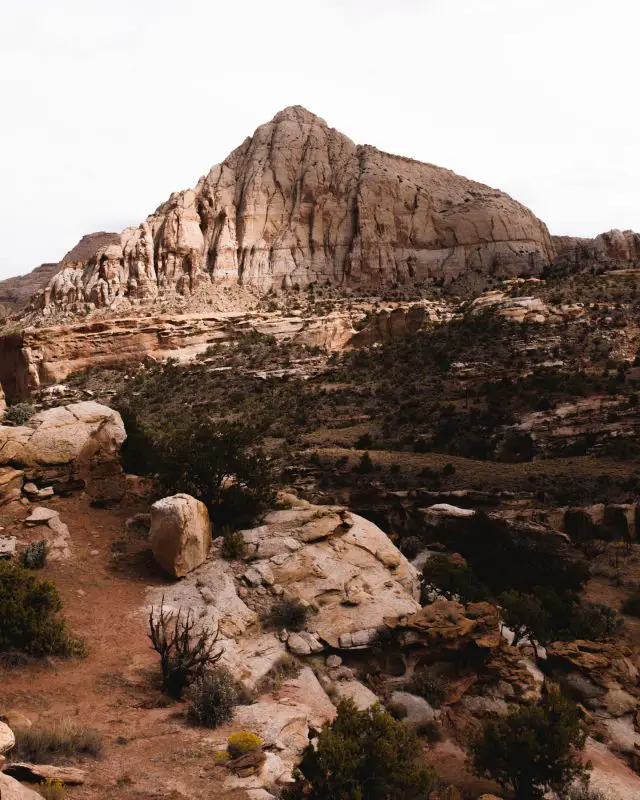 Hike the Hickman Bridge Trail
Ironically, the next stop on this itinerary is another arch? While it's been aptly named a bridge, it's really like another massive arch, but still incredible nonetheless!
The hike is just a little under two miles and offers awe-inspiring views of sand and rock formations that make up the park. This trail is widely accessible and is a very popular choice among day-goers! Once you arrive at the Hickman Bridge, you can walk underneath its majesty and take in all 130 feet of this sucker!
This hike takes roughly an hour to complete and once you're finished here, you'll be more than ready for a little lunch and some pie!
Enjoy Pies + Lunch at the Gifford House
Quite possible the cutest stop on this Capitol Reef itinerary is at the Gifford House. This place was recommended to my friend and me by a local as we were passing through Hanksville, so we knew we needed to give the pies a try.
The Gifford House, or Gifford Homestead, was originally built in 1908 by Calvin Pendelton. Over time, the house has been renovated and modernized as it represents the early Mormon settlement of Fruita Valley. The entire property also includes a barn, smokehouse, garden, pasture, and rock walls, but the main event is inside the home. What is the main event? The PIE, y'all!
The Gifford House is the only place in Capitol Reef where you can get food, which makes this a great stop for lunch! They don't have full "savory" meals and it's all basically bread and various desserts, but who am I to tell you to pack a sandwich, am I right? Luckily, for my fellow vegans out there, a handful of their pies are vegan-friendly! I enjoyed a nice mini cherry pie and can confirm that it is excellent! If you have other allergens, they have a binder of the recipes that they can reference if you have any questions!
While you're waiting on your pies, you can shop around at the vintage souvenirs and take a look at the various jams to take home.
Drive the Capitol Reef Scenic Byway (Highway 24)
Once you've enjoyed lunch, you'll head out on the open road to take on Capitol Reef Scenic Byway, the road that runs through Capitol Reef National Park and offers impressive views in the water pocket fold. The National Park Service has a full guide on all the best highway stops that will help you maximize this 1.5-hour venture.
To maximize your experience, make sure you have all your favorite tunes downloaded since you'll likely be out of service!
Take in the view at Sunset Point + Gooseneck Overlook
While Sunset Point is, well, a nice spot to watch the sunset, you are going to come here before heading to Cathedral Valley for sunset. Sunset Point and Gooseneck Overlook are both great viewpoints to see the unique geology of the park and to see all of the layers in the rock!
The Gooseneck Overlook doesn't require any additional hiking, so you can go right up the parking lot and enjoy the view, while Sunset Point is around .3 miles from the Gooseneck Overlook. It's a great "double-whammy" and a very relaxing place to begin to wind down your one day in Capitol Reef National Park.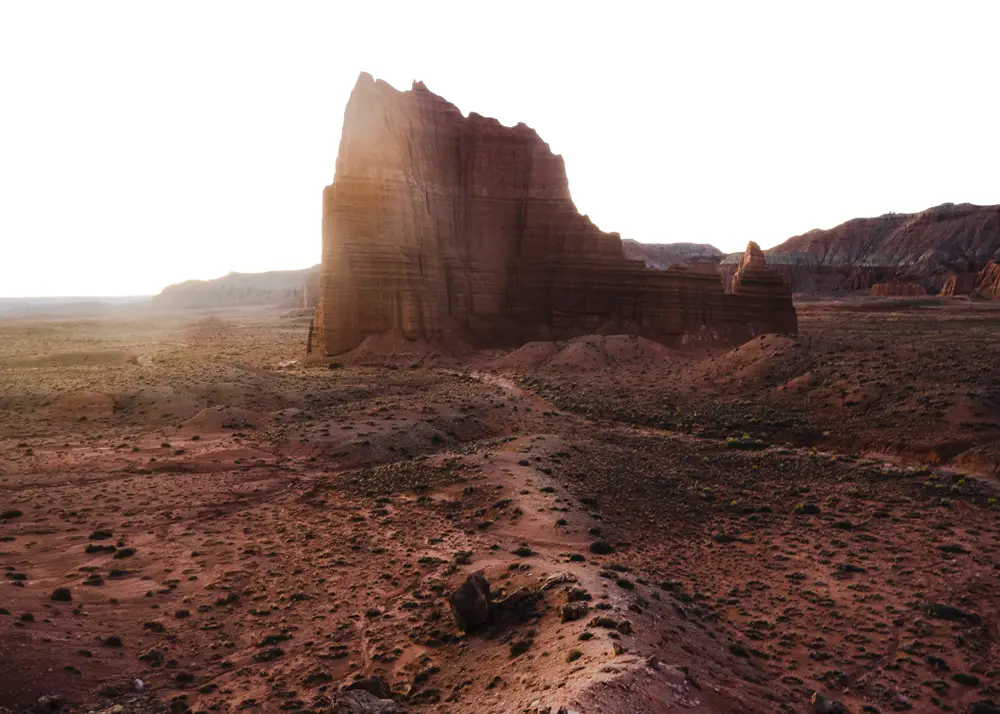 Sunset at the Temple of the Sun + Moon
I won't lie. This stop might be ways out of the way, but every minute of the drive is worth it when it comes to these incredible rock formations. If you want to save time, you can camp here the night before your full day in Capitol Reef to catch the sunrise here, or you can camp at the Cathedral Valley Campground at the end of the day for sunset to save transit time. If you're coming from Canyonlands and Arches National Park, I recommend staying here on the way to Capitol Reef, and if you're coming from Bryce Canyon and Zion, then stay here at the end of the day.
To get here, you're going to need a car with high clearance and 4×4 capabilities. I have mentioned this a few times, but I want to reiterate it for your safety and so that you don't get stuck out here.
From the Capitol Reef Visitor's Center, you're going to turn right onto Highway 24 and ride that straight towards Cainsville. Once in Cainsville, keep an eye out for County Road on the left, then, ride this road for around 2.5 miles. Continue straight onto Cathedral Road (left at the fork). Continue down Cathedral road for around 13 miles, then keep an eye out for Temple of the Moon road, or the MASSIVE rock formations that tower over the desert. You really cannot miss it!
Once here, wait for sunrise or sunset to get those beautiful morning rays pouring through these rocks. This is an amazing spot for photography and a telephoto lens is a perfect pairing so that you can scale the rocks in your photo! This place, in my opinion, is the crown jewel of Capitol Reef National Park. You don't want to miss this! I regret missing it myself! Next time I visit this park, I will make sure that I pay Cathedral Valley a visit!
---
Overview of The One Day In Capitol Reef Itinerary
Sunrise at Cassidy Arch
Hike to the Hickman Bridge
Enjoy Pies at the Gifford House
Drive the Scenic Highway 24
Take in the view at Sunset Point + Gooseneck Overlook
Sunset at the Temple of the Sun + Moon
---
What To Pack For One Day In Capitol Reef National Park
– SUN PROTECTION | A lot of the Capitol Reef hiking trails are exposed, so you'll need chapstick with SPF, a hat, and sunscreen.
– FIRST AID KID | Large or small accidents, you want to be covered. This lightweight first aid kit fits nicely in my bag and has everything I need.
– PROPER SOCKS | Avoid cotton at all costs to prevent blisters. These are my favorite!
– GPS/NAVIGATION TOOL | This is crucial to keep you from getting lost. GAIA, All Trails, and Hiking Project are great apps to consider.
– WATER/SNACKS | Pack plenty of food and snacks for the day, as well as a 2.5L hydration bladder or equivalent in water bottles, depending on the length of your hike.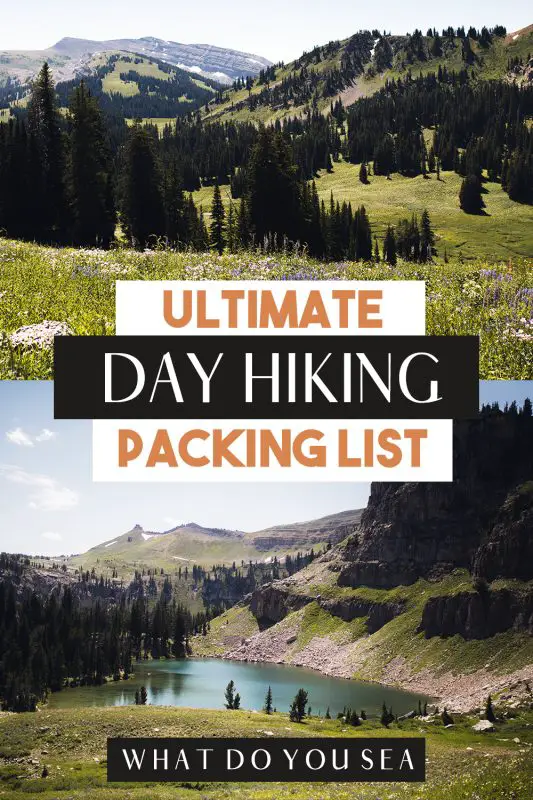 ---
 1-Day Capitol Reef Itinerary Map
Use this map to help you navigate this one day in Capitol Reef itinerary and nearby stops! For best use, download this map to your smartphone so you can use it offline (instructions here).
---
MORE HELPFUL GUIDES FOR CAPITOL REEF NATIONAL PARK ITINERARY:
–  Packing For A Day Hike: 12 Adventure Essentials To Get You Exploring
– Hiking The Cassidy Arch Trail In Capitol Reef National Park
WANT EVEN MORE GUIDES TO UTAH'S NATIONAL PARKS? CHECK THESE OUT:
– The ONLY Utah National Parks Road Trip Itinerary You Need
ZION NATIONAL PARK
– How To Conquer The Narrows Hike In Zion National Park
– 2 Days In Zion: The Ultimate Zion National Park 2 Day Itinerary
BRYCE CANYON NATIONAL PARK
–  The Ultimate Guide To Camping In Bryce Canyon National Park
– 10 Jaw-Dropping Bryce Canyon National Park Hikes You CANNOT Miss
– Hiking the Figure 8 Loop in Bryce Canyon National Park: Queens Garden, Peek-a-boo Loop, and Navajo Trail
– One Day In Bryce Canyon: The Perfect 1-Day Itinerary
CANYONLANDS NATIONAL PARK
– The 10 BEST Hikes In Canyonlands National Park
ARCHES NATIONAL PARK
–  The Ultimate Guide To Camping In Arches National Park
– 10 Arches National Park Hikes That Will BLOW Your Mind
– The BEST Guide To The Delicate Arch Hike In Arches National Park
– A PERFECT 3-Day Itinerary For Arches National Park
– Tower Arch Trail: The Best Hike In Arches National Park
---
WHAT IS YOUR FAVORITE NATIONAL PARK? SHARE WITH ME IN THE COMMENTS BELOW!

DID YOU FIND THIS ITINERARY FOR 1 DAY IN CAPITOL REEF NATIONAL PARK USEFUL? SAVE IT FOR LATER ON PINTEREST!