(Last Updated On: 14/04/2022)
Famous orange hoodoo formations. Scenic viewpoints. Vibrant hiking trails. There are endless ways to spend one day in Bryce Canyon National Park. Out of all the stops on my Utah National Parks Road Trip, this was by far my favorite National Park of them all. The hikes take you deep inside the Bryce Canyon Amphitheater and the views at Inspiration Point, Sunset Point, and Wall Street on the Navajo Loop Trail are all forces to be reckoned with.
The park sits at an impressive elevation of 9,000 feet above sea level which allowed the largest collection of hoodoos in the world to form the Bryce Amphitheater, which is why this park is so special and world-renowned. Truthfully, before I planned my visit to Bryce I didn't even know what a hoodoo was, let alone just how rare they are, so when I learned that they're essentially the bread and butter of this place, it made me appreciate this compact little slice of Utah even more. What made Bryce Canyon stand out so much compared to other parks in Utah was that the park is engulfed by vibrant, dense pine forests. When you're driving through the park, you have panoramic views for days as you pass all the viewpoints leading up to Rainbow Point.
If you're wondering how many days you should spend in Bryce Canyon, one day is plenty of time to see the best of the park, squeeze in the best hiking trails, things to do, and even hit the Bryce Canyon scenic drive on your way out!
This post contains affiliate links for the products or services I mentioned, but as always, all opinions are my own. I make a small commission, at no extra cost to you, when you make a purchase or a booking through these links. This helps to support this space and keep me blogging, which I am so extremely thankful for.
---
Best Time To Visit Bryce Canyon National Park
The best time to visit Bryce Canyon varies on a few different factors, but I can best suggest late summer and early fall as the best time of year to visit. The crowds are out the wazoo during the prime summer months, so try to delay your visit a bit into fall to get fewer crowds. The summer months aren't hot at all compared to the other National Parks in Utah because the elevation is so high above sea level, that's why Bryce Canyon is so much colder compared to the other parks in Utah, so you're going to have beautiful weather during the summer months.
Visiting Bryce Canyon in the winter gets pretty tricky because the Bryce Canyon scenic drive can be closed due to poor road conditions and all the hiking trails may not be open from snowfall. Even in the high season, once you venture inside the canyon and get onto the trails, you lose a ton of tourists from the popular viewpoints and Rim Trail anyway, so aim for the summer or early fall months for the best hiking weather.
I will say, though, if you want some seriously STUNNING photos, when Bryce Canyon experiences snowfall it's one of the most magical experiences you'll have in your life, so just keep that in mind, but always cater to the trip you want to have. I would only recommend doing this if you've already visited the park once before. But just in case, March is the snowiest month in Bryce Canyon…
GOLD TIER INTERNATIONAL DARK SKY PARK
Bryce Canyon National Park is a certified Dark Sky Park, one of the only ones in the United States! This basically means the stargazing is OFF THE CHAIN. In order to see the most amount of stars on your vacation, consider planning a trip on or around the new moon. This way there will be the smallest amount of light pollution in the sky and it will showcase the milky way! Also around this time during the month, the park rangers host small events you can sit in on at night to enjoy the sky, which I highly recommend you sit in on! The first time I saw the milky way was in Big Bend and it's truly a sight to behold! You don't want to miss this opportunity! If you're a real nerd about space, consider the Annual Astronomy Festival!
---
Where To Stay Near Bryce Canyon National Park
When it comes to finding where to stay for visiting Bryce Canyon National Park, your options inside the park are limited to camping at either the North Campground or the Sunset Campground. Spots at these campgrounds are very competitive, even for a walk-up spot in the high season, so I would plan to book way in advance to secure your spot. Both of these campsites are in centralized locations close to the shuttles and Bryce Canyon Visitor's Center, so neither are a bad choice, the only thing to remember is that the North Campground is first come first served only. For more tips on camping in Bryce, read my full guide! 
If you're looking for where to stay outside and near Bryce Canyon National Park, Ruby's Inn & RV Park is your best bet. Aptly named, "Bryce Canyon's Doorstep", Ruby's Inn is barely a stone's throw away from the Bryce Canyon Visitor's Center. This is an ideal hotel and campground hybrid that is close to the park and offers a full panel of amenities for your adventures inside the park. Since the options in this part of Utah are so limited, yes, a Best Western is the top pick. For those of you looking for camping here, tent sites are not reservable, but spots for RV's, trailers, and campers can be reserved here.
---
Things To Know Before Visiting Bryce Canyon National Park
LOCATION | Bryce Canyon is in Southern Utah near Zion National Park and Capitol Reef National Park. It's also close to a lot of other hubs for outdoor adventure like St. Goerge, Kanab, Grand Staircase Escalante, and the Grand Canyon! The best way to experience the park, in my opinion, is on a Utah National Parks road trip, otherwise, the closest airport is in either Las Vegas or Salt Lake City, both four hours away from Bryce. So you can rent a car from either of these hubs and make the trip to Bryce in only a few hours.
A lot of people pair Zion and Bryce on one itinerary since they're only two hours away from each other! Check out my Zion itinerary to pair with this Bryce itinerary!
OPEN | Bryce Canyon is open year-round, but the visitor center's hours change depending on the season. Every day it opens at 8:00 am and closes at these times depending on the season:
– May through September | closes @ 8:00 pm
– October | closes @ 6:00 pm
– November through March | closes @ 4:30 pm
– April | closes @ 6:00 pm
BRYCE CANYON NATIONAL PARK ENTRANCE FEE | It's $35 per car to enter Bryce Canyon National Park and this payment gets you into the park for a full week. If you're visiting other National Parks in Utah, I recommend picking up an America The Beautiful Park Pass. This gets you into ALL US National Parks for a year and will save you a lot of money if you frequent the parks!
BRYCE CANYON SHUTTLE | Bryce Canyon is very small and compact, but finding parking is a nightmare, so your best bet is to use its free shuttle service. The park uses this service to reduce pollution inside the park since it is a Gold Tier International Dark Sky Park. Plus, it encourages people to walk along the Rim Trail to take in the best views and reduce parking congestion.
The shuttle stops at viewpoints every 15-minutes and you can track the shuttle routes here to know their next stops! It stops at most of the main scenic viewpoints in Bryce Canyon and is a great opportunity to take a rest and enjoy the scenery. It only takes around 50-minutes for the shuttle to complete the cycle so you can see SO MUCH since Bryce is so condensed. If you're coming from the city of Bryce, the shuttle can take you from your hotel to the park to all the main hubs which is really nice.
---
How To Spend One Day In Bryce Canyon National Park
If you only have one day for your Bryce itinerary, don't stress because the park is small enough and condensed enough that a single day is plenty of time to squeeze in everything you're dying to see. When I was planning my own Bryce Canyon National Park 1 day itinerary, I wanted to see AS MUCH as possible with the time I had and this list reflects that. If you have enough time for a 2 day Bryce Canyon itinerary, I recommend exploring other things to do in the park like Natural Bridge, the Bristlecone Pine Loop, and even the Bryce Canyon Scenic Drive!
This itinerary starts with one of the most important things to do in Bryce Canyon, and any National Park, a stop into the Bryce Canyon Visitor's Center. This is the best place to go to pick up a park map, learn about the park's geology, and ask the rangers questions about hiking trails, viewpoints, and hidden gems. After you finish up there, head to Sunset Point for sunrise. This was a little tip I learned from one of the Park Rangers! Sunrise and sunset points have the best light at the opposing time of day.
Once you've finished up photos at Sunset Point, head to the first hike of the day, the Navajo Loop Trail. This hike can normally be combined with the Queen's Garden Loop, but we're going to mix things up with this itinerary, so do the entirety of the Navajo Loop and then you have the option to head over to Sunrise Point. If you don't want to backtrack, head over to this viewpoint now, otherwise head here for sunset. After this, you're going to be combing two trails: Peek-a-Boo Loop and the Queen's Garden Trail. This is one of my favorite trails in the park because you see SO MUCH in one run. It also saves you a lot of time and by the end, puts you at the other end of the park to see other viewpoints on your way back.
After this trail, rest at Bryce Point and Inspiration Points.
The last trail for this one day in Bryce Canyon itinerary is an option depending on your energy levels and how much time you have, Fairyland Loop Trail. If you're feeling ambitious, I recommend tackling this 8-mile hike and bringing a headlamp in case the sun goes down while you're on the trail. Bryce Canyon National Park is a Gold Tier Certified Dark Sky Park, so you'll be able to spot the milky way as long as the skies are clear! Finish up your day on this trail and before you head out the next morning, go drive the Bryce Canyon Scenic Drive to Rainbow Point for sunrise, the highest point in Bryce Canyon National Park!
IF YOU HAVE MORE TIME
Bryce Amphitheater Traverse Trail
Bryce Canyon Scenic Drive
NEARBY
---
LEAVE NO TRACE
With exploring nature comes out personal responsibility to leave it as we left it. Please make sure you're following Leave No Trace Principles. This keeps hikes and areas in Bryce Canyon National Park litter-free and the space clean for future hikers to enjoy.
---
Bryce Canyon National Park Visitor Center
BRYCE CANYON ITINERARY TIP | The Visitor Center doesn't open until 8:00 am, so if you get to the park before then, you'll have to skip or visit later on. If you wait until 8:00 to try and enter the park, the lines will be extremely long, so get into the park as early as you can to maximize your day in Bryce Canyon.
I know that going to the Visitor's Center can seem like a total snooze fest, but here you'll learn what makes Bryce Canyon National Park so special, or really any national park for that matter. There is a museum-like area in the back left corner of the building that teaches you all about what hoodoos are, how they are formed, and why Bryce Canyon National Park is one of the top places in the world to see this unique type of geology.
One of the most valuable aspects of any Visitor Center in a National Park are the Park Rangers. Even with a formulated itinerary, you can ask them a variety of questions about alternative routes, better trails, and even hidden gems. Anytime I have reached out I have always been blown out of the water with recommendations, most of which you cannot find online. Remember to pick up a park map before you leave, maybe a souvenir, and then make your way to the first stop on this Bryce itinerary.
---
Sunset Point
BRYCE CANYON ITINERARY TIP | Your morning coffee tastes like 6/5 stars when you're enjoying it overlooking the Bryce Amphitheater! I brew mine at camp, pour it into my favorite mug, and BOOM, a toasty cup of coffee, and a great sunrise all before 9 am.
Despite the irony of this first stop on your one day in Bryce Canyon itinerary, Sunset Point is an excellent place to experience the sunrise. You'll get a great overlook of the infamous hoodoos of Bryce Canyon before you enter a forest of these fairy chimneys. Early in the morning and later in the evening are two of the best times to photograph Bryce Canyon because the lighting is a lot softer. The angle of the sun prevents the harsh shadows the hoodoos cast on each other and the lighting overall is a lot less harsh. This is one of my favorite locations on the Rim Trail to take a memorable photo.
During my visit to Bryce Canyon, one of the park rangers suggested going to Sunset Point for sunrise rather than the other way around because the lighting is better, so head here rather than Sunrise Point for better light and fewer crowds.
---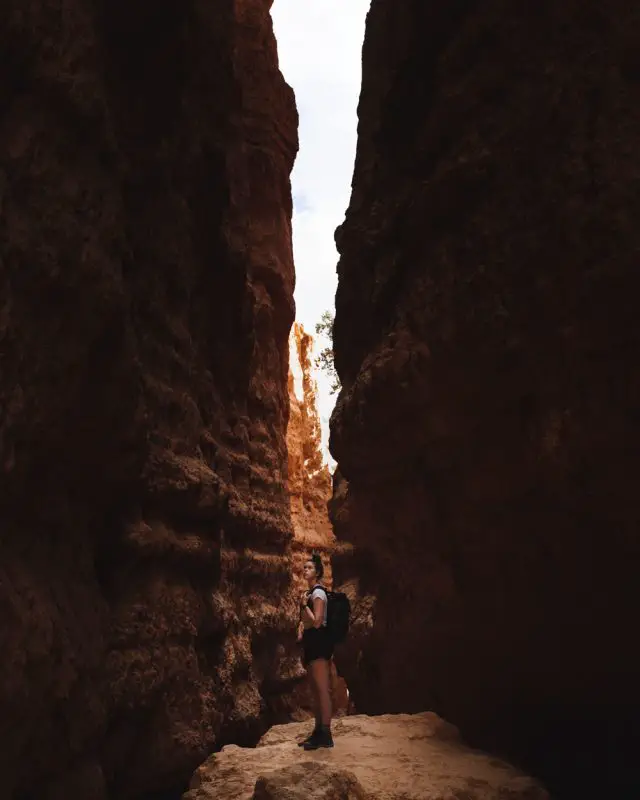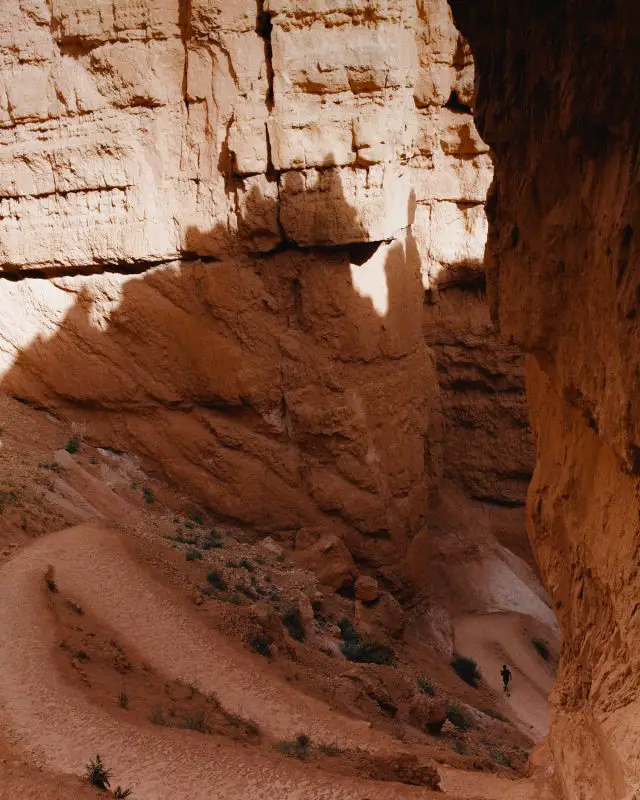 Navajo Loop Trail
TRAILHEAD | SUNSET POINT
DISTANCE | 1.5 MILES
After enjoying the sunrise at Sunset Point, you're conveniently placed at the trailhead for the next activity, hiking the Navajo Loop Trail. This is one of the most popular trails in the park and for this reason, you want to get here very early in the morning to avoid crowds. This isn't a very long hike, but the switchbacks going down and back out of this portion of the park can be challenging, especially since you're going to be at around 9,000 feet above sea level. As you go up in elevation, the oxygen levels get thinner and thinner, so you may be in shape, but this hike could feel a lot harder. At least it did for me!
From Sunset Point, you're going to descend into Bryce Canyon via the infamous switchbacks. At the very beginning of the trail, there is going to be a fork in the road. Left takes you to Wall Street and right takes you towards Two Bridges. Since it's a loop you can go any way you want, but I recommend going left. Just remember there is no avoiding the switchbacks that will take you out of the canyon. Near the base of the trail, there will be a junction with the Peek-a-boo Loop Trail. Keep following the signs for the Navajo Loop and you'll come back up to Sunset Point when you're done.
What I enjoy most about this trail is that while it's short, it packs a massive punch with the views along the way. Plus, since it's so short in distance, it leaves a lot of time to hit other scenic spots in the park for the rest of this itinerary.
---
Sunrise Point
This is one of the most panoramic views of the Bryce Canyon Amphitheater. You'll be able to hundreds of tiny hoodoos lining the canyon walls, filled with vibrant forest pines. Exploring Bryce Canyon National Park feels like walking on a real-life rainbow since the park dances in so many different colors. Bryce makes you feel like you're stepping into a whole other WORLD. No other park has made me feel this way, which is why Bryce is one of my favorite National Parks I've been to!
From Sunset Point, it's a short walk over to Sunrise Point. You can either head over there now or come back for sunset if you want some better lighting, but for the sake of time, it's placed at this part of the itinerary to avoid backtracking. If you're going back for sunset, take the shuttle because Sunrise Point parking fills up VERY FAST. Also, make sure you know what time the last shuttle leaves so that you don't miss it!
---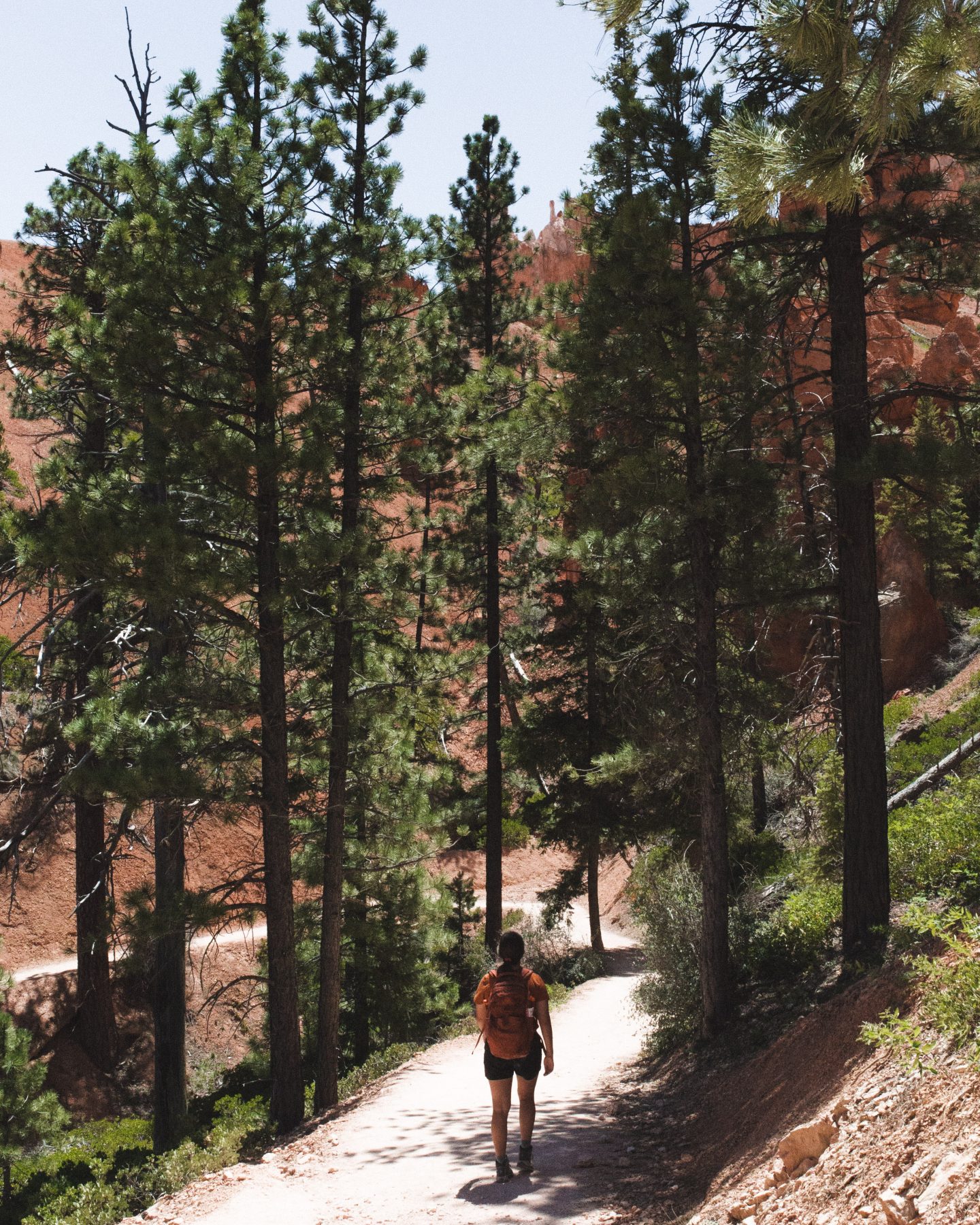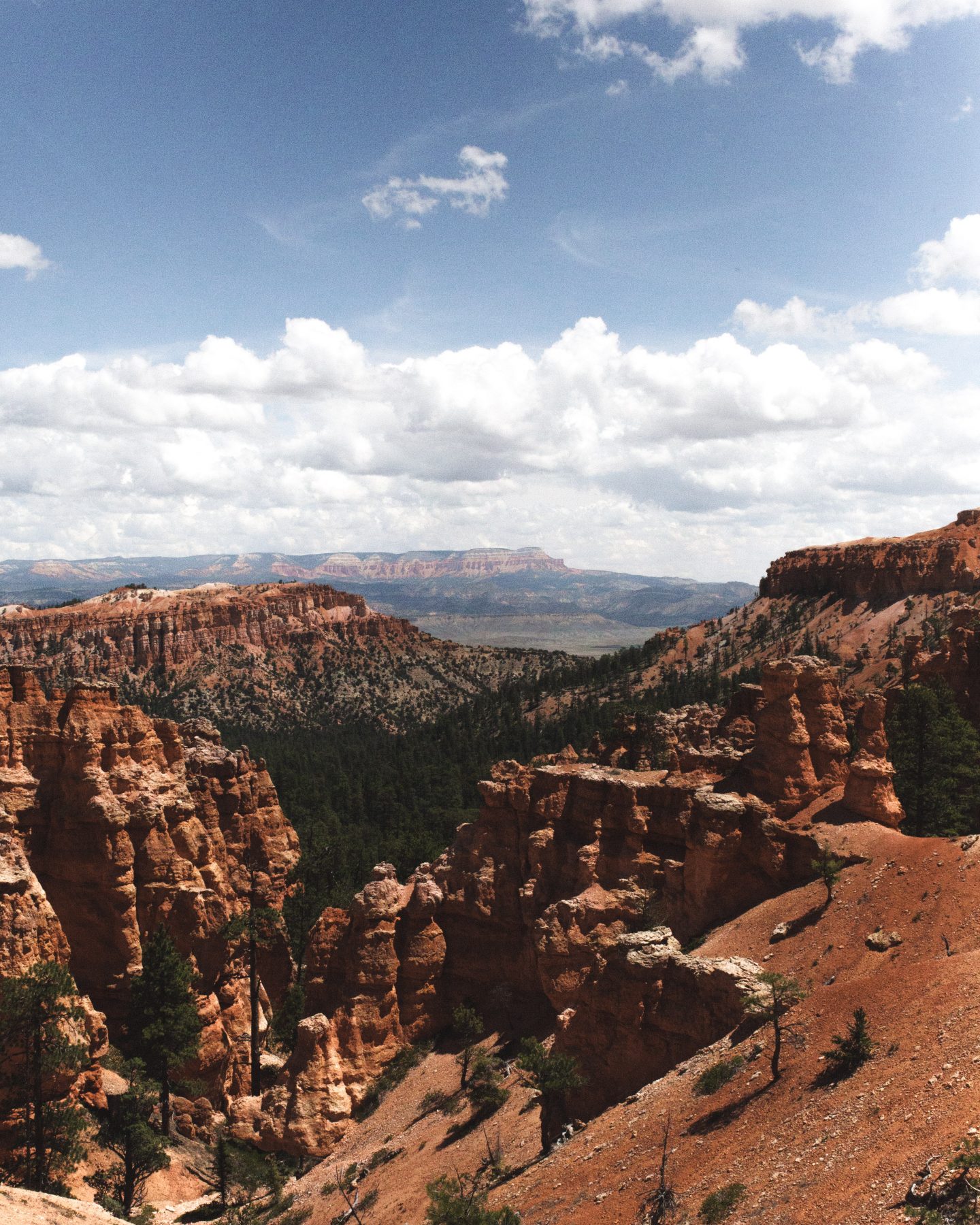 Queens Garden Trail / Peek-a-Boo Loop
TRAILHEAD | SUNRISE POINT
DISTANCE | ~6 MILES
The next hike to check off your list during your one day in Bryce Canyon is another cult-favorite, the Queens Garden Trail! But since we only have a day in the park, we are going to spice things up a bit and combine two hikes into one: Queen's Garden Loop and the Peek-a-boo Loop. Normally, the Queen's Garden Trail begins at Sunrise Point and emerges at Sunset Point by the Navajo Loop. But instead of completing the loop, we will link onto the Peekaboo Loop and continue further down into the southern part of Bryce Canyon National Park. If the thought of switching trails makes you weary, don't worry, there are plenty of signs that will point you in the correct direction. I even mapped out the route in the Google map at the beginning of this blog post, so make sure you download it before you go!
Once you hike down into Bryce Canyon on Queen's Garden, you're going to come to a 't' on the trail, and both directions are going to read the Navajo Loop. Go left and get onto the Navajo Loop. Then watch for a sign for the Peekaboo Loop that will be on the left as well a small way down the trail. Once on the Peek-a-boo Loop, you're going to hike around a mile then emerge at another 't', which then you will want to make a right turn to complete the Peek-a-boo Loop and emerge at Bryce Point.
---
Bryce Point
After completing the latter half of the Peek-a-boo Loop, you will be able to take in the beautiful view of Bryce Point. This is one of my favorite viewpoints in the park because you can see all the hoodoos, the pine forest, known as the Queen's Garden, and all of the landscapes that are beyond Bryce Canyon. It's known for being one of the best viewpoints out of all of the National Parks in the United States, so make sure you take it all in when you get up here! This is also a great spot to spend sunset if you're looking for alternatives to Sunrise Point, or if you're spending an extra day in the park.
---
Inspiration Point
After Bryce Point, you can hop on the shuttle and get off at Inspiration Point. Alongside Bryce Point, this viewpoint is probably one of the most beautiful in the entire park. Rather Inspirational, I'd say… (I'm so sorry lol). This is also another great spot for sunrise if you don't want to drive all the way to Rainbow Point the next morning. This panoramic view is well worth the stop and a great place to enjoy a snack or a pre-dinner meal before you hop onto the Fairyland Loop. Once you're finished up here, you can then board the shuttle once more to Fairyland Point, our final stop of the day!
---
Fairyland Loop
TRAILHEAD | Fairyland Point
DISTANCE | 8 MILES
Unfortunately, the Fairyland Loop was one that I missed during my day in Bryce Canyon. Knowing what I know now, I wish I had prioritized this hike right after the Navajo Loop Trail!
I don't want to say this is the least hiked trail in the park, but it's most certainly not as highly trafficked as all of the other hiking trails in the park. It is labeled strenuous for both its ascent and length, but don't let this scare you away from taking this on! The Fairyland Loop goes through some of the most beautiful views in the park, and many that most people do not see, so you get to enjoy fewer crowds and iconic views.
While this hike is long enough already, I was recommended by a park ranger to take the detour to Tower Bridge for the sunset! It adds a little bit more to your hike, and you may need to bring a headlamp along to complete the Fairyland Loop, but it's worth the additional mileage. If you pass Tower Bridge and aren't up for completing the loop, you can hop off where the Fairyland Loop meets the Rim Trail and that will bring the mileage down. 
You'll be able to spot the milky way while you're in Bryce so whether you end the day at Inspiration Point or take on the Fairyland Loop, make sure you turn off those phone lights and look to the skies! Since I am based in Dallas, I only see a literal handful of stars each night, so I always take up an opportunity to see the beauty of space. There is a helpful guide for stargazing in Bryce Canyon here! The park rangers also host Astronomy & Night Sky programs that I recommend joining! The best time to see stars in the park is near or around the new moon since the moonlight won't pollute the sky with lighting, so you may want to keep that in mind while you plan your trip!
---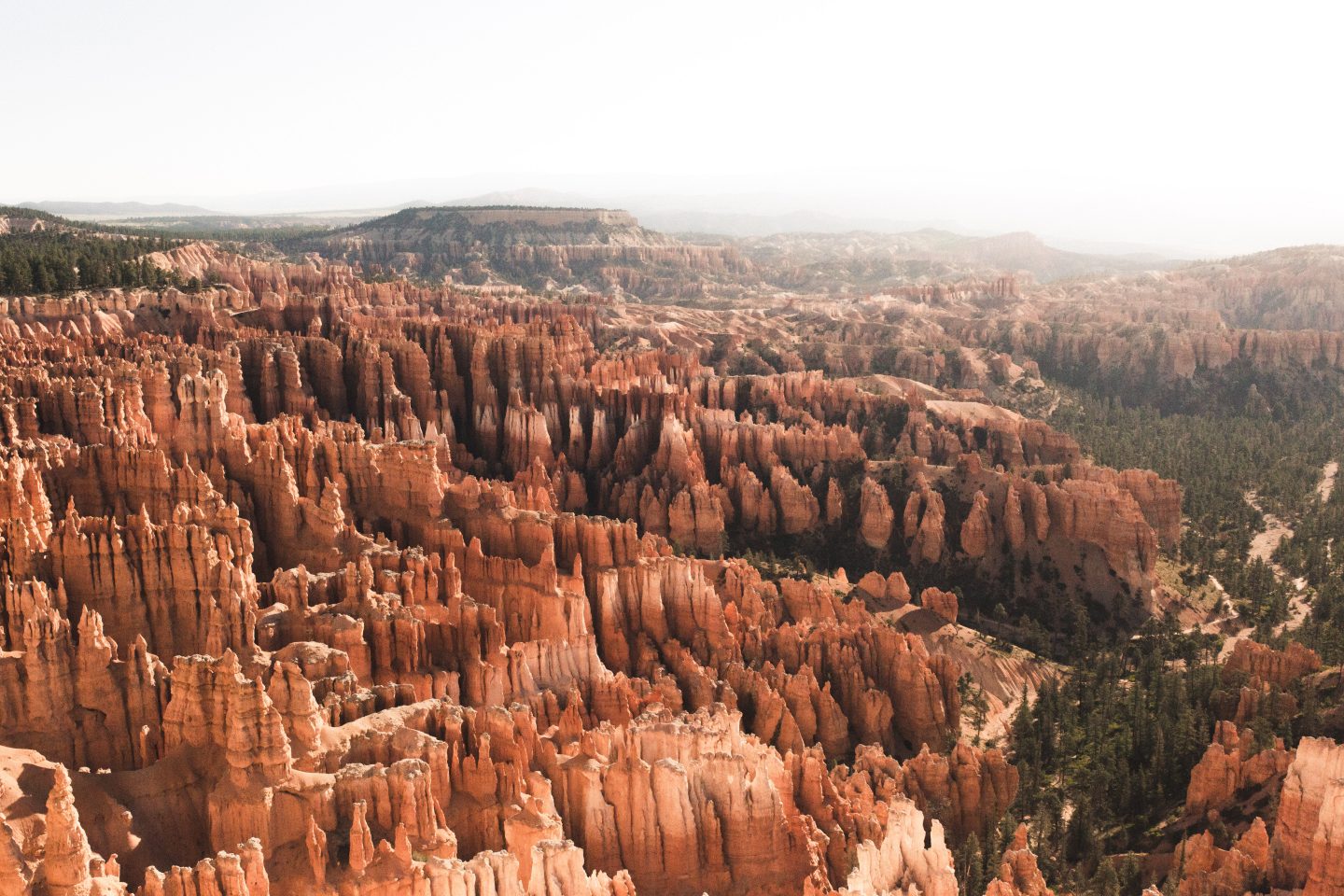 Bryce Canyon Scenic Drive / Rainbow Point
OPTIONAL
I am a sucker for squeezing in ANY type of sunrise mission, especially if I am limited on time somewhere, so before you leave the next morning, I recommend driving the Bryce Canyon Scenic Drive down to Rainbow Point to watch the sun light up the canyon. This road is paved and has only two lanes so it's straightforward starting from the Visitor Center. Bryce Canyon is so dense that this is only a 30-minute drive so you don't need to wake up too early for an amazing sunrise.
Along the way, you can hit other viewpoints if you'd like or drive straight to the end of the road. Once you park your car, it's a small uphill push to get to the viewpoint and VOILA! The most expansive view of Bryce. You'll be situated on the very edge of the park, so this view packs in every inch of Bryce in a single view. Plus, with the sunrise, orange hoodoos, and green pines, you're truly going to be experiencing a rainbow of colors!
When I came here there were only two other people enjoying the view, so this is a great spot to avoid crowds! After you're finished, make you're way back through the park and then head to the next stop on your road trip, whether it is Zion National Park, the Grand Canyon, or Capitol Reef, have a blast on the rest of your vacation!
---
Overview of this Bryce Canyon 1 Day Itinerary
Stop at the Visitor's Center
Sunrise At Sunset Point
Hike The Navajo Loop
Stop At Sunrise Point
Hike The Queen's Garden Loop + Link Onto Peekaboo Trail
Take In The Rewarding View At Bryce Point
Stop At Inspiration Point
Hike The Fairyland Loop
Rainbow Point (Optional for next day's sunrise)
---
What To Pack For One Day In Bryce Canyon
– SUN PROTECTION | A lot of the Bryce Canyon trails are exposed, so you'll need chapstick with SPF, a hat, and sunscreen.
– FIRST AID KID | Large or small accidents, you want to be covered. This lightweight first aid kit fits nicely in my bag and has everything I need.
– LAYERS | Bryce Canyon National Park's elevation is around 9,000 feet so it stays cool, even in the summer months! Pack an extra layer!
– PROPER SOCKS | Avoid cotton at all costs to prevent blisters. These are my favorite!
– GPS/NAVIGATION TOOL | This is crucial to keep you from getting lost. GAIA, All Trails, and Hiking Project are great apps to consider.
– WATER/SNACKS | Pack plenty of food and snacks for the day, as well as a 2.5L hydration bladder or equivalent in water bottles.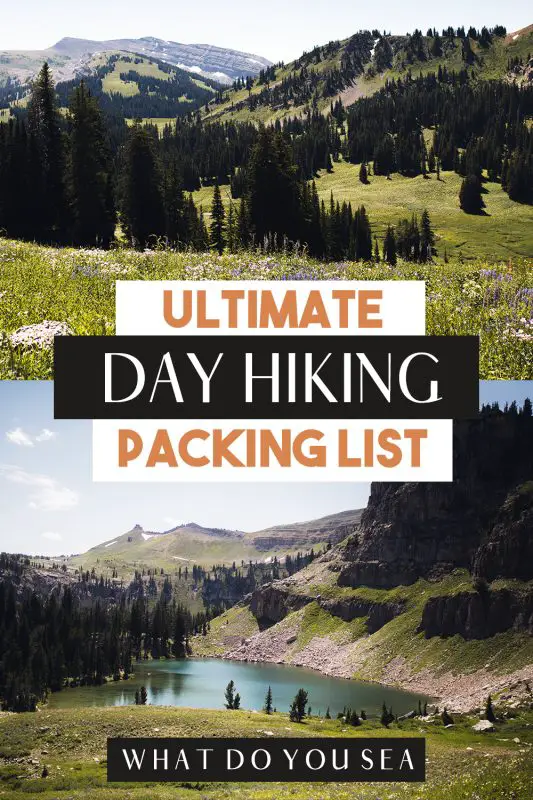 ---
Bryce Canyon 1 Day Itinerary Map
Use this map to help you navigate this one day in Bryce Canyon itinerary and nearby stops! For best use, download this map to your smartphone so you can use it offline (instructions here).
---
MORE HELPFUL GUIDES FOR YOUR ONE DAY IN BRYCE CANYON ITINERARY:
–  The Ultimate Guide To Camping In Bryce Canyon National Park
– 10 Jaw-Dropping Bryce Canyon National Park Hikes You CANNOT Miss
– Packing For A Day Hike: 12 Adventure Essentials To Get You Exploring
– Hiking the Figure 8 Loop in Bryce Canyon National Park: Queens Garden, Peek-a-boo Loop, and Navajo Trail
ADD THIS BRYCE CANYON ITINERARY TO THESE OTHER ROAD TRIP STOPS CLOSE BY:
– The ONLY Utah National Parks Road Trip Itinerary You Need
ZION NATIONAL PARK (1.5 hours away)
– How To Conquer The Narrows Hike In Zion National Park (Complete Guide)
– 2 Days In Zion: The Ultimate Zion National Park 2 Day Itinerary
CAPITOL REEF NATIONAL PARK (2.5 hours away)
– How To Spend One EPIC Day In Capitol Reef National Park
– Hiking The Cassidy Arch Trail In Capitol Reef National Park
CANYONLANDS NATIONAL PARK (4.5 hours)
– The 10 BEST Hikes In Canyonlands National Park
ARCHES NATIONAL PARK (4 hours)
– A PERFECT 3-Day Itinerary For Arches National Park
– The BEST Guide To The Delicate Arch Hike In Arches National Park
– 10 Arches National Park Hikes That Will BLOW Your Mind
– The Ultimate Guide To Camping In Arches National Park
– Tower Arch Trail: The Best Hike In Arches National Park
---
HAVE YOU EXPLORED OTHER UTAH NATIONAL PARKS? SHARE WITH ME IN THE COMMENTS BELOW!

DID YOU FIND THIS ONE DAY IN BRYCE CANYON ITINERARY USEFUL? SAVE IT FOR LATER!