(Last Updated On: 20/06/2020)
Out of all the National Parks in Utah, if I could only spend one day in any of them, it would be Bryce Canyon National Park ALL. THE. WAY! The sheer density of this park, along with the world-renowned hoodoos, or as I like to call them, fairy chimneys, makes Bryce Canyon an amazing selection for maximizing a single day of adventure. Whether you're visiting Bryce Canyon in the cooler fall months, like September and October, or visiting when the orange rock formations are blanketed in snow for the winter, you can expect the scenic drive, viewpoints, rigorous hikes, and atmosphere of the park to be enjoyed all the same! Which is why this one day in Bryce Canyon itinerary is perfect for basically any time of the year. Winter tends to get a little interesting since trail closures can happen depending on the weather, but it is still doable, and it may even be more enjoyable with fewer crowds and snow!
Before we dive in, I do want to preface this itinerary by saying that it is on the more adventurous side of things. A lot of other recommendations for Bryce Canyon itineraries are tons of viewpoints and a scenic drive, but that's not how we roll here on What Do You Sea! We want to get down, dirty, and into the good stuff, right? That's what this game plan is all about! If you're eager to hike the best trails, push yourself, and make the most out of your time in Bryce Canyon National Park, you've arrived at the golden nuggets of travel itineraries! Let's go!
This post may contain affiliate links for the products I mentioned, but as always, all opinions are my own. I make a small commission, at no extra cost to you, when you make a purchase or booking through these links. This helps to support this space and keep me blogging, which I am so extremely thankful for.
This post is part of my Bryce Canyon National Park travel series. Check out these other blogs to learn more about visiting Bryce Canyon!
---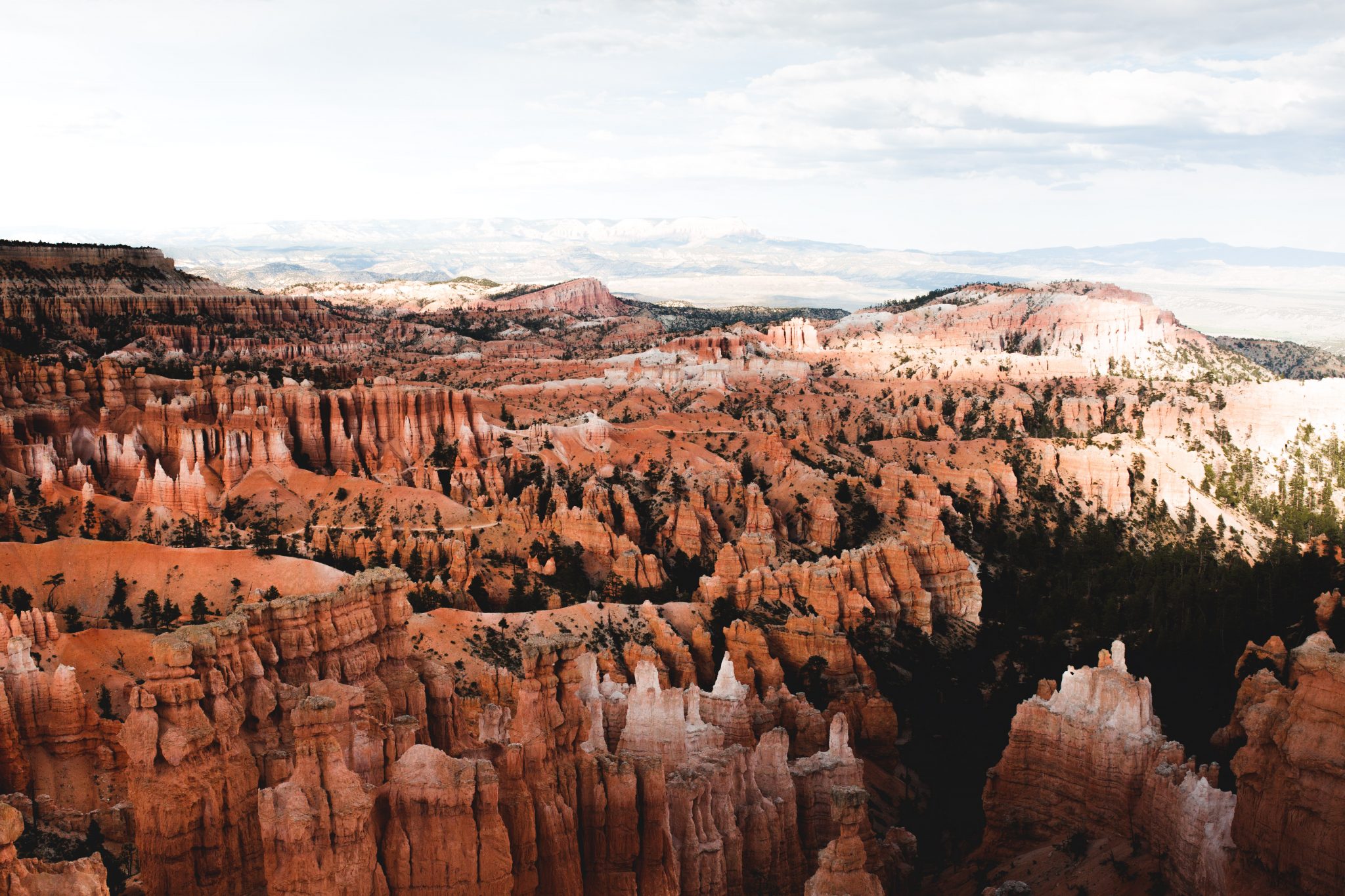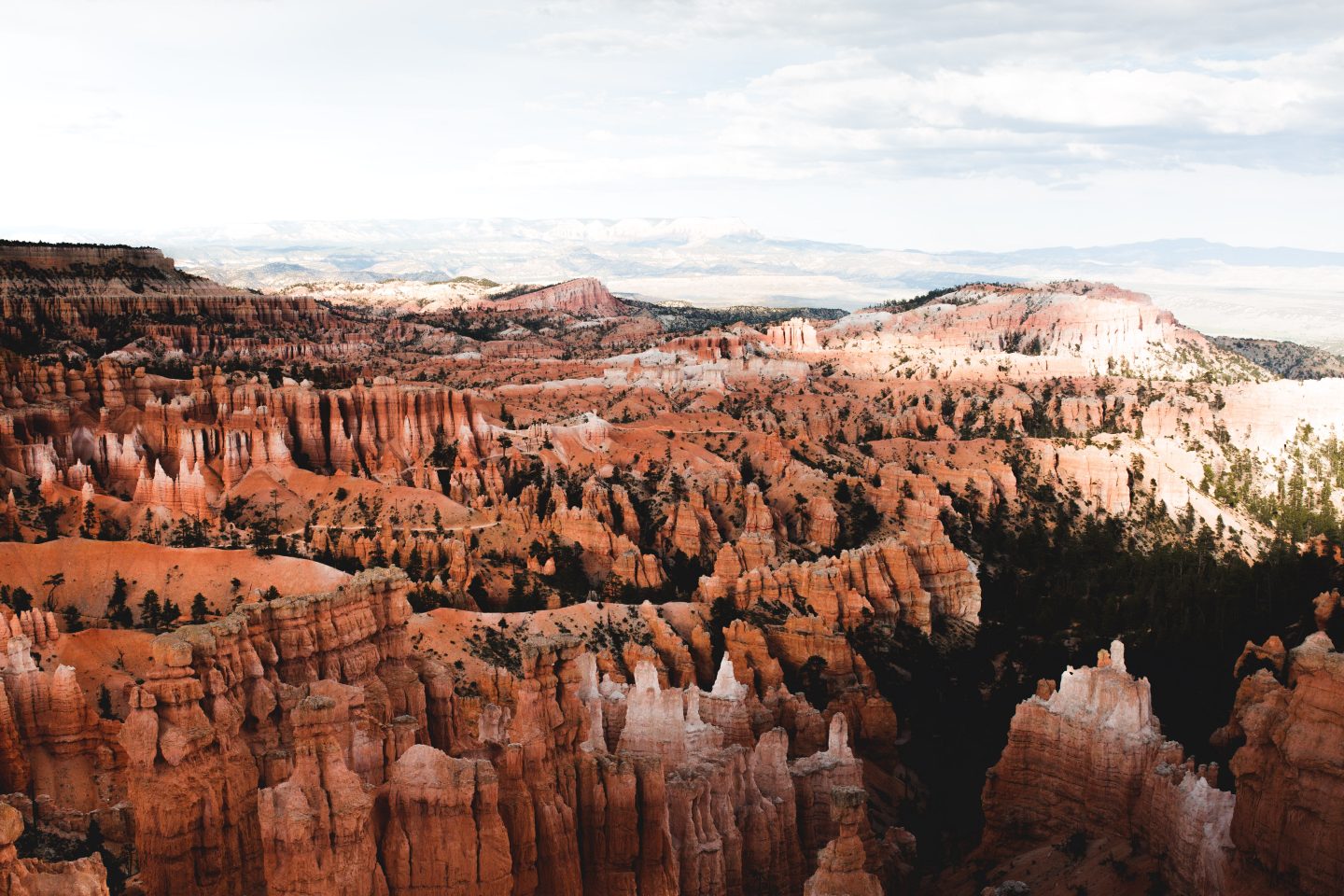 The Best Time To Visit Bryce Canyon National Park
THE BEST WEATHER
May – August
FEWER CROWDS
September – April
MOST DAYLIGHT
June – AUGUST
---
Where To Stay In Bryce Canyon National Park
*PRICING VARIES BY SEASON AND TIME OF BOOKING, SO ALWAYS CHECK THE WEBSITE LINKED FOR THE MOST UP TO DATE PRICES*
The North Campground at Bryce Canyon National Park is a gem and gambling with a walk-up site is very much worth it for this night's sleep. Walk-ups go very fast in peak season, so if you plan on traveling during these months, then make sure you get to the park early to secure your spot. My friend and I arrived at Bryce Canyon around 10 am and we almost weren't able to secure a spot and ended up having to wait for someone to leave before we could start exploring. I recommend getting there around maybe 7 or 8 am since you have to wait for others to leave, so don't get there at the buttcrack of dawn expecting any openings because people will still be snoozing, but still do get there early.
I like this campground because the tent sites aren't too close together and you can still get an authentic camping experience without feeling like you're packed in like sardines. There is a small outhouse type of building that has toilets, a dish area, laundry, and sinks, but there aren't any showers here. I don't generally enjoy park campsites a lot because they can feel crowded, but this one is really spacious and ~atmospheric~.
First Come First Served
The Sunset Campground in Bryce Canyon is also in the middle of the action, so you don't need to stress about picking between this campsite and the North Campground. Both are beautiful and centrally located. The Sunset Campground is right next door to the Navajo Loop, so if you want to wake up and capture sunrise here or at Inspiration Point, this is a great place to take off for the morning. Alternatively, this campground is around 1.5 miles away from the Visitor's Center and General Store so you'll have a longer walk to get to these places if you need to go here for any reason. If hiking is the name of your game, you'll probably want to be closer to the trails anyway, so this is a great option if that's you.
This campground has the same amenities as the North Campground: toilets, dish station, (no) showers, and laundry..
Ruby's Inn Hotel + RV Park | $80+ / Night
Aptly named, "Bryce Canyon's Doorstep", Ruby's Inn is barely a stone's throw away from the Bryce Canyon Visitor's Center. This is an ideal campground for you if you don't mind spending a little bit more to have some small camping luxuries like hot showers, a laundromat, wifi, and a swimming pool. Tent sites are not reservable, but spots for RV's, trailers, and campers can be reserved here.
---
How To Get Around Bryce Canyon National Park
Walking is one of the best ways to get around the park. While you will use the shuttle here and there, the park is really condensed to the hikes, and viewpoints aren't too far apart. I think the shuttle and walking combo is 1000x better than bringing your own car if you're visiting in the summer months.
The shuttle is a very popular way to get around Bryce Canyon since the parking lots are rather small. It can be difficult to find parking in the high season and even in the shoulder seasons. The shuttles leave from most points every 15 minutes, so getting around in a timely matter is very possible. The park actually has a new feature where you can track the shuttles on this website, so you can get the most up to date information while you're hiking. The shuttle runs from 8 am – 8 pm in the high season, May 8 – September 2, and 8 am – 6 pm in the shoulder seasons, April 10 to May 7, and September 28 – October 18.
While you do want to road trip to Bryce Canyon, if you're visiting in the high season, then I recommend only taking your car for sunrise missions. As I mentioned above, the parking lots are small, so if you try to drive around everywhere during midday, the likelihood of getting a parking spot is very slim. Your best bet is to fulfill your sunrise mission then take the shuttle around the park and back to your car at the end of the day. As I mentioned above, all the hikes and viewpoints are so condensed and interlinked that you really don't need to drive too much while you're here.
---
A Map Of The Best One Day In Bryce Canyon Itinerary
---
The Best Way To Spend One Day In Bryce Canyon National Park
---
Breakfast At Camp/Hotel
And notes on why you should arrive EARLY
Rise and shine! Whether you're waking up in Bryce Canyon or you're arriving early to secure your campsite, the best possible way to begin this one day in Bryce Canyon itinerary is early, early, EARLY. Despite the fact that this park is "lesser-visited" than its extremely popular next-door neighbor *coughs* Zion, there are still going to be a lot of people here. SO, with that being said, wake up extra early for this day, make yourself a nice stack of pancakes, or cook up a nice dehydrated meal for a quick and tasty breakfast before you begin exploring Bryce Canyon.
Another perk of getting to the park early is that you're not going to wait in that ENORMOUS line to get into the park. Don't say I didn't warn you!
---
Learn Bryce's Unique history at the Visitor's Center
WAIT! Before you skip this part, hear me out…
I know that going to the Visitor's Center can seem like a total snooze fest, but it's here that you learn what makes Bryce Canyon National Park so special, or really any national park for that matter. There is a small, museum-like area in the back left corner of the Visitor's Center that teaches you all about what hoodoos are, how they are formed, and why Bryce Canyon is one of the top places in the world to see this type of geology.
Along with learning about the formations, you can ask the park rangers at the desk about any of the hikes that you plan on doing for the day, backcountry camping, safety tips, and anything else you want to know before you explore the park. The Visitor's Center is always the first place I go when visiting any National Park, and I highly recommend it, especially if you're a first-time visitor! You don't need to spend a bunch of time here, but starting your visit here is one of the best things you can do to get off on the right foot.
---
Sunrise At Sunset Point
PRO TIP | Your morning coffee tastes like 6/5 stars when you're enjoying it overlooking the Bryce Amphitheater! Brew it at camp, pour it into this awesome mug, and BOOM, a toasty cup of coffee and a great sunrise all before 9 am.
Despite the irony of this first stop on your one day in Bryce Canyon adventure, Sunset Point is an excellent place to experience the sunrise. You'll get a great overlook of the infamous hoodoos of Bryce Canyon before you enter a forest of these fairy chimneys. Sunrise is one of the best times to photograph Bryce Canyon since the lighting is warm and not as harsh as those midday rays, so make sure you put that camera to good use here before heading onto the Navajo Loop, one of my favorite hikes in the entire park.
You'll notice that I've suggested visiting Sunrise Point at sunset and Sunset Point for sunrise. This is for two reasons: the lighting is optimal and the crowds are fewer. Most people think "Sunset Point = go for sunset", right? So with bypassing that, you get better lighting on the hoodoos and fewer people by swapping these times.
---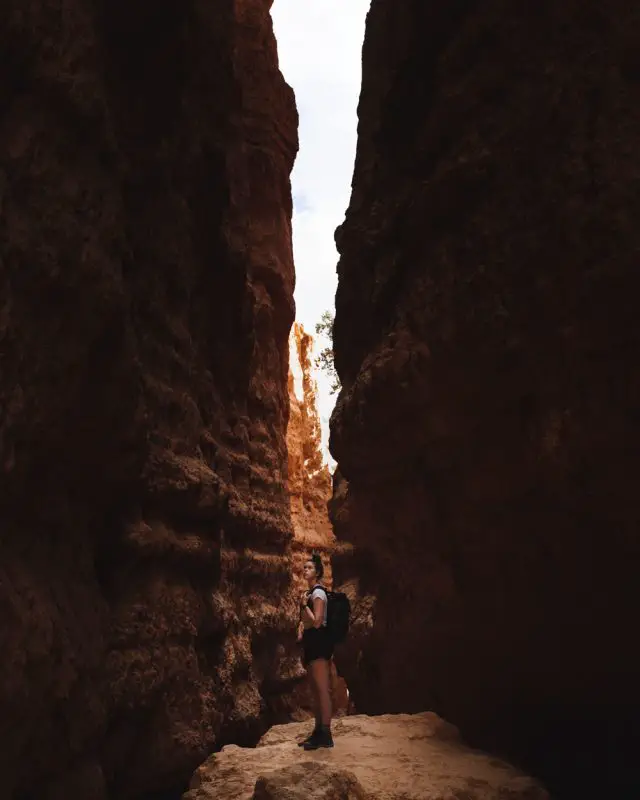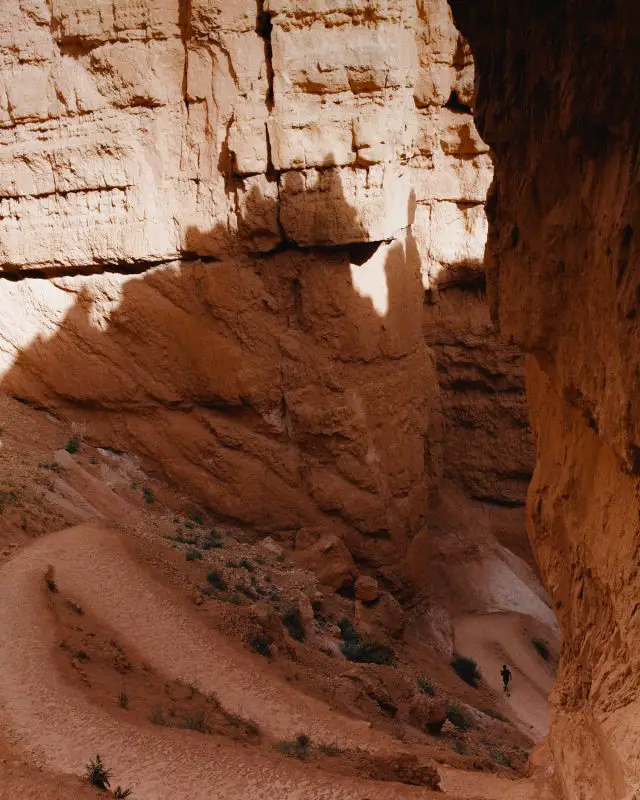 Hike The Navajo Loop Trail
TRAILHEAD | SUNSET POINT
Estimated Time | 1-2 Hours
Now, I'm not one to pick favorites… BUT, this trail is just flat out awesome and there is a reason why it's at the beginning of this itinerary. You WANT to get here first thing in the morning before everyone else. There are so many photo opportunities here, like that stunning descent into the canyon, that will be filled with an ASTRONOMICAL amount of people later in the day, so get here first and take it all in!
I know you're going to look at all those switchbacks going down and think, "sheesh, good thing it's going down", but remember that you'll have to hike back up to the top of the canyon at the end of the hike since it is a loop (only during the summer months), and I mean how else are you going to get out? If it's your first time being at over 9000 feet above sea level, I recommend taking this hike slowly since the lower oxygen levels in the air can put you out of breath rather quickly.
The Navajo Loop trail is a 1-2 hour hike that begins at Sunset Point, descends to the floor of Bryce Canyon, and then emerges back up at Sunset Point. There are four notable landscapes on this hike that will absolutely knock your socks off: Wall Street, Twin Bridges, Thor's Hammer, and the switchbacks going into Bryce Canyon. Enjoy your hike and I'll meet you at the next stop!
---
Take In The View At Sunrise Point
From Sunset Point, you can either walk or take a shuttle up to Sunrise Point. The walk up to Sunrise Point is flat, paved, and a part of the Rim Trail, so I definitely recommend walking over taking the shuttle. This way you'll be able to see more angles of Bryce Canyon. The walk here is around ten minutes long, so you can rehydrate and grab a snack on the way there if you need it.
The viewpoint at Sunrise Point is definitely one you want to have your camera out for. Similar to the irony of Sunset Point, Sunrise Point is actually best experienced during sunset. That is coming from myself and one of the rangers at the park! The lighting might be a little harsh by the time you get here, but you do have the option to stop here at sunset before you get to camp if you're dedicated to getting a nice photo like I was.
If you are going for sunset, make sure you check what time the last shuttle leaves if that is the transportation service that you're using, so that you can give yourself plenty of time. After Sunrise Point, it's time to hop onto a 2-in-1 trail, as I like to say, the Queen's Garden and Peekaboo Trail(s).
---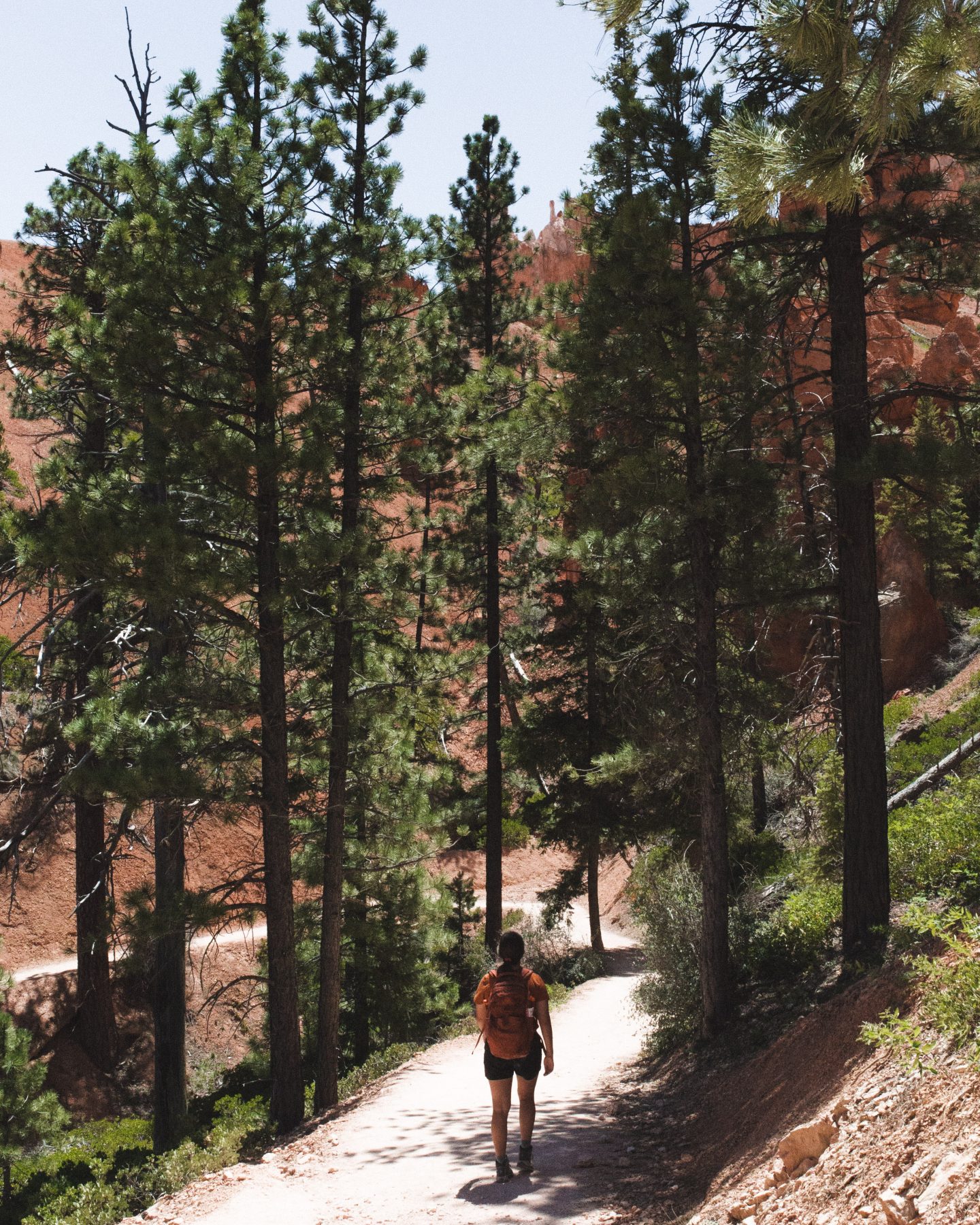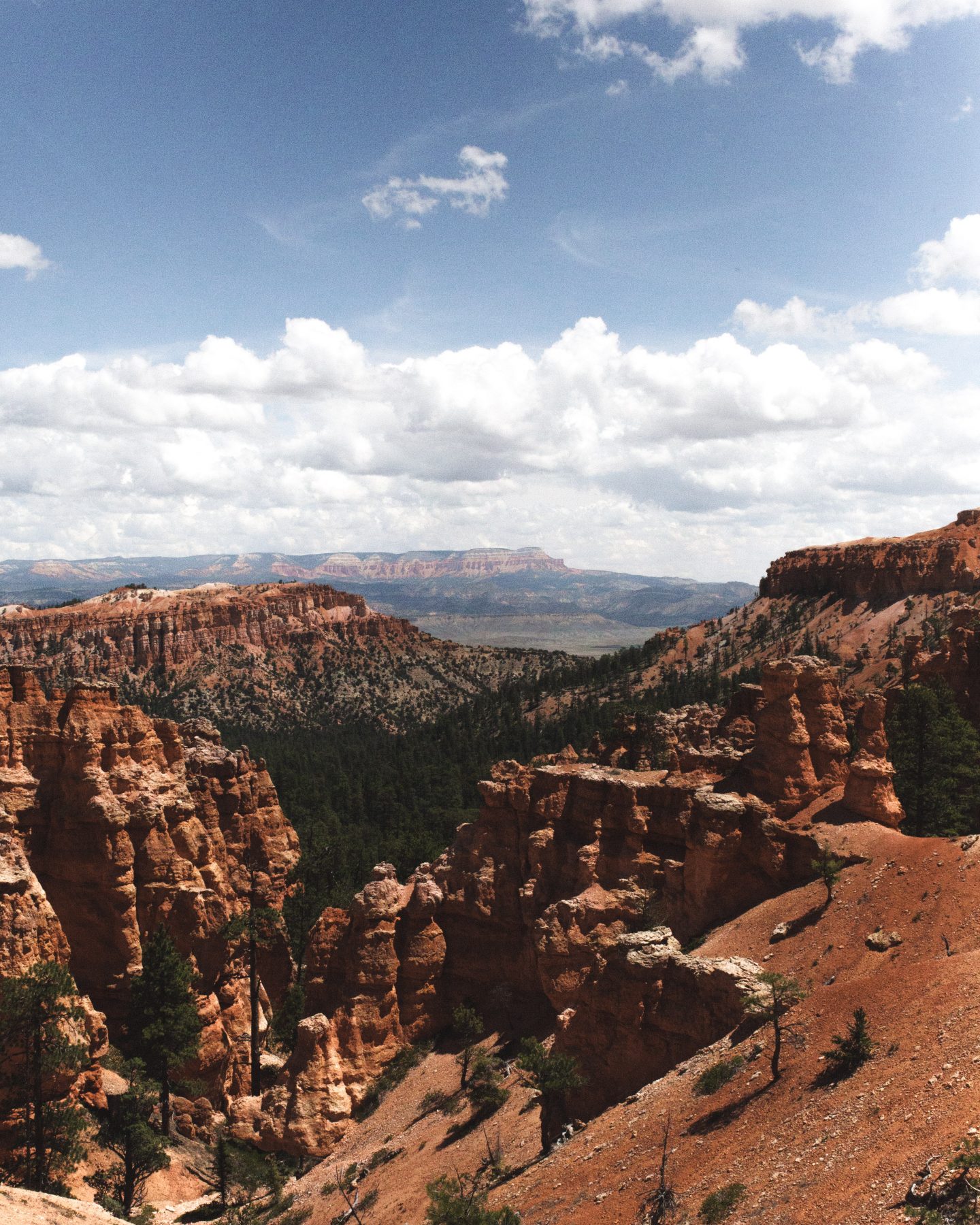 Hike The Queen's Garden + Link Onto The Peek-a-boo Loop
TRAILHEAD | SUNRISE POINT
Estimated Time | ~2-4 Hours
The next hike to check off your list during your one day in Bryce Canyon is another cult-favorite, the Queen's Garden! But since we only have a day in the park, we are going to spice things up a bit and combine two hikes into one: Queen's Garden Loop and the Peek-a-boo Loop. Normally, the Queen's Garden Trail begins at Sunrise Point and emerges at Sunset Point by the Navajo Loop. But instead of completing the loop, we will link onto the Peekaboo Loop and continue further down into the southern part of Bryce Canyon National Park. If the thought of switching trails makes you weary, don't worry, there are plenty of signs that will point you in the correct direction. I even mapped out the route in the Google map at the beginning of this blog post, so make sure you download it before you go!
Once you hike down into Bryce Canyon on Queen's Garden, you're going to come to a 't' on the trail, and both directions are going to read the Navajo Loop. Go left and get onto the Navajo Loop. Then watch for a sign for the Peekaboo Loop that will be on the left as well a small way down the trail. Once on the Peek-a-boo Loop, you're going to hike around a mile then emerge at another 't', which then you will want to make a right turn to complete the Peek-a-boo Loop and emerge at Bryce Point.
If all of this seems like a whirlwind of information (like it was to me originally lol), then I highly recommend downloading the Hiking Project App onto your phone. It was curated by REI and you can download both of these trails with offline GPS to make sure you're making the correct turns. It was honestly a bit of a life-saver for me since I am awful with directions sometimes, and I also have the map above for reference as well.
---
Lunch On The Queens Garden Loop
Before you hop onto the Navajo Loop to connect to Peek-a-boo, you'll want to find a nice spot under the pines to enjoy lunch! I am a huge advocate for the ever so underrated peanut butter and jelly sandwich, but just remember to bring something salty along with that since it's more than likely what your body will be craving after all the hiking you've done.
At the base of Bryce Canyon, you will make many chipmunk friends that will be hoping for a bite of your delicious trail snacks, but please do not feed them. These animals are already pretty comfortable with hikers as it is and we don't want them to start relying on people for their food supply! Hydrate and fuel up, then complete your hike to Bryce Point.
---
Take In The Rewarding View At Bryce Point
After completing the latter half of the Peek-a-boo Loop, you will be able to take in the beautiful view of Bryce Point. This is one of my favorite viewpoints in the park because you can see all the hoodoos, the pine forest, known as the Queen's Garden, and all of the landscapes that are beyond Bryce Canyon. It's known for being one of the best viewpoints out of all of the National Parks in the US, so make sure you take it all in when you get up here! This is also a great spot to spend sunset if you're looking for alternatives to Sunrise Point, or if you're spending an extra day in the park.
---
Be Wow'ed At Inspiration Point
After Bryce Point, you can hop on the shuttle and get off at Inspiration Point. Alongside Bryce Point, this viewpoint is probably one of the most beautiful in the entire park. This is also another great spot for sunrise if you don't want to drive all the way to Rainbow Point the next morning. This panoramic view is well worth the stop and a great place to enjoy a snack or a pre-dinner meal before you hop onto the Fairyland Loop. Once you're finished up here, you can then board the shuttle once more to Fairyland Point, our final stop of the day!
---
Hike The Fairyland Loop
TRAILHEAD | Fairyland Point
Estimated Time | 4-5 Hours
Unfortunately, the Fairyland Loop was one that I missed during my day in Bryce Canyon. Knowing what I know now, I wish I had prioritized this hike right after the Navajo Loop Trail!
I don't want to say this is the least hiked trail in the park, but it's most certainly not as highly trafficked as all of the other trails in the park. It is labeled strenuous for both its ascent and length, but don't let this scare you away from taking this on! The Fairyland Loop goes through some of the most beautiful views in the park, and many that most people do not see, so you get to enjoy fewer crowds and iconic views.
While this hike is long enough already, I was recommended by a park ranger to take the detour to Tower Bridge for the sunset! It adds a little bit more to your hike, and you may need to bring a headlamp along to complete the Fairyland Loop, but it's worth the additional mileage. If you pass Tower Bridge and aren't up for completing the loop, you can hop off where the Fairyland Loop meets the Rim Trail. I always recommend completing the loop, but sometimes you gotta wave the white flag.
---
Dinner At Camp/Hotel/Restaurant
The final thing to do for your day in Bryce Canyon, and arguably the best in some ways, is chow down on some DINNA! After the adventure you just had, I know you're going to want something hearty and fulfilling! If you don't feel like cooking, there are many restaurants in and outside the park that you can check out, but if you're settling back down at camp, you can enjoy any of these tasty meals by Good-To-Go Foods.
---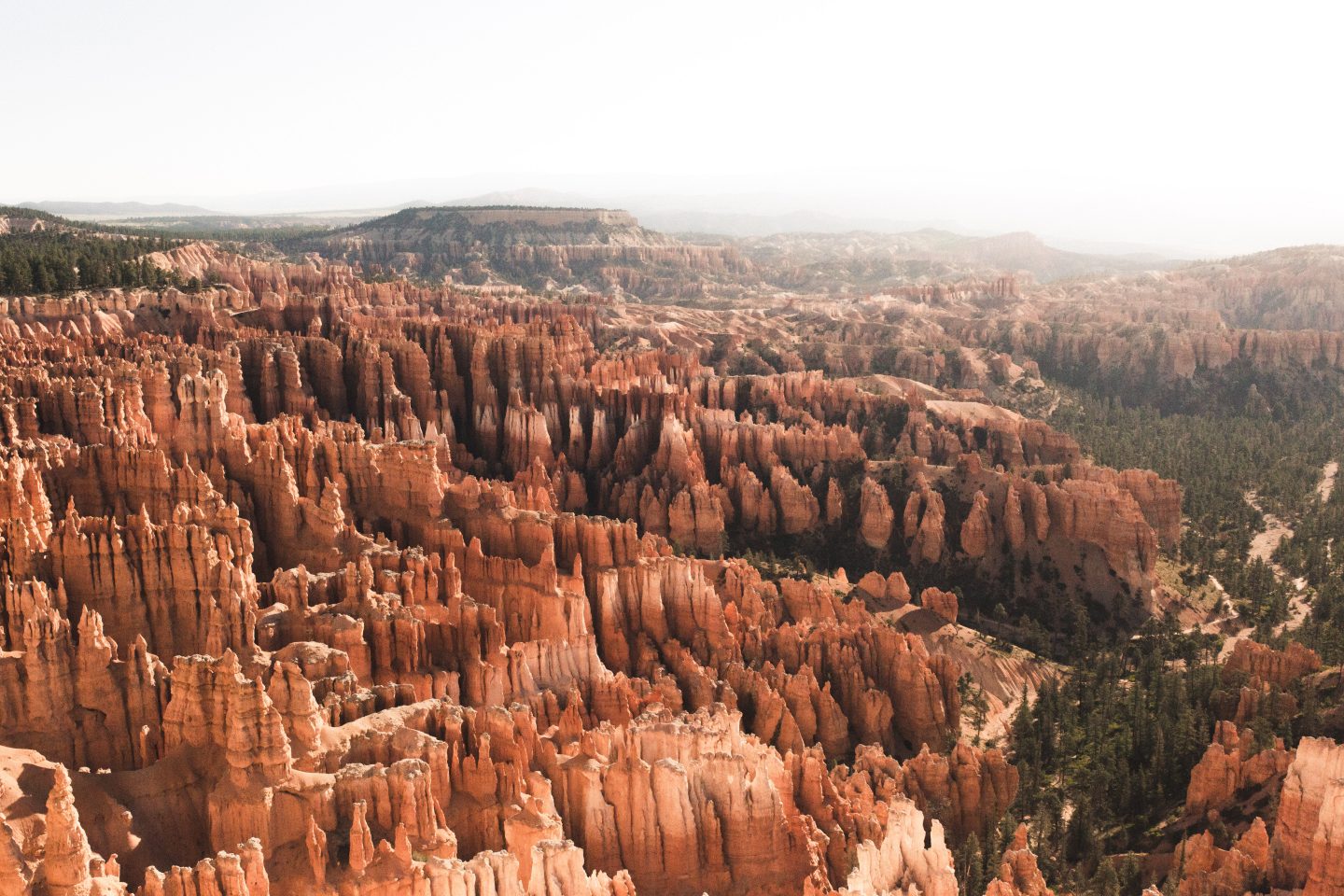 Rainbow Point For Sunrise The Next Morning
Wakey wakey! Before you leave Bryce Canyon, you have the option to sneak in one last viewpoint for sunrise. At the very bottom of the park, and the highest point in the park (10,000+ feet!), you can experience a nice, quiet morning after the adventurous day you just had. As always, the coffee tastes better with the view here, so bring that along if you feel so inclined but other than that, simply enjoy the stillness of this morning. It's pretty special.
If you don't want to drive all the way to Rainbow Point, other great alternatives for sunrise are Inspiration Point, Sunset Point, and Bryce Point.
---
An Overview of The One Day In Bryce Canyon Itinerary
Breakfast At Camp/Hotel
Learn Geology At the Visitor's Center
Sunrise At Sunset Point
Hike The
Navajo Loop
Stop At Sunrise Point
Hike The Queen's Garden Loop + Link Onto Peekaboo Trail
Lunch On The Queens Garden Loop
Take In The Rewarding View At Bryce Point
Stop At Inspiration Point
Snack/Dinner At
Inspiration Point
Hike The Fairyland Loop
Dinner At Camp/Hotel/Restaurant
Rainbow Point

For Sunrise The Next Morning

 
---
What To Pack For One Day In Bryce Canyon
I really don't like to be carrying a lot of things if I am taking day hikes, so having a day pack where I can toss all these essentials into is, well, essential! If I want something more casual, I always grab for my Fjallraven Kanken backpack since it's stylish and it is able to hold my camera in it. But if I need all of my photography gear, then you'll always see me carrying along with my WANDRD pack that is perfect for travel photographers. However, if we're talking in terms of practicality, I will always recommend day packs from Osprey. It's my tried and true backpack brand and they will last decades!
Reusable Water Bottle + 2L of Water
As soon as you enter Bryce Canyon National Park, you're going to spot reminders everywhere to carry lots of water when you hit the trails. If you've been following my journey for a little bit, you'll know that Hydro flasks are my right haaaaaand, they're my go-to (the Drake reference probably doesn't carry into text, but if you got it, you got it). My daily bottle is around 1 liter, but that isn't near enough water for longer hikes, so I recommend carrying at least two with you at all times. It will make your bag heavier, but as you go through the hike and drink water, your bag will slowly get lighter so it's a win-win. The downside of Hydro flasks is that they can weigh a lot in your pack, so a cheaper, lighter option would be these narrow-mouth Nalgenes that are just as good and great if you're on a budget.
The desert is a hot hot HOT place with lots of sunshine, so you want to protect your face from the direct sunlight. There isn't a lot of shade in Bryce Canyon and the sun will be higher in the sky even on your way back if you choose to hike this super early in the morning, so a proper hat going to keep the sun out of your eyes, especially with this hat that has UV protection and a quick-wicking sweatband. I just got it specifically for my trip to Utah, and I already know I am going to have it for a while. They come in a cool selection of colors, but the grill color is my favorite.
So hiking in the desert in the sun is a recipe for the one thing that everyone hates; chafing. Am I right, ladies? Wearing shorts where the seam doesn't rub against my inner thigh is the MOST essential thing when I take desert hikes and my tried and true shorts for this are the Patagonia Baggies. I have them in two different colors, the black and blue, but I plan on ordering these awesome ones with melons on them and these pretty orange ones. I recommend sizing up in them because the fit of the shorts runs on the smaller side, but they do have a drawstring so you can tighten them however much you need. Also, they have pockets! See them here!
With all the sweating that is going to go down on these during this Bryce Canyon itinerary, you want a top that is going to keep you cool, wick away sweat, and keep you stench-free. I'm currently giving the Patagonia Capilene Cool Daily T-Shirts a shot and so far I am a huge fan of them! They lay very nicely and don't stick to your body even on the hottest of days! I recommend getting a light color so you can stay cool.
Sunscreen should be the first thing you pack into your bag for trails, trips, and even everyday life. Protecting your skin is so so important and I trust Raw Elements SPF 30 Sunscreen to protect my skin on the trails. Ever since my mom was diagnosed with melanoma years ago, I always make it the first priority to apply sunscreen before I begin hiking. The Raw Elements Plastic-Free Tins keep my skin protected and have prevented sunburns even in the heat of the desert! I love it because it's biodegradable, reef-safe, broad-spectrum, AND you can buy a tinted tin version for your face so you don't look like Caspar like when you apply other sunscreens. Raw Elements is my favorite, but you can browse these other awesome zero waste sunscreens to try!
---
Tips For Your Bryce Canyon Itinerary
Spend at least 24 hours in the park
There are so many people that visit Bryce Canyon for maybe less than 12 hours and call it a "day", both literally and metaphorically. This itinerary covers what a full, 24-hour day in Bryce Canyon would look like and it's so much more than what you would expect than spending half of the time. Plus, you get to see sunrise and sunset over the Bryce Amphitheater which is worth the extra time in and of itself!
Go hiking on longer trails to avoid the masses
Since most people are here for a limited time, they would rather squeeze in a few shorter trails and viewpoints rather than one longer trail or a backcountry trip. This means trails like the Fairyland Loop, Bryce Amphitheater Traverse, Under The Rim Trail, and the Riggs Springs Loop Trail are going to be not totally desolate, but very quiet! These are great places to get off the beaten path and to enjoy some time away from crowds.
If you're going on a road trip through Utah's Mighty Five, then your stop at Bryce Canyon National Park is going to be the most elevation gain on your entire trip. Most of the park sits at around 7,000-9,000 feet and if you venture down to Rainbow Point, you'll be up at 10,000 feet. Drinking plenty of water is going to reduce the impact of altitude sickness while you're hiking and keep you nice and hydrated for your day here. Along with that, remember to take your hikes a bit slower as well.
---
Headed to Bryce Canyon National Park for one day? Share with me what you're most excited for in the comments below!
Aaren
Did you find this guide on how to spend the best day in Bryce Canyon useful? Save it for later on Pinterest!