(Last Updated On: 05/06/2020)
The Tower Arch Trail in Arches National Park is easily the BEST hike in this vast desert dreamland. 
While there are many other great hikes in Arches, the secludedness and overall vibe of this hike is one that you won't get anywhere else. It's not a popular hike since it is in the most remote part of the park, but that is all the more reason to get out and see how special this trail is. In the time of writing this, I hiked this trail in August (high season) of 2019 and my friend and I were the only two on the trail until high noon! We felt like we were roaming around a Star Wars movie set for the entire morning with nothing but us and the desert scenery. It was my favorite hike during our three days in Arches National Park!
If you're planning a trip to Arches National Park or a road trip through all of Utah's National Parks, you cannot miss the Tower Arch Trail; and yes, it's BETTER than the Delicate Arch (in my opinion). However, this arch is in one of the most secluded areas of the park so make sure you tell someone where you're going and remember these other tips for what NOT to do in Utah so you stay safe and adventurous!
This post does contain affiliate links for the products I mentioned, but as always, all opinions are my own. I make a small commission, at no extra cost to you, when you make a purchase or booking through these links. This helps to support this space and keep me blogging, which I am so extremely thankful for.
Headed to Utah? Check out these other posts after this Tower Arch Trail guide!
---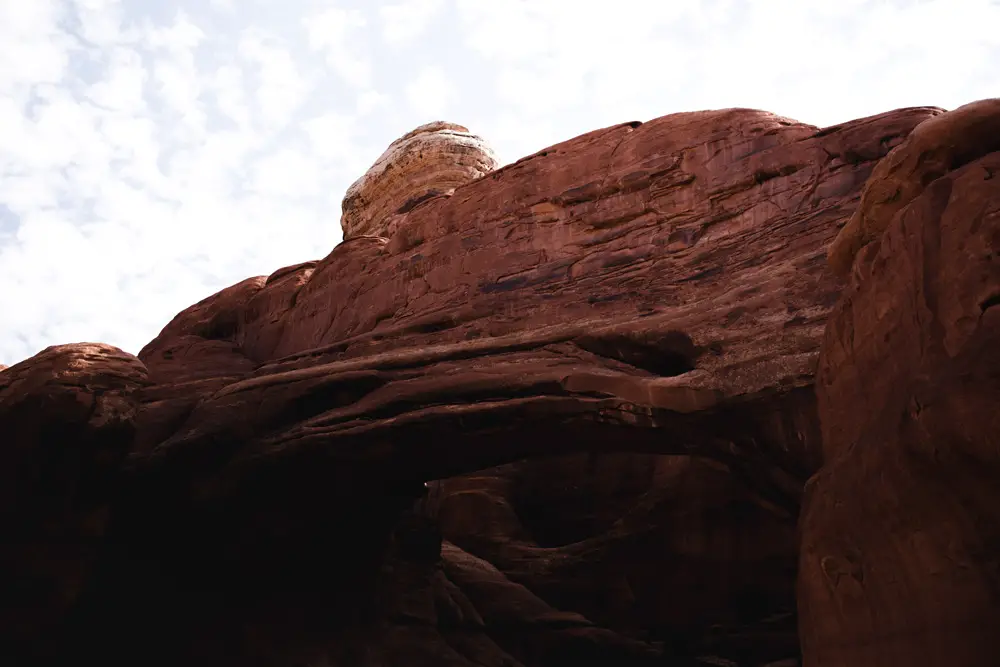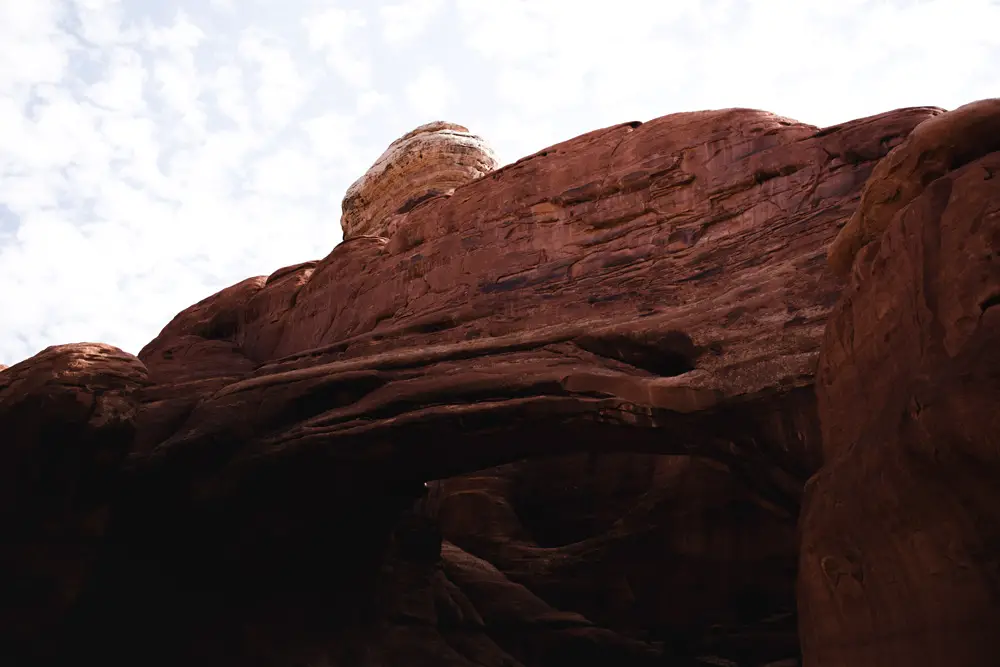 Where Is The Tower Arch Trail Located?
The Tower Arch Trail is in the most remote part of Arches National Park, but it can be easily accessed via a gravel road on the left side of the road as you drive up the park from the visitors center. You can use the map below to help you get an idea for where the trail is and the other trails around it to help you plan your day. If you're planning on staying in the area, the Devils Garden Trail is right up the road from this trailhead and it has stunning views if you decide to make the full hike including the primitive trail!
---
How To Get To The Tower Arch Trailhead
For the Tower Arch Trail being in one of the most parts of Arches National Park, there is no secret to getting to it. If you plug in 'Tower Arch Trailhead' into Google Maps, it will take you straight there. You can view more details on the map above, or you can easily find it on one of the park maps you receive when entering the park.
The last bit of the road to get there is down a gravel road, but any type of car is able to access the road, just make sure you check for flash floods so you don't get stuck or stranded. There is quite a bit of wash boarding on the gravel road as well so don't try and go full Fast and the Furious on this road. Take it slow and any car can make it to this trail just fine.
Once you're close to the trailhead, you have the option to keep going straight or hook a left turn down a 4×4 road. The 4×4 road gets you closer to the arch and it makes the trail around 0.3 miles one way vs the 3.2 miles roundtrip for the longer route. No matter what car you're in, I highly recommend taking the scenic route since it feels like you're roaming Tatooine. There is a large chance that you're going to be the only ones on the trail, so it's a nice place to enjoy the stillness and get away from the crowds.
GPS + GOOGLE MAPS SEARCH WORD | Tower Arch Trailhead
---
Tower Arch Hiking Details
Best Hiked | Sunrise or Sunset

Trail Length | 3.2 Miles Roundtrip

Trail Difficulty | moderate, light climbing in beginning of the trail

Trailhead Location | Tower Arch Trailhead (Google Maps)

Hiking Time | ~1.5-2.5 Hours

Permits | None
---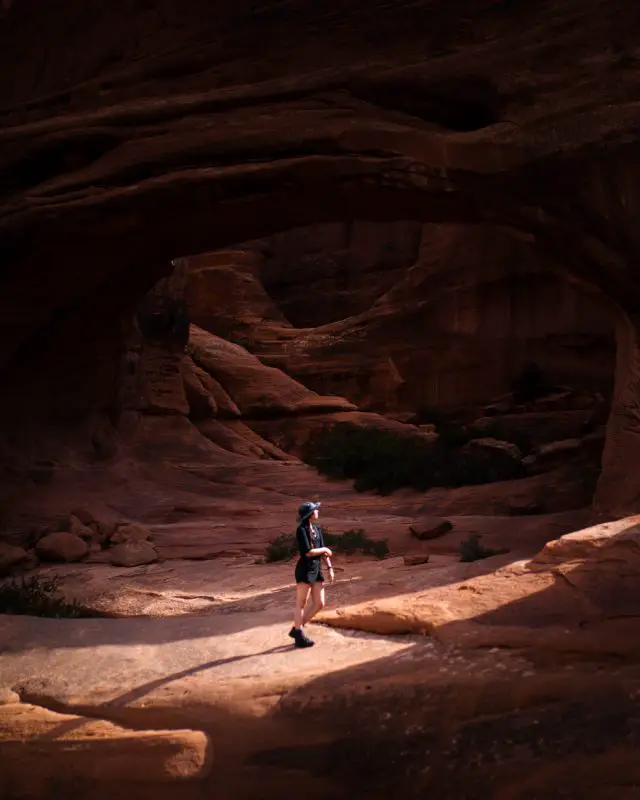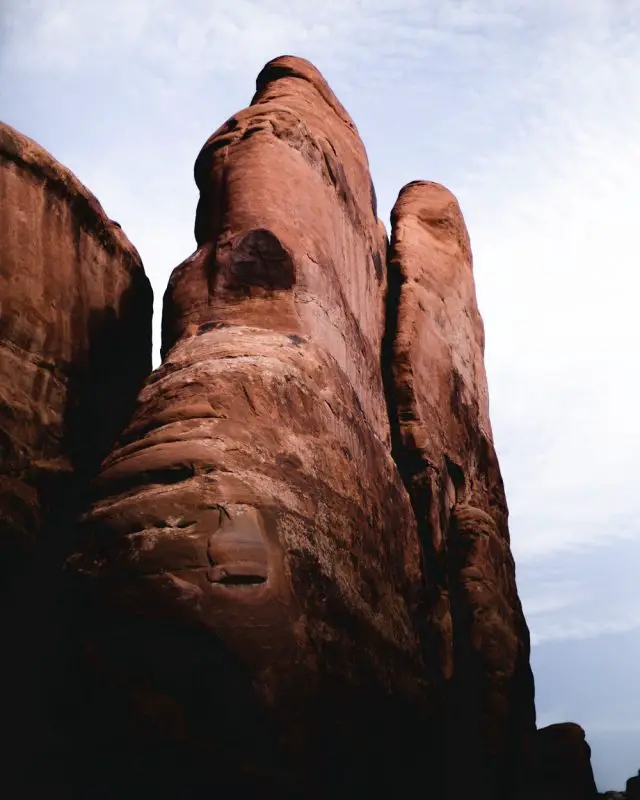 On The Tower Arch Trail
The trail to the Tower Arch is described as moderate since there is some light climbing at the beginning of the trail, but 90% of the trail is going to feel like a nice walk with some uphill climbs dispersed along the trail. The trail is marked with cairns, small stacks of flat stones, so keep an eye out for them as you're walking. There are plenty of them along the trail, so getting lost shouldn't be an issue unless you're really wandering off and not paying the slightest deal of attention, but even then the trail is clear. You'll be fine, don't stress it.
At the trailhead, there is a bathroom and a guide to the trail like the rest of the hikes in Arches National Park, so if you don't have a park map, snap a photo of this for reference. You always want to have a map of the trail with you no matter what. After you're done reviewing the trail and have all your water, snacks, and day hiking gear, head left and you'll be on your way up.
Straight away you're going to be greeted by the climbing portion of the Tower Arch Trail. Don't let the word "climb" scare you away as it is just a pretty steep incline and you'll have to get your hands a little dirty in some parts. There is really nothing to worry about on this part unless it's raining, but in that case, you shouldn't try to do this trail while it's raining since the road to the trail can become impassable.
Once you pass the climbing portion it's pretty straight forward and you get to walk around scenery that makes you feel less like you're in a national park and more like someplace on Venus or Mars. I think I enjoyed this trail so much because while the trail is visible with cairns and footprints, it's primitive so it feels like a wander more than a hike. Plus, it's incredibly rewarding at the end.
The area after the climb opens up to a stunning view of the northwestern canyons of Arches and some "hoodoo" like structures on the right that kind of resemble those in Bryce Canyon National Park! After about ¾ mile of walking, you'll be surrounded by towering red rocks parallel to the trail. 
Further into the trail is where it gets more remote feeling and once you hit the part of the trail that is covered in that fine red/orange sand, you know you're getting close, or closer. 
There are a couple of steep inclines on the sand that take you through stunning rock formations and you'll start to feel the rock walls narrow out and once you pass through about a quarter of a mile, you'll find the Tower Arch at the very back of the trail. There isn't any possible way to go further than the arch unless you're some expert climber or spiderman. It's nestled right in the back of this canyon wall and you can actually climb into the arch and view the stunning north side of arches sitting in the canyon. 
The crowdless, secludedness, and silence of this trail easily makes it one of the best hikes in Arches National Park, so mark this on your map or put it on your hiking trail bucket list for when you plan a visit!
Trail Etiquette
This trail is a lesser traveled trail and with great views and secretness comes the responsibility to keep this trail how it was originally discovered, raw and pristine. There are many beautiful places in Arches National Park and other parts of Utah that have been closed or ruined due to people carving their names into rocks and leaving trash behind on the trails, so please keep this trail beautiful for everyone and remember the National Park Service's Leave No Trace Principles.
---
Essentials For Hiking The Tower Arch Trail In Arches National Park
Day Backpack
I really don't like to be carrying a lot of things if I am hiking, so having a day pack where I can toss all these essentials into is, well, essential! If I want something more casual, I always grab for my Fjallraven Kanken backpack since it's stylish and it is able to hold my camera in it, but if I need all of my photography gear, then you'll always see me carrying along with my WANDRD pack that is perfect for travel photographers. However, if we're talking in terms of practicality, I will always recommend day packs from Osprey. It's my tried and true backpack brand and they will last decades, making the price worth it.
Reusable Water Bottle + 2L of Water
As soon as you enter Arches National Park, you're going to spot "heat kills' signs everywhere and reminders to carry lots of water with you when you hit the trails. If you've been following my journey for a little bit, you'll know that Hydro flasks are my right haaaaaand, they're my go-to (the Drake reference probably doesn't carry into text, but if you got it, you got it). My daily bottle is around 1 liter, but that isn't near enough water for longer hikes, so I recommend carrying at least two with you at all times. It will make your bag heavier, but as you go through the hike and get water, your bag will slowly get lighter so it's a win-win. For this trail, I carried the 2 liter (~64 ounces) wide-mouth Hydroflask and it keeps my water cold and my body well hydrated. You can peep out and maybe even buy my favorite Hydroflask here.
Hiking/Sun Hat
The desert is a hot hot HOT place with lots of sunshine, so you want to protect your face from the direct sunlight. There isn't really any shade on this trail and the sun will be higher in the sky even on your way back if you choose to hike this super early in the morning, so this is going to keep the sun out of your eyes, especially with this hat that has UV protection and a quick-wicking sweatband. I just got it, specifically for this trip, and I already know I am going to have it for a while. They come in a cool selection of colors, but the grill color is my favorite.
Hiking Shorts
So hiking in the desert in the sun is a recipe for the one thing that everyone hates; chafing, am I right, ladies? Wearing shorts where the seam doesn't rub against my inner thigh is like the MOST essential thing when I take desert hikes and I love the Patagonia Baggies. I have them in two different colors, the black and blue, but I plan on ordering these awesome ones with parrots on them and these pretty sherbert orange ones. I recommend sizing up in them because the fit of the shorts runs on the smaller side, but they do have a drawstring so you can tighten them however much you need. Also, they have pockets! See them here!
Hiking Top
With all the sweating that is going to go down on the Tower Arch Trail, you want a top that is going to keep you cool and stench-free. While I haven't found the perfect hiking top that keeps me stench free, I plan on trying out the Patagonia Capilene Cool Daily Short Sleeve Trail Shirts since they are made out of 100% recycled materials, vegan, and they'll keep me stench free after long day hikes and treks. Honestly, sometimes I feel like I am a Patagonia spokesperson, but I love the message behind their brand and I love the idea of recycling old fabrics to make new products.
Sunscreen
Sunscreen should be the first thing you pack into your bag for trails, trips, and even everyday life. Protecting your skin is so so important and I trust Raw Elements SPF 30 Sunscreen to protect my skin on the trails. Ever since my mom was diagnosed with melanoma years ago, I always make it the first priority to apply sunscreen before I begin hiking. The Raw Elements Plastic-Free Tins keep my skin protected and has prevented sunburns even in the heat of the desert! I love it because it's biodegradable, reef-safe, kid-friendly, broad-spectrum, AND you can buy a tinted tin version for your face so you don't look like Caspar the friendly ghost-like when you apply other sunscreens. Raw Elements is my favorite, but you can browse these 14 reef-safe and plastic-free sunscreens to protect your skin!
---
Have you ever hiked around Utah? Share with me your experience in the comments below!
Aaren
Are you dying to visit Utah after seeing this EPIC HIKE on the Tower Arch Trail? Save it for later on Pinterest!