(Last Updated On: 09/07/2022)
When I stepped on top of Hurricane Pass overlooking the Grand Teton and Middle Teton, I understood why the Teton Crest Trail was named one of the best, and most scenic hikes in North America. When it comes to panoramic views, this hiking trail in Grand Teton National Park has it all: crystal lakes, towering granite peaks, rich pine forests, pocket fields of wildflowers, and an alluring variety of wildlife. All 35-45 miles, depending on your route, of the Teton Crest Trail traverses Grand Teton National Park, the Jedidiah Smith Wilderness, and two national forests: Bridger-Teton and Caribou Targhee. While millions of hikers will just experience the surface of the Grand Teton Mountains, you'll be fully immersed in her wild wilderness, away from crowds.
Mile for mile, this backpacking route will keep on delivering and maybe even bring you to tears. Okay, maybe tears are a stretch, but I definitely sobbed my way up to Paintbrush Divide. In the most beautiful of ways, this backpacking trip challenged me mentally, physically, and emotionally. If you hike this trail and happen to stumble across my little spot on the internet, please send me photos and share your experience with me!
This post may contain affiliate links for the products I mentioned, but as always, all opinions are my own. I make a small commission, at no extra cost to you, when you make a purchase or booking through these links. This helps to support this space and keep me blogging, which I am so extremely thankful for.
---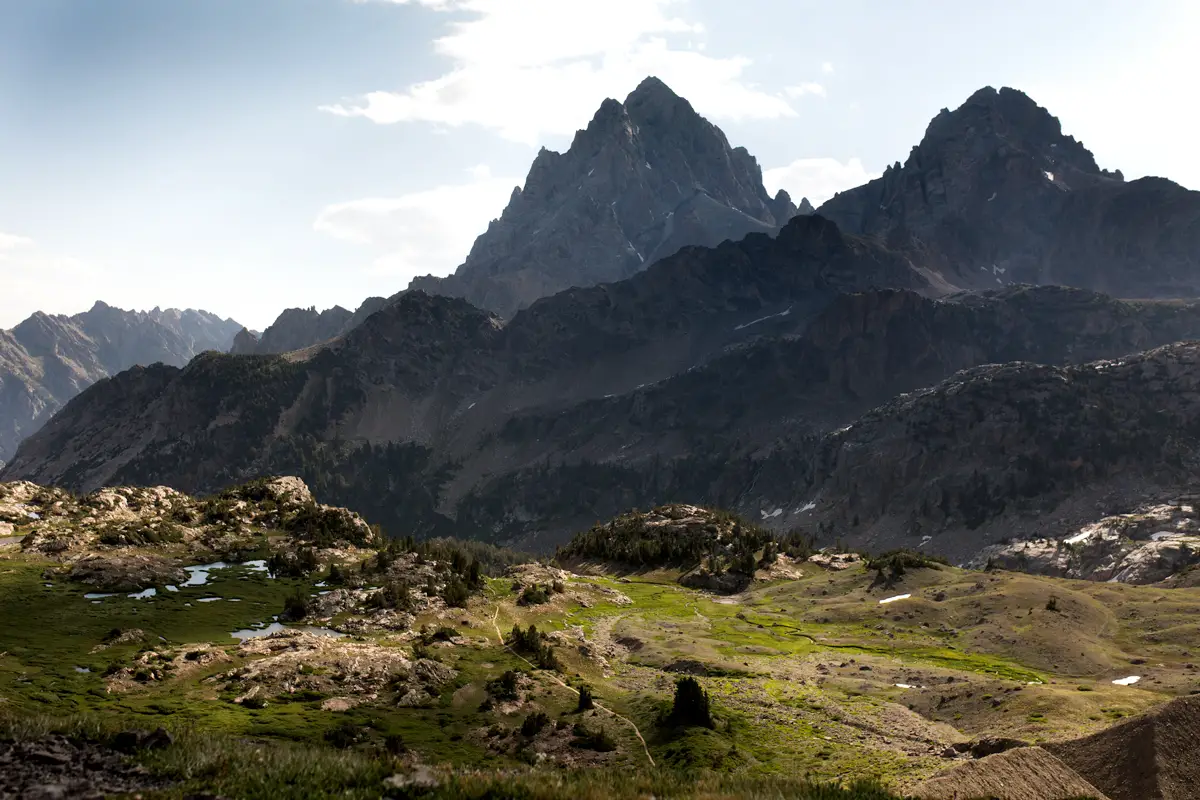 Teton Crest Trail Specifics
TYPE OF TRAIL | One Way
TRAIL DIFFICULTY | Moderate – Strenuous
HOW LONG IS THE TETON CREST TRAIL? 35-50 miles (route depending)
TOTAL ELEVATION GAIN | 10,889 feet
TOTAL ELEVATION LOSS | 11,313 feet
LOWEST ELEVATION | 6,880 feet
PEAK ELEVATION | 10,695 feet
AVERAGE ELEVATION | 8,000 feet
TETON CREST TRAILHEAD(S) | Phillips Pass, Granite Canyon, or Aerial Tram
TRAILHEAD ELEVATIONS | 8,932 feet, 6,378 feet, or 10,450 feet
HOW LONG DOES IT TAKE TO HIKE THE TETON CREST TRAIL? 3-6 days (route depending)
TETON CREST TRAIL CROWDS | When starting from Philips Pass, you'll likely see few to no other hikers until you enter the park and arrive at Death Canyon. When hiking from Death Canyon to Paintbrush Divide and down Cascade Canyon crowds will gradually increase. As popular as this hike is, it was shockingly quiet for the majority of the trail.
DO YOU NEED A PERMIT? Yes
ARE THERE WATER SOURCES ON THE TETON CREST TRAIL? Yes. Water sources are plentiful along the trail from lakes and streams. The streams tend to dry up around late August, but water will always be available from the lakes on the route.
---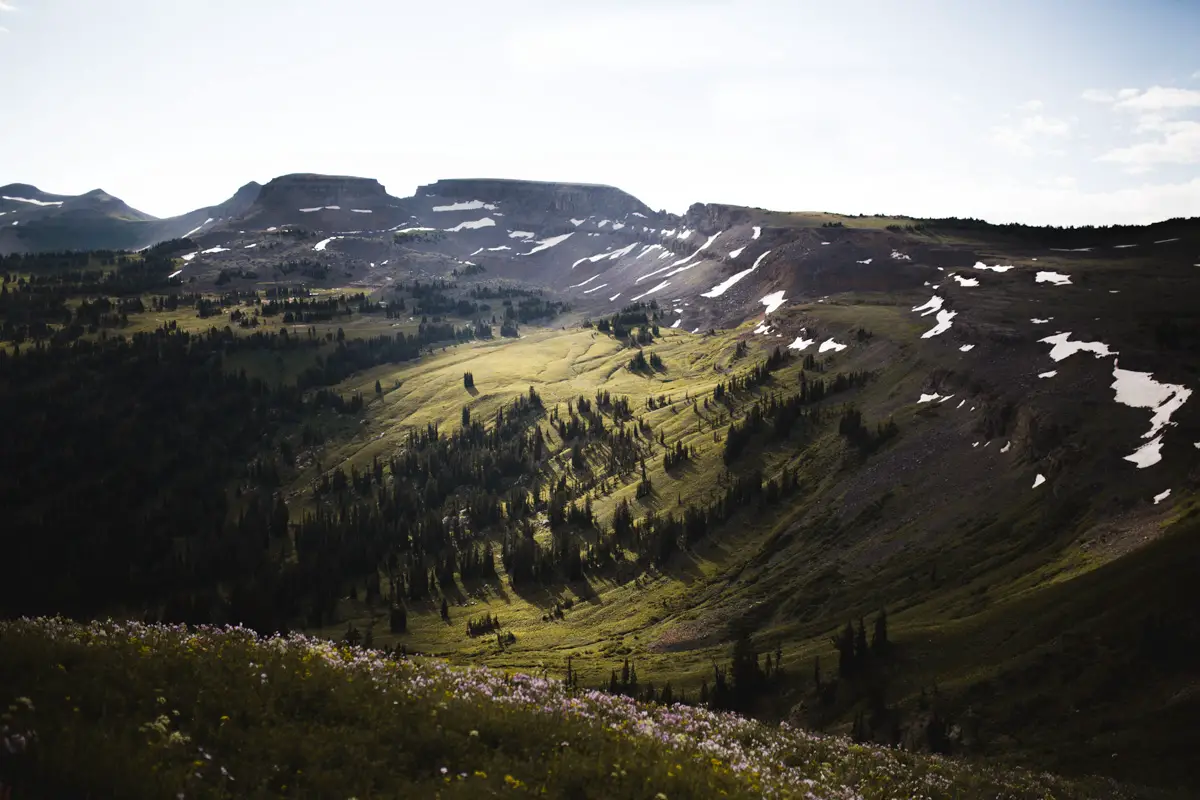 the zesty view over Death Canyon
Teton Crest Trail Permits
IS A PERMIT REQUIRED? Yes
WHERE DO YOU GET PERMITS TO HIKE THE TETON CREST TRAIL? By reservation online, or walk-up at the Jenny Lake Ranger Station or Craig Thomas Discovery & Visitors Center.
The most ideal way to get permits for the Teton Crest Trail is by reserving them online at recreation.gov. Reservations open at 8:00 am MST on the first Wednesday in January through May 15th. Although, most ideal reservations will fill the first day they open. It costs $45 per reservation. This cost covers the reservation and the permit needed. When and if you have secured your permits online, you need to pick them up no later than 10:00 am the day before you begin your trip, otherwise they will be released. When booking online, you want to have a few itineraries in mind because campsites book up FAST. They only reserve 1/3 of the campsites, so the other 2/3 are available for walk-up permits.
To get a walk-up permit, the day before you intend you hike, you need to go to the Jenny Lake Ranger Station and wait in line to get a permit. Chances for walk-up permits are quite fair as long as you get there are early as possible. Confirm the opening time of the Ranger Station and then plan to get there around 2-3 hours before they open if you're really serious about getting those permits. My friend and I arrived at the Ranger Station around 6:30 am, a few hours before they opened and there were already eight people in line.
My best tip for securing a walk-up permit is to have multiple backup routes/itineraries in mind just in case you cannot get the permits you want. I also recommend having questions prepared for the rangers about the trail: current conditions of Paintbrush Divide, bear activity on the trail, and if they have other recommendations. They are experts on the trail and you'll have their full attention when securing your permits.
You'll also need to know these things when you walk-up: license plate number, car make/model, parking plan, entry point, exit point, and campsite selections.
CAN YOU HIKE THE TETON CREST TRAIL WITHOUT PERMITS? Technically, yes. If you want to hike the entirety of the trail, beginning at Philips Pass, with no permits, you can camp at Moose Lake, Fox Creek Pass, and Alaska Basin. After Alaska Basin, there are no other free campsites for the rest of the trail. This can be challenging for the last day considering mileage and elevation gain over Paintbrush and Hurricane Passes, so only attempt if you're experienced and physically fit. Alternatively, you camp at the three sites listed and hike out of Cascade Canyon for a more doable, and safer backpacking trip.
---
Teton Crest Trail Map + GPX File
Download The Teton Crest Trail Map GPX File
If you have your own GPS system, you can find the GPS tracks for my Teton Crest Trail map below to put into your navigation system. It starts at Philips Pass and ends at String Lake, and includes detours to Kit Lake, and Static Peak if you want to include that in your itinerary. The trail is well-maintained so you won't be relying on this 100%, but it was nice to have to point me in the right direction and have a detailed visual of the trail ahead.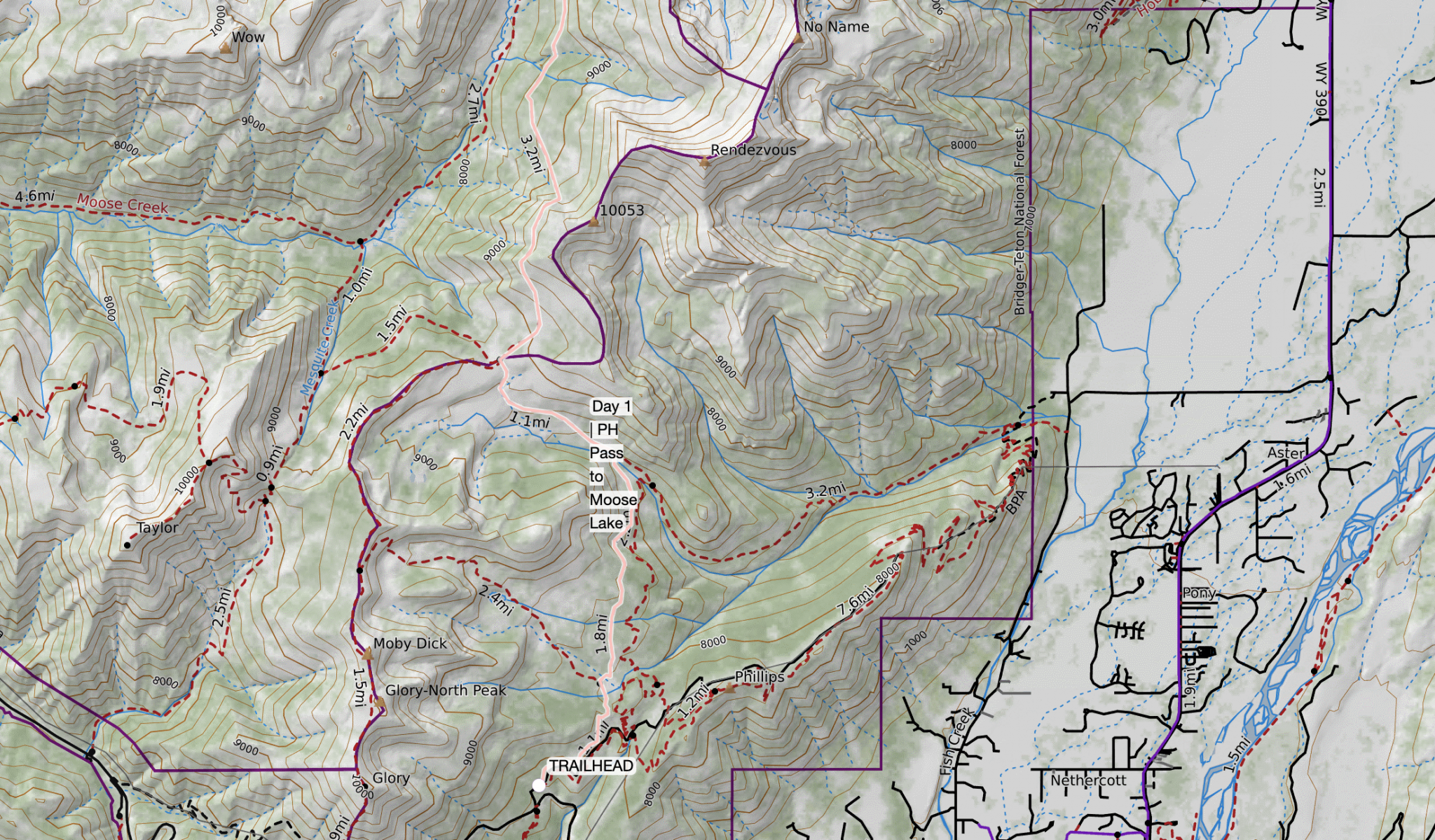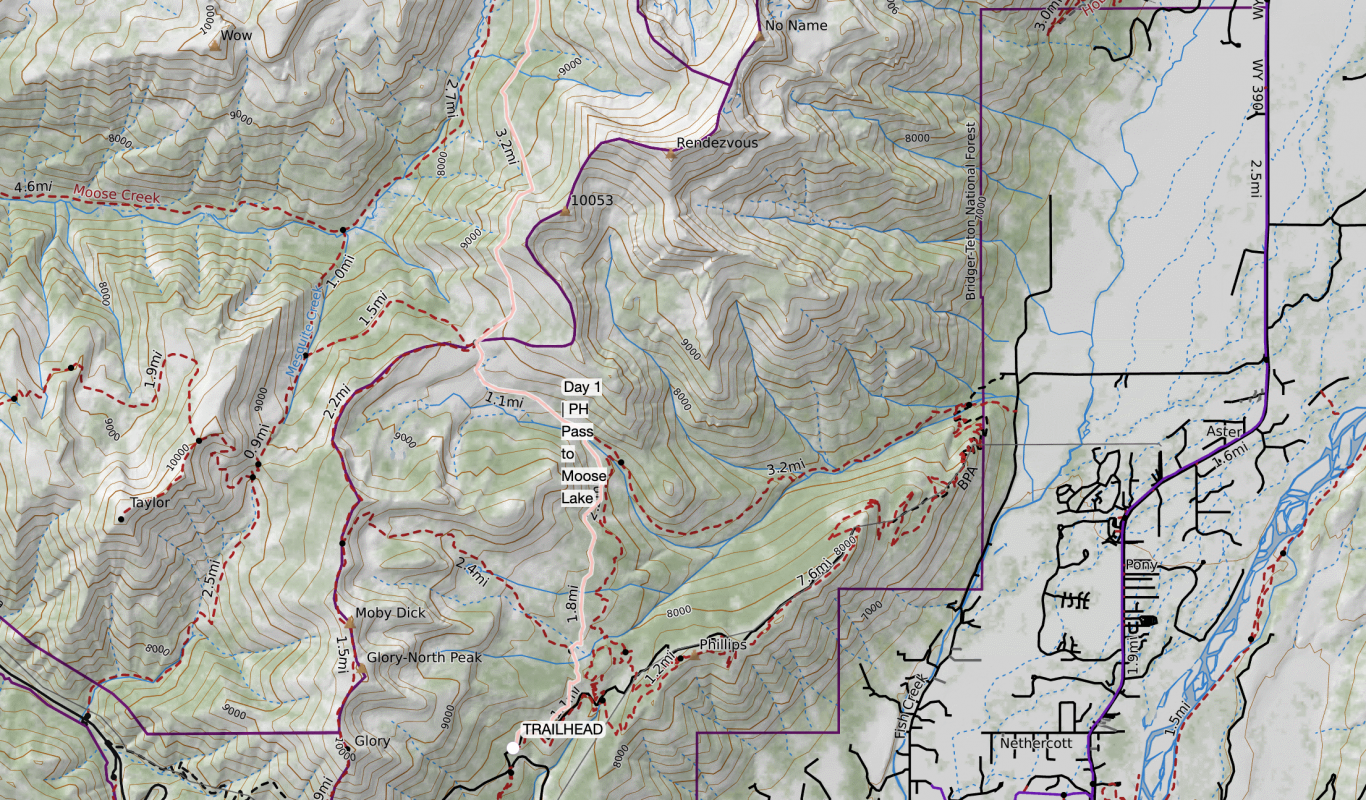 ---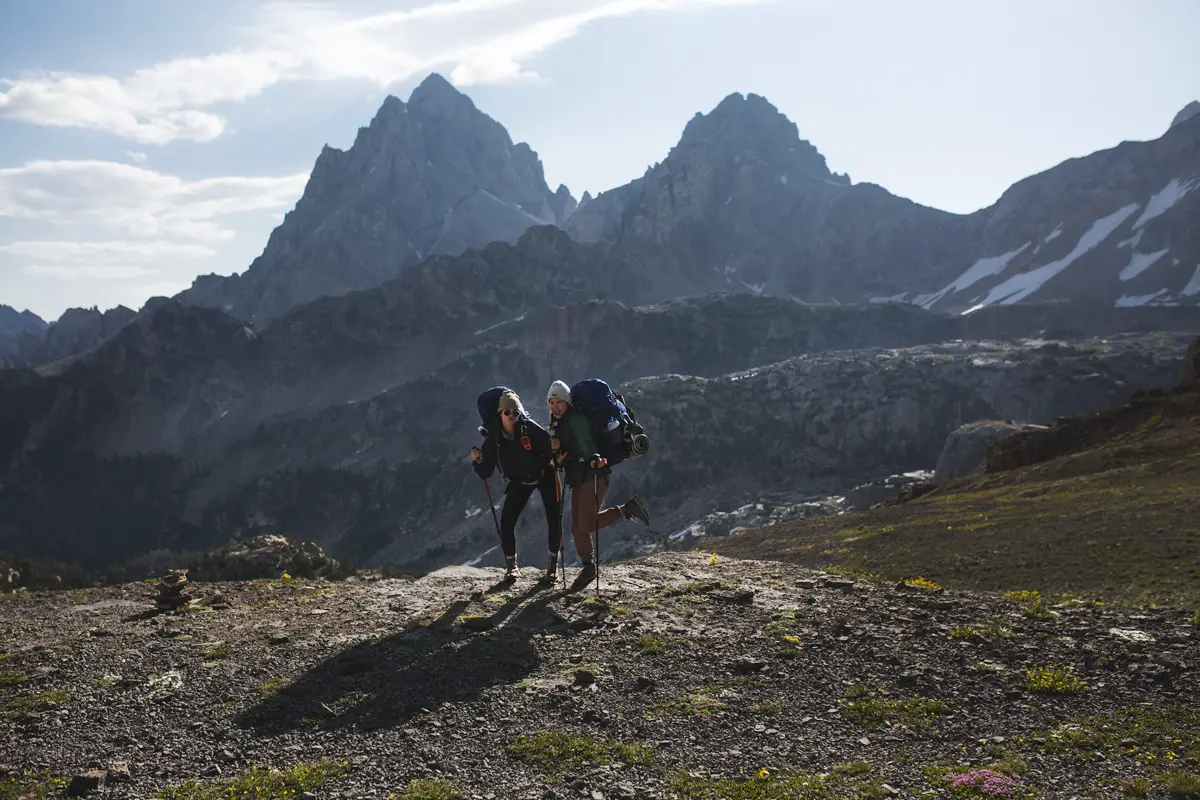 Best Time To Hike (When To Go)
The best time to backpack the Teton Crest Trail is mid-July through September. This can vary from season to season, so if you're hiking the early or later part of the season, pay close attention to weather reports for snow. One of the biggest factors in planning a TCT backpacking trip is the snowpack since it can linger late in the year. One of the best tips I have for planning your trip is to keep up with the weather forecasts so that you can plan accordingly if there is surprise snow, storms, rain, closures, etc.. When I backpacked this trail at the beginning of August, there was a couple that had to be life-flighted back to Jackson Hole after falling off Paintbrush Divide. Days later when I arrived at the divide, it was passable without an ice ax or microspikes. Had the ice not have melted, I would have known to bring the necessary gear to cross safely. By doing this, I was able to put myself in a much safer position given my abilities and experience. This Facebook group and these online reports helped me stay the most informed since there were updates almost daily with photos and personal experiences on the trail, plus some great tips for traveling around Grand Teton National Park.
The snowpack varies year to year, but generally, the snow is melted in elevations below 6,700 feet by mid-June. For the higher elevations along the trail, the snow slowly melts progressively into mid-July. If you're planning to complete this backpacking trip with snow at higher elevations, you may need an ice ax and microspikes, and know how to use them, to safely cross Paintbrush Divide, and Hurricane and Fox Creek Passes. This snow can linger as late as August, so keep updated on the weather reports and you'll be able to make the call closer to the day you begin the trail. Contacting the Grand Teton National Park Service is another great resource for first-hand advice and expertise on the current trail and pass conditions.
When planning, I would shoot for the beginning to mid-August if you want great weather, wildflowers, and to avoid snow (season depending).
---
Getting To The Teton Crest Trailhead(s)
Whenever you get your permits from the Jenny Lake Ranger Station, they will give you a list of local taxi/ride options. Since you'll be completing the hike at the Leigh Lake Trailhead at String Lake, you'll need to use this list to organize some type of transport back to your car. There are a few ways you can go about this depending on your situation:
– Park your car at the end, String Lake, and have another car take you to the trailhead (local taxi, Uber, shuttle, etc.)
– If you're hiking with a group and have two vehicles, park one at String Lake, take the other to the trailhead, then go and pick up the car at the trailhead once you're finished.
– Hitchhike to/from the trailhead. This is the least reliable, and it can also be unsafe, so it really depends on your comfort level. 
The most affordable option is going to be hitchhiking, obviously since it's free. Taking the tram will set you back around $35 as long as you buy your tickets online, and getting a shuttle/taxi can cost up to $80.
AERIAL TRAM (Teton Village)
– ADDRESS | 3275 West Village Dr, Teton Village, WY 83025
– COORDINATES | 43.587428202212784, -110.82801093052885
GRANITE CANYON
– ADDRESS | Moose Wilson Rd, Jackson, WY 83001
– COORDINATES | 43.61501126393472, -110.79197496952376
PHILIPS PASS (Philips Bench Trailhead)
– ADDRESS | Forest Rd 30972, Wilson, WY 83014
– COORDINATES | 43.506453219210584, -110.92764395936663
---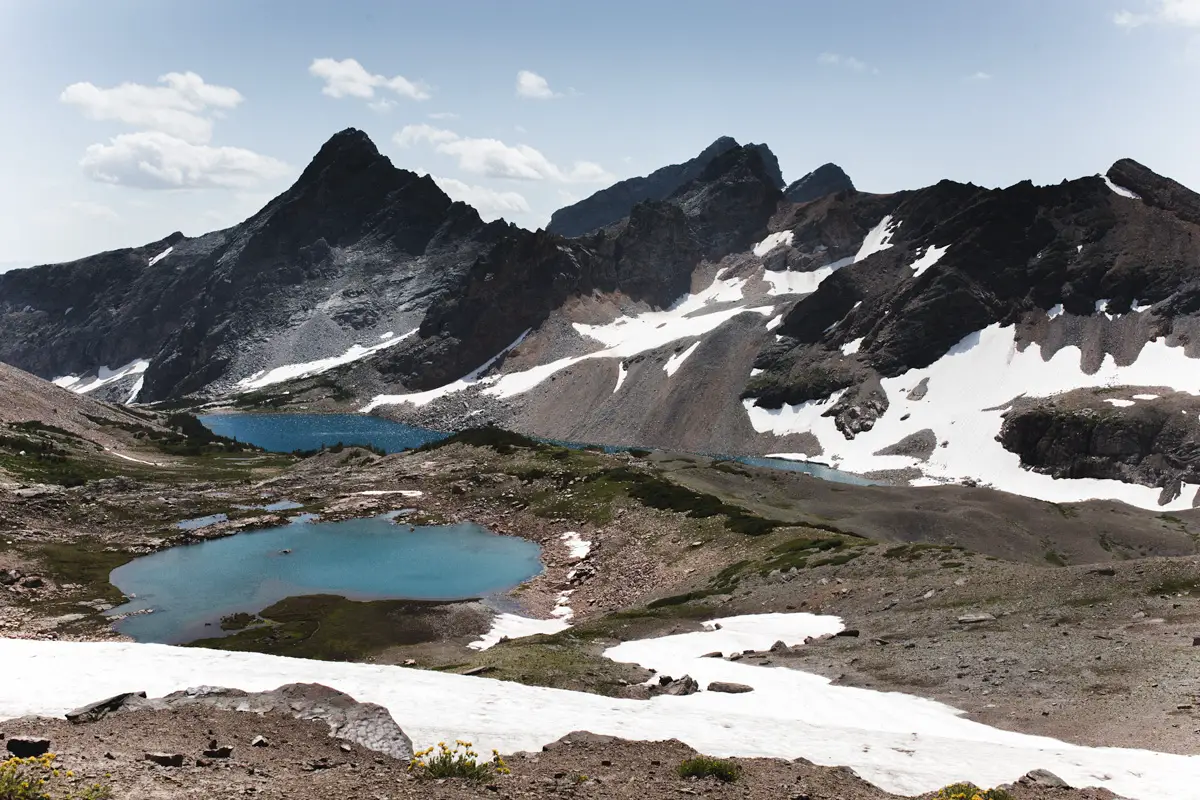 camping at Kit + Snowdrift Lakes
Teton Crest Trail Campsites + Camping Information
The campsites on the Teton Crest Trail are plentiful which makes planning any length of a backpacking trip on this trail very seamless, especially if you weren't able to reserve your ideal permits and have to grab walk-ups once you arrive. Once you have your permits, the individual sites run on a first come first serve basis within the camping zones with hiking groups of six or fewer. Groups larger than six have to use designated group campsites specifically assigned to them by the rangers.
The Teton Crest Trail also has a few alternative camping spots, located outside the park boundaries, that you are able to camp at without a permit: Alaska Basin and Fox Creek Pass. Many backpackers choose these options because they either couldn't get the permits they wanted or they are trying to complete the trail without permits. Both of these areas are owned by the US Forest Service, so you can camp anywhere in these areas as long as you're outside the park boundaries. Boundaries are clearly established with signs, so staying within them is easy. When choosing a backcountry camping spot, use sites that have already been established and make sure you're 200 feet away from water sources.
Alaska Basin

(No permit required)
Fox Creek Pass

(No permit required)
When choosing your campsites, keep the number of days you're hiking, physical capabilities, and elevation changes in mind so that you do not end up exhausting yourself. Some good rules of thumb to keep in mind, courtesy of the NPS, is to expect to hike at about 2 miles per hour, adding in one hour for every 1000 feet of elevation gain, and to not cross more than one pass per day. Another rule of thumb that I like to use is to cap my daily mileage at around 8-9 miles every day. With these tips in mind and a variety of camping options, crafting an ideal Teton Crest Trail itinerary is no biggie.
The BEST campsites on the Teton Crest Trail, in my opinion, are

Death Canyon Shelf, Marion Lake, North Fork Cascade Canyon, Alaska Basin, Holly Lake, + Kit Lake.
These offer the best views and therefore will be the first to go for permits (besides Alaska Basin and Kit Lake). Kit Lake is a pretty unknown spot to camp on this trail, but the location is just after Hurricane Pass on the map, behind the South and Middle Teton. You don't need to do anything special to stay here, just let the person at the permit office know when you're securing your other permits (they will know what you're talking about). Once you arrive, please follow the 7 Leave No Trace Principles to keep this lesser-known campsite nice for the next backpackers.
Pictured below is a better visual guide to all the campsites on the Teton Crest Trail, as well as mileages and elevation changes. There is a more in-depth PDF I recommend downloading here with the same information below, as well as some camping regulations, things to know, safety, etc. I had a photo of it saved onto my phone throughout my trip and it ended up being very helpful when looking for a general overview of the day ahead.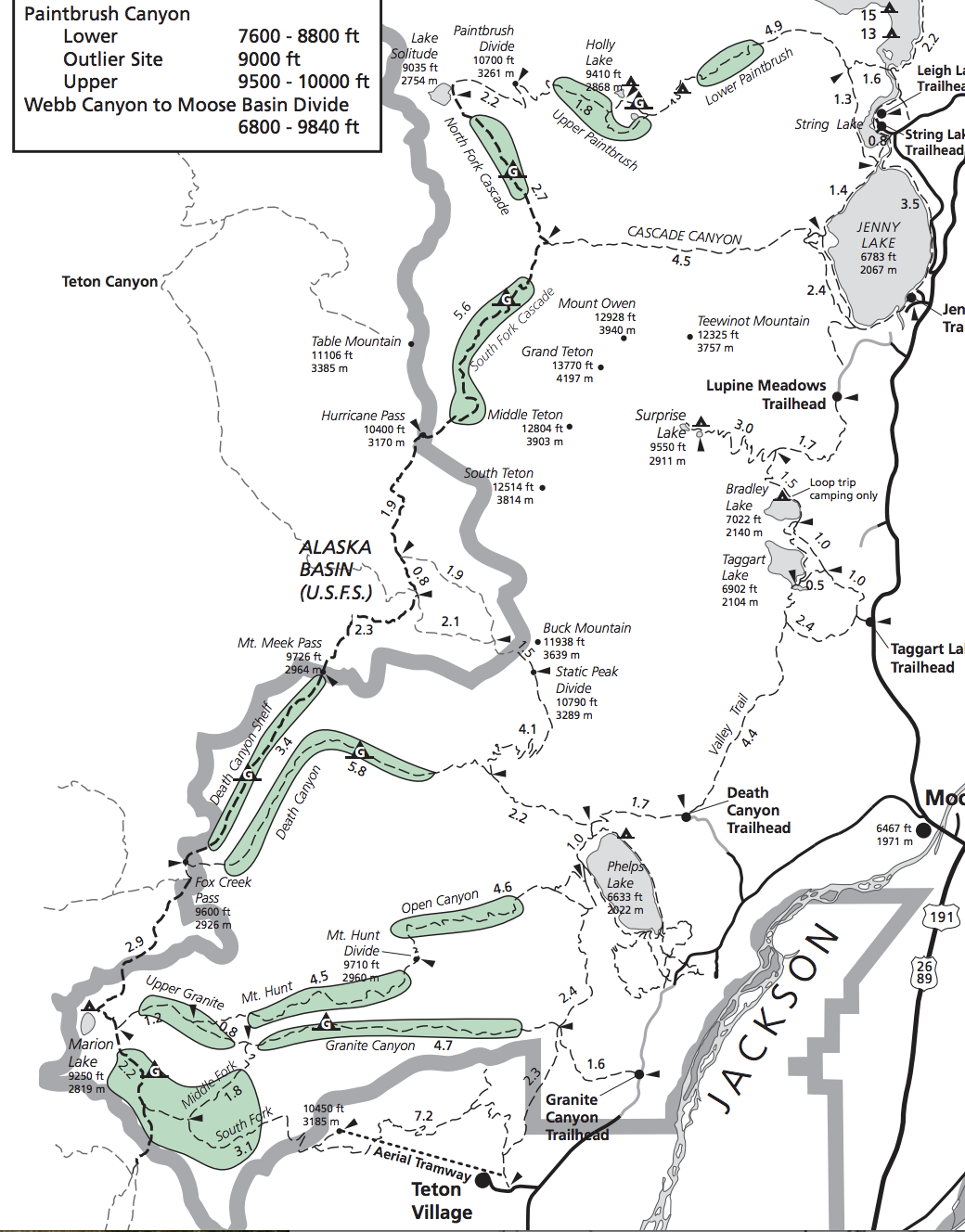 ---
Teton Crest Trail Itinerary Options
Most backpackers complete the Teton Crest Trail in 4-6 days. The suggested itinerary that I can best speak for is the five-night option. If you're looking to really take things slow and do a few side trips along the way, this is the best choice for you. Using this itinerary, my friend and I were also able to get the permits that we wanted because most people start this trail at Granite Canyon, using the four-night itinerary. Since we had an extra day between Alaska Basin and Paintbrush Divide, we had no issue with planning. If you're choosing the four-night option, getting those permits is going to get tricky, but it's still doable with the alternative permit options at Fox Creek Pass and Alaska Basin.
TRAILHEAD | Aerial Tram
CAMPSITE 1 | Death Canyon Shelf / Fox Creek Pass
CAMPSITE 2 | South Fork Cascade Canyon
CAMPSITE 3 | Upper Paintbrush / Holly Lake
TRAILHEAD | Granite Canyon
CAMPSITE 1 | Granite Canyon / Upper Granite Canyon / Marion Lake
CAMPSITE 2 | Death Canyon Shelf / Alaska Basin
CAMPSITE 3 | South Fork Cascade Canyon
CAMPSITE 4 | Upper Paintbrush / Holly Lake
TRAILHEAD | Philips Pass
CAMPSITE 1 | Moose Lake
CAMPSITE 2 | Fox Creek Pass / Death Canyon Shelf
CAMPSITE 3 | Alaska Basin
CAMPSITE 4 | Kit + Snowdrift Lakes
CAMPSITE 5 | North Fork Cascade Canyon / Upper Paintbrush / Holly Lake
---
Challenges + Hazards of Hiking the Teton Crest Trail
WILDLIFE
There is a variety of wildlife in Grand Teton National Park: black and grizzly bears, moose, mule deer, bighorn sheep, marmots, and pika. The two that you'll want to be the most alert for are bears and moose. Throughout the entirety of your hike, you want to remain bear aware and practice preventing encounters by keeping all of your food and scented items in your approved bear canister, pack out everything you pack in, carrying bear spray (and knowing how to use it), and clap or shout every so often while hiking to let any wildlife know where you are.
The Grand Teton National Park Service has an informative page on Safety in Bear Country that you can browse for all things bear safety. Read and review everything so that you can stay as safe as possible in the backcountry.
BUGS
Bugs, while not a "hazard", can be extremely annoying while you're hiking. They're the largest issue when hiking in lower elevations in the Tetons and they will turn your entire body into a buffet if you don't pack any bug repellant. Even when I was wearing long sleeves, they were able to bite through my clothing, so make sure you bring bug repellant and consider treating all your clothes with permethrin spray.
Exposure
The biggest concern here is crossing over Paintbrush Divide. Trekking poles were the biggest game-changer here since they gave me an extra sense of security and stability. Coming from Cascade Canyon is a lot easier than coming from the other way, so as long as you take it slow and keep your eye on the trail, you'll get over fine. If snow is still on the divide, you should keep your experience in mind, and bring an ice ax and microspikes.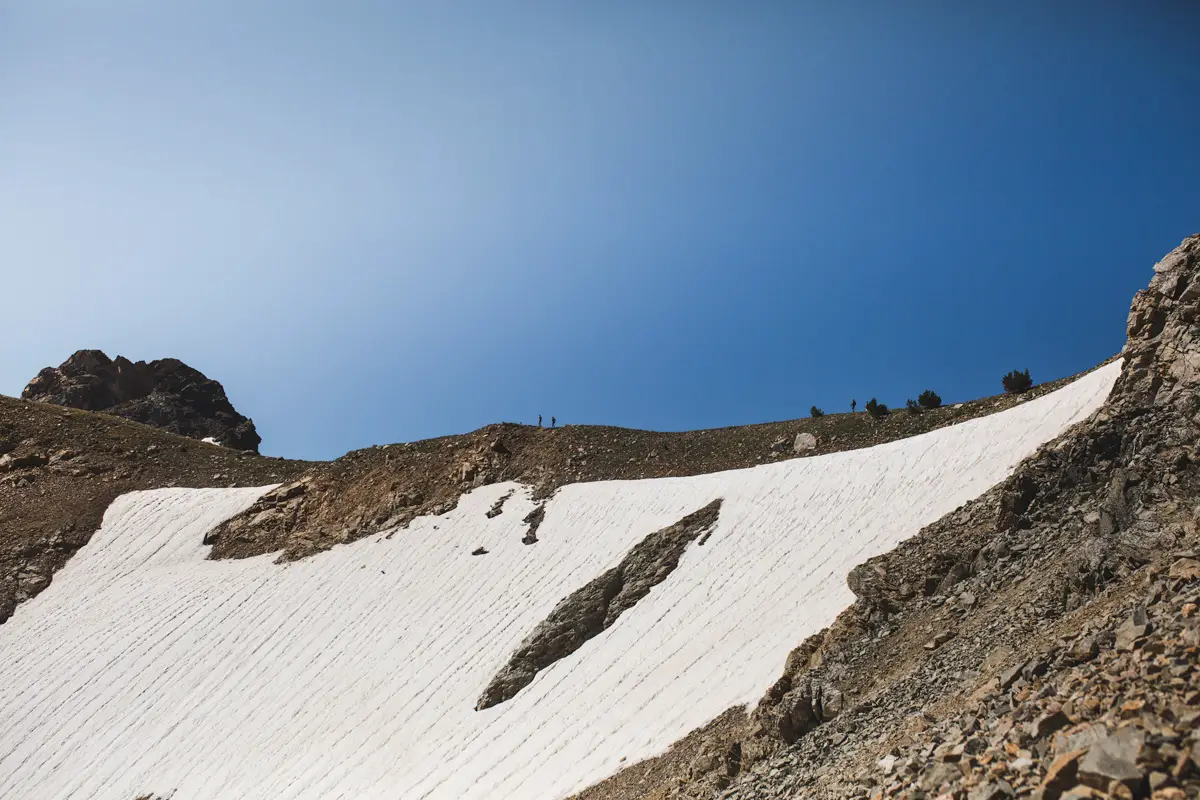 the view of the top of the divide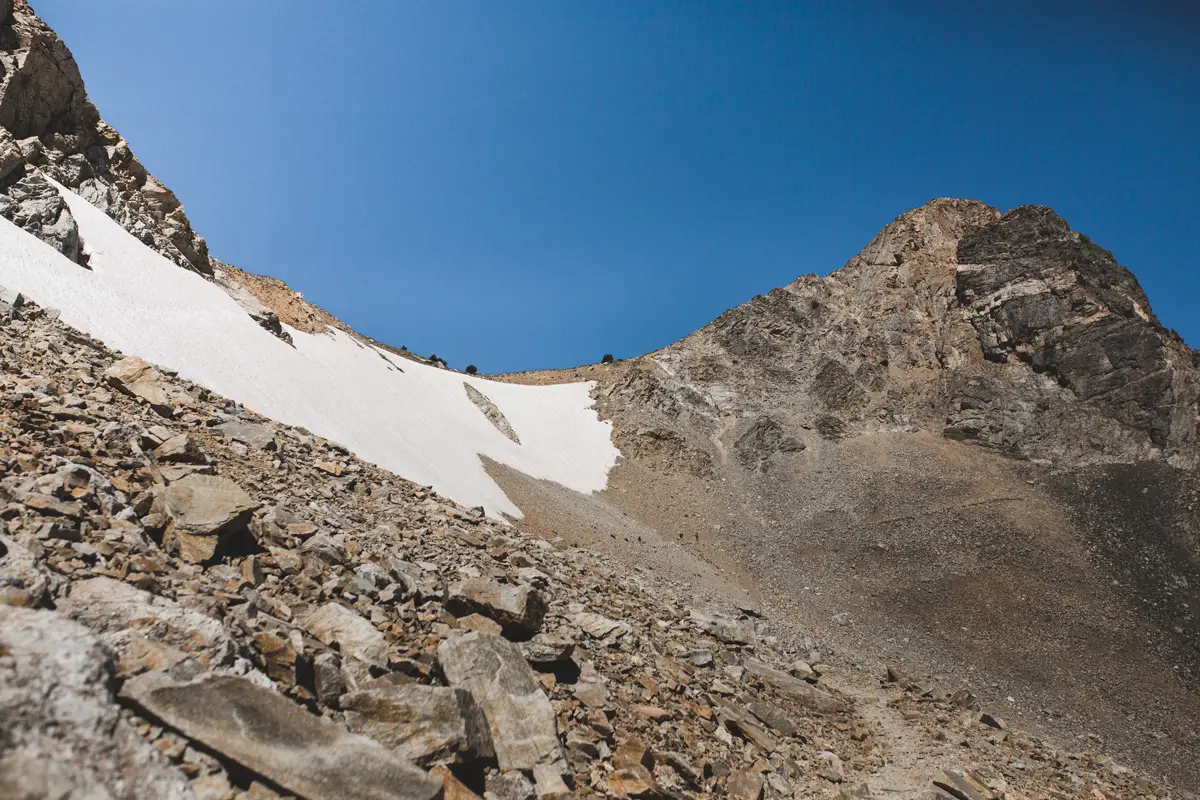 getting across the divide (trail pictured in the middle)
Thunder / Lightning
You'll rarely be hiking below 8-9,000 feet, so in the event of a thunderstorm or lightning, you want to make sure you know the proper protocol so that you can stay safe. There is a great, short informational video here to get you started on thunderstorm safety while backpacking.
---
What To Pack
---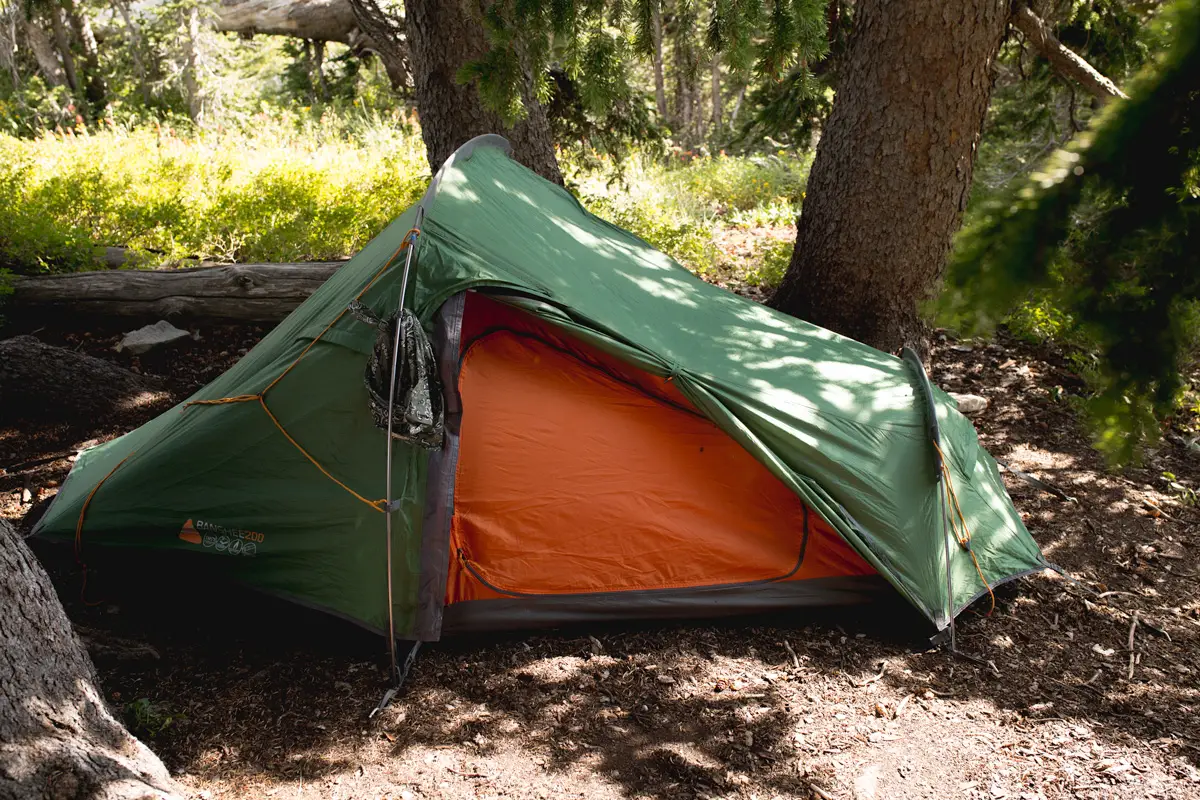 Although I love my Vango Banshee 200 with my whole heart, there is no way to purchase this from the US anymore and it's quite heavy, a whopping five-pounds. If you can manage to snag a light tent, ideally under 2-3 pounds, this is the ideal weight for a tent to take into the backcountry, if your other gear runs on the heavier side as mine did. I've heard so many good things about the Big Agnes Copper Spur HV UL2 Tent, the Big Agnes Tiger Wall UL1 Tent, and the REI Co-op Quarter Dome SL2 Tent, so all of those are great options for ultralight tents, and I will be more than likely picking up a Copper Spur before my next backpacking trip.
I used and loved the Osprey Eja 58L on this backpacking trip. Although I wish I had just a SMIDGE more space because fitting everything was a little tight. I am looking at grabbing an Osprey Ariel AG 65L for longer trips like these, and a few of its better features, since I don't exclusively hike ultralight.
I brought along my Kelty Cosmic 0 Sleeping Bag and stayed toasty every single night on this trip. I recommend bringing a sleeping bag rated for 0-20 degrees on a hike like this since the temperature drops drastically with elevation gain and the weather can get in the 30s at night depending on the season. Kelty has a Cosmic 20 Sleeping Bag that's a little more affordable if you're on a smaller budget. Alternatively, you can pick up a sleeping bag liner to bring down the temperature rating of your sleeping bag and get the most bang for your buck.
When it comes to those colder nights, and a good snooze, my favorite sleeping pad is my Therm-a-Rest NeoAir XTherm Sleeping Pad. I bought this sleeping pad since it is lightweight (15oz) and rated for winter camping as well. This is a great overall sleeping pad, but if you're looking for something more affordable, I had the Therm-a-Rest ProLite Sleeping Pad before the one I have now and I loved it.
Trekking Poles are a personal preference. They give me extra stability and protect my knees, so I like to bring my Black Diamond Trail Ergo Cork Trekking Poles.
Cooking System, Fuel, + Waterproof Matches
Campfires are prohibited on the entire Teton Crest Trail, so a backpacking stove is necessary if you plan on eating dehydrated meals/hot food on the journey. My Jet Boil MiniMo has been my trusted companion on all my hiking and camping journies. Although they just released their new JetBoil Stash that is lighter and cheaper option! A really good alternative that is cheaper and lighter is the MSR Pocket Rocket 2 Stove. Use this stove with the TOAKS Light Titanium Cook Pot and you're good to go! With these stoves, you'll also need to pick up a fuel canister to cook your meals. The smallest size is more than enough for this trip. Lastly, bring a lighter and/or matches, and waterproof matches in case of an emergency.
To minimize dishes and weight, I either ate out of my JetBoil pot or the baggies of my dehydrated meals. Utensil-wise, the GSI Outdoors Essential Spoon proved to be one of my favorite buys for backpacking. It has a long handle so you won't get your hands dirty while you eat and you'll be able to get those last bits of drool-worthy penne out of the bottom of your meal bag.
No morning in the backcountry would be complete without the GSI Outdoors Infinity Mug and the best instant coffee.
Water Purification / Hydration Bladder
When it comes to water on the trail, you do not want to drink directly from lakes and streams due to the possibility of bacteria and other hazards in the water. I am obsessed with my Sawyer Squeeze Water Filter. This is the best affordable water purification system and I love it because it's lightweight and filters water as you drink. Other water filters require you to filter, then fill, but with the squeeze, you can fill up the two 1L baggies with dirty water, load them onto your pack, then filter as you drink. This saved me so much time! With my Sawyer Squeeze, I also brought along MSR Aquatabs Purification Tablets just in case my squeeze went out and since it's ideal to have some redundancy in your gear.
With my two Sawyer Squeeze pouches (2L), I also carried a 2.5L Osprey Hydration Reservoir. This is the most ELITE water set up. With everything filled, you have 4.5L total, half of it is easily accessed via the spigot and the other being a grab away in your backpack's side pockets. Hydration bladders aren't everyone's favorite, but I am definitely obsessed with mine.
You can pick up a can of bear spray in Jackson Hole or at one of the convenience stores in Teton Village before you head out. A can of this is necessary for your own safety if you have a bad encounter with a bear, just make sure you know how to use it and practice before you head out.
Bear cans are a required item on the Teton Crest Trail for your safety and the trail's wildlife. I bought the Garcia Bear-Resistant Container since it's the lightest and cheapest option. The other option is made by the brand Bear Vault. They have two solid sizing options, the BV450 and BV500. I've heard great things about both of these, I personally gravitated towards the Garcia. I decided to buy one since I know I'll need one for future adventures, however, the permit office can lend you a bear can if you don't want to fork over the cash for one.
The bear can also makes for a great seat while you're at camp!
There isn't a single hike that I'll go on without my Petzl Tactikka Headlamp. They make the best, high-quality headlamps!
Here are some of my current favorite pieces of gear that have elevated my adventures in the backcountry.
1 RAIN JACKET SHELL | Arc'teryx Zeta SL Jacket
1 RAIN PANTS | Arc'teryx Zeta SL Pant or Mountain Hardwear Stretch Ozonic Pants
1 DOWN JACKET | Fjallraven Greenland Down Lined Jacket
1 FLEECE JACKET | Patagonia Retro Pile Marsupial Fleece
1 HIKING PANTS | Patagonia Centered Tight
1-2 HIKING SHORTS | Patagonia Baggies
2-3 HIKING TOPS | Patagonia Capilene Cool Daily Shirt or The North Face Workout Long Sleeve Top
5-6 UNDERWEAR | Anything that isn't cotton.
3 SOCKS | Falke Trekking Socks TK2 (1 for sleep and 2 to cycle while hiking to prevent blisters)
1 PJ's | Smart Wool Trekking Heavy Crew Socks, Patagonia Midweight Baselayer Bottoms, T-Shirt, + Patagonia Fleece
1 SUN HAT | Columbia Bora Bora Booney II
1 BEANIE / GLOVES | Patagonia Fisherman's Beanie (I think this style was discontinued)
1 SANDAL | Xero Z-Trail Sport Sandals (to wear around camp / by lakes)
1 HIKING BOOTS | KEEN Targhee II
Quite possibly my favorite item that I brought on the Teton Crest Trail was my Trango Piranha Knife. It's compact in size and it came in handy a few times and I also used it to open and close my bear can.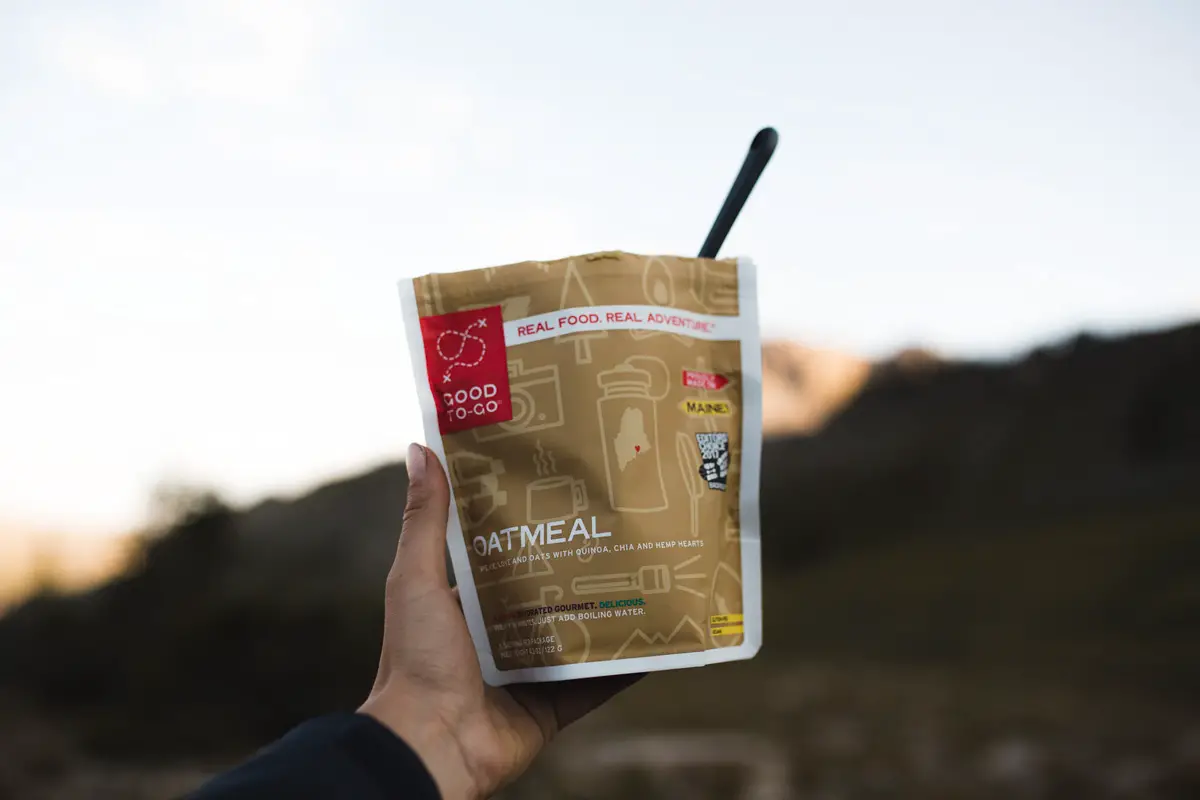 Good-to-Go Meals make some of my favorite backpacking foods
Some quality grub is going to make or break your backpacking experience. Since you'll have to store all your food and smelly items in your bear can, you want to choose foods that are calorically dense to save space. When hiking in higher elevations and exuding a lot of energy, your appetite is going to be a lot lower than when you're at home, so don't try to cram as much as you can in there. The meals/foods I enjoyed most were the Good-to-Go Marinara with Penne, Good-to-Go Oatmeal, FILLOS Cuban Black Beans, GoMacro Bars, Louisville Vegan Jerky, and Dried Apricots.
Get 25% off GoMacro bars with the code (aarenprody) at checkout on GoMacro.com!
You should always have some type of GPS with you while you're backpacking, or even if you're just hiking. No matter what, you should always carry a map and compass. I bought this waterproof topographic map for the trail and it made planning and reviewing so much easier. The regular park map doesn't have the full trail details, especially if you're starting a Philips Pass, so I highly recommend it. You'll also need it to find your route, water sources, and mileage. The Grand Teton Crest Trail is very well marked so you shouldn't find yourself lost, but you should still bring navigation with you.
Anytime I am traveling in the backcountry, I always bring my Garmin InReach Explorer+. This device allows me to communicate off-grid using satellites, check weather forecasts, send messages, keep a GPX file of the trail, and much more that helps me feel more secure in the backcountry. This isn't 100% necessary for this trail, but it gives me a massive peace of mind and is worth that extra safety blanket. If you are looking to buy one, I recommend buying a used one to save a ton of money.
A great alternative for a satellite device is a great hiking app. I love the Gaia GPS App because you can have your exact GPS location tracked offline, upload your own maps, and save your tracks for your trip. For all the features it's only $40/year!
The Adventure Medical Ultralight Medical Kit 0.7 is my go-to for first aid. I love that you can order refills for this to keep everything uniform and compact as well. It supplies everything you need for a few days in the backcountry and weighs next to nothing! I will recommend packing a few extra bandaids in here before you head out since this doesn't give you too many.
Even if it isn't unbearably hot, the sun can still have harsh effects on your skin at higher elevations. I thought I put my sunscreen everywhere and accidentally forgot my hands… Let's just say they got toasted, but all my other extremities were protected with my favorite sunscreen. Chapstick with SPF, sunglasses, and long sleeves (just in case I get too burnt) are also necessary parts of my backpacking checklist for sun protection.
These are all necessary for your journey. You may be stopped by a ranger and they will ask for your permit and proof of I.D.
Toilet Paper, Sanitation Trowel, + Pee Cloth
While in the backcountry, you MUST pack out all of your toilet paper, and bury all food and human waste in a cathole that is at least 6-8 inches deep. These are the items you'll want for having successful, mess-free movements outside: Kula Cloth (A MUST FOR MY GALS), trowel, and toilet paper. I put all these items in a net baggie on the outside of my bag for the best access.
On all my adventures around the world, I always take my Sea To Summit DryLite Towel. This towel is extremely light, quick-drying, and compact making it perfect for backpacking and hiking. The extra-large size is perfect for wrapping yourself up in a full-size towel and it only weighs eight ounces!
Don't waste your time trying to clean yourself up with those dinky traditional wet wipes and get yourself some Epic Wipes. These are the best for backpacking because you only need one of these wipes to feel fresh and clean. After a few days on this trail, trust me, you'll want one for those stanky pits! My favorite thing about these wipes is that they are biodegradable so you don't have to worry about them going to landfill when you're finished with them and one wipe can clean your entire body!
You'll want to have hand sanitizer for clean hands after using the bathroom, before you grab your favorite snack, and before you begin cooking all of your meals.
At higher elevations, bugs aren't really an issue, but you'll definitely encounter them in lower elevations. I like to bring a small bottle in my pack and reapply frequently so I don't turn into an all-you-can-eat buffet.
---
Bonus Items To Pack
---
For this trip, I brought a 35mm lens, my Canon DSLR, spare batteries, and an extra memory card. I wanted to keep things as light as possible and these served me well on this trip. Next time, I would love to pack a film camera since they're lighter in weight and more portable.
Book, Card Games, + Downloadables
I prefer to get to camp early so I am not eating/cleaning up in the dark, and most of the time the sun sets pretty early, so you'll have a few spare hours to wind down. My friend and I downloaded "The Shake To Sleeping Self" to listen to before bed and it was a great way to get settled in. Next time, we want to bring some cards or a game for some added fun at the end of the day. I am a big physical book person, so I ended up bringing a smaller book to read on my own. I think it's worth that extra little bit of weight in my bag. "Jitterbug Perfume" and "The Untethered Soul" are two of my favorites.
On your phone, you can download any podcast or Netflix episodes if you want to plug into your favorite shows in the backcountry. The Blacklist, LOST, and Game of Thrones are great ones!
If you're using your phone to take photos or track your location, this will be important to stay online. You won't have any service though, so put your phone on airplane mode to help save battery.
---
HELPFUL GUIDES FOR HIKING IN WYOMING:
–  Packing For A Day Hike: 12 Adventure Essentials To Get You Exploring
– 11 Beginner Mistakes I Made On My First Backpacking Trip
– 14 Best Hikes In Grand Teton National Park
LOOKING FOR MORE US NATIONAL PARKS TO VISIT? CHECK THESE OUT:
– The ONLY Utah National Parks Road Trip Itinerary You Need
– 2 Days In Zion: The Ultimate Zion National Park 2 Day Itinerary
– One Day In Bryce Canyon: The Perfect 1-Day Itinerary
---
LOVE EXPLORING THE BACKCOUNTRY? SHARE WITH ME YOUR FAVORITE MEMORY IN THE COMMENTS BELOW!

DID YOU FIND THIS GUIDE TO THE TETON CREST TRAIL HELPFUL? SAVE IT FOR LATER!