(Last Updated On: 15/01/2020)
Only having one day to spend in a city may seem like a stressful planning venture, but in a city like Reykjavík, you can explore the entire city and more in a day and not feel like you missed out on anything the city had to offer. This itinerary is also really good for people with long layovers since this features all the best things to do, see, and eat in Reykjavík that can easily be covered even if you only have 10-15 hours in the city. Along with this Guide to Iceland, I've included some morning day trip options that are right outside Reykjavík and are perfect adventures to start off your morning. If you love to seek adventures and go off the beaten path a little bit, consider checking those out and adding it to your list of "must-do's".
I haven't met a traveler yet that hasn't fallen in love with this place, and Iceland in its entirety, so prepare to never want to leave, indulge in art, and maybe a little bit of alcohol. Cheers! Let's hop into all the best things to do in Reykjavík in a day!
This post may contain affiliate links for the products I mentioned, but as always, all opinions are my own. I make a small commission, at no extra cost to you, when you make a purchase or booking through these links. This helps to support this space and keep me blogging, which I am so extremely thankful for.
Planning an Iceland trip? Check out my other awesome blog posts from the land of fire and ice!
---
The Best Time To Visit Reykjavík
The "Best" Weather
May – August
Fewer Crowds
October – March
Most Daylight
June – August
Festivals
late June – August
---
Where To Stay In Reykjavik
*pricing varies by season and time of booking, so always check the website linked for the most up to date prices*
Reykjavík Campsite | $20 USD / Night
If you're planning on renting a campervan or camping around Iceland, the campsite in Reykjavík is the best place to camp. It's in a quieter neighborhood outside the buzz of the city, so you'll have quiet nights and all the amenities you need to start your trip off on the right foot. The campsite has wifi, showers, toilets, a full kitchen, and plenty of room for tents and campervans. Something odd but worth mentioning is that if you decide to tent camp here, the song that the birds sing in the trees is so beautiful that I almost started crying before heading to bed… Is that embarrassing? Maybe, but it was definitely enough to make me want to stay there again!
No Booking Needed
Galaxy Pod Hostel | $86 / Night
If you have a little bit more money to pour into your Iceland trip cost, then a hostel might be the go-to for you. Hostels are great for meeting new people, saving a little bit of money, and having a unique experience, especially since this hostel is centered around a star war-sy type of theme. The hostel is in a prime location since it's on the main road that runs through Reykjavík, so you can walk right down the road and explore and you won't have to worry about getting lost. It has all modern amenities, a chill vibe, and it's right across the street from Kronan, so if you want to be in the hub of the hub, this is definitely the place for you.
Heida's Home |$100 USD /Night
If you want a more private experience that has an incredible location in central Reykjavík, close to ALL the hotspots, Heida's Home is a favorite for couples, families, and solo travelers! There is breakfast available for ordering, wifi, and most people that stay here claim that Heida's Home is their favorite part about Reykjavík. The rooms are decorated with moody blue tones and all kinds of dark accents that put you right in that Icelandic mood as soon as you arrive. There is even a small kitchen you're able to use to cook your own breakfast or lunch before you head out and explore the city! This place has it all!
Radisson Blu | $200 USD / Night
On the more luxe side of things, I present to you the Radisson Blu (totally didn't plan on that rhyming, but I am keeping it in lol). This stunning and modern hotel offers airport transfers, free wifi, breakfast, stunning city views, ensuite bathrooms, room service, AND a fitness center. It's not on the main road in Reykjavík, but it is around some great shopping stores and is a quick walk to the life of Reykjavík. The Radisson Blu is a good fit for you if you love luxury travel, you're traveling with a partner, or if you want to splurge for a night in a luxurious hotel.
---
How To Get Around Reykjavik
The easiest, cheapest, and most convenient way to get around Reykjavik in a day is on foot. The city is quite small and all of the main points in the city are down one specific street, Laugavegur Street, so you're not going to waste a lot of time in transit even if you walk. Plus, there really isn't too much parking in the hub of the city, so you would have to park a little way out and walk anyway. So just remember to bring your favorite pair of walking shoes or boots.
Almost everyone that travels to Iceland is going to have a rental car, so driving one of these is going to be convenient for going to large sites like the Hallgrímskirkja Church, Harpa Concert Hall, and a grocery store if you need, but everything else you can walk to. Honestly, there is no need to drag around your rental car for the day because it'll be more of a hassle than a convenience, but if you must, park it at Hallgrímskirkja Church and then venture out from there. This way you'll never forget where you parked your car and you'll start your day in a central location.
---
A Map Of The One Day In Reykjavik Itinerary
---
How To Spend One Perfect Day In Reykjavik
If you suffer from serious FOMO when you only have a limited amount of time in a place, fear not, Reykjavík is actually a perfect city to only spend a day in. Although it is home to 200,000 locals and expats, a lot of the city is centered around one area specifically and the highlights are incredibly close by. You can easily wander Reykjavík for the day and not feel like you missed out on everything to see in the city which is a HUGE plus that comes with traveling here. This guide is going to be for travelers that are experiencing Iceland for the first time and starting their trip out in the heart of the city. It is going to highlight the best things to do, best places to eat, the best place to caffeinate, and optional morning tours that you can take before you take on the city. I am a huge believer in traveling on and off the beaten path, so this guide will reflect that and give you all the nitty-gritty details you need to have an incredible day in Reykjavík and explore some areas that aren't flooded with the masses.
---
Optional Morning Adventures
Since Reykjavík is so tiny, you can opt for a morning adventure around the area if you want to see more, go on an exhilarating adventure, or maximize your time spent in Iceland. All of these small detours are no more than 45 minutes away from Reykjavík making them easy to access and a great opportunity to spend your first day in Reykjavík in a special spot with fewer people. I do label these as "optional" because I know some people may not want to go out of the way and they might just want to relax in the city before venturing around the ring road, but I am always about having all ze options when I plan my trip, so if a morning extravaganza interests you before you explore the city, these are great locations and adventures to look into! If you have a little bit extra time to spend in the city, let's say, 3 days in Iceland, these are great options to add in addition to your explorations around the South Coast!
Whale Watching Tour
If you want a quiet morning on the sea observing and photographing enormous sea life, a whale watching tour is a great option to start out your day in Reykjavík and it's an awesome way to contribute to sustainable tourism in Iceland. Whaling has been a huge industry in Iceland ever since the 12th century and by putting your money towards observing these creatures rather than eating or exploiting them, you are putting less demand for whale products and more money towards their preservation. There are a couple of great tours that run out of the city, but Elding is an original, sustainable, and family-run whale watching tour that runs out of Reykjavík. They put responsible travel first and they have many tour options including twelve different options for whale watching tours, but I recommend the Reykjavík Premium Whale & Puffin Watching Tour. It's a little bit more expensive than the classic tour, but you're with a smaller group in a smaller boat which gives you better access to the whales and more private experience. For more information about the tours, you can visit the Elding website.
Climbing Mt. Esja
This was one hike that was on my to-do list while exploring Iceland but was never fulfilled since I was on a bit of a time crunch. This 4.3-mile hike will take you up around 2000 feet in elevation and give you a stunning view of Reykjavík and the surrounding sea. The trail is marked as medium difficulty and since Iceland is known for being cold, wet, and windy, you want to make sure you take along the right gear to keep you warm and dry. If I were ever hiking in a spontaneous, torrential downpour, I trust my Mountain Hardwear Stretch Ozonic Pants, Patagonia Better Sweater 1/4 Zip, and my RAINS Classic Raincoat to keep me feeling cozy and toasty on the trail. They're like my holy trinity when hiking, so if you're in need of some quality gear, peep those and you won't be disappointed!
Before you head out, just make sure you have plenty of water, a map of the trail, and snacks to keep you fueled up!
Soak In The Blue Lagoon
If you plan on scooting around the whole ring road after chilling in Reykjavík, it's a really good idea to write a visit to The Blue Lagoon into your itinerary since it's only 40 minutes away from the city center and the perfect place to go after flying. If you're hesitant about booking your visit, I have a whole blog post written about my experience at the Blue Lagoon and if it is even worth it. I know that a lot of people have differing opinions about going and whether or not it's touristy, so read that blog post if you want more details about planning a visit, but if you're already set on ticking the Blue Lagoon off your travel bucket list, you can book your spot here; just make sure you do it well in advance. That post also has a lot of other information about the lagoon including restaurants, where to stay, and the logistics of booking, so if you're in need for the low-down, then the blog post covers that as well.
Explore the Reykjanes Peninsula
A spot that is pretty popular for photographers, but not so much the masses is the Reykjanes Peninsula. If you don't know where that is location-wise, it's that barren-looking landscape you scoped out while landing in the Keflavík airport. It's actually a really beautiful place to see the sunrise or sunset at a place called Reykjanesviti. There are some beautiful rock formations and a lighthouse that you are able to take photos with. The road is a little rough, but I managed to rough it out in my Suzuki Jimny and I got there just fine. This little spot won't take up even half of the morning, so it's great to go here early early for sunrise, and then make it out to the Blue Lagoon on your way back to Reykjavík.
If you want to dig a little deeper and explore more of the peninsula, Kleifarvatn, Brimketill, Keilir, Hafnarberg, Krýsuvík, and the Bridge Between Continents are all great stops to add on to Reykjanesviti.
Hike To Glymur Waterfall
If you're looking for a heart-pumping, challenging hike to get your blood moving after hours in an airplane, Glymur waterfall is an incredible way to experience your first morning in (but technically out of) Reykjavík. The hike is around three hours roundtrip to the highest waterfall in Iceland, so views are a guarantee on this hike as well as a good sweat. I made the mistake of carrying around twenty-five pounds of camera gear up this thing, which I do not recommend, so pack light and enjoy a fresh cup o' coffee at the top of this beauty!
---
Coffee At Mokka Cafe
Jetlag is for real in Iceland, especially under that midnight sun if you're visiting in the summertime, so it's only fitting to begin your day getting a little pep in your step from Mokka Cafe. This cafe is one of the oldest cafes in Iceland, with decor giving you all those 60s vibes, and they were the first cafe in Iceland to install an espresso machine and serve espresso and lattes. That's pretty monumental if you ask me and is well worth the reason to pop in for a visit. Along with their retro setting, the cafe also doubles as an art gallery with the art on the walls rotating every 4-6 weeks to feature local artists, so if one catches your eye, it would make a really cool souvenir and addition to your space back home. Order the classic espresso or a latte of your choosing, maybe pick up a pastry or two, and then it's time to head to breakfast, one of the best parts of any day.
Address |
Skólavörðustígur 3a,
Reykjavík, Iceland
Hours | Every day (8:00 am – 8:00 pm)
---
Brunch At The Coocoo's Nest
Named one of the best breakfast/brunch spots in Reykjavík by locals, this place has a small menu but caters to many different diets. If you're vegan/vegetarian, they have a 'vegan surprise' brunch option that is CERTAIN to make your delight your tastebuds and if you aren't, they have pancakes, a breakfast burrito, and other breakfast combination options that are best paired with their bloody mary or mimosa drinks! Brunch is only served Friday through Sunday starting at 11:00 am, so if you can't make it there, I highly recommend heading over to Braud + Co, a very colorful bakery for some breakfast pastries (I've heard the cinnamon rolls are off the hook, so make sure you try them out).
Address | Grandagardur 23,101, Reykjavík
Hours | Friday/Saturday/Sunday (11:00 am – 4:00 pm)
---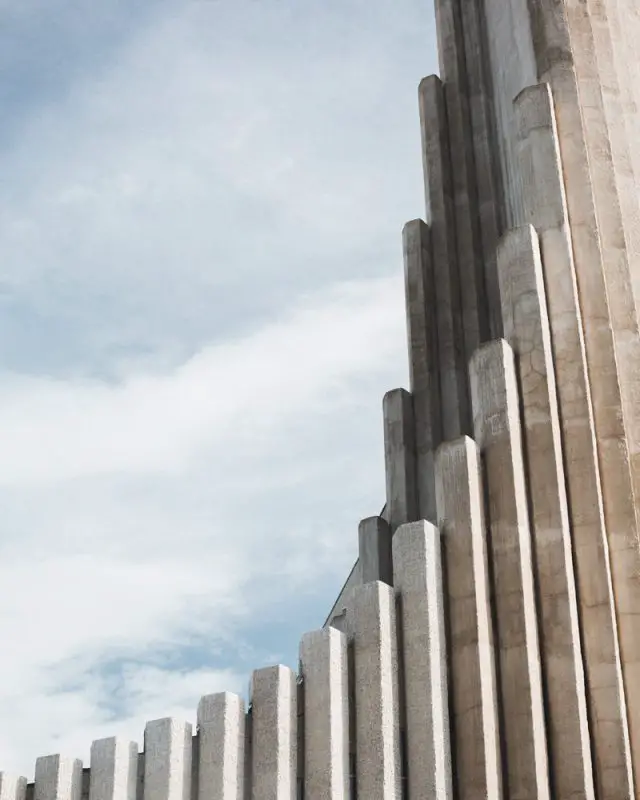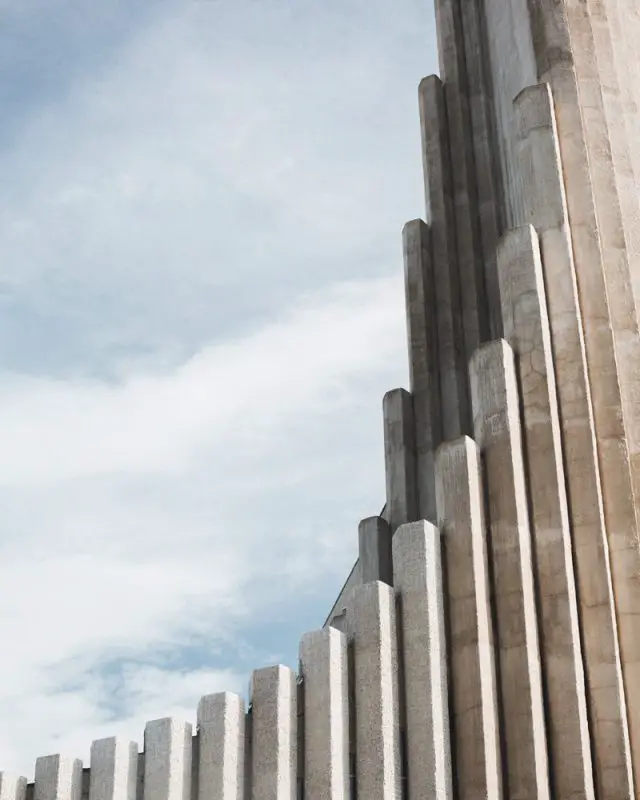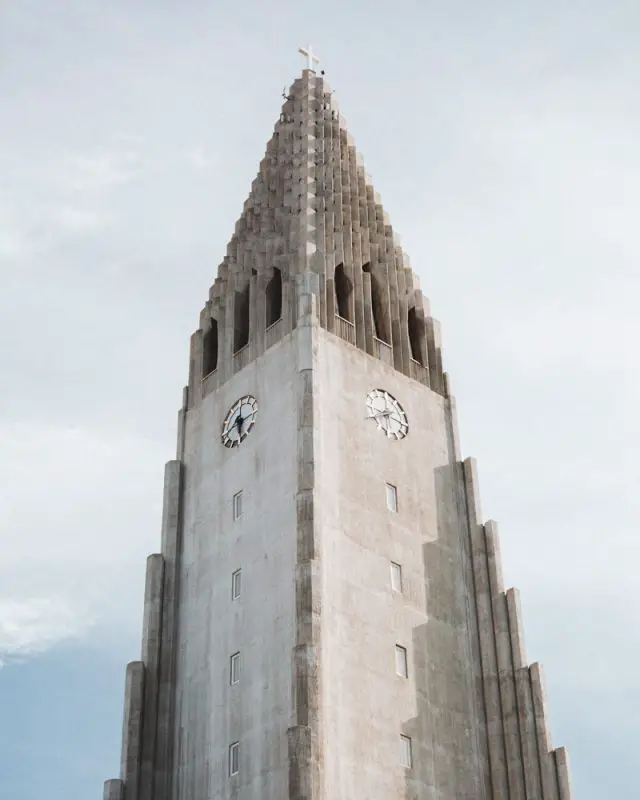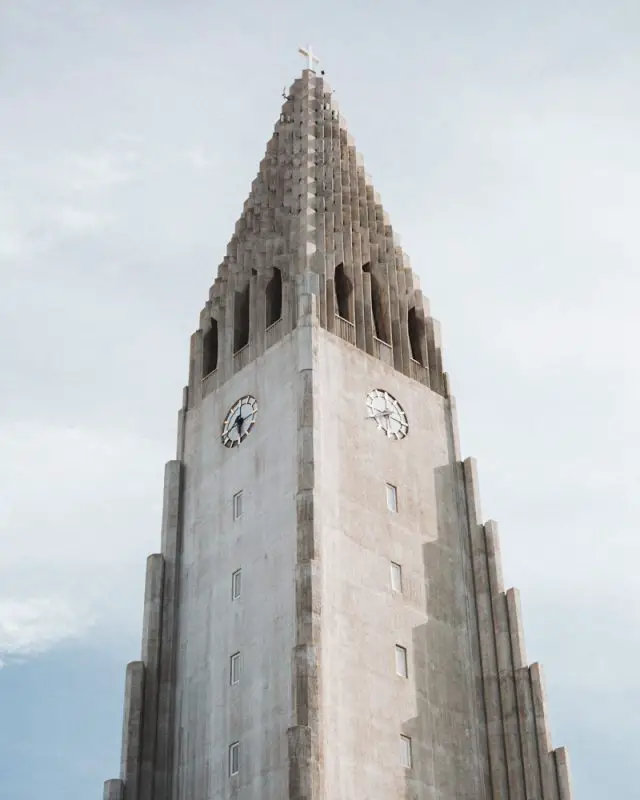 Hallgrímskirkja Church
A day in Reykjavík is not complete without paying a visit to the infamous Hallgrímskirkja Church. There is a large chance that you've seen its unique architecture peeking through the cityscape and it's finally time to venture inside or maybe even to the top of the church for a stunning overlook of the entire city.
The church was designed by Guðjón Samúelsson in 1937 because he was inspired by the way lava looks when it cools into basalt columns. You'll see columns like these if you're venturing to the black sand beach in Vík, and then you'll be able to see the stark resemblance of the structures! Among the towering columns, there is also a huge walking area where you can get all different angles of the church and admire the statue of Leifur Eiríksson, the first European to discover America. Records show that he arrived in the new world about 500 years before Christopher Columbus did, but there is still some debate as to who really discovered America.
After you pay your respects to the adventurous sailor, you can head into the church to admire the clean atmosphere, pipe organ, and tower of the church! The entrance to the tower costs 1000 ISK, and I didn't opt to go up, but it's really up to you if you want a better view of the city. Once you go inside the church, you're going to notice that it is deathly quiet in there, which I believe adds to the beauty and sacredness of the church. Walk around, admire the pipe organ, rethink Columbus Day, and then head back outside to go to the Harpa Concert Hall and the Harbor!
---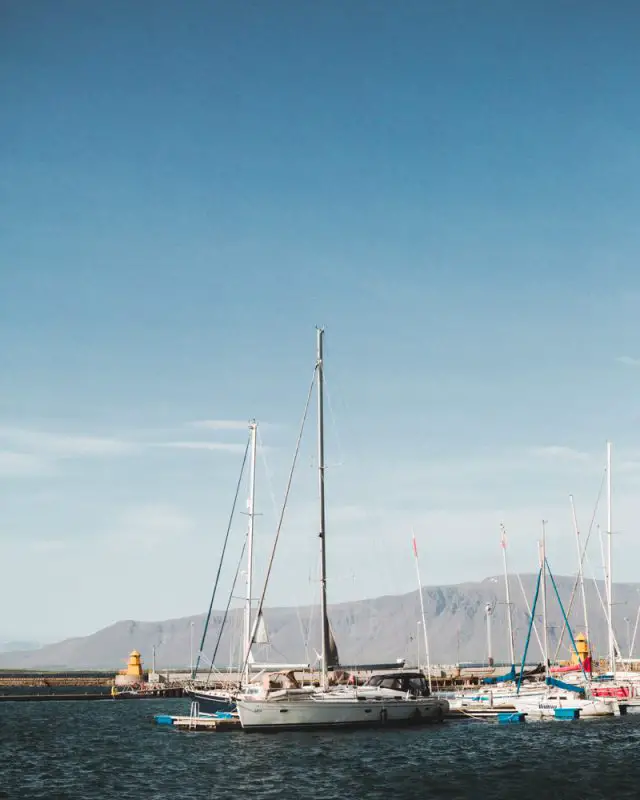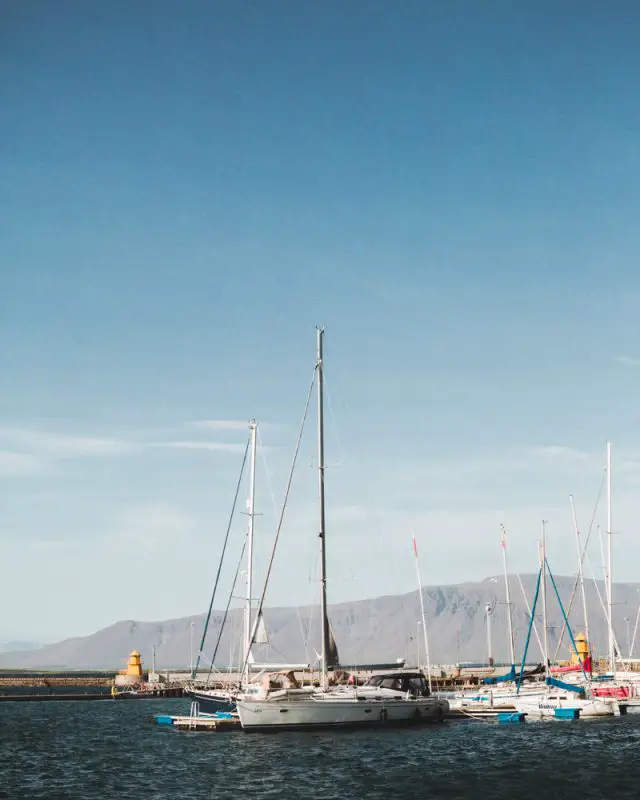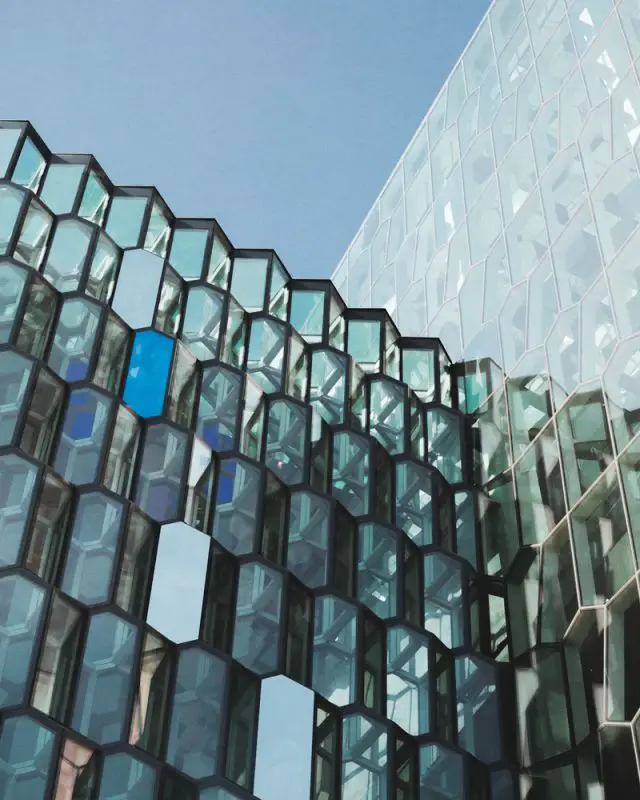 Harpa Concert Hall + The Habor
The next stop on the list features some of the most beautiful architectural eye candy in the city, the Harpa Concert Hall. The building is made up entirely out of glass and the way the light hits the different angles pieces is so beautiful at any time of the day, but the explosion of colors at sunset makes it another really cool spot to go to say goodnight to the sun. They hold events in this building all the time, so you can browse their site to see what's going to be featured next or book tickets to see the Icelandic Symphony Orchestra! It's a really beautiful place to wander in and out of, so take your time here and once you're done, you can head out and explore around the harbor.
---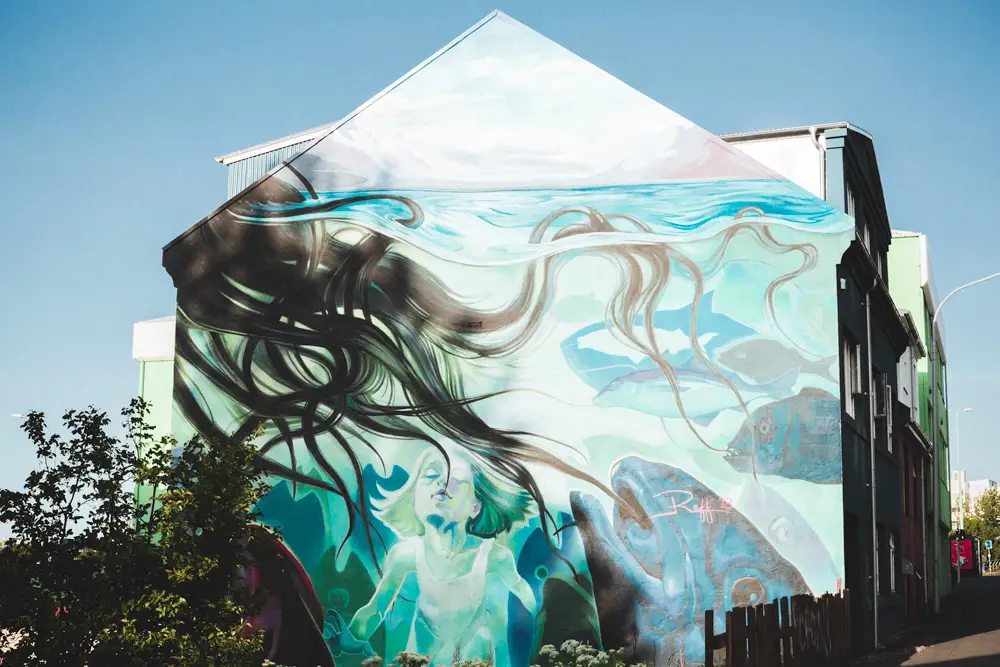 Hunting For Street Art
The street art scene in Reykjavík is probably the most unique that I have seen on my travels so far. The subjects, colors, and ideas that are brought to life look like they were designed with the city and that's a huge part as to why mural hunting in this city is so fun. There is art on the side of houses, alleyways, and any little corner you can find. Icelanders are very creative as they have the most authors per capita and each local is a musician, artist, or author. Honestly, I can see why because it would be very difficult to live here and not be surrounded by the landscape all around this country. You don't have to block out a certain time in the day to go mural hunting since you'll see it all throughout the day, but if a certain neighborhood piques your interest, don't be afraid to roam into some places to find really unique murals, just make sure you're respectful to others property.
---
Shopping On Laugavegur Street
The most popular thing to do in Reykjavík, aside from visiting the Hallgrímskirkja Church is going shopping on Laugavegur Street. It reminds me of something similar to the Royal Mile in Edinburgh, but with a cuter village-like twist on it. There are plenty of shops to go around and I recommend steering clear of the same ol' souvenir shops and wandering into thrift stores, art galleries, and other unique places to find your perfect souvenir. There are stores of every shape and size on this road so if you need outdoor gear, a wifi rental, food, alcohol, or anything else, it can be found here, so make sure you stock up before you head out of the city.
---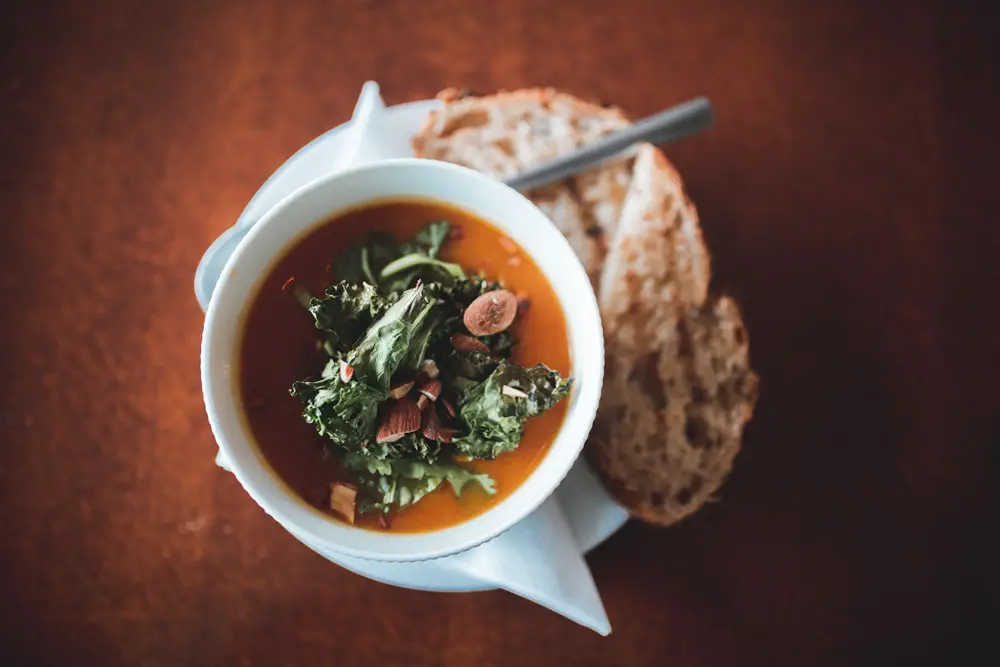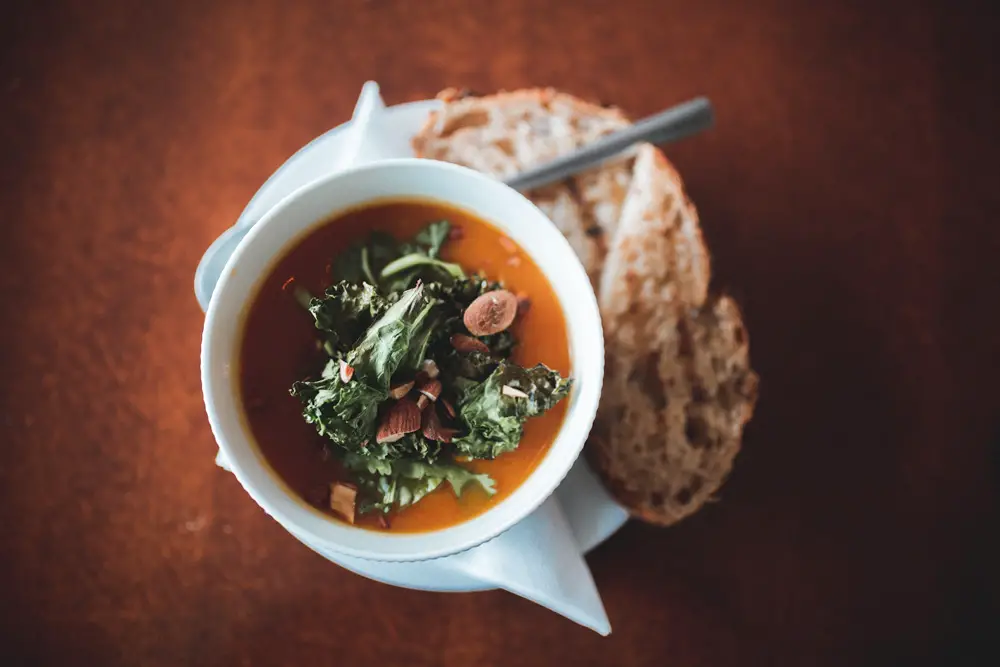 Lunch At Kaffi Vinyl
After relishing at some of Iceland's most iconic sites, there is no better place for lunch than Kaffi Vinyl! The cafe used to be the only fully vegan restaurant in Reykjavík, and while they began selling animal products on their menu again, it doesn't take away from the fact that this place is still super tasty and still vegan/vegetarian-friendly. I ended up having like this pumpkin-y soup, their soup of the day, with a side of freshly baked sourdough toast and I give it an A++ for taste and presentation! I didn't realize how hungry I was so I ended up getting the falafel burger (made vegan) also that was just as good, if not better, than the soup!
Also, how could I forget, they also have reaaaaaally great coffee with plant-based milk options if you need that afternoon pick-me-up!
Address | Hverfisgata 76 Reykjavík, Iceland 101
Hours | Monday – Friday (3:00 pm – 11:00 pm), Saturday/Sunday (11:00 am – 11:00 pm)
---
Hofdi House + A Piece Of The Berlin Wall
If history is your jam and you love going back in time, the Hofdi House is the perfect place to relive history, in a good way. The most notable historical significance of this house is that it was the location where Ronald Reagan and Mikhail Gorbachev met for the 1986 summit meeting to officially end the Cold War. Although you can't go into the house, you can enjoy the view from the outside and even take a look at a piece of the Berlin Wall. It was gifted to Iceland from the New West Berlin Art Gallery to celebrate the 25th anniversary of German Reunification. The Berlin wall was another major historical event during the cold war, and you can read more about the story of the division of Germany here.
---
The Sun Voyager
The final stop of the day is going to be at one of the most photographed sculptures in Reykjavík, The Sun Voyager. It was designed by Jón Gunnar Árnason with the intention of evoking "the promise of undiscovered territory, a dream of hope, progress, and freedom." Another one of his visions for this piece was the origins of the Icelandic people. After traveling to the island of Bockholm, Finland, a little way west of Helsinki, Jón said that he experienced the feeling of having been there, many many centuries ago when he was traveling from Mongolia to Iceland.
The story starts with speculation that Icelander's race originated in Mongolia. Centuries ago, a powerful warlord was living in the center of the known world when he sent his bravest explorers, women, scribes and other followers on an exploratory expedition in all four cardinal directions: north, east, south, and west, to conquer and discover new territories. The group that went east followed the midnight sun and eventually found themselves on the land of Mongolia and they then settled there while the scribes documented their journey to the new land.
Hundreds of years past and the documents written by the scribes were examined and the explorers found that they had another fatherland in the west. They then gathered all their things and set west for their homeland among pine trees, lakes, waterfalls, mountains, islands, and rivers until they found themselves at the shores of the Atlantic Ocean. They then built up ships to sail into the setting sun until they came upon a small island in the middle of the Atlantic.
Jón vividly remembers this story as a part of his past and he then was inspired to carve a sun ship into a granite rock and the design was then brought to life to commemorate the 200th anniversary of Reykjavík.
I think this, singlehandedly, the coolest story behind a piece of art since I have experienced many feelings of deja vu in my daily life. Obviously not on a scale of discovering a country, but I love the mystery of having felt like you've done or seen something before which makes this place really really special. While you're observing the sun reflecting off the stainless steel, think about the journey those explorers went on to discover this magical land.
---
Dinner At Prikid
To conclude this perfect day in Reykjavík, the final stop is going to be at a very punk-rock style pub in the heart of Reykjavík, Prikid. I am not entirely sure on how to pronounce that, so use your best judgment, but the food and atmosphere are really really cool and they offer awesome vegan options! Once you walk in, I recommend snagging a table upstairs by the window because you'll be able to look down on the city while you enjoy a craft beer or cocktail. I ended up having the vegan style breakfast for dinner because that's what I was feeling that day, but if you want something a little more greasy and a better pairing with a drink, the vegan burger is for sure the way to go, and if you're not vegan they have regular burgers, too.
I really avoided going out to eat while I was in Reykjavík because I heard that it was going to cost me $40, but I actually didn't spend more than $20 USD here on a really quality vegan meal and this place is really really well priced for where it is and the food that it offers!
Address | Prik EHF. Bankastræti 12, 101 Reykjavík
Hours | Monday – Friday (8:00 am – 1:00 am), Saturday (11:00 am – 4:30 pm), Sunday (11:00 am – 1:00 am)
---
One Perfect Day In Reykjavík Overview
Coffee At Mokka Cafe
Breakfast At The Coocoo's Nest
Hallgrímskirkja Church
Harpa Concert Hall + The Habor
Hunting For Street Art
Shopping On Laugavegur Street
Lunch At Kaffi Vinyl
Hofdi House + A Piece Of The Berlin Wall
The Raven's Nest
The Sun Voyager
Dinner At Prikid
---
Is there a cute foreign city that has stolen your heart? Share with me in the comments below!
Aaren
Did you enjoy this day in Reykjavik post? Save it for later on Pinterest!