(Last Updated On: 25/09/2022)
After spending two weeks traveling Iceland with my car full of camping gear, sixteen (yes, sixteen) peanut butter and jelly sandwiches consumed, and fourteen nights at the best campsites in Iceland, it's safe to say that there are some real gems around the island to stay at (not to mention the views that come along with them). 1200 miles on my little Suzuki Jimny and I wholeheartedly believe that camping is the best way to see Iceland, especially with the loose rules for the campsites. You can show up at the absolute buttcrack of dawn and pitch your tent so it makes traveling incredibly flexible and carefree. Here in the states in an absolute digital bloodbath trying to make reservations for our national parks in peak season, but in Iceland, you kinda just show up, pay your dues, and be on your way.
If you are considering camping or campervanning your way through Iceland, trust me, the views, price, and the stillness of nature is going to be the cherry on top of your entire trip. Luckily for those who like a little bit more "upscale" camping experiences, a lot of these campsites have running water, showers, toilets, and other little amenities that kind of make it feel like you're glamping. Since wild camping is now illegal in Iceland, you are required to stay at the designated campsites that are plotted around the island, and to have the best experience, you obviously want to stay at the best ones. So, without further ado, I present to you the twelve best Iceland campgrounds that you must stay at during your trip.
This post may contain affiliate links for the products or services I mentioned, but as always, all opinions are my own. I make a small commission, at no extra cost to you, when you make a purchase or booking through these links. This helps to support this space and keep me blogging, which I am so extremely thankful for.
---
Frequently Asked Questions About Campsites In Iceland
---
Is Wild Camping Legal?
No, wild camping is illegal in Iceland. As of November of 2015, it is illegal to camp in tents, campervans, RV's, or anything of the sort outside of designated campgrounds UNLESS there is written permission from a landowner. However, some of these landowners can forbid people from camping in the area entirely if it's a threat to wildlife and camping is prohibited in the following areas: Álafoss, Dyrhólaey, Hverfjall/Hverfell, Mývatn, Skógarfoss, Snæfellsjökull National Park, to name a few, and this website has a complete list of prohibited camping areas as well as more in-depth regulations for wild camping.
Is Camping in Iceland Expensive?
Not at all. In fact, it's one of the cheapest (and best) ways to travel the country. I never spent more than $20 / night on a campsite.
Do campsites in Iceland have modern facilities?
While there are hundreds of campsites around the ring road, if you're staying at the main campsites in the ring road cities, most of them have modern facilities, however, there are some campsites on the sides of the road are really just a small area with a picnic table. The campsites that I have listed below are a good mixture of both, but all of them have at least a toilet so you don't have to worry about finding a place to relieve yourself. Unless you're really picky about having facilities, it's nothing to worry about and all listed below will cover you no matter where you are on the island.
Tent camping vs campervanning in Iceland?
TENT/CAR CAMPING
I spent two weeks in Iceland tent camping! I was fortunate enough to be blessed with some of the best weather Iceland has ever SEEN. I'm talking clear blue skies for almost two weeks and I never got caught in rain which is unheard of. I was running on a smaller budget and a car rental and tent camping runs slightly cheaper than a campervan, so I think it depends on your comfort levels and your budget with which one you choose. Next time I visit Iceland, I would love to be in a campervan or some type of 4×4 vehicle.
CAMPERVAN
Seeing Iceland in a campervan is one of the most popular ways to see the country! One of the biggest pros of renting a campervan over a car is you'll be protected from the elements in the event that Iceland has some bad weather turn up. Also, you'll be able to stay warm, cook your favorite meals, and stay comfortable! This is a great option if you don't have camping gear of your own.
Cozy Campers is one of the best campervan rental companies in Iceland to consider because they are family-run, come with no hidden fees, unlimited mileage, free pick-up, and drop-offs, and are built with comfort and the highest quality in mind. So no matter if you're on an adventure in the best weather or tucked away Iceland's notorious weather, you're going to be comfortable every step of the way!
What is an Iceland Camping Card? Is it necessary/worth it?
The camping card that you can purchase in Iceland is a pre-paid card that gives you access to 41 campsites around Iceland. It is valid for 28 nights including two adults and two children and it can only be used during the summer season: June 1st – September 15th. The cost of the card is 19,900 ISK (~$160 USD). You can purchase it online before or when you arrive. So, is it worth it? During my two weeks camping in Iceland, the campsites took up about $250 of my total Iceland trip cost. I paid as I went, however, most of the campsites listed below are not a part of the 41 campsites that the camping card applies to. If you're a solo traveler as I was, I really don't think it's necessary unless you're big on saving as much money as possible, but if you're a family or couple, it'll be worth it since the campsite prices are per person per night. The only downside is that you're limited to the campsites that you can stay at, but saving a couple of hundreds of dollars might be worth it for you. It all depends on your budget and travel preference. You can read more about the camping card and the individual campsites here.
---
1 | Ólafsvík Campsite
ADDRESS | Island, Ólafsvík, Iceland
PRICE | 1500 ISK / night (per person)
FACILITIES | toilets, hot showers, kitchen, dining area, + hiking trails
OPEN DATES | May 10th – September 30th
WEBSITE | Ólafsvík Campsite
STAY IF EXPLORING | Snaefellness Peninsula
If you're planning on visiting the Snaefellness Peninsula, you do not want to pass up this campsite, especially the drive. If you're headed up here from Reykjavík, you'll want to take the scenic route on road 54 and thank me later. This place has cooking facilities, a dining area, toilets, sinks, hot showers, and a great view. It's a little bit out of the way from all of the sights, but if you're coming up to Snaefellness from the south via road 54, make sure you take road 54 all the way to Ólafsvík because the drive is one of the most beautiful on the whole peninsula. The campsite is rather small, but I found that it had a really quaint, community vibe to it that I fell in love with when I arrived. The campsite is also a great spot to base yourself if you're planning on going up north to the West Fjords since the site is on the northern side of the peninsula.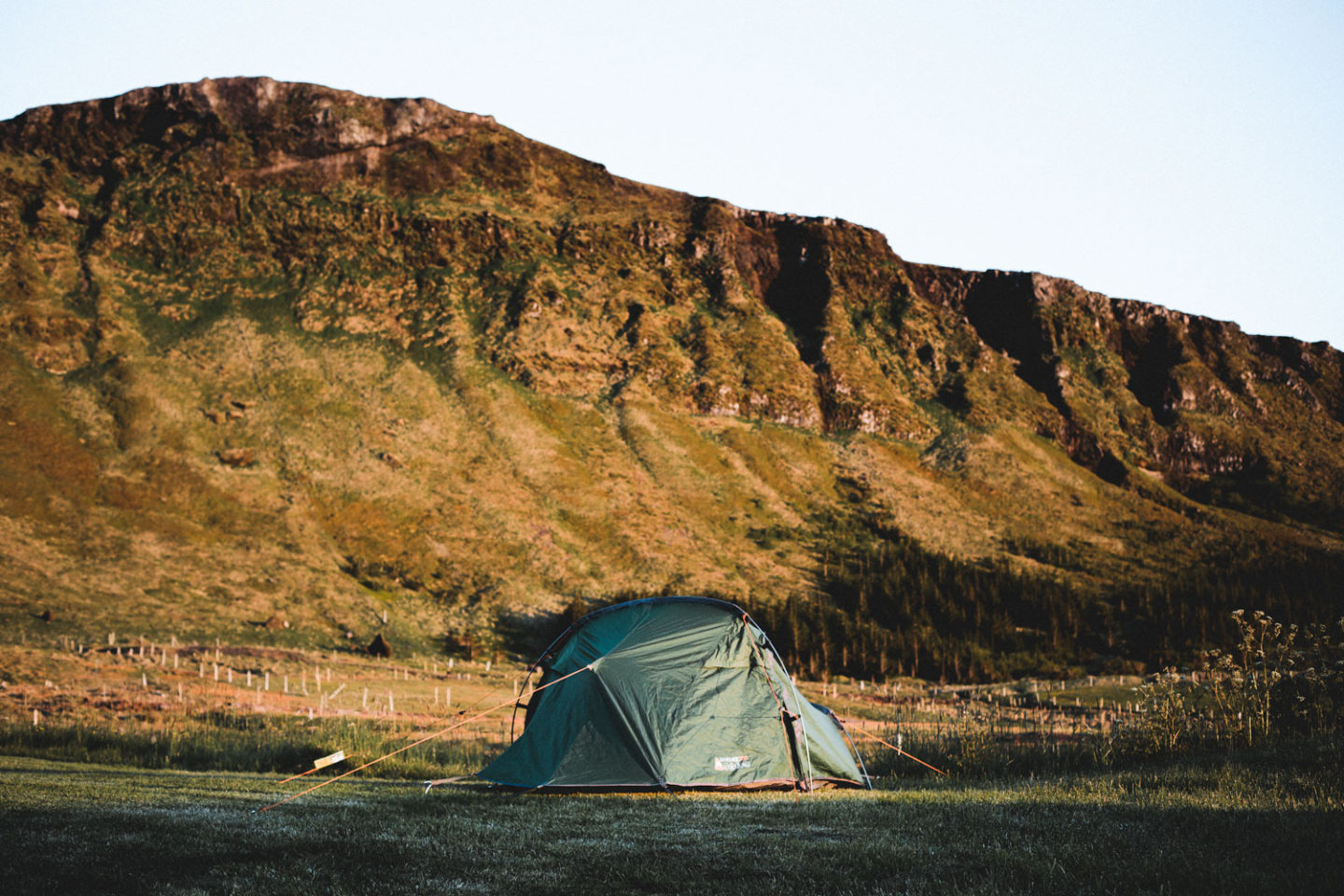 ---
2 | Tjaldsvæðið Flókalundi Campsite
ADDRESS | Flókalundur, Iceland
PRICE | 1400 ISK / night (per person)
FACILITIES | toilets, hot showers, sinks, + great views
OPEN DATES| Last week of May – first week of September (weather depending)
WEBSITE | Tjaldsvæðið Flókalundi Campsite
STAY IF EXPLORING | (South) West Fjords
Let me start this campsite off by saying that this place took me by COMPLETE surprise when I arrived and the entire drive there. I drove roughly six hours from Ólafsvík all the way up to Flókalundur and I think I took a very special route because the road I took up there was one of the most beautiful things that I saw in my entire two weeks in Iceland and I somehow ended up taking a faster, less scenic route on the way back down to the South coast. No matter which way you go, you definitely want to base yourself here for the night because this place sits on the top of one of the fjords, literally. The view is spectacular and there is even a gas station, hotel, and minimart down the road if you need to stock up on supplies. The campsite itself doesn't come equipt with too much: showers, toilets, sinks, some picnic tables, and that's about it. There is a common area, but it's really just a place where you can clean your cookware and this place doesn't have a stove either. One of the best parts about the campground is that there is a hot pool about a two-minute walk down the road (pictured below), and if you get there early in the morning, you'll have the place all to yourself.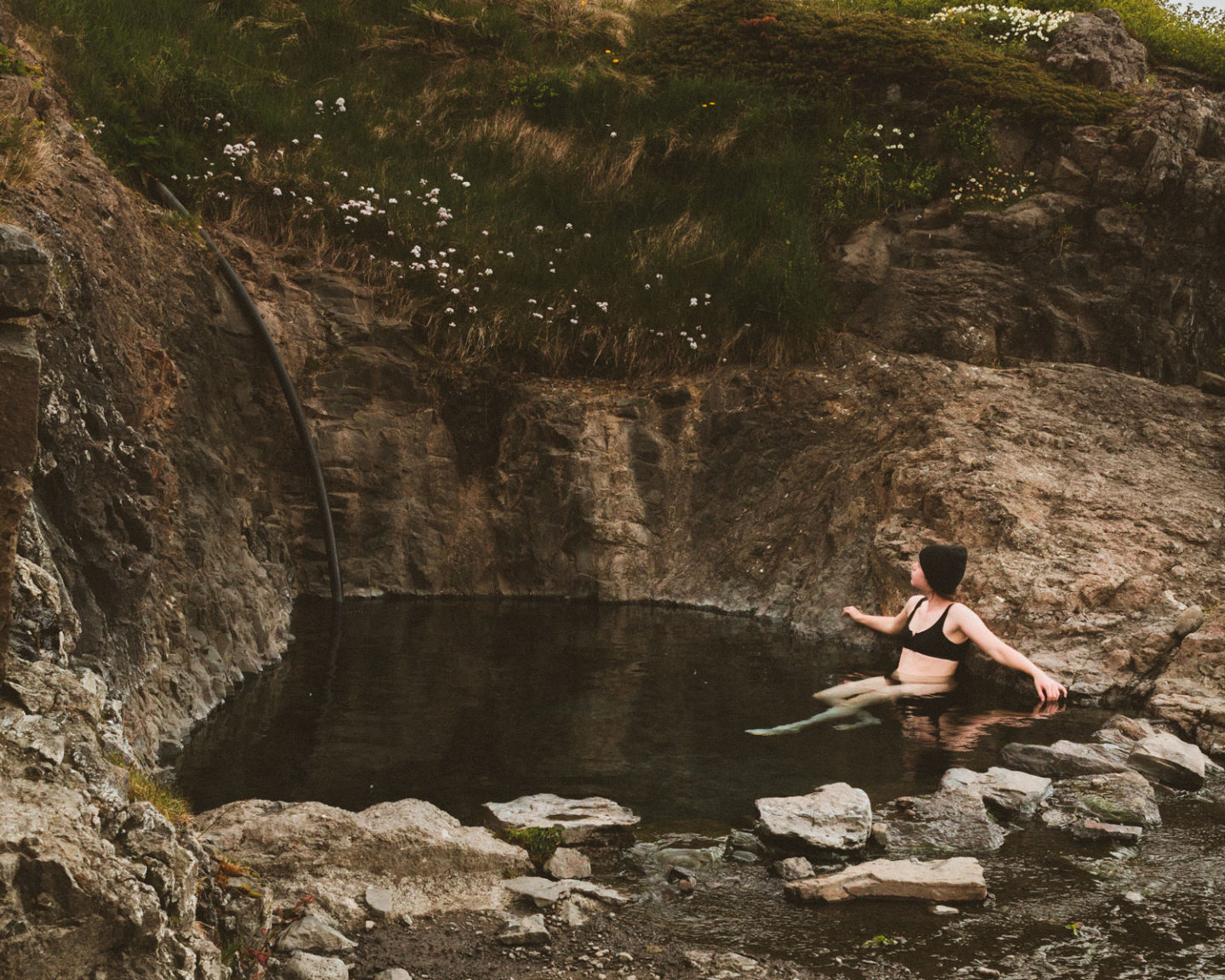 ---
3 | Tunguskogur Campsite
ADDRESS | Skógarbraut 400 Ísafjörður, Iceland
PRICE | 1800 ISK
FACILITIES | toilets, hot showers, dining area, kitchen, + sinks
OPEN DATES | May 15th – September 15th
WEBSITE | Tunguskogur Campsite
STAY IF EXPLORING| (North) West Fjords
When I first planned to visit Ísafjörður, where this little campsite is located, I did not expect to fall in love with it as much as I did. I loved it so much, maybe as much as Þakgil that I swapped my plans to stay the night here instead of a second night at the Flokdalundi Campsite (listed below). The campsite is underneath the waterfall you see below and it has trees and little nooks that you can find your own quiet space in. The campsite has hot showers, toilets, sinks, wifi, cooking and dining area, so you'll find an upgraded camping experience here if you've been roughing it out for the last couple of days. In terms of rankings, this is probably my second favorite campsite that I stayed at. One more thing to note, Ísafjörður is an incredibly cute little port town that you need to venture into for lunch and a coffee while you're there. There are colorful houses, artwork, and it's interesting to see the way of life here since it's in one of the most secluded parts of Iceland right after the North coast. You can fuel up and pick up groceries here if you need be, too.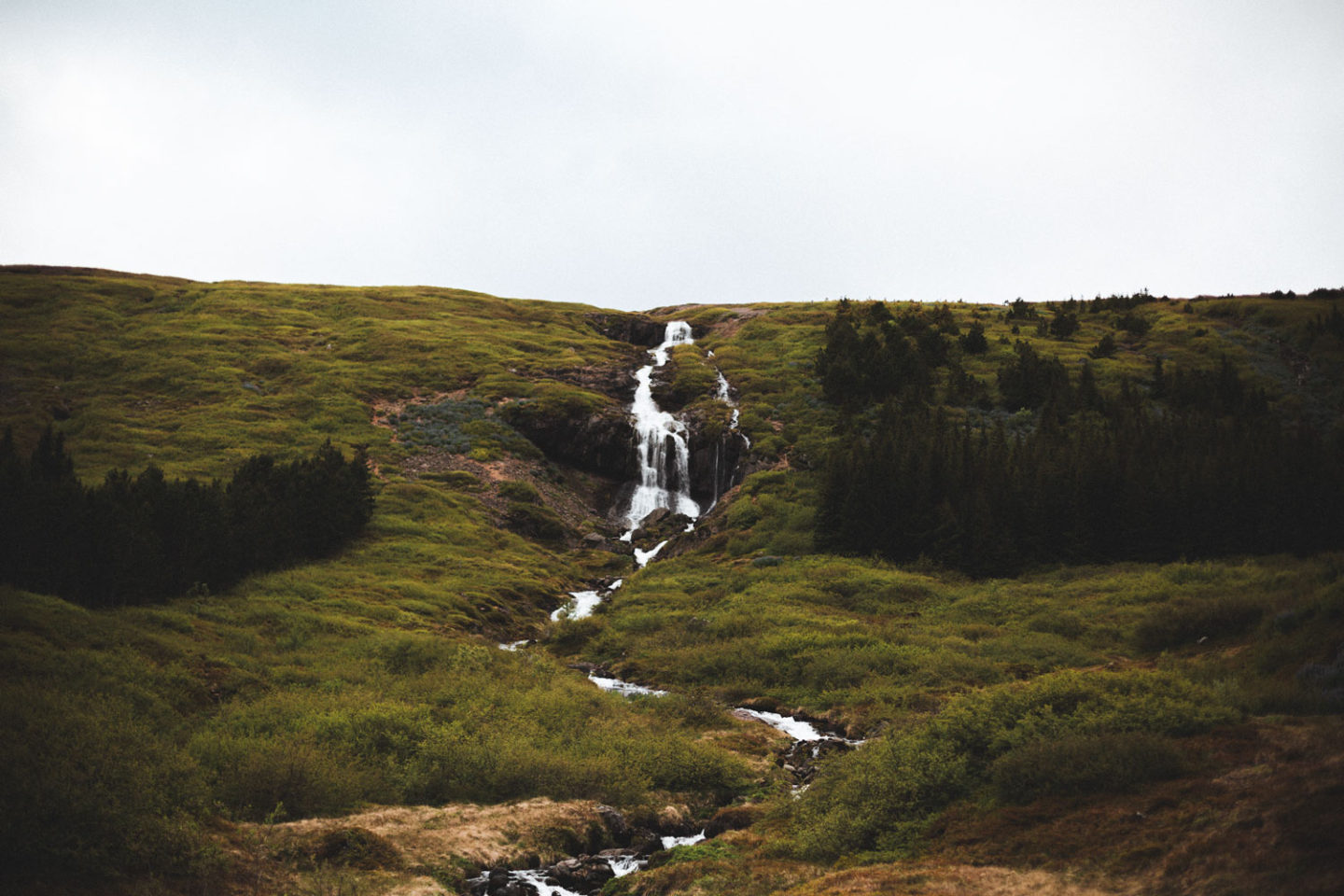 ---
4 | Reykjavik Campsite
ADDRESS | Sundlaugavegur 32, 105 Reykjavík, Iceland
PRICE | 2400 ISK
FACILITIES | toilets, hot showers, kitchen, cookware, wifi, + dining area
OPEN DATES | All Year Round (with Limitations)
WEBSITE | Reykjavík Campsite
STAY IF EXPLORING | Reykjavik / Starting Your Trip
Out of all the campsites on this list, the Reykjavik Campsite is the most built up and ammenity-filled, which makes a lot of sense because it's in the capital city and a lot of traveler's base themselves there for their first night so that they can stock up on supplies, food, gas, before heading out around the island. It has a large area for tents, campervans, and RV's and you have access to the kitchen, cookware, hot showers, toilets, wifi, dining area, and picnic tables. The thing about this site that I liked the most was that they had a common area where you were able to charge your electronics since most of the other campsites don't have that. It's a bit of a first world problem considering how rustic camping in Iceland is, but I appreciated that I had a working space for ze blog. It's a great spot to start off your first night in Iceland and if you happen to need camp fuel for your stove, people leave their extra ones here, so don't bother buying one from an outdoor/rental store if you need it.
---
5 | Grindavík Campsite
ADDRESS | Austurvegur 26, 240 Grindavík, Iceland
PRICE | 1800 ISK
FACILITIES | toilets, hot showers, kitchen, + cookware
OPEN DATES | Year Round
WEBSITE | Grindavík Campsite
STAY IF EXPLORING | Reykjanes Peninsula / Ending Your Trip
Grindavík Campsite is a crowd favorite among travelers and unfortunately, I wasn't able to stay here myself, but it has been rated one of the best campsites in Iceland. This campground is right on the Reykjanes Peninsula, so if you are coming in on a later flight and need a place to crash, it's only twenty minutes away from the Keflavík Airport. If you plan on going to the Blue Lagoon or exploring more of the peninsula, which you should, this is a great place to call home before heading north into Snaefellness or to the South Coast. They say that the campsite is state of the art and built with the camping enthusiast in mind, so I believe this will come with modern amenities just like the one in Reykjavík. This is a great place to base yourself at the end of your trip if you are catching an early flight out of the country, so stop by and see what all the chatter about this place is.
---
6 | Hamragarðar Campsite (Seljandifoss)
ADDRESS | Gljúfrabúi, 861 Hvolsvöllur, Iceland
PRICE | 1500 ISK
FACILITIES | toilets, hot showers, dining area, kitchen, cookware, + wifi
OPEN DATES | Summer months (weather depending)
WEBSITE | Hamragarðar Campsite
STAY IF EXPLORING| South Coast
What better way to get a crowd-free photo of the iconic Seljandifoss than to camp in a field next to it? I ended up loving this campsite a whole lot more than I thought I would and I loved how spacious the whole campground was. You can see both waterfalls Seljandifoss and Gljúfrabúi from where you camp which makes it great if you plan on waking up early to see them or if you want to walk behind Seljandifoss for sunset (highly recommend). Plus, it's right off the road, easy to get to, and great amenities with toilets, showers, cooking areas, cookware, wifi, and a little dining area inside the main office. I think the waterfalls are probably the coolest part of the campsite and other than that, it was pretty standard and has everything you'd want facility-wise, but does that not take away the fact that this is the best one in the area.
---
7 | Þakgil Campsite
ADDRESS | Sigtun 6, Vik 870, Iceland
PRICE | 1400 ISK / night (per person)
FACILITIES | toilets, hot showers, dining area, hiking trails, + best view
OPEN DATES | Summer Months (weather depending)
WEBSITE | Þakgil Campsite
STAY IF EXPLORING | Vik / The South Coast
If you're basing yourself in Vík for the night, don't even bother staying at the campsite in town and make your way to this gem, Þakgil Campsite. The campsite is down a pretty rugged road right where the village begins to end and it is suitable for all cars, so you don't have to have a 4×4 to get here. The scenery is one-of-a-kind and the hiking trails in the area are some of the best in the area. Not too many people venture out since the drive from Vík is around 30-40 minutes, but if you want a unique and special camping experience, this is for sure your spot. It has hot showers, toilets, sinks, cabins, and while it doesn't have it's own cooking facilities, it does have a dining area inside a cave that you can enjoy. In the evenings, they light up the cave with candles and it's so peaceful enjoying your dinner as the sun goes down (or doesn't if you're going in peak season). One thing to keep in mind here is that there is a large chance you're not going to have service, even with a portable wifi hotspot, here so be prepared to unplug for a day or two. It does us all a little good, especially when you're surrounded with views like these. Out of all the campgrounds that I stayed at during my road trip, this takes the cake for being the best one.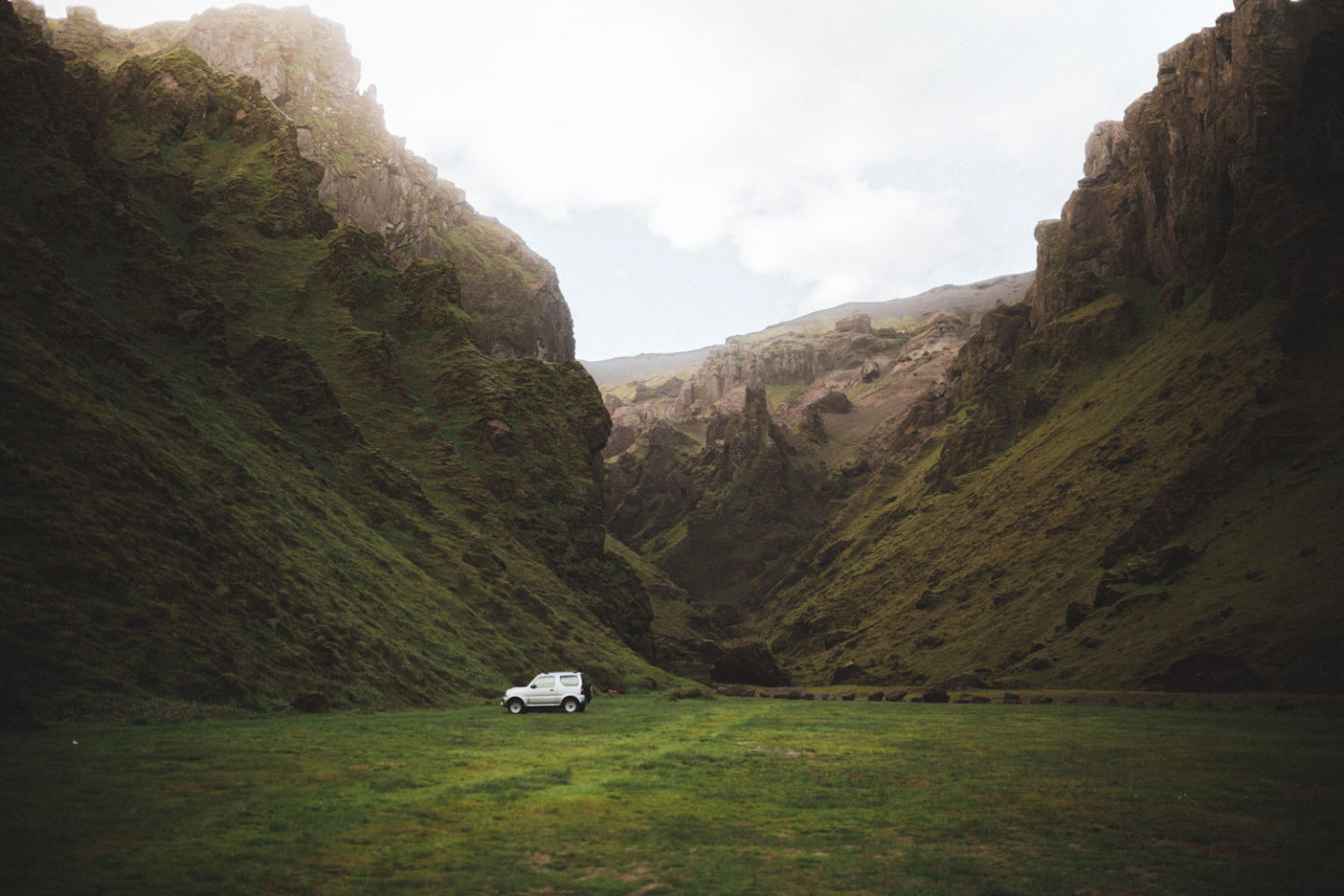 ---
8 | Svínafell Campground
ADDRESS | Svínafelli, 785 Öræfum, Iceland
PRICE | 1700 ISK / night (per person)
FACILITIES | toilets, hot showers, kitchen, dining area, cookware, + sinks
OPEN DATES | May 1st – September 30th
WEBSITE | Svínafell Campground
STAY IF EXPLORING | Vatnajokull National Park / South Coast
I like to call Svínafell Campground the quieter sister campsite to Skaftafell. They are both within the same area if you're exploring Vatnajökull National Park or the Jökulsárlón Glacier Lagoon, so basing yourself at either one is really based on your preference. The reason I enjoyed Svínafell as much as I did was that it was a smaller campsite in this farming village, so the campsite wasn't crowded or loud. It has a larger dining area that almost looks like a type of dining hall for events with cookware, stoves, a fridge, bathrooms, and hot showers, so there's plenty of space to move around and find a little spot to yourself. The campsite is in a great location since it's halfway between Höfn and Vík, so if you plan on making some larger or smaller hikes in the area, this is a great spot to take your shoes and socks off after a long day and enjoy the silence of the farm. If you plan on hiking around the national park, Svínafell is only ten minutes away from where the trails start, so you can have a quieter campsite and an early hiking day with this spot.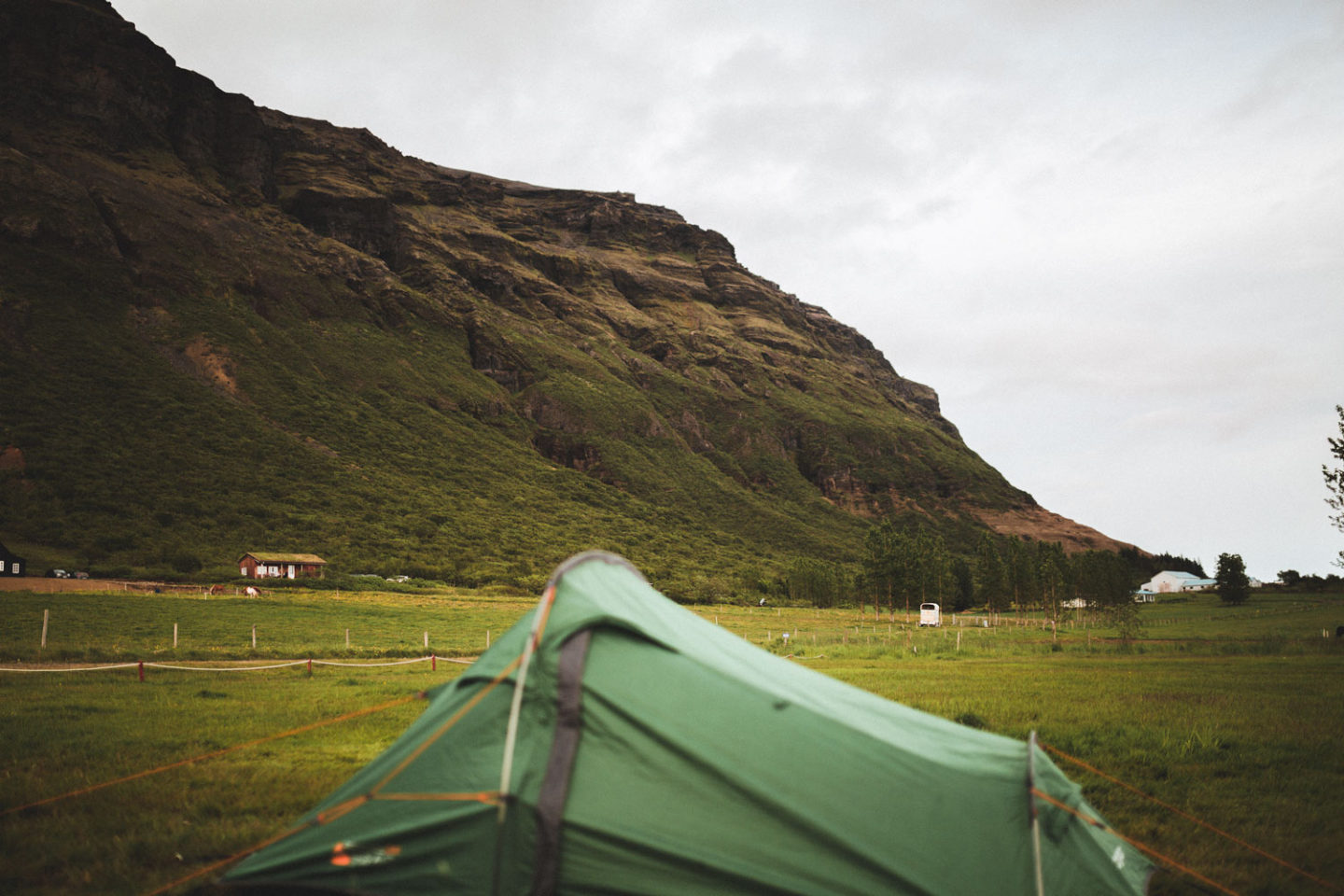 ---
9 | Ásbyrgi Campsite
ADDRESS | 66.0178° N 16.5055° W
PRICE | 1500 ISK
FACILITIES | toilets, hot showers, sinks, hiking trails, + washing machines
OPEN DATES | 1st May – 30th September
WEBSITE | Ásbyrgi Campsite
STAY IF EXPLORING | Northeast Iceland / Ring Road
After driving past the East Fjords and through the most desolate part of Iceland, there is no better place for a detour/pit stop in Husavík and then Asbyrgi for gorgeous nights stay deep in a canyon. Many people pass right through this part of Iceland without giving it a second thought, but while you're staying here you don't want to miss Asbyrgi Canyon, Dettifoss, Lake Myvatyn, and the hiking trails that will lead you through a stunning forest scenery. There are hikes for all levels, even families, and they are marked specifically on the map, but always check with the national park staff before you set out. The campsite has grills, toilets, hot showers, washing machines, a kitchen, a dining area, and a vibe that makes you feel like you're living among the elves. This campground is loved by the local people and many come here to celebrate festivals. This spot is often overlooked since most people head straight to Akureyri, so relish in nature here first and then head to Iceland's second city.
---
10 | Hofsós Campground
ADDRESS | Skólagata, 565 Hofsós, Iceland
PRICE | 1300 / night (per person)
FACILITIES | toilets, hot showers, hiking trails, sailing, + pool access
OPEN DATES |  May 15th – 16th September
WEBSITE | Hofsós Campground
STAY IF EXPLORING | Northern Iceland
If you're not much of a forest dweller, but love a good coastal view, Hofsós is going to be your golden nugget, and this place has an infinity pool. After visiting Asbyrgi and passing through Akureyri, this is a great place to rest up before following the rest of your North Iceland itinerary. The campground is a bit of a detour off-road 1, but you don't want to miss the sights in this area. Plus, it's a road trip so who's in a rush? The campsite has basic amenities although I am unsure whether it has cooking facilities or cookware, so be mindful of that. I brought my camp stove with me so I always had a second option if there were no cooking facilities and you'll more than likely be doing the same thing unless you're in a campervan, but in case you aren't, make sure you pack a camp stove. This is a great campground before heading to the Snaefellness Peninsula, West Fjords, or to another campsite on the north coast of Iceland and with that infinity pool view, you can't pass up this place.
---
11 | Egilsstaðir Campground
ADDRESS | Kaupvangur 17, 700 Egilsstaðir
PRICE | 2000 ISK
FACILITIES | toilets, hot showers, laundry, bike rentals, a cooking area, a dining area, + wifi
OPEN DATES | All Year
WEBSITE | Camp Egilsstaðir
STAY IF EXPLORING | East Iceland
If you're traveling Iceland's ring road counterclockwise, then you are definitely going to want to make a stop in Eglisstaðir before you head to the North. Ironically enough, this little town is home to "possibly the happiest campsite in Iceland", according to the campsite's website. The village is in an optimal spot for exploring the east fjords and nearby waterfalls, so plan on doing a bit of exploring while you're there while you stock up on food, fuel, and laundry. If you're here during the summer months, there is a perfect spot to see puffins that just slightly out of the way, but doable. Put 'Borgarfjörður Eystri' into your Google Maps and it'll take you to some cliffs where hundreds of puffins are nesting, but make you go early in the morning or late in the evening since they'll be out at sea during the day. Many people don't think there is much to this area so they pass right through but do a little bit of digging and you'll find some hidden treasures. The campsite has all the amenities as all the other campsites listed, except it also comes with wifi, which is really nice if you need to update family or catch up on some work.
---
12 | Skaftafell Campsite
ADDRESS | Möðruvellir 4, Möðruvallavegur, Iceland
PRICE | 1750 ISK / night (per person)
FACILITIES | toilets, hot showers, dining area, kitchen, sinks, wifi, + hiking trails
OPEN DATES | All Year Round
WEBSITE | Skaftafell Campsite
STAY IF EXPLORING | Vatnajökull National Park / South Coast
Another great campsite that is close to Vatnajökull National Park is the Skaftafell Campsite. The grounds are large so it's easy to find your own little corner separated by trees and it has great amenities and an optimal location if you're in for a bit of hiking. This campsite is quite popular during the summer months so expect it to be more bustling than its sister campsite Svínafell, but you can really choose either or since they are quite close together. The hiking trails leave from the campsite and they have trails for both families and experienced hikers. They are also incredibly well-marked and one of the hikes leads to this beautiful waterfall pictured below. If the weather happens to be a bit dreary and rainy the mood of the landscape is incredible. It feels like you're out in the middle of nowhere surrounded by these massive basalt columns. I was only able to make this hike and another to the glacier, but make sure you check out the other hiking trails for even greater views around the national park, it's huge.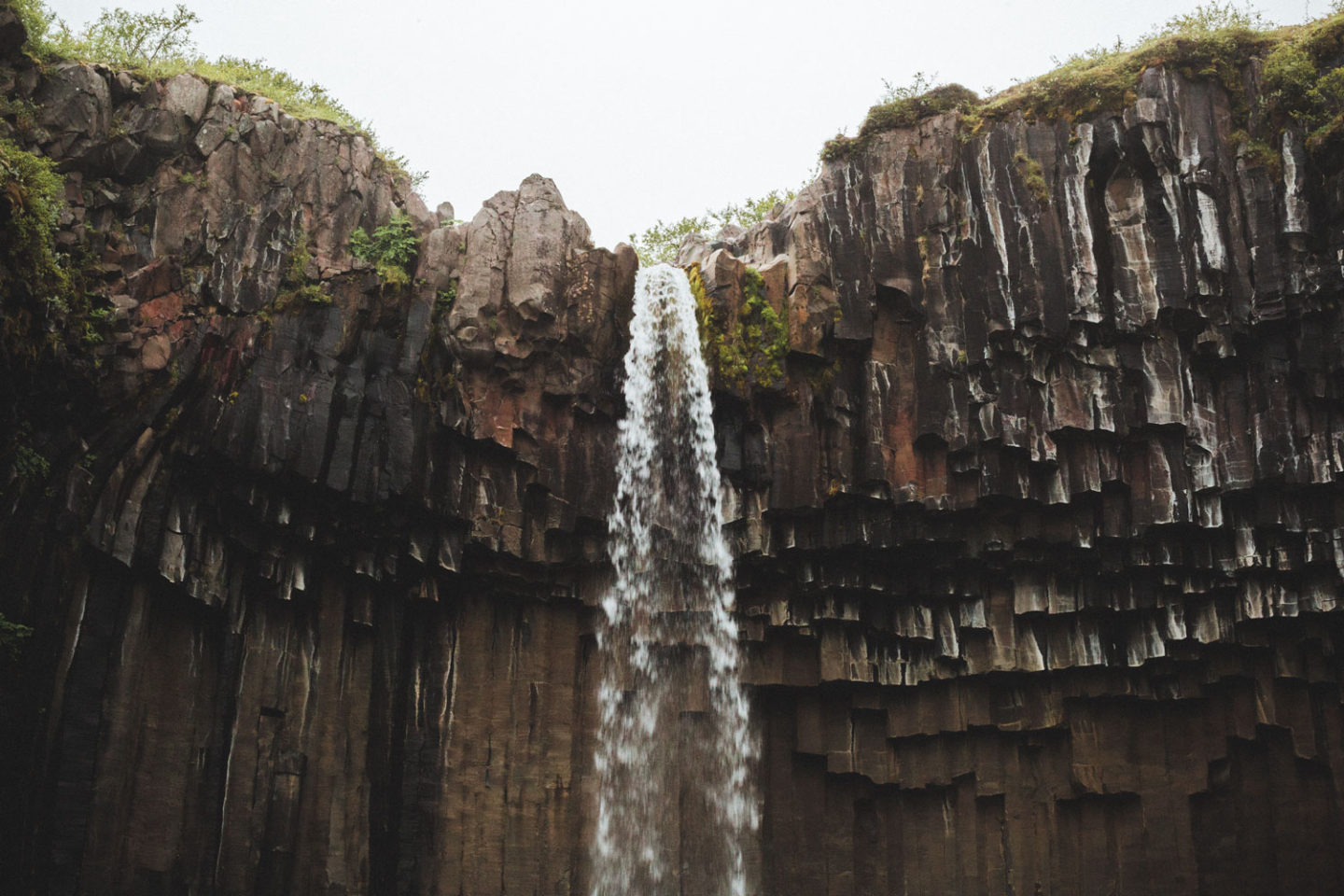 ---
*BONUS | Hólar Campsite
ADDRESS | Tjaldstæðavegur, 551 Hólar í Hjaltadal, Iceland
PRICE | 1200 ISK / night (per person)
FACILITIES | toilets, running water, hiking trails, + stunning atmosphere
OPEN DATES | Summer Months (weather depending)
WEBSITE | Hólar Campsite
STAY IF EXPLORING | North Iceland
Right down the road from the Hofsós Campsite is the Hólar Campground that is the crème de la crème on this list and you'll be glad that you've stuck around for the bonus campsite. Hólar is one of Iceland's most historic sites. The village has a church dating back to the 11th century and the present church dates all the way back to the mid-1700s. The church was built from red stones quarried from the mountain Hólabyrða and is the oldest stone church in Iceland. In the last couple of years, areas around Hólar have been a point of interest for archaeologists as over 40,000 items have been found in the area and you can view them in the schoolhouse. If you have the time, book a tour out to Drangey Island for unique hiking, sailing and wildlife adventure. If that wasn't enough to make you stay, the campsite is right in the middle of a forest-like landscape so you'll have that true, wilderness feel during your stay here. The facilities aren't as grand as other sites but you are camping, after all; a little bit of dirt doesn't hurt.
---
A Map Of The Best Campsites In Iceland
Use this map to help you navigate the best campgrounds in  Iceland! For best use, download this map to your smartphone so you can use it offline (instructions here).
---
MORE TRAVEL TIPS FOR YOUR TRIP TO ICELAND:
– 21 Genius Tips For Traveling On A Budget
– How To Book The Cheapest Flights Anywhere In The World
– 20 Incredibly Easy Ways To Save Money For Travel
LOOKING FOR MORE ICELAND TRAVEL RESOURCES? CHECK THESE OUT:
– 50 Iceland Travel Tips For An Incredible Trip
– Iceland Packing List: What To Wear In The Land of Fire & Ice
– One Day In Reykjavik: BEST Things To Do In Iceland's Capital
– How Much Does An Iceland Trip Cost: My Two Week Budget Breakdown
– Is The Blue Lagoon Worth It? Everything To Know Before You Go
– The Top 10 BEST Hostels In Reykjavik
---
WHERE WAS YOUR FAVORITE PLACE THAT YOU'VE CAMPED? LET ME KNOW IN THE COMMENTS BELOW!

DID YOU LOVE THESE CAMPSITES? SAVE THEM FOR LATER!