(Last Updated On: 25/02/2022)
The Blue Lagoon was a stop on my Iceland itinerary that I went back and forth on for a couple of weeks because I wasn't sure if the entire experience would be worth it. I was told that it was overpriced, touristy, and not worth going since there are other Blue Lagoon alternatives that you can see around Iceland, but I was also told that it was incredible, a once-in-a-lifetime opportunity, and a must-see if you're visiting Iceland. I think with the division of opinions it can be incredibly hard to make the decision of whether or not the Blue Lagoon is something you want to add to your list of must-sees while you're in Iceland, so in today's blog post, I am going to give you the nitty-gritty of the Blue Lagoon, what my honest opinion of it was, my personal experience, and what you should consider before you book your tickets.
As you can tell by me writing this blog post in the first place is that I did secure my reservation at the Blue Lagoon and I did go to this iconic place. It was a little bit surreal being somewhere that you've only ever heard and seen about through photos and fellow travelers, so I honestly thought this place was spectacular. I thoroughly enjoyed my time spent here at this futuristic day spa and if you're on the fence about going, read on and this will answer any questions you have!
This post may contain affiliate links for the products or services I mentioned, but as always, all opinions are my own. I make a small commission, at no extra cost to you, when you make a purchase or booking through these links. This helps to support this space and keep me blogging, which I am so extremely thankful for.
---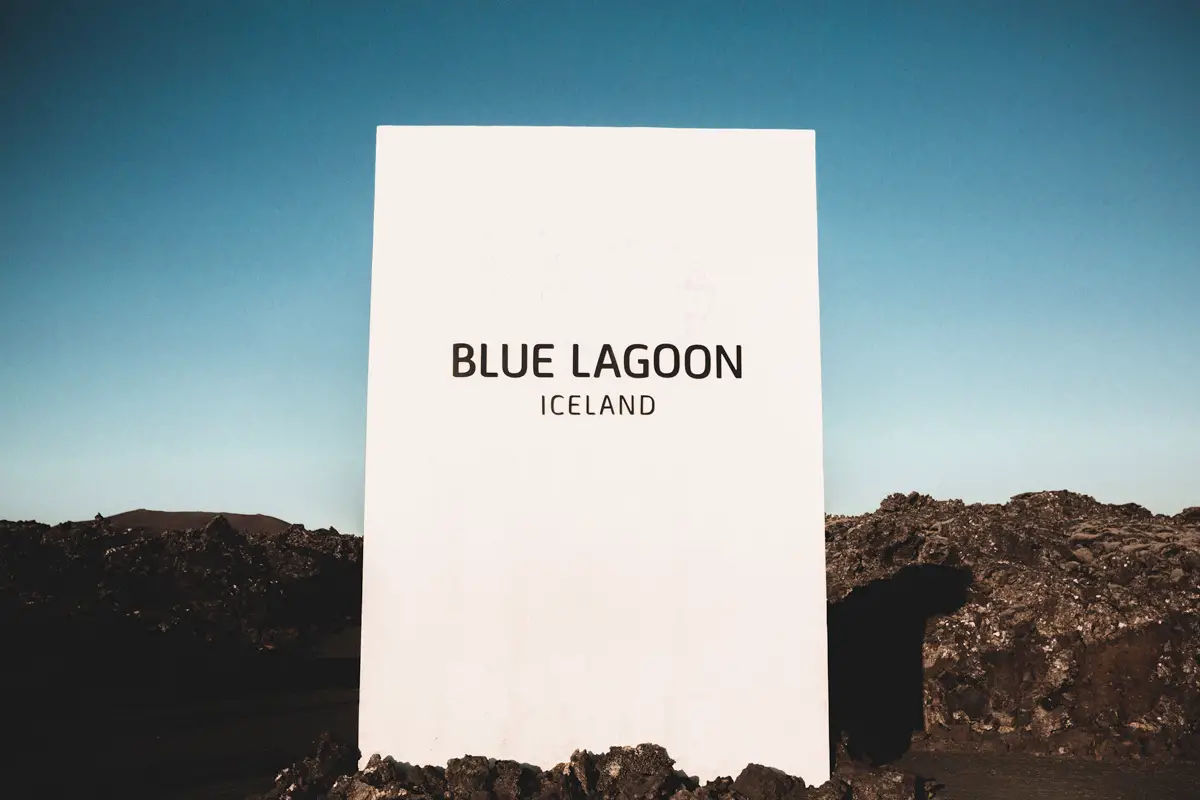 Facts About The Blue Lagoon
The lagoon was accidentally created.
A lot of people think that the Blue Lagoon is a naturally occurring phenomenon, but really the water comes from the power plant next door. Originally, the water was expected to seep into the lava rocks and disappear, but sedimentation of the lava rocks made them watertight, so the water settled on top of the rocks, therefore creating the Blue Lagoon. People began bathing in the water and they discovered its healing properties for people suffering from psoriasis and the rest is history. It is now the most visited tourist attraction in the country!
The water temperature is around 37-39 C (95-100 F).
There are signs posted around the lagoon that state how hot the water is, but when you get in initially, it doesn't feel this hot at all. In fact, it felt more like lukewarm bathwater to me, close to the ramps where you can get in, but if you stick next to the generators, those are the spots that have the hottest water. The lagoon is quite large, so explore around and some pockets are definitely hotter or cooler than others, but I wouldn't say that the entirety of the lagoon is always over ninety degrees. Either way, it feels good against the Icelandic weather and wind.
The water is blue to the eye, but it's really white.
The water in the BLUE lagoon appears to be blue because of the way the silica in the water reflects the sun, but the water is actually white!
The lagoon is surrounded by lava that is 800 years old.
On your way to the Blue Lagoon, you're going to feel like you are quite literally in the middle of nowhere since all you see is lava fields for miles and miles, which so happen to be almost ten centuries old!
---
Where Is The Blue Lagoon Located?
The Blue Lagoon is located on the Reykjanes Peninsula or about twenty minutes from the Keflavík International Airport in Iceland. If you're planning on going to the lagoon from Reykjavík, it's about a forty-minute drive to the lagoon. If you feel like you're in the middle of nowhere, you're probably going in the right direction.
ADDRESS |
Nordurljosavegur 9

, 

Grindavik 240, 

Iceland

 

 
---
How To Get To The Blue Lagoon
There are a couple of different ways to get to the Blue Lagoon and these are going to be the main four options since you're unable to walk here from both Reykjavík and the airport because of the distances. I highly recommend renting your own car and getting to the Blue Lagoon via self-drive, but if you're uncomfortable with driving yourself or aren't road tripping around the country, there are three alternatives you can take.
Via Self-Drive
If you are already planning on renting your own car, it makes zero sense to pay for a transfer, so you can easily drive yourself to the lagoon. The road is not a difficult drive by any means and the driving directions are quite simple to get there. If you like being on on your own schedule and being able to come and go as you please, this is a really good option for you. The parking at the lagoon is plentiful and, not to mention, free.
However, if you plan on getting a couple of drinks, the max is two, or a glass of wine at dinner then you'll want to leave your rental car in Reykjavík and book a transfer from the city. If you have a friend or partner that will drive for you then there is nothing to worry about, but please don't put yourself in danger after a couple of drinks in the lagoon. It's not worth risking yours and everyone else's safety.
---
Via Bus Transfer
If you need to book a transfer but aren't trying to spend a ton on a private transfer, a bus is definitely the way to go. There aren't any reputable public buses that worth looking to book a transfer from, so I highly recommend booking with Destination Blue Lagoon. They are in direct partnership with the Blue Lagoon and their bus runs every hour going from Reykjavík to the Blue Lagoon and then the Blue Lagoon back to Reykjavík. They also have buses going to and from the airport every hour and you can view the bus schedule here. If you have a different type of route, you can also choose one of their custom routes if you plan on going from Keflavík (airport) to the Blue Lagoon and then on to Reykjavík.
The buses are quite flexible, so you can plan when you want to be dropped off and then you can board the next bus into town when you're ready to leave.
Roundtrip Tickets to and from Reykjavik/Airport | 5500 ISK
One Way Tickets | 2750 ISK
---
Via Taxi
Taxies are expensive in Iceland, there is no way around it, but if you have a little bit of extra money to spend and you don't want to navigate a bus, you may want to consider getting a taxi. There are some pros and cons to getting a taxi, one of them being that you're able to be dropped off and picked up whenever you'd like, however sometimes there may not be a driver in the area and it might take upwards of 30 minutes to find someone to come and get you. You can also ask your taxi driver if they can schedule another driver or themselves to come back and get you at a certain time, but then you lose the flexibility to be able to stay longer or leave earlier.
Keep in mind that if you're going to the airport to the Blue Lagoon and then to Reykjavík, you're looking at about an hour of driving total, which comes out to be close to $100 USD for a ride, one way. It's way worth your while to get the cheaper bus option, but if you're more comfortable having a driver and not a fan of buses, then this may be your preferred method to get there.
---
Via Private Transfer
If you have a little bit more money to spend and want the convenience of a private driver, then a private transfer might be your transportation of choice. These are on the pricer side since they rely on how many people you have in your party and what type of car your driver needs, and if you want them to wait for you while you're in the lagoon, you'll have to pay them if you're staying longer than the recommended amount of time. It all adds up, but you're paying for the convenience of having your luggage already stored in the car and you'll have someone already waiting for you to drive you to your hotel or guesthouse once you're done at the lagoon. On top of that, if you decide that you want to leave the lagoon earlier or later, you have direct communication with your driver so that you can work out a new time and they will still be there waiting for you, unlike a taxi. You're essentially paying for convenience, but you have the extra money to make it happen and you feel more comfortable traveling this way, then it might be worth the splurge for you.
---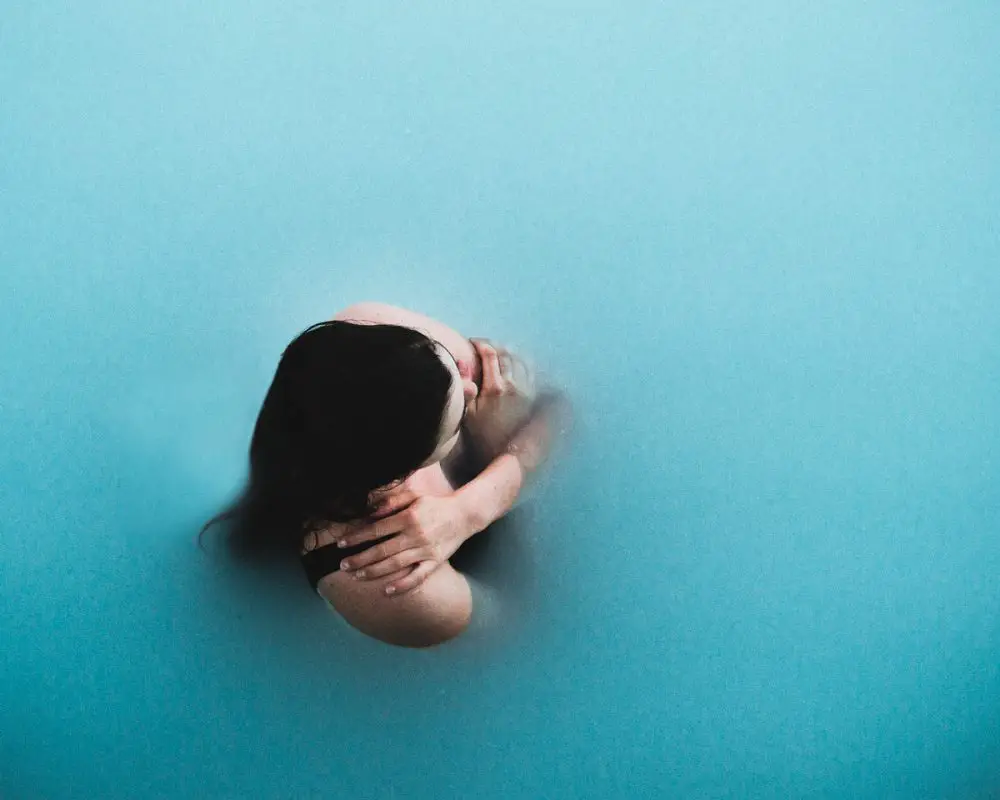 How Much Does The Blue Lagoon Cost?
Tickets – *must be pre-booked
Depending on the package and time you choose, the Blue Lagoon can be either obnoxiously expensive or reasonably priced. You can purchase ticket's in three different tiers: comfort, premium, and retreat spa. The earliest and latest times in the day are going to be the cheapest prices while the other hours are all going to be priced the same.
I bought the comfort ticket and I didn't feel that I missed out on anything because you get the entrance to the spa, a free welcome drink, face mask, and a free towel with the ticket price and I didn't mind writing that into my Iceland trip cost. The only thing that the premium ticket gives that the comfort doesn't is a bathrobe, slippers, a second face mask, and an optional reservation at the restaurant there. Then the retreat spa is the ultimate luxury spa experience if you love a good luxe spa day. I was not trying to drop over $500 USD on a day spa ticket, so of course, I didn't opt-in, but if you like that kind of thing and have the budget for it, by all means, book the experience, but you're not going to miss out by reserving a lower tier ticket.
If you just want the experience and don't care for luxuries, the comfort ticket is definitely the way to go. You get access to the swim-up bars, mask bar, locker room, saunas, and you can easily make the most out of your visit by staying for a few hours.
Comfort Ticket | 84 Euros ($93 USD)
Premium Ticket | 105 Euros ($117 USD)
Retreat Spa Ticket | 551 Euros ($614 USD)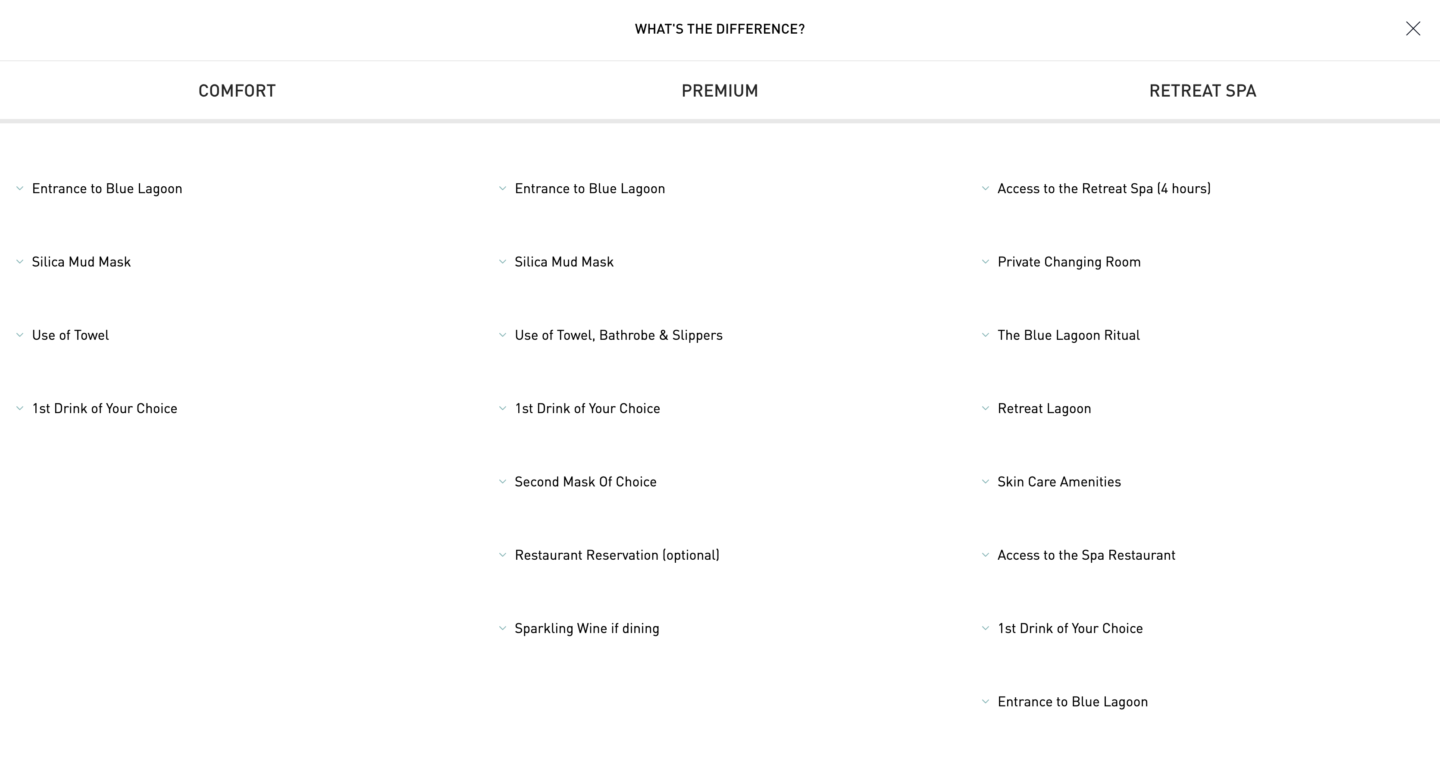 ---
Food + Drinks
There are four different dining options within the Blue Lagoon with all different price ranges. You can dine at the Michelin Star Moss Restaurant, aka really expensive and fancy, the Lava Restuarant, The Spa Restaurant (retreat spa only), and the cafe. If you want to dine at any of the restaurants, you should book your reservation well in advance to secure your spot, but you're always welcome to grab something at the cafe for a small snack.
I was camping, so I had the luxury of having all of my food in the back of my car, but if you're not camping, then grabbing something at the cafe is just as easy.
The Moss Restaurant | $$$$
set menus starting at $109 USD (veg-friendly)
The Spa Restaurant | $$$
price included with retreat spa ticket (veg-friendly)
The Lava Restaurant | $$
starters starting at $20, main dishes starting at $40, desserts starting at $17 (veg-friendly)
The Cafe | $
international cuisine – prices vary, but cheapest options at the spa (veg-friendly)
---
When Is The Best Time To Visit The Blue Lagoon?
Time of Year + Time of Day
There isn't a bad time of year to visit the Blue Lagoon since it stays busy year-round, but there is a bad time of day to visit the Blue Lagoon, and with like many attractions in Iceland, you want to avoid going late morning, high noon, and early afternoon. There will never be a time when you have the lagoon entirely to yourself, but if you book the earliest and two latest time slots, you'll be guaranteed to find a pocket where you can have an area to yourself. These times have the least amount of people at them. I arrived for the second latest time slot and I found it to be not too crowded, but next time I go I am going to book the earliest time slot since, personally, I think that is the best time to book.
To The Aiport vs. From The Airport
If you're coming to Iceland from anywhere in North America, chances are you're going to be on an overnight flight to Iceland, landing in the early morning hours. A lot of people will book their Blue Lagoon tours for after they land and this is a great way to unwind after being cooped up in a plane all day, but the warm water is going to make your whole body relax, which may make it hard to stay awake to adjust to the time change. For that reason, I think the perfect time to go is before you head to the airport to fly home. This way you can unwind, clean-up, and maybe enjoy a nice meal overlooking lava fields before you head to the airport. I didn't do this on my trip since I flew out at around 10:00 am and I didn't want to miss my flight, but if you have a midday flight, this is a perfect pit stop before you leave Iceland.
---
Lagoon Hours
Jan 1 – Jan 31
8:00 – 21:00
Feb 1 – Mar 3
8:00 – 22:00
Mar 4 – May 30
8:00 – 21:00
May 31 – Jun 27
7:00 – 23:00
Jun 28 – Aug 18
7:00 – 0:00
Aug 19 – Dec 31
8:00 – 21:00
---
How Long Can You Spend There?
Once you're inside the lagoon, you can stay for as long as you like: an hour, two hours, three, or even all day if you want to. I recommend somewhere around two hours and that will give you time to enjoy the steam masks, grab your drink, and put on your face mask. Once you're soaking for a few hours that's when your hands and feet become pruny so most people do not spend all day here unless they book the retreat spa experience, but I think that 2-4 hours is a really good amount of time to explore the lagoon, enjoy your drink, relax, possibly enjoy a dinner, and then head out to your next stop.
---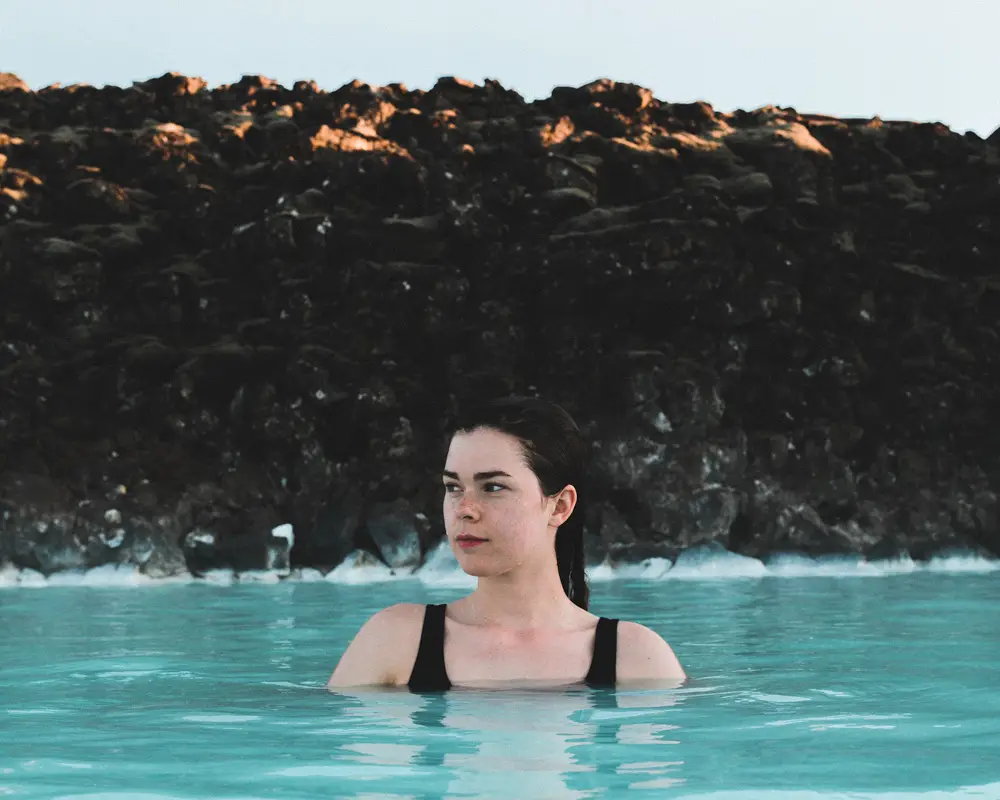 FAQ's About The Blue Lagoon
How Long Should I Spend There?
If you want to fully maximize your time at the lagoon, I recommend spending 1.5-3 hours there.
Where Do I Store My Things?
With any ticket that you purchase, you're going to receive a wristband that gives you access to an empty locker of your choosing. Choose your locker, put your belongings in it, and then scan the spot on the locker wall to lock it. Through some 21st century technology, your bracelet will remember what number locker you chose, so to unlock it, you'll scan the same spot on the wall and your locker will open. Repeat the same process to lock it again. They are extremely secure and I had no issue leaving my camera and other valuables locked in there.
If you have luggage, you can either leave it with your private transfer, or you can put it into the luggage storage at the lagoon, but it will cost around 550 ISK (~$5 USD) to store it there until you leave.
What Are The Locker/Changing Rooms Like?
There are separate locker rooms for men and woman and the facilities are all extremely modern. You walk through and there are larger areas with benches and lockers for you to collect and store your things as well as these large cubicle looking areas that have a huge mirror and hair dryers for you to use. Once you walk through, you're going to make it to the shower area which is a small area on the right that has a shampoo, conditioner, and a shower gel that is free for you to use.
There used to be a large stigma about going to the lagoon since you had to shower naked in front of people, but now there are a few open showers with no privacy and the rest have a frosted glass around them and a door. The showers don't lock, but it is obvious when someone is using the shower, so you don't need to worry about someone walking in on you. The areas by the lockers aren't exactly private, but trust me when I say that no one will be staring at you since they're going to be focused on getting dressed or undressed.
Do You Really Have To Shower Naked?
Yes, but they have updated the showering area so now there are showers with frosted glass and door for more privacy.
Will The Water Ruin My Hair?
There is a huge misconception that the water in the lagoon ruins your hair, but this is not true. The water in the lagoon has high amounts of sulfur and silica, which are great for your skin, but not great for your hair. While they're not harmful, they will cause a lot of mineral build-up in your hair which will make it incredibly stiff and difficult to brush out and manage. So, to answer the question, no the lagoon water will not ruin your hair.
I didn't pack anything along to help with the mineral build-up, so it took me around three full days after dipping in the lagoon for my hair to be fully brushed out. Not even my trusty Wet Brush could get the job done, and that's when you know it's bad. So if you want to treat and prevent your hair from being a stiff, tangled mess, these are some great tips for keeping your hair manageable.
How Do You Prevent + Treat Blue Lagoon Hair?
Put your hair in a bun
If you want to protect your hair at all costs, the easiest and quickest thing to do is put your hair in a bun or wear a type of swimming cap and avoid getting it wet.
Rinse your hair + apply conditioner before going into the lagoon
You have to shower before you get into the lagoon anyway, so while you're in there, make sure you rinse your hair thoroughly and apply a generous amount of the conditioner they provide in the shower. Keep the conditioner in your hair while you swim around so that your hair will keep its moisture.
Wash your hair after getting out with a clarifying shampoo
The mistake I made was letting my hair air dry whenever I left, so before you leave, make sure you hop back in the shower and wash your hair a couple of times, probably twice, with a clarifying shampoo. This will help get the excess minerals out of your hair. There is shampoo in the shower area, I am not 100% certain if it's clarifying or not, but you can use this to rinse your hair out after if you're not keen on bringing your own.
Apply a deep conditioner sans protein
After you're done washing your hair, you'll want to put some moisture back into with a deep conditioner, or you can easily just slap some coconut oil onto it overnight and call it a day. Once you wake up, wash and dry it like normal and if your hair still feels a bit stiff and grimy, then wash with the clarifying shampoo and conditioner again and you'll be good.
Remember that it's nothing to stress about
I went all in and dunked my head 100% into the lagoon water and there is no permanent damage done to my hair or any damage at all for that matter. Your hair will bounce right back from this experience, so enjoy the few hours in the lagoon and don't stress about your locks.
How Deep Is The Blue Lagoon?
I am 5'8″ and the water never exceeded the height of my shoulders, so you can walk around throughout the entirety of the lagoon. I would say it never gets deeper than around five feet, so if not being able to see the bottom kinda freaks you out, you'll always be able to feel it.
What Does The Floor Of The Lagoon Feel Like?
It was smooth so you definitely don't need any type of water shoe or sandal.
Can I Stay The Night At The Lagoon?
You can stay overnight at the lagoon at one of the two hotels their, Silica Hotel and the Retreat Hotel. They are both luxury hotels connected to the lagoon so expect to drop a pretty penny to stay here for a night. The Retreat Hotel's highest priced room even has its own private lagoon pool that you can dip into!
---
My Experience At The Blue Lagoon
I planned to take a dip in the Blue Lagoon at the beginning of my trip since my flight left too early weeks later to be able to see it on the way to the airport before I flew home. My flight to Iceland landed at around 8:00 am, and I still needed to get my rental car and my luggage, which meant that I would be arriving at the Blue Lagoon when all the tour buses did at around 10:00 am. For this reason, I booked my ticket for the day after I landed at 7:00 am. I woke up extremely early to make sure that I showed up on time to my reservation, but when I went downstairs, my car wouldn't start. I had left the lights on, the battery died, and my car had to be jumped. What a great start to day two in Iceland, right?!
My car rental company's office didn't open till nine and the blue lagoon didn't open till 8:00 am so I had to wait a couple of hours till both opened so that I could explain the situation. I was able to get my car jumped and then when I called the Blue Lagoon office, they let me come at anytime that day, whenever I wanted. I booked a time slot for 9:00, two hours before the lagoon closed since I figured that it wouldn't be too busy when I arrived. After driving forty-minutes from Reykjavík, I arrived at the infamous Blue Lagoon. The parking lot wasn't full at all and I remember seeing a lot of people leaving, so I had high hopes for the place not being too crowded when I finally got in.
I think my favorite part about this place is that they actively put the revenue they make back into the lagoon to make it better and better as the years go by, so this place looks like an extremely futuristic day spa from the inside out.
I got my wristband and made my way to the changing rooms, which I had heard that you had to shower naked in front of everyone, but I am assuming they updated the shower situation recently since they had covered showers with frosted glass. It made me laugh a little bit that people were shocked that you had to shower naked, because who on this planet doesn't shower naked? It's a completely natural and expected thing, but some people opted out of the experience because you had to do this. Anyways, as I was saying, I washed my hair and my body and made sure that I lathered up the conditioner so my hair wouldn't get ruined. Spoiler alert: I forgot to wash it after and it was still a mess. Then, I grabbed my towel and made my way to the lagoon.
There weren't as many people as I thought there would be and everyone congregated in certain areas, so it was really easy to find a small pocket to yourself. The water felt really good since the sun was setting and the temperature was starting to drop and that made it really hard to want to get out! I opted out of the welcome drink since I didn't really care to have alcohol that night, and I was driving myself home, so instead, I went to the swim-up mask bar to get my free face mask. They are GENEROUS with the amount of face mask they give you, so you can easily cover your entire face, neck, chest, and shoulders with this stuff. I was skeptical to see if it really did anything for my skin since the mask was free, but I noticed a visible difference in my skin whenever I took it off! My skin felt incredibly bouncy, hydrated, and smooth, which was a nice change since it was dehydrated from the airplane air.
I started exploring more of the lagoon in search of the hottest pockets that I could sit by and after a couple of shameless selfies, naturally, I started to people watch. I don't do this often but I didn't meet any other solo travelers whenever I went in so I was just hanging out with myself and maybe under 100 other strangers in this gigantic blue bath. It's interesting when you think about it in that light.
After I spent my time enjoying the spa, I went back into the locker room to get my camera and I asked many strangers to help me get photos. I had a certain photo in mind where I had an overhead shot of myself at the lagoon and by some stroke of incredible luck, a random lady in a towel managed to get one of my favorite photos I've ever had taken of myself. She took six photos and the sixth one happened to be THE ONE.
After I gathered my photos, I hung out until around fifteen minutes before the lagoon closed. I wanted to make sure I wasn't stuck in traffic on the way out and that the crowds in the locker room wouldn't be overwhelming, so I made my way out, got dressed, ate some dinner, and then made my way to my campsite in Reykjavík for the night.
I had a quick little time there, but I wouldn't have wanted to spend it any other way. For myself, it was one of those touristy things that you need to actively adjust your mindset so that you don't ruin the experience for yourself. My only regret was not being able to get there when the lagoon opened, but I did all that I could to get my car jump started as soon as I could. And who knows, I may have not run into the lady that took one of my favorite photos if I went in the morning, so I'd say the evening trip was still a success. I really enjoyed being a typical tourist in Iceland for a couple of hours and I can't wait to go back and do it again.
---
Is The Blue Lagoon Worth It?
In my opinion, yes, but read below.
The honest answer to this question is that it differs from person to person. Personally, I do believe that the Blue Lagoon is worth it. You are not going to get an experience like this one anywhere in the world and if you go at the right time and go in with the right mindset, you're going to enjoy your time there. Yes, it's a touristy location, but it's 100% worth the hype. I think sometimes it becomes trendy to bash on places because they're touristy, but places are touristy for a reason, and that doesn't always mean that it's a bad thing or that it will be a negative experience. I recommend making the splurge on this experience and pairing it with the best hot springs in Iceland so that you can have multiple, small spa experiences during the course of your whole trip!
If you're hesitant, the best thing you can do is give it a chance, and if you don't like it, well, you're still going to have the memory of something special AND you aren't required to go back if you don't want to. With all touristy things, the experience is entirely what you make of it, what time you go, and your mindset. I would recommend the Blue Lagoon to anyone heading to Iceland. 100%.
---
MORE TRAVEL TIPS FOR YOUR TRIP TO ICELAND:
– 21 Genius Tips For Traveling On A Budget
– How To Book The Cheapest Flights Anywhere In The World
– 20 Incredibly Easy Ways To Save Money For Travel
LOOKING FOR MORE ICELAND TRAVEL RESOURCES? CHECK THESE OUT:
– 50 Iceland Travel Tips For An Incredible Trip
– Iceland Packing List: What To Wear In The Land of Fire & Ice
– One Day In Reykjavik: BEST Things To Do In Iceland's Capital
– The 12 Best Campsites In Iceland
– How Much Does An Iceland Trip Cost: My Two Week Budget Breakdown
– The Top 10 BEST Hostels In Reykjavik
---
Would you ever pay a visit to the Blue Lagoon? Let me know in the comments below!
Aaren
Did you enjoy this post? Save it for later on Pinterest!