(Last Updated On: 17/03/2019)
Okinawa has many beautiful sites to see, but the one that surprised me the most was the beautiful hikes dotted all along the northern points of the island. If there is one thing to be certain, Okinawa really has it all: charming Japanese culture, beach life, traditional Japanese cuisine, historical sites, diving sites, surfing, and did I mention ramen? During my last visit to Okinawa, after two adventurous weeks in the Philippines, I was ready to see some new parts of the island since I had seen a lot during my first visit in 2016. Through word of mouth, I found out about the (second) highest peak in Okinawa, Mt Katsuudake. This hike was perfect for both my sister and I since we weren't really trying to go all out and get rugged, but we still wanted something to get our heart rates up with a great view. If you're looking for a stunning view of Okinawa Island, this is an incredible view to see miles and miles of ocean and greens.
Are you planning a trip to Okinawa? Check out these posts!
---
General Information For Mt Katsuudake
ADDRESS: Unnamed Rd, Asahikawa, Nago-shi, Okinawa-ken 905-0003, Japan
COST: Free
MT. KATSUUDAKE HEIGHT: 1482.94 feet (~452 meters)
HIKING TIME: ~ 25-40 Minutes (depending on how fast or slow you go)
HIKING DIFFICULTY: Medium
WHAT TO WEAR: Wear any of your favorite outdoor athletic gear that you don't mind sweating in!
WHAT TO BRING: A small day pack is going to be perfect for this since you'll only need a few things: waterbottle, snacks, sunglasses, and your camera.
How To Get To Mt Katsuudake
Getting to the trail entrance is actually really easy. In this day and age of fancy technology, all you need to do is pop in "Mt Katsuudake Trail Entrance" into your Google Maps, and it'll take you directly to the gravel parking lot before the trail. There are restrooms if you need to change into other clothing and once you park, the entrance will be to your left. I highly recommend grabbing the trekking poles offered in the bin next to the entrance since you'll be doing a bit of climbing. The whole trail is marked with flags, so it's easy to not get lost and make it to the top in under an hour.
---
When To Visit Mt Katsuudake
Technically, you could go any time of year, but for the best weather and views, I recommend going in the spring or summer. My sister and I hiked this around mid-April and we had the entire trail to ourselves, but it might be a different story if you choose to go in the summertime. With that in mind, I would base your trek off of how nice the weather will be and plan around that.
---
Tips For Hiking Mt Katsuudake
Use the trekking poles offered at the entrance. The terrain gets pretty rugged throughout the trail and you're going to want them.
Sunrise and sunset are beautiful times to visit this place, and if you choose to visit then, make sure you take a headlamp so you don't hurt yourself.
Hydration is going to be key on this trail, so pack along a reusable water bottle to keep your fluids up. I took along my Hydro Flask and it kept my water ice cold throughout the entirety of the hike and the rest of the day. I have never hiked without it!
---
My Experience Hiking Mt Katsuudake
My sister and I were already headed up to Nago (northern Okinawa) to go to this really awesome pizza spot when we decided to make a day out of it and take a hike somewhere. We had gone camping on the beach the night before and I ended up eating microwave enchiladas for dinner (they are way better than they sound), so I was more than ready to get my body moving. In Okinawa, you're not going to get those classic 14'ers and other elevation peaks like in Colorado or Nepal, but you will get a stunning panoramic view of the entire island which is worth it if you ask me.
The beginning of the trail starts with some naturally carved stairs (everyone's favorite) and it gets more and more rugged as you venture further along. We ended up grabbing the hiking poles offered at the beginning and while I did feel like a bird watcher at first (I had never used hiking poles before), by the time we got to the parts of the trail where you need to climb and maneuver across rocks, I was thankful that we had them.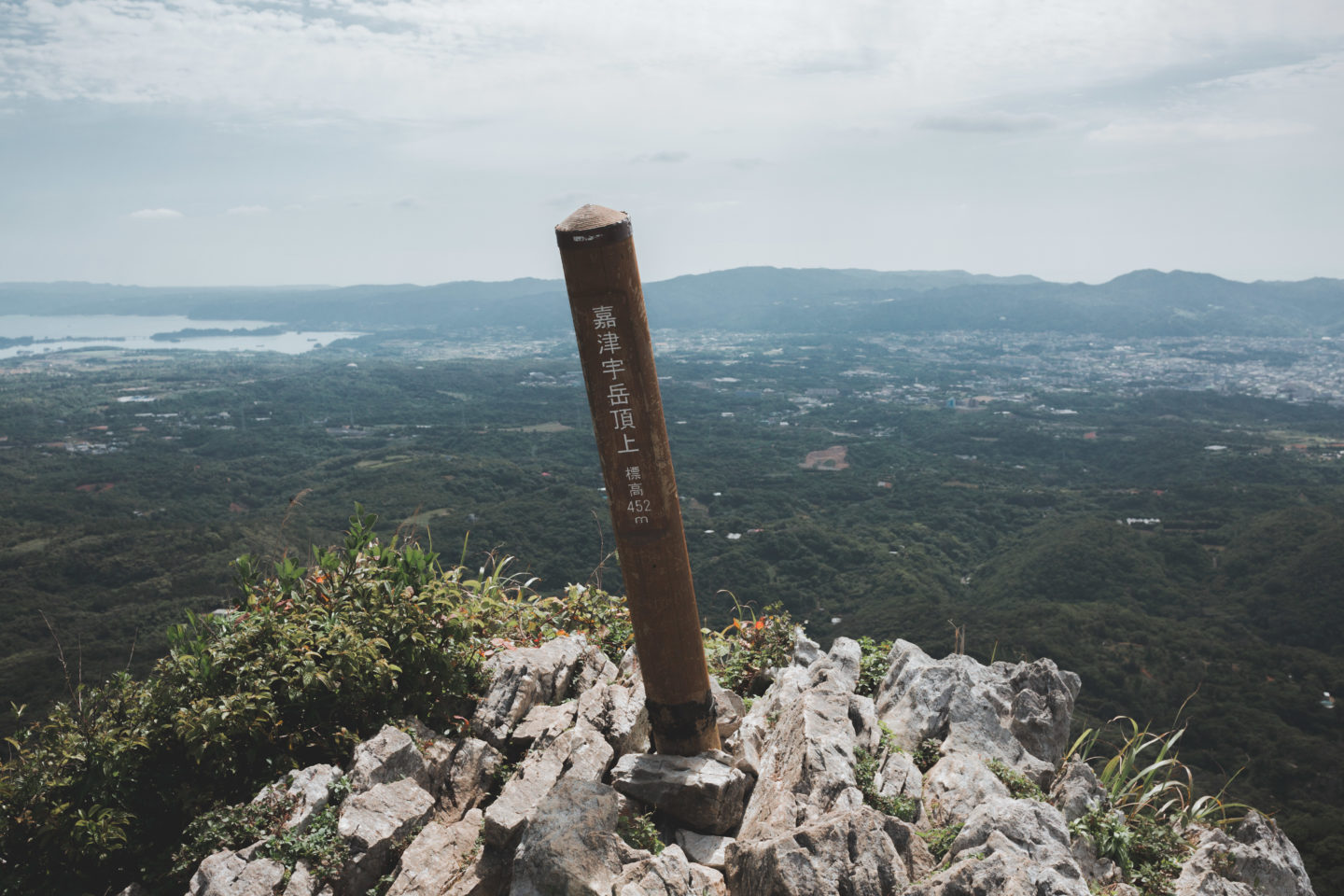 The hiking trail isn't perfectly mapped out, which I really appreciated, so it feels like you're navigating through a forest on an episode of Survivor, but with snacks on hand and a way better outcome. I feel that a lot of trails have been made "tourist-friendly" where they basically pave the way with concrete to make it easier to access, but I believe all the fun is in the challenge of getting to a place and it made this hike a whole lot more fun. At one point on the trail, we spotted a tent a bit off the trail and I dually noted that I definitely wanted to wild camp in Okinawa one day and that I wanted to catch sunrise here and enjoy a quality cup of joe watching the sunrise over Okinawa.
The trail differs in terrain on and off throughout the entire thing. We encountered a natural stairway, flat soil, jagged peaks, and many other types of landscape that you wouldn't expect on such a short hike, but it was fun nonetheless. It kept things interesting and it was fun to navigate it with my best friend.
Once you get to the top, you need to pull yourself up to the viewpoint, so it's nice to have another person with you for an extra hand. There are wildflowers surrounding the peak marker and you can look out to the stunning rolling hills on the left or the ocean on the right. I think my favorite part about exploring Okinawa is that they preserve all of their natural landscapes (for the most part). There are signs posted to get to things, but other than that, it's going to be rugged and maybe a little bit dirty to get to all the best spots. A lot of places that I've seen in other countries, like Tak Tak Falls in Siargao, Philippines, have ruined natural landscapes by surrounding it with concrete, a snack bar, and an eating area, so I really appreciated a change in scenery from other regions of Asia.
Once we reached the top, this was the view! How incredible!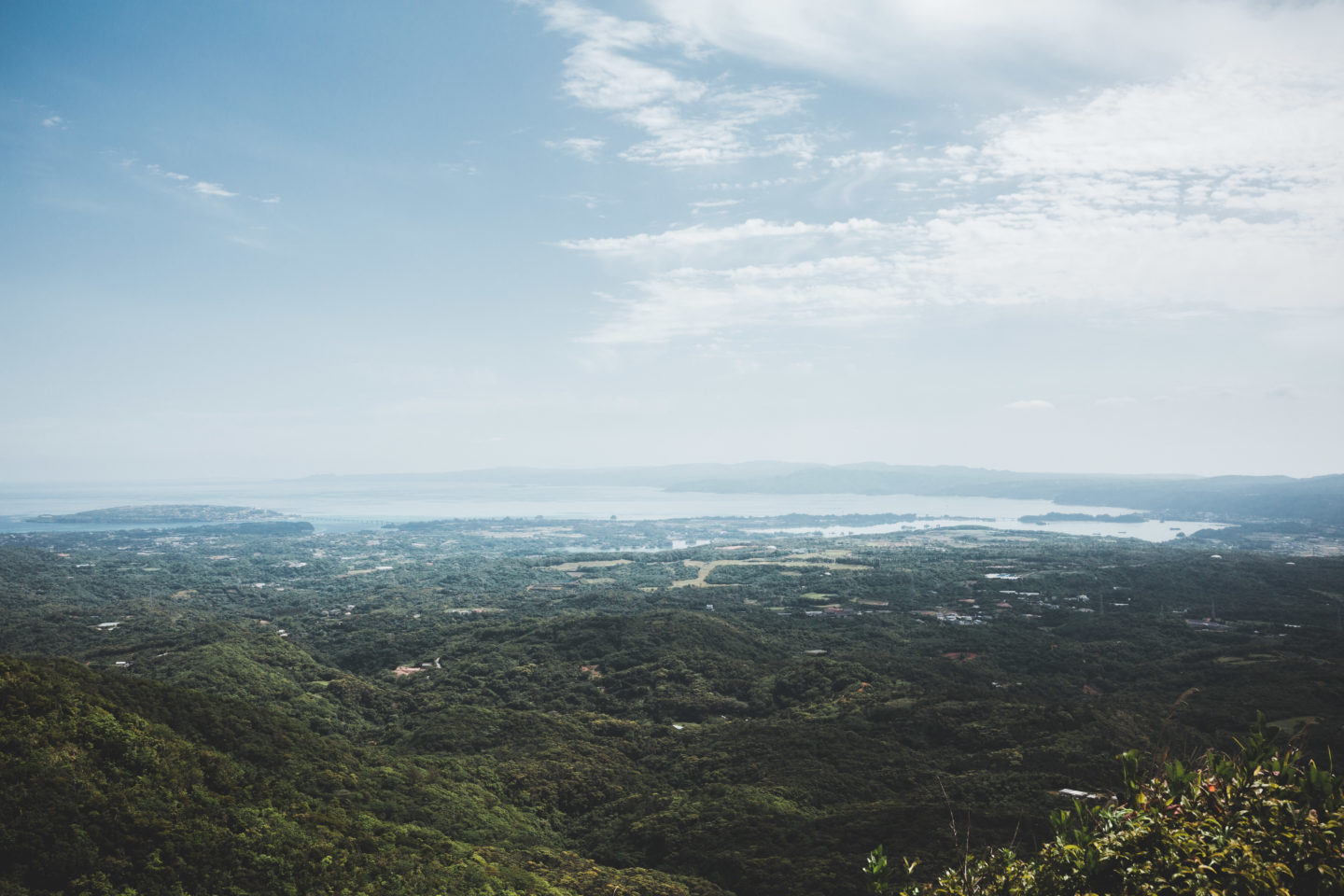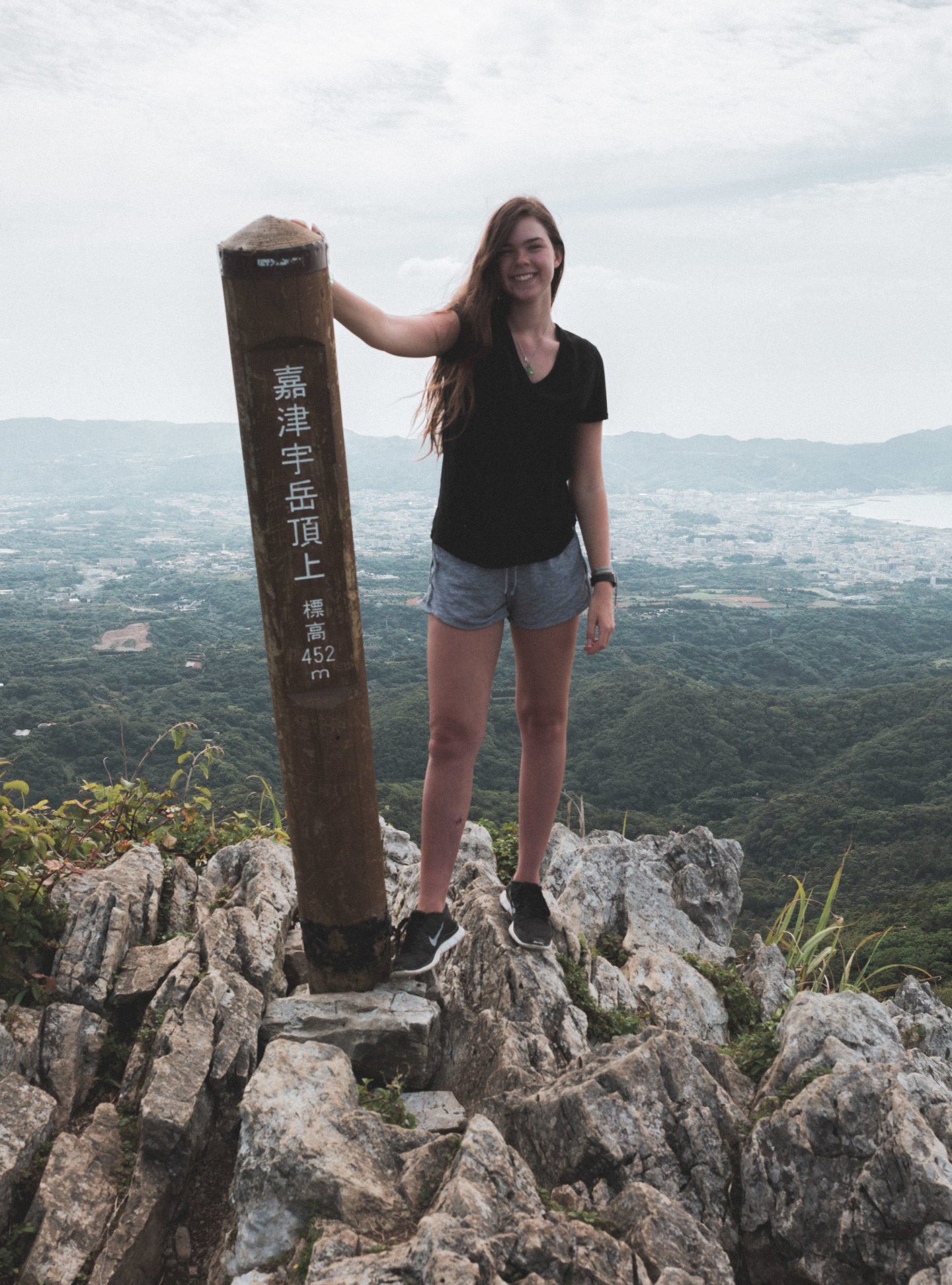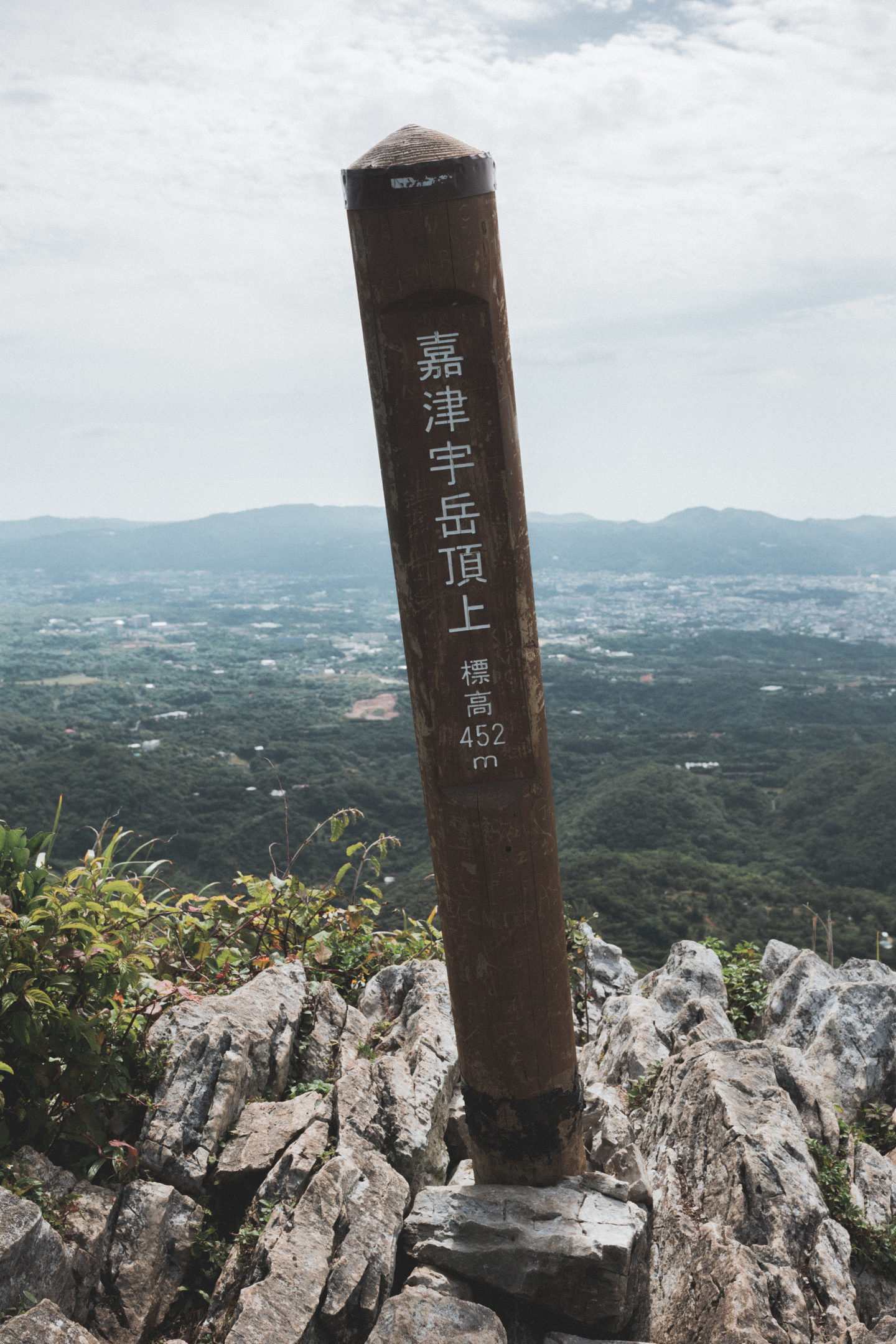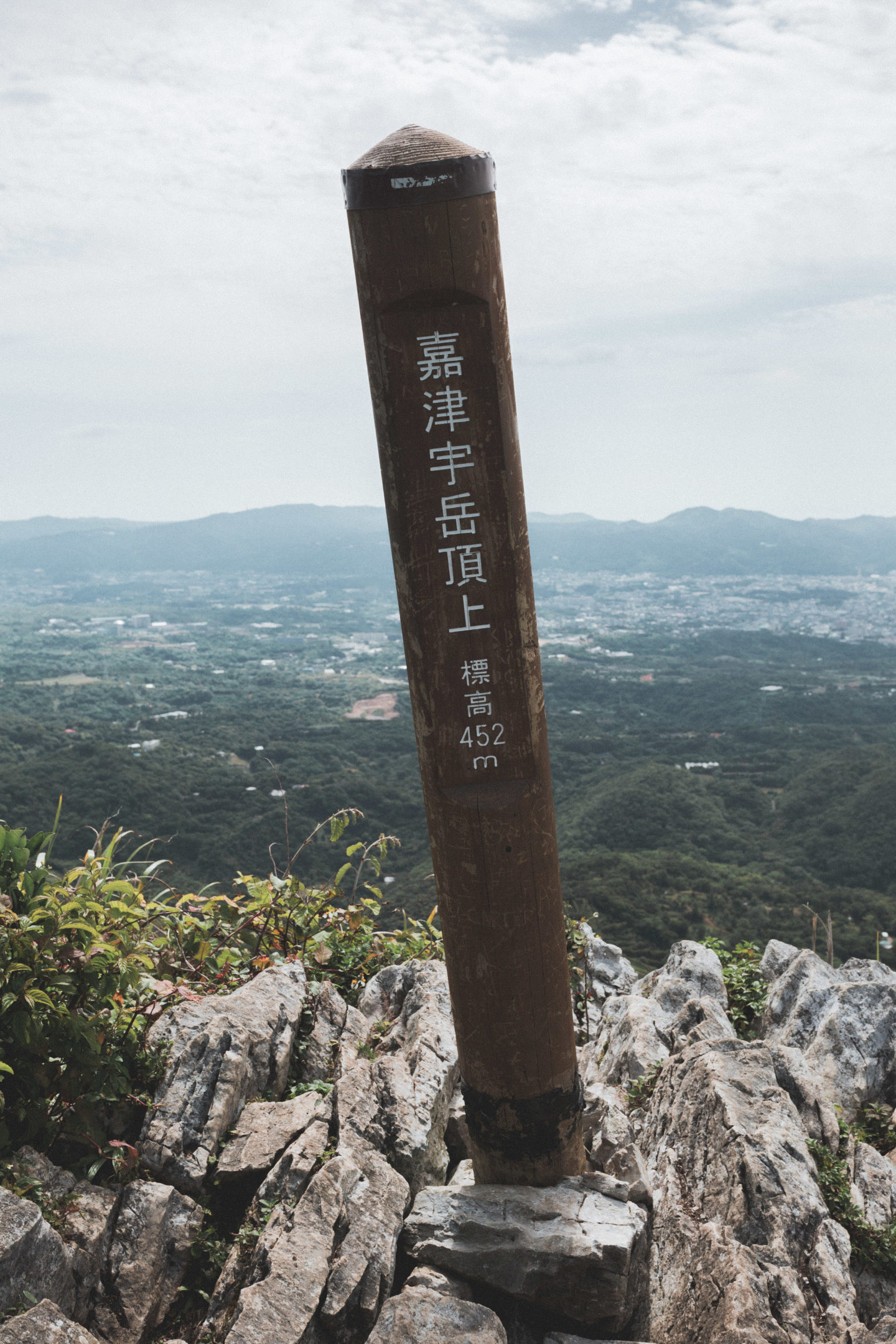 At the top, we snapped some photos, took in the view, and then made our way back down the peak for a fantastic lunch at a local pizza spot. Mt. Katsuudake has been one of my favorite places to visit in Okinawa to date and I am extremely eager to get out there and reach the top of more peaks and explore more of the northern part of the island. I have this feeling that there are so many undiscovered spots here since it's really only Japanese from the mainland that travel here on holiday, so I really want to find those treasures and share a few of them with you all (and keep some preserved for myself).
If you're considering a visit to Okinawa or other parts of Japan, book it and you won't regret it! Japan is my most cherished country and I always find myself wandering into ramen restaurants and sushi go-rounds inbetween the other places I travel to. If you have any questions about traveling here, feel free to leave them in the comments below and I'd love to help you out.
---
Where has been your favorite hike that you've done? Share with me in the comments below!
This post may contain affiliate links for the products or services I mentioned, but as always, all opinions are my own. I make a small commission, at no extra cost to you, when you make a purchase or booking through these links. This helps to support this space and keep me blogging, which I am so extremely thankful for.
Aaren
Did you enjoy this post? Save it for later on Pinterest!