(Last Updated On: 24/01/2019)
Whenever I have been asked what my heritage/ethnic background was, I always went through the same list in my head crossing off Italian, German, French, Irish, and Scottish. I had a rough idea of what places I came from based off of my mom and dad's sides of the family, but I never thought to look further back into my family until my trip to Scotland. I invited my mom to come on this trip with me and after she briefly spoke with my grandmother about it, my mom and I met up and she held out an older, black and white photo of two of our relatives visiting our family castle, Merchiston Castle, many years ago.  I did a double take and answered shockingly, "our family has a castle in Scotland?!"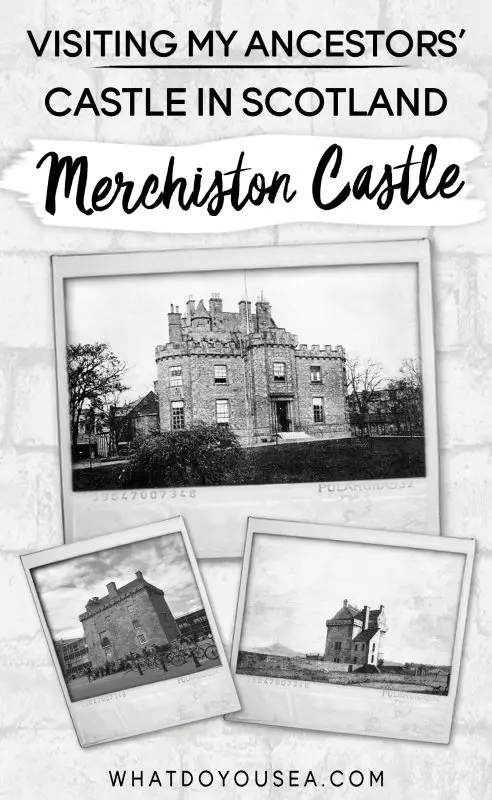 After returning back to the city from the Isle of Skye, my mom and I hopped in an Uber and started en route to the castle/tower. We weren't entirely sure of the address since there was also a Merchiston Castle School that was in a different location, but our driver helped us and we later found out that our families castle had become a part of Napier University. I am not sure what the relation is between the castle school and the castle, but I know that the original castle is at the university. Imagine out of the literal thousands and thousands of castles that are dotted around Scotland, one of them just so happened to be part of my families history.
I always knew that I had Scottish heritage, but it wasn't really something that I researched. It was more like, "oh, yeah part of my family came from Scotland and Italy, and Germany, and France." I never thought to look through everything, but now I am interested to research about my other European relatives!
We arrived at the castle around twenty minutes later and were welcomed by a flock of young college students.
A Little Bit Of History
Merchiston Castle was constructed in 1454 by my ancestor, Alexander Napier. This castle used to be an L-shaped tower that rose up to four stories, but after many sieges, what remains is in the modern photo below: a quaint little tower nestled in between school buildings. It is now a connecting building for Napier University, a college also named after my family.
Merchiston Castle is most famous for being the birthplace of John Napier, the inventor of logarithms and possibly an early version of the modern computer! I ended up having some pretty solid math skills in school, so there is no question that I got them from this part of the family!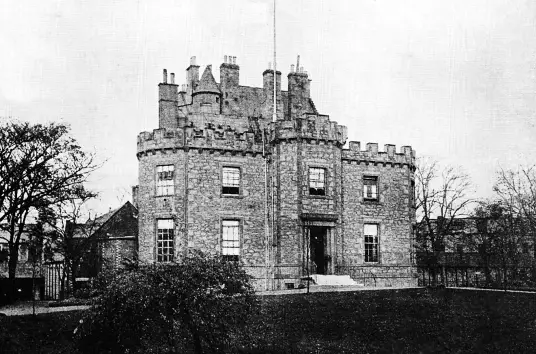 an old postcard of Merchiston Castle before they demolished the extensions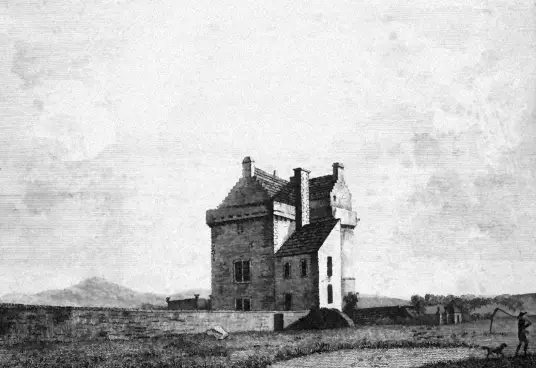 Merchiston Castle guarding the south of Edinburgh in 1789 
Today, 600 years later, this castle stands partially with complimentary new bike racks, trendy teens, and modern architecture.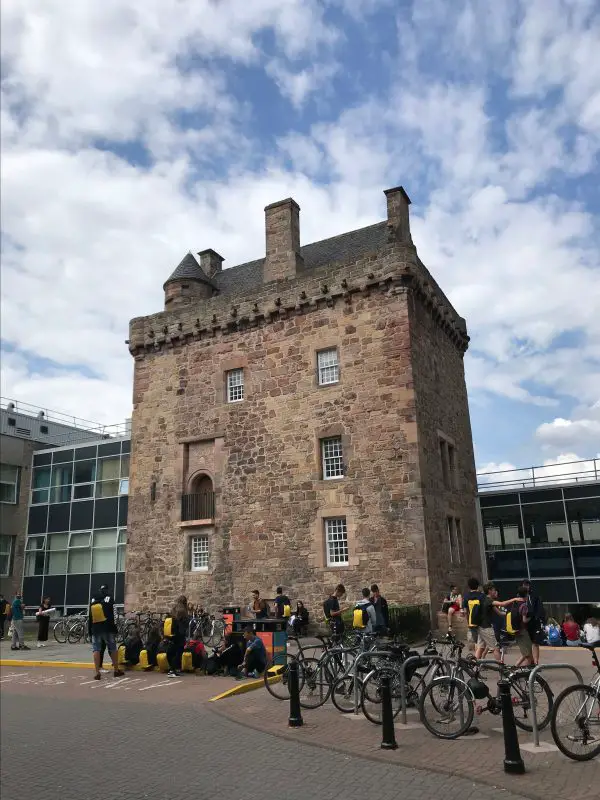 Our Modern Day Experience
The college campus was quite busy when we went here, so getting a raw image with nobody in it was pretty much impossible. We ended up getting our photo with minimal people and went inside the college to see what remained, which wasn't much. There was a small glass display that had a little paper recognizing John Napier and some other facts about the tower, but other than that, it was outfitted with modern chairs, painted walls, and boards with current events. It was really just turned into a hallway that connected two parts of the building. There was a staircase, but it was blocked off so we weren't able to get up there, unfortunately.
You were still able to see the stones in the wall on the inside from the original build of the castle, so that was pretty cool to see that they left it in that way, but access to the rest of the rooms have been blocked off since construction. I wonder what it would have been like to see this castle in its pre-demolished days and wander around the inside and all the important parts that helped this castle stand for so many years.
The small door on the left side with the balcony used to have a staircase leading up to it, but within the last decade or two, they ended up tearing that down as well. I am guessing to make room for the bike racks lol.
After we left, we ended up visiting an old bookstore that had a book about the castles of Scotland (it was pretty hefty since there are literally thousands of them). I flipped to the "m" section and found a small piece explaining more about the castle and how it changed over time. If you're not a huge fan of history, you can skip this next section, but if you're interested in more, this explains a little bit about the different owners, time periods, and makeup of this castle.
Castle History & The Interior
"The ground floor has two unvaulted apartments, one a kitchen, with a wide fireplace. A narrow stair runs down to a vaulted cellar, presumably a food-store or wine-cellar. In the south-west angle, a turnpike stair rises to the first floor and up to the parapet, where it is capped by a little roof turret. The first floor has three rooms, one with a plaster ceiling from the time of Charles II, similar to the decorative work introduced into Scotland by Dunsterfield and Halbert. The paneled Jacobean ceiling in another of the rooms was imported from a different house. A paneled closet is known as Queen Mary's room, she is reputed to have planted a pear tree in the gardens.
The walls, ten feet thick, had to endure many a siege since Merchiston guarded one of the southern approaches to Edinburgh. In 1572, it was bombarded from Edinburgh Castle. Regent Morton's English commander, one Drury, shortly thereafter used it as a prison.
Though frequently under siege, particularly in 1572 during the struggle between Mary, Queen of Scots and the supporters of her infant son, its strongest associations are with the Napier family. Sir Archibald Napier refused to surrender Merchiston to the Regent Mar and it resisted 'smoking out'. He died in 1608. His son, John Napier, the inventor of logarithms, was born there in 1550. (Incidentally, he is reputed also to have devised an early version of the modern computer known as 'Napier's Bones')."
In going to this castle and learning more about my ancestors, this added that extra special touch to my entire trip. There is something about being connected to the land of the places you visit that makes it feel a little more like home, and I am glad Scotland has become almost like a second home to me in a way. I am going to read up about my Scottish heritage and hopefully find the area in Scotland where they originated from so I can visit it next time I go back.
Let me know in the comments below if you've visited a country from your heritage and how it impacted your trip!
Until next time,