(Last Updated On: 05/04/2020)
If you have seen the infamous photos of El Nido in the Philippines, chances are it has been added to the very tip-top of your bucket list. I mean who doesn't want to sip on coconuts, swim with whale sharks, and frolic across powdery white sand beaches for a couple of weeks? After seeing all of the stunning photos of the islands across my Instagram feed for well over a year, I knew it was time to book my ticket out there and experience it for myself. While I had traveled to other parts of Southeast Asia the year prior, I didn't know exactly what I was getting myself into with the Philippines considering the way of life and experiences are entirely different than what you would find in a small surfer's paradise in Indonesia, but I was more than excited to see a place that I had dreamed of seeing ever since I was a kid.
When you have zero expectations, other than a little bit of photo inspiration, going into a trip, it's hard to picture exactly how it will be until you get there. What does Cebu City look like? Is Kawasan Falls worth the hype? What do the undocumented parts of the islands look like? You hear about all the highlights, but you never know what the actual travel experience is until you get there, and that's where the surprises come in. I think I have annoyed my friends and family about my trip to the Philippines by starting out the majority of my sentences with, "When I was in the Philippines…", but I don't think I have ever talked about the things that truly shocked me upon my arrival. These sixteen things made my travels a little more interesting, quirky, and they kept me on my toes! If you're traveling to the Philippines, these are some of the things that will probably shock you while you're there, even though I am kind of giving them away right now, spoiler alert, but I promise you're going to have an incredible time! If you're unsure of where to go during your travels here, I have a humongous blog post for a two-week itinerary that you can follow, or you can check out my entire archive of Philippines blog posts for more inspiration!
This post may contain affiliate links for the products I mentioned, but as always, all opinions are my own. I make a small commission, at no extra cost to you, when you make a purchase or booking through these links. This helps to support this space and keep me blogging, which I am so extremely thankful for.
Looking for more resources for traveling the Philippines? Check these out!
---
1 | Bathrooms with toilet paper and hand soap are the real hidden gems (and when you find one it cues a double fist to the air).
I can't tell you the number of times where I gave a cafe the benefit of the doubt only to end up toilet paperless wondering how I was going to exit the stall cleanly and efficiently. Although there are endless photos of white sand beaches and desktop backgrounds, most people forget that they are entering a third world country when they travel here. It took only a couple bathroom visits for the "we're not in Texas anymore" mantra to click with my brain and I then went to the nearest 7/11 and bought a roll of toilet paper and some spray hand sanitizer. When I had arrived back in the states, I was astounded to find out that I no longer had to fish out my battered roll of toilet paper every time I needed to go and it really put things in perspective. So, if you plan on traveling here, do yourself a HUGE favor and come equipped with bathroom essentials.
---
2 | The locals love a good adrenaline rush and they'll jump a 35ft cliff with no hesitation. 
I don't consider myself a master at conquering epic feats like cliff jumping and extreme parkour, but I liked to think that I was a little more ambitious than most after hyping myself up a little bit and reassuring myself that I wasn't going to face imminent death after a tiny cliff jump. However, the local Filipinos made me feel like an absolute pansy when it came to the more adventurous aspects of the Philippines. They will easily make a swan dive off a forty-five-foot cliff while you're still in the beginning stages of convincing yourself to do it. Once they land, they will push you to do the same, and they'll more than likely record it! Traveling here will definitely push you past your limits and you'll be conquering fears by the time your plane lands.
---
3 | Filipino style curry tops all other Asian style curries.
Oh yeah, I went there. This was something that I really was not expecting to come across during my travels here since the Philippines is famous for other eats like lumpia and noodle dishes, but once I tasted that first bite of Filippino style curry, I knew that all the other curries that I had previously tasted were washed away by a delectable potato and veggie curry made by one of the hosts in my guest houses (shoutout Jesse – you rock at making curry). I don't think myself or my taste buds could believe it, and I actually skipped a traditional breakfast the next day so I could fill up on curry for my departure flight. I feel like it's not often that I get to enjoy traditional meals being vegan, so this was the cherry on top of my entire trip.
---
4 | Modern cafes aren't too common, and most of the food you eat is going to be fried or oily (and delicious).
Aside from my time in Dumaguete and Siargao, the cute "Bali-esque" cafe's with the acai bowls and fruit shakes aren't going to be around every corner. In fact, oil and salt are going to be the main two food groups you'll focus on during the trip unless you plan on surviving off of fresh fruit and coconuts when available, which is what I did. My healthy lifestyle was pretty much thrown out the window at some points in my trip simply because I didn't really have many options, but I did enjoy some incredible places that offered healthy meals. If you plan on staying in one place and traveling from there it's going to be easier to base yourself in a location with options, but since I was on the go for the full two weeks, I enjoyed the cafe's when I could and then survived off vegetables and rice for the remainder of my trip.
---
5 | Don't expect to have a good signal anywhere unless you bring your own pocket wifi. 
This is a given with any tropical paradise that you travel to, but even with a SIM card in the Philippines, loading times are unfavorable, and by day one, you're going to give up trying to post on the regular. At the time when I was traveling the Philippines, What Do You Sea wasn't exactly up and running as an official travel blog, so I wasn't too pressed to have signal which was nice, but next time I go, I am for sure going to bring along a portable WiFi that will allow me to stay connected around the region. Even in the more popular region of El Nido, the power goes out on an almost nightly basis, so relying on hostel or cafe WiFi isn't going to do you any favors. I think sometimes countries that have a lot of travelers flock to them every year are expected to have most commodities, but the Philippines is taking things slow and you will too when you arrive.
---
6 | Halfway through your trip, you will begin eating meals with two utensils instead of one.
So table knives aren't really a thing here, and most meals you eat are going to be curries, rice dishes, or noodles, so actually eating with a spoon and a fork is incredibly helpful and I am not sure why I didn't use this method before. You kinda use the fork to stack everything on the spoon and I felt like I was living a lie my entire life trying to only use a spoon or a fork. When you have two utensils you can maneuver your food and craft the perfect bite. It actually helped me slow down when I eat since I have the tendency to fork things down when they're really tasty, so I enjoyed getting to savor my food during my meals and to adopt a new way of doing something. When I first arrived I didn't understand the necessity of using two, but once I tried it for myself, I never stopped!
---
7 | No matter where you want to go and how fast you want to get there, expect it to take 3x longer.
When you look at a map of the Philippines it seems like things are pretty compact and close-knit, but really things are incredibly far apart and transit times are something that not a lot of people take into account when planning for a trip here. There were a couple of things that I had to leave out of my trip like El Nido and Coron just for the sake of time, and my flights around the region took up about four days of my two weeks there. Most airlines don't have direct flights to certain areas, although new routes are being added every year, so most of the time you'll have to fly back into a major airport like Cebu or Manila to get to a smaller region like Siargao or Tacloban. Island time is for real here, so kick back, plan accordingly, and enjoy the sunshine.
---
8 | Despite the Philippines' reputation in the news and by word of mouth, the people there are the kindest and most accommodating in the world.
Before I departed for the Philippines, a great wave of pre-trip anxiety rushed over me and didn't go away until I was picked up by my local guide. A lot of my friends and family told me that I was going to be sold, kidnapped, killed, and many other awful things while I was away, and this couldn't have been further from the truth. After hearing all these things, they weighed heavily on my mind until I was in a full-blown panic on the morning of my flight. I had taken what others had said to heart and I was left questioning my decision to travel here, but once I arrived, I was reminded exactly why I travel in the first place and that I was safe among seas of palms and coconuts. The locals are some of the kindest and adventurous in the world and it amazed me at how loving and passionate they are about travelers visiting their home country. Some parts of the Philippines are unsafe in the very South, but the main area of the Visayas is entirely safe. I didn't have a single problem while traveling here and I think I made more local friends here than I have on any other trip that I have taken. It goes to show that media can really drag a countries name through the mud when the reality of the country is the complete opposite. Plus, most of the people that say bad things about countries have never been to them, so take the extremes that people try to scare you with a grain of salt, check travel advisories, and ask around about personal experiences.
---
9 | It really is more fun in the Philippines.
The saying, 'It's more fun in the Philippines" explains everything that these islands have to offer. Poppin' nightlife, adrenaline rushes, new friendships, and incredible cuisine come together to give you one of the most memorable travel experiences of your entire life. There are, quite literally, thousands of islands that you can explore and spend a night surrounding a bonfire with friends. There are cliffs to jump off of at every stop you go to, and there are memories to be made that will leave you wondering how you ever thought to book a return flight home or to your next stop on your itinerary.
---
10 | Most 'touristy' locations are well worth an early morning visit but don't forget to explore hidden parts of the country.
Pretty much all of the sights that you'll want to see in the Philippines are nature-based, so regardless if they are considered 'touristy', they're still going to blow your mind if you get there at the right time. I was incredibly hesitant to go on the canyoneering tour in Cebu since I knew it was what everyone did when they visited the Philippines, which it is, but I was able to join a group and it was as if we had the whole canyon to ourselves that day. I went on a cooler day and I think there was a little bit of rain throughout our tour, but the sheer beauty of the canyon surpassed all of my expectations and I actually ended up having way more fun than I thought I would. I did this on one of the first days of my trip, and it made me more open to popular attractions. If there are a ton of crowds I can see why the experience would fall below some people's expectations, but if you play your cards right and get up early, you can enjoy a popular location without masses of people. This is true for most places you visit, so take the mornings to explore the highlights and then explore the lesser known for the rest of the day. You never know what you may find.
---
11 | Navigating the Philippines is extremely easy since there is transportation everywhere and (most) locals speak English.
Aside from the extremely secluded regions of the Philippines, there is transportation everywhere; and I mean EVERYWHERE. Buses, boats, tricycles, jeepneys, planes, and habal-habals are going to pass by one by one at most hours of the day which means no matter where you need to go, there is transportation for it and since most people speak English, language barriers aren't as much of a roadblock as you think they will be. The best part about these forms of transportation is that they're incredibly cheap, even if you are traveling for 8+ hours on a bus. So you can go everywhere and not spend a ton of money.
---
12 | They grow the world's BEST pineapples and mangos.
Oh my. Oh my. OH MY. I swear the Philippines is the prime time Goldilocks zone for growing fruit on this entire globe. I grew up on sour, imported pineapples and when I bit into my first taste of (actually) fresh pineapple on my whale shark tour, it was like every single taste bud in my mouth was experiencing sensory overload. I still have dreams about those pineapple rings that paired perfectly with my plate of noodles and I am forever ruined for tropical fruits. I haven't eaten any pineapple since I returned from that trip, and don't even get me started about the mangos grown over there. They are perfectly ripe, vibrant orange, and smaller, so you can eat probably twenty of them and still want more (at least I did)! If you're not big on fruit where you live, you've probably had something that was under or overripe, or just flat out not good, but I guarantee that you'll be obsessed with the tropical fruits grown throughout the islands and you'll be devasted when you realize you'll be having the last piece of mind-blowingly good fruit until you return.
---
13 | The smaller your bank notes are the more ease of travel you have.
Although "dolla dolla bill y'all" is many of our own motives and a part of our lives that we want abundance in, this is not going to be the case when it comes to paying for food, guides, and tours. If you're walking around flexing with a wallet full of the one thousand Filipino bank notes, expect everyone to ask if you have smaller bills and maybe even tell you that they don't accept banknotes that large! My debit card has a filled track record of failing on me in Southeast Asia, so I always took out as much money as I could since I never knew when I would see the next ATM that would take my card. It was quite frustrating, so if you can get smaller bills or withdraw money in your home country to exchange abroad to receive smaller bills, do it.
---
14 | You'll be surrounded by local travelers just as much as foreign ones.
Ask anyone that has traveled to the Philippines and they will tell you that the locals account for 85% of the fun and spontaneity that went down during their time there. In most countries that I have personally traveled to, I always see a lot of tourists around the more popular places, but never many locals exploring their own countries. At least, if they do, the local Filippino's have them outnumbered! This aspect really helped me feel 'not so touristy' in what is considered a country thriving on tourism every year. When I had booked my trip, I didn't realize that I had booked my time there over Holy Week, so there were so many more locals than tourists in the main hubs. It's lovely to see people that genuinely love and are excited to show you their home country, and even lead you on a bit of adventure if you let them!
---
15 | To check off everything on your must-see list, you've got to stay there at one or two months. 
Although most of the tourist attractions can be summarized in a few of the main islands: Cebu, El Nido, Siargao, Bohol, and Siquijor, it takes a long time to get in between each of these islands and the top spots aren't exactly right next to each other. With other countries that you travel to, it's easy to check certain things off and drive to get to places, but with the Philippines, you genuinely need time to move slowly through the country and plan things out to go see otherwise you're going to miss out on a lot. I spent two weeks here and I still didn't see everything I would have liked and I felt it was a whirlwind trip through twelve islands. I had the time of my life and I maximized every single day I could, but next time I go, I will for sure be spending at least a month there so I can give myself a chance to settle in and see more unexplored parts of the Visayas.
---
16 | Plastic is everywhere and the Philippines suffer from extreme pollution.
I wasn't so shocked to see plastic since I see so much of it here in the states, but I was more shocked at the sheer amount of plastic that coated most of the 'main' islands. Plastic is a cheap material, so it made sense to me as to why it was used heavily throughout the regions that I visited, but it was hard to see all the waste that would stay on our planet for the next couple hundreds of years. It was my visit here that really made me passionate about being more sustainable and putting my money towards brands and messages that I wanted to incorporate more of into my life like zero waste, natural ingredients, etc.. I do realize that plastic packaging is all that some of these people can afford and since the tap water is undrinkable there, plastic water bottles are the only other option considering many people probably don't have the money to drop a hundred dollars on a sterilizer. It has made me think about what I could do to improve the situation in my home and help spread the messages to people that are able to fill up a bottle in the sink and avoid single-use plastics. I have a whole blog post dedicated to some of my favorite zero waste / little waste essentials that will drastically reduce the waste you and I make on a monthly basis if you're interested in making changes in your everyday life (which you should because our planet is too beautiful to keep filling with our trash).
---
Have you visited the Philippines? What shocked you the most during your first nights there? Share with me in the comments below!
Aaren
Did you enjoy this post? Save it for later on Pinterest!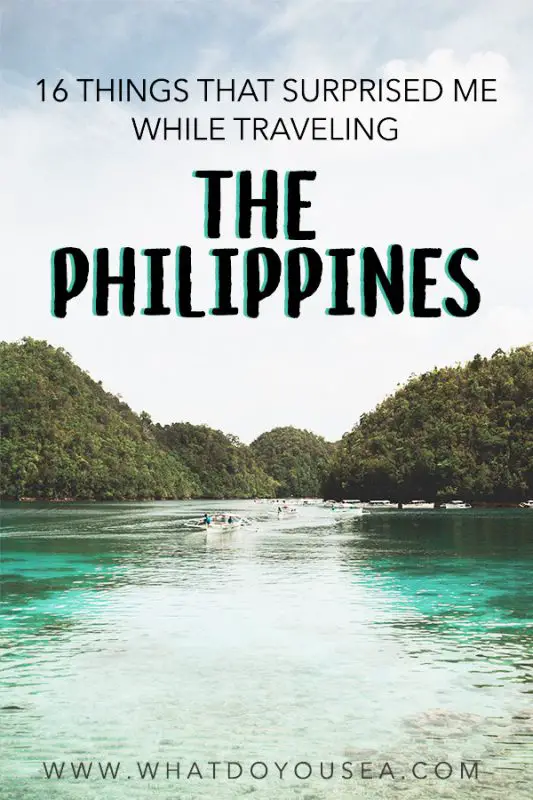 [/wc_center]