White beaches, island hopping, vast palm tree forests; the Philippines is about to become your favorite tropical destination. 
Before I went to the Philippines, I had a general gist of what I needed to pack: swimsuits, summer clothing, etc., but I didn't know what I needed to leave home, specific items that I absolutely needed (this ended up being a roll of toilet paper after an interesting couple of trips to the restroom lol)  and things that would help my trip run smoother. If you end up forgetting a few things, don't worry, you'll be able to buy those things whenever you get there.
Have fun and enjoy the Philippines!

Weather in the Philippines
The Philippines is made up of over 7000 islands making its weather tropical and humid for most of the year and plenty of room for adventures and explorations! The average yearly weather is around 80 F (27 C) making there really no bad time to visit the Philippines besides its short typhoon season at the end of the year. They only have two seasons, dry and rainy, so it's pretty simple to plan your trip around the months with the best weather.
Dry Season (NOV-MAY): The best months to visit are January through May, with January being the coolest and May the hottest, and you have probably already guessed that this is peak tourism season.
Rainy Season (JUN-OCT): Rainy season can be a good option if you're looking to avoid crowds and spend less money here if you don't mind a bit of rain. Typhoons generally impact the Visayas but cause heavy rain throughout the country.
NOTE: The local Philippinos recognize Holy Week in March or April each year which means that they have a week off work to explore their home country, see their families, etc.. This equates to even more travelers in popular spots like Coron, El Nido, Siargao, and Cebu. It was cool to be traveling around with locals, but there were a lot more people in this time.
Holy Week for 2019: April 14th – 20th
Packing Tips
Light Is Best – One of the biggest benefits of going to a tropical paradise is the ability to pack light. I traveled with a 40L pack and it was the perfect amount of space for everything I needed. It made transits super easy and helped me stay organized on my entire trip.
Bikinis, Bikinis, Bikinis – I spent most of my time in a bikini than in real clothes! I made sure I picked one that I could tan in and one sporty type that I could wear while doing recreational activities and wouldn't have to worry about it falling off every two seconds.
Bring A Lightweight Rain Jacket – Even in dry season I experienced rain, so you're going to want to have one of these stowed in your backpack.
Leave Your Makeup At Home – It's so hot that I didn't even bother bringing makeup on this trip. You're inevitably going to sweat it off.
Flowy Is Your Friend – When you're riding on scooters underneath the hot sun, flowy clothes are going to be your lifesaver. Plus, they will give you a cute boho, beachy look.
Luggage and Day Packs
Luggage – Since the weather here is so hot and you'll most likely be hopping from place to place whether it be by boat, train, or plane, you're going to want a backpack. My tried and true backpack is the Osprey Farpoint 40L Backpack because it opens up like a suitcase and gives you the space and features of a suitcase, but the mobility of a backpack. This will make organization a breeze and hopping off ferries and planes worry-free because you can sling all your things on your back.
Day Pack – I brought along my Northface backpack that I have used for years now. It's great for adventuring and I am really glad I had something that could fit everything I needed.
Packing Cubes – These are essential for organization!
morning surfs in pacifico
Clothing
(3-4) Lightweight Tank Tops – I liked to pack more stylish, but functional tops that I can wear around and be comfortable and still feel like I was able to put a cute outfit together.
(4) Breathable Tops – I use one or two of these as sleeping shirts and the others as normal styling tops.
(1-2) Dresses – These are great if you're want to dress up for some evenings, or if you don't feel like putting together an outfit one day, slip on a dress and boom; a cute outfit.
(4) Pairs of Shorts – I like having a mixture of different types: fashionable, cotton, denim, so I have some options for outfits. I recommend bringing flowy pairs since it is going to be so hot.
(1) Pair of Leggings – I always wear these on the flight over because they're so comfortable. They're great for cold planes/trains, or if your guesthouse is cooler.
(2) Pairs of Flowy Pants – These don't have to be the infamous elephant pants. You can opt to pack a couple fashionable pairs to cover your legs while still keeping relatively cool.
(1) Lightweight Rain Jacket – You're going to want one that doesn't take up a lot of room and is easily compactable. Even in dry season, I experienced some sporadic rain, so it's good to have one handy.
(3) Socks – I always pack a couple pairs.
(7) Undies – I always pack enough pairs of these for at least a week. I like the sporty type because they roll up so small that they barely take up any space and they dry quickly which is always a plus.
(3) Swimsuits – I like to bring a couple different sets depending on what I want to wear. I had a sporty one for surfing lessons and one that tied for days on the beach.
(1) Sarong – I used mine as a blanket on the plane ride, a beach towel, and something to wrap my camera in to keep it protected.
Shoes
Flip Flops – You're going to want these to be something you can easily slip on and off whenever you go into guesthouses, hostel showers, or going to the beach.
Tennis Shoes – I brought these for when I went canyoneering and on my day to day when I was walking around.
Xero Shoes – These shoes are great for hiking and more outdoorsy type activities, and you're still able to get them wet. They roll up very tiny, so they're great if you're trying to pack light and want to ditch bulky tennis shoes.
"the top of the hill" in Siargao
Toiletries
Shampoo / Conditioner – I like to pack shampoo and conditioner bars because they're less waste, long lasting, great smelling, and you don't have to worry about it exploding on the plane or making a mess.
Versatile Soap – I like Dr. Bronner's 18-in-1 soaps because you can use them for literally anything; dishes, laundry, skincare, you name it. You can buy it in liquid or bar form and they have tons of scent options (the peppermint and almond scents are the bomb).
Toothbrush / Toothpaste – A must have for fresh breath.
Deodorant – I like to use a mineral deodorant because it doesn't smell, it's not messy, and it takes away odor like a dream.
Razor – You're going to want this for all of those beach days.
Chapstick – Buy some chapstick with SPF to make sure your lips don't get sunburnt.
Diva Cup – Since feminine products are hard to find here, try out taking a Diva Cup. It's going to save you time, money, and space. A LIFE SAVER, ladies!
Hairbrush / Hair Ties – I always bring my Wet Brush with me on every trip and it saves my life every time. My post surfing hair has got nothing on this hairbrush!
Basic First Aid Items – I opt for holistic methods of first aid, so these are the things that I bring along with me. I am in no way telling you that you HAVE to bring this. I always promote doing your research and choosing what is best for you.
General
Ibuprofen/Advil/Benadryl – These help address pain and any inflammation.
Hydrogen Peroxide – This is going to help clean out the wound before dressing it.
Antiseptic Wipes – These will aid in cleaning the wound.
Bandages – All shapes and sizes so you can have some versatility.
Bandages for Burns – You'll want nonstick pads for minor and serious burns.
Band-Aids – Bring along smaller and bigger ones in case of tiny cuts or bigger scraps.
Tweezers – This will help pull out splinters, etc.
Scissors – To help cut bandage sizes or any other use.
Small Flashlight – Just in case an emergency happens at night.
Holistic Options
Activated Charcoal – For uses of food poisoning, diarrhea, vomiting, or ingestion of toxins.
Aloe Vera Gel – This is amazing for the soothing of burns and aiding in the healing process of the skin.
Colloidal Silver – This is great for treating and preventing infection for exterior wounds, or acute diarrhea.
Oil of Oregano – This natural oil holds antiviral, antifungal, antibacterial, and antiparasitic properties. You'll want to dilute it if using it topically, but I put a few drops under my tongue for around 30-40 seconds and then swallow.
Tea Tree Oil – This has been my lifesaver for years. Put this on acne spots, bug bites, or use it as an antibacterial.
Sunscreen – Make sure you purchase some reef safe sunscreen so you aren't harming the wildlife. Don't wait to buy it in the Philippines because it's going to be a lot more expensive and it's going to have bleaching agents in it.
Bug Repellant – When it comes to going to the tropics, I turn into an all-you-can-eat buffet for mosquitos, so it's always important that I pack some good bug repellent.
Accessories 
Hat – I always bring along my red baseball cap no matter what trip I am going on. It helps shade my eyes and it's relatively stylish.
Sunglasses – You gotta have these if you're not trying to have a bad case of the squints.
Dry Bag – If you don't have one of these, you can purchase one when you get here, but I really regretted not having a waterproof bag at some points during my trip. They come in all sorts of sizes to suit your needs and they're rather inexpensive, so if you have the budget for one, they're well worth the money; especially if you're planning on traveling around Southeast Asia.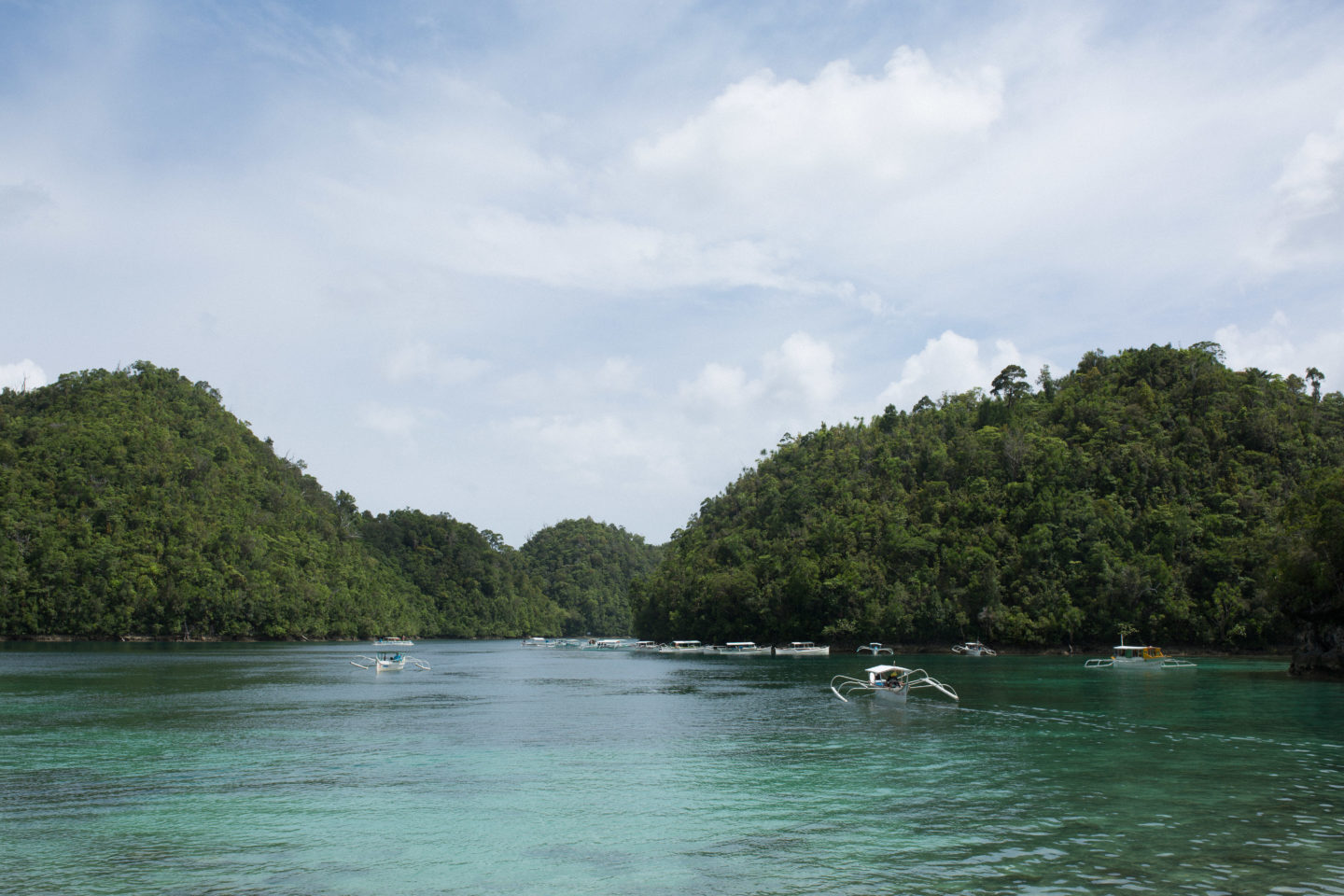 sunny days at sugba lagoon
Tech
GoPro / Waterproof Camera / Lifeproof Case – Most adventures in the Philippines are going to be enjoyed in a swimsuit and a waterproof camera in hand. I personally use the GoPro Hero 5 and I love the simplicity and quality it produces. If a GoPro isn't something you're interested in, a solid, cheaper option is going to be a waterproof phone case. The camera's on smartphones nowadays are really good and can produce beautiful photos.
Smartphone – This is going to help you navigate the islands, share memories, and save places to go before and during your trip.
Laptop (if necessary) – I bring my computer for work purposes, but if you have no need for it, go ahead and leave it at home or opt to bring a tablet because it's smaller and more travel-friendly.
Memory Cards – I always pack extra so I never run out of space.
Headphones – These are great for plane rides between islands or laying on the beach. I always have my travel playlist on repeat while on the go.
Chargers, Batteries, & Cables – You'll need to document all your adventures with your camera, so make sure you grab all your chargers and cables for your phone, camera, laptop, etc..
Pocket Wifi – If your work revolves around having solid wifi, this is going to be essential. The wifi here isn't great and sparse at best, so it's nice to have your own little gadget so you're guaranteed solid wifi speeds.
Universal Adapter – I recommend getting a universal adapter because no matter where you travel you're going to have any adapter you need and you won't have to buy different ones for different countries.
Other Essentials To Travel With Ease
Hydro Flask – I never go anywhere without my Hydro Flask. It keeps liquids cold for twenty-four hours and hot for six. Plus, it's great if you're seeking to lower your plastic waste.
Reusable Utensils – I have used these so many times on and off the road. I always keep them with me.
Reusable Straw – You're probably going to have a fresh coconut while traveling here which means that you're going to want to have a reusable one so that you don't keep using the plastic ones.
Bandana – This may be just a must-have for me, but this comes with a great number of uses. I use this as a napkin, sweat collector, or a headband to help keep my hair off of my forehead and neck.
TSA Approved Luggage Locks – No matter if you have your own room or if you're in a hostel, I always recommend locking up your stuff.
Passport – I mean you can't get into the country without it so don't forget this!
Travel Insurance – Always always always purchase travel insurance for your trips. I like to use World Nomads because they cover any and all activities you may be doing and for a great price.
Toilet Paper Roll – Trust me on this one. I carried around a roll of toilet paper in my backpack everywhere I went because you never know if a bathroom is going to have some.
Hand Sanitizer – I went to a handful of spots that didn't have a sink option in their bathroom, and this was great for keeping my hands clean.
A Good Book – If you're not much of a reader, you can leave this out, but I personally love chilling on the beach, watching the waves, and reading stories.
I use Thriftbooks to buy my books used because it's more eco-friendly and I love the feeling of worn-in pages. On their site, you can buy any book new or used and use this link to get 15% off your purchase!
Journal / Pen – I bring this on all of my travels to write down all of my adventures, thoughts, and things I am dreaming of. It helps me wind down at night or bring my day off to a great start.
This post contains affiliate links. This gives me a small commission when you use the links, but comes at zero extra cost to you.
Until next time,