The Philippines!
*this page is under construction (:*
Picture this: seas of palm trees, fresh coconuts around every corner, the clearest water in the world, powdery, white sand beaches… Do I even need to go on? The Philippines is one of the top tropical destinations in Asia that is often overlooked by backpackers eager to get out to Thailand, Cambodia, and Laos, but this crown jewel, made up of over 7,000 islands, is not one to be missed if you're seeking a tropical paradise in Asia. Welcome to The Philippines, my friends.
My freckled face was able to make its debut in The Philippines back in 2018, but there are so many things that I never got to see that are still eagerly resting at the top of my bucket list. After swimming with whale sharks, island hopping in Siargao, and seeing The Philippines' most ICONIC waterfall, it's really been hard for me to stay away. REALLY hard. *furiously books flight back* If you seek adventure, the tropics, the world's coolest locals, and easy access to offbeat places, then pack yo' bags and get to The Philippines!
Ideally, I want to have ALL the content on The Philippines, but so far I have amazing Philippines travel tips, an EPIC 2 week Philippines Itinerary, a detailed guide to everything that surprised me while traveling here, where to see whale sharks ethically, and tons more that you're able to browse below! If you ever have any questions about traveling to The Philippines, feel free to leave a comment on any of these blogs on The Philippines or shoot me an email from my contact form!
When To Visit
There are many GREAT months to visit the Philippines and all the iconic areas like Cebu, El Nido, Siargao, Bohol, and other exciting areas around these 7,000 islands. The tropical weather brings sunshine and crystal clear water around 50% of the year while the other months welcome rain, rain, and more rain! Read my blog post on the best time to visit the Philippines if you want more insight into when the perfect month for you is!
I visited the Philippines in late March to early April and it was TOAST-Y. I got caught up in Holy Week and was almost stuck on one of the islands I was visiting to swim with whale sharks, so you definitely want to do some weather research before you book your trip. I didn't research very well and I definitely wish I had!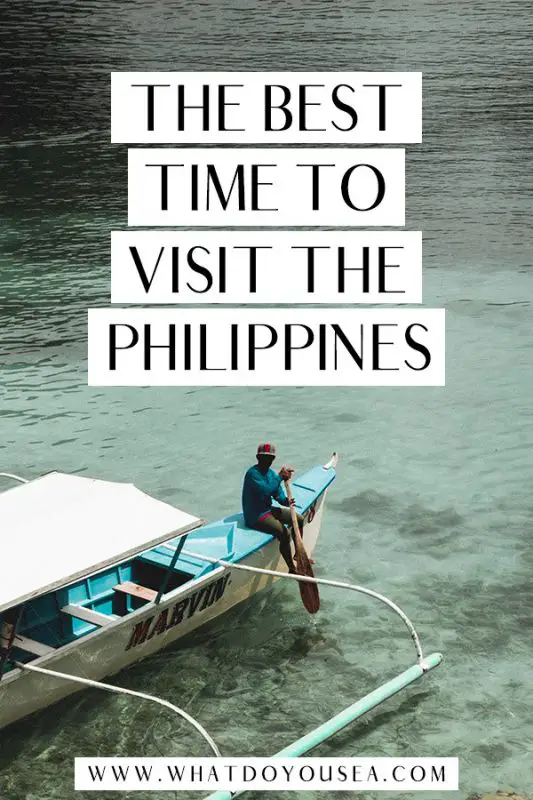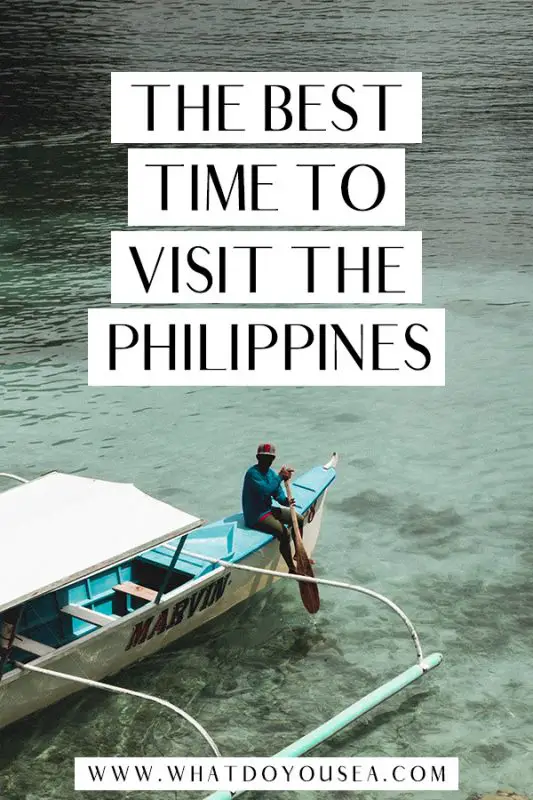 What To Expect
Currency | The official currency of the Philippines is the Philippine Peso (PHP). You'll be stoked to know that US dollars go very far here so you'll be able to travel well with not much money!
Language | English is widely spoken all around the Philippines, but there are many dialects of their native language that are spoken in various regions: Tagalog, Cebuano, Ilocano, and Hiligaynon. You'll encounter many different dialects along your journey!
Transportation | Local transportation is PLENTIFUL in the Philippines and so getting from city to city and region to region is a cakewalk. You can get between islands/regions via ferries or planes and you can get from city to city by tricycles, jeepneys, habal-habals, taxis, scooters, buses, vans, and bikes! Transportation is also extremely cheap in the Philippines, so use it at your disposal to get around!
Safety | While there are certain regions of the Philippines that you'll want to avoid, basically all of the most explored areas are fine for tourists, even solo females! As long as you practice standard safety measures and tips, you'll be safe! I found the Filipinos to be one of the most adventurous, kind people that I have ever had the pleasure of meeting on my travels. The locals will take you on some of your wildest adventures during your travels!