(Last Updated On: 08/02/2020)
Flying for the first time can be an anxiety-filled, mistake-ridden experience, BUT it doesn't have to be. Especially if you have the right arsenal of all the necessary information under your belt, you can be a first time flying expert! From getting your boarding pass, packing your personal item and checked bag properly, and knowing the standard airport procedures, I cover EVERYTHING in this long, detailed guide to flying for the first time!
I remember my first flight so clearly. I didn't have a *coughs* expertly written blog post like this one that I could go to for all the information I needed, so I arrived at the airport feeling very overwhelmed. I relied on the people around me to get me through the airport procedures, but now, after hundreds of hours of flying time under my belt, I now fly with confidence and ease no matter where I am in the world! Not to mention the fact that I've mastered the art of getting cheap flights! It has made me a more confident person overall, not just when I fly, so if you're feeling anxious about flying for the first time, take a breath, whip out a notebook, and be prepared to have all the best notes on flying!
This post may contain affiliate links for the products or services I mentioned, but as always, all opinions are my own. I make a small commission, at no extra cost to you, when you make a purchase or booking through these links. This helps to support this space and keep me blogging, which I am so extremely thankful for.
Are you planning a trip? Check out my other blog posts for smooth travel!
---
How To Prepare For Flying For The First Time
---
Important Tasks
Properly preparing for your flight ahead of time is going to save you approximately nine headaches before you finally board your flight. These are all the tasks that I believe are the most important things that you need to do with the time leading up to your arrival at the airport. Some people have found out that their passport wasn't valid days before their flight and some people have arrived at the airport and found a mistake with their accommodation booking, costing them a ton of money! You don't want this to be you! As long as you make sure you check all these boxes as your countdown to your trip get's closer and closer, your flying experience will be basically stress-free! As it should be!
As soon as you purchase your flight, it's important that you consider travel insurance for your trip. Why is travel insurance important for a flight? If your flight gets canceled or delayed or if your luggage gets lost, you won't have to worry about being out for money and you may even get paid! I never go anywhere without travel insurance, and if you're traveling internationally, I highly recommend travel insurance!
---
---
---
Non-Procrastinatable Tasks
---
– Check ID Validity
– Confirm Itinerary + Plans
– Check For Visa Requirements
– Shop for Trip-Specific Essentials
– Finalize a Packing List
– Double-Check Bookings
– Clean Up Your Space
– Download Music, Movies, + TV Shows
– Gather Travel Documents
---
Procrastinatable Tasks
---
– Check-In Online (varies)
– Choose Your Seat (varies)
– Review Packing Job
– Charge All Electronics
– Set Out Airport Attire
– Weigh Luggage (optional)
– Shower / Clean Up
– Check Traffic + ETA For The Airport
– Check For Flight Delays/Cancellations
– Arrive At Least 2 Hours Early
---
Travel Tips For First Time Flyers
Bring your own reusable water bottle
Picture this. You're parched. Your water was thrown out at security, so you walk to one of the food counters for a new bottle and come to your surprise… A bottle of water costs over $5 USD?! A modern traveler's tragedy when it comes to air travel. You did not come all this way saving money for your trip only to spend it on overpriced water, so bring your own reusable water bottle so that you can drink that free (not great, but free), airport water! Not only will doing this save you money, but the plane ride is going to dehydrate your body almost instantly, so make sure you're drinking around a cup of water for every hour you're in the air!
Don't stand up immediately when the plane lands
Trust me on this. The second that seatbelt sign turns off, the ENTIRE plane is going to stand up like a standing ovation at a concert. The funny thing about this is that the plane files out from to back, so there is no way of getting off the plane faster by standing?! You're better off relaxing in your seat until the few rows in front of you leave!
Arrive at the airport at least 2 hours early
This is recommended by ALL travelers and this is the number one thing that I never play with when it comes to when I arrive at the airport. Even if I am flying domestically and really early in the morning (airports aren't busy for red-eye flights), I still arrive with more than enough time to spare. You never know what the airport is going to be like and how busy security will be so plan accordingly!
Download your music so you can listen offline
This will be a mistake you only make once if you forget to download your music before you get on the plane. I think all of us can come together as avid Spotify users, so connect to some Wifi and download all your favorite tunes before you board!
Pack all the essentials in your carry-on
I apply this rule quite oppositely to my "arrive at the airport 2 hours early" rule. I don't think I have ever in my life packed a change of clothes in my carry-on like most travelers recommend, but, then again, my luggage has never been lost *knocks on wood*. On my next trips, I am going to get better about this, but save yourself the headache and bring things that you would need in the instance that your checked bag gets lost (a huge plus of traveling carry-on only!). This is normally your toothbrush, a change of clothes, important electronics (NEVER check these), prescriptions, etc.. Carry-on essentials take up a little bit more space, but they may just save your toosh one day!
Snacks… Bring all the snacks
Okay, let's raise our hands… Who snacks when they're bored? I am a proud snacker, so I always come equipped with a deluxe mini pantry in my bag for my flights. Chips, health bars, instant meals, you name it, I probably have it! The plane meals tend to be very small and I cannot eat most of them as a vegan, so snacks are essential so that I don't get hungry! You are allowed to take snacks from grocery stores through security and onto the plane, but you can always get snacks at the airport as well!
---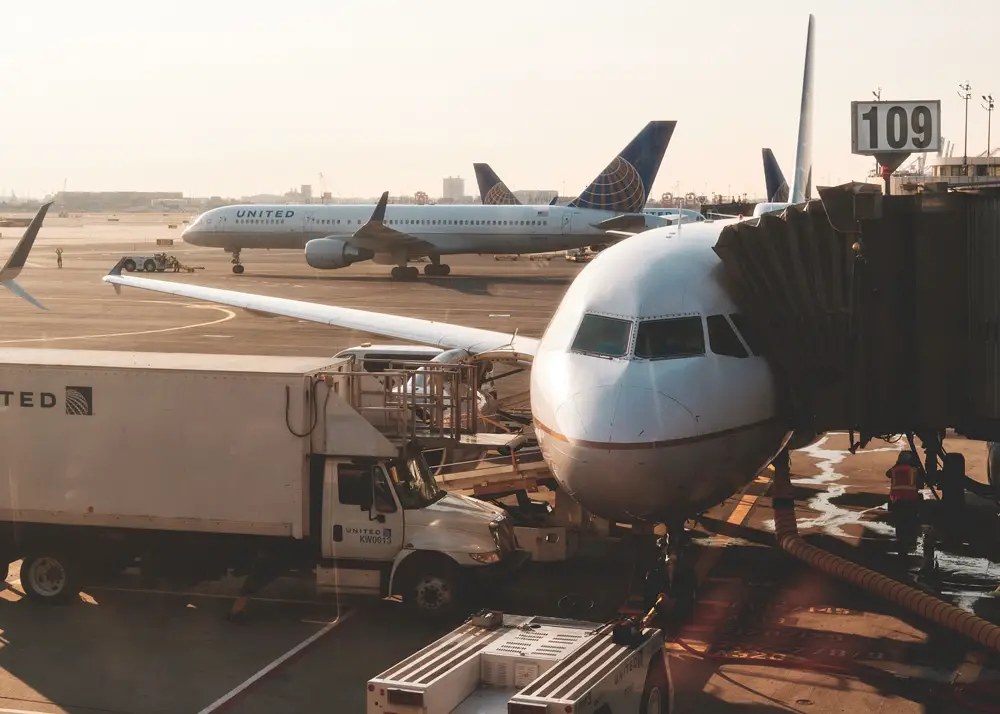 The Step-by-Step Guide To Airport Procedures
---
Arriving At The Airport + Finding Your Terminal
Depending on what your departure airport is, when you first drive into the airport, you're going to see a bunch of billboard-sized signs on the way to the drop-off station that is going to tell you what terminal your flight is in. The terminals in the airport are basically different sections of the airport that have a set number of gates for selected airlines. For example, let's say you're heading to DFW Airport and you have a flight with American Airlines. I would go to terminal A and my flight would be at gate A21. You'll know your gate before you get to the airport, but I know from those signs that flights by American Airlines leave from terminal A.
So while you're in your car or Uber on the way to the airport, check the signs for your airline's terminal and follow the signs to that terminal. If you happen to arrive in a different terminal, you'll need to either walk or take airport transportation to the correct terminal. If you ever can't find your way, go to the information desk at the airport, or ask an employee, and they'll tell you how to get to where you need to be. Alternatively, you can look up a map of your airport on Google Maps and you can search the map for where you are and where you need to go. Use the map below to find gate A21 in terminal A!
When you first arrive in your terminal, you'll need to go to the check-in desk for your airline, get your boarding pass, and drop off your checked luggage if you have it.
---
Checking Into Your Flight / Getting Your Boarding Pass
Checking in for your flight is super easy and stress-free. Once you arrive at your terminal, you're going to see large signs with all the airlines in your terminal. Walk over to the desk for your airline and you'll need to give your ID (domestic flights) or passport (international flights) to the desk employee and if you have a checked bag, place it on the large metal plate to be weighed. If it's overweight, you'll have to pay a fee, but generally checked bags are good for around 50 pounds, so you should be fine unless you're a heavy packer. However, it's different for every airline, so you can use this chart to find the weight limits for your airline and make sure that yours doesn't exceed this (Ideally, you'll check this before you arrive at the airport). The attendant is going to give you your boarding pass, the long rectangular piece of paper, and a luggage sticker.
On the other hand, sometimes airports have kiosks where you'll be able to check-in on your own. This is especially handy if you don't want to wait in line to check-in, or if you aren't checking a bag. Tap the screen and you'll input all the information to receive your boarding pass and luggage sticker.
After you drop off your checked bag and get checked in, it's time to go through security! Yay!
Items You Need For Check-In
– Passport for International Flights (and/or) Domestic Flights
– REAL ID Compliant License (or Another Government-Issued ID) for Domestic Flights
What You'll Receive During Check-In
After you hand over your ID, the desk attendant is going to give you a boarding pass and a luggage sticker. Your boarding pass tells you all the information you need about your flight: boarding time, departure time, estimated arrival time, flight number, gate number, and you're seat number. If you're traveling internationally, you're more than likely going to receive all your boarding passes for your next flights. Remember that all of the times are going to be local to wherever you are in the world. To make sure you don't lose these, make sure that you slip them into your passport or another spot in your bag for safekeeping.
The next thing you're going to receive is a luggage sticker, but only if you're checking a bag for your flight. You won't get one if you only have a carry-on. Honestly, I don't have much use for these since the bags that I travel with are very distinct (AKA easy to find), but you may find it really helpful! The check-in attendant puts a tag on your checked bag with a number that is on both the tag and the sticker so that when you arrive at baggage claim you're able to find your bag and not accidentally go home with the wrong one. I never need it, but if you travel with a black bag or a more common piece of luggage, then this really comes in handy so you don't go home with someone else's bag!
– Boarding Pass
– Luggage Sticker
---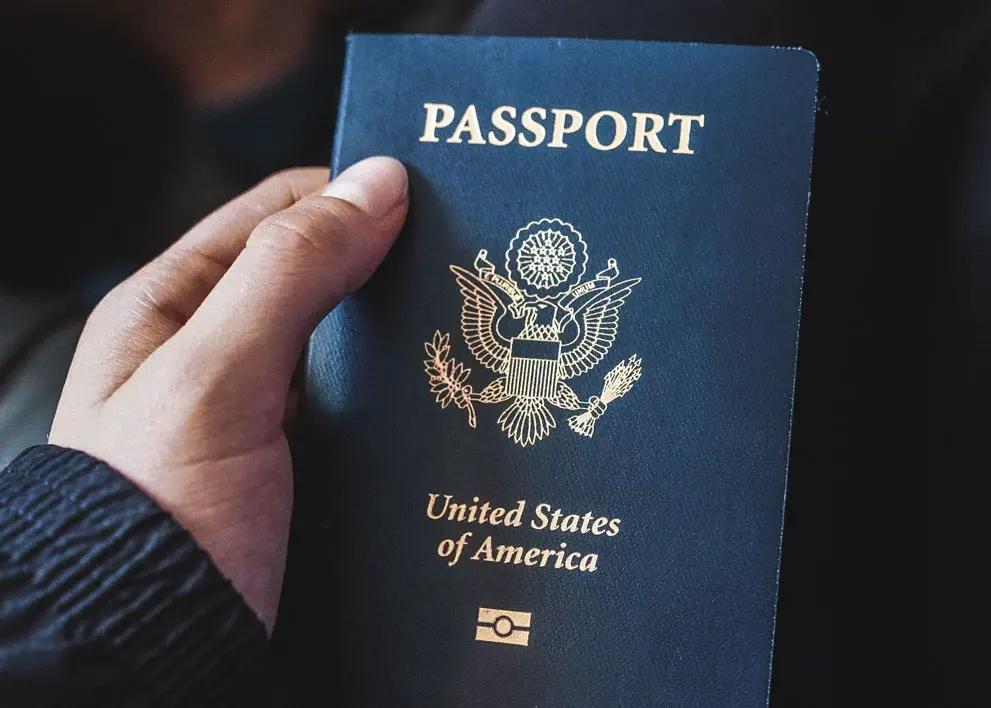 Getting Through Airport Security
First things first, before you go through security, chug all that water you have in your water bottle… You can't take any liquid through security, even if it's sealed so if you need a drink you have to pay the pretty penny for it after you go through security. Tragic, I know!
When you first arrive at security, you need to show your boarding pass and ID to the attendant at the podium. They'll check to make sure the names match and that you actually have a flight, then you'll head on to security. Going through security doesn't normally take too long, but it depends on how busy the airport is, so that's why I always show up at least two hours before my flight since you never know if there's going to be a thousand people in line.
The first thing you need to do is take off your shoes. Everyone has to take off their shoes to go through security along with any loose items like a hat, jacket, or anything metal (like a belt), that will set the alarm off. I've gone through security in a hoodie with no problem, so if that's part of your airport outfit, there isn't a need to take it off. I've also gone through with all my rings and necklaces on, so you don't need to take jewelry off, either.
You need to put all your loose items in one of the plastic bins at the beginning of security. Generally, I'll put my jacket, toiletry bag, phone, boarding pass, shoes, headphones, and passport in one bin, my computer on its own (large electronics must be by themselves), and then my backpack either by itself or in a bin. If you're traveling with a lot of electronics, generally they only make you take out anything bigger than a tablet. There has only been one case where I had to take out (literally) every single wire and electronic in my backpack and that was at the airport in Atlanta, I believe. Most airports don't make you do that, but check the posters on the wall or ask one of the security workers what the protocol is if you're traveling with a lot of gear.
After you have all your things divided into the bins, stay with it until it goes through the flappy things, then you'll need to step through the x-ray machine. You'll walk in, put your hands above your head, and then be still and wait for the machine to scan you. If you're unsure of what to do, there will be a diagram of a person that you can look at for reference once you step inside. After you step out, they'll either let you pass to pick up your bins, or you may receive a light pat-down if you're wearing something that could be concerning. I've gotten pat-down for jewelry, bracelets, forgetting to take my hat off, and some other scenarios. It's not anything to worry about since the workers are really just seeing if you have anything of concern on you and it takes less than five seconds.
If you see that your bin has been pulled aside by one of the workers, this means that they need to search your bag for whatever reason: your liquids are above the TSA-approved amount, you have lots of electronics, etc.. They'll check it out, probably take whatever you aren't allowed to have, and then you'll need to take your bins to one of the seating areas to put your things back on to head to your gate.
When you get your bin from the other side of the conveyer belt, take your bin(s) away from the opening rather than standing next to it because this clogs the line. There should be a large, open area where you can organize your things without getting in the way. After you put your shoes on and get your other things, it's time to head to your gate!
---
Finding Your Gate + Boarding
This is the simplest part of the whole process, and all you need to do is follow the signs to your gate number. If you're in a small airport, this process is a breeze, but it can get a little more transportation inclusive if you land in a larger, international airport. In Singapore, I have taken a tram to another terminal that only took a few minutes, but in LAX, I walked one whole hour to get to my proper gate, and that was without getting lost! I always like to give myself extra time to find my gate because I want time to be able to get a snack if I need, fill up my water bottle, and go to the restroom. Once you arrive at your gate, find a comfortable seat and then wait until they call for boarding. You can find your boarding time on your boarding pass!
Odds are, you're going to be placed in a boarding group (these are normally labeled 1-4), and all you need to do for that is wait until they call boarding for your group. I like to sit and wait for most of the line to go down before I stand up in line and it is so much more comfortable that way. They are going to scan your boarding pass and then you'll be headed into the tunnel for boarding. Once you get here, you'll be waiting in the line for a few minutes as people find their seats and then you'll use your boarding pass to find your seat. The seat numbers are labeled on the overhead bin, so walk until you find your seat. If you don't have a seat number, chances are the airline lets you pick your own, but always double-check to make sure.
---
Flying For The First Time Domestically 
What to wear on a domestic flight
Domestic flights can be a bit more lenient when it comes to your wardrobe, but I normally end up wearing what I wear on long-haul flights: my favorite leggings, loose top/comfy bra, jacket, and my heaviest shoes. This works for me, but I've seen people in full-on suits, dresses, and everything in-between for domestic flights. My top priority is comfort and yours more than likely is as well, so wear things that you'll be comfortable in for a few hours.
The most important thing that you can wear or pack along is going to be a jacket of some sort because airplanes are notorious for being cold and that's the last thing you want if you'll be on it even for a few hours! It doesn't even matter the destination, I always have some type of jacket with me when I fly. The next most important thing would be my shoes. A lot of people recommend traveling with shoes that can slip on and off easily, however, if you're traveling light, I recommend wearing your biggest/bulkiest shoes to save room in your bag! I always take my shoes off on flights anyway so it really isn't too bad!
Think stretchy, comfortable, and warm!
What to do on a domestic flight
Most domestic flights don't give you enough time to do anything monumental during your flight, and these planes don't generally have TV's, so I pretty much listen to music, snack, read, clean out my phone, journal, and other small things to pass the time. If you have an iPad or tablet and have a TV show that you're binge-watching, it's a GENIUS idea to download some episodes or a movie to watch! That's pretty much the best way to pass the time, or you can sleep!
There aren't any meals provided on domestic flights since they're so short, so plan for a dinky bag of pretzels or other pre-snack sized items to be your food on the plane. I like to eat before I board planes anyway, so this generally doesn't end up being too much of a disappointment for me, but if you still want to eat on the plane, you can bring meals (and drinks!) from the airport onto the plane if you desire or just pack a couple of snacks to hold you through until you land.
---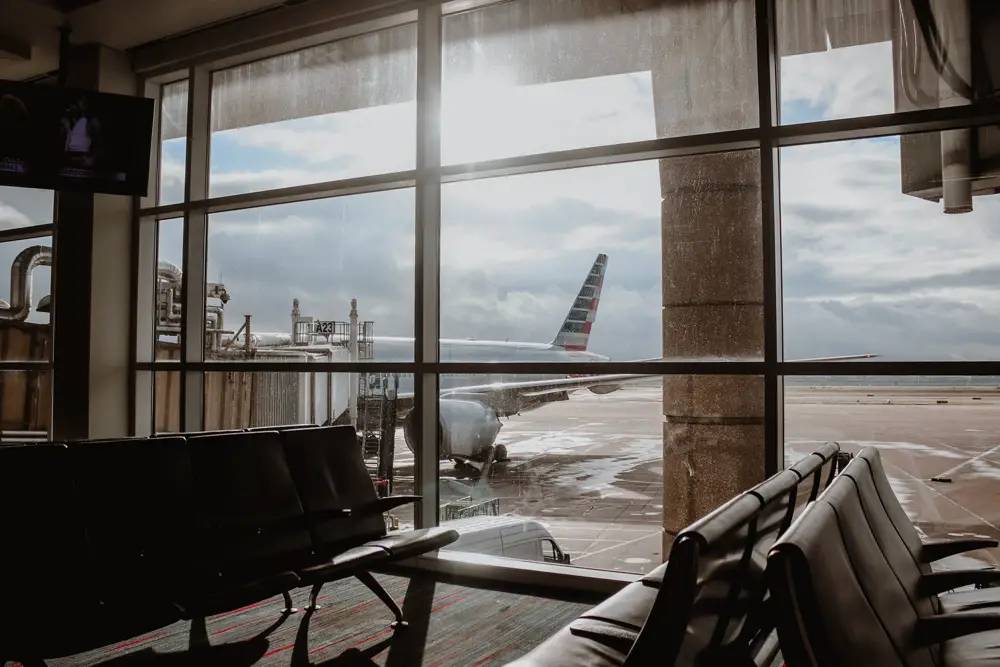 Flying For The First Time Internationally
Aka Long-haul flights
Long-haul flights tend to be a little bit nerve-inducing if you don't like flying over the ocean or even if you have never been on a plane for over 7-10+ hours, but they're simple once you know a little bit about what to do and where to go.  First things first, don't be nervous about a language barrier. There is an enormous chance that you're going to be flying into an international airport at some point on your journey and since these welcome travelers from all over the world, the airport signs are often bilingual and feature English along with the local language.
What To Wear on an International Flight
The most important part of your long-haul flight is going to be dressing properly so that you can achieve your maximum level of comfort in a cramped space. Is that necessarily possible? No, not really, but dressing for the occasion is going to impact your flying experience by ten-fold! I tend to travel light, so I like my airport outfit to easily incorporate into the outfits that I will be wearing during my travels. I tend to stick with neutral tones which makes styling so much easier and it keeps my bag light! Think comfortable, yet practical!
I always, always, ALWAYS wear this exact pair of leggings that keep me warm and cozy on my entire flight. These bad boys have been through almost four years of travel and they still look brand new! Any pair of comfortable pants will do, I just tend to wear leggings since I can appear a bit more put together with them on, and they don't take up a lot of room in my bag when I arrive at my destination. As for tops, I try and wear baggy tops over a stretchy bra since I tend to bloat in my belly a LOT when I fly internationally and I don't want to be in a tight top when that happens. The final layer is ALWAYS some type of jacket because planes can get FRIGID. Even if I am flying to a secluded island in the middle of the Pacific, you can bet that I get off the plane wearing a jacket.
As for shoes, it depends. I will always wear my heaviest shoes on the flight because I know I am going to take them off once I get on the plane anyway. Some people don't do that, some people do. It's all about your preference, but if you want to save room in your bag, wear your bulkiest items for the flight!
What To Do on an International Flight
When you're in a large flying metal object for up to 16 hours, the world is your oyster when it comes to entertainment, so make sure you pack all the goodies you need in your carry-on. Some people like to take a Benadryl/Melatonin and pass out, others like to binge-watch movies, and some others flip between a few activities when it comes to passing the time. I can be all three of these people depending on what mood I am in, so I like to bring a variety of things.
Most international flights are going to have small tv's on the headset in front of you with a whole catalog of movies and shows to choose from. Sometimes you can watch new releases for free on these which is really cool, so I like to watch movies if there are some good ones playing! If I get bored with that, then I'll read, eat a snack (this happens a lot lol), listen to music, fall asleep, and write in my journal. Ideally, I would want to work on things for my website, but airline Wifi is NO BUENO, my friends, so don't waste your time buying it. You'll have to find non-digital ways for entertainment on an international flight!
Food on International Flights
Depending on how long you're in the air, you're going to get one or two meals and some snacks along your journey. The meals vary from airline to airline, and since I travel as a vegan I don't end up eating them most of the time anyway, but they aren't awful if you're really desperate for food. If you have any special allergies, you can request a special meal for your flight and you'll get your food first #HACK! You need to do this before the day of your flight! I never get a vegan meal just because I, somehow, always end up forgetting, but most of the time I pack enough snacks to get me through the flight. The meals come with your ticket and the only way you'll spend money on food is if you want additional snacks, alcohol, or other drinks to get you through the flight. I stick with water (and sometimes tea) since flying is really dehydrating and those are free!
If you want to stay healthy while traveling, you can pack your own meals for the plane! Liquids are the only real issue to take into account when you're thinking about what you want to take along, so everything else is free reign! It's a great way to save money since you won't need to buy airport food and it keeps you away from the super processed plane food.
Most direct flights tend to be very expensive when it comes to international flights (unless you score a cheap flight), so there is a huge chance that you're going to have a layover somewhere in another country/city. In addition to that, you can't get most places without having a connecting flight, so layovers are very common.  When you have a layover, that means you have a "connecting flight or connection". This means that you could not get to your destination in one go, or it was cheaper to book separate flights, so you have a stop somewhere between your departure and arrival airports. I have had itineraries where I've had multiple connections, not just one, but follow the same protocols no matter if you have one or three!
What Happens To Your Luggage?
The first thing that people worry about when flying for the first time and having a layover is their luggage. What happens to it?
If you're flying domestically, then your luggage is always tagged and put onto the second flight to your final destination, so you don't have to worry about picking it up anywhere and rechecking it. If you're hesitant, whenever you check-in for your first flight, ask the desk attendant if your luggage will be checked all the way to your final destination to have the confirmation.
If you're flying internationally, there are different protocols for different countries, airlines, and airports. If you're flying into the United States and Canada from anywhere outside the US or Canada, then you have to collect and re-check your bag no matter where your last flight is going. In other countries, as long as your flights are all within the same airline and that airline's partners, you shouldn't have to recheck it. Most of the time, if you have to collect and re-check your luggage, the desk attendant is going to tell you when you check-in for your first flight. And like I said before, if you're unsure, just ask.
If you do need to collect and re-check your bag, think of it as if you have arrived at your final destination. You'll go to the baggage claim as if you're going to leave, but you're going to loop around and go back to the check-in desk to check your bag again like you did the first time. A good way to never worrying about lost luggage and re-checks is to travel with only a carry-on! You get to keep your bag with you 100% of your journey, you'll get through airports quicker, and you'll have less to worry about!
Layover Logistics (Customs/Immigration)
The next thing that people worry about is the process of layovers. Where do I go? What do I do? Do I have to go through customs/immigration?
So, once you exit the plane, you're going to be in your "transit" or "connecting" airport. Look for signs that say something like "connecting flights", "transfers", "transit", or "transit passengers". If you're only passing through the airport and not leaving, you probably don't need to go through customs, but some places are different than others. I have passed through Singapore and South Korea without having to go through customs because I wasn't technically entering the country. While you're still on the plane en route to your connection airport, the flight attendants are going to be handing out customs cards for those that plan on staying in the country of your connection flight. If you don't get that card, you don't need to go through customs/immigration.
Whether you go through customs or not, you might have to pass through another security check (again, it depends on the airport/country) and then you'll be able to find your next gate. Your gate should be printed on your next boarding pass. If you have a layover that's long, say 10+ hours, you may not have a gate number yet. This is where your movie moment comes in where you check those gigantic LED screens with your flight information on them. Find your flight number on the screen and it'll tell you where you're gate is. Generally, they don't pop up until a few hours before your flight, so don't stress it too much and check back periodically. If you really want to be a flying MASTER, then use the App in the Air app for immediate flight updates and you'll have all flight changes and updates sent directly to your phone!
Other than that, you can grab some grub, use the airport wifi, and hang out near your gate until you board!
---
On The Plane
Once they call for boarding, you'll hand your boarding pass to the attendant, go through the tunnel, and then you'll find your seat and settle in. It'll be around 10-20 minutes before the plane even leaves the airport, so you don't need to feel rushed while you get your things organized. If you're nervous about the security measures, there should be a pamphlet in the seat pocket in front of you that gives you all the emergency information about the plane should it go down. On every single flight, they have a safety briefing that the flight attendants will give that tells you where the exits are, what to do in the event of an emergency, how the seatbelts work, and a few other essentials to make you more comfortable for the flight.
After the security briefing, the plane will be prepped for takeoff, so fasten your seatbelt, put away your tray table, and be prepared to depart!
Once the plane reaches cruising altitude, you'll be able to "move about the cabin", go to the restroom, stretch your legs, etc.. The bathroom is normally in the very back for domestic flights and there is also one in the middle of the plane for international flight since those planes are much larger.
It's pretty much straightforward from here and you can dig into your entertainment or study the back of your eyelids for the rest of the flight! Happy flying!
---
Landing, Leaving The Plane, + Baggage Claim
People either love the feeling of the plane landing or they hate it. Personally, I find it absolutely exhilarating for some reason, so I almost always look forward to landing! If your landing feels a bit rugged, it's OKAY. Airplane landings are definitely not a graceful experience, so don't think that the plane is going to crash or implode if you start bopping around in your seat. It's easy, peasy lemon squeezy!
So, you've made it! You've survived the dehydration, eaten the sub-par airline food, and conquered the bustle of airports and now it's time to collect your things and head to your first stop, wherever that may be! First things first, you need to collect your bags. Once you step off the plane and into the airport, look for the sign that says "baggage claim" (real hard to miss). Follow the signs until you arrive at the baggage claim (an open area with a bunch of revolving belts), and wait until the bags are dumped onto the conveyer belt. The connecting airports will be on the screens above the claims that will tell you where to get your luggage. If you don't see your luggage right away, don't fret and wait it out. Sometimes it takes a minute to get all the luggage onto the belt. If you've waited and waited and waited and you still don't see your bag, it was likely lost and this is what you need to do if that happens.
Grab your bag and then it's time to head out! Use your preferred method of transport for your next destination and here you are!! You've arrived! It's time to get exploring and discover the world!
---
Flying For The First Time Checklist
---
Wrapping Up Flying For The First Time
Phew! So here it is in all its glory! The complete guide for first-time flyers! If you have any questions that you need answered or explained further, please feel free to contact me via email on my contact me page, or my direct messages on my Instagram account (and give me a follow if I inspire you!). Going on a trip and pursing world travel is one of the most impactful and riveting things that you can do for yourself! You've got this!
Psst! And once you've conquered it once, you'll find that it gets easier and easier, and more and more addicting!
Good luck!
---
Were you nervous about your first flight? Tell me about your experience in the comments below!
Aaren
Did you enjoy this post? Save it for later on Pinterest!