(Last Updated On: 06/01/2022)
From the new year celebration of Hogmanay, Europe's largest fire festival of Up Helly Aa, to the endless scenery in the highlands, Edinburgh Fringe Festival, and all the road trip options, discovering the best time to visit Scotland is largely based on what attractions you're interested in seeing since there really isn't a "bad" time to visit Scotland. Summer in Scotland is full of festivals, blooming greens hues across the country, and the largest opportunities for adventure. Whereas the winter in Scotland offers fewer daylight hours, but the cities are decorated in holiday lights, blanketed in snow, and getting ready to welcome in springtime and a brand new year. Each season in Scotland offers something even more special than the last as the year goes on.
In this guide, you'll find everything you need to know about when to go to Scotland, month-by-month weather averages, when festivals take place, and when you can expect the best weather for hiking, and the ideal month to avoid midges!
This post may contain affiliate links for the products I mentioned, but as always, all opinions are my own. I make a small commission, at no extra cost to you, when you make a purchase or booking through these links. This helps to support this space and keep me blogging, which I am so extremely thankful for.
---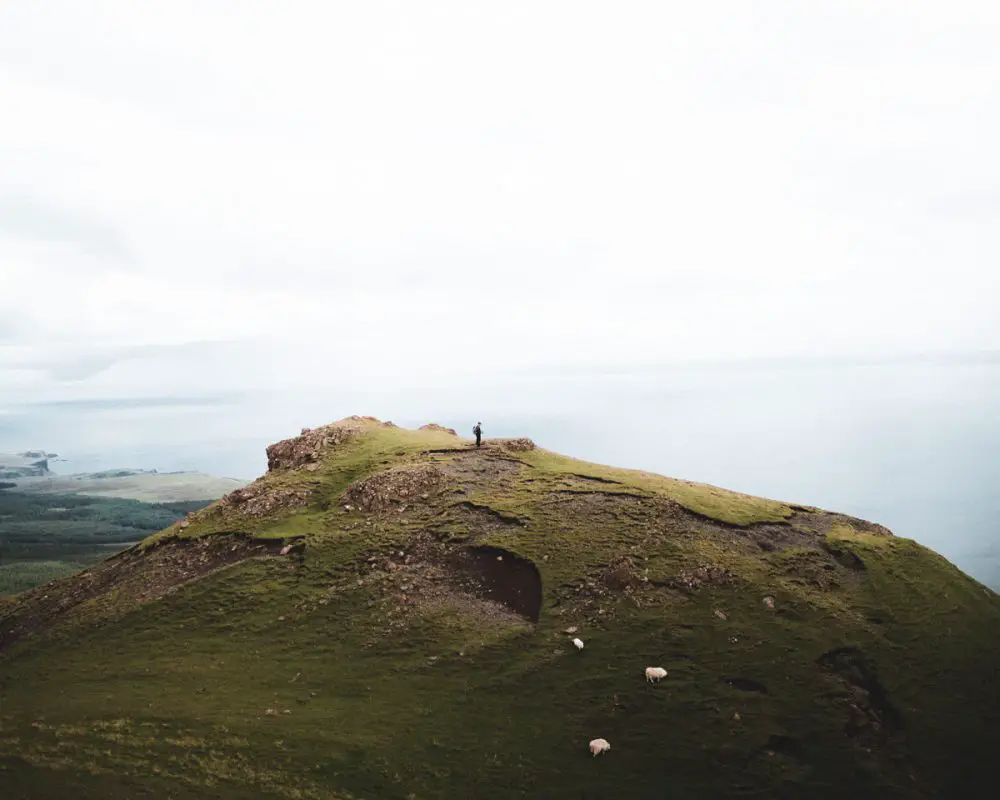 Weather In Scotland Overview
Scotland is in the Northern Hemisphere, so the seasons tend to correlate with those in the United States and other parts of Europe. Winter is November through February. Spring is March through May. Summer is June through August, and Fall is September and October, roughly. If you're not looking for specific months, but rather the high, low, and shoulder seasons of Scotland, use this guide below to help determine when you want to head out:
High Season | June – August
Low Season | November – Mid December, December 26th – Mid March
Shoulder Season(s) | May – June, Late September – November
Warmest Month(s) | July/August
Coldest Month(s) | January/February
---
OVERALL BEST TIME TO GO TO SCOTLAND
Late Spring
(April/May/June) –

Early Autumn

(September/October)

 
---
The Best Time To Visit Scotland For Festivals
January | Up Helly Aa (Viking Festival)
August | Fringe Festival (Music, Movies, + Art)
December | Hogmanay (New Years)
Technically, you can visit Scotland any month of the year and there will be some type of festival going on! It's a festival hub and there are over 200 festivals held over the entire year! I listed the more notable festivals below in case you really want to go big or go home, but you can look at the annual calendar of festivals here.
The Best Time To Visit Scotland For The Best Weather, Hiking, + Golfing
May – September
With the best weather comes the most crowds, so if you're traveling in July and August specifically, expect there to be A LOT of crowds and for prices to be much higher. On top of that, the Edinburgh Fringe Festival and Edinburgh Military Tatoo take place in August every year so you'll have the crowds from good weather AND an ENORMOUS festival. Accommodation and tours are going to be fully booked months in advance so keep that in mind if you're planning a summer visit, especially in the month of August.
The Best Time To Visit Scotland's Highlands
May – September
Many people visit the Scottish Highlands starting in May through September since the weather is in its prime and these months are when Scotland has the most daylight hours, making hiking and exploring seamless. If you can manage it, avoid July and August, that tends to be a common theme here since the crowds will follow you up into the highlands, but Scotland has plenty of room to get off the beaten path and have some gems all to yourself. If you plan on visiting outside of this timeframe, before you plan and make arrangements, make sure the attractions you pack properly for your planned activities, check the weather, and make sure they're open during the time you'll be visiting.
The Best Time To Visit Scotland To Avoid Midges
April, May, September, + October
If you're wanting to visit Scotland in the summertime, then there is hardly any escaping the midges, but if you push your trip forward or back to the spring and fall months, you can avoid the midge bites and still experience beautiful weather. If you still want to visit in the summer and want to experience the least amount of midges, these are a few tips:
Tips For Avoiding Midges In The Summer Months
– Wear light clothing.
– Avoid shade, early mornings, + late evenings.
– Keep moving and stay in the breeze, they like stagnant air.
---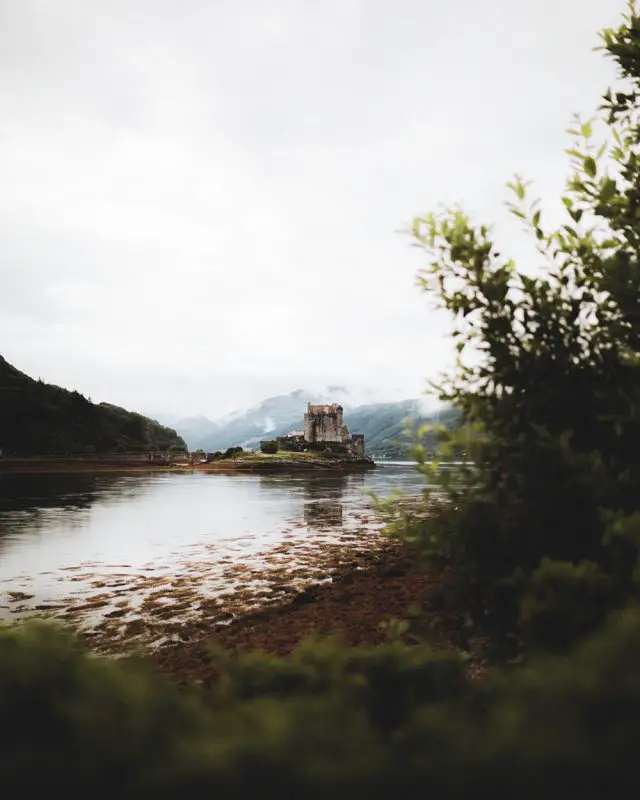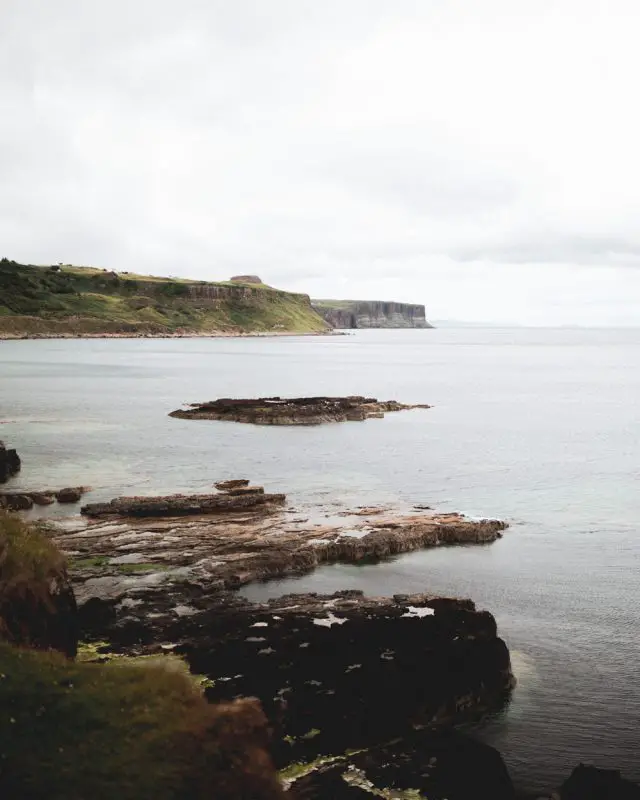 Scotland Weather in January
MAX Temperature | 45 F (7 C)
MIN Temperature | 34 F (1 C)
Although January is the coldest month of the year in Scotland, you'll easily warm yourself up at the exhilarating celebration of Up Helly Aa. Every January in Lerwick, Shetland, an EPIC Viking Fire Festival takes place to mark the end of the Yule season. It's the largest fire festival in Europe complete with processions, live music, and the burning of an imitation Viking Galley. This is an amazing event if you're a history lover and want to get off the beaten path during your visit to Scotland.
January is the coldest month of the year in Scotland, but winters are generally mild here, so you won't expect below-freezing temperatures. If the temperatures drop low enough, however, you may get to see a beautiful blanket of snowfall over the country. Due to the colder weather, January isn't a very popular time to go to Scotland for outdoor adventures but if you want to celebrate in cities, snuggle up at some of its top coffee shops, save money, and see fewer crowds, January is an excellent time to go to Scotland.
Pros | low prices + few-zero crowds
Cons | cold weather + highlands can be inaccessible
---
Scotland Weather in February
MAX Temperature | 46 F (8 C)
MIN Temperature | 34 F (1 C)
February is also another month for less-than-ideal weather, making it not an ideal time to visit. The temperatures are slightly warmer, but it's really nothing to ride home about since outdoor activities can still be inaccessible. You don't gain any significant amount of daylight hours and there aren't really any large celebrations going on this month, so it'll be fairly quiet. If you're planning on going to Scotland on a budget, prices will be lower this month and crowds will be few after the celebrations in December and January.
Would I visit in February? Probably not. If you can manage to push your trip back a month more towards the shoulder season, you're going to have a better trip since the weather will be warming up and there will still be few crowds and locations like the Isle of Skye, Outer Hebrides, and Shetland will begin to open. If planning to go this month, dress in warm layers!
Pros | low prices + few-zero crowds
Cons | cold weather + highlands can be inaccessible
---
Scotland Weather in March
MAX Temperature | 50 F (10 C)
MIN Temperature | 37 (3 C)
There is one way to describe March in Scotland: wet. REALLY wet. Winter and Spring will bring the most rain, so don't arrive this month without a proper raincoat! The temperatures begin to jump just a little bit this month, but it is still going to be cold, so don't let that 50-degree max temperature keep you from packing your layers. The life of the cities will begin to slowly emerge this time of year, the frost will slowly start to wave goodbye, and small signs of spring will make their way into Scotland!
March is just a little bit before the actual shoulder season for Scotland, so you can still enjoy the perks of the low/shoulder season if you're paying a visit! The prices will still be relatively low and the more remote areas of Scotland may be easier to explore with the warmer weather, but always mind the forecast and check for closures! March doesn't have any large events, either, so it's a quiet month to get some exploring in before high season rolls around.
Pros | lower prices + few crowds
Cons | still pretty cold
---
Scotland Weather in April
MAX Temperature | 54 F (12 C)
MIN Temperature | 39 F (4 C)
April is the start of shoulder season in Scotland AND it just so happens to showcase the first little sneak peek of spring! What's the best part? Since the winter months offered lots of rain, the Scottish countrysides are beginning to flourish with the rich green tones that Scotland is so famous for, and April tends to be the driest month of the year. On top of that, crowds are still low during the month of April, so you can experience all the gems and wonders of rugged Scotland without having to push through crowds.
That is not to say that you won't need some warmer clothing because it'll still be wet and it can go from sunny to cloudy with a low wind chill in minutes! There is a huge jump in the hours of sunshine gleaming over Scotland, so you'll have more time for exploration and adventure! April is a very ideal time to visit Scotland!
Pros | warming weather, few crowds, + lower prices
Cons | not perfect weather, but bearable
---
Scotland Weather in May
MAX Temperature | 59 F (15 C)
MIN Temperature | 49 F (7 C)
In May, you'll see another little jump in temperatures in the latter half of the month while still enjoying the prices from the low season. May is a BEAUTIFUL time to be in Scotland, and dare I say, one of the perfect times to visit? Like every other month in Scotland, combat wind and spontaneous rain with proper gear and you'll arrive prepared and ready to explore. There will still be opportunities to find solid deals this time of year so there is a huge opportunity to save money or travel Scotland on a budget if you're traveling in May.
May boasts up to 17 hours of daylight by the end of the month, so use those extra golden rays to explore the Isle of Skye, Isle of Arran, Outer Hebrides, North Coast 500, Shetland, the Highlands, and other rugged spots in Scotland before the crowds arrive! May is right around the time the midges begin to immerge and cause a nuisance, so visit in early-mid May if you want to avoid midges entirely!
Pros | shoulder season, warming weather, few crowds, + lower prices
Cons | none?
---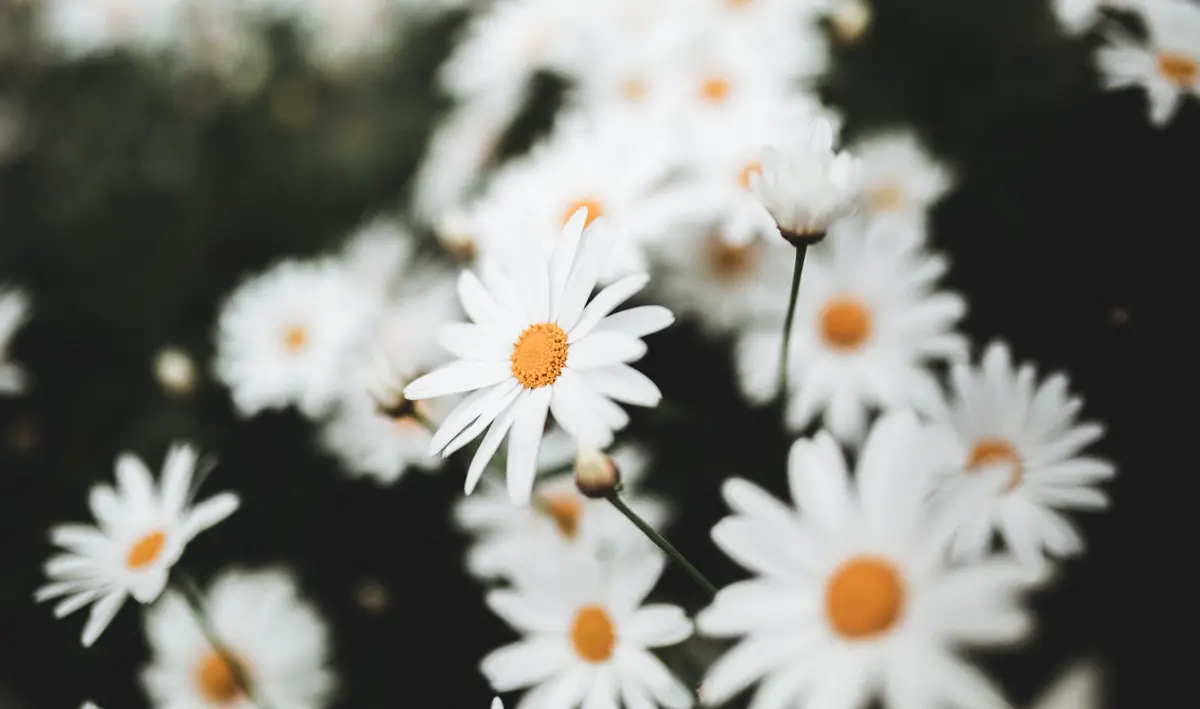 Scotland Weather in June
MAX Temperature | 63 F (17 C)
MIN Temperature | 50 F (10 C)
Once June hits in Scotland, it's finally time to witness the bustling cities, wildlife, and vibrancy of the country. The weather is perfect, rain showers are still spontaneous and possibly plentiful, but never for the entire day! Tourism starts to really pick up in June since most people want to chase the warmth, but June doesn't compare to the masses in July and August, so if you want good weather and don't mind some fellow tourists, June is a great time to go to Scotland.
June is also a really good time to whip out your tent or campervan and get out into the outdoors! A lot of people rent campervans and road trip around the country, which I highly recommend! You'll save money and see parts of Scotland that few people have seen! Most, if not all, of the other islands, highlands, and natural attractions will be open in June, so your opportunity for exploration is endless! Also, the Highland Games will emerge in June and go all the way into September!
Pros | optimal weather, 15+ hours of daylight, + no limits to exploration
Cons | growing crowds, peak season, + prices raising
---
Scotland Weather in July
MAX Temperature | 66 F (19 C)
MIN Temperature | 52 F (11 C)
Busy, busy, busy July! I went to Scotland for a tournament in July so I couldn't really be picky about the month that I went, but July is crowded, especially in Edinburgh. The weather is peaking. The sun shines for 17 hours and everything Scotland has to offer is highly accessible. July is high season, so expect the prices of rental cars, accommodations, and everything else to be significantly higher.
Summertime in Scotland isn't exactly shorts weather, but with a solid Scotland packing list, you'll easily come here prepared and ready to wander. As I mentioned above in June, July is another great time to whip out your tents and campervans and explore the countrysides! If you want to visit Scotland with the best weather July is a viable option, just mind the midges. If you want to visit this month, but don't want crowds, plan to arrive at iconic locations EARLY in the morning and you'll have remarkable locations, like The Old Man of Storr hike, all to yourself!
Pros | the best weather, 15+ hours of daylight, + no limits to exploration
Cons | crowded, high season, + expensive
---
Scotland Weather in August
MAX Temperature | 66 F (19 C)
MIN Temperature | 52 F (11 C)
Unless you're planning on experiencing the art and wonder of the Edinburgh Fringe Festival, avoid August. It's known to avoid Scotland in August because it's crowded and really expensive to travel during this month. The Fringe Festival is the largest art festival IN THE WORLD, so that coupled with perfect weather is a recipe for lots and lots and lots of people, making this time of year the peak of peak season. In addition to that, the Edinburgh Military Tattoo, a military parade that takes place in front of the castle, coincides with the Fringe Festival going into August. Hotels and car rental prices will soar and tours will be fully booked months in advance.
A road trip around the country, like the North Coast 500, is the perfect trip idea to take in all the nice weather and avoid most of the crowds. If you want to immerse yourself in nature and go off the beaten path, the weather in August cannot be more perfect, aside from the midges. If you want to experience some of Scotland's iconic cities and tourist attractions, I recommend waiting until September for fewer tourists and lower prices.
Pros | best weather, 15+ hours of daylight, + no limits to exploration
Cons | (VERY) crowded, (REALLY) expensive, +midges
---
Scotland Weather in September
MAX Temperature | 63 F (17 C)
MIN Temperature | 48 F (9 C)
As the temperatures drop, the leaves begin to change, and the spooky fall season makes its way into Scotland, you might want to consider paying a visit this month of the year since the weather is incredible, and not to mention (more) dry. You'll find the days getting shorter by around two hours, similar to August, by the end of the month, but the comfortable, drier weather makes September one of the last, favorable months of the year before winter rolls around. The largest gathering for The Highland Games, the Braemar, takes place in September, which features athletic events, piping, and dance competitions. It's held in a different, stunning location each year near Pitlochry, and worth going to feel the spirit of Scotland come alive.
This is where all the summer travelers taper off, but that doesn't mean that you'll be able to book tours, excursions, and accommodations last minute. September is still pretty popular for travelers, it's just not as bad as the summer crowds. The streets, cities, and countrysides are STUNNING this time of year, and if you're a lover of autumn foliage, photography, hiking, camping, etc., stamp September as the best time to visit Scotland.
Pros | shoulder season, prices begin to lower, + great weather
Cons | crowds can linger
---
Scotland Weather in October
MAX Temperature | 55 F (13 C)
MIN Temperature | 43 F (6 C)
If you've ever wanted that spooky, foggy, chilly, fall experience, Scotland in October is your ticket to for all the Halloween vibes. The weather in October is still not cold enough to be miserable, but the rain does pick back up a little bit this month. The crowds from summer and the beginning of fall have waved their goodbyes, so October is a really nice time to be in Scotland.
Edinburgh itself is a really spooky city, even when I paid it a visit in the summer months, so take FULL advantage of ghost tours, cemetery wanderings for Tom Riddle, and even consider joining in on the Edinburgh Coffee Festival. Honestly, everything about Scotland in October just fits. It's perfect. What else is there to say? When I visit again, celebrating Halloween in Scotland is at the top of my bucket list!
Pros | fewer crowds, low prices, + great weather
Cons | none
---
Scotland Weather in November
MAX Temperature | 50 F (10 C)
MIN Temperature | 39 F (4 C)
Once Halloween passes, Scotland welcomes winter with the start of November. November is part of the shoulder season going into the winter months so expect all the perks that go along with that: few crowds, cheaper prices, etc. One of the most notable parts of visiting Scotland in November is that around halfway through the month all the Christmas decorations go up and the spirit of Christmas comes alive!
You'll want to make sure that you pack the thicker layers since this month is when all those cold fronts are going to come sweeping into the country. If you want to beat the Christmas rush, but still experience the magic of the holidays, November is the month for you. However, do keep in mind that the daylight hours are limited from this month all the way into February and natural attractions in the highlands and around the country may not be open.
Pros | shoulder season, Christmas decorations go up, lower prices, + few crowds
Cons | beginning of winter
---
Scotland Weather in December
MAX Temperature | 45 F (7 C)
MIN Temperature | 34 F (1 C)
Odds are if you're looking to go to Scotland in December, you want to see fewer crowds, explore Christmas markets, or experience the world's largest New Years Eve celebration, the Scottish Hogmanay! Every year on December 31st, rolling into the morning of January 1st there is a massive celebration filled with fireworks, feasting, live music, drinking, dancing, and the infamous countdown to the new year. If one thing is for certain, it's that the Scots know how to throw a party, so I highly recommend a visit this month if these events interest you.
Since Scotland gets warm winds from the west, below-freezing temperatures aren't too common, so winters tend to be fairly mild. However, some attractions might be closed or inaccessible due to the winter season, so double-check those to make sure you can see and explore all the things on your itinerary. The key to seeing Scotland in the winter is to dress in layers! December is an ideal time of year to visit Scotland if you love a holiday celebration/party, don't mind colder weather, and plan to stay centralized in cities since the highlands and other islands can be inaccessible this time of year.
Pros | holiday celebrations + fewer crowds
Cons | cold + natural attractions inaccessible
---
LOOKING FOR MORE SCOTLAND TRAVEL RESOURCES? CHECK THESE OUT:
– The BEST Scotland Packing List For Summer
– 50 Scotland Travel Tips For An Unforgettable Trip
– The Ultimate 10 Days In Scotland Road Trip Itinerary
– 10 Tips For Traveling Scotland On A Budget
– 72 Hours in the Isle of Skye
– Hiking The Old Man Of Storr: The Isle Of Skye's Crown Jewel
RESOURCES FOR VISITING EDINBURGH:
– 3 Days In Edinburgh: The Ultimate Itinerary for Edinburgh, Scotland
– The 8 Best Day Trips From Edinburgh You CANNOT Miss
– The 10 Best Hostels In Edinburgh For A Magical Stay
– The Best Coffee Shops In Edinburgh: 15 Cafe's You Can't Miss
– The 10 Best Mouth-Watering Vegan Restaurants In Edinburgh
– The Top 15 Places To Get A Vegan Breakfast In Edinburgh
---
What season do you prefer to travel in? Share with me in the comments below!
Aaren
Did you enjoy this post about the best time to visit Scotland?