(Last Updated On: 06/04/2020)
If you've spent some time wandering around the streets of Edinburgh, chances are you're stoked to see what else Scotland has to offer, therefore cueing some serious wanderlust and search for the best day trips from Edinburgh. Let me just say, the views that you're going to see are some of the best in the entire world. There is no place like Scotland and with these eight day trip ideas filling your brain, it's going to be so hard to leave, but in the same way, easier to book your return flight back. These day trips are for adventurous travelers who like love nature-filled excursions, some possible adrenaline, and there are also some for history lovers, harry potter lovers, and city lovers. I left a little bit of something for everyone. I highly recommend that you check at least one of these off your list while you're in Scotland, but if I had to choose just one, it would be Glencoe Valley. It was one of the most beautiful places that I have ever seen, and I can't wait to make it back to explore more than just the surface of the place.
If you want a small city break, or just want to explore Scotland's raw nature, these are the eight best day trips from Edinburgh that will blow your mind.
Traveling to Scotland soon? Check out my other (awesome) resources!
---
Loch Ness + The Highlands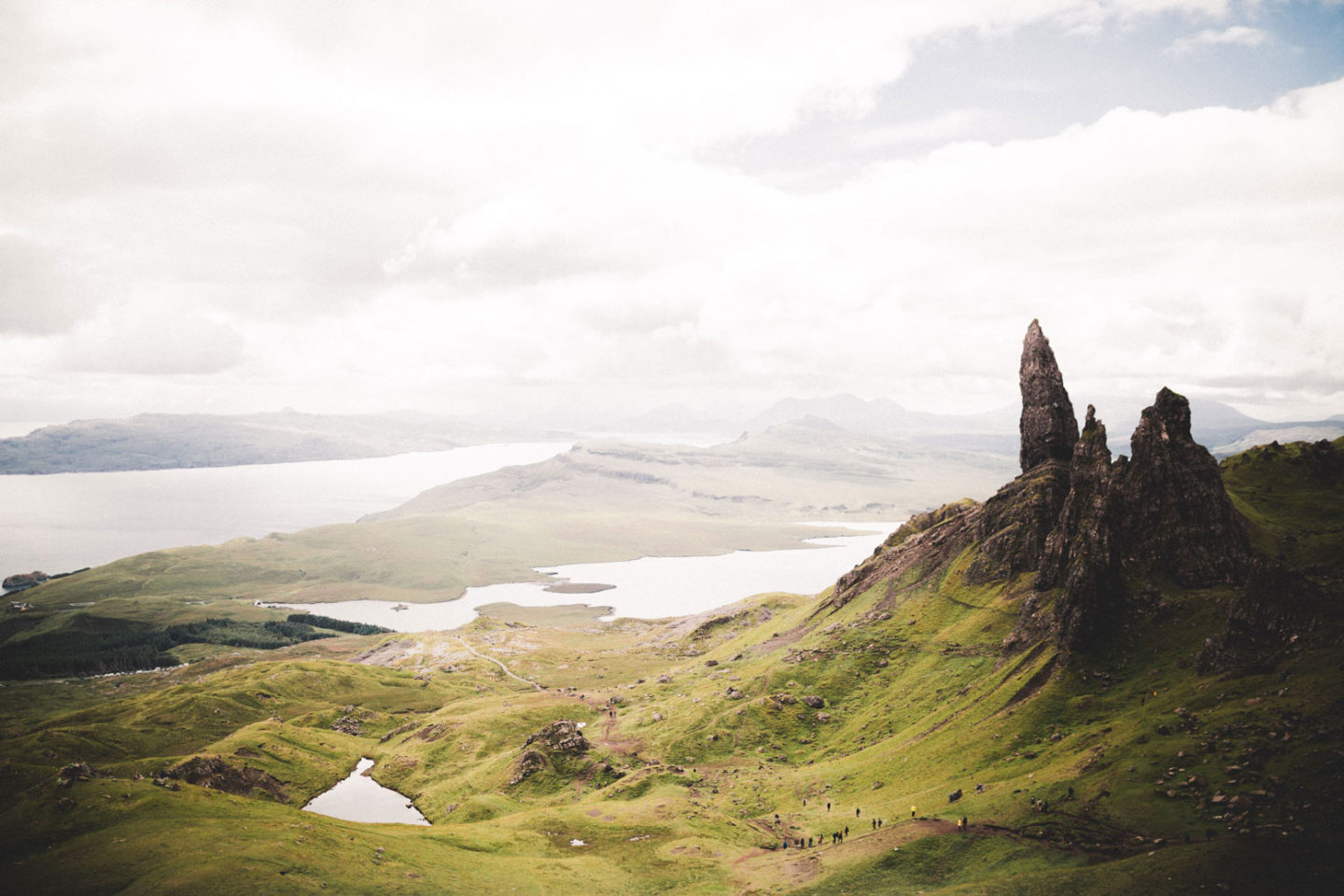 Odds are, you can probably guess why people flood over to Loch Ness each year… To search for the lake monster known as 'Nessie' or the Loch Ness Monster. You can swim in the lake at your own risk, take a sailing tour or even stay right on the lake in a small lodge if you'd like. The scenery is absolutely beautiful, it gave me Pacific Northwest vibes, and it's a great escape from all the sounds from the city. Certain areas can be a little touristy with gift stores and things, but there are plenty of places to stop if you want to enjoy Loch Ness to yourself, so don't be afraid to adventure for a better view. Loch Ness is the largest freshwater source in Great Britain and goes to a depth of over 800 feet, so it'll take a bit of exploring to find the monster said to be first found here around 500 AD.
Loch Ness is situated right in the highlands, which makes it the perfect gateway stop to other incredible sights like the Old Man of Storr (pictured above), The Quiraing, The Cuillins, Neist Point, Brother's Point, Kilted Rock, and The Faerie Glen. There is so much to see out here so renting your own car is going to be a must if you want to maximize your time here. It's impossible to see it all, but if you could only do one of them, hike to the Old Man of Storr. Trust me.
---
Doune Castle + Stirling Castle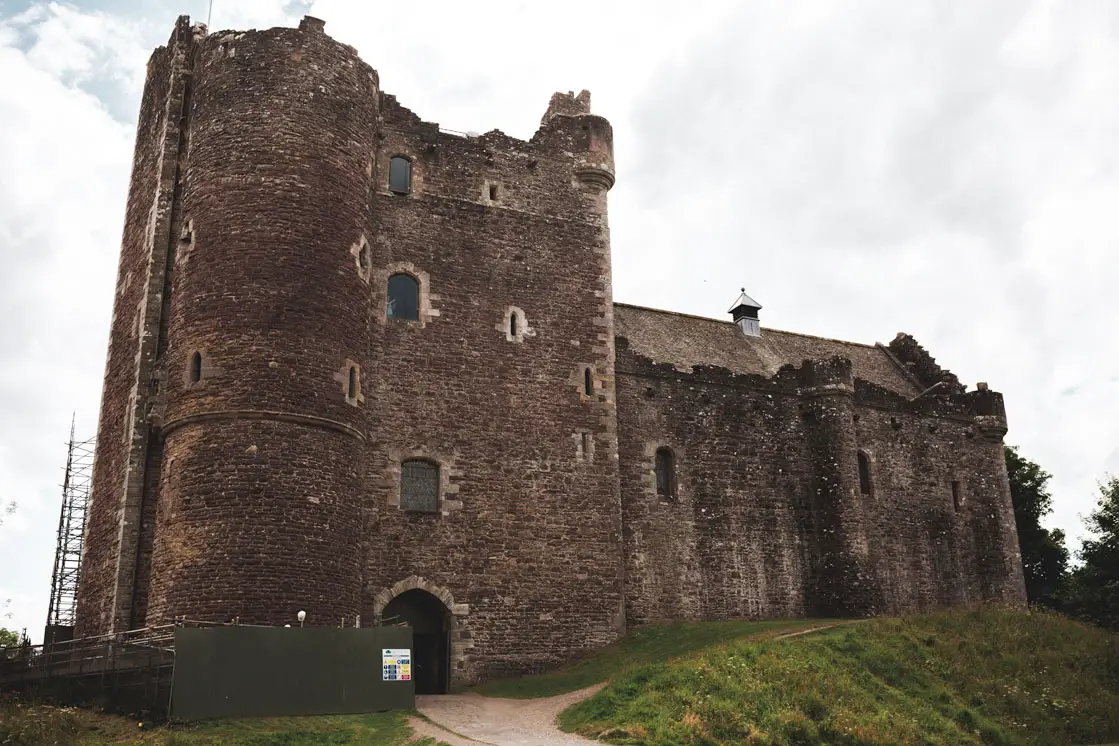 "You can't go to Scotland and not see a castle", as the saying goes.
Doune Castle
If you're a Game of Thrones or Monty Python and the Holy Grail Fan, Doune Castle is going to the perfect stop to pair with your visit to Stirling Castle. Doune Castle is where the very first episode of Game of Thrones was filmed and it's the location for the scene in Monty Python and the Holy Grail where they are fighting with the Frenchman on top of this very castle. You can take an audio tour of this castle, which I highly recommend because it takes you through all the detailed scenes from that will have you cracking up, smiling, and wondering about all the history here. It's not the greatest and grandest castle in all of Scotland, but the view is amazing and it's easy to step into your own world with the audio tour. The castle isn't really around too much either so it really gives you that secluded feel, especially when you see the view from the top.
Stirling Castle
Unfortunately, I wasn't able to see Stirling Castle since my mom and I were on a bit of a time crunch, but if you want to see the biggest, baddest, arguably most historic castle in all of Scotland, this is your top choice. If someone were to ask you what a king's castle looked like in medieval Scotland, this is the castle that you're picturing: huge, intricate, royal, and picturesque. It's only a couple of pounds to get into the castle and you can easily spend the entire day roaming the courtyards. I highly recommend booking your tickets in advance since you can get a little bit of a discount and you'll guarantee your entrance to the castle.
---
Glencoe Valley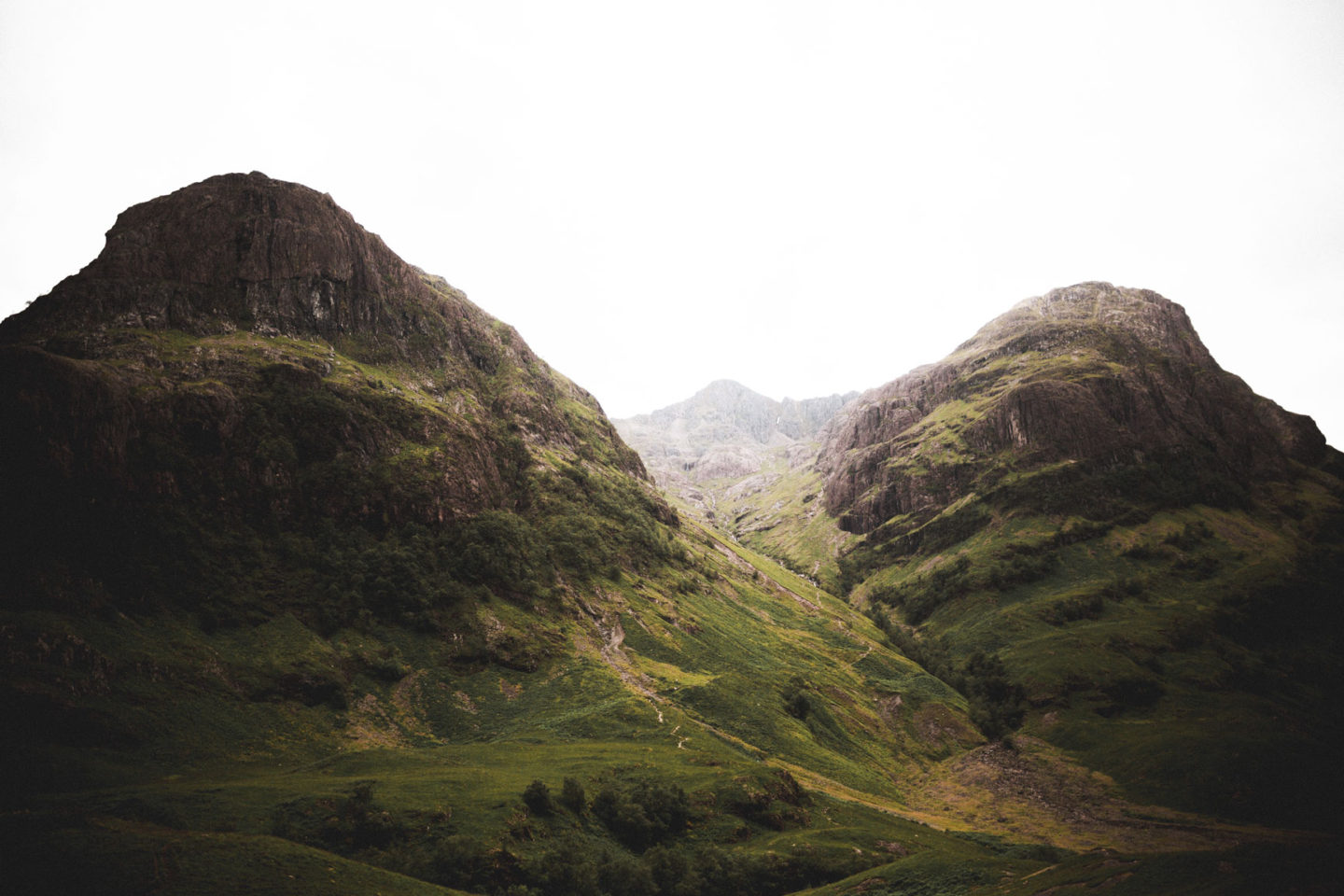 When you ask your Scottish tour guide his favorite place in all of Scotland and he responds with Glencoe Valley, you know you can't miss this place. This photo shows you, literally, just the surface of what Glencoe Valley has to offer and I am so sad I didn't have time to explore more of this place. In the photo above, you can see all the little trails that go through the two rock formations and you're able to hike up and around the valley and even pitch a tent up there if you'd like. Most people just stop along the road for a photo and don't explore more, so you'll escape the larger crowds if you take the time to hike up there and see what lies deep in the valley. This would be a perfect place to watch the sun rise or set and exploring more of the valley is on the top of my bucket list whenever I go back to Scotland. The photos don't do this place justice and the expansiveness and vastness of this place will take your breath away.
If you happen to be driving from Glencoe Valley to the Isle of Skye, you DON'T want to miss out on Eilean Donan Castle! It's one of the most jaw-dropping castles in this part of Scotland!
---
The Jacobite Steam Train (but really the Hogwarts Express)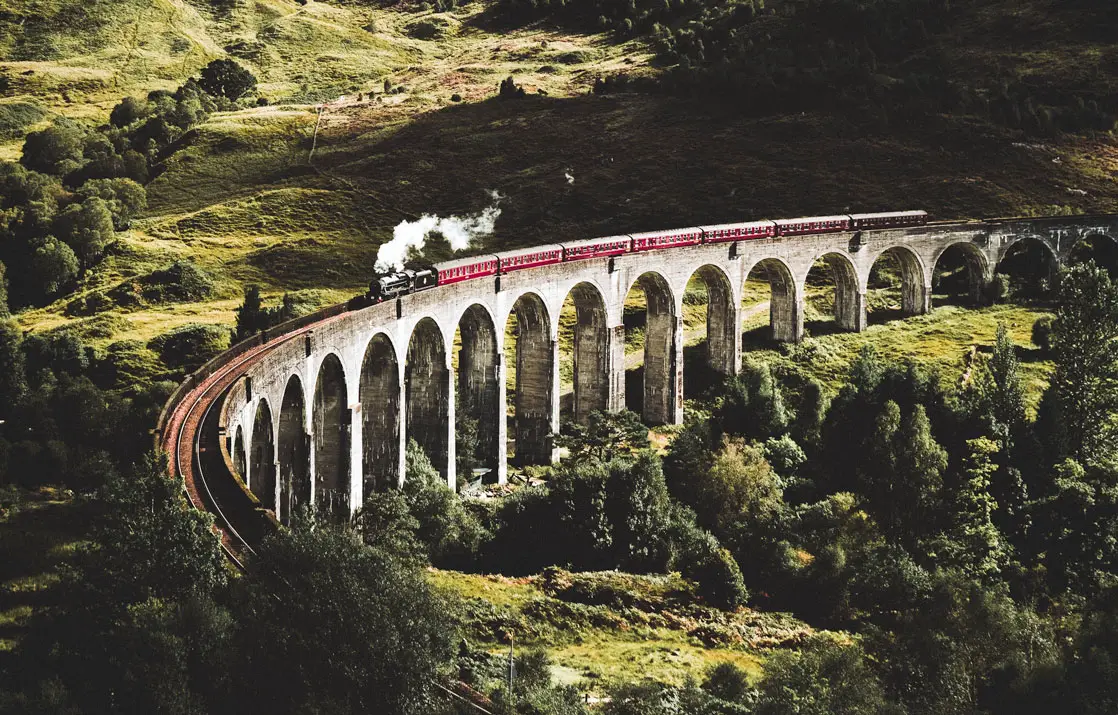 If you plan on riding this train when you come to Scotland, make sure you book your tickets as early as possible because these things sell like hotcakes. This is the reason why I wasn't able to board the train to Hogwarts, but I was able to stop by where the train was parked and snap a quick photo with my phone. Part of my Slytherin dreams were crushed that day, but at least I was able to see it. You can purchase candies and things from the trolly just like in the movies and look out into the beautiful Scottish highlands during the ride. What a dream. The train takes you from Fort William all the way over to Mallaig and back depending on what ticket you buy, but if you want to make this a day trip, then purchase the return ticket. This day trip will take the FULL DAY since you'll have to drive over to Fort William to board the train, which is six hours total of drive time just to and from Fort William, not including the train ride itself. There are a couple of ways to get to Fort William: via Car Rental, via Bus, or via Train. Driving your own car is obviously going to be the quickest, but if you want something more cost effective, then the bus or train are both great options, but they do take 1-2 hours longer than if you were to drive. I think that this trip is worth it for everything you go through to get to it, so if it's high on your list to see this Harry Potter spot, then put it at the top of your must-see list.
---
Ben Nevis
Along with the Harry Potter train, you're going to want to give a full day to hiking Ben Nevis, the highest point in both Scotland and the United Kingdom. It's about a 10.5 mile hike roundtrip and it should take around 6-8 hours to summit the hike and return. Ben Nevis is right around Fort William, note the three-hour drive, so you'll want to start this journey early since you'll want to have maximum daylight while you're on the trail since weather can change in the blink of an eye and the visibility at the top isn't always crystal clear. The ascent is around 4,400 feet making this trek not for the faint of heart, so don't expect a leisurely stroll up this mountain. The views at the top are breathtaking, a trend here in Scotland, so if you really want to see a panoramic view of the highlands, this is a dream spot for both adventurers and photographers alike. If you would like a quick guide to this hike, there is a great guide here that gives you all the basic information you need.
---
Cairngorms National Park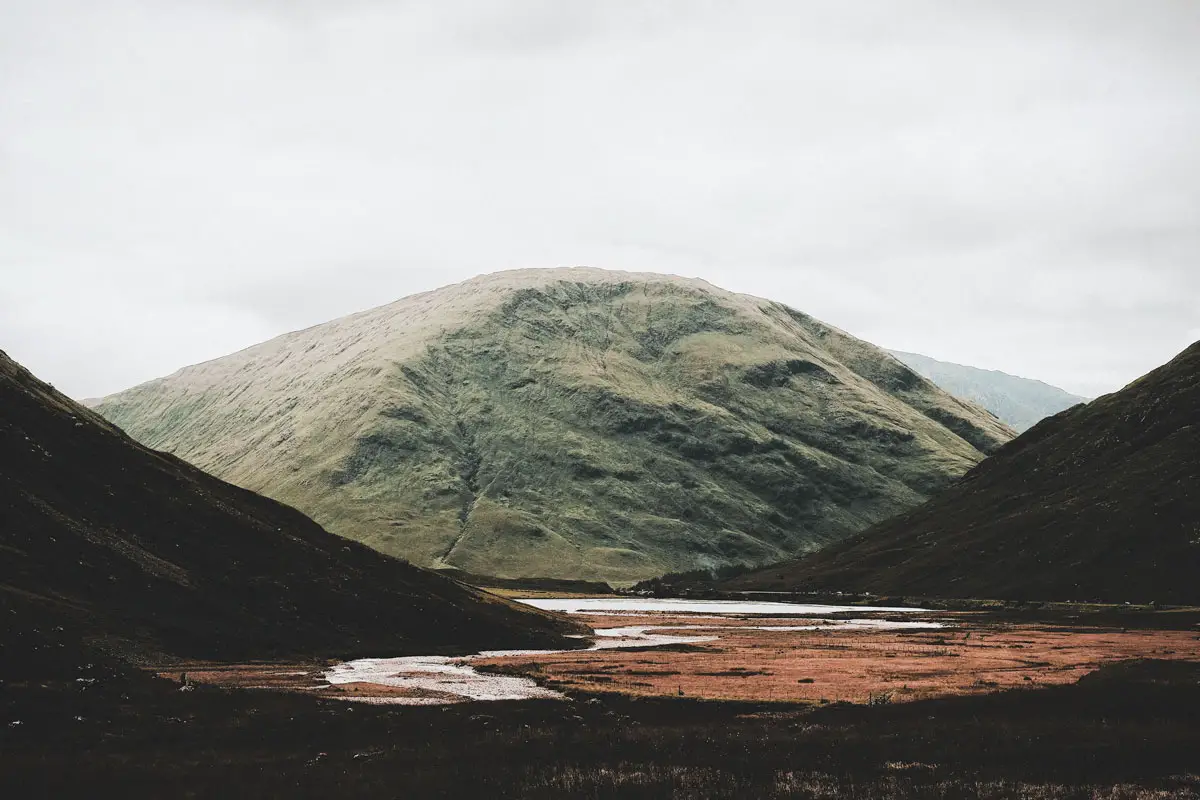 The Cairngorms isn't home to just great coffee, it's home to the top fives highest peaks in all of Great Britain, kayaking, castles, valleys, raw nature, and everything else that you fall in love with Scotland for. You can easily spend more than just one day here, but since it is around a two-hour drive to the park, it's perfect to maximize a full day of exploration. If you want to challenge yourself and climb one of the Munros while you're out (any mountain in Scotland over 3,000 feet (~900 meters). Of course, you can start with the most famous of them all, Cairn Gorm. If you want to climb the tallest, you have Ben Macdui, and if you want to do both, you can make an epic, 11-mile adventure out of these two iconic spots. If you want more information on the best Munros to climb while in the Cairngorms, there is a great guide here. Going along with the theme of nature and faerie-like spots, Uath Lochans is described as a "forest of shimmering pools and butterflies". How DREAMY. It's only a two-mile walk/hike to this little spot and you could easily spend the afternoon reading, drawing, and imagining in this quiet spot. As you can tell, there is SO MUCH you can see in this national park, so I have named a few notable locations and if you want more to check out, Loch Morlich, Rothiemurchus Forest, and Balmoral Castle.
---
Loch Lomond + The Trossachs National Park
So Loch Lomond and the Trossachs National Park is like if Loch Ness and The Cairngorms had a little sister. You can do a lot of the same activities like sailing, kayaking, paddleboarding, hiking, climbing, adventure, cycle, so if you're an adventurer like myself, this is a really great place to go. This national park is a lot smaller than the Cairngorms and for that reason, you can probably cover a lot more ground, but each of them have their own sites making them both worth a visit whether that's on your first trip to Scotland, or when you book your second trip because let's be honest, one trip to Scotland just isn't enough. Some notable sights here are Ben Lomond, part of the West Highland Way, Queen Elizabeth Forest Park, Loch Katrine, Argyll, and other small villages and trails that are easily explored.
---
Glasgow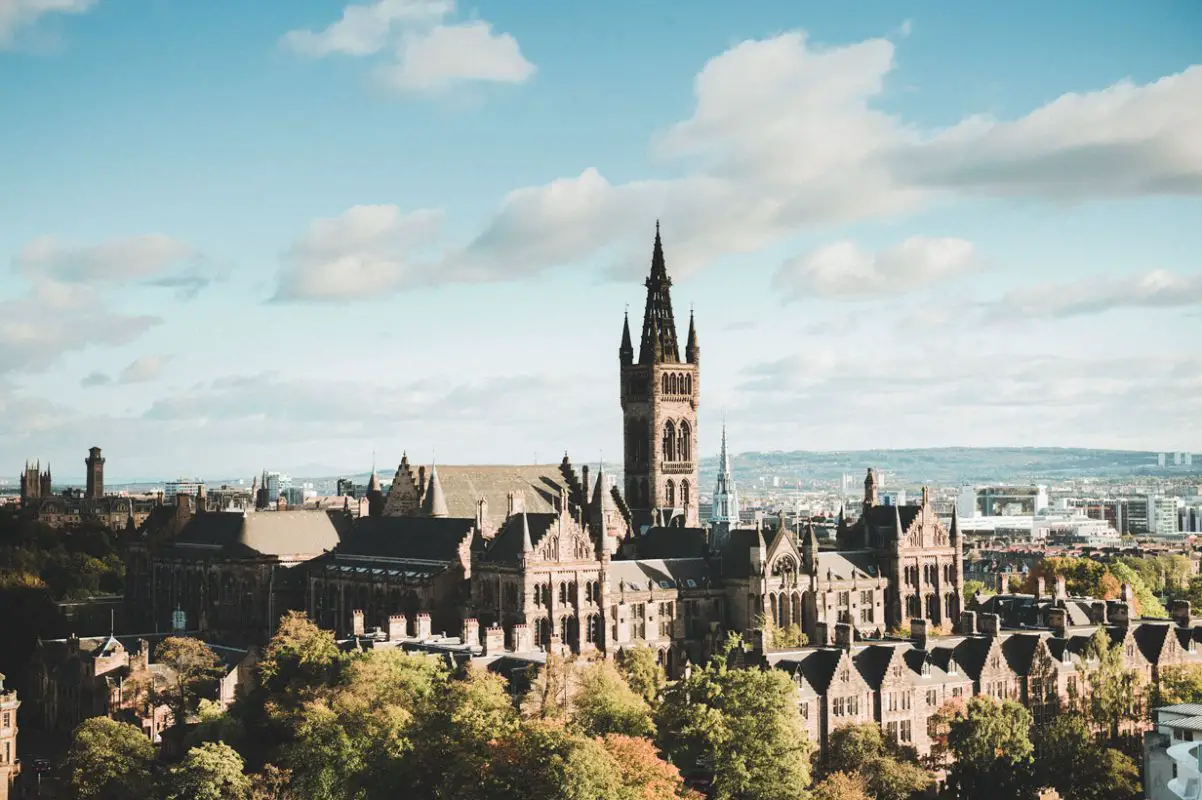 For all my people who fell in love with Edinburgh as much as I did, Glasgow will give you that same fairytale feeling. Glasgow is a little bit larger than Edinburgh and a lot of its Scottish charm has been preserved in old tea houses, operas, and cafes as you wander through the streets. It was founded way back in the 6th century and has since grown to be the largest city in Scotland. There is a little something for everyone here and if you want an awesome, 1-day itinerary for exploring this charming city, Watch Me See has a great post that will give you everything you need to know and some insider tips for exploring Glasgow.
---
Which one of these day trips would you love to go on most? Share with me in the comments below!
Aaren
Inspired by these incredible stops? Save it for later on Pinterest!