(Last Updated On: 06/01/2022)
"The highlands surrounding me. The sky above me. It makes me feel small. It makes me feel free."
I've been finding myself speechless attempting to string the words together to describe a place like this. Scotland's landscape has of way of placing you right in the middle of a fairytale among the old towns, folklore, and high rolling hills.
After spending around a week wandering the cobblestone streets of Edinburgh, it was time to grab our day packs, charge our cameras, and head up North to Skye.
I generally don't take group tours when I travel, but this trip I decided to take a three day Isle of Skye tour with MacBackpackers. I really wanted to hear all of the stories and folklore (that's the main reason why I chose a tour) and their tour company had the best price and itinerary that lined up with what I wanted to do. Truthfully, it was one of the best tours that I have ever been on. Our guide, Stuart, was both hilarious and accommodating in terms of freedom and letting us decide on what we wanted to do and the jokes he had saved in his repertoire. Not to mention he had a POPPIN' soundtrack for the road. It really felt less like a tour and more like a road trip with fifteen of my closest friends. With this being my first trip to Skye, it was an incredible way to dip my toe in the water of what Skye has to offer. I was already trying to plan a camping trip out there before I left! It's THAT breathtaking!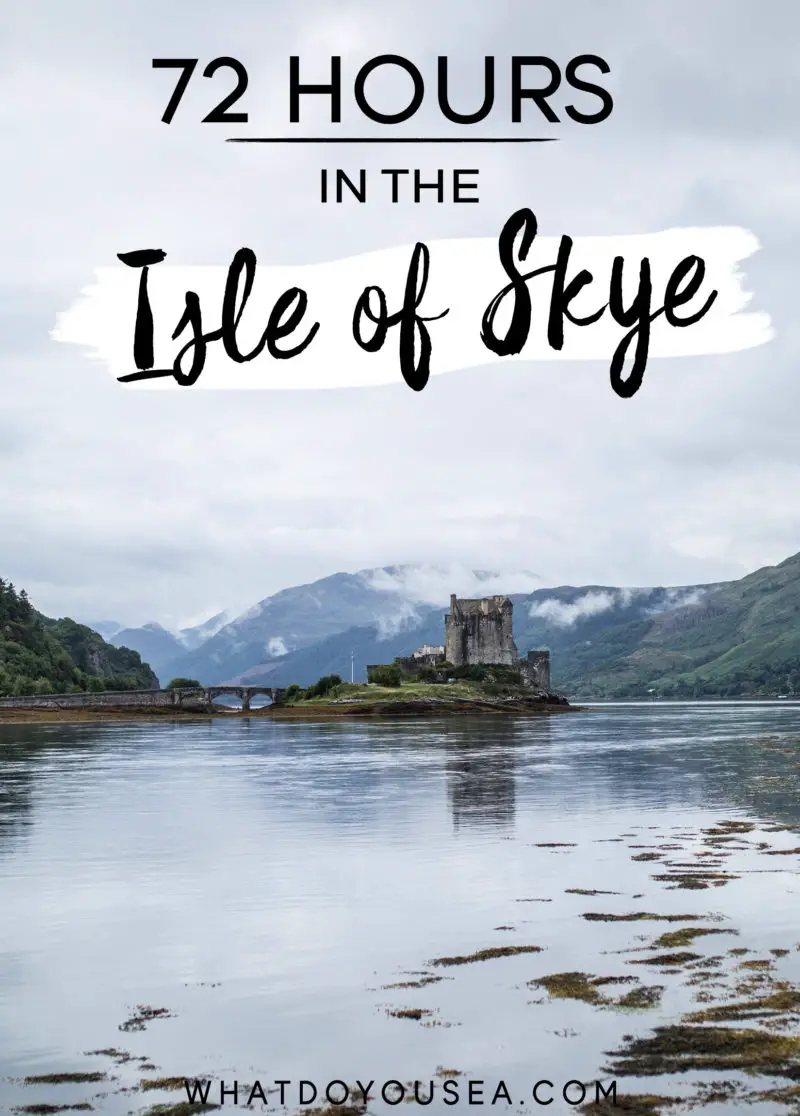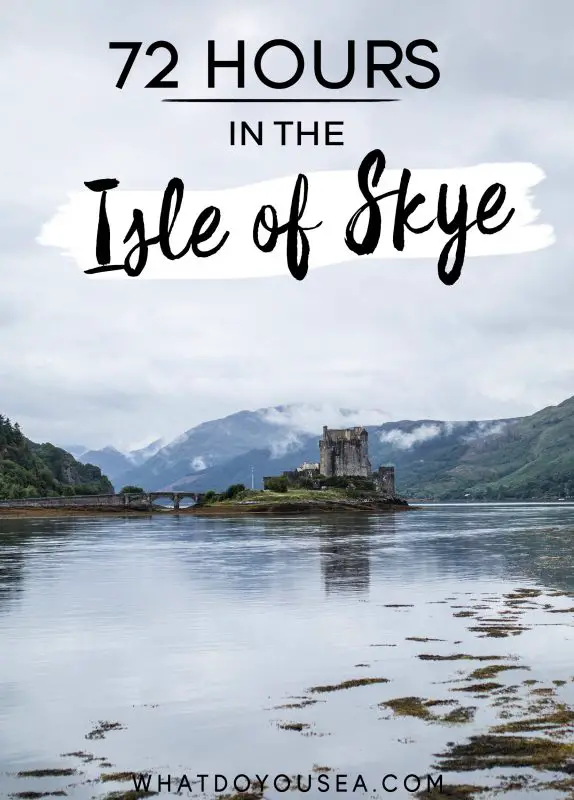 Day One – Battlefields, Lochs, and into Skye 
Breakfast at Loudon's
My mom and I awoke with excitement as we gathered our bags and began walking to breakfast. I had been craving some vegan pancakes, so after searching for ages the night before, I came across Loudon's Cafe that had vegan and non-vegan options for breakfast; perfect for my mom and me.
This cafe is a cute little spot in the heart of Edinburgh with large windows that look out into the city, natural lighting from the morning pouring in, and great imported coffees. My mom ordered a cappuccino and I ordered a latte for myself (I am no coffee connoisseur so I actually have no clue what the difference between these was, but they both were so smooth and had great flavor). To accompany our coffee's, I ordered a stack of pancakes smothered in chocolate sauce, literally, and my mom had a breakfast roll that had eggs, spinach, and mushrooms inside of it.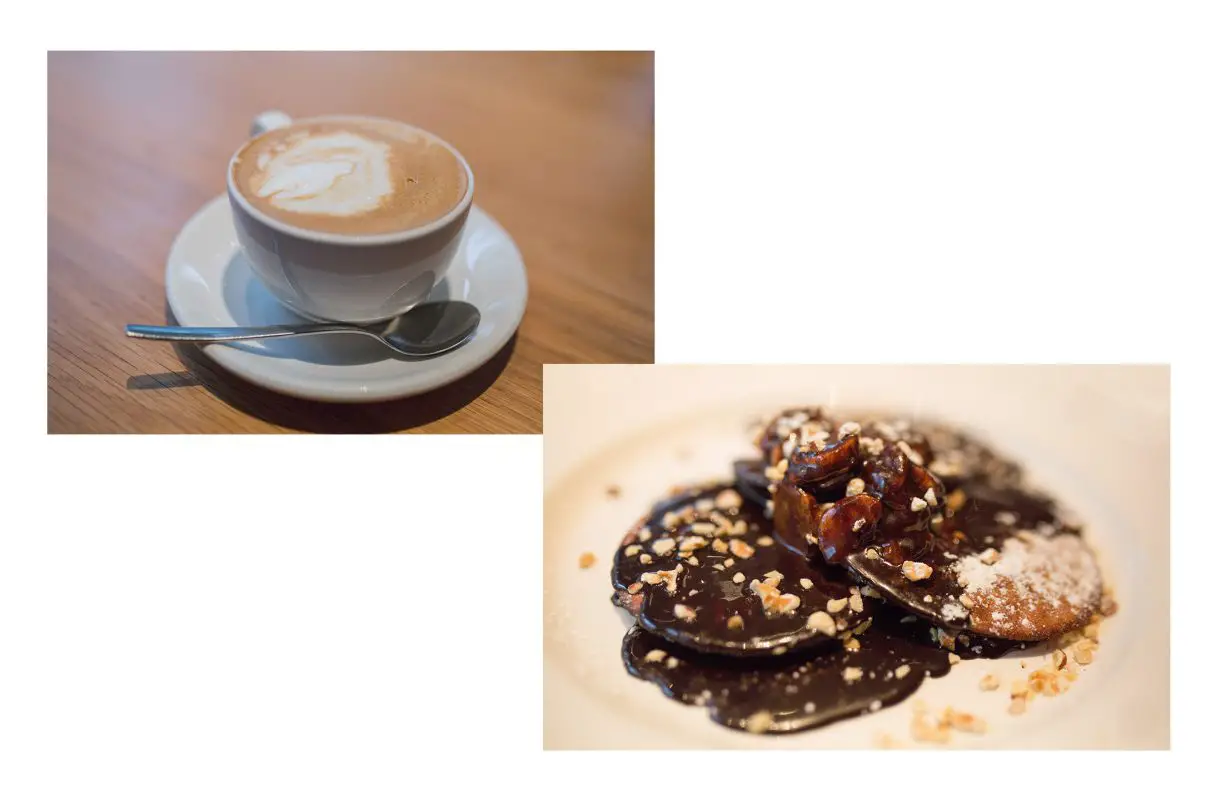 After we finished up and paid, we headed to the Castle Rock Hostel to meet up with our guide, Stuart, and everyone that would be on the tour with us. We gathered our things, packed up the bus, secured our seats, and began our six-hour drive up to Skye.
Killiecrankie Trail
Our first stop was Killiecrankie trail. I didn't go into it with many expectations, but throughout the hike, I kept mentioning to my mom how this trail looked exactly like the Pacific Northwest! There were bridges, streams, and coniferous trees that reminded me of being somewhere in Washington. The trail's stillness allowed the wind and trees to narrate our hike. If we had more time here, this would have been a great spot to walk around for a few hours and think about life or enjoy a good book.
Culloden Battlefield
One of the best parts about Scotland is hearing about the history of how this beautiful country came to be. Living in America, you don't exactly get history revolving around castles, queens, and knights, so on our way here, it was interesting to listen to the story of Culloden Battlefield and actually get to see this important piece of Scottish history in person.
For those of you who are Outlander fans, this was one of the filming locations for a battle scene there (I don't watch Outlander myself, but after coming to Scotland, I am interested in starting Game of Thrones or Outlander since much of those shows incorporates Scottish history).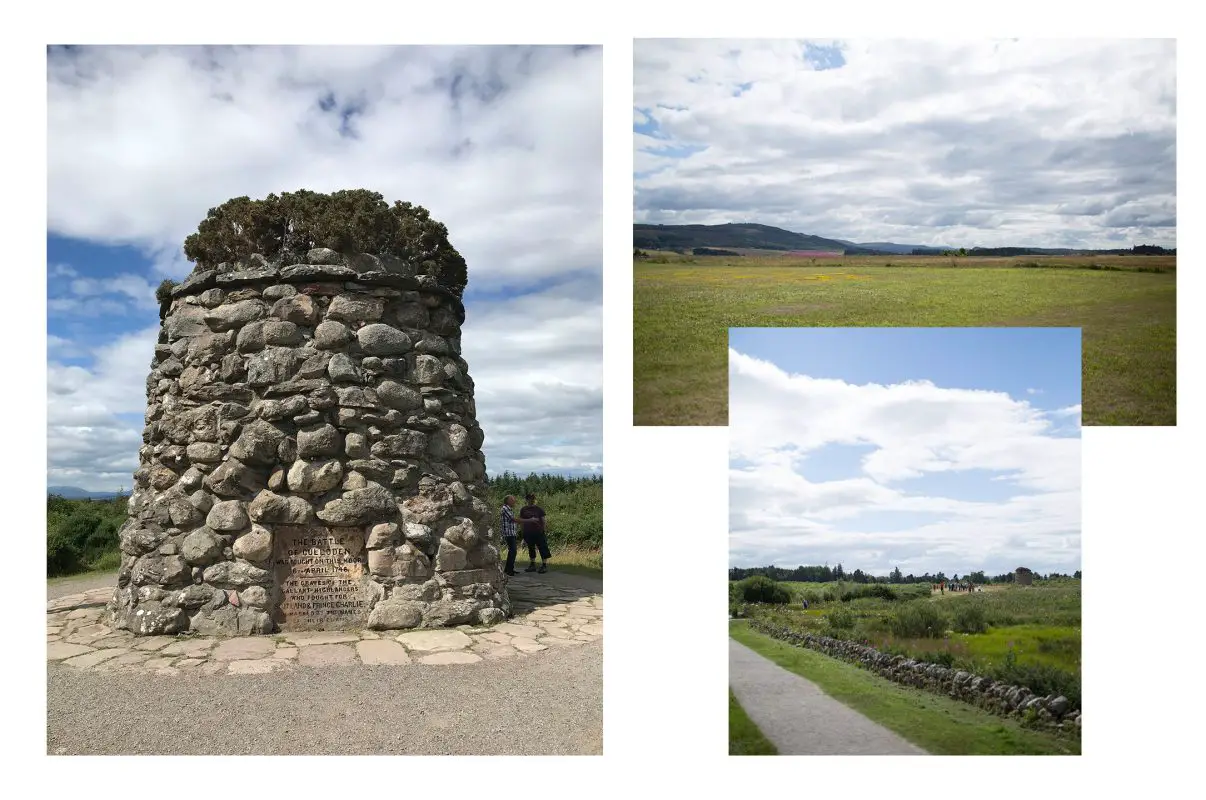 From the outside looking in, it doesn't seem like there is much to this cultural site. The first question that comes to mind is, "What's so important about this battlefield?" The Battle of Culloden ended the Jacobite Rebellion of 1745 and was the last battle between the Scottish and British by force of arms. It made possible the rise of the British Empire and what the modern United Kingdom is today. Two sides fought in this battle, the British Army, led by William Augustus, Duke of Cumberland, and the Jacobite Rebellion, led by Charles Edward Stuart.
Constructed to commemorate this battle, the Memorial Cairn was built to honor those who fought in this war (the left picture shown above). Around and throughout the battlefield, there are markers of the major clans that fought and suffered significant losses during battle.
I do recommend going on a guided tour when you get there because they can provide heaps more of information and answer any questions that you might have while you're exploring.
Loch Ness
Situated just South of Inverness, lies Loch Ness, the mystical loch known to be home of the infamous Loch Ness Monster, "Nessie". 
Whether you believe in the Loch Ness Monster or not, it is no question that this lake is insanely easy on the eyes. If you're going to the highlands this is a MUST SEE. I mean, how can you pass through and not try to see Nessie lurking around these waters? Loch Ness contains more fresh water than that of England and Wales combined, I can only imagine what other mysteries this loch holds…
Kyleakin
Although this isn't a stop, (our place to call home for three days), this was my favorite spot on the entire tour. Across the Skye Bridge and a quick left turn takes you straight to the quaint town of Kyleakin (pronounced Ky-lak-in). This small fishing town is home to a few hostels and guesthouses, three restaurants, and a small market. In the photo below, you can actually see a small beach where you're able to host campfires or pitch a tent with some friends for the night.
I already know this is going to be the place I come back to on my next visit to Scotland. This place was so special to me.
Our first night there I walked along the beach and up onto the Skye Bridge to take some photos and also to catch sunset since we were in the perfect spot for it. Kyleakin makes you feel secluded on this small slice of paradise just at the entrance to the Isle of Skye. We were surrounded by highlands behind and beyond and nestled between Inner Sound and Loch Alsh. It was the perfect welcome.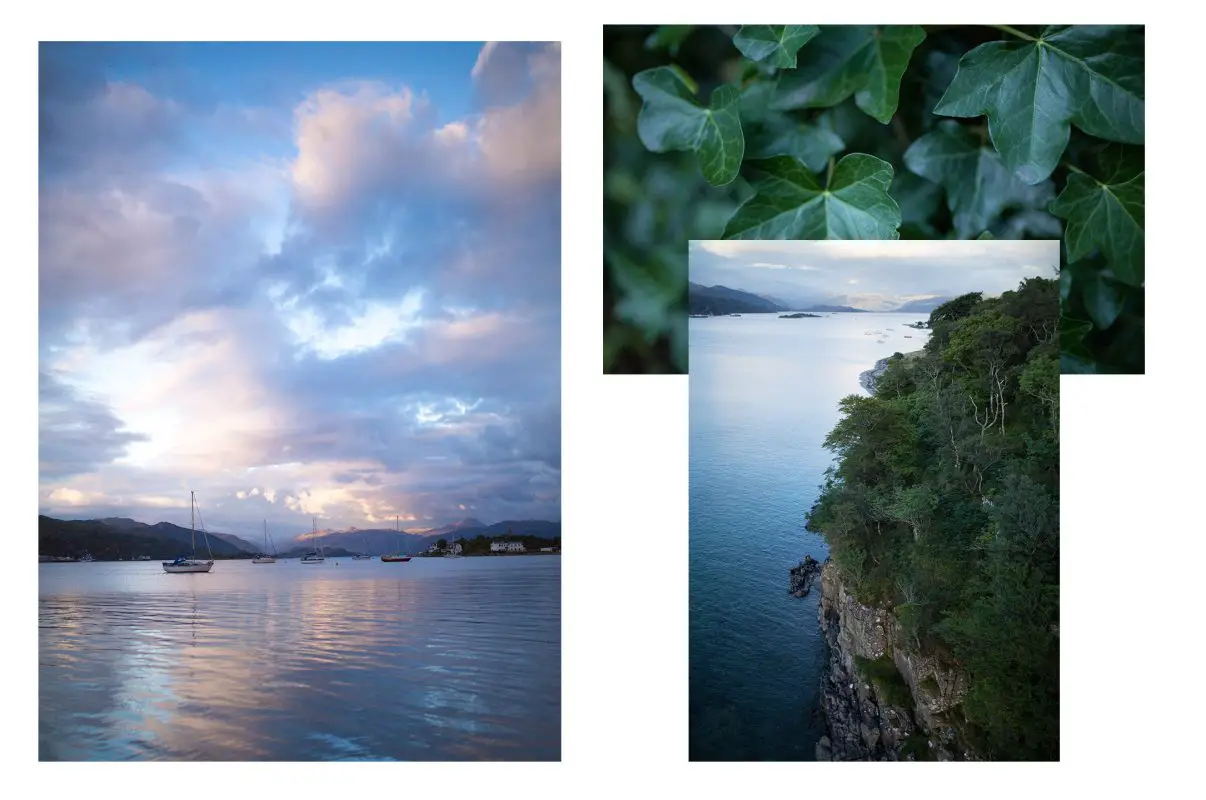 Day Two – Portree, Old Man of Storr, and Kilted Rock
Portree
To fuel our hikes and excursions today, we stopped in Portree to stock up on snacks and water. This town is a great stopover before you head deeper into Skye. My favorite part was the small cove on the edge of town where all sorts of boats rested before they would be taken out again. The top right photo ended up being one of my personal favorites from the entire trip. I think the blue and green contrast is so pretty and the photo itself is very peaceful to look at.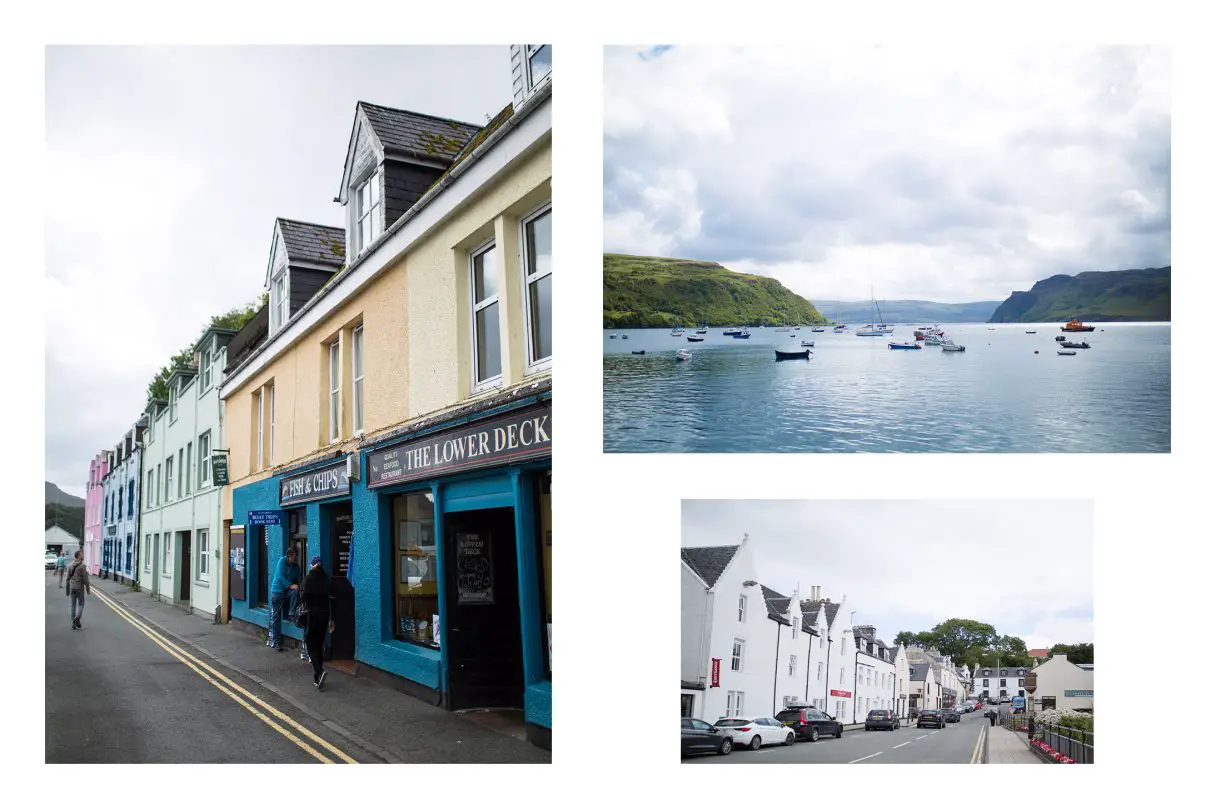 Old Man of Storr
Out of everything on our itinerary, this was my most anticipated sight of this whole tour. When I was researching what there was to see on the Isle of Skye, I saw this and I was in absolute awe of the photos taken of this. One thing that never ceases to amaze me is how diverse and vast this Earth is. We have the opportunity to see wide open deserts, miles of blue oceans, and rugged landscapes like these tucked away on an island. It reminded me of this quote that I said:
"It's a beautiful thing to have lungs that allow you to breathe air and legs that allow you to climb mountains, and it's a shame that sometimes we don't realize that that's enough"
When I came here it reminded me of how infinitesimal our problems really are compared to the opportunities we have in this life. In a place like this, you want to stop and embrace all parts of life. Embrace the road bumps; every challenge, every success, every high and every low. Embrace them; be here, and exist for a moment.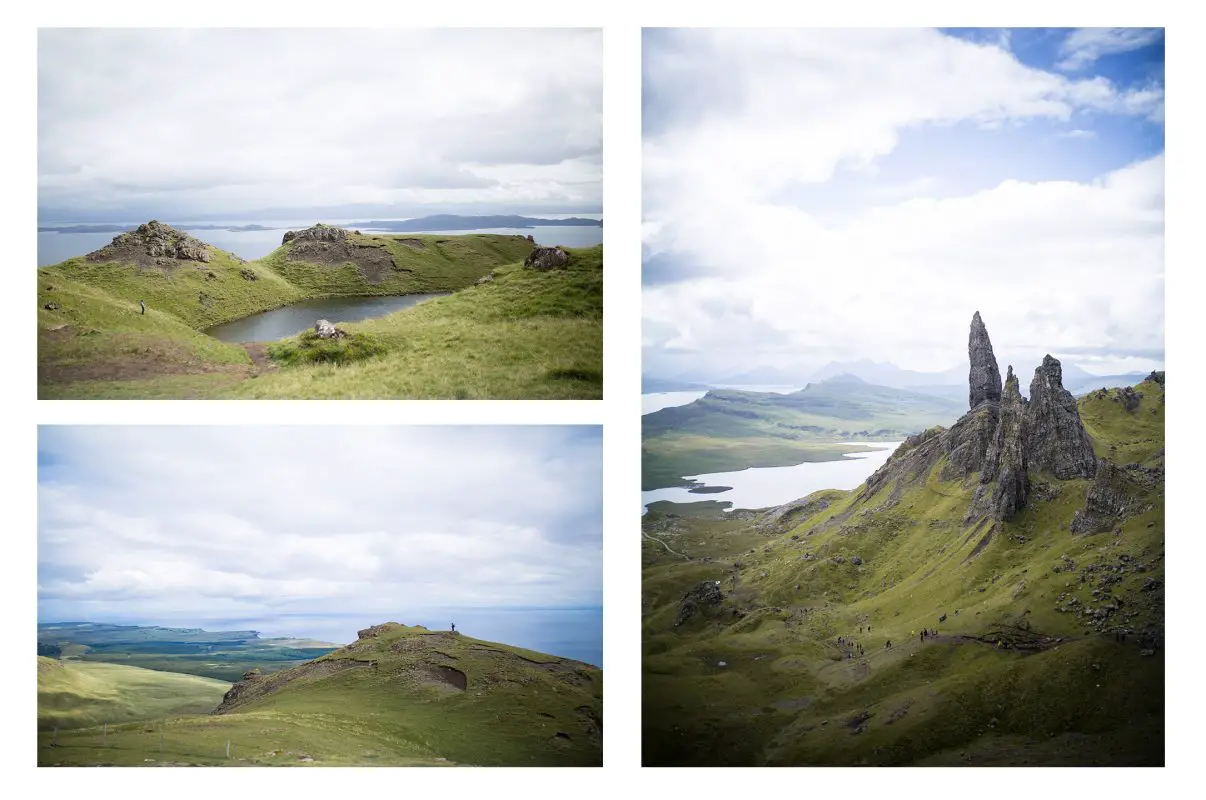 Let me preface that the hike to get up here is not a leisurely stroll. I was way out of breath by the time I reached the top, but I took many stops along the way to get photos of the scenery and of myself too. I am dipping my toe into the whole "getting photos of myself in the picture too" concept since I have only really done landscape photography, but I am starting to enjoy comparing the size of the landscape to the tiny people in the photos above. I think having someone in the photo makes it more personable and real, and it makes for a pretty cool candid photo if you ask me.
There are many ways to explore the ins and outs of this place. You can go up and around Storr (the jagged looking rocks in the right photo), or you're able to go beyond it (the bottom left photo) and capture some stunning shots and find a spot where you can set up camp, read a book, eat some lunch, and just enjoy it all of it. This place is pretty happenin', so I suggest waking up for sunrise or pitching a tent here (I am sure you're able to) and finding the stillness when everyone else leaves.
Kilted Rock
For Kilted Rock, Stuart took us on an alternative route. To avoid the crowds of people at the normal pull up spot, we went on a cool little walk/hike through a sheep farm and up onto this protruding rock that had a far, but great view of Kilted Rock. It is farther up, so it's not for those of you who aren't a fan of heights, but it is so quiet there and you're able to look out into the water for miles and miles. Most of our group went up and some others stayed behind, but once we got up there, we talked to Stuart about his favorite spots in Scotland, travel plans, and enjoyed some moments of silence before we headed back to the bus and back to Kyleakin.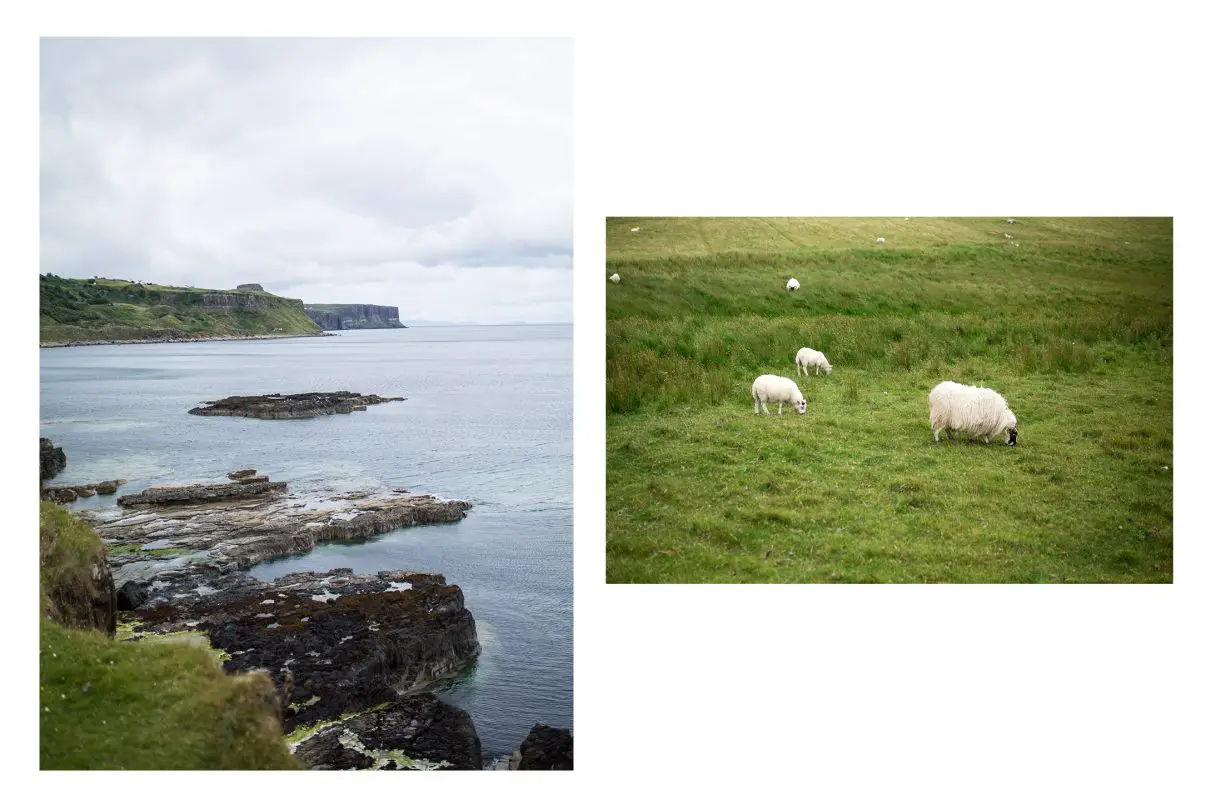 Valley Shots
I am not entirely sure the location of this place, so that's why this part is titled, "valley shots", but it was so pretty that I knew I needed to include it for this day. It was nothing but a two-lane road surrounded by mountains, but it was enough for us to stop the bus to take these photos. If you happen to pass by here on your trip as well, I hope you enjoy it as much as I did.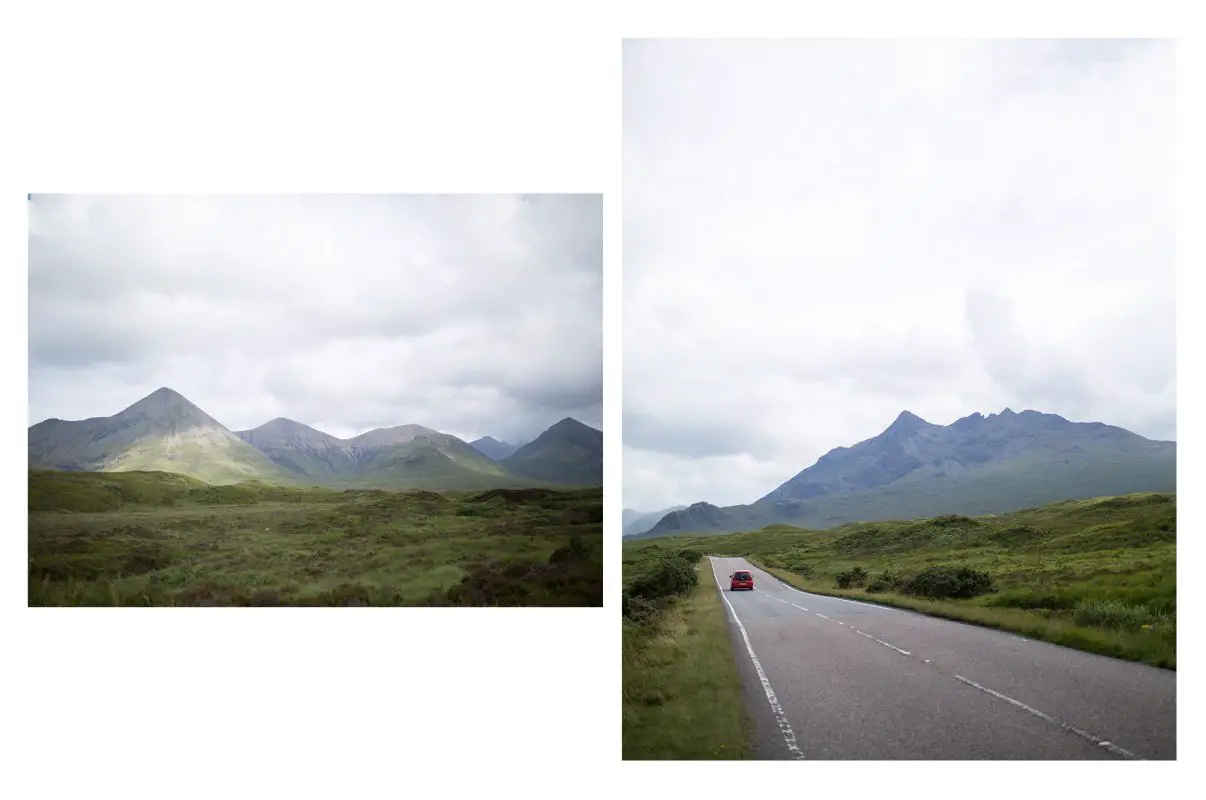 Day Three – Castles, Glencoe Valley, and back to Edinburgh
Eilean Donan Castle
If you're driving around Skye, you most certainly will not miss this castle. Placed on a loch, it features a beautiful bridge and scenery that you can help but stop, explore, and get some gnarly photos. We didn't end up going inside, our guide did mention this castle is quite modern compared to the outside, but we enjoyed stopping for photos. I think if you came here for sunrise or sunset, with a higher tide, you could get some amazing colors with the reflection of the castle in the water. If you have a drone and can get that aerial shot, DO IT, I really wish I had one for this trip!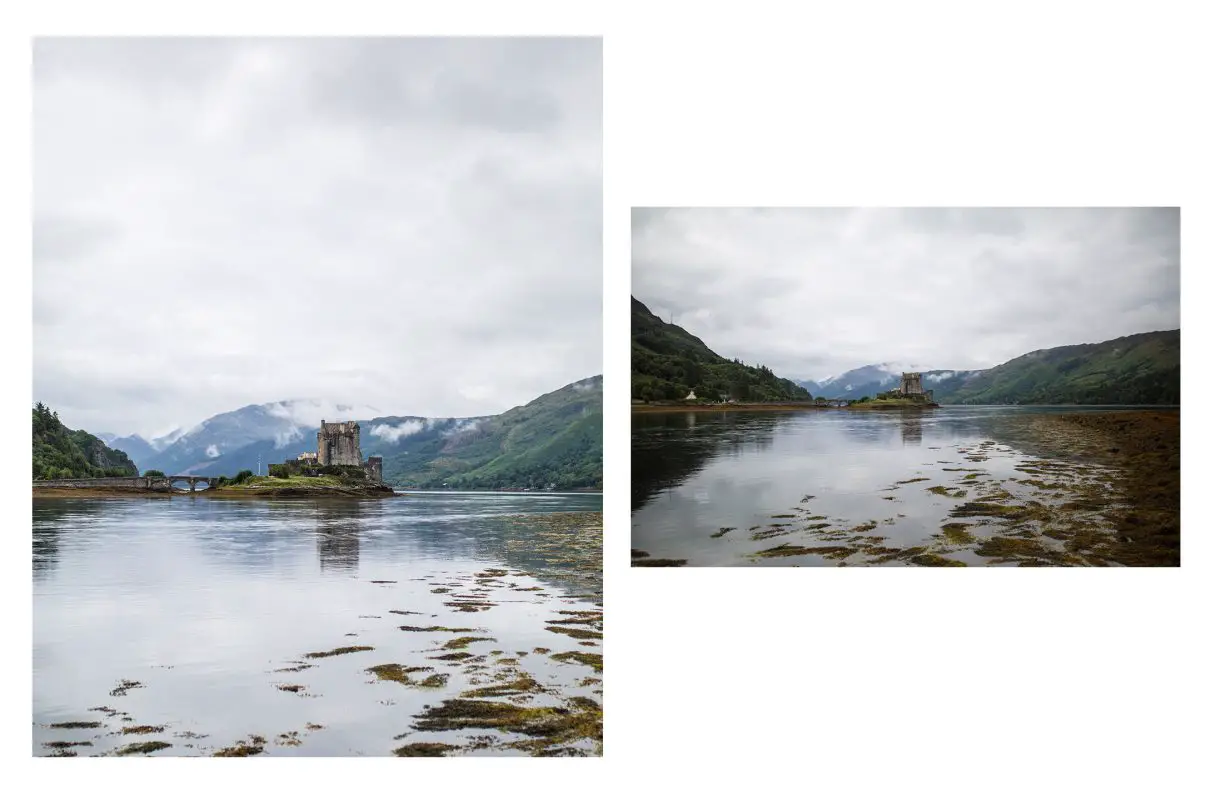 Glencoe Valley
With landscapes like this, I could easily have spent an entire day here and even spent the night up and around the tall points. This is Stuart's favorite spot in all of Scotland and I knew why before we even got there! This is easily one of the most photographed spots in all of Scotland. The trails actually start from the road and you're able to hike around those two giant mountains for an even longer hike and more scenery which is really cool. Every time I look back on these photos, I dream of pitching a tent up there and surviving off peanut butter and jelly sandwiches for a week. I am already excited to come back here and explore more of this spot.
There's actually a spot near Glencoe where Hagrid's house from Harry Potter was built and filmed at! It's up on a hill, easily visible from the road, where there's a spot among coniferous trees where the house used to sit. They actually tore it down due to it being an "eyesore", but I bet it was cool to see when they were filming!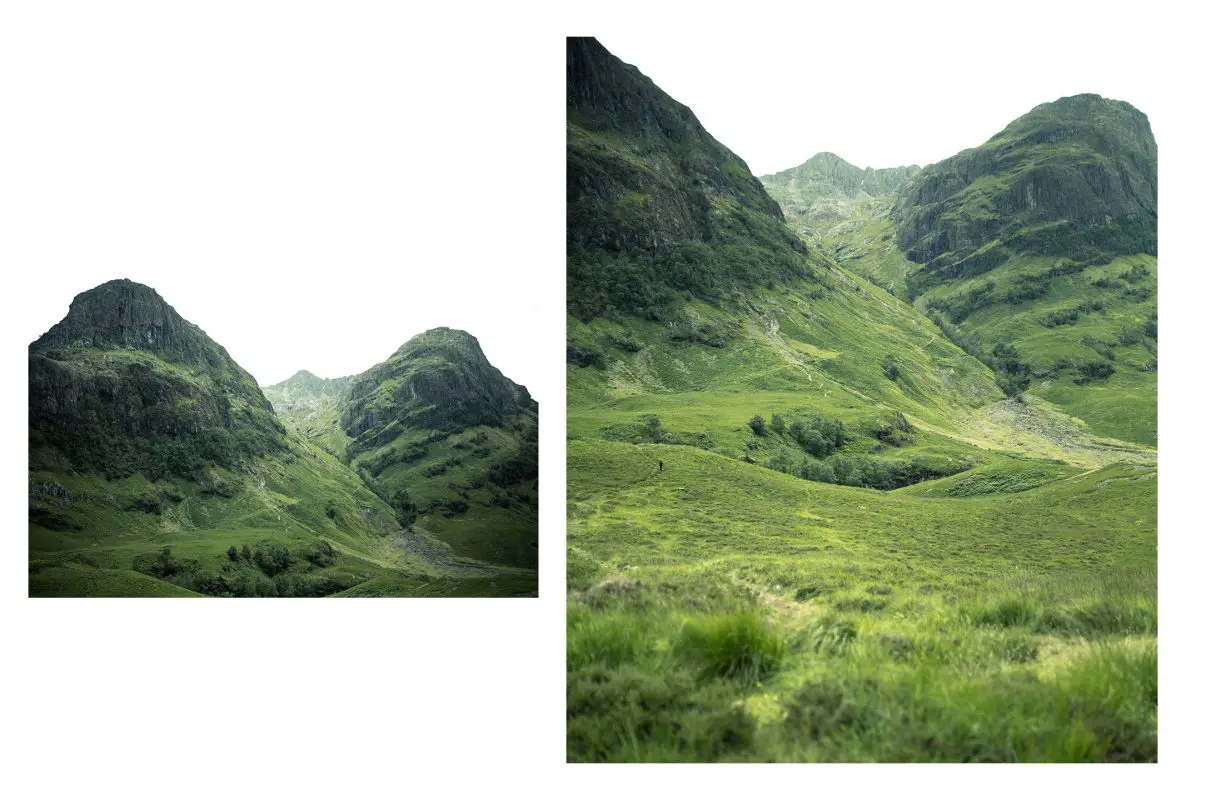 Fort William & Ben Nevis
Unfortunately, we weren't able to hike up Ben Nevis due to a time crunch, but we had great visibility on this day and could see the top of it!
We also saw the Harry Potter train parked at the station and were able to get photos of the back of it (which was honestly cool enough for me). You can have the experience of riding the train, but make sure you book in advance as it fills up quick! A must see and do for a Harry Potter fan!
Doune Castle
For all the Outlander, Game of Thrones, AND Monty Python and the Holy Grail fans, this should be on your must-sees for the highlands. My mom and I decided to take the full audio tour of this castle and they actually had extras that explained the scenes in both shows and the movie! I hadn't seen Monty Python in the Holy Grail since I was a kid, but hearing all these familiar scenes had me laughing and smiling throughout my entire experience. I have actually seen the first few episodes of Game of Thrones, so this castle was quite fresh in my mind. The artists that designed the set for this castle did an incredible job of transforming this place back in time! Out of all the castles we saw on this trip, Doune was by far my favorite.
It was constructed in the 14th century which still blows my mind looking at these photos. It makes me wonder how everything looked back then, how people lived, and what it was like living here.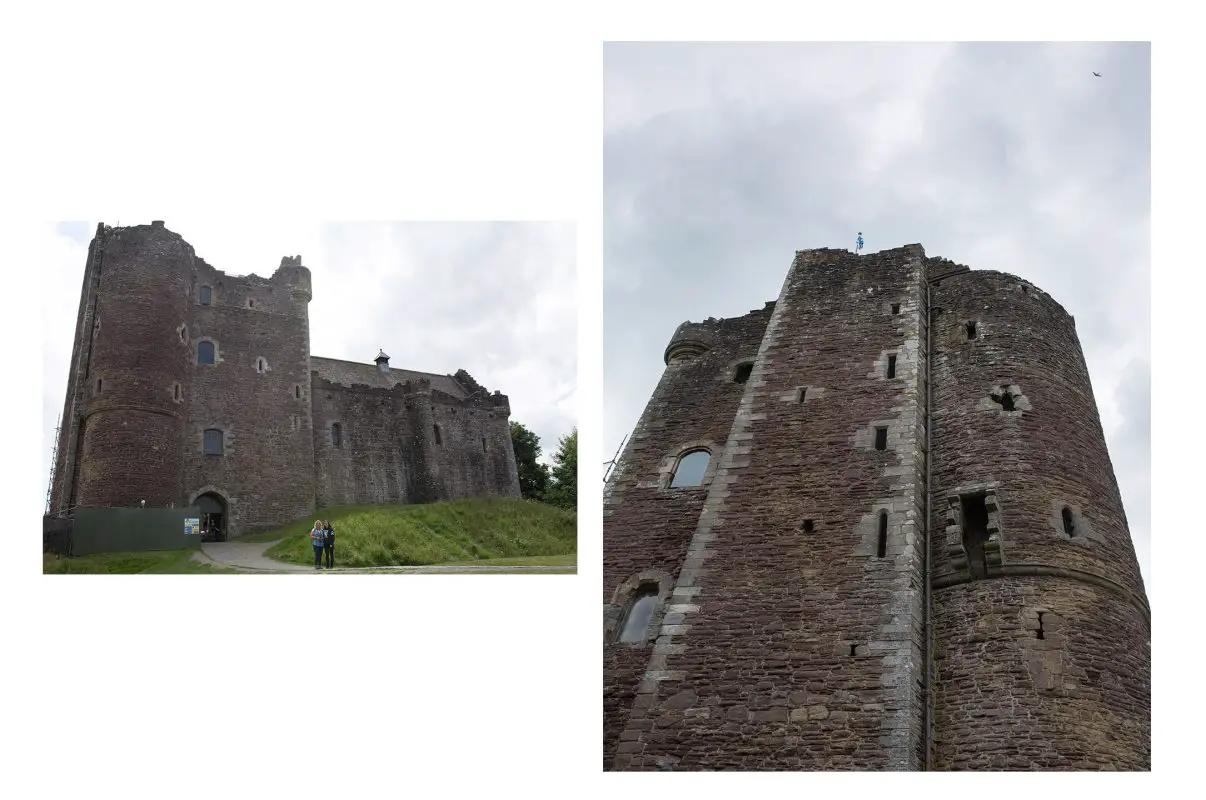 If you're planning a visit to Skye, I hope you consider adding these to your list of must-sees. I had an incredible time exploring with my mom and it was a great way to see a glimpse of what Scotland had to offer. With our Scottish heritage, it was fun seeing where we came from, how this country came to be, and much, much more.
LOOKING FOR MORE SCOTLAND TRAVEL RESOURCES? CHECK THESE OUT:
– The Best Time To Visit Scotland
– The BEST Scotland Packing List For Summer
– 50 Scotland Travel Tips For An Unforgettable Trip
– The Ultimate 10 Days In Scotland Road Trip Itinerary
– 10 Tips For Traveling Scotland On A Budget
– Hiking The Old Man Of Storr: The Isle Of Skye's Crown Jewel
RESOURCES FOR VISITING EDINBURGH:
– 3 Days In Edinburgh: The Ultimate Itinerary for Edinburgh, Scotland
– The 8 Best Day Trips From Edinburgh You CANNOT Miss
– The 10 Best Hostels In Edinburgh For A Magical Stay
– The Best Coffee Shops In Edinburgh: 15 Cafe's You Can't Miss
– The 10 Best Mouth-Watering Vegan Restaurants In Edinburgh
– The Top 15 Places To Get A Vegan Breakfast In Edinburgh
---
Until next time,