(Last Updated On: 24/03/2020)
Prior to my travel-focused lifestyle, I used to think that people planned their trips according to the numerical order of their bucket lists, but after traveling for around two years now, I realized the road to completing your bucket list is an extremely winding road with multiple detours and nooks to get lost in. There is so much that hasn't been explored, so even a photo on Pinterest can spark inspiration for me to want to travel to a place *cough cough* Hallstatt, Austria.
While Okinawa never came up in conversation with people I met along the road, it was more of a personal tug on my heartstrings that drew me there in the first place. In 2016, my oldest sister got married and moved halfway across the world to Okinawa, Japan. I was beginning my sophomore year of high school when we were sitting on the couch chatting about her up and coming move when she mentioned me coming to visit over the summer, we both looked at each other like two lightbulbs had just sprung up above each of our heads. I had never been out of the country, let alone over 7,000 miles away from home, and I jumped at the chance for my first adventure.
I never realized that this little island would become such a large part of my life. I went back for a second visit after I spent some time exploring the Philippines and every time I go I fall in love a little bit more than the last. Okinawa has that island charm mixed with traditional Japanese culture that makes it one of the most unique places that I have ever traveled to. If you're searching for bucket list inspiration, make sure you add Okinawa to your travel bucket list! Here's why:
This post may contain affiliate links for the products or services I mentioned, but as always, all opinions are my own. I make a small commission, at no extra cost to you, when you make a purchase or booking through these links. This helps to support this space and keep me blogging, which I am so extremely thankful for.
Are you planning a trip to Okinawa? Check out my other articles to help you plan!
---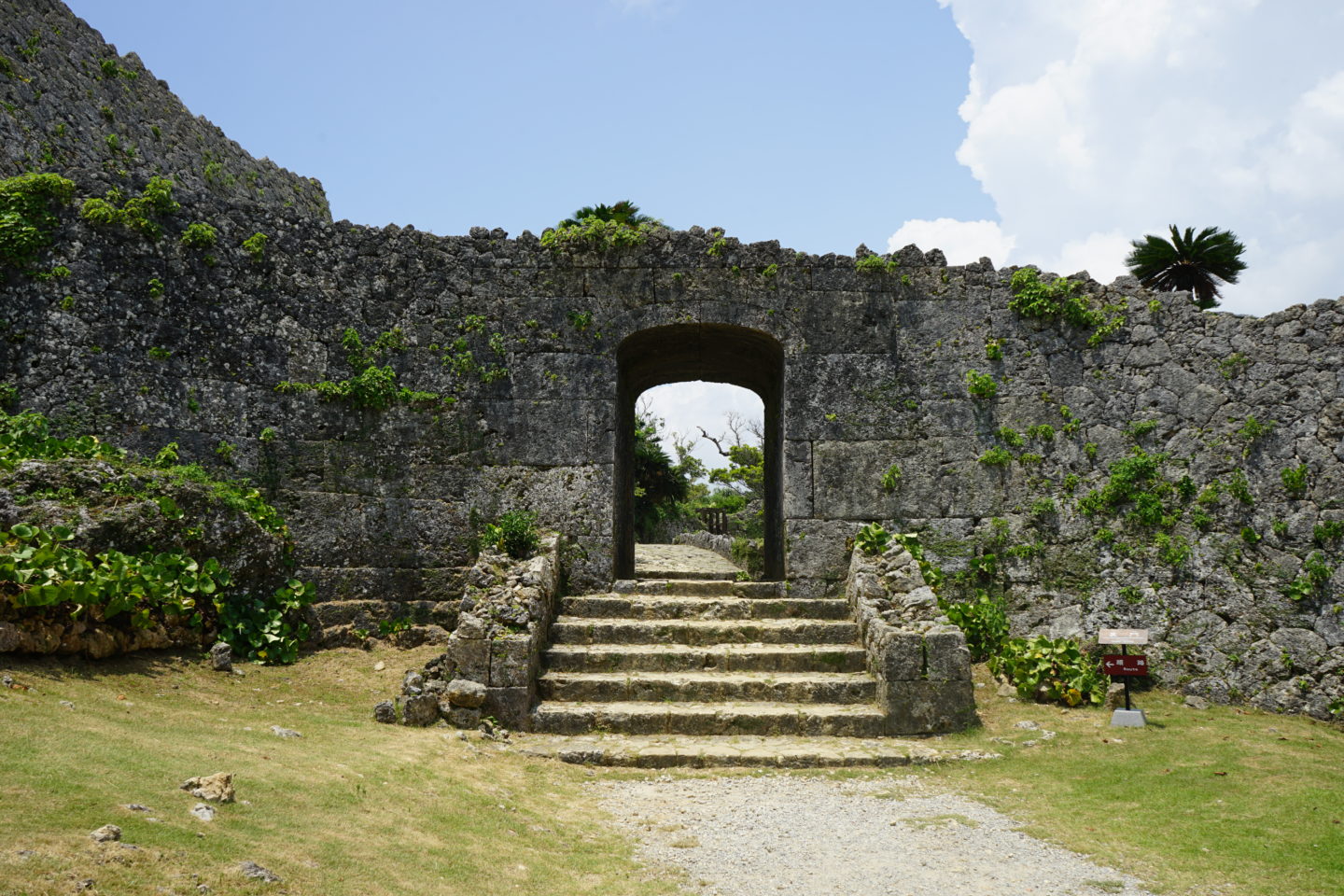 1 | The Island's Rich History + Culture
Okinawa is located just Northeast of Taiwan and West of China, which has influenced traces of Chinese, Taiwanese, and Austronesian in Okinawa's culture; although Okinawa's culture very much retains its own culture and customs which gives you an entirely different cultural experience than mainland Japan.
Dotted along this island are various castles, castle ruins, and temples that you're able to wander around in and be one with the culture and Ryukyu history here. The most renowned and famous being Shuri Castle, one of nine UNESCO World Heritage Sites on the island and the last remaining testament to the Ryukyu Dynasty. With its cherry red paint and intricate design, it resembles the Forbidden City and is a must see on your visit. If you're looking to travel way back in time, to the beginning that is, there is Tamagusuku Castle that has been identified as quite possibly the first castle built on Okinawa by the creator of the Ryukyu's, goddess Amamikiyo. Sefa-Utaki is another must-see on your visit as it is known as a historical sacred place during for the kingdom of Ryukyu. It's most notable feature is a natural rock formation that forms a triangular tunnel leading to more altars used for worship. Situated along these huge rocks are two clay pots placed under stalactites to collect water that used to be considered holy and used in fortune telling and royal rituals.
---
2 | Mouth-Watering Cuisine
With a melting pot of cultures, the cuisine reflects just that in its array of Japanese and international delicacies. The most notable and interesting meal that you must try is taco rice, which is simply taco flavored ground beef served on a bed of rice with lettuce, cheese, tomato, and salsa. For a social night with friends, head over to a Yakiniku for an all-you-can-eat/cook it yourself dining experience. The whole group will pay a set price per person with your selected food tier and you'll have a certain amount of time to eat as much as you want! They have pages and pages of meat selections like cow tongue and special meat cuts to choose from as well as various arrays of sides and selections to make your perfect meal! They bring most of the menu to you raw, so you get to cook everything in the grillers on the table with your choice of sauces. It's a fast-paced, belly-filling dining experience that you don't want to miss (there were even tons of options for me as a vegan!). There is even a secret pizza spot on a hill that has one of the best dining views on the island….
---
3 | White Sand Beaches + Year-Round Warm Weather
It is no question why Okinawa is considered Japan's Sub-Tropical Hidden Paradise. With white sand beaches, "blue ass water", and warm weather year round, it is the perfect destination for beach bums, avid divers, free divers, or recreational snorkelers. While there are more popular beaches, there are no shortage of white sand oasis' on the island for you to find and explore. The weather is the most notable plus of this place since it never drops below sixty-five degrees making it perfect for a day at the beach year round whether it's a walk along the beach or a quick ocean dive to cool down from the summer sun.
---
4 | Endless Island Hopping
If you thought Okinawa was small, zoom in on the map and look at the rest of the Okinawa Prefecture! With over 150 additional islands to visit, you're bound to find a secluded castaway dream spot to soak up sun rays and take a dip the ocean. The most renown islands in this prefecture are Ishigaki Island, Miyako Island, Yaeyama Island, Kerama Island, Ie Island, all of which are easily accessible by plane or ferry. Slip on your fins and dive gear for a unique diving experience among over 400 species of coral, sea turtles, and manta rays or splash around on Yaeyama island, known for having some of the world's clearest water.
---
5 | Color + Culture Filled Festivals
If seeing the cherry blossoms is high on your bucket list, Okinawa has the earliest sightings of these pink petals blossoming as early as mid-January through mid-February. You can enjoy them all throughout the prefecture, but always make sure you check the cherry blossom forecast before making any set plans so you don't miss them! Gather your friends for a warm night in April and head to the Ryukyu Kaiensai Fireworks Festival in northern Okinawa and watch the sky light up with over 10,000 fireworks or grab some friends and head to Naha in October to take part in Yonabaru Tug of War, also known as the world's largest tug of war contest. To travel back in time to the beginning history of Okinawa, attend the 3-day Shuri Castle Festival and watch 1,500 parading dancers in traditional Ryukyu costumes and witness a recreation of the Ryukyu King coronation! 
---
6 | The Birthplace Of Karate
A little under 200 years ago, Karate was curated under the influence of Chinese Kung-Foo when there was a gun ban enforced by samurai rulers in Japan. There were strict rules against citizens of the island learning Karate, so most of the evolution was written down, with some of it being lost with history. The entire spectrum of self-defense using martial arts fascinates me because you can learn so much about your body and what it is capable of. This is a huge part of Okinawa's history, especially before and after the war, so I think falls hugely under the historical key points you don't want to miss while you're here.
---
Have you ever been to Okinawa, Japan? Share with me your adventures in the comments below!
Aaren
Did you enjoy this post? Save it for later on Pinterest!