(Last Updated On: 24/01/2019)
"Take nothing but pictures. Leave nothing but footprints. Kill nothing time."
After my first few visits overseas to Southeast Asia, I was heartbroken by the state of these tropical islands. Before I set foot in this region I had recently taken an interest in traveling more sustainably. I had purchased a bamboo toothbrush, I stopped buying conventional toothpaste, I bought a reusable menstrual cup, etc., but after arriving I found that I was always asking myself, "what else can I do"?
In the municipality of Pacifico in Siargao, the Philippines, there wasn't one step on the beach where you wouldn't step in some sort of plastic waste. Old flip-flops, toothbrushes, water bottles, and bottle caps swallowed up the white sand beneath it. In Canggu, Bali steps away from my sustainable homestay, there were cattle living right next to piles of garbage that would soon be burned to get rid of it. In some areas, you were greeted by smoke clouds of plastic burning in piles along the sides of the road amongst hundred-year-old palm trees, rice farms, and the bluest ocean water.
These destinations are being flooded with millions of tourists each year at the cost of the only remaining beauty of their countries.
I am in no means a perfect traveler when it comes to making less or zero waste, (flying in and of itself is a huge carbon emission) but I and always make sure that I am taking steps each day to adopt a greener mindset and think before I consume. We all have to start somewhere, and choosing to make these lifestyle or habit changes may seem like little, but it does so much.
These simple switches and additions will do so much to start you off on your eco-friendly/zero waste journey.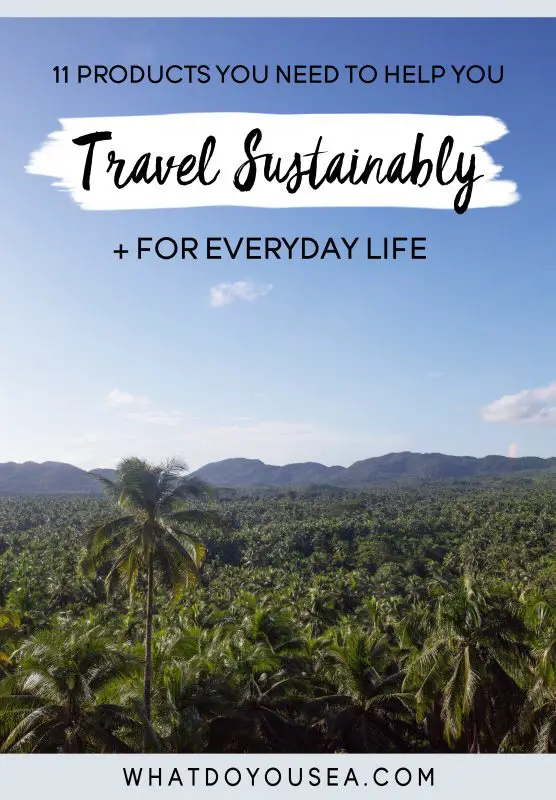 Bamboo Utensils
Traveling or not, I believe that everyone should carry around a set of utensils with them in their bag. When I first purchased these I never knew how much I would use them, but after reaching for them a countless number of times, I never leave home without these. You can use these for takeaway food, opening and eating fruits on the go, or in any case where you need a utensil! I purchased mine from the Etsy shop, ReelRed, and I can't recommend it enough. She makes her wraps out of up-cycled fabrics, which makes each one unique. It comes with a stainless steel straw, fork, spoon, knife, chopsticks, and a cute little napkin.
Stainless Steel Straw
I think this comes second place to the absolute essentials of this kit. With the rise in awareness of plastic straws, it's so important to go without or use a bamboo, glass, or stainless steel straw instead. Personally, I don't really use straws in the first place, but there have been some cases where I wish I would have had one and didn't, so I always make sure that I am carrying one with me. You can purchase four travel straws with a cleaning brush and cotton pouch from the Oceanify shop on Etsy.
Reusable Shopping Bag
Whether you're going to the mall or market, having one of these is going to be very handy. You don't have to worry about having five different plastic bags to carry and it's all in one spot, which is really nice too. I have a burlap one I purchased at Earthbound Trading Company, but really any cloth bag will do. For shopping at the market, I think these Woven Cotton Grocery Net Bags are so cute and portable. For general, everyday use, you can purchase these Cotton Shopping Bags from the Life Without Plastic website.
Bamboo Toothbrush / Toothpaste
In the United States alone, it is estimated that over 850 MILLION toothbrushes are thrown away each year and end up in a landfill. So you know that toothbrush you used ten years ago? It's still somewhere on this planet. That's a scary thought, right? By making the switch to a biodegradable bamboo toothbrush, you won't have to worry about it sticking around on the planet for the next decade. Georganics makes zero waste toothpaste and a Biodegradable Bamboo Toothbrush that also has biodegradable bristles, which is very important. Some companies will sneak in synthetic fibers that will stick around a whole lot longer than your toothbrush, so make sure those are biodegradable as well.

Hydro Flask
I love love LOVE my Hydro Flask. It has saved me from wasting plastic and it has saved me tons of money. I bring this with me everywhere I go. Literally everywhere. I like to have at least a liter of water with me no matter where I am headed, so I invested in the 32oz Wide Mouth Version because it best suits my needs. A Hydro Flask is incredibly useful because you can essentially get free water anywhere you go (unless they have a small fee in some areas). You can ask your guesthouse, restaurant, or cafe if they will fill it up for you and they will be happy to do so. These bottles will keep your liquids cold for twenty-four hours and hot for up to six, so anything you need to fill it with is taken care of!

Cloth Napkin / Bandana
Whether you need to wipe off your hands or your sweat, having a little napkin is going to become very handy. I like to have a bandana with me because they're thinner and they work as something you can style, or something that will help you wipe fruit juice off your hands (of course after washing it in between those different uses). You can roll this up with your utensils or pack it away in your day pack so you can avoid using a bunch of paper napkins.

Dr. Bronner's 18-in-1 Castile Soap
Yes, you read that right. Dr. Bronner's 18-in-1 Soap! You can clean your house, laundry, face, hair, pets, and so much more with this stuff! Of course, all the ingredients are non-GMO, vegan, and fair trade certified! The best part is that the number one tip to using this soap is dilution, meaning that you're going to have this for a while before it runs out. You can purchase this soap in amounts from two to thirty-two ounces, but I recommend just buying the 32oz Pure Castile Liquid Soap and refilling a little travel size container for your trips. If you're opting for plastic free, they do sell these in bar form, however, I don't believe those are advertised to be used for the eighteen uses. HOWEVER, the bottles are made from 100% post-consumer recycled plastic bottles. They go by the bottle-to-bottle recycling methods, so no matter what your purchase is, it's going to a greener Earth.
My favorite scents are rose, eucalyptus, and peppermint, but they also have baby unscented, tea tree (really good also), lavender, citrus, and almond.
For tips on dilution methods, you can refer to the Dilutions Cheat Sheet.
Solid Shampoo Bar
These gems have zero packaging and you're able to purchase small, tin containers to carry them around with you. I enjoy using these because they take up less space than a travel size shampoo, smell great, and you're putting natural ingredients on your body. Plus, you won't have to worry about leaks on the plane, the 100ml limit, or running out too soon on your trip because these last for months! I love Lush's Shampoo Bars because they consistently have the best natural hair and body items. Did I mention they smell amazing? I recommend purchasing their Round Tins with it so you don't have to put it in a plastic baggy.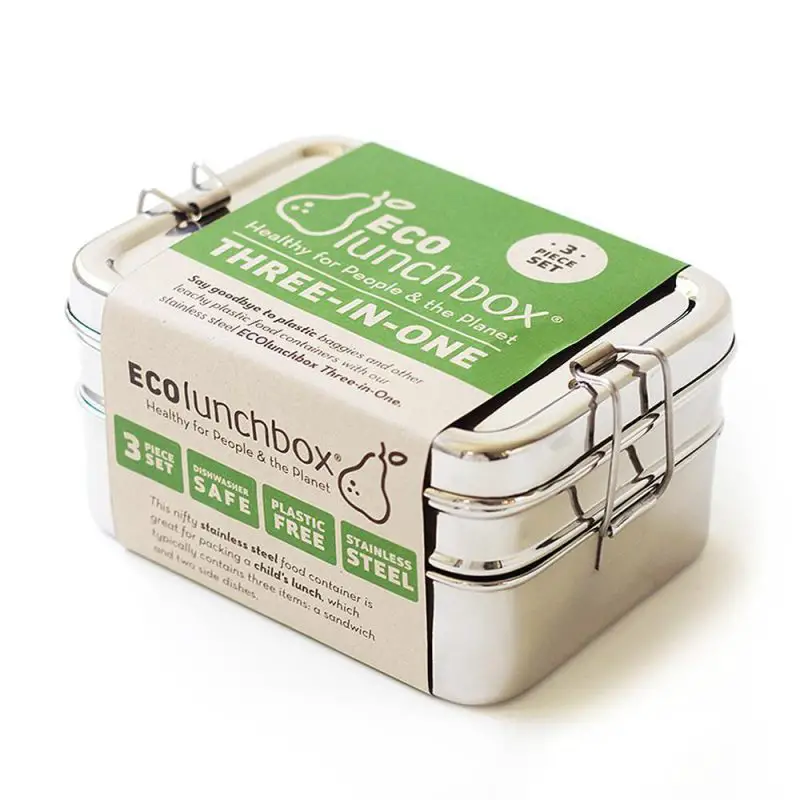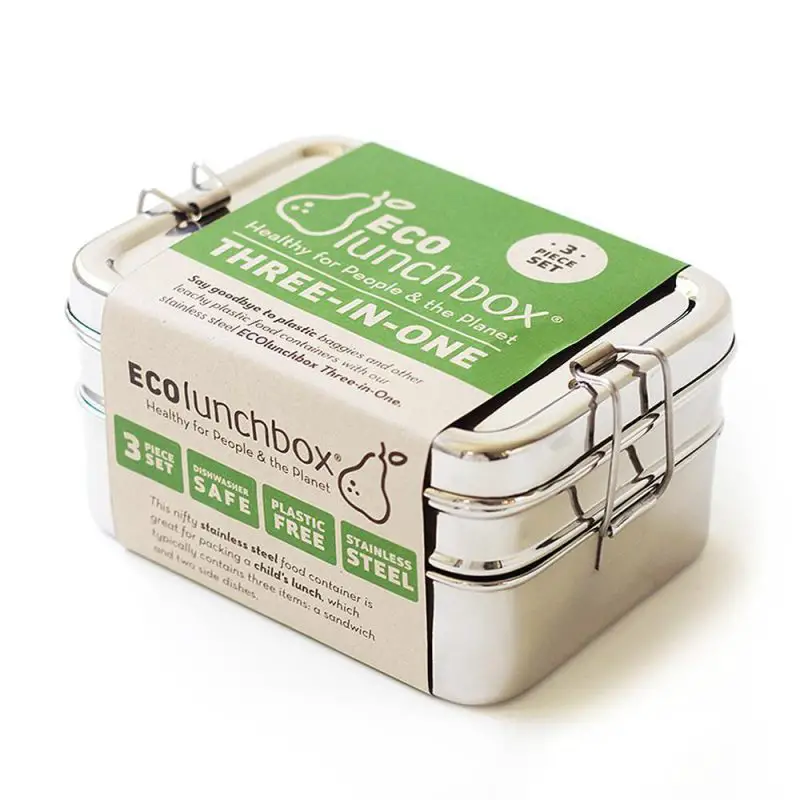 Collapsable Containers
I really wish I had had some of these while I was traveling around the Philippines. I had gone out to grab some white rice from a local restaurant and it was wrapped in saran wrap AND put in a plastic bag *facepalm*. The vast majority of restaurants all over the world use plastic bags and plastic containers for their takeaway customers, so I recommend bringing your own and having them put it yours instead. That is at least one less plastic bag, one less set of plastic cutlery, and one less plastic container. I would opt for the ECOlunch Three-in-One Classic Containers because they have three little compartments (duh) and it all fits together in one cute little box. It's perfect for travel!
Reef Safe Sunscreen
The chemicals in sunscreens threaten the health of coral reefs, and they can prevent the recovery of already degraded reefs. When Hawaii bans sunscreens that aren't reef safe, you know it's time to make the switch to something more ocean friendly. There many new sustainable sunscreens on the market, but my favorite is the Raw Elements Face + Body Sunscreen SPF 30. Buckle your seatbelts and get ready for all these amazing benefits of this sunscreen: biodegradable, reef safe, broad-spectrum protection, safe for all ages, soy, gluten and nut free, water resistant up to eighty minutes; and the ingredients? non-nano zinc oxide, sunflower oil, green tea, black tea, coffee bean, hemp seed oil, cocoa butter, mango butter, beeswax, rosemary oil extract, and vitamin e. AND CERTIFIED ORGANIC (this isn't sponsored I just really love this stuff)!
I take this sunscreen on every trip I take and I know you will too once you try it. Plus, the packaging is so cute and everyone loves cute packaging!
Reusable Menstrual Cup (The Diva Cup)
I am not kidding when I say this product has drastically changed the way I travel and boosted my confidence when mother nature comes knocking. This is the first thing I always make sure I have with me whenever I travel because it is that amazing and revolutionary.  They have two different models depending on if you have or have not had children, which is pretty cool, and you don't have to change it for up to twelve hours. Twelve. There are no leaks (unless it is improperly placed) and you aren't even able to feel it all day. Whenever I use it, I honestly forget it's that time of the month because it is so worry free. I have used mine for over two years now and I can confidently say I will never go back to other hygiene products. Not only do these products sit in landfills, they take up so much space during travels and cost a lot of money over the calendar year. This cup is a one time purchase and it'll save you so much money and stress.
Some women love the diva cup right off the bat, but for some, you may need to experiment and find the best fit. You can buy the Diva Cup here, or you can check out Moon Cup, Lena Cup, or the Lunette Cup. I have not used those personally, but they have been recommended by other ladies.
Whenever I recommend this to my friends and family I always say, "don't knock it till you try it". I thought it was something very unusual at first, but after trying it out, my mind was changed completely.
This post is not sponsored in any way (it would be pretty sweet if it was)! All opinions are my own and this post does contain a few affiliate links. These will bring me a small commission but comes at no extra cost to you.
Thank you all for taking interest in more eco-friendly travel! This is something I am still working on myself, but I know that these products will help so many people get started on the right foot. Let me know in the comments below what products have helped you produce less waste. My biggest addition would have to be my bamboo utensils! I love them!
What are some things that you practice to help you reduce waste?
Until next time,