(Last Updated On: 06/01/2022)
Out of all my trips around the world, planning out a memorable Scotland itinerary was one of the most riveting, exciting, and cherished 10 days that I've had. Scotland is a place where Harry Potter fans, history lovers, nature lovers, and city lovers all come together in this melting pot of a country. A Scotland road trip through alluring Edinburgh, the lush green tones of the Scottish Highlands, and destinations with rich history like Mary King's Close, Eilean Donan Castle, and Loch Ness will leave you in awe of just off under-the-radar this place is compared to other road trip destinations.
This 10-day itinerary covers all the main highlights of central and northern Scotland, as well as all the best areas of the west coast. There will be no stone unturned and you can mold this itinerary to best suit your needs and interests. You'll quickly find that you can explore a myriad of interests all across the country. One day I cannot wait to return to this magical place with my own rental car and the open road. There are few things better than that!
I have poured so much love into curating all the best stops on this Scotland road trip itinerary, morphed into the perfect 10 days for you to get your exploration on! Let's get started, shall we?
This post may contain affiliate links for the products I mentioned, but as always, all opinions are my own. I make a small commission, at no extra cost to you, when you make a purchase or booking through these links. This helps to support this space and keep me blogging, which I am so extremely thankful for.
---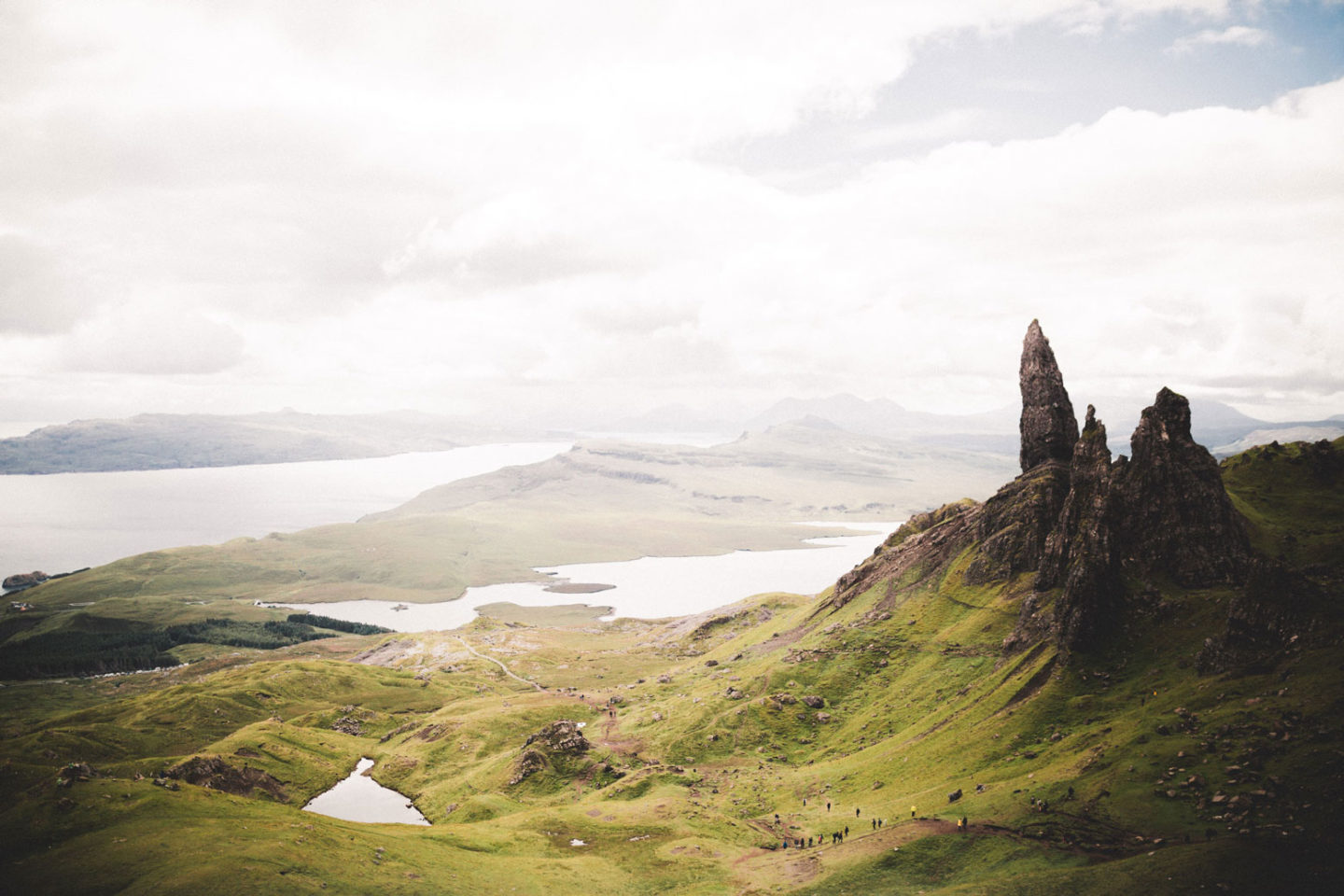 10 Days in Scotland Itinerary Road Trip FAQ's
---
How many days is enough for Scotland?
At a minimum, I would say that 10-12 days in Scotland is enough for a satisfying tour around the country. If you can manage two weeks or longer, that is more ideal since you have the option to travel slower, explore some other interesting places in the country like the Outer Hebrides, Shetland, Outer Isles, stops along the North Coast 500, or spend more time in locations that you fall in love with.
I was working with around 10 days on my own Scotland itinerary, so I have curated this road trip to maximize your time here so that you can see more and have a fulfilling trip.
What should I not miss on a Scotland Itinerary?
The TOP DOG road trip stops that are included in this itinerary are Glencoe Valley, Eilean Donan Castle, the Isle of Skye, Bidean Nam Bian, Glenfinnan Viaduct, Old Man of Storr, Stirling Castle, Edinburgh, The Cuillin, Faerie Pools, Faerie Glen, and the Quraing.
What is the best month to visit Scotland?
This road trip itinerary is best followed in late Spring, Summer, or Fall in Scotland (late April – September). During these seasons, the snow is melted off the hills and mountains in the highlands, making all the outdoor locations easily accessible, which primarily make up this guide. The vibrancy of the country will be in full bloom with the iconic green hues of the valleys among the lochs, and these months have the most sunshine so you can maximize your days out.
If you want to avoid lots of crowds and those pestering midges, then late Spring has a track record of being very ideal, mostly midge-free, and a lot quieter than the hustle of the summer months. In short, shoot for sometime in May.
Need more information? I wrote a helpful guide for choosing the best month to visit Scotland!
There isn't a wet or dry season in Scotland, it's just wet all the time, so prepare for rainfall no matter what month you choose to visit.
---
Day One | Edinburgh
– Explore the main attractions of Edinburgh and get settled into your hotel in the Old or New Town. Don't forget that hearty, full Scottish breakfast!
– DRIVETIME | 30-40 Minutes
Your first day in Scotland is your chance to see a chunk of the main highlights of this enchanting city. You'll be flying into the Edinburgh International Airport (EDI), but you do not need to pick up your rental car just yet. Edinburgh is a highly walkable city, so you will not need your rental car til day four when you drive to the Isle of Skye. This will save you some money if you're traveling on a budget. You'll want to schedule your car pick-up at the Waverly Rail Station. It's located right on Princes Street, so it's centrally located and an early morning pick-up will be seamless. The roads in the Isle of Skye and the Highlands used to be quite rough years ago, but now they are paved, so you don't need any car with 4×4 capabilities! I was shocked at how nice the roads were there because it is pothole central here in Texas. Driving on the roads in Scotland is like driving on butter, for the most part!
Today is the day you'll be settling into where you're staying for the night, so feeling sluggish or tired is highly likely. Whenever you land, head to where you're staying, get a quick nap in, and you'll have a boost to go and get familiar with the city. The first thing you'll want to do is eat, and to that, I say you should definitely try and indulge in a full Scottish breakfast at Blue Bear Cafe or the Southern Cross Cafe. Both of these spots serve breakfast in the afternoon, so it's ideal if your flight is landing in the early or late morning. What is a Full Scottish Breakfast? By full, the Scots mean "complete", but trust me when I say you'll be full when you finish up this hearty dish! This plate of delicacies features tomatoes, one egg, sausage links, sauteed mushrooms, baked beans, black pudding (quite the opposite of the sweet dessert, but ask what it is after you try it), thinly sliced ham, and a potato or tattie. 
Both of these places offer veggie options, but if you're looking for the best vegan/veggie version of this traditional Scottish dish, you must go to Breakfast, Brunch, and Lunch.
After filling up on that plate of goodies, you'll set out to the Royal Mile to get some light exploring in for the day. 
There are many notable things to see here: The Real Mary King's Close, St. Giles Cathedral, Edinburgh Castle, The National Museum of Scotland, The Heart of the Midlothian, and the Scotch Whiskey Experience. Every time you walk the Royal Mile, you're going to see something new because there are hundreds of shops lining this singular street. The mile runs between two historic monuments in Scotland's history: Edinburgh Castle and the Palace of Holyrood. The cobblestone streets, bagpipes, and history are going to sweep you off your feet.
Edinburgh Castle is so massive that touring the entire thing will easily take up a few hours of your day. I highly recommend grabbing the audio tour to get the full history and magic of this Scottish gem.
Another area that is well worth exploring is Grassmarket Street. This is the more "hip" little sister of the Royal Mile, meaning it's a whole lot smaller and packs a punch. One of the most beautiful bookstores, Armchair Books, is down the road from the square. Other notable spots are The Elephant House, Maison De Moggy, Armstrong's Vintage, Greyfriar's Kirkyard, the Edinburgh Farmer's Market, and the picturesque Victoria's Street.
You have the option to end the day at one of my favorite places, the Cameo Picturehouse. This is the oldest entertainment complex in Edinburgh, built in the 1910s, and it has almost all of its original decor. They play a variety of new and old movies, so if there is a movie you have been anticipating seeing, this is definitely a spot you want to experience it in.
WHERE TO STAY IN EDINBURGH
Since you'll be exploring most of central Edinburgh, I recommend basing yourself in the New or Old Town. The easyHotel is an excellent option because it's right down the road from Edinburgh Castle, close to all the attractions you'll be exploring, and for an extra 10-20 pounds, you can book a room with a castle view! Highly recommend! If you're running on a tighter budget, I enjoyed the High Street Hostel also for its location and price point! I also have a guide to the best hostels in Edinburgh if you're looking for more great budget options for your few days here. Alternatively, browse all places to stay in Edinburgh below!
DAY ONE SUMMARY
– ARRIVE IN EDINBURGH
– ENJOY A FULL SCOTTISH BREAKFAST
– WALK THE ROYAL MILE
– GRASSMARKET STREET
---
Day Two | Edinburgh
– See Edinburgh's iconic monuments, the Scottish National Gallery, tour where Her Majesty the Queen stays while she's in Edinburgh, and step into a fairytale in Dean's Village.
– DRIVETIME | 0 minutes
Your second day in Edinburgh is a full day, so there is a lot you can tack onto this day. One of my favorite places for coffee in the city is at the Milkman. They just opened a second location here that is aesthetically to DIE FOR. It's right on the corner going up Cockburn Street so you'll get one of the best cups of coffee in the city with one of the best VIEWS in the city.
After fueling up on some breakfast, Loudons is a local favorite, you'll head over to the massive Victorian-esque tower that overlooks Princes Street, the Scott Monument. This was dedicated to the Scottish author, Sir Walter Scott. You can go inside the monument and climb four different viewing platforms to the very top to see one of the top views overlooking Princes Street, the Princes Street Gardens, Old Town, New Town, Edinburgh Castle, and the Firth of Forth. If you can manage it, around the time of sunrise would be most ideal, but the view is incredible either way.
Next, you'll head over to Calton Hill which boasts a variety of notable things to see and learn about: National Monument of Scotland, Nelson Monument, Dugald Stewart Monument, and the City Observatory. 
One of the coolest places in the city is at the very end of the Royal Mile, the Palace of Holyrood and Holyrood Abbey. When I visited Scotland in 2018, the queen was actually in Scotland staying here, so tours of the inside were closed, but Holyrood Abbey was open and those ruins are one of my favorite places to go in Edinburgh. The audio tour of the palace will give you more information about Bonnie Prince Charlie, Mary Queen of Scots, Queen Victoria, other royal residences, and the history of Holyrood.
After wrapping up your tours, head over to the Scottish National Gallery to indulge in works by Van Gogh, Monet, Cézanne, Edgar Degas, Leonardo da Vinci, and Salvador Dali, my personal favorite. There's actually an app you can download where you can scan the piece of art and it'll give you a brief story about it. This is perfect if you're not well versed in the art scene, but love history and want to connect with the artwork.
To wrap up the day for sunset, you'll be exploring Saint Anthony's Chapel Ruins and Arthur's Seat. These are located right next to each other and offer the best hiking trails in the city. Climb to the top of Arthur's Seat to watch the sun go down over the entirety of Edinburgh. After Holyrood Abbey, this was my next favorite place in the city. You feel like you're hiking through the Highlands when really you're just on one of the seven different hills that Edinburgh was built on. Head back to your hotel, then prepare to leave for the Highlands bright and early tomorrow morning!
DAY TWO SUMMARY
– SCOTT MONUMENT
– EXPLORE DEAN'S VILLAGE
– TOUR THE PALACE OF HOLYROOD
– HIKE ARTHURS SEAT
---
DAY THREE | Drive To The Isle of Skye
– pick up your rental car in Edinburgh and drive to the Isle of Skye, with optional pit stops along the way to castles, lochs, and small villages.
– DRIVETIME | 6.5-7 hours
There are two routes to get to the Isle of Skye and for this Scotland road trip itinerary, you'll be using both. Today, you'll be taking the northern route through Inverness, and on the way back, you'll be taking the southern route through Fort William and Glencoe Valley. Using both of these routes will allow you to see all of the highlights and take your time seeing everything you want to see. This is a big day for driving, so plan to pick up your rental car and leave Edinburgh no later than 8-9:00 am.
The first stop of the day will be to the small village of Pitlochry. This is an ideal place to stock up on groceries since there are a variety of stores offering fresh produce and road trip-friendly meal options. I went to the Pitlochry Food Co-op and they had really great options and cheap prices. Using the ingredients I found here, I made one of the most memorable bowls of spaghetti that I've had in my life. True story! While in town, you can also explore some of the stores nearby in case you need to pick up any other essentials before you get into the Isle of Skye: gloves, a hat, windbreaker, day backpack, etc.. Pitlochry is also home to Scotland's smallest whiskey distillery, the Edradour Distillery, so you may consider stopping in for a drink before you head back out! This is the perfect spot to use the restroom and stock up on goods!
After you're all squared away, you're going to get back on the road for 1.5 hours to Inverness. It's a small city of around 50,000 people and exploration around this area is optional. A few fascinating attractions here are the Clava Cairns, Culloden Battlefield, Ruthven Barracks, Munlochy Clootie Well, as well as other art museums and castles within the city.
On this route, you have the option to omit a detour to Loch Ness and Urquhart Castle from Inverness. The lake and castle are a 35-mile addition to your route (already configured into today's drivetime), so it is up to you if you'd like to stop. This location offers thousands of years of Scottish history and an amazing opportunity to see the castle overlooking Scotland's largest lake. Whether you're a firm believer in the Loch Ness Monster or see it as another conspiracy, this location offers magic and beauty to anyone that pays a visit and I highly recommend it.
Up next, you'll be driving to one of the most beautiful castles in Scotland, Eilean Donan Castle. This castle looks like it was taken right out of a fairytale and even if you're only stopping to get a photo, it's still worth stopping for. They offer tours inside the castle for ten pounds a ticket. I didn't go on the tour myself because I didn't have time, but if you do I recommend it for the history. One thing I learned while spending 10 days in Scotland was that knowing the history of landmarks, castles, and battlefields makes you appreciate them a whole lot more since you'll have a better understanding of what you're looking at. A simple visit to a castle turns into stories of the Jacobite Rising, kings, bishops, battles, and royalty.
Where To Stay In Portree
Portree is a very common base camp for exploring the Isle of Skye, so there are many really nice places to stay here, just make sure you book these months in advance. I recommended the Portree Hotel and the Portree Independent Hostel above, but the Cuillin Hills Hotel, Skeabost View Pods Skye, and the Coolin View are other amazing options.
Once settled in Portree, you can stop in at one of the pubs for a drink, capture the view over Portree Harbour, and take in the views of Loch Portree.
DAY THREE SUMMARY
– PITLOCHRY
– INVERNESS
– PORTREE
---
Day FOUR | Driving the Trotternish Circuit
– Today you'll be exploring one of the most photographed parts of the Isle of Skye, the Trotternish Circuit, through various hikes, museums, and atmospheric views. Wear comfortable hiking shoes today!
– DRIVETIME | 1.5 hours
Your first day of exploration on the Isle of Skye is going to be via the Trotternish Loop. It highlights some of the best scenery on this isle. Ideally, travel this loop going clockwise because you'll be going against traffic and avoiding a lot of the large travel tours.
The first stop of the day is going to be at The Faerie Glen. The Sidhe Faeries were believed to exist here all the way back into prehistoric times! The small, grassy knolls bring out the magic of this area, just make sure you're on your best behavior! Originally, faeries were believed to be evil to bad-mannered travelers, but payback acts of kindness with good luck! Although there isn't any definitive folklore linking to this area, this whimsical landscape will make you believe you'll run into "the little people" during your walk here. When visiting, the only permanent rock formation here is the spiral of stones. Small stacks of stones and designs are created by tourists are considered vandalism and the Scottish spend the winters undoing them, so please refrain from building anything with rocks during your visit.
When you drive here, there won't be any signs guiding you. Since you'll be traveling North from Portree, turn down the road on the right just before the Uig Hotel. Drive five minutes down the road and you'll be able to spot the Faerie Glen.
The next stop on this Scotland road trip itinerary is at the Skye Museum of Island Life. The thatched cottages, croft houses, and barns take you back in time to what life was like on Skye in the 18th and 19th centuries. To go into the cottages and barns, it's £4.00 per person. Crofters that worked up in the Isle of Skye stayed here and you'll see few worldly posessions, sacred artifacts for this era, and old photographs of the island. In 1773, two scientists, James Boswell and Dr. Johnson described their stay in one of these cottages like this: "We had no rooms that we could command, for the good people here had no notion that a man could have any occasion but for a mere sleeping-place". It's an amazing stop to learn more about the people of the island and the brutal conditions that they lived and farmed in!
Next, you'll be driving to the lesser-known Duntulm Castle. You won't find this castle in many guidebooks, but the view is well worth stopping for. You'll be able to spot the castle balancing on three different basalt cliffsides over the Isle of Lewis and Tulm Bay. Most of the castle remains are from the 15th century, with the entirety of the castle being built from the local basalt. Portions of the castle have collapsed into the sea in the past, so you definitely want to proceed with caution while exploring these ruins! On your way up to the castle, you'll spot a massive cairn tribute to the MacArthur family. Duntulm Castle delivers views from all angles and there are some sheep that graze in the area as well. It's very quiet up around the castle, which makes the whole experience "atmospheric as fuck", as my tour guide liked to say.
Finish up at the Duntulm Castle and drive a little way to one of the coolest spots in the Isle of Skye, the Quiraing. If you're visiting in the spring and summer months this area boasts the most vibrant greens in this area. If you want to walk the entirety of this mountain range, which I highly recommend, it's around five miles total and offers some of the most well-known and photographed views in the Isle of Skye. Before you head out for the entire circuit, make sure you check the weather forecast to make sure it's clear because this trail can become quite dangerous in bad conditions.
Kilted Rock and Mealt Falls are the next stop on the list. These seaside cliffs remind me a lot of the Cliffs of Moher in Ireland, and it's a beautiful spot to bring out a drone if you have one or to just take some nice photos of the area. On my tour, I actually ended up going to an alternative location to see the falls called The Brother's Point, also called Rubha Nam Brathairean. This was really cool and there are a TON of sheep near the cliffs. Plus, you'll likely be the only ones there for the best views of Mealt Falls! Go to the regular viewing point for the falls first, then drive the short ways to the Brother's Viewpoint. Both are worth exploring!
The last thing you'll want to explore this day is the infamous Old Man of Storr. This 2.5 round trip hike leads to a mythical rock formation that looks like it's from another planet. This was one of my favorites hikes that I did on my Scotland itinerary and this is one of the number one spots that you SHOULD NOT MISS. Seriously, this place is otherworldly! Hiking to The Storr can get very crowded, very fast, especially if you're visiting in the summer months, so ideally you want to arrive before or during sunrise or sunset so you can avoid all the people and get the most optimal lighting for photos. For this itinerary, you'll be arriving for sunset which allows you to have most of the Storr crowd-free since a lot of the day tours won't be here anymore. Once you get to the top, you can walk around near the rock formations and spend a bit of time exploring, so eat a nice lunch before you head out or pack a snack along. I enjoyed an IMMACULATE peanut butter and jelly sandwich at the top of this thing and it was the cherry on top of an already mindblowing view.
Finish up your day by heading back to your stay in Portree to enjoy a nice pint and a hearty dinner.
DAY FOUR SUMMARY
– THE FAIRY (FAERIE) GLEN
– DUNTULM CASTLE
– THE QUIRAING
– KILTED ROCK + MEALT FALLS
– HIKE THE OLD MAN OF STORR
– PORTREE
---
Day FIVE | Exploring the Isle of Skye
– This day you'll be thoroughly exploring more of the Isle of Skye and ending your day in Sligachan to prepare for an adventurous sixth day.
– DRIVETIME | 5-6 hours
The first stop of the day is going to take you to Dunvegan Castle. This one of the most stereotypical castles that you'll come across on the Isle of Skye: surrounded by forest, overlooking a massive loch, and a massive bridge to the entrance. You can purchase tickets for only the castle or buy tickets to tour the castle and gardens for £9-14.00. Alternatively, you can opt-out of the tour altogether and only view the castle from the outside if you want to save some time for this day since there is a bit of driving. Regardless, it's a stunning castle and it's the only Hebridean Castle to be occupied by the same family for over 800 years. The castle was built from the 1200's all the way into the 1800's so after going through many different building periods, you can experience a variety of architecture and history within the castle walls.
Up next is one of my personal favorite spots on Skye, the Neist Point Lighthouse. This location is most popular with photographers, especially around sunrise or sunset, but can be enjoyed any time of day. There is a one-way path you can take all the way down to the sea cliffs and near the lighthouse if you choose. It should take around 45 minutes total, or you can snap a photo, take in the view, and be on your way to the next stop. If you want to skip Dunvegan Castle, you should be able to make it here for sunrise, which I highly recommend!
Hop back in the car and drive to another renowned spot in the Highlands, The Fairy Pools. To see all of the pools and the waterfall, you'll take an out-and-back trail that takes around 40 minutes to complete. Some people with a ton of grit will choose to swim in these pools, but beware because they are fed by the Cuillin Mountain streams so the water will be frigid! They have become incredibly popular after being named a top spot to visit by a massive travel agency, so try to get here before the late morning when all the tours show up! There are also some other trails in the Cuillins listed on tomorrow's itinerary, so explore some of the shorter hikes if you're working with some extra time this day.
End the day in Portree and prepare for an adventurous day of hiking in the Cuillins tomorrow.
DAY FIVE SUMMARY
– NEIST POINT LIGHTHOUSE
– THE FAIRY (FAERIE) POOLS
– THE CUILLINS
– PORTREE
---
Day Six | Hike The Cuillin Hills
– Hike in one of the most beautiful parts of Scotland that many people only drive past. 
DRIVETIME | 2-3 hours
TOO MANY other Scotland road trip itineraries fail to mention or include the Cuillin Hills in their trip plans. That is downright INSANE because this is arguably the most beautiful place in Scotland. If I were asking a Scotsman, they would say Glencoe Valley, which is still off the chain, but the Cuillin Hills are for the true go-getters, hikers, outdoor lovers, and adventurers. Plus, since this area remains relatively unexplored by tourists, you'll get to avoid a crazy amount of crowds! SCORE. There are two main bases for exploring the Cuillins, Sligachan in the North and Glenbrittle in the South. Sligachan is on the Portree bus route whereas there is no public transport to the south.
This mountain range is the most impressive in ALL of the United Kingdom. The name 'Cuillin' comes from the old Norse, kjöllen, meaning keel-shaped. There are two main ranges in the Cuillins, with the main ridges named the Black Cuillins to distinguish it from the Red Cuillins that are to the East of Glen Sligachan. Both come together to form alpine-like peaks and knife-edged ridges. Still, the highest summit, Sgurr Alasdair, is only around 3000 feet tall. A lot of the peaks in this area are only accessible through climbing and/or mountaineering, but there are plenty of low-level trails for eager hikers to get out and explore this remote area.
Before you leave to tackle any of these hikes listed below, make sure you have the proper day hiking essentials and check the weather forecast more than once. The weather can change by the hour in Scotland, so make sure there isn't any nasty weather coming to the area so you stay safe. I used YR when I was in Iceland and it has proved to be one of the best weather websites/apps that I have come across. The stock weather app on your phone isn't going to be accurate, and with your safety involved, you really want to make sure you're getting the best information. I deleted the main weather app off my iPhone because this one was so good! You'll use it even when you get back home.
Once you're finished hiking, return to your stay in Kyleakin and prepare to wave Skye goodbye tomorrow as you explore the rest of the Scottish Highlands.
For a nice stroll to a beautiful bay, the Talisker Bay Trail is ideal for those that don't want to do any serious hiking but still see some beautiful scenery. This would a sweet sunrise mission and best paired with one of the other hikes on this list. The beach is best visited during low tide, so make sure you check sea levels before you head out so you can have the best experience. Other than that, the trail is very straightforward and you can enjoy a picnic on the beach, take a dip in the waters, and take in the view before heading back to your car.
BEST HIKED | SUNRISE / SUNSET
TRAIL LENGTH | 2.2 MILES
TYPE OF TRAIL | OUT & BACK
ELEVATION GAIN | 160 FEET
TRAILHEAD COORDINATES | 57.28747, -6.43887
HIKING TIME | 1 HOUR
A solid trail that is a little less daunting than the rest of this list is the Glen Sligachan trail. It begins in Sligachan and ends all the way in Elgol. If you want to do the entirety of the trail, it's going to be around 16 miles total and take you all day starting in Sligachan, going to Elgol, then back. If you only want to hike from start to end, planning for this can get a little hairy because you need to have transport back to your car after you arrive in Elgol and the trail pictured below ends about three miles before you make it to town, so your total mileage will be closer to eleven miles. The trail is more of a walk than, say, a rigorous hike, so it's definitely doable as long as you start early in the morning and plan properly so you can take a bus back. If you don't want to do all of that, you can easily start in Sligachan, hike in as far as you'd like, then hike back out.
Elgol features one of the most AMAZING viewpoints in Scotland. Yes, SCOTLAND! If you choose to hike all the way to the village you can spot this view while completing this trail. You can find detailed directions to this panoramic viewpoint here.
This trail is known as one of the top hill walks in the United Kingdom and is part of the infamous 80-mile Skye Trail. The glen divides the Black and Red Cuillins, so you'll experience dramatic scenery for the entirety of the trail and end at Camasunary, a remarkable coastal view before reaching Elgol. The majority of the trail is well-maintained, however, after some rainfall, the glen floor can get boggy, but the tarns and lochans make up for it all. You'll want to pack plenty of water, food, and snacks for this trail since you'll be exploring the majority of the day. As always, make sure you check the weather conditions before you attempt this trail. Skye is notorious for its changing weather and if a gnarly fog and rain combo come in you could easily get lost.
BEST HIKED | EARLY MORNING
TRAIL LENGTH | 8.1 MILES
TYPE OF TRAIL | ONE WAY
ELEVATION GAIN | 883 FEET
TRAILHEAD COORDINATES | 57.29035, -6.17252
HIKING TIME | 6-9 HOURS
Coire Lagan | Intermediate/Strenuous
Serving up more remarkable views on Skye is the Coire Lagan Loop. The beginning of this trail begins at the Glenbrittle Campsite, behind the white toilet house. This trail is on the more popular side as of recent years, and Glenbrittle the ideal access point for the Cuillins in the South, so make sure you get here early to grab a parking spot before it fills up. The road here also has some pretty gnarly potholes, so be careful on the drive down. You should only attempt this trail when the weather is nice, like the rest of these hikes in the Cuillins. In ideal conditions, you won't be the only person headed up to the lake, so you can ask or follow fellow hikers if you're confused, but always lookout for the cairns along the route. They will take you in the right direction.
The last 1/4 of this trail involves a little bit of rock scrambling to get to the top, but it doesn't require any technical skills, just be careful. On the way down, you'll be able to spot the Eas More Waterfall, the highest waterfall in the Isle of Skye! I recommend following the loop version of this trail, even though it is slightly longer, because it is more scenic, less crowded, and you'll be able to pass the waterfall!
BEST HIKED | EARLY MORNING
TRAIL LENGTH | 5.6 MILES
TYPE OF TRAIL | LOOP OR OUT & BACK
ELEVATION GAIN | 1,925 FEET
TRAILHEAD COORDINATES | 57.20325, -6.29178
HIKING TIME | 4-5 HOURS
Loch Coruisk | Intermediate/Strenuous
If you can only choose one hike on this list, make it Loch Coruisk. This remote lake is surrounded by all of the highest peaks in the Cuillins: Sgùrr Alasdair, Sgùrr Dearg, Sgùrr na Banachdaich, Bruach na Frìthe, and Sgùrr nan Gillean. This place was made popular by the Scottish author, Sir Walter Scott in his poem, 'Lord of the Isles', written in 1815. It's also said to be home of the water horse/kelpie, a mythical Scottish creature that is said to lures people into the murky depths of the loch for them to live forever. The base of the lake is almost 100 feet below sea level, so if you dare to take a dip, be careful!
There are two ways you can arrive at Loch Coruisk. One being on foot leaving from Sligachan and the other via a boat/hiking trip from Elgol. No matter what you choose, you'll be making a day out of this experience and you'll leave being completely fulfilled by your experience. If heading out from Elgol, there are two companies that go out to the Loch: Misty Isle Boat Trips and the Bella Jane. Email either of the companies to book a spot and they will keep you updated on the sea conditions. The boat trip will take you to the Loch Coruisk Memorial Hut and from there, it's around six miles total to the lake and back. This is a viable option if you're shorter on time, don't want to spend an entire day hiking, or are interested in seeing some wildlife in Scotland (seals, dolphins, and whales). Taking the boat tour also allows you to avoid "The Bad Step", an ominous section of the trail, which is perfect if you're not an experienced hiker.
BEST HIKED | EARLY MORNING
TRAIL LENGTH | 14 MILES (4.3 via Elgol)
TYPE OF TRAIL | OUT & BACK
ELEVATION GAIN | 2,752 FEET
TRAILHEAD COORDINATES | 52.2896, -6.17443
HIKING TIME | ALL DAY (3-4 hours via Elgol)
If you have enough time for a detour before heading back to Kyleakin, you should definitely go to Camas Daraich. It's a powdery white sand beach that could easily be mistaken for a Caribbean paradise, but it's right in the heart of the Scottish Highlands. From Glenbrittle, it's around an hour and a half to the beginning of the walk, then another hour to get to the beach, and then a 50-minute drive to Kyleakin. So this is QUITE out of the way and time-consuming, especially if you're attempting some of the more rigorous trails in the Cuillins, but this is a jaw-dropping detour worth the journey out to see it. Plus, you'll likely have it all to yourself!
WHERE TO STAY IN KYLEAKIN
After finishing up at the castle, it's time to head to one of my favorite places I stayed on the Isle of Skye, Kyleakin. The village sits under the Skye Bridge that connects the island to the mainland, which means you won't have to backtrack to anything and you can be more thorough with your itinerary. Saucy Mary's Hostel and Skye Backpackers Hostels are ideal places to stay with a great view right in town and close to all the main eateries and shops. If you're looking for something more private, the Hillside is beautiful, quiet, and a small walks away from the village center.
Once settled in Kyleakin, you can stop in at one of the pubs for a drink, admire the view over Kyle Akin and Inner Sound, and even walk to the top of the Skye Bridge for some awesome photos of the entire village.
DAY SIX SUMMARY
– HIKE THE CUILLIN HILLS
– CAMAS DARAICH (OPTIONAL)
– KYLEAKIN
---
Day Seven | Scottish Highlands
– Go off the beaten path to a gorgeous turquoise beach, see the Harry Potter train, and explore the most beautiful location in Scotland, Glencoe Valley.
DRIVETIME | 4.5 – 5 HOURS
Today's drive is a little heavier than the previous days, but it will help you give your legs some rest after all that hiking in the Cuillins. Thank me later! The stops on this day of the Scotland road trip itinerary will knock your socks off. Glencoe Valley is one of the most impressive parts of the Highlands, and if you're a Harry Potter fan, you'll get to see the real train that the students rode to Hogwarts! Even if you're not a die-hard Harry Potter fan, it's still so beautiful and a great photo opportunity.
The first stop of the day is a place that you likely have never heard of before, the Silver Sands of Morar. This has been voted one of the best beaches in Scotland! Even in the summer months, the water will still be pretty chilly, but that won't stop the endless views and peaceful vibe. The sand is powdery white, which the name alludes to, and the water is a vibrant turquoise green. Catching the sunrise here will call for a very, very early morning, but it's worth it if you can manage fewer hours of sleep and a down massive cup of coffee! The ride from Kyleakin takes around two hours, so you can caffeinate up on the way there and enjoy a nice breakfast on the beach!
Once you're done at the beach, it's time to catch the Harry Potter train crossing the Glenfinnan Viaduct Bridge. From this viewpoint, you can actually walk all the way up to the bridge and get some really sweet photos while you wait for the train to pass! During the summer, the train passes over the bridge twice a day, which means you have four different opportunities to catch the train.
The morning train from Fort William departs at 10:15 pm and crosses the bridge at around 10:30-11:00 am.
The afternoon train from Fort William departs at 2:40 pm and crosses the bridge at around 3:10-:25 pm.
The morning return train from Mallaig departs at 12:10 pm and crosses the bridge at 3:15-:30 pm.
The afternoon return train from Mallaig departs at 6:40 pm and crosses the bridge at 7:45 – 8:00 pm. 
You'll likely be catching either the first or second train, but if you arrive for the three o'clock passings, then you'll be able to see two trains cross the bridge! The afternoon train to Fort William and the morning train returning from Mallaig. Ideally, you should get here around 30 minutes before the train is due to pass so that you can get a good spot for viewing and photos. The best place to see the train is at the Glenfinnan Visitor's Center. Behind the center, it's a 5-10 minute walk to the various viewpoints, with the best view being at the top of the hill.
If you're not interested in seeing the Silver Sands, but you DO want to ride the Jacobite Steam Train, AKA the Hogwarts Express, then you can drive from Kyleakin straight to Fort William, and then take the first train to Mallaig. The entire 80-mile journey will take around six hours to complete, putting you back in Fort William by around 4:00 pm. From there you'll be able to go directly to Glencoe Valley. The train only runs from late April to late October and it sells out FAST, so make sure that you book your tickets FAR in advance. For more information on riding the train, you can visit West Coast Railways. Keep in mind that this train gets around 4,000+ visitors in the summer months and there VERY limited parking, so make sure you get here early so you can snag a spot.
The next stop is one of the most exciting on this Scotland itinerary, Glencoe Valley. What on the surface seems like a simple viewpoint, deeper, is actually the opportunity for hours and hours of exploration. You could easily spend an entire day hiking around Glencoe Valley and I highly recommend giving yourself the maximum amount of time for this day just to explore the valley. It's incredible. When a Scotsman tells you that this is his favorite place in all of SCOTLAND, you know this place is the real deal!
There are many hiking options out here depending on your experience level. First things first, pick up a map from the visitor's center, then head out on your adventure. I recommend the Hidden (Lost) Valley Trail if you have a bit of hiking experience. It cuts through the valley and takes you up 1000 feet between the Three Sisters for panoramic views across the Highlands. This can easily take up the rest of your afternoon, depending on your morning plans. See other hikes in Glencoe below!
The An Torr Circuit is more of a nice walk than a hike, so this is a great option if you're not looking to do any rigorous hiking but want to enjoy some views and try and see some wildlife. There are deer, foxes, and eagles that frequent this area, so if you really take your time and take in your surroundings, you may see these cuties! The loop trail features a small river crossing and a nice view of An Torr and the surrounding region! It's very straightforward and great if you want to complete many hikes this day!
BEST HIKED | EARLY MORNING / SUNSET
TRAIL LENGTH | 1.2 MILES
TYPE OF TRAIL | LOOP
ELEVATION GAIN | 196 FEET
TRAILHEAD COORDINATES | 56.66206, -5.05726
HIKING TIME | 0.5-1 HOUR
A picturesque hike that caters to all hiking levels is the Glencoe Lochan Circuit Trail. The lochan, or small lake, has a variety of different trail lengths and difficulties which make it ideal if you don't know what you're feeling this day. The lake has many small walk-out points where you can take in the surrounding scenery and capture some beautiful photos.
The trail is very much flat and well-marked, but there are more moderate trails that you can add to this one for a longer trail with slightly more elevation gain. It feels like you're walking through a small slice of the Pacific Northwest right in the heart of Scotland. This walk is very peaceful and another viable choice if you want something more casual or want to complete multiple hikes this day.
BEST HIKED | EARLY MORNING / SUNSET
TRAIL LENGTH | 1.5 MILES
TYPE OF TRAIL | LOOP
ELEVATION GAIN | 528 FEET
TRAILHEAD COORDINATES | 56.68794, -5.09653
HIKING TIME | 1-2 HOURS
The best bang for your buck in Glencoe Valley is the Lost Valley Trail. If you decided to book tickets to the Harry Potter Train, this is an ideal hike because you'll be arriving in the latter half of the day. This trail will have you coming back down the valley satisfied with your hike and hungry for dinner. If you get to Glencoe earlier in the day, I recommend starting here and then exploring other trails.
The terrain on this hike is very rocky and uneven, so you want to make sure you have proper hiking boots. Along the way you'll also have to do a bit of scrambling up some rock that can be very dangerous in wet conditions, so, as I have said many times, check the weather before you head out. Once you arrive at the top, and if you're feeling fit, you can push on to the ridge above and onto the saddle if you want to attempt to summit Bidean nam Bian.
BEST HIKED | MORNING / GOOD WEATHER
TRAIL LENGTH | 2.5 MILES
TYPE OF TRAIL | OUT & BACK
ELEVATION GAIN | 859 FEET
TRAILHEAD COORDINATES | 56.66782, -4.98647
HIKING TIME | 3-4 HOURS
Where To Stay In Glencoe
Glencoe offers many historical and unique places to stay for you to unwind after exploring the valley. The Ballachulish Hotel is baronial style at the foot of the mountains. You'll feel like royalty staying here and it's perfect for those that love boutique hotels and history. If you're looking for a quiet stay on Loch Leven, The Boathouse is the best option if you want to stay somewhere unique and if you're traveling as a couple. For something more budget-friendly, the Glencoe Youth Hostel and Glencoe Independent Hotel are a perfect stay in an ideal location near the Glencoe Visitor's Center.
DAY SEVEN SUMMARY
– SILVER SANDS OF MORAR (OPTIONAL)
– GLENFINNAN VIADUCT
– GLENCOE VALLEY
– HIKING IN GLENCOE
– GLENCOE
---
Day Eight | Glencoe Valley
– Spend another day hiking around Glencoe Valley.
– DRIVETIME | VARIES
Since yesterday you arrived in Glencoe in the late afternoon, you'll have the opportunity to spend additional time in the valley to tackle more serious hikes with the best views. If the weather is poor, please don't attempt these trails because they become very dangerous. Instead, opt to go to Glasgow a day earlier, or spend some time in the Loch Lomond & Trossachs National Park. You can get more hiking recommendations from the Glencoe Visitor's Center as well if these are too challenging.
The West Highland Way is one of the main hikes on my travel bucket list and this trail is a mini portion of this stunning 95-mile journey. On the way up this trail you're going to gain a lot of elevation in only three miles so it is rated as difficult, but the views at the top feature a 360-degree view of the Three Sisters and a perfect view down the floor of Glencoe Valley. A lot of other trails in this area are so popular that this one is WAY overlooked. A lot of people even say that this is their favorite trail that they hiked in Scotland. The Devil's Stairs are a series of gravel switchbacks that take you all the way up the mountain, Stob Mhic Mhartuin! This is a great trail for those that are up for a serious sweat for the rewarding view. Plus, this trail is short enough that you can add other hikes before or after this.
BEST HIKED | EARLY MORNING / AFTERNOON
TRAIL LENGTH | 6 MILES
TYPE OF TRAIL | OUT & BACK
ELEVATION GAIN | 1,226 FEET
TRAILHEAD COORDINATES | 56.66455, -4.90467
HIKING TIME | 3-4 HOURS
If you want to spend the day exploring a wicked spot in the Scottish Highlands, this one is a winner for those that want to work for jaw-dropping views. The trail to Bidean nam Bian includes part of the Lost Valley Trail, so if you take this loop route, you'll be able to knock out two hikes in one go. Bidean nam Bian is a strenuous trail that requires a little bit of scrambling for the summit that is highly doable in good weather. From this trail, you'll have the opportunity to summit each of the three sisters, so this will easily become a full-day adventure. This is the perfect alternative if you're not ready for Aonach Ridge, the last hike on this list.
The route up and back down is pretty brutal, so trekking poles will be very handy here to help you gain some stability and help protect your knees.
BEST HIKED | EARLY MORNING / GOOD WEATHER
TRAIL LENGTH | 7 MILES
TYPE OF TRAIL | LOOP
ELEVATION GAIN | 4,051 FEET
TRAILHEAD COORDINATES | 56.66776, -4.98616
HIKING TIME | 6-9 HOURS
The creme de la creme of hiking in Glencoe Valley is this very intense ridge hike, Aonach Eagach. This trail should only be attempted in good weather and can become extremely dangerous in poor or wet conditions. This isn't recommended for beginner hikers, so you'll want a lot of hiking experience before you do this. The coordinates for the trailhead have you starting in the West, but it's more ideal to start the trail from the East. The east trailhead is across the street from the Glencoe War Memorial and the Glencoe Massacre Memorial. It shares a trail a trailhead with the Pap of Glencoe, which is another great hike in Glencoe if this one is a bit more than you can chew.
Let me reiterate that this hike is going to be very dangerous. For a better visual of what you're getting yourself into, watch this video. For those with the proper experience under their belts, this will be the adventure of a LIFETIME. All eleven miles of this trail are going to be SERVING views and views for miles. Helpful tips, based on my research are to do your best to go over all the pinnacles because the side trails can be really sketchy, especially when wet, never attempt this alone, and take plenty of water since this will take you the majority of the day.
BEST HIKED | EARLY MORNING / GOOD WEATHER
TRAIL LENGTH | 11.2 MILES
TYPE OF TRAIL | OUT & BACK
ELEVATION GAIN | 7,060 FEET
TRAILHEAD COORDINATES | 56.66664, -4.98218
HIKING TIME | 7-9 HOURS
DAY EIGHT SUMMARY
– HIKING GLENCOE VALLEY
– GLENCOE
---
Day Nine | Glasgow
– Spend your last full day for this Scotland road trip itinerary exploring the stunning city of Glasgow, or spend more time in Edinburgh. 
– DRIVETIME | 2-3 HOURS
Scotland's second-largest city, Glasgow, is the perfect last stop on this 10-day Scotland road trip itinerary. It's an amazing city for foodies, pubs, art, and other attractions that will put the cherry on top of your trip to Scotland.
Caffeinate your day at Dear Green Coffee Roasters with a specialty coffee made with ethically sourced beans. This cafe is close to many of the attractions in the city center, so you can walk here and watch the city come alive, then head over to Rose & Grant's Cafe. Their menu has a PRIME vegan/veggie selection in addition to their regular menu items. The atmosphere of this restaurant reminds me of small diners that you'll find scattered around the United States, so it's very quaint and has large windows looking out into the city. It has a variety of menu items, including some that are veggie-friendly!
After you've finished up breakfast, it's time to head over to the Kelvingrove Art Gallery & Museum. This museum is one of the most visited attractions in Scotland with its 22 galleries featuring natural history, Renaissance art, artifacts from ancient Egypt, and artists like Vincent van Gogh, Claude Monet, Salvador Dali, Vecellio, arms and armor, and so much more. It holds one of the largest art collections in Europe! The most popular things to see here are Salvador Dali's 'Christ of St John of the Cross' and Sir Roger the Asian elephant. Once you're finished relishing in the art, let's chat about another great stop, Buchanan Street.
Buchanan Street is kind of like a mini "Royal Mile" in the sense that it is the main shopping street in Glasgow. Not as grand as Edinburgh's, but still a really great spot to find high tea, quaint shops, cafes, and good coffee.
Glasgow Botanic Gardens, Glasgow Cathedral, Necropolis Victorian Cemetary, and finding street art around the city are all other amazing things to do while you spend the day in Glasgow!
For eating and drinking your way through the city, Drygate Bar & Kitchen, Glasgow Distillery, The Finnieston, The Bon Accord, The Flying Duck, Sloans, The Wee Pub, The Pot Still, have all been recommended to me for an exciting night out.
If you chose to drive back to Edinburgh, explore any spots you missed on this Scotland itinerary to see before you leave!
DAY NINE SUMMARY
– GLASGOW / EDINBURGH
---
Day Ten | Returning Home
– Today you will be leaving Scotland behind and returning home.
– DRIVETIME | 20-40 MINUTES
Depending on when you booked your flight, you may have some time to grab a coffee or breakfast/brunch before you board your flight. If you booked a red-eye flight leaving this evening, spend the day exploring more of the city, or grub out one last time before you leave.
Most flight deals to and from Scotland are out of the Edinburgh International Airport, so unless you have a return flight leaving from Glasgow, you'll need to drive 45-minutes to EDI, return your rental, and board your flight home. If you stayed in Edinburgh last night, it's around 20-minutes to get to the airport. These last 10 days in Scotland have been some of the most fulfilling and exciting travels, especially when a road trip allows you to see so much more than a guided tour. Good luck on your journey home!
---
10 Days In Scotland Road Trip Itinerary Map
---
SCOTLAND ROAD TRIP ITINERARY OVERVIEW
DAY ONE | EDINBURGH
DAY TWO | EDINBURGH
DAY THREE | ISLE OF SKYE
DAY FOUR | ISLE OF SKYE
DAY FIVE | ISLE OF SKYE
DAY SIX | THE CUILLIN HILLS
DAY SEVEN | SCOTTISH HIGHLANDS
DAY EIGHT | GLENCOE VALLEY
DAY NINE | GLASGOW / EDINBURGH
DAY TEN | RETURN HOME
---
LOOKING FOR MORE SCOTLAND TRAVEL RESOURCES? CHECK THESE OUT:
– The Best Time To Visit Scotland
– The BEST Scotland Packing List For Summer
– 50 Scotland Travel Tips For An Unforgettable Trip
– 10 Tips For Traveling Scotland On A Budget
– 72 Hours in the Isle of Skye
– Hiking The Old Man Of Storr: The Isle Of Skye's Crown Jewel
RESOURCES FOR VISITING EDINBURGH:
– 3 Days In Edinburgh: The Ultimate Itinerary for Edinburgh, Scotland
– The 8 Best Day Trips From Edinburgh You CANNOT Miss
– The 10 Best Hostels In Edinburgh For A Magical Stay
– The Best Coffee Shops In Edinburgh: 15 Cafe's You Can't Miss
– The 10 Best Mouth-Watering Vegan Restaurants In Edinburgh
– The Top 15 Places To Get A Vegan Breakfast In Edinburgh
---
Are you headed to Scotland? Share with me in the comments what you're most excited to see!
Aaren
Did you enjoy this 10 Day Scotland Itinerary?