(Last Updated On: 20/07/2019)
Adventuring to unique and off the beaten path travel destinations is one of my favorite parts about traveling the world. It's in the moments that you're all alone with nothing but solitude that you really appreciate the world around you and realize just how magnificent this world is. I enjoy seeing iconic places and waking up incredibly early to beat the crowds, but there is something about a lesser-traveled place that pulls me in like a magnet. It's a big priority of mine to travel off the beaten path with my mix of iconic spots so that I can get a better feel for the country that I am traveling to and to see those gems that a lot of people don't bother to look for.
I have been following the traveling community on Instagram for a while now and I have noticed a large shift in the content that I am seeing. What was once cookie cutter photos (often times it still is and there isn't anything wrong with that), is now transforming into unique styles and even more unique travel destinations. I've seen (and had the luck to find) many incredible places that I didn't even know existed or could exist in this world. I found them all on my own, and with a stroke of luck as I like to tell myself. Another thing that I have noticed in this rise of offbeat travel culture, is that when people see photos of these secret destinations, a lot of people want to know where these places are, obviously. In doing this you come across a couple of different types of people: people who have been to the location but will never tell you, people who have been to the location and openly share it with their following, groups, + pages, people who have never been to the destination and demand where it is, and people who haven't been to the destination, but are willing to do the dirty work to find it. Those are my kinds of people and (if I am guessing right) that's exactly why you're tuning in today.
I was tired of seeing secret locations and them not being disclosed (which I 100% agree with these places being kept a secret), so I set out to find them myself, and I did. If you're in the same boat as me, photography lover, nature lover, and want to keep certain places sacred in their rawest form, I urge you to use these tips, and if you happen to find a location, please keep it with yourself. Social media has become an incredibly powerful tool and I believe that the people who are willing to do the dirty work are also the ones that are willing to protect it, so please keep that in mind.
I am sharing tips for finding general locations all around the globe for the first five tips and then the other five tips are for when you see that absolute DREAM SPOT in a photo and need to know how to go about finding it! It hasn't led me astray yet and it'll help you get a little bit more off the beaten path when you travel. Let me know in the comments below how these tips worked for you if you end up using them and good luck in your search!
This post may contain affiliate links for the products or services I mentioned, but as always, all opinions are my own. I make a small commission, at no extra cost to you, when you make a purchase or booking through these links. This helps to support this space and keep me blogging, which I am so extremely thankful for.
Planning a trip somewhere? Check out my other awesome resources!
---
How To Find Off The Beaten Path Travel Destinations Anywhere
---
Follow Travel Photographers
The first thing to tick off your checklist for finding off the beaten path travel destinations is following photographers that post more than just "influencer photos", as I like to call them. Now that anyone and everyone can pick up a camera, take the same photo as everyone else, and be categorized as a photographer, professional photographers are starting to steer away from the norm and post locations that no one has ever seen before. They're doing the dirty work and going beyond a quick "Instagrammable Guide To _______" so that they can have unique content. I am not trying to say that being an influencer is bad by any means, but I do think it is bad to influence traveling to a destination solely because it is #insta-worthy, especially with the numbers people are reaching these days: 1.2 million, 2 million, even 500k people, and some even go viral all over the world.
Travel photographers are there to share their art, maybe not all, but the vast majority of them are. Yes, they do travel for photos if you want to be technical about it, but it's not to say, "Hey, look at me.", it's to say "Hey, look at what I've created". Trust me, there is a huge difference.
This will inspire you to take more unique photos and create your own individual photography style as well as getting to see some of these top-secret locations that 90% of the time remain undisclosed. I think that there is always that 10% that flashes the name right out of the gate since they don't care if the location remains a secret, and sometimes that's how these places go viral, depending on who says it and where. So out of that 10% that does drop named locations, 5% of them are going to be quick finds and the other 5% is going to require some digging; and you're going to find out pretty fast which one it is.
My Favorite Travel Photographers
*that 99% of the time don't disclose locations*
@shortstache (worldwide)
@simona_br_photography (Iceland)
@jordhammond (worldwide)
@jasoncharleshill (worldwide)
@helloemilie (worldwide)
@chelseakauai (worldwide)
---
Sign Up + Surf Reddit
When I first heard of looking at Reddit to find hidden destinations, I didn't know that it had content past memes. I thought it was a website and app for people to post their viral memes and things so when someone said that they look at Reddit, I said, wait what? After some scouring on the Iceland subreddit, I ended up finding this OTHER-WORLDLY location that I had seen a handful of times but only dreamed of finding it. There isn't really a guarantee that you're going to find a really specific place, but you may find another hidden location that you had never heard of or seen before, which is even better sometimes, in my opinion. Reddit isn't a place only for secret locations, so you're going to get a good handful of popular destinations with a few lesser-known depending on who posts what and what the comment sections look like, but I like the r/hiking, r/travel, r/campingandhiking, r/camping, and r/PNWhiking subreddits since they consistently have good photos and activity going through them every day. If you have a specific country in mind, go to the Reddit homepage and type in the search bar, r/(country you want to travel to), and then the results will pop up with all of the options with travel and non-travel related content for that destination and from there you can search within the subreddit for what you're looking for. You can find out pretty quickly if the subreddit is worth joining based on the photos you see. If they're high quality and people are posting often, that's a good one to consider browsing and joining.
---
Browse The Atlas Obscura
Known as the definitive guide to the world's hidden wonders, browsing the Atlas Obscura is something I enjoy doing before I go to sleep at night or if I have a trip in mind that I want to take, I open up this website and browse all the coolest locations in whatever country that I have in mind; most recently it has been Japan, Thailand, and Italy. This website has weird and haunted and everything in between. You really never know what you're going to find going through the site and they even have a book that you can buy and flip through AND if you order from Thriftbooks, my personal favorite way to get new reads, you can get 15% off with this link. If you're looking for something extremely specific, then browsing this is a good attempt at finding it, but it's not likely you're going to find it here depending on what it is. I would consider this site more for inspiration and a general list of interesting things to do. Out of the blue, I found a spot I never thought I would find and by some alignment of the stars I crossed paths with it, so always check this out and who knows, it may have exactly what you're looking for.
---
Google Till Your Fingers Bleed
*can also be used to find specific destinations – same tips apply*
In a time where we have access to the literal WORLD WIDE WEB, you can't go wrong with an intensive Google searching session to find what you're looking for. This is rather obvious, but I think that most people bail after either finding out that the photographer won't tell them where a location is or after the first search. You have to COMMIT. Google is very broad, so you need to find out what exactly it is that you're looking for. Is it a canyon? Is it a gorge? Is it a village? After you can answer that question you can pair that with the country it's in and try to string together the golden phrase to get you the search results you want. I like to use these search phrases to begin with:
hidden *place description* in *country*
*place description of what I am looking for* in *country*
hidden gems in *country/place*
From there, it can go in any direction. I might switch to one of my other tips, I may revert to a satellite if I figure out the area it's in, or I might try and get extremely specific with my search terms and describe super in-depth exactly what it is that I am looking for. To put it simply, type in exactly what you see followed by the country that it is in and get to link clicking, Google image surfing, and reverse image searching. Be as specific as you can and look at every possible thing that it could be. You may end up in a lot of dead ends and you may end up on the right website, or both.
* BONUS *
If you're looking for a waterfall, in particular, you might test your luck with the World Waterfall Database, yes that's a thing, and try and find it that way. There are thousands, if not tens of thousands of waterfalls on this website, so not every single one of them is going to be fully documented. If the waterfall doesn't have a photo or location, I recommend copying and pasting the name off the database into google and seeing if you're able to find it via maps, images, or another website. You can browse waterfalls by country, height, volume, or look at the top 100 waterfalls around the world to find some pretty cool and unknown places.
---
Read / Rent Travel Books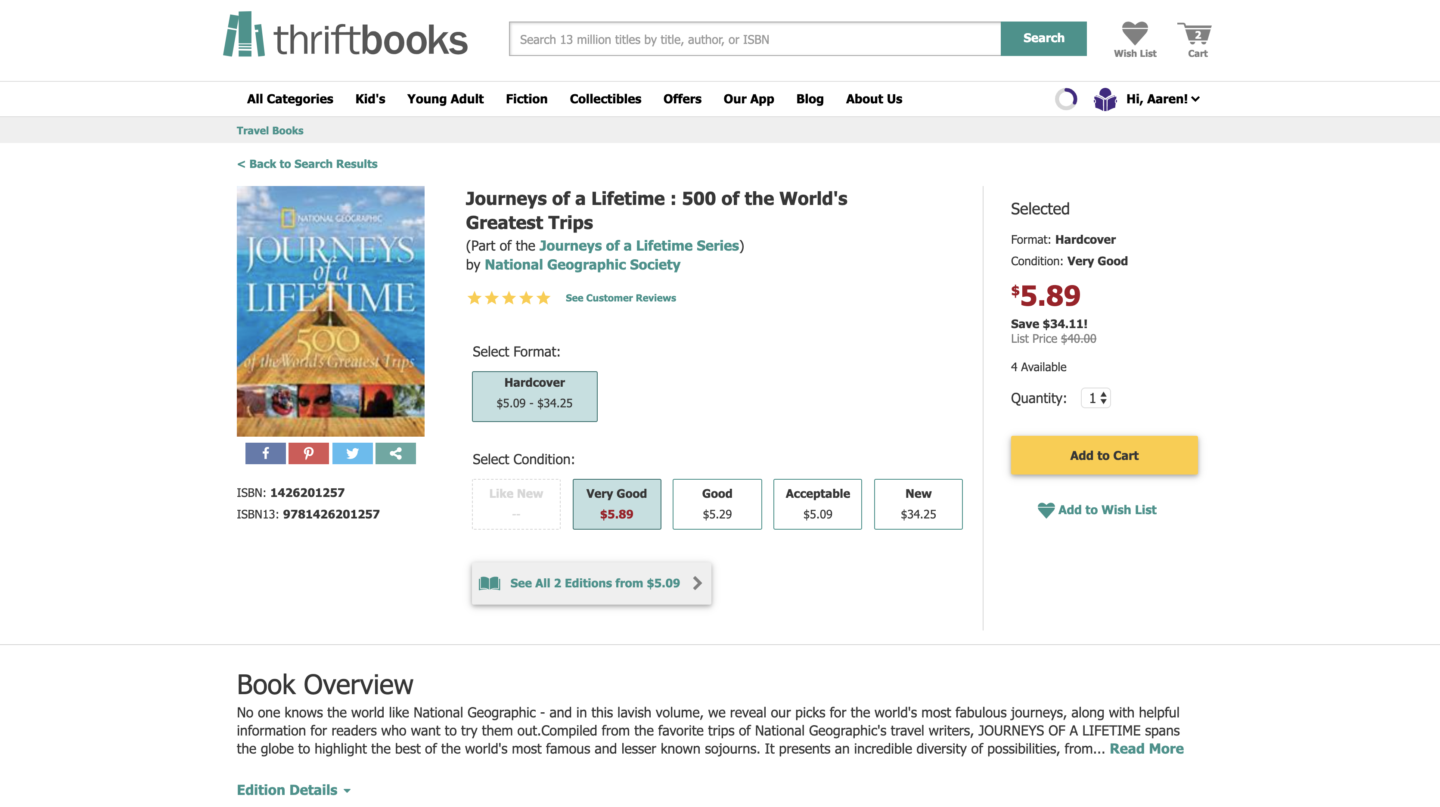 A highly underrated, yet incredibly useful way to find new, unknown adventures is to whip out those travel guides, ebooks, photography books, or any other travel-related book that you can find. One of my personal favorites is National Geographics, Journeys of a Lifetime that has over 500 adventures and details on when to go, how to get there, and more. I remember flipping through this thing before I graduated high school and I was astounded at all the places and things that I had never seen, let alone dreamed of doing. National Geographic has other great guides like 50 States 5000 Ideas, 100 Parks 5000 Ideas, and even an entire book dedicated to the world's best-hidden travel gems. These books can get a little pricey since most of them are hardcover and chalked full of information, but you can use Thriftbooks to get them in incredible condition for a fraction of the price. As you can tell above, you can get this book for $5.89 in very good condition as opposed to almost $35 USD brand new. It's a great way to recycle and most of the time look brand new when you receive them! On top of that, you can use my link for 15% off your first purchase!
---
How To Find Off The Beaten Path Travel Destinations For Specific Places
---
Talk To The Locals
There is no better way to get to know a country or place than to talk with the locals. Unless they live under a rock, a lot of them know where to go, what to avoid, and places that no one else knows about. If they do happen to tell you where a hidden spot is, that means they trust that you'll keep it a secret as well. I don't feel like it applies to more broad things like towns, cities, and even regions, but most of the time the secret is geared toward specific things like waterfalls, viewpoints, hikes, and other pinpointed spots that people can flock to. I think it's impossible to travel and not meet a local since they are everywhere you go, but try and go out of your way to introduce yourself, spark a conversation, ask for directions, or even hire a local guide to take you places. If they happen to be adventurous like yourself, strap in because you're going to be in for a treat.
If you didn't happen to find the location you were looking for through searches, you can always show the reference photo to the local and they might just know where it is, and if you're lucky, they'll tell you. If you want to connect with locals before you depart, I recommend joining some type of travel group on Facebook. The Girls LOVE Travel Facebook Page is a great way to connect with almost one MILLION women worldwide and get local recommendations, guides, and more! I found a secret island hopping tour in The Philippines by connecting with a local I had met! You can get started on your offbeat travel search by posting the photos and politely asking if anyone knows where the location is or is willing to share!
---
Join A Niche Group On Facebook
Chances are if you're on the hunt for a location, a lot of others are either looking as well, have been there before, or have no clue. How do you find these people? By joining specific niche Facebook groups for wherever you are planning to travel to. Depending on where you're headed, you might want to get specific or a little bit broad when it comes to choosing the right group. For example, I have an up and coming trip to Utah and while there isn't an active group for traveling Utah in general, there is a specific board for Zion National Park that is active and has over 20+ posts per day for Zion and general Utah content. This is what you're looking for. Most of the time, people talk about other areas that are not specific to the group, so there's a good chance you're going to come across some goodies that you may have never even heard of. I look for a couple of specifics when I go to join: active members, thousands of members (tens of thousands preferred), and location-related content (i.e. photos, questions, and advice threads). If they're popular enough, you're going to see them on the first page of the search (make sure you click 'groups').
Sometimes certain places don't have a poppin' Facebook group to find information on, so in that case, you'll have to use these next tips for finding secret destinations.
---
Read The Comments Underneath Instagram Photos
You know the saying that goes, "one person ruins something for everyone"? Well, that is exactly what applies to Instagram comments, however that one person is actually spilling the beans and letting you in on where the hidden gem is if you're paying attention. I found a photography location in Utah that is jaw-dropping solely by scrolling through some comments with my fingers crossed and bingo, it took me like less than five minutes to find this 'super top-secret' location. Turns out it's right by a parking lot and not hard to get to at all when the photo makes it look like you need to hike 10+ miles in the heat of the backcountry to get to it. If you ever see an Instagram photo of a special place that is undisclosed, try surfing the comments for a couple of minutes and see if there is a reply thread with the location revealed.
I don't disclose locations, but this was the perfect opportunity to shamelessly promote my page so give it a follow if you like my art.
---
Search Google Satelite Images
If you're really REALLY eager to find a specific location and know your way around a map, looking at satellites might be your golden ticket to finding your off the beaten travel destination. I haven't had much luck here since my navigation/map reading skills are incredibly subpar, but I know some other photographers have found some gems using this method. The place or destination that you're looking for has to be on a theme of nature, otherwise, I don't know that you'll have much luck finding any type of building or structure since everything is in an aerial view. A simple way to use this tool is to look for hidden lakes, rivers, streams, peaks that may not appear in traditional guides. When doing this, please keep in mind and consider your safety getting to new areas that haven't been covered and don't do anything stupid or risk your life for. I think that's pretty obvious from the get-go,  but I've seen some crazy things that people have done for a photo. If you happen to find a location using your incredible geography skills, please let me know in the comments below!
---
Ask The Person Who Posted The Photo
So, before you search satellites and Google till you can't anymore,  you always have the option to ask the person that posted the photo, but it's a 50/50 chance that they're going to tell you. If there a photographer with a lot of followers and thousands of people asking the same thing, you probably won't find out, but that's why you read the comments. If they didn't geotag the location and only have the country or region on the photo, they're probably not going to disclose it. In the long run, it really doesn't hurt to ask and the worst thing that they're going to say is no, which is what these other nine tips are for when that happens. By joining groups and applying these other tips to your search for off the beaten path travel spots, you may even find the person that will spill the beans and you'll be on your way to that exciting destination in no time.
---
How do you find off the beaten path travel destinations? Share with me in the comments below!
Aaren
Did you enjoy these tips? Save them for later on Pinterest!