(Last Updated On: 15/01/2020)
Scotland's hiking scene, especially in the Isle of Skye, is like no other place in the world and you must make time to explore this area and the Old Man of Storr hike on your Scotland itinerary. This hike is without a doubt one of my favorite hikes that I have ever done because it's challenging, rewarding, and breath-taking (literally and metaphorically). If you're looking for an incredible place to hike and experience one of the most beautiful spots in the Isle of Skye, head over to the Old Man of Storr. The hike itself is pretty quick, but make sure you leave yourself enough room to explore around the area since that is where you'll get the most unique shots. Avoid getting to the top and immediately coming down and see what shots you can play with to get a good composition. The work is worth the reward!
If you're headed to Scotland and are adding hikes to your must-do list, jot this down on #1!
This post does contain affiliate links for the products I mentioned, but as always, all opinions are my own. I make a small commission, at no extra cost to you, when you make a purchase or booking through these links. This helps to support this space and keep me blogging, which I am so extremely thankful for.
Planning a trip to Scotland? Check out my other awesome resources!
---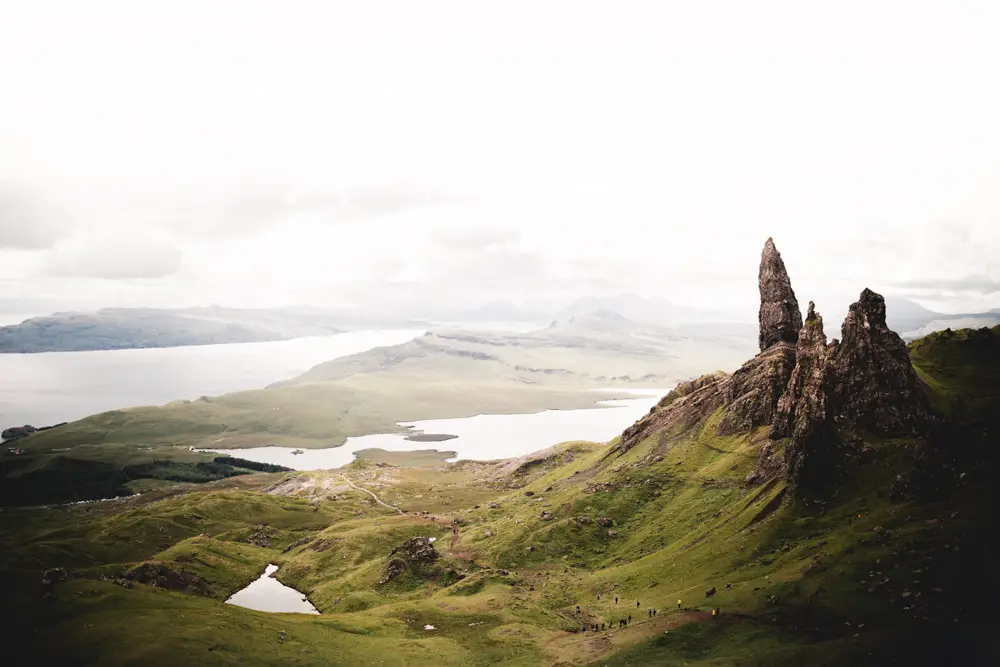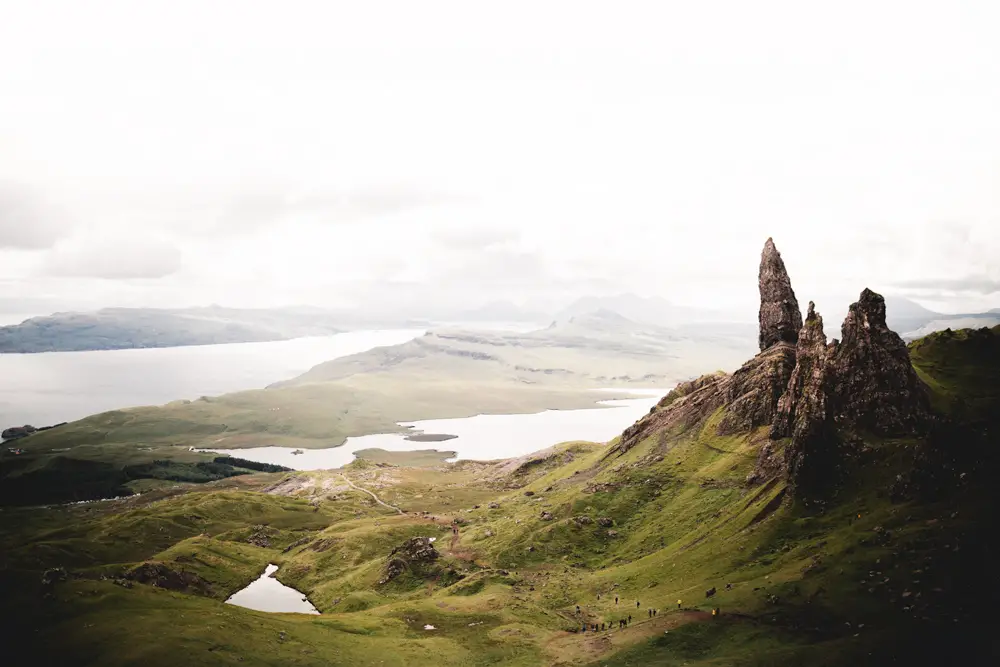 Where Is The Old Man Of Storr Located?
The Old Man of Storr is in the north of the Isle of Skye in Scotland. The trailhead is incredibly easy to find and you can see the trail from the main road. If you plug in the map address into your Google maps, it should take you right to it and you can even see the Old Man of Storr from the road, but don't let that tempt you to not complete the hike because the views and explorations at the top are some of the most mystical and incredible in all of Scotland and maybe even the entire United Kingdom.
---
How To Get to The Trailhead In The Isle Of Skye
To get to the trailhead, you can go a couple of different ways, your own car rental, bus, night bus, or train.
Having your own car is going to allow you to the freedom to arrive and leave whenever you want, so I highly recommend browsing different car rentals and snagging one for your trip. The roads in the highlands, for the most part, are well-paved, so you shouldn't have any issue getting to the trailhead no matter what city you're coming from. As for the bus, it is the cheaper but slower option and it leaves you limited for time since the bus doesn't run to the Isle of Skye 24/7.
Your other options are to take a bus or train from one of the cities listed below and that can get a little bit time-consuming, but it's worth it if you want to save the money. You can browse different routes, their costs, and estimated times on Rome 2 Rio. You can view all the different routes there and it makes booking super simple since everything is in one spot.
From Edinburgh| ~5.5 Hours
To get to the Isle of Skye from Edinburgh, you have a couple of different options driving through Glasgow, Fort William, or Cairngorms National Park. The shortest way is going to be going through the Cairngorms, roughly five hours and nine minutes, while the longest way will be driving through Glasgow. However, if you want to hit the sweet spot and see some cool things if you're taking a road trip up to the Isle of Skye, I highly recommend going through Fort William and riding the Harry Potter train and hiking in and around Glencoe Valley, one of the most beautiful parts of Scotland. The drive going through Fort William is roughly 30 minutes longer than going through the Cairngorms, but it's well worth the small detour.
From Glasgow | ~5.5 Hours
There are two routes going from Glasgow to the Isle of Skye and they're not so different in time, so it's really up to your preference and what places are on your must-see list. One of the routes goes through Fort William with the opportunity to stop in Glencoe Valley and possibly ride the Harry Potter train while the other route goes through Cairngorms National Park. The two routes are only a ten-minute difference between the two, so it's really up to your travel plans, but as I said above, I highly recommend taking the route through Fort William so you can stop at Glencoe Valley.
From Aberdeen | ~4.5+ Hours
Aberdeen is in the very east of Scotland, but surprisingly you can get there quicker than if you started in Edinburgh or Glasgow. There are three different routes you can take with the shortest going through Inverness and the longest going down and around the Cairngorms, almost going through Fort William. If you want to see more iconic spots in Scotland than go around the Cairngorms, but if you want a little bit more off the beaten path style of travel then go through Inverness and explore the northern part of Scotland. As I said before, it really depends on what your itinerary is and what you want to see.
From Inverness | ~2.5 Hours
If you chose to base yourself in Inverness, congratulations, you have the quickest way to get to the Isle of Skye! There are two main routes that only differ for a few minutes and since you aren't going through Fort William on any of the routes, then either or will suit you just fine. If you take the southern route, you'll be able to make a pit stop at Loch Ness and search for the Loch Ness monster, so I highly recommend taking a dip and searching for Nessie if your road trip allows for it.
From Portree | ~15 Minutes
If you're planning on exploring around Skye for more than just a day or two, I highly recommend setting up camp in the small coastal town of Portree. It's only fifteen minutes away from the Old Man of Storr, so you're guaranteed to be well-rested and incredibly early if you stay here. There are buses that go in and out of Portree to the Storr, or if you have chosen to rent your own car that works just as well.
---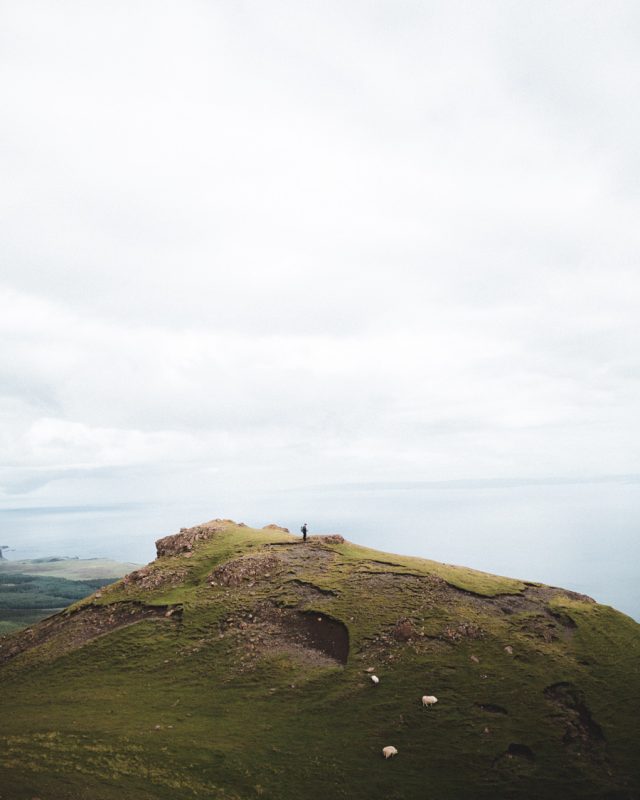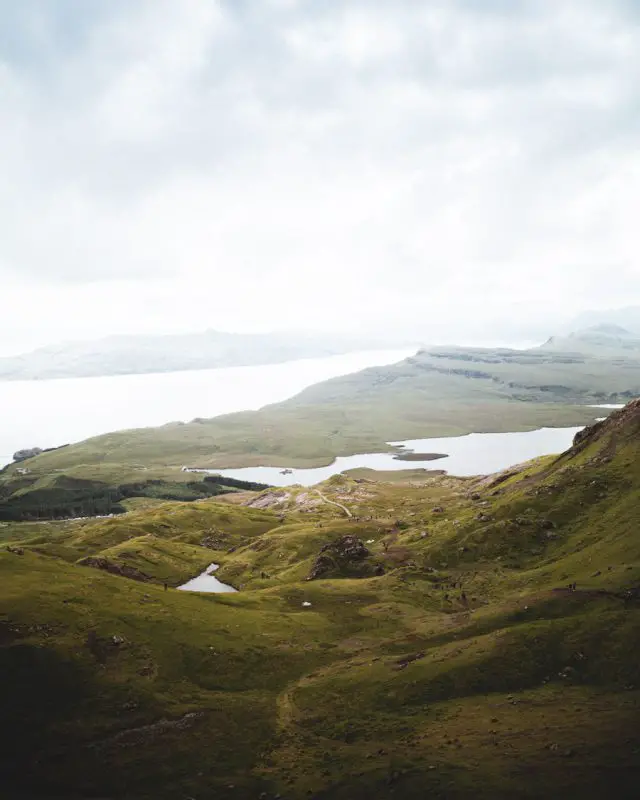 Old Man Of Storr Hiking Details
Best Hiked | Sunrise + Sunset for fewest crowds and best light, year-round hike, busiest at 10 am / 3pm

Trail Length | ~2.5 Miles Roundtrip

Trail Difficulty | medium, slow and steady once you gain elevation

Trailhead Location | Trotternish Loop (GPS: A855, Portree IV51 9HX, UK)

Hiking Time | 1.5 Hours (Average)

Permits | None
---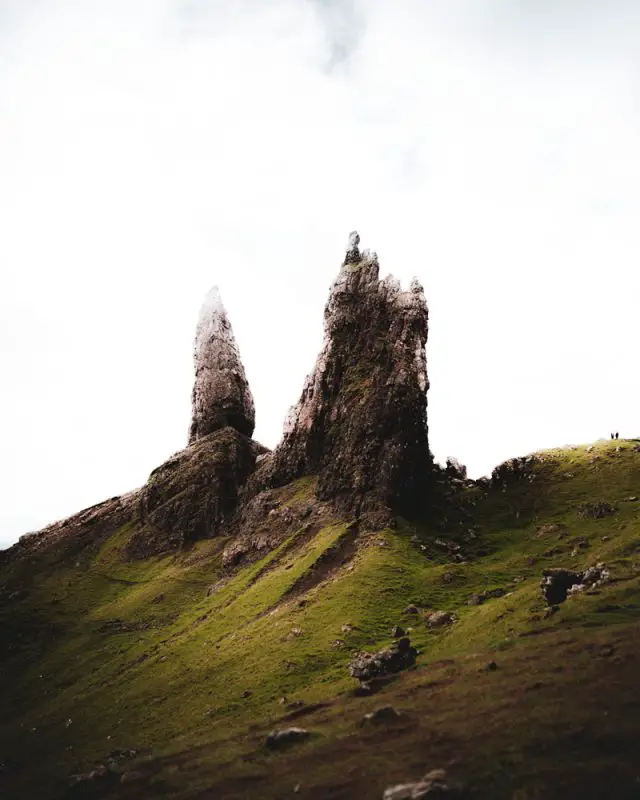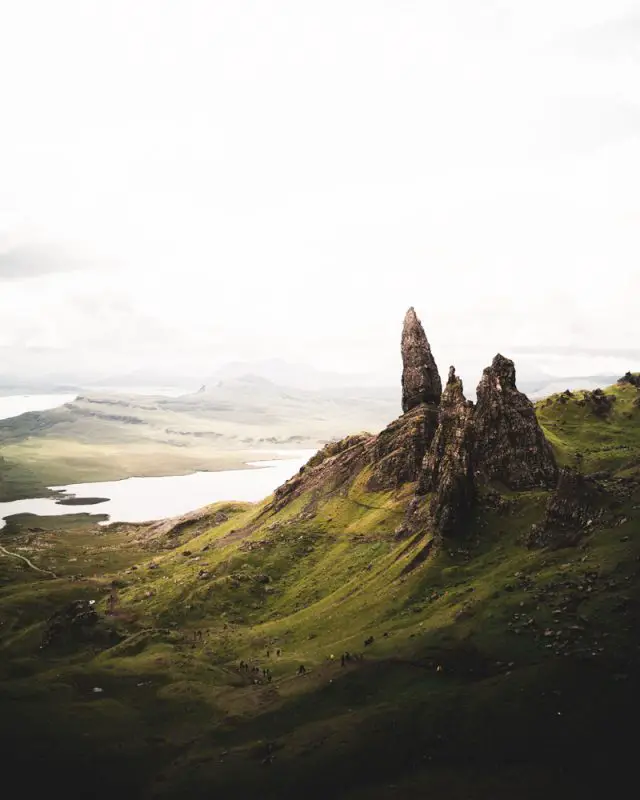 On The Old Man Of Storr Trail
Since the Old Man of Storr is the most photographed and most visited place in the Isle of Skye, the trail to it is well worn in. It starts fairly wide with gravel for around the first quarter of the hike and then slowly, as you gain elevation, the trail gets steeper, muddier (if it's raining), and more rugged. There is really no reason you should get lost and there are plenty of spots along the way to stop, take a breath, and take in those incredible views of the Scottish Highlands.
It was my first time in the Scottish Highlands, so I actually visited the area via the Macbackpackers 3-day Isle of Skye tour and while I enjoyed every minute of the road trip, it's not ideal for beating crowds. Our group got there around mid-day and the car park was already filled to the brim with explorers and families, no surprise since it was July, peak tourist season.
I already plan on visiting Scotland again one day and you can bet that I am going to rent a campervan and get real rugged in my explorations. My time in most places was limited due to being on a tour so I really want to travel on my own time next time so I have more flexibility. Anyways, I digress…
Once you make it about halfway up the trail, you wave goodbye to the gravel and hello to the rocky, steep, and muddy portion of the hike. The trail can get a little strenuous since the latter half of the trail is the equivalent to hopping on a stair machine, but once you past halfway, you're going to want to stop practically every five seconds to turn around and take a "photo break", AKA my lungs feel like raisins and I need to catch my breath. I could not resist the "wow" views of the Sound of Raasay and the Old Man of Storr and I found myself reaching for my camera again and again and again to get panoramas, landscapes, verticals, and film shots of the area. I think I looked like a total goober carrying three different cameras up to this thing, but it was well worth the variety of shots and I was incredibly giddy to be able to capture it three different ways: digital, film, and instant film.
It almost became second nature to turn around and take in the view and with every single step I took, I had to pinch myself to make sure I wasn't dreaming, because this hike makes you feel like you've landed yourself in a fairy dreamland far far away from civilization.
After around 1500 meters of the 2000 meter ascent, you'll make out the faint view of the viewing space towering over the Storr. This is where you'll get that iconic photo of it that you saw at the beginning of your post, but I highly recommend exploring the area and getting some close-ups of the geology and use yourself as a comparison tool in photos. These rock formations are ENORMOUS and the photos really don't do it justice (like most epic landscapes). Hiking around the area almost feels alien, especially when you add a bit of fog to the mix. It's just unreal and I have to leave it at that. It's something you absolutely need to see for yourself.
At the top, you can see the rolling hills and sounds of the Isle of Skye and if you happened to pack a peanut butter and jelly sandwich as a snack, my personal snack selection of choice, whip that bad boy out and take in the views here because it's going to be hard to wave goodbye once you see the way the light dances across the valleys and sounds.
---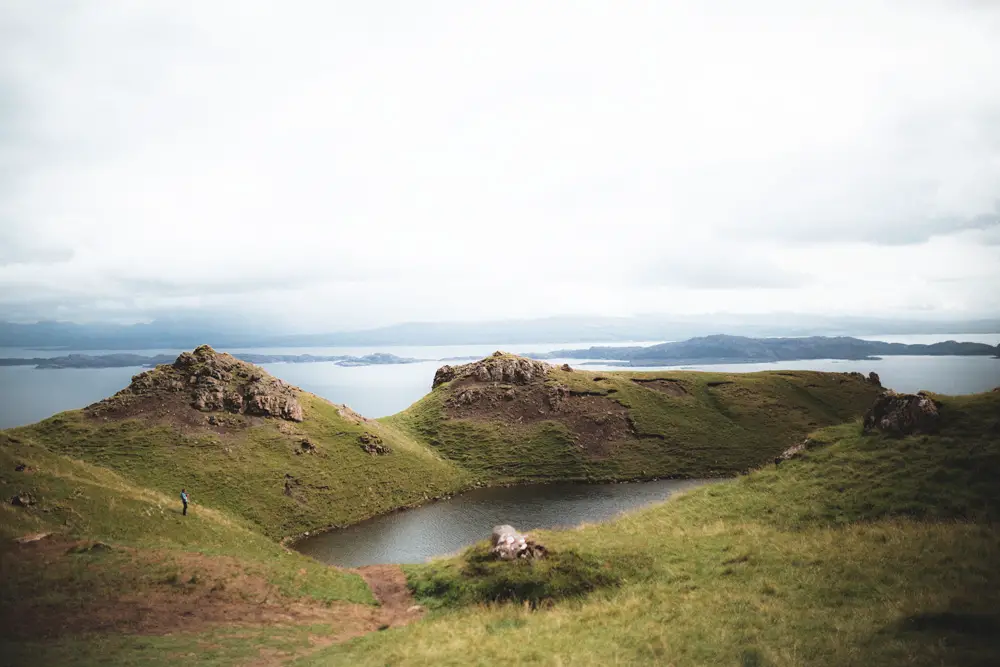 Essentials For Hiking The Old Man Of Storr In The Isle Of Skye
I really don't like to be carrying a lot of things if I am hiking, so having a day pack where I can toss all these essentials into is, well, essential! If I want something more casual, I always grab for my Fjallraven Kanken backpack since it's stylish and it is able to hold my camera in it, but if I need all of my photography gear, then you'll always see me carrying along with my WANDRD pack that is perfect for travel photographers. However, if we're talking in terms of practicality, I will always recommend day packs from Osprey. It's my tried and true backpack brand and they will last decades, making the price worth it.
What would a hike be without a Hydro Flask? Incredibly dry and unenjoyable. Seriously, if you haven't invested in one of these bad boys, they are worth every single cent. I always carry around one of their 64 oz bottles with me so that I am hydrated on and off the trail and it will be the only bottle you buy for the rest of your life. It's a win-win to buy one because you remember to stay hydrated and there is less plastic going to waste *high five*!
The beginning of the trail isn't too bad, but once you get closer and closer to the viewpoint, the more rugged the trail becomes. You don't need anything incredibly rugged for this hike, so a lightweight pair of hiking boots like these will be more than enough for this hike. These hiking boots also have great ankle support and they're incredibly lightweight so if you're looking to upgrade your hiking boots or invest in your first pair, the KEEN Terradora Mid's are the perfect option. I never hike anywhere without them!
I have been on the hunt for a quality, vegan pair of hiking socks for a while now and all of my wishes were granted when I stumbled upon Bombas. Their hiking socks are 100% vegan, comfortable, sturdy, and they never fall down even on the most rigorous adventures. They compress in all the right places and it doesn't even feel like you're wearing socks when you have them on. They really are the most comfortable pair of socks in the history of feet.
With every pair of socks you purchase with Bombas, they give another pair to homeless shelters for people in need and if you're keen on trying out a pair to feel the insane comfort of these socks, you can get 25% off with link.
Scotland may be known for it's moody, rainy weather, but I actually received a sunburn while hiking the Old Man of Storr in the summertime! You should always be mindful of protecting your skin no matter the amount of sunshine or temperature of where you're hiking. I always carry my Raw Elements SPF 30+ Sunscreen with me and it always keeps my skin protected from harsh sun rays. I like it because it's plastic-free, biodegradable, broad-spectrum, reef-safe, AND the packaging is super cute, I mean just look at it. If you're on the hunt for a good sunscreen, I highly recommend this one or one of these.
It wouldn't be a trip to Scotland if you didn't encounter a downpour or two, so always make sure you're prepared with waterproof gear. No matter where I go, I always toss in my Mountain Hardwear Ozonic pants because they are waterproof (duh), durable, and not to mention incredibly flattering. I feel like a Charlies Angel when I am wearing them with my favorite hiking belt and you're guaranteed to look like a certified badass while wearing these.
Lightweight + Waterproof Hiking Jacket
There is no doubt that the weather in Scotland will get nicer, but the windspeed will have you wishing you had some type of a lighter jacket. Since I wanted something both practical and stylish, I always wear the RAINS Classic Jacket in the gorgeous dusty mint color and I love that I am able to layer underneath it or wear it as is if it's a warmer day. I took on my trip to Iceland and it kept me dry the entire two weeks AND it looks really nice in photos!
---
Are you anticipating hiking the Old Man of Storr on your future trip to Scotland? Make sure you share your experience with me in the comments below!
Aaren
Did this hike just hit the top of your bucket list? Save it for later on Pinterest!