(Last Updated On: 20/10/2019)
As I was planning a trip to the Philippines, a whale shark encounter was the top thing not only on my travel bucket list but on my must-see list for the Philippines. I had heard of Oslob a few years back from one of the travel influencers that I follow, but as I read more about it, things were definitely not all they were portrayed to be. I knew at that point that taking the convenient route for a dream photograph was not something that I was interested in and I didn't want to support the mistreatment and unethical animal tourism practices. My hunt began on Google for the best places to see whale sharks and I sifted through all of the Oslob and Donsol recommendations to find this incredibly off the beaten path, sustainable alternative to my dream adventure.
I would like to mention that I would not be supporting this tour if there was anything sketchy, unethical, or any type of malpractice going on during the tour. I talk more about the details of the tour below, but I believe this is the best way to see whale sharks in their natural habitat without disrupting their way of living, migration patterns, or behaviors.
Planning a trip to the Philippines? Check out my other Philippines blog posts for more inspiration!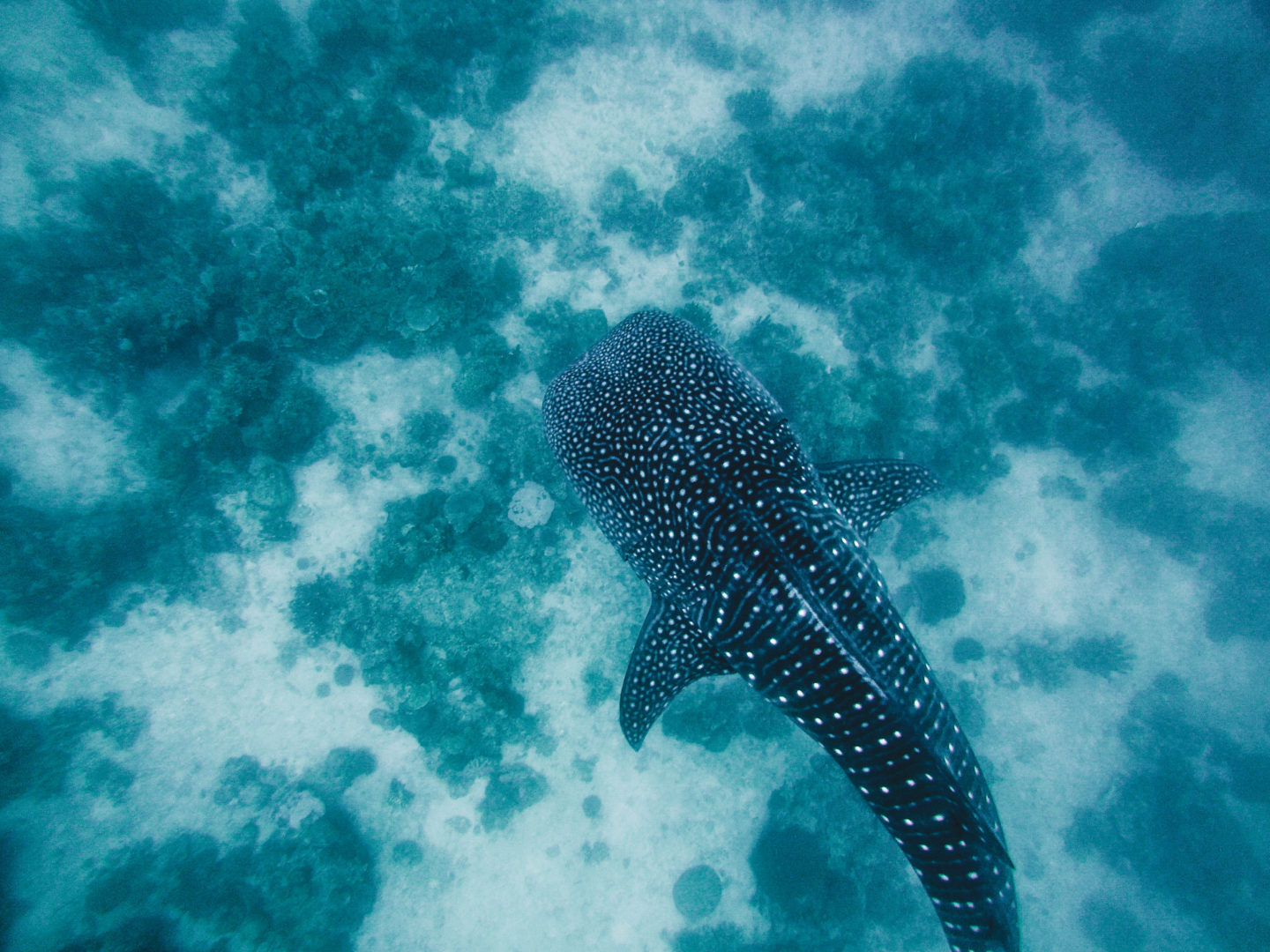 Why You Shouldn't Go To Oslob Or Donsol
When I was researching to find the perfect place, it actually took a bit of hunting. I found three major areas that offered these tours: Oslob, Donsol, and Southern Leyte. The whole reason I began a search for different locations was because I wanted to avoid Oslob at all costs, so I immediately crossed that off and here's why:
---
All About Oslob
– 2019 update –
By word of mouth, it has seemed like Oslob has been making small steps to change it's harmful tourism practices. They have hired on marine biologists to track and study the sharks, however, the sharks are still being fed, tourists are still using sunscreen that is toxic to the ocean and its creatures, and there are still masses of tourists that plunge into the waters each day. As I said, they are making small steps, but nothing worth giving them a gold star for.
---
Up Close + Personal Interactions
After seeing photos and videos of the sharks being hand-fed by boat hands that allowed MASSES of people to surround the sharks and touch them, I knew this wasn't the place for me. On the tour site they do have rules posted to stay around six meters away from the shark at all times, but if you look at the photos, every single person is up close and personal with them. With daily, all day, interactions, it's inevitable that contact will occur and the sharks get so close to the boats that there are cuts and scars on their faces and fins from bumping into them.
Unnatural Feeding Practices
Feeding the sharks disrupts their migration patterns because instead of migrating around for plankton, they are fed by the boat captain, food that isn't their natural diet, in one spot for around six hours per day. Their natural diet of plankton consists of hundreds of essential nutrients, while the boat feed only consists of a handful considering its poor quality. This not only results in malnutrition but bad habits for the shark to adopt like equating boats and humans to food which may cause them to approach other boats expecting to find food there.
Changes In Migration Patterns
Whale sharks are a high migratory species with their migration through Oslob only lasting sixty days. Sixty. With the rise in tourism and hand-feeding, these sharks stick around for much longer instead of moving on to other regions like they're supposed to. One shark was recorded to stay in Oslob for nearly a FULL YEAR. Migration changes that go from thousands and thousands of miles to relying on one place most of the year interferes with their natural movements and migration patterns (source). Marine biologists predict that these changes can have lasting impacts on their reproduction and breeding habits in the future and that's why it's important that we stop supporting these malpractices.
---
Is Donsol Ethical?
The next location I began to research was Donsol. I truly thought that this spot was going to be the one until I began reading reviews about how there are tons of boats, waters described as "chaos", and overall a very crowded experience. Some reviews gave it 5/5 stars and others complained about practices similar to the ones from Oslob. They actually don't feed the sharks here, so that was a plus that I was looking for, but I was extremely turned off by other travelers descriptions of the tours. There is no amount of money that is worth the exploitation of animals, so as I did with Oslob, I crossed Donsol off my list.
---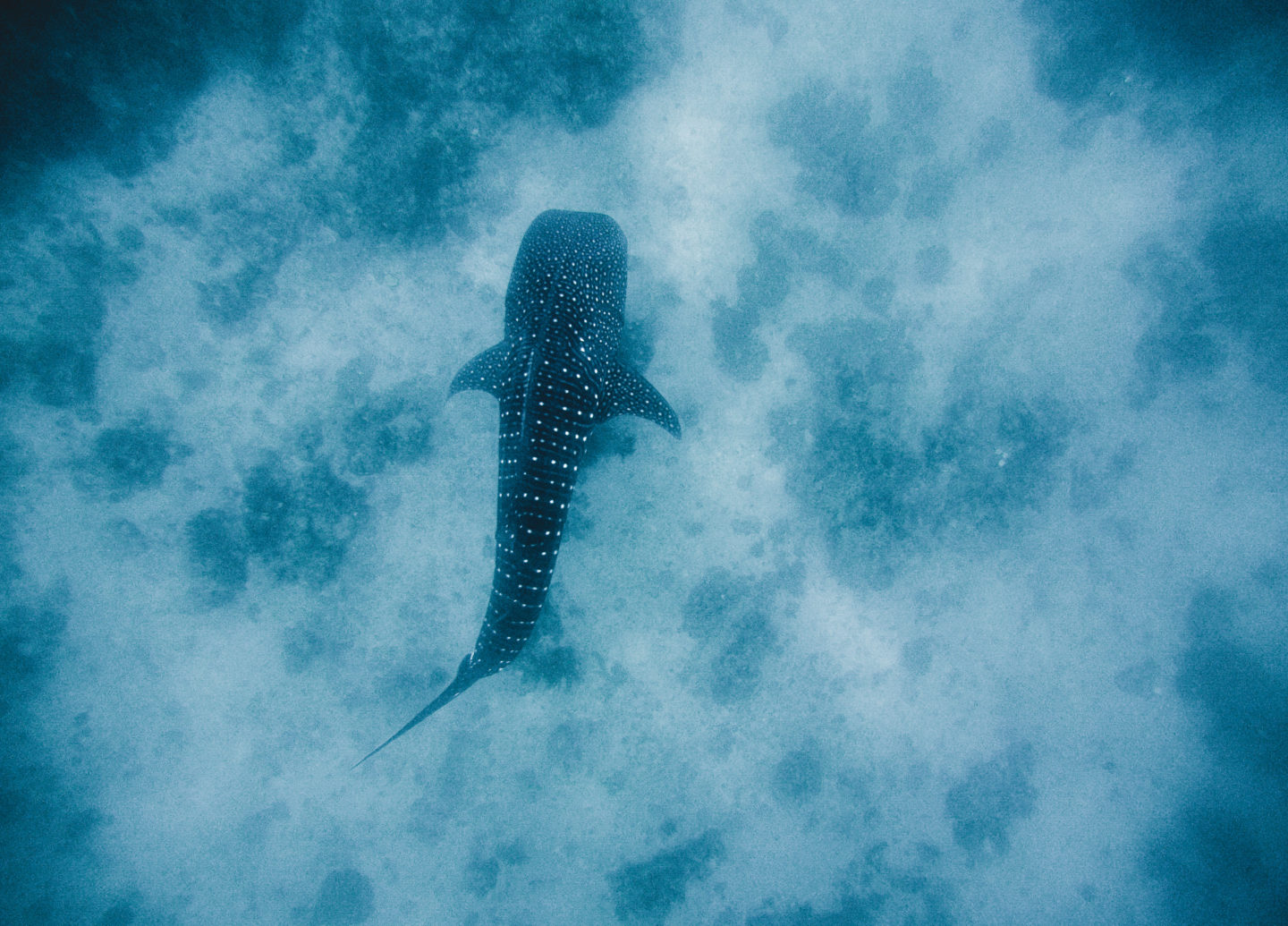 The Best Place To See Whale Sharks Ethically In The Philippines
After one more search, I had found the golden nugget of a whale shark tour: ethical, sustainable, supports local life, tiny groups, and respects the sharks. Where was this place?
*drumroll*
Southern Leyte, Philippines
---
Why Southern Leyte?
No Crowds
On our boat total, we had four swimmers (tourists), a marine biologist, our tour guide, a boat captain, and a boat hand. This made us the only people in the entire bay to see the whale sharks. There wasn't a race to beat other boats to the sharks and you didn't have to push past anybody either. We had our own little slice of the world to explore and experience these animals in a natural way: just as it should be.
Local Staff
Along with our large boat, we also had four spotters that used paddle boats to spot the sharks. They were from one of the local villages near Sogod Bay and they were paid good wages to help out on the tour. Plus, let me just say that they were incredible at their job! I have never seen a paddle boat cut through ocean water so quickly. They are committed to you having the best experience possible and they were the most joyous and ecstatic locals that I met on my whole trip.
Fresh, Local Filippino Food for Lunch
Our lunches included a noodle dish, chicken, meat skewers, white rice, pineapple, and some other little sides so that we could create our own plates buffet style. The spotters' wives prepared these fresh the night before and it is obvious the love that they put into making it. I had about half a plate of noodles and the other half was white rice and pineapple. I think it was actually the most memorable meal of my entire trip! It was so good!
They Have a Marine Biologist on Board
The coolest part about this tour was having a marine biologist on board that could answer any questions we had about the sharks. Scarlet was living in a small town in Southern Leyte studying these animals and we got to be a part of her documenting behavioral patterns, size, spot patterns, and gender. She was an amazing free-diver and it was jaw-dropping seeing her dive and compare her size next to the sharks. I have always wanted to learn how to free dive and her knowledge base and passion for the ocean truly inspired me to speak up about it more.
Raw, Natural Experience
This experience is a memory that I am going to remember for the rest of my life because of the atmosphere and quality of this tour. We ended up seeing five different whale sharks that day and were able to follow them and have long interactions with them before they swam off into the deep blues. At one point one of the tours, the spotters had picked me up from my spot, and took me directly to one of the sharks (this guy was slicing through the water so fast with his paddle it was nuts) and whenever he told me to jump, I looked around and didn't see anything.. come to my surprise it was right below me (a safe distance away).
I don't think my smile ever faded this entire boat ride. We were secluded in this beautiful, tropical bay, feasting on delicious food, and just being with nature. It was incredible.
My Chosen Whale Shark Tour
Padre Burgos Castle Resort Whale Shark Tour
Once I narrowed it down to the location, I contacted multiple dive sites to try and book a tour. The other resorts that I contacted informed me that there needed to be a group of four to six for them to take a tour and considering that I was a solo traveler at the time, I struck out with these places. However, Padre Burgos Castle Resort offers tours with only two people on board and once I contacted them, they already had three people signed up! I jumped on the chance, reserved my spot, and prepared myself for my encounter!
WEBSITE: https://www.padreburgoscastle.com/
CONTACT: [email protected]
PRICE: ~2500 PHP (roughly $45-50 USD)
*price includes lunch and snorkel, fin, and goggle rental* everything is set and stone, no extra fees upon arrival
ADDRESS: Tangkaan, Tankaan, Padre Burgos, 6602 Southern Leyte, Philippines
HOW TO GET THERE: You have a couple of options for transportation here, but here is what I did: I flew from Cebu to Manila, hopped on another flight to Tacloban City and then took a three-hour car ride down to Malitbog where I would be staying.
Alternative Options
Take a bus from Manila to Tacloban city, then take a taxi, tricycle, or jeepney down to your accommodation.
Take a ferry from Cebu City to Ormoc, then take overland transportation to your accommodation.
You can browse more options on Rome2Rio if you are planning on coming from other popular places like El Nido, Palawan, Siargao, and more.
---
If you plan on seeing whale sharks during your visit to the Philippines, I strongly recommend going to Padre Burgos Castle Resort (or other places in Southern Leyte that offer tours) to see whale sharks in the proper environment. Upon coming here I knew that I had made the best decision for these animals and it makes me feel good knowing that I didn't choose Oslob out of convenience. Our dollars are our vote cast to the world we want, and I am glad I put my money towards this special place.
---
Have you ever been on an ethical animal encounter? Share with me your experience in the comments below!
This post may contain affiliate links for the products or services I mentioned, but as always, all opinions are my own. I make a small commission, at no extra cost to you, when you make a purchase or booking through these links. This helps to support this space and keep me blogging, which I am so extremely thankful for.
This post is not sponsored and all opinion are my own.
Aaren
Did you enjoy this post? Save it for later on Pinterest!