(Last Updated On: 07/01/2022)
Let's be honest here. You know it. I know it. Your neighbor knows it; Iceland is expensive. Well, for a lot of people they end up spending a ton of money in Iceland, but my trip to Iceland didn't cost me as much as a lot of other travelers. If there is one thing that will definitely eat your budget it's all the accommodation costs, so I have gathered all the best hostels in Reykjavik to stay in so that you're not forking over all your travel funds in one blow. I know that a lot of people like to stay in Reykjavik and take a day trip from there or they like to base themselves in Reykjavik for the night before heading off on their volcanic extravaganzas, so no matter your travel style, there is a hostel on this list that is going to suit your fancy. I'd like to say that I have good taste in accommodation choices, so browse around and book your perfect hostel!
If you're keen to know where I stayed while spending a day in Reykjavik, it was at The Galaxy Pod Hostel. I have some mixed feelings about it since there are both good and bad things about it. The good is that it's right across the street from Kronan, my preferred Icelandic grocery store that has awesome vegan options, it's quiet, has good wifi speeds, and is very unique. The bad is that it's a bit of a walk away from the central hub of the city, there isn't a designated working area, and it's on the more expensive side compared to the other hostels in Reykjavik. I'll talk more about it below if you're interested (just scroll down and read about the Galaxy Pod Hostel, #2 on this list), but for now, let's hop into the other nine best hostels in Reykjavik!
This post may contain affiliate links for the products I mentioned, but as always, all opinions are my own. I make a small commission, at no extra cost to you, when you make a purchase or booking through these links. This helps to support this space and keep me blogging, which I am so extremely thankful for.
---
A Quick List of the best hostels in Reykjavik
---
A Map of the Best Hostels In Reykjavik
---
The Top 10 Best Hostels In Reykjavik
1 | Kex Hostel
$35-40 / Night
Best Overall Hostel In Reykjavik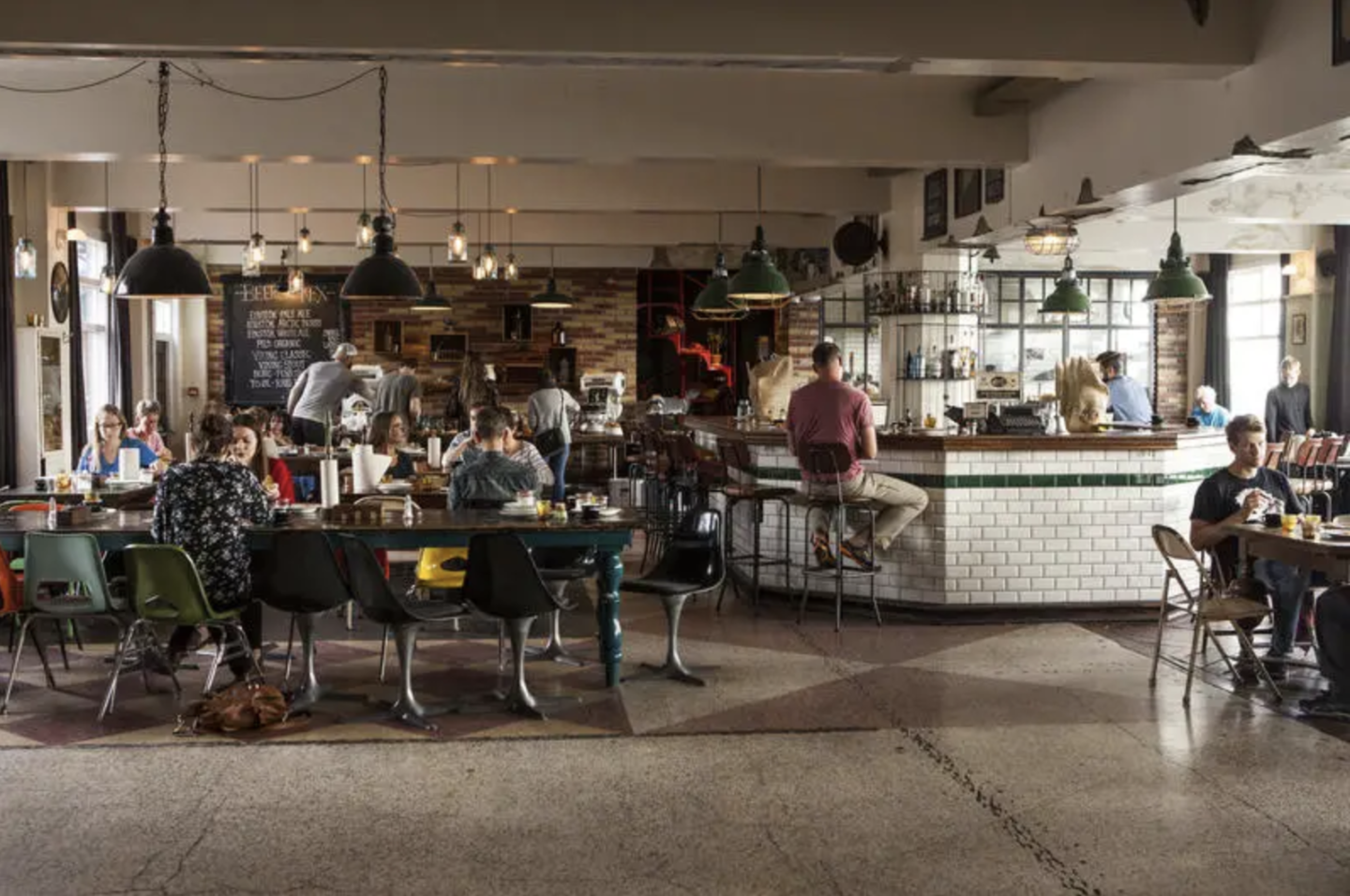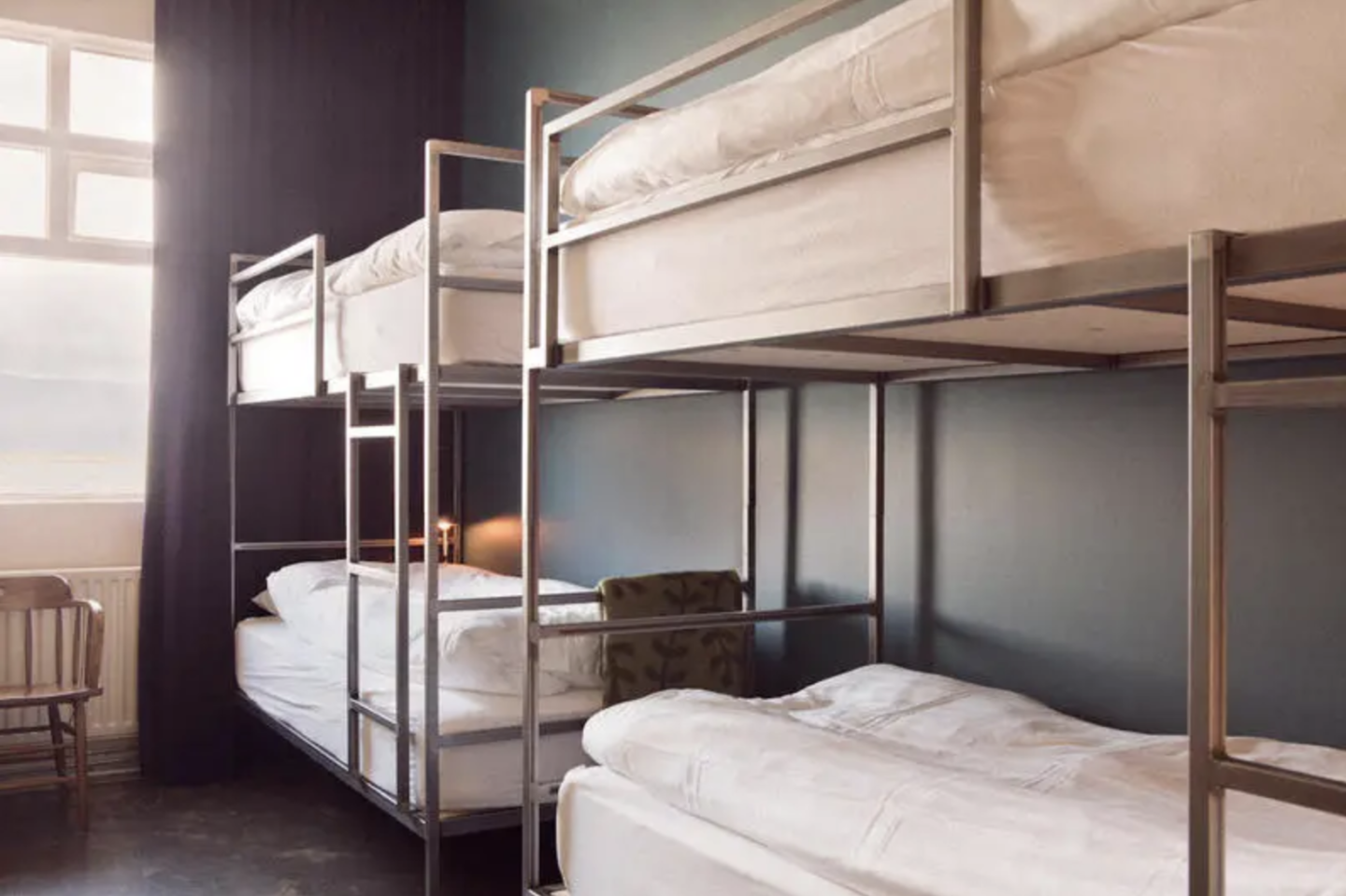 Location
Fun fact, 'kex' is the Icelandic word for a biscuit. Why is the hostel named after a biscuit? Well, this contemporary and vintage-y space was built out of an old biscuit factory! Based on this evidence, I think it's safe to assume that they serve up a mean breakfast with great vibes. So, what are you waiting for?! The Kex Hostel is in a great location in the main hub of Reykjavik, up the road from the Harpa Concert Hall, Sun Voyager, AND the Hallgrimskirkja Church. Bonus is right across the street and if you need gas before you head to the Blue Lagoon or to start your ring road trip, there's a gas station nearby as well.
Atmosphere
One of the things that a lot of travelers love about this hostel is that it's very social without being too over-the-top and rowdy like a lot of hostels can be. There is a large reading area with a whole wall of books to choose from as well as an eating/bar area that is great for getting work done if you're a digital nomad or if you have any other job that goes with working while traveling. Also, since the hostel is very centralized, you'll have zero problems meeting new friends over drinks or dinner!
Amenities
The Kex Hostel has awesome amenities, my favorites being that they serve up an awesome array of delicacies for breakfast. You do have to pay for breakfast, but trust me, once you see it you'll be forking over your kronas instantly. Wifi is another must-have while I travel so I love that they have both a working space and great wifi. I love hostels that cater to the needs of travelers and this hostel does it all right.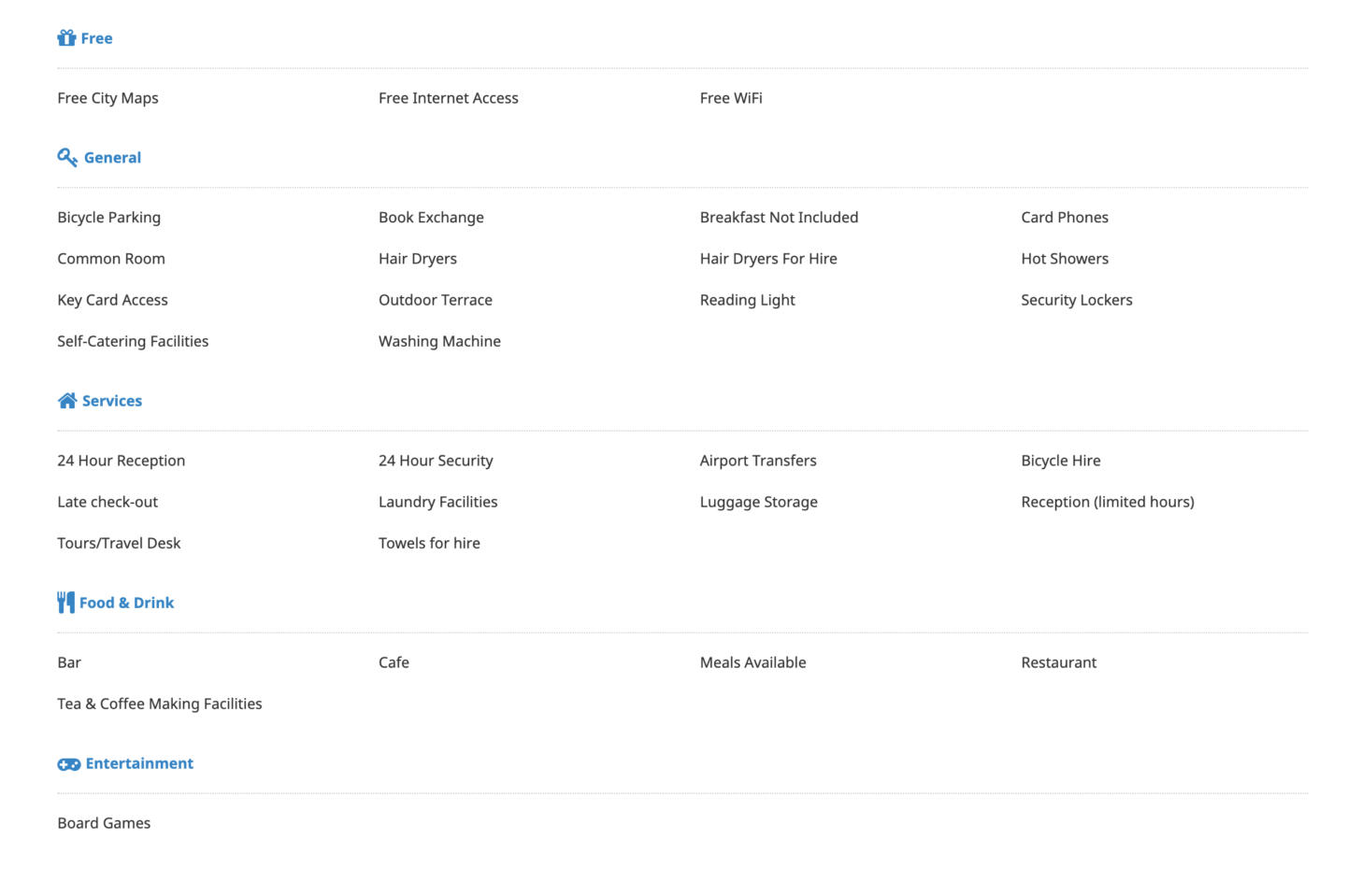 ---
2 | Galaxy Pod Hostel
$45-70 / Night
Most Chill / Best Hostel For Solo Travel In Reykjavik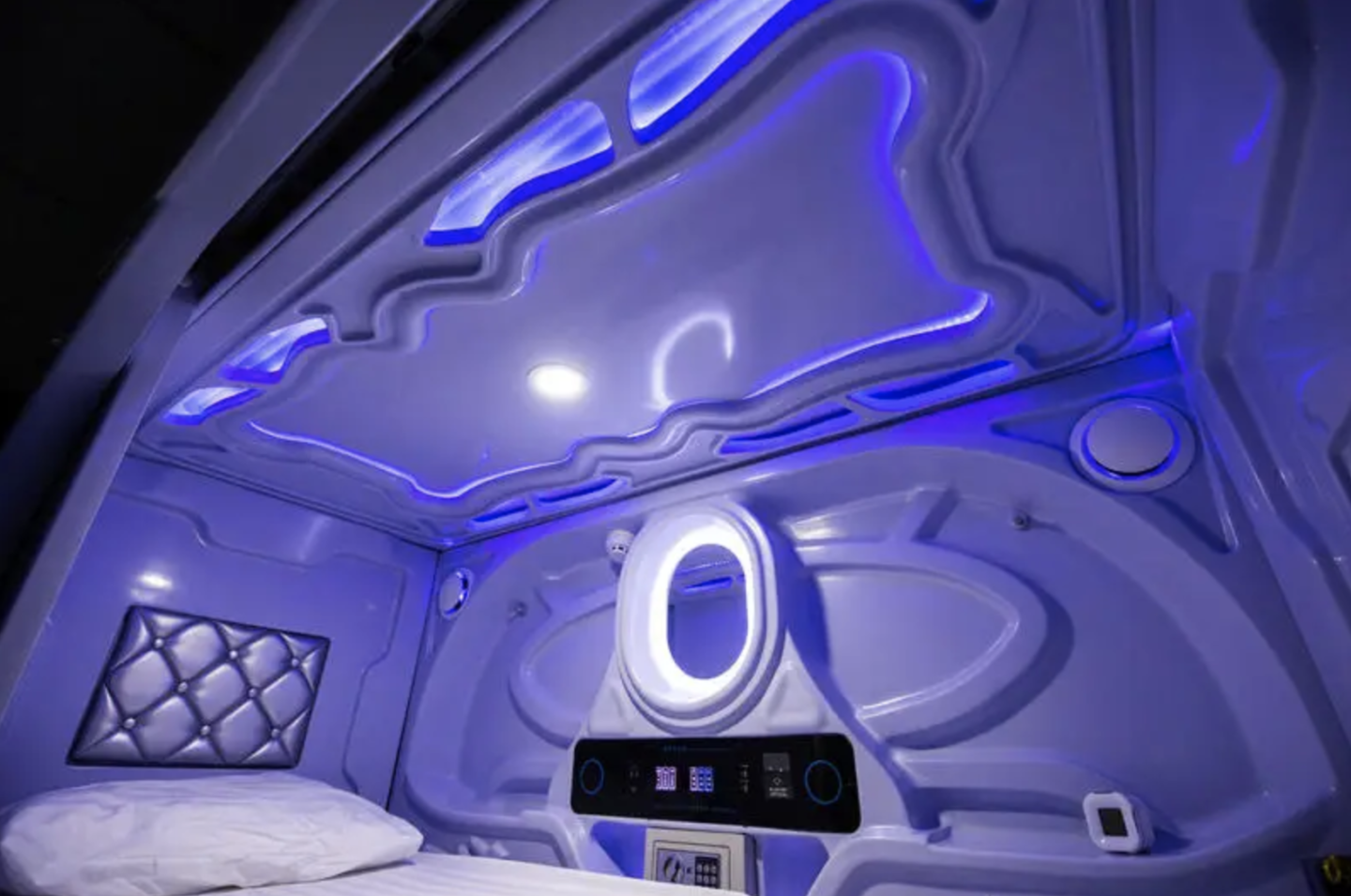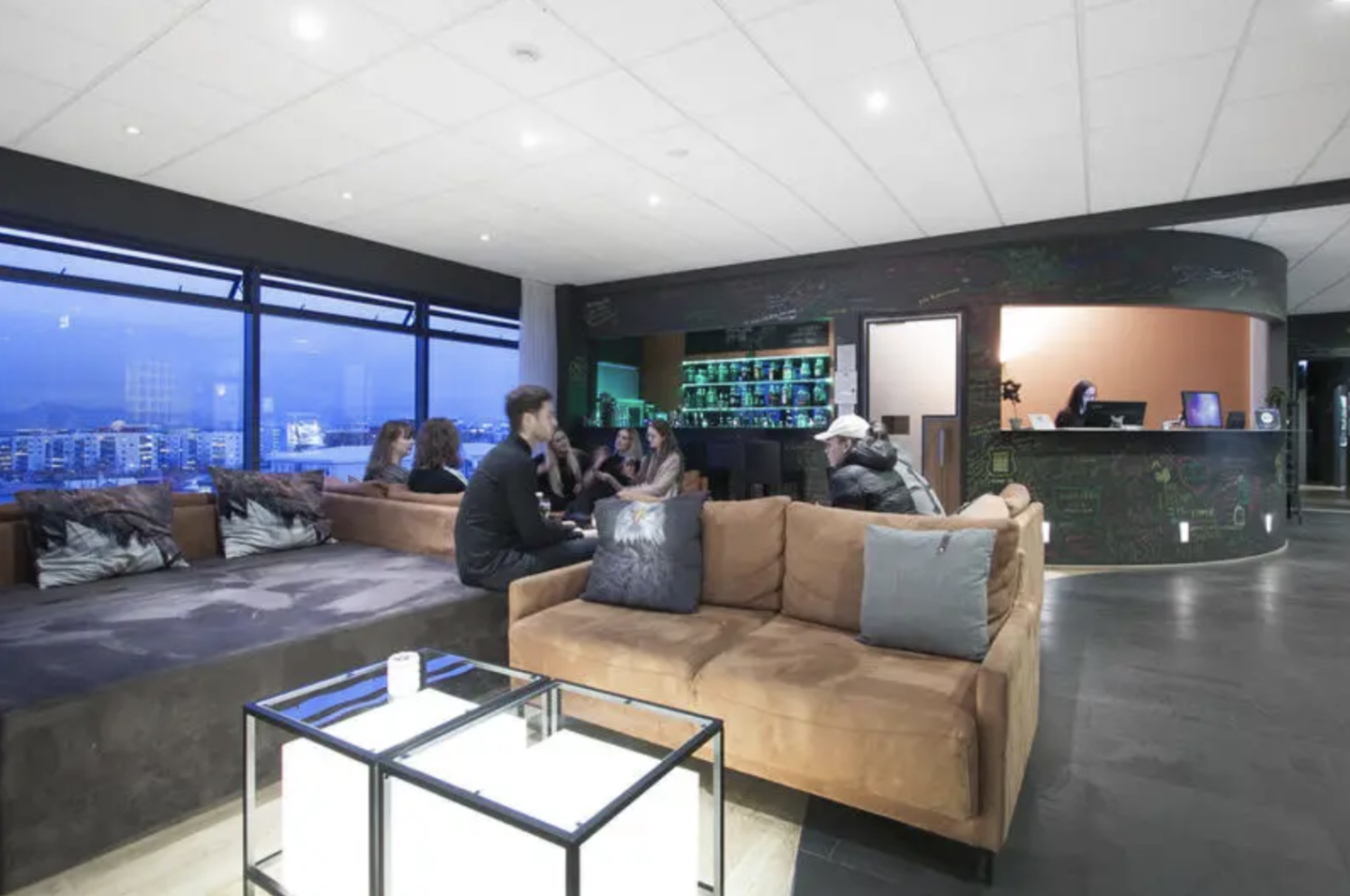 Location
The location of this hostel can be a huge w or a huge l depending on what you're looking for. While it is on the famous Laugavegur Street, it's about a fifteen-minute walk from all the hub-bub. It's upstairs in a type of, what I like to call 'strip mall', so the location is quite interesting for what it is. The area is extremely quiet and the upstairs has incredible views of Reykjavik. It's right across the street from Kronan (awesome grocery store if you're traveling Iceland as a vegan) and it's a small walk away from one of the banks in Iceland so you can easily exchange your currency there. I know that some people don't mind being in a quieter area and some people want to be in the middle of it all, so you can base judgment off of what your preference is.
Atmosphere
Out of all the hostels that I have stayed in, this is by far the most chill one that I have ever experienced. Since the hostel is situated on the second floor, there is this huge window wall in the common room that gives it a "rooftop bar" kind of feel to it, and you can even order drinks for happy hour at their little bar. There is always a great playlist going and the whole hostel stays pretty quiet all day long. All of the people that I met here tended to be fairly reserved and I think that is a common theme across this hostel that I have read about, so if you're looking to meet people you'll probably have to take the first step.
Amenities
I loved the amenities at this hostel. LOVED. It has everything you could possibly want, aside from the lack of proper working spaces in the common room. There is free wifi, hot showers, modern facilities, a cooking area, fridge, eating area, and not to mention the full-on galaxy pod that you'll be sleeping in! The temperature in the dorms tends to be pretty hot, so that can either be a really good or really bad thing depending on what time of year you're traveling there. Personally, it made it hard for me to sleep, but some people like a hot room so to each their own. Other than that, it really has everything you need to start your trip off on the right foot! The only downside is that it's one of the more expensive hostels on this list.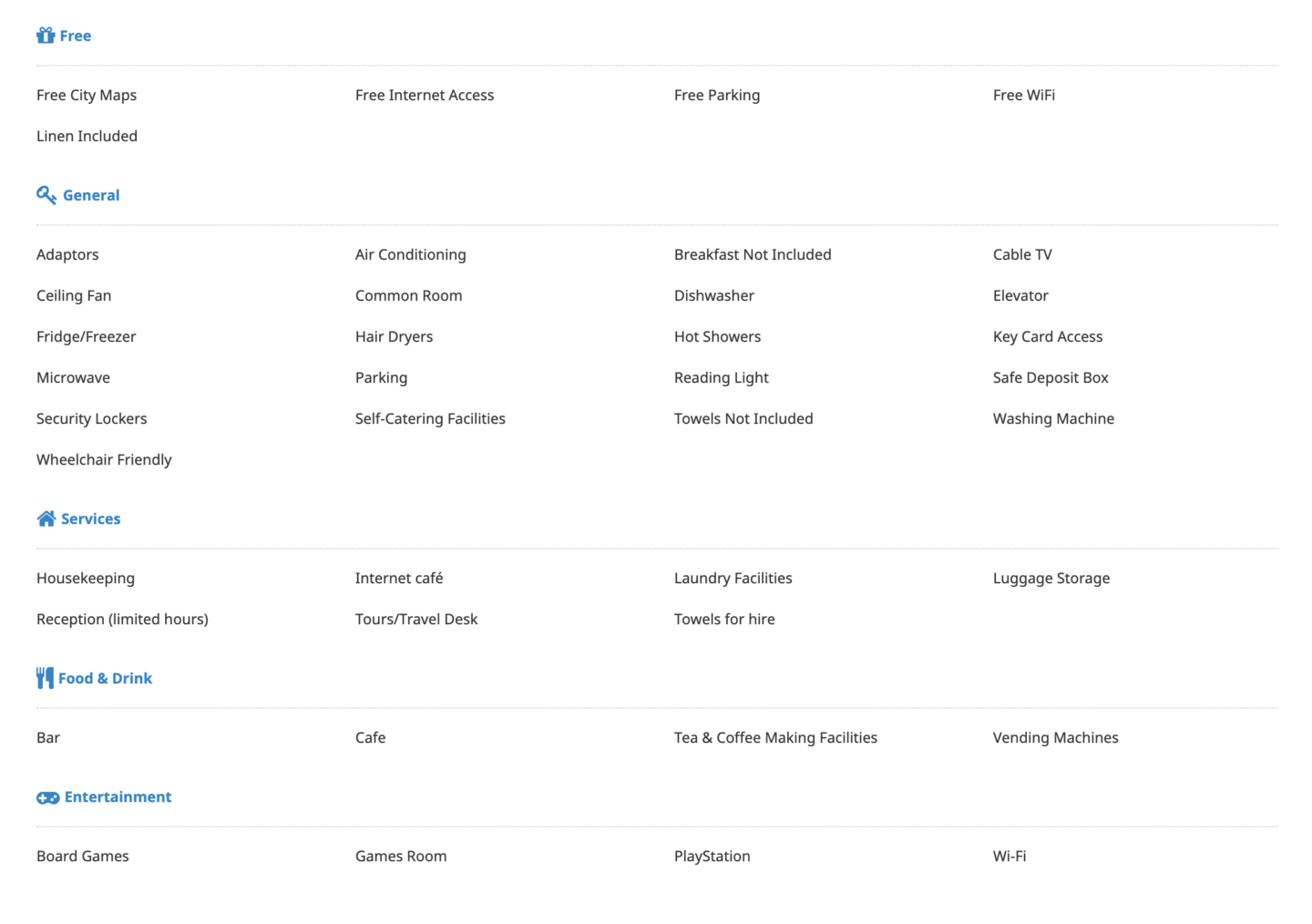 ---
3 | LOFT Hi Hostel
$60-100 / Night
Best Location / Voted Iceland's Best Hostel / Best Party Hostel In Reykjavik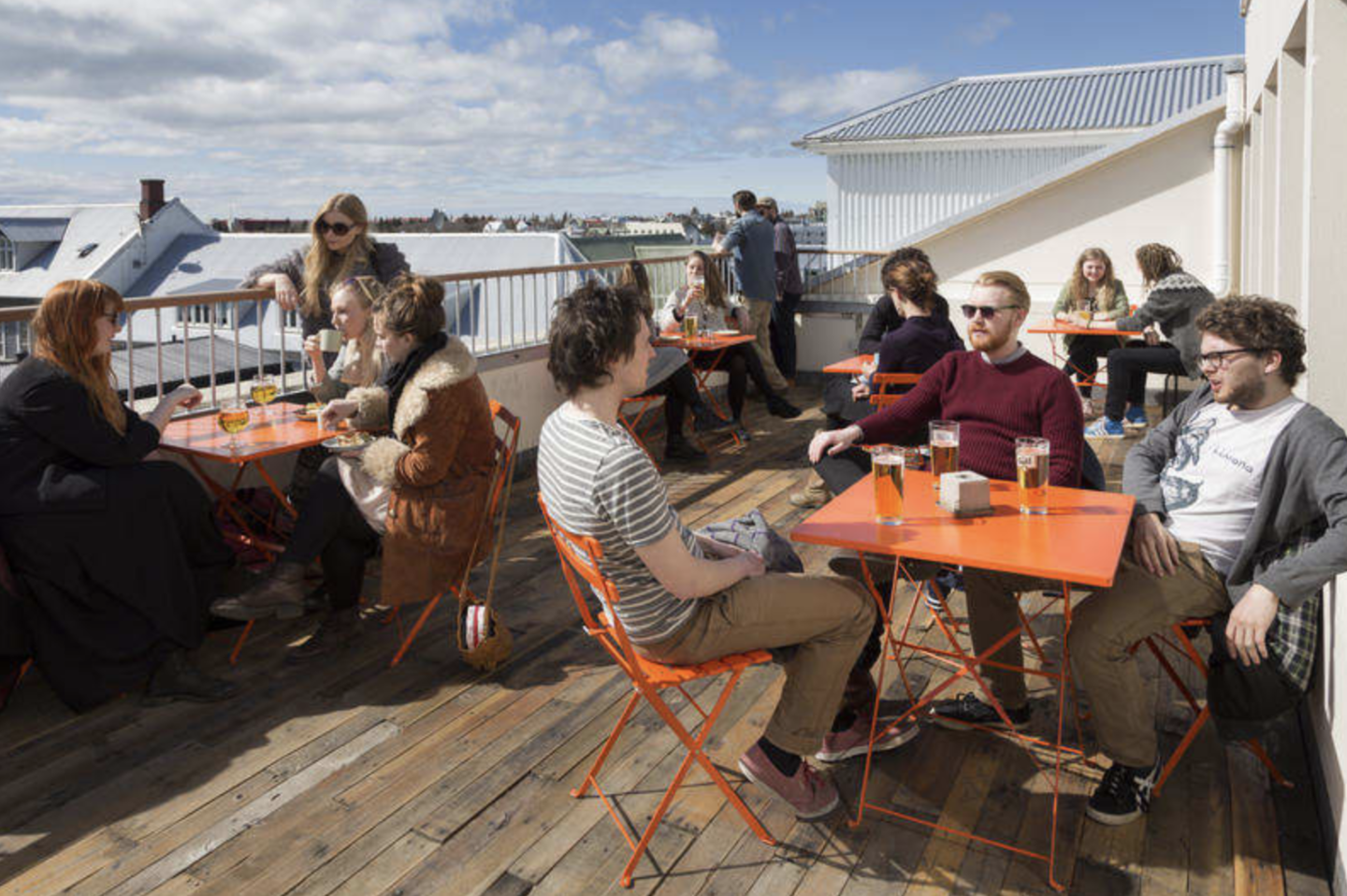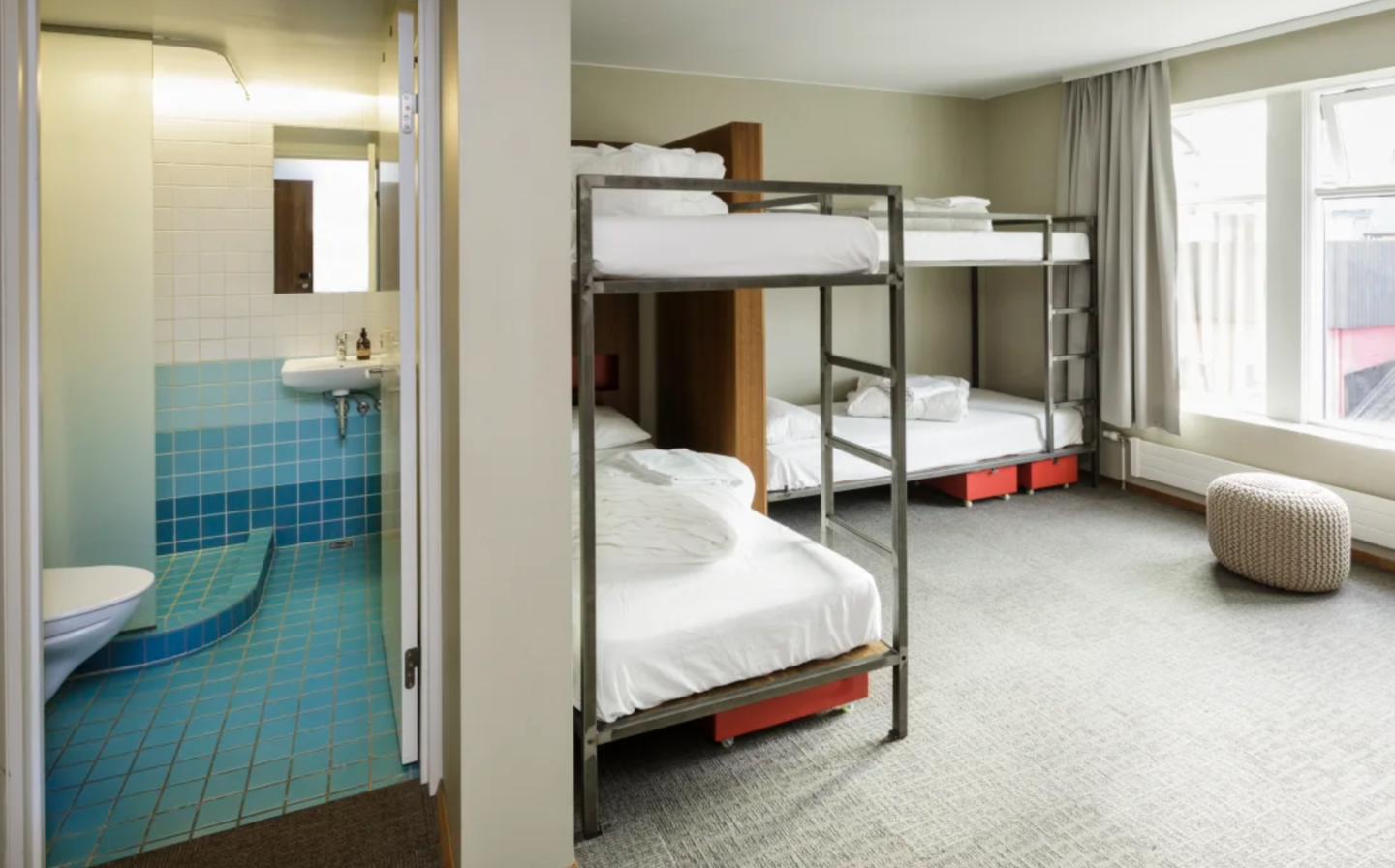 Location
I gave the LOFT Hi Hostel the award for the best location because I walked by this place after buying gloves from North 66 and I remember thinking to myself, "damn, I wish I would have stayed there!". You can stay in this hostel, wake up and walk right up into the heart of Reykjavik. It's more on the 'coastal' side of Reykjavik, AKA closer to the harbor and the concert hall, but you are on the exact same road as the Hallgrimskirkja Church, so you can see it from the hostel and it's just a few minutes walk away from tasty restaurants, quaint coffee shops, the Punk Rock Museum, or if you're really adventurous, there are (ethical) whale watching tours that also leave from the port by the concert hall! If you want to stay at the best hostel in Reykjavik with the best location, Loft Hi is your go-to!
Atmosphere
The atmosphere of this hostel is social while still a hostel that you're able to relax at. There is a rooftop area that is PERFECT (twice for emphasis, PERFECT) for enjoying a morning cup of coffee or tea overlooking the city. The LOFT Hi Hostel also has a nice working area that resembles a coffee shop/cafe type of set up which I know all my fellow nomads will appreciate as well. If you want to curl up with a good book, there is also a spot upstairs with some couches for lounging and leisuring at your own disposal. This hostel has that classic hostel life/vibe that a lot of people are looking for, so if you want to meet new people and come alive with the city, this is the place for you.
Amenities
The amenities here are similar to the previous two that I have mentioned. There is breakfast available here for a small price, a kitchen for cooking, wifi, common areas, a bar, hot showers, and clean facilities. I feel like listing out all of the amenities would be a lot of a hassle, so everything listed below is what is exclusively offered by the hostel. Make sure you check out the entertainment section… they have foosball!
---
4 | Lækur Hostel
$30-40 / Night
Best Hostel For Getting Off The Beaten Path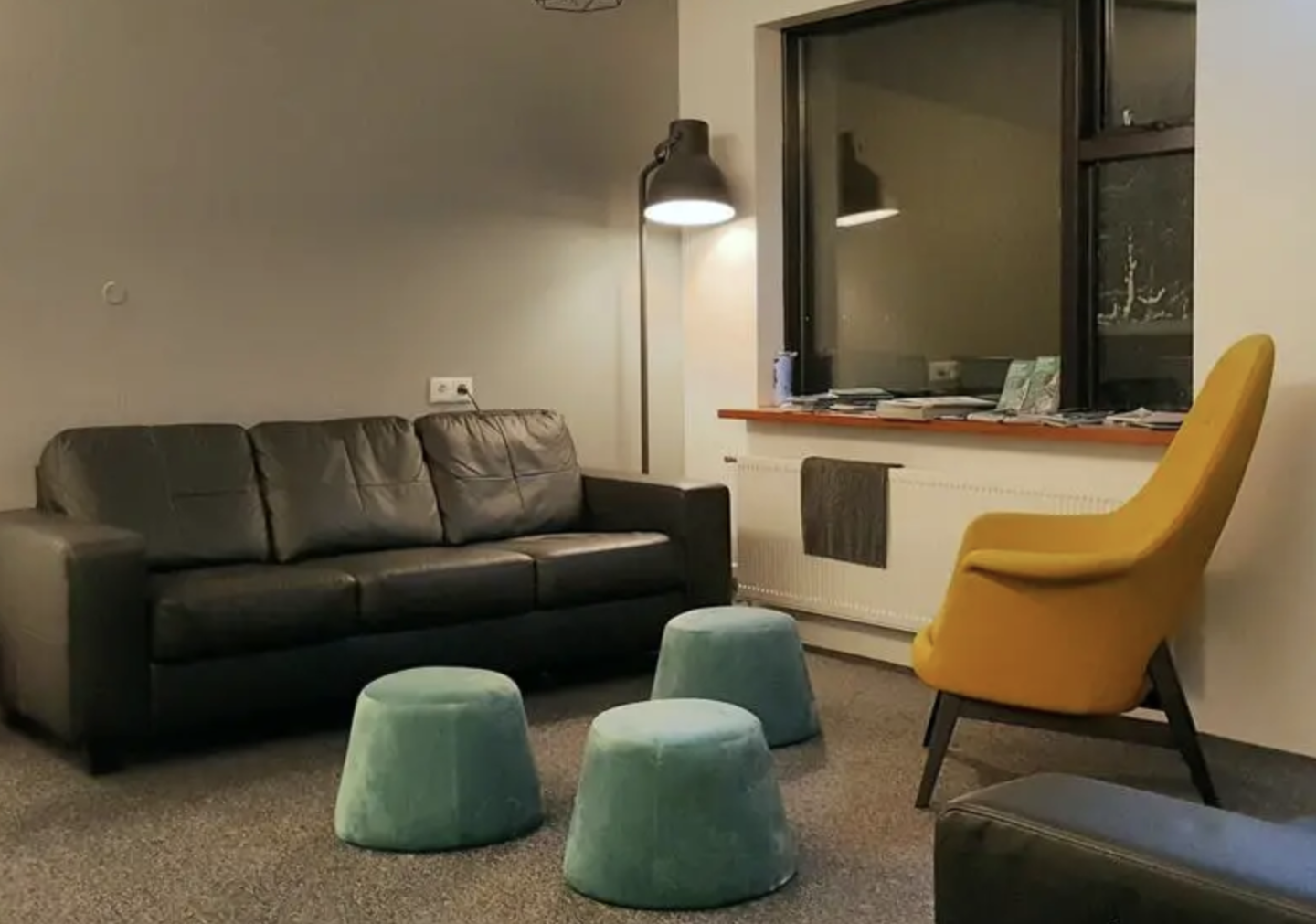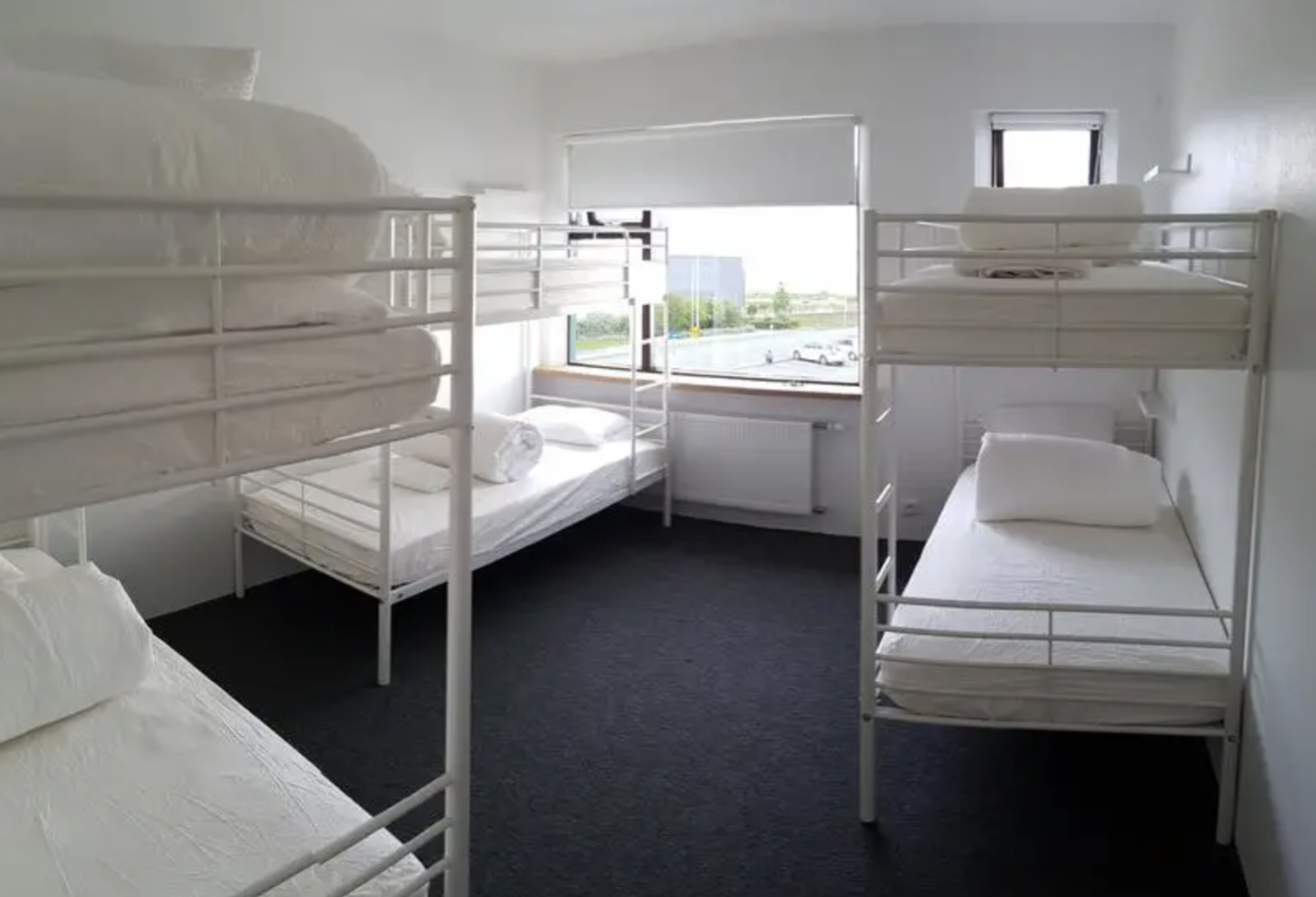 Location
The Laekur Hostel is a little bit out of the way compared to some of the other hostels on this list, but if you're renting your own car, the location shouldn't become an issue. I drove over to the Hallgrimskirkja Church with my rental and would park there for the afternoon since the parking is free, but you can easily walk there and experience the quieter side of Reykjavik. This is a great spot if you want to take a visit over to Videy Island, an island off the coast of Reykjavik that features the first house in Iceland built from stone as well as the oldest church in the country! The port for the ferry is just a twenty-minute walk away from the hostel; being further from the city sometimes pays off! If you want to walk into Reykjavik, as opposed to driving, it's going to take around thirty-minutes to get to the church, but if you're spending the day in Reykjavik, it'll feel like nothing.
Atmosphere
Laekur, in Icelandic, means a small river or stream in Icelandic, and what most people don't know about Laugardalur, the area of Reykjavik that this hostel is in, is that it's a secret geothermal area! There is a hidden geothermal stream that runs underneath the hostel! This area of Reykjavik is also described as privileged and nice, so if you want to be in a nicer part of town, then this is definitely your spot. When you stay here, you're definitely going to feel like you're in your own slice of Reykjavik, away from all the crowds.
Amenities
My favorite amenity in this hostel, by a landslide, is the large lockers that come with your bed. In a lot of the hostels in Iceland, you only get a very small security box that fits the bare minimum, so having an actual locker that can fit a good-sized bag is really nice. Not that you need to worry about theft in Iceland, but its always nice to have that option. Other than that, expect all the goodies; hot showers, free parking, wifi, optional breakfast, and a lovely stay at Laekur Hostel.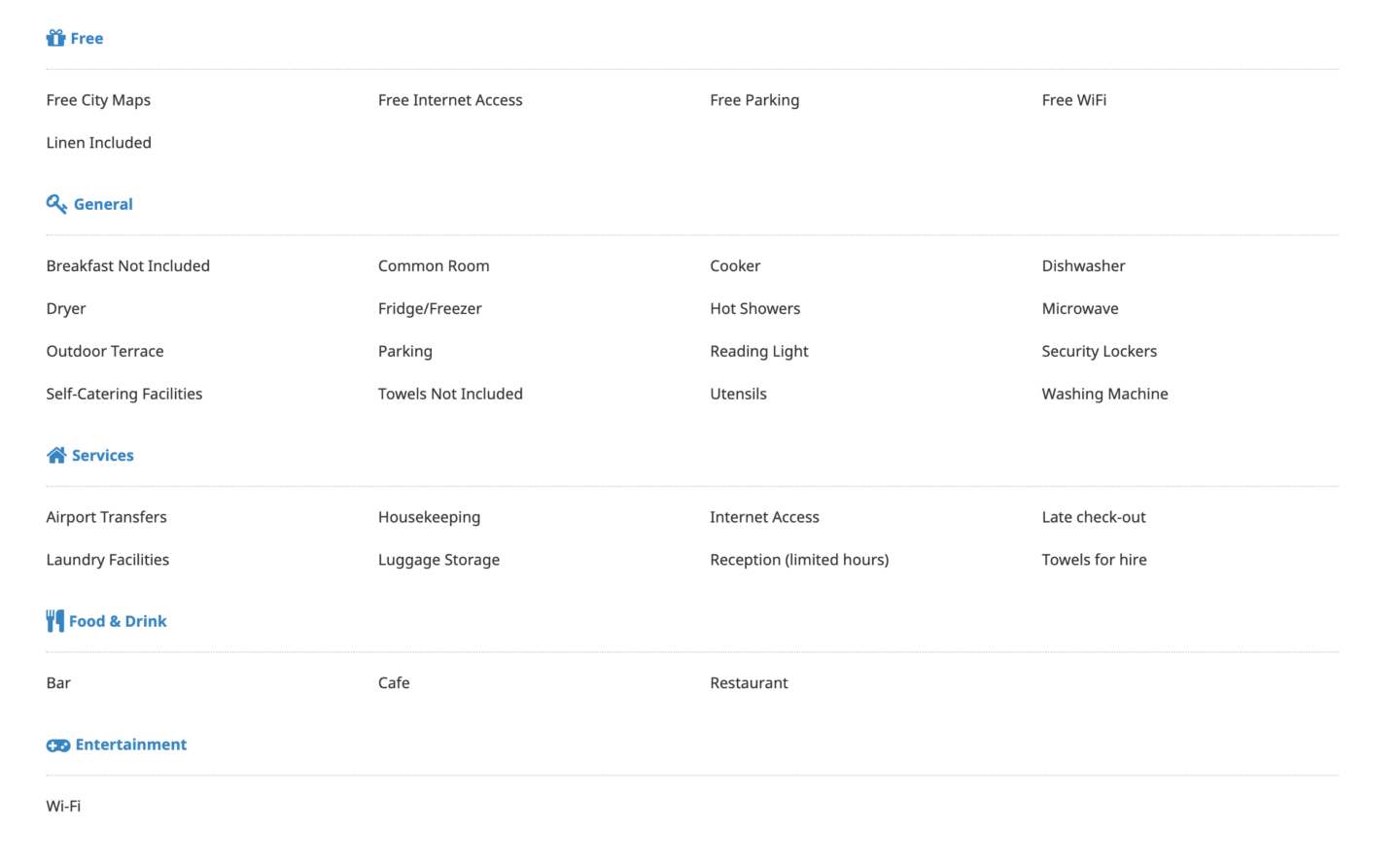 ---
5 | Bus Hostel Reykjavik
$17-35 / Night
Best Hostel For Digital Nomads / Cheapest Hostel In Reykjavik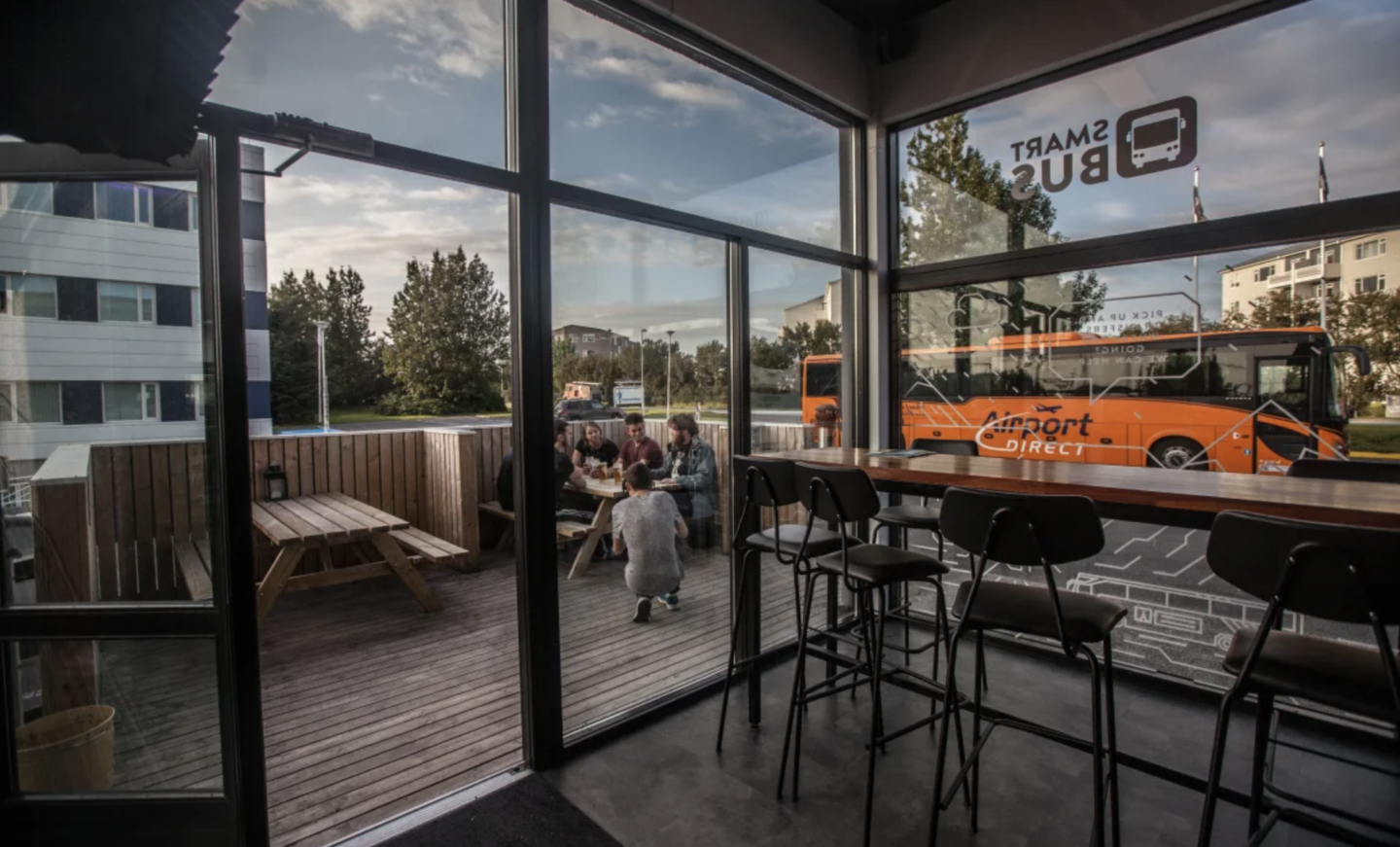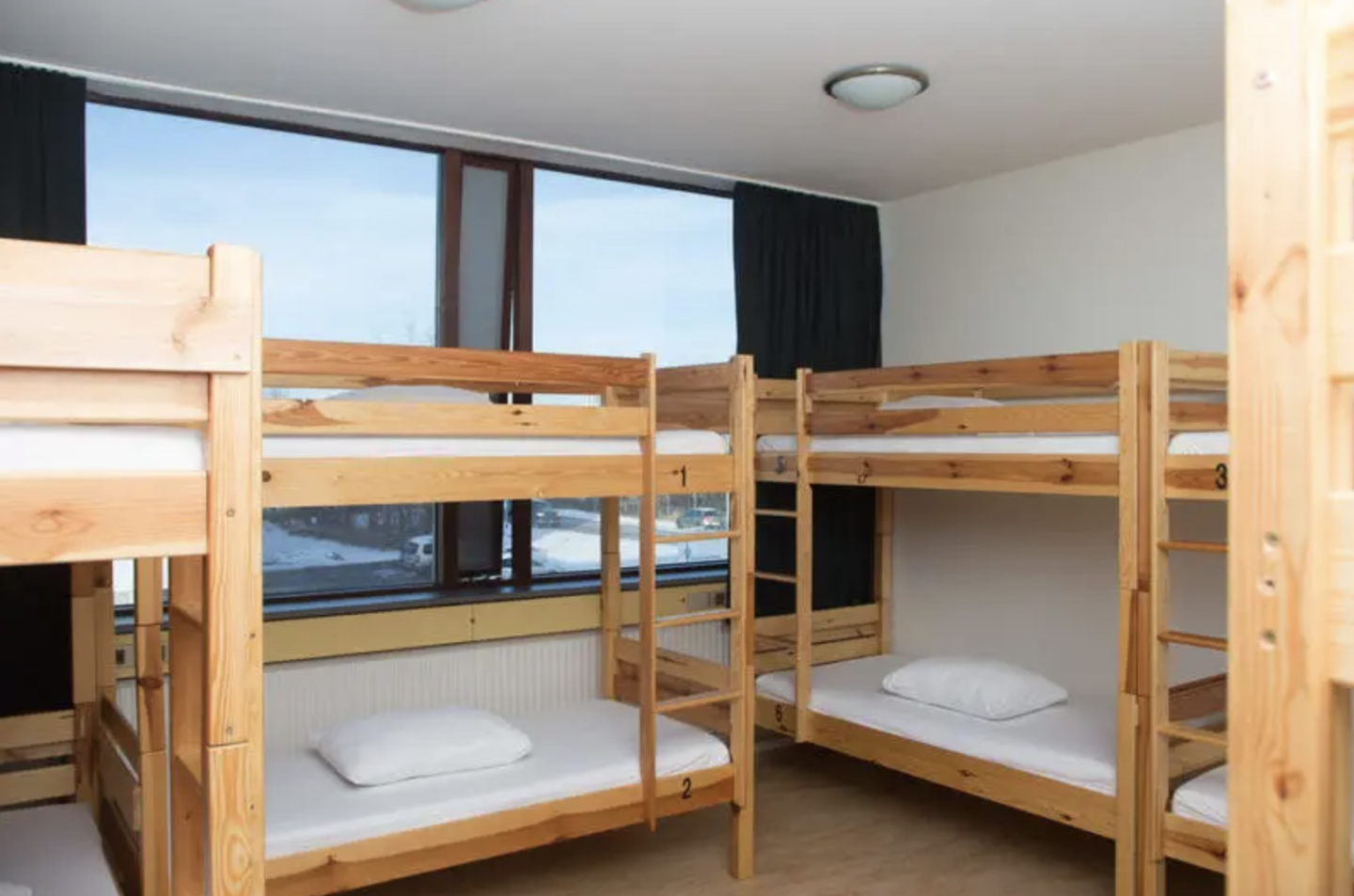 Location
If you plan on taking advantage of Iceland's public transportation and transfer options, you're going to love this hostel. Not only does it share its location with the Reykjavik Buse Terminal, its the first and last stop on the bus AND tours to the Blue Lagoon also depart from the hostel. What more could you need?! While most of the other hostels are on the northern side of Reykjavik, the Bus Hostel is on the southern side, but just as close to the Hallgrimskirkja Church and other iconic Reykjavik sites! If you're not keen on walking, they have free bike rentals! While it isn't on the main road in Reykjavik, it's only a stone's throw away!
Atmosphere
The vibe of the hostel is really close to that of a trendy coffee shop. The common space even looks like one! There are large windows looking out to the streets of Reykjavik and plenty of seating to go around to get some work done, which is why this is the best hostel in Reykjavik for digital nomads! There is even a small patio where you are able to sit down and enjoy drinks from the hostels Buzz Bar! I was shocked to see this hostel priced at such a low price (~$17 / night for a mixed dorm) since you can do everything in this hostel, including book tours! If you like having everything in one spot and a little ease of travel, stay at the Bus Hostel!
Amenities
This hostel probably has the best amenities out of all the other hostels on this list from the bus stop being right outside, bookable tours inside, and in a good location, AND FREE parking?! Hello!? SCORE! The only thing that is missing is a free breakfast, but those are few and far between for hostels in Reykjavik, so it's not a huge missing piece to your puzzle. If you're planning on cooking your own food, they also have a fridge and freezer where you can store your items until you head out!
---
6 | Reykjavik City HI Hostel
$20-35 / Night
Best Amenities (there's a pool!)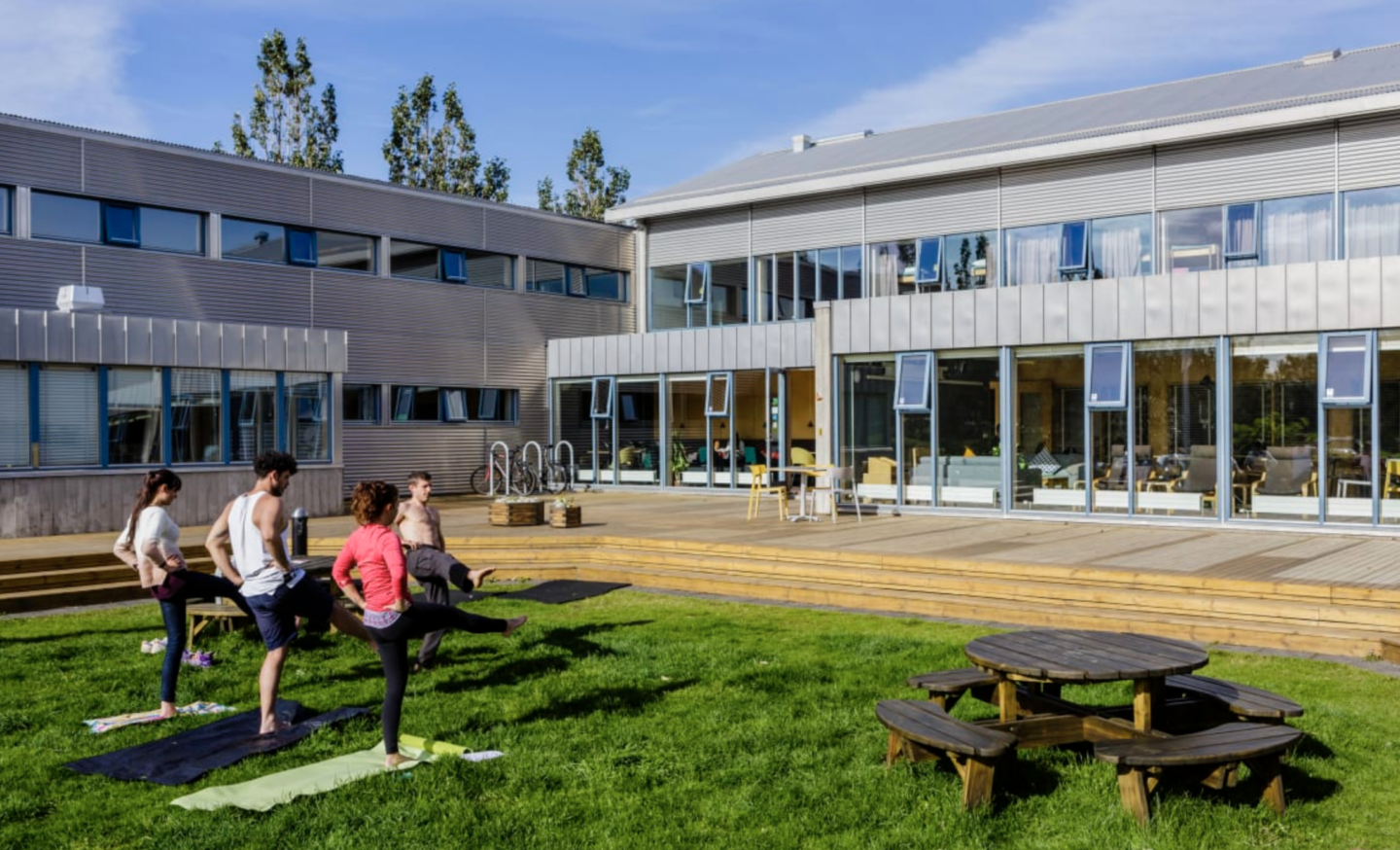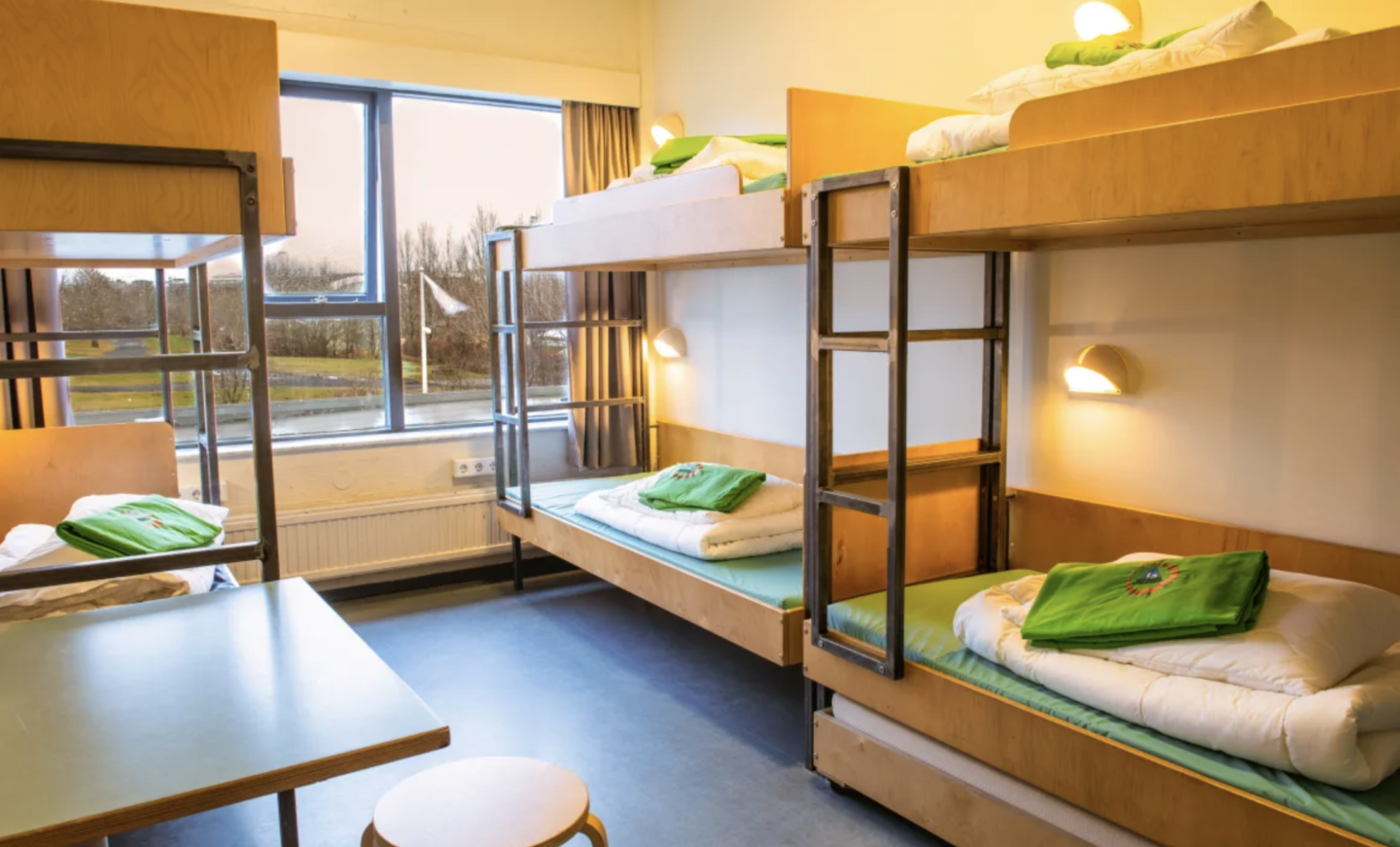 Location
If the hostel location isn't a top priority on your list, the Reykjavik City HI Hostel is another fantastic hostel option that has great prices, amenities, atmosphere, and overall vibe. This hostel is close to the Laekur Hostel, which was close to the ferry port for Videy Island, so this is another great hostel option for the Laekir area if you want to go a little bit off the beaten path and explore the island. It's a bit out of the way of downtown Reykjavik, but as I said before if the location isn't a huge deal, then this is a great option to stay in!
Atmosphere
My favorite part about this hostel is that it gives me a similar vibe to a summer camp: warm, friendly, inviting, and eccentric. It's a lot different looks-wise than a lot of the other hostels on this list. There is a huge outdoor area with a pool that adds even more to the summer camp vibe, but either way, it's likely that you're going to meet some really awesome people at this hostel! The rooms are flooded with natural light from the huge windows, a detail I love, personally, and there are plenty of working spaces if you happen to be a digital nomad! If you feel inspired by very bright, open spaces then this is the hostel for you!
Amenities
The best thing about this hostel is the outdoor swimming pool. This area of Reykjavik is actually a secret geothermal location, so you're going to have a hot pool at your disposal while you're in Reykjavik! Iceland is chilly year-round, so you're going to appreciate this a whole lot no matter what time of year you're traveling to Iceland! All the other amenities are fairly standard, free wifi, free parking, etc., but there are a couple of others that you might fancy: wheelchair-friendly, security lockers, 24-hour reception, and laundry facilities! They go the extra mile with all their amenities, but honestly, the pool sold me the second I saw it on this list!
---
7 | Reykjavik Downtown HI Hostel
$30-40 / Night
Best Hostel In Iceland 2011/2012
Location
If you're interested in still being in downtown Reykjavik without the bars, clubs, and excess noise through the nights, the Reykjavik Downtown HI Hostel has you covered! It's very close to the Harpa Concert Hall (the very left hostel on the map above for reference) and all the other sights of downtown Reykjavik. It's still very close to all the buzz so you won't feel like you're missing out on anything, AND you may even get better sleep since this hostel is in a residential neighborhood! The hostel is around many popular museums in Reykjavik and right down the road from some tasty eateries if you're planning on treating yourself to a night on the town! I'd say this is a nice middle ground between totally off the beaten path and in the middle of tourist central, so if that's what you look for in a place to stay, this is for you!
Atmosphere
A huge theme I have noticed with the HI Hostels (Hostel International) in Iceland is that they all have this very warm and welcoming vibe to them. It almost gives you that feeling of having a home away from home right in the heart of a volcanic landmass in the middle of the Atlantic Ocean. Maybe that's an odd way to phrase it, but it's true! It's something really special that they do with their hostels and I wanted to take acknowledge and appreciate it!
Amenities
Y'all know the drill. Amenities are plentiful here in Iceland, especially at the Downtown Hostel! I'm not too sure what you'd need a faxing service for, but hey, you never know! Anyways, I digress. I like that they offer airport transfers if you plan on staying in Reykjavik and booking day tours or if you're picking up your rental in Reykjavik at a later date. You might have to pay for parking here, so keep that in mind, but other than that, all your bases are covered here!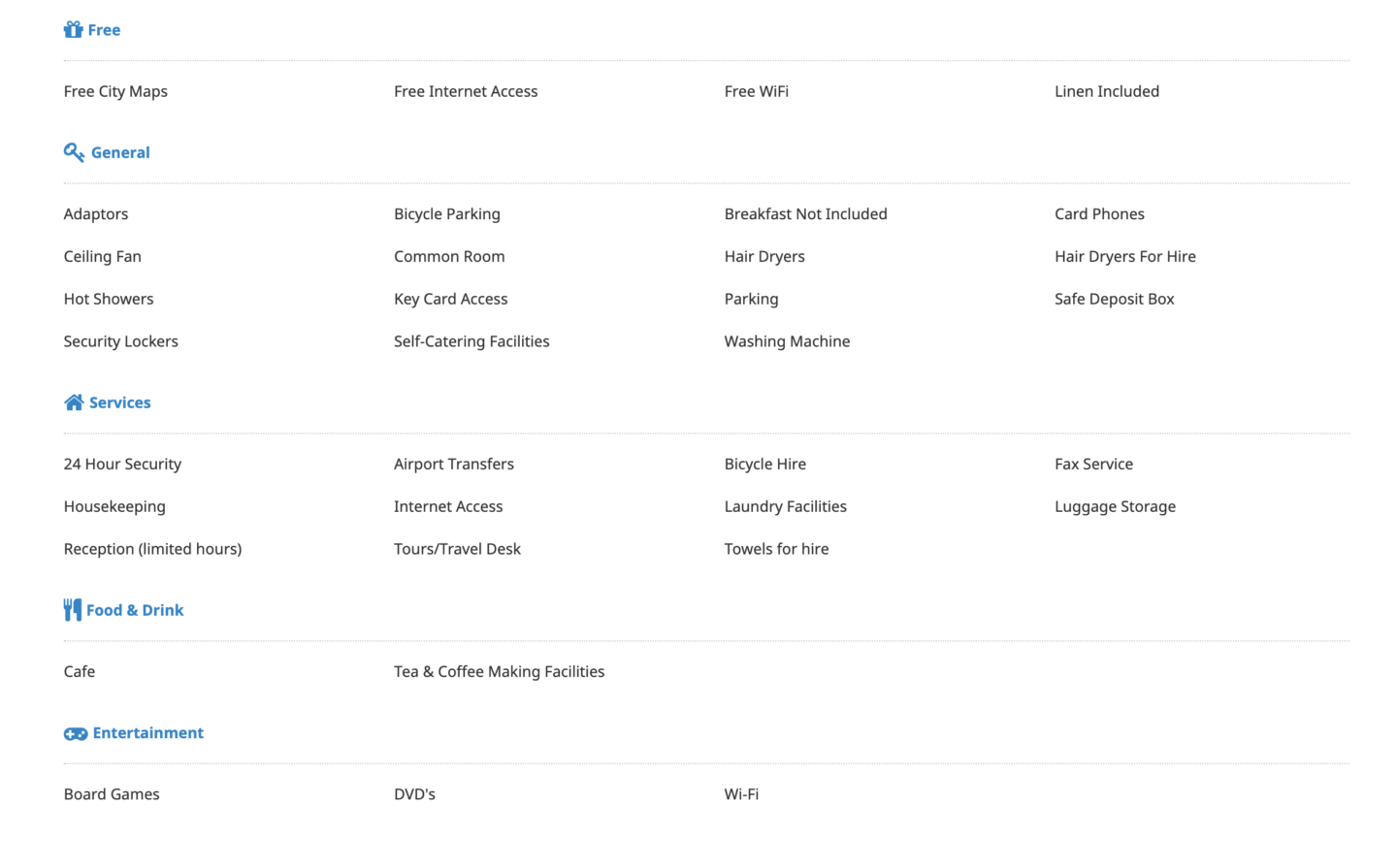 ---
8 | Hlemmur Square
$20-30 / Night
Best Priced Hostel In Reykjavik With Private Rooms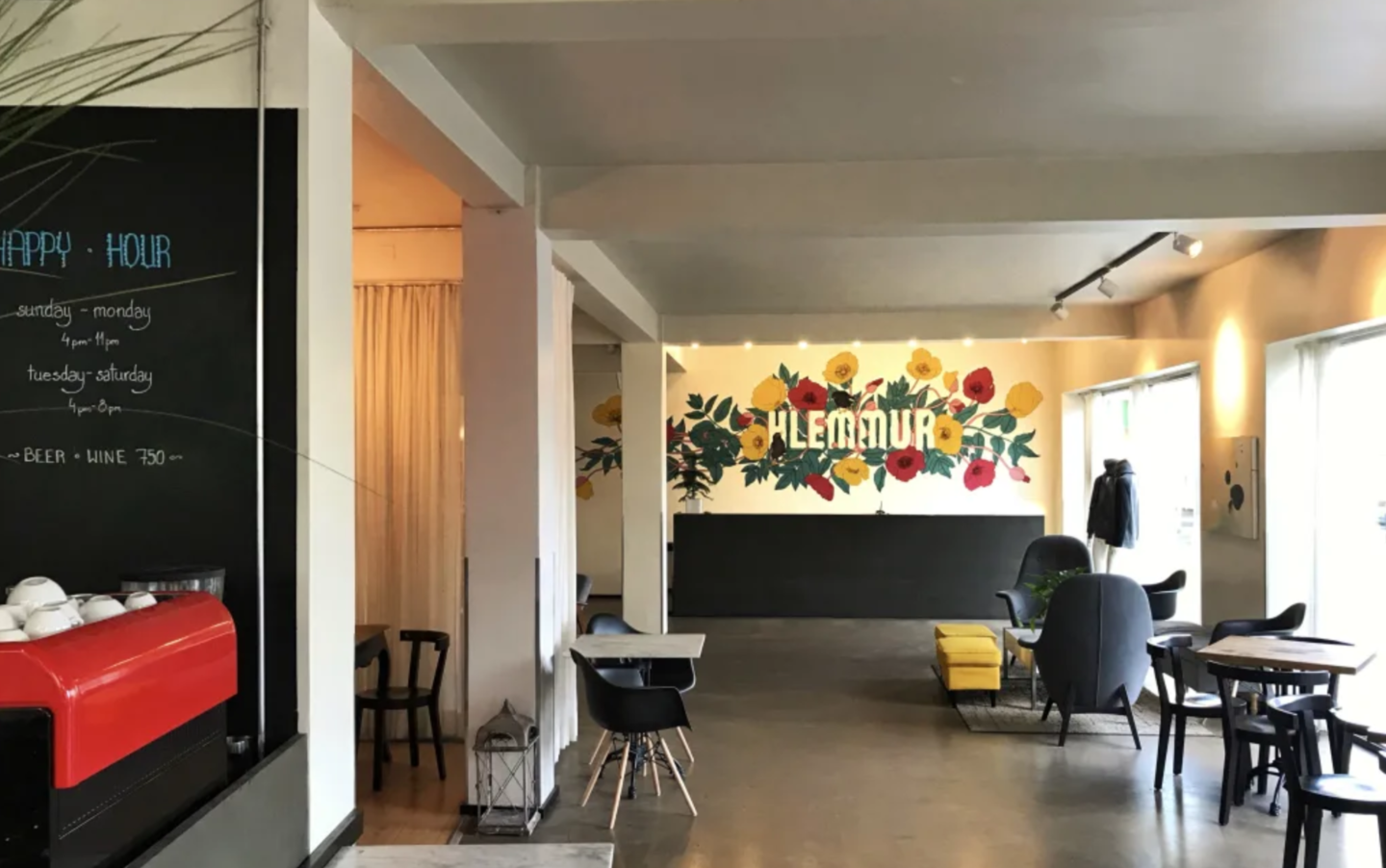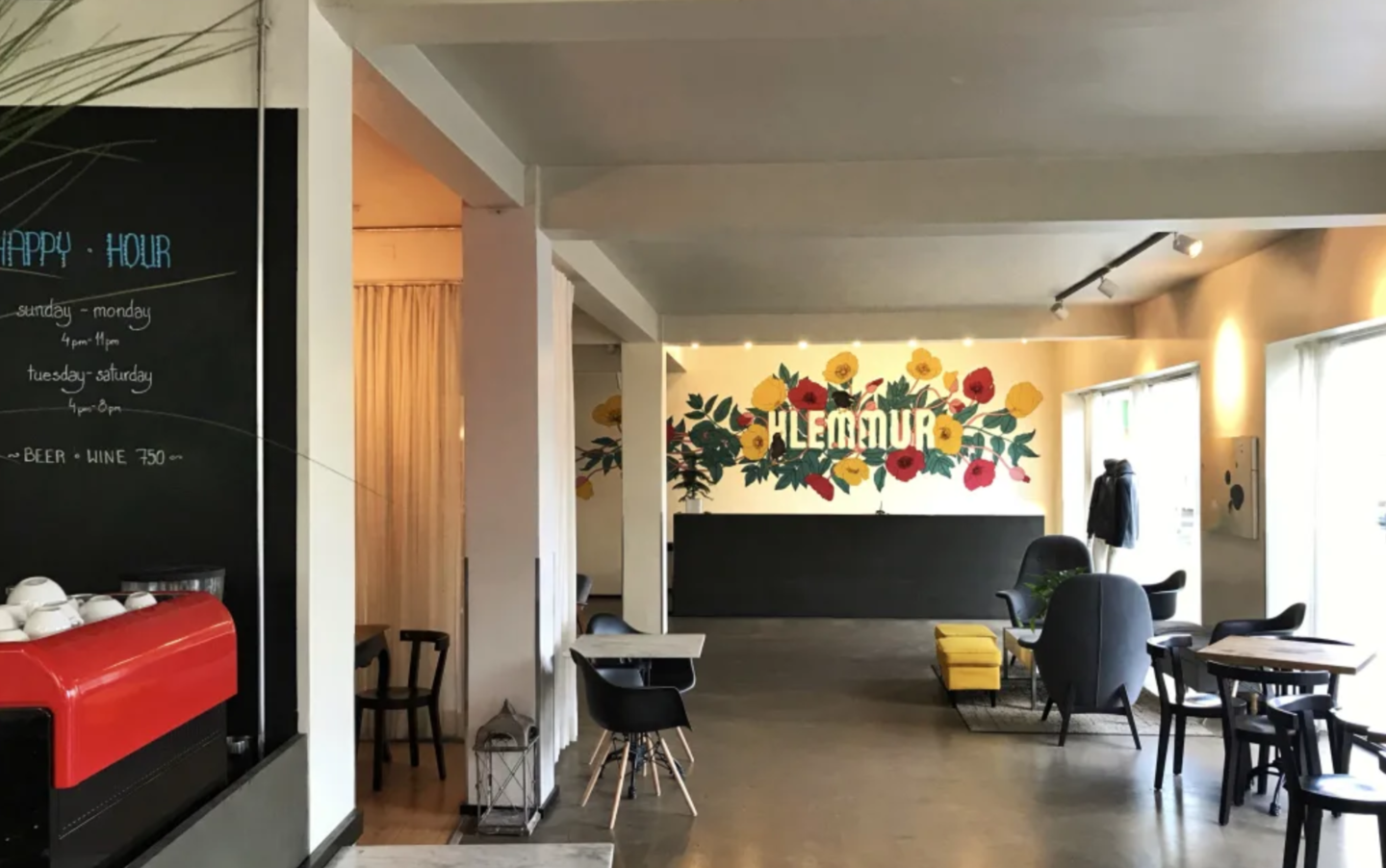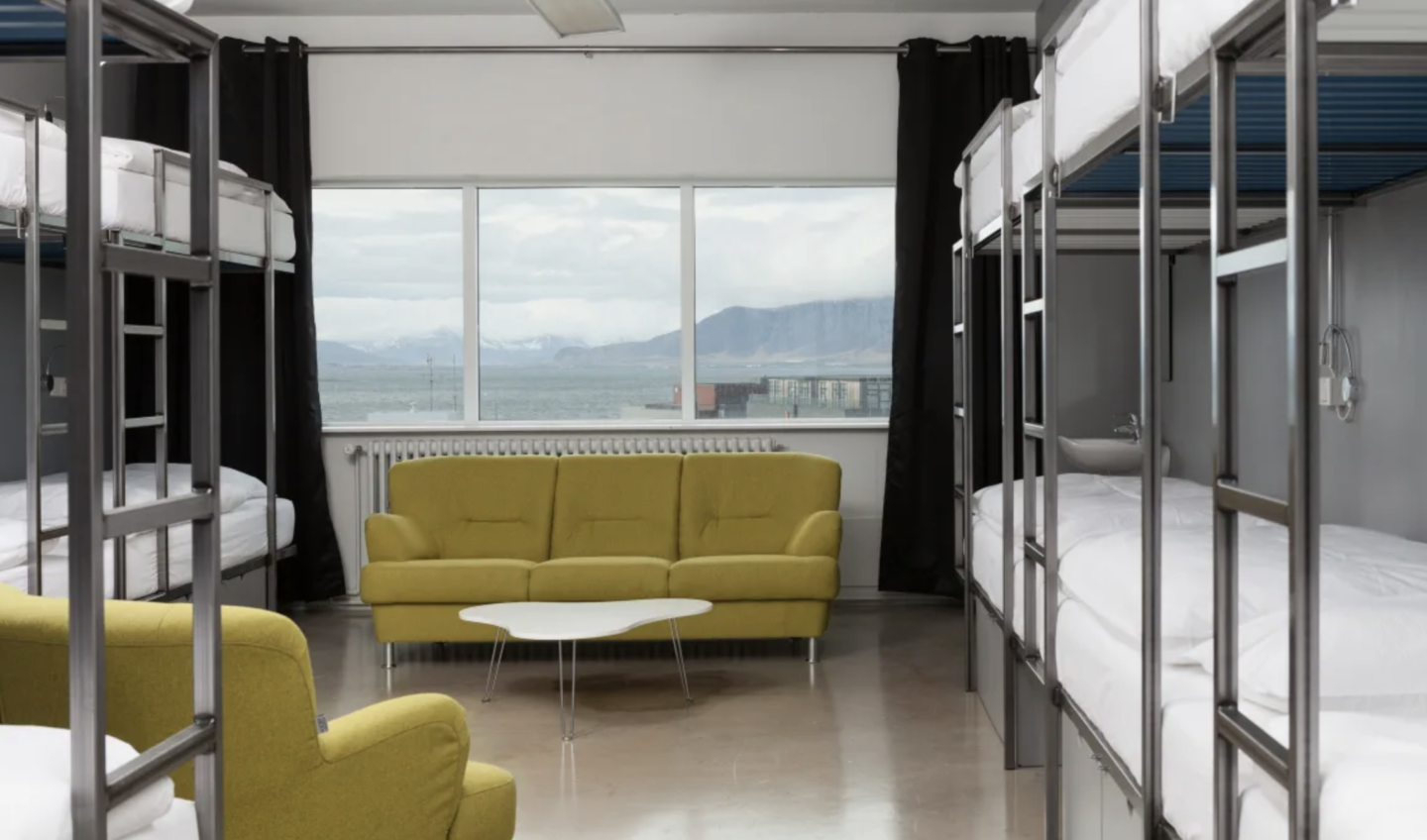 Location
The next hostel on the list is more of like an apartment complex/hotel/hostel hybrid, which is pretty sweet if you ask me. Hlemmur Square was once a central meeting spot for travelers and their horses, although the hostel isn't in the heart of downtown Reykjavik. This hostel is riding that fine line between the city outskirts and downtown. It's like that sweet spot for a location. You can easily walk right into downtown within minutes and eat at some tasty pubs like Prikid (a personal favorite of mine) or go shopping in many of the stores in downtown Reykjavik. It's a great spot if you don't want the hustle and noise right in your face. I think I would best describe it as a fly-on-the-wall type of spot.
Atmosphere
The atmosphere of this hostel is much like that timeless, homey feel. It's almost like a modern hotel meets a quaint studio apartment, but bigger? It's decorated with both vibrant and neutral tones that give it that kind of that retro feel! There is a bar area, but this place tends to be on the quieter side in terms of linking up and having that hostel community vibe. If you're not much of a crazy hostel party goer then this might just be the place for you!
Amenities
Hlemmur Square has amenities all across the board from the tour booking options, free wifi, washing machines, kitchens, full-sized lockers, and even blackout curtains so that you can get some shut-eye under the midnight sun! If you want to bike rather than walk the city, they have bike rentals available to explore the city and make the anticipation of getting into downtown Reykjavik a quick pedal away. If you need some spare Kronas for the road, they also offer a currency exchange!
---
9 | B14 Hostel
$36 / Night
Most Modern Hostel / Most Aesthetically Pleasing Hostel In Reykjavik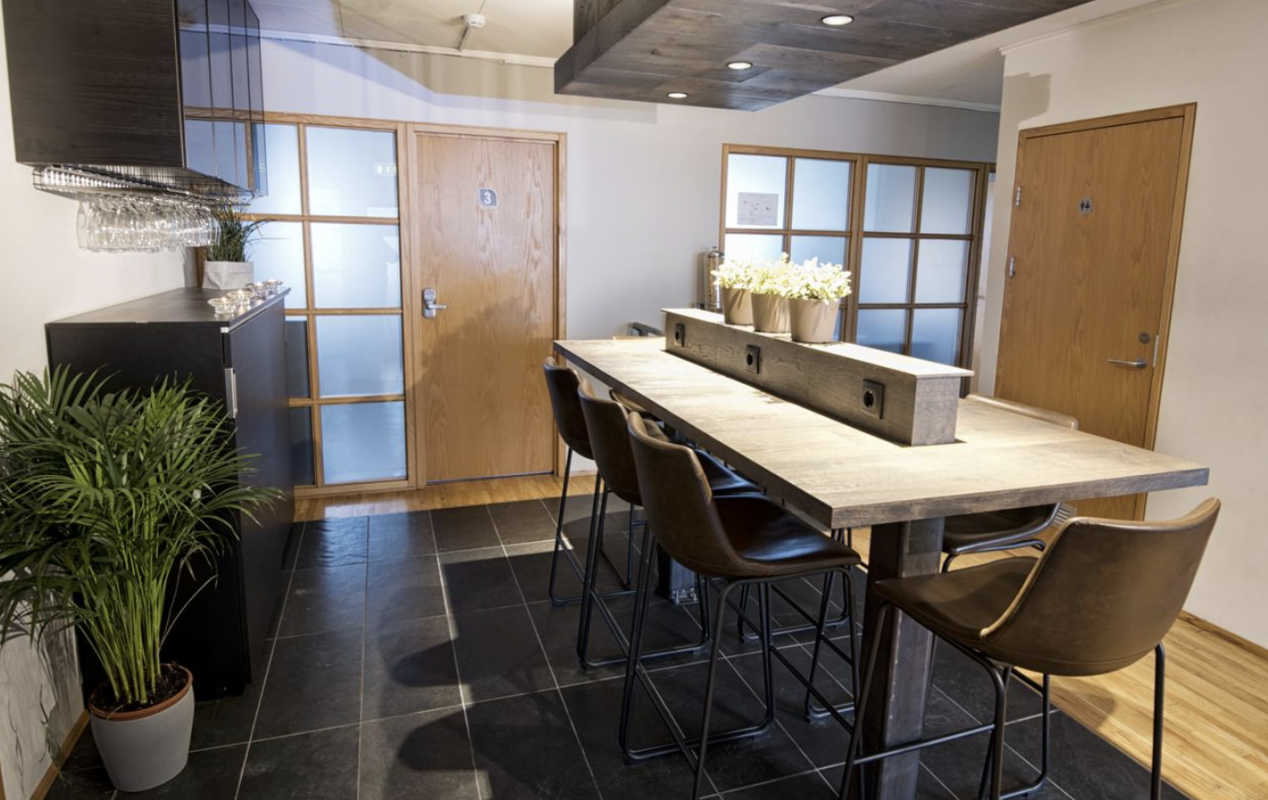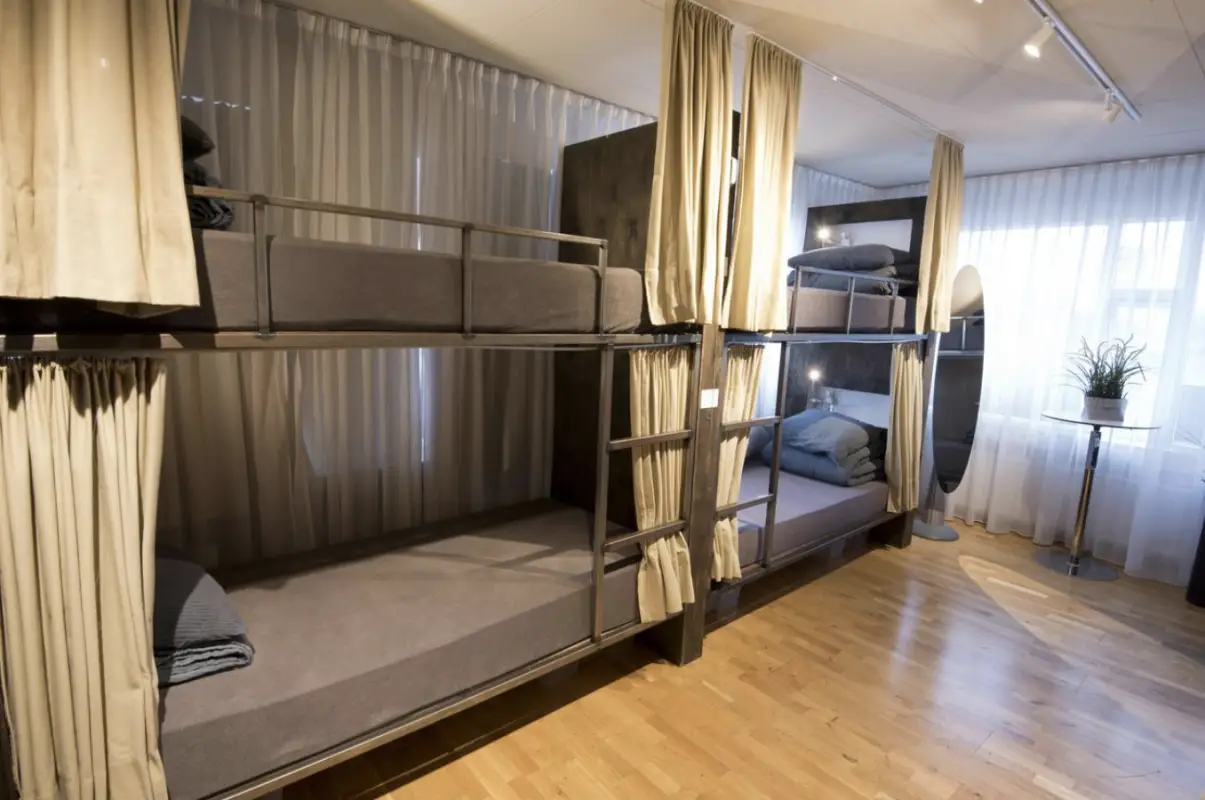 Location
So the amenities and atmosphere are both 10/10's, but the location might be unfavorable, especially if you don't have your own rental car. If you want to walk to downtown Reykjavik, it's going to take upwards of an hour to get there one way, but only a short, seven-minute drive and you can park at the church and explore at your leisure. So, it's technically not a bad location, but since most of the hubbub is downtown, some people don't want to have to bother to drive, so it's a detail worth noting. It's all really up to your preference, but the location doesn't make this a bad choice!
Atmosphere
I did a double fist to the air when I saw the photos of this hostel. Absolutely stunning. I love it when hostels builders/owners take the time to put intricate details into the living spaces and if you like modern facilities and that modern/retro vibe, this place will rock your socks off. The neutral tones keep an even calming aura (feels weird to say but it's true lol) and whenever you look at the pictures of the hostel, you're going to feel yourself relax a little bit. Well, at least I did. My only beef with the place is that it doesn't look like there's a common area, so if you need a working space you might need to hit up a coffee shop, but I know we aren't all aspiring digital nomads so it's not so much a huge negative, just something I thought I would note. Other than that, love this place, love the vibes, love the price!
Amenities
So you cannot book this Hostel through the Hostelworld website, so that's why these amenities are looking a little different compared to all the other ones, but as you can see with modern decor meets modern amenities in this hostel. I'm all for free parking, free wifi, and a solid kitchen, so if you want to whip up some killer cuisine before you head out on your road trip, this kitchen has it all (and you guessed it, it's also aesthetically pleasing).
---
10 | 101 Hostel
$24-40 / Night
Most Unique Hostel In Reykjavik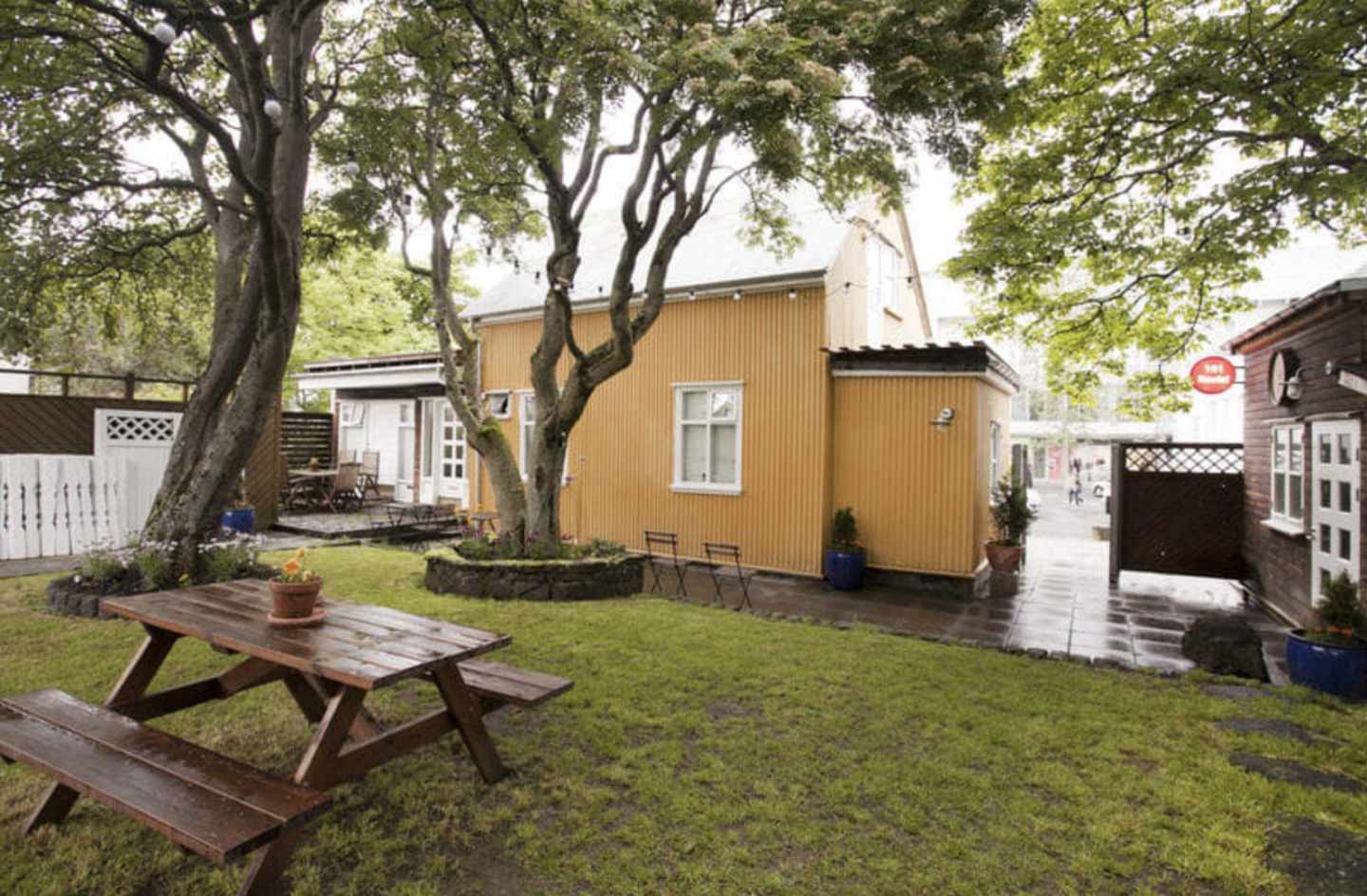 Location
The 101 Hostel's location has the classic Iceland experience. It's right in the middle of downtown Reykjavik in this adorable little yellow house that comes with a full-on yard with benches and trees. You're going to be feeling more like a local and less like a traveler in this space! If you want to experience a more traditional Icelandic stay, then I would 100% consider this on your list of hostel options while you're in Reykjavik! There is even a gate that leads right onto the main downtown area! If you want to be in the center of it all, for a really good price, consider the 101 Hostel!
Atmosphere
Yes. Yes. YES. I love having the ability to experience a more local-style living situation while I travel and I WISH I had spotted this place before I booked my other stay because I would have snagged a reservation for my travel dates INSTANTLY. The house has a very obvious 'family' type of vibe to it and with its 9.4 overall rating, it's a must-stay in a lot of travelers' recommendations! A lot of the other hostels near downtown have a more prominent, perhaps louder, appeal to them, so if you want something quieter, more lowkey, and more traditional, this is a perfect stay for you.
Amenities
So, not so many amenity options compared to the other hostels on this list, but let's be honest, you're staying in an adorable little yellow house in the center of Reykjavik… What more do you need besides the free wifi, hot showers, kitchen, and linens? Aside from browsing other booking sites, this is the most unique accommodation you're going to find in the capital city without it costing an arm and a leg, so it's worth exploring this unique housing option if you want to switch up your normal travel routine!
---
MORE TRAVEL TIPS FOR YOUR TRIP TO ICELAND:
– 21 Genius Tips For Traveling On A Budget
– How To Book The Cheapest Flights Anywhere In The World
– 20 Incredibly Easy Ways To Save Money For Travel
LOOKING FOR MORE ICELAND TRAVEL RESOURCES? CHECK THESE OUT:
– 50 Iceland Travel Tips For An Incredible Trip
– Iceland Packing List: What To Wear In The Land of Fire & Ice
– One Day In Reykjavik: BEST Things To Do In Iceland's Capital
– The 12 Best Campsites In Iceland
– How Much Does An Iceland Trip Cost: My Two Week Budget Breakdown
– Is The Blue Lagoon Worth It? Everything To Know Before You Go
---
What is your favorite hostel that you've stayed in? Share with me in the comments below!
Aaren
Did you enjoy these top 10 best hostels in Iceland? Save them for later on Pinterest!